Acts@22A
"Making mature followers in all nations for Jesus Christ"
SHARE:
Christmas Services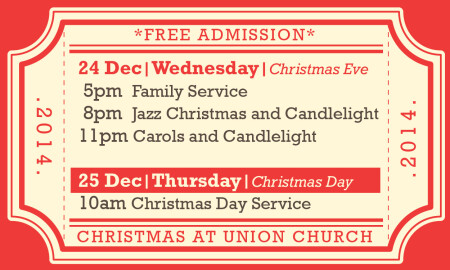 Christmas Eve Services
We invite you to celebrate the joy of Christmas with music and candlelight at our Christmas Eve services on Wed, 24 Dec at 5pm, 8pm and 11pm. Bring your friends and families to celebrate the birth of Jesus Christ together! Come early to get a seat.
It will also be a meaningful night as our Christmas Eve offering will be taken up for Kids International Ministry who are working closely with children and families affected by the 2 devastating typhoons last year in Tacloban - helping with the rebuilding of lives and homes.
Christmas Day Communion Service – in the month of December we will celebrate communion onThur, 25 Dec at 10am Service.
You are receiving this email because you are subscribed to our mailing list. If you wish to change your subscription or un-subscribe, please click on the links below:
Union Church, 22A Kennedy Road, Mid-Levels, Hong Kong
Tel: +852 2523 7247 | Fax: +852 2524 0473
Email: www.unionchurchhk.org