U MATTERS:
Last Sunday was such a blessing! It was such an honour to be installed as Union Church's 23rd Senior Pastor. It also marked 1000 days of praying the prayer, "Lord, change me and use me. Lord change Union Church and use Union Church." I am awed by the many people who have served throughout the 176 years of ministry at Union Church and I am encouraged by many of you who have been praying this daily prayer for Union Church. Thank you, Charles Caldwell, for your faithful prayer posts and for Michael Birley who for years has been leading the Tuesday morning prayer time.
It was such an encouragement to have Pastors John Snelgrove, Judy Chan, Steve Gaultney and Ruth Tablada share in the Installation service with us on Sunday. Thank you, Union Church, leaders and staff, for your love, support and encouragement. Thank you, Pastor John, for your word to us and your call to the 'RE's" -Reset, Renew, Revive and Reconciliation. Couldn't agree more! I look forward to this next new chapter at Union Church.
This Sunday we kick off the "By Faith" series -a series whereby we will focus on Stewardship. We hope you will join us in person or online
Blessings, Pastor Michele
10.10.10:
We are delighted to announce that we raised over $32000 for the Hong Kong Church Network for the Poor with our 10.10.10 special offering. Thank you all so much for your generosity.
THIS WEEK:
ONLINE HALLELUJAH PARTY, SATURDAY 31 OCTOBER, 4-6 PM
We look forward to seeing your children and their friends this Saturday for a fun and exciting afternoon of "
JOSEPH AND HIS DREAMCOAT
" - ONLINE HALLELUJAH PARTY. There is still a chance to sign up and pick up the GIANT GOODIE BAG from church until Saturday noon time. A kind reminder to please open the GOODIE BAG only on Saturday just before joining the party. The Zoom Link to the Hallelujah Party will be emailed to parents by Saturday noon. If you do not receive the link, please email us at
.
For more details and to sign up please click
HERE .
We are currently meeting in-person at half our normal capacity in the Sanctuary - 100 people. We will be offering live services at 8:45AM (with communion), 9:45AM and 11:15AM. This week also sees the RETURN OF U-Cafe, with a live Worship team, at Hotel Indigo (2nd floor) at 11:15AM. We look forward to seeing you at one of our services in-person. If you are unable to come and worship with us in the sanctuary or Hotel Indigo please join us online, at either 9:45AM or 11:15AM, via our website, mobile app or Facebook page. If you are unable to be online at the time of our worship services, you can watch them later in the day, again via our website, app or Facebook page
On Sunday we will be holding a special offering in support of St Barnabas' Society and Home. St. Barnabas' Society and Home is a Christian charity established in 1987. It started with visiting homeless people under the flyovers, in public parks and in back alleys in the Western District. Their service now extends to providing hot meals and basic food and sanitary items to the elderly and to underprivileged families. Their Children's Centre provides a safe place where children can learn new skills like language, art, cooking and, most importantly of all, the Word of God. The Centre is now close to having to halt their food and children programs due to lack of funds. Please pray for, and consider donating to, this meaningful ministry. http://www.sbsh.org.hk/english/indexe.html
Young Marrieds Lunch - Sunday, November 1st. We would love to get together with all our young, married couples for a special (free!) lunch with our Young Adults Director Dan Tupps, his wife Geeta and Pastor Michele. We'll meet at 12:30pm in the fellowship hall then make our way to the venue. To RSVP or for more information please contact Dan Tupps.
Ladies Get 2 Gather, Monday November 2nd 7:30PM. Sign up HERE
Youth: Christmas Banquet Save the Date – December 4. We'll be doing things a little differently this year for the Christmas Banquet – we are asking members of our congregation to host smaller 'Home Banquets' and invite friends and neighbours to join. Entertainment and an auction will be zoomed in! If you are interested in hosting or just being involved, please let Hunter know.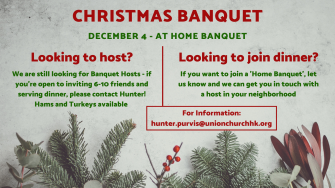 Creche & Sunday School Arrangements for Sunday 1st November 2020 and until further notice: the Creche Centre will be open with restricted capacity. For children aged 3 years old above, Veggie Tales Movies will be shown in rooms 2 & 3 with strict hygiene measures and in accordance with the government guidelines. We greatly appreciate your understanding and kind cooperation as we gather and worship God responsibly.
Prayer and Discernment: Join us as we continue to pray for our church. Tuesdays, at 7:45AM - 8:30AM on Zoom. Contact ADMIN for the zoom link.
Don't forget that you can still give your offering online via the giving page of our website, or by using the QR code below. You can also send us a cheque, made payable to "Union Church" or "Friends of Hong Kong Charities, Inc" if you are a US taxpayer. Please send them to: 18F, Sunlight Tower, 248 Queen's Road East, Wan Chai, Hong Kong.
Book Group: Do you enjoy reading? The Union Book Group reads a variety of Christian and secular books, and discusses them from a Christian perspective. Our upcoming book is The Inner Voice of Love, by Henri Nouwen, meeting Nov 24, 7:30 pm. Books available at church, 100$. Contact Monte Peterson with any questions.
Choosing Generosity:
As Christians, we live "by faith"--and that includes living generously. Join us as we explore God's call to choose generosity in every area of our lives--our time, money, compassion and talents. We will hear from congregational members, engage the Bible and reflect on our stories together. We will meet both
in-person
and
online,
Wednesdays in November, 8 pm. To help us plan for this hybrid format, please register in advance.
Young Adults ReCharge:
Young adults will be joining the "Choosing Generosity" study throughout November (see details above).
Missions:
The mission of Sons & Daughters is to help those caught in sexual exploitation to reclaim a life of love, family, and freedom in Christ. They reach out to those in the red light districts to offer tangible, psychosocial and spiritual support through activities and classes in their drop-in centre, and also through their aftercare program, for those who make the decision to leave commercial sexual exploitation. Because their piano is broken, they could use a donation of an electric piano. They are always in need of everyday items for their drop-in centre and safe house. Please see the link to donate: https://forms.gle/6pUQ7LqAte5DdY1bA. Another way to show your support is by shopping at ReStore, their social enterprise that supports people coming out of exploitation. Consider purchasing a gift here: https://www.restoreshop.org/
In speaking with our partners at Light of the World Church and Preschool in Yangon, Myanmar, the present situation there is rather dire due to COVID-19. Most church members are out of a job and have no income. Churches and schools are closed. Church members need assistance to meet their basic needs. Pastor Vum and his family have been providing food to church members during this time using funds provided by Union Church. Please pray for: strong faith in God and Christ Jesus during this time; safety and health for each family during the pandemic; for places of work, schools, and churches to be able to re-open. Please also pray for one of the congregation members who is ill. Her name is Daw Ma Naw
VBS LOVE PACK
A kind reminder that we are collecting Love Packs until this Sunday, 1 November, before they are to be delivered to the St.Barnabas Society and Home Centre. We hope to deliver 50 Love Packs and we invite all of our Kingdom Kids families to join us in sharing Jesus' love and goodness with the children in need under the care of the St.Barnabas' Society and Home by organising a Love Pack.
The Love Pack consists of a new box of junior size face masks, hand sanitizer, a board game (any kind of board game suitable for 7 to 15 years old), arts and crafts set and a box of snacks.
You may drop off your Love Pack at
Union Church on or before this Sunday. Thank you.
ONLINE SUNDAY SCHOOL
3-7 years old students: Faithweaver - Abigail Makes Peace, this Sunday via Zoom, from 10.45 am - 11.30 am.
8 years old and above students: Be Bold -
Why Did God Appear to People Only In Bible Times?,
this Sunday via Zoom, from 10.45 am - 11.45 am.
Sunday School 2020/2021 Registration IS NOW OPEN
: All children enrolling in our Sunday School and Creche Centre MUST BE REGISTERED by filling in and signing the Registration Form HERE. For safety reasons, only children officially registered in our Sunday School program will receive the Zoom link to our Online Bible Study. For more information, please visit Union Church's website or contact us at
CHILDREN
or 21010414.
Youth:
In Person Friday Youth Group - Friday October 30
Youth are invited to join us at Union Church! This Friday will be a Fellowship Night, where we focus on getting to know each other and engaging in different activities and games.
What: In Person Friday Youth
When: Friday Oct 30, 6PM-9PM. Juniors (11-13) dismissed at 7:30PM
Details: Due to the continuing restrictions, we will not be serving dinner. Youth will also be asked to sign a health declaration for and have their temperature checked.
In Person Sunday Youth – Sunday Nov 1. We will also be having In-Person Sunday Youth this week at both 9:45 and 11:15 services. Youth are invited to join us at 29/F Indigo Hotel as we read scripture, discuss the sermon and pray together.
Wednesday Church History Study – November 4. On Wednesdays we are going to start a series based around the History of the Church – diving into how the church started, how it has evolved and grown over the centuries.
What: Youth Church History Study
When: Every Wednesday, 6:30-8PM
Details: Zoom Link HERE.
Confirmation Course – Starting November 8. We will be starting a new Confirmation class that will run from November to March. Confirmation is a process through which Youth review and learn the fundamentals of their faith, and prepare to affirm their commitment to Christ in front of the Congregation. Youth 12+ are invited to sign up and can contact Hunter or Monte for more information.
Small Groups:
Meeting as a small group in this time is challenging, but the support from each other is more important than ever. There ARE online options - please reach out if you need help figuring this out! If you aren't currently in a group, we encourage you to try it out. There are groups for women, men, couples, day-time, night-time, etc. Interested? Contact Monte Peterson.
Connecting:
The Marriage Course: please contact Joanna Yau for more details.
Pastoral Care Support, if you are looking for some support and prayer please let our staff know. Contact Ministry leaders directly or admin at: or call 6225 5042.
If you have been attending Union Church for a while and have never gone through the official process to become a member, now is your chance! Please collect a green form and make it official! If you have never been baptised and are interested, please contact Monte Peterson.
A Stephen Minister can help. Stephen Ministers are members of our congregation who listen, care, encourage, and provide emotional and spiritual support to people going through a crisis or a difficult time. Please contact Pastor Michele if we can help ( )
Fertility & Pregnancy/Infant Loss Support Group - Struggling and could use some fellowship, friendship and support? Contact Sonia Lee.
Family in Need (FIN):
If you would like to help support our family in need ministry, which helps people monthly with basic needs, please mark your envelope "FIN".