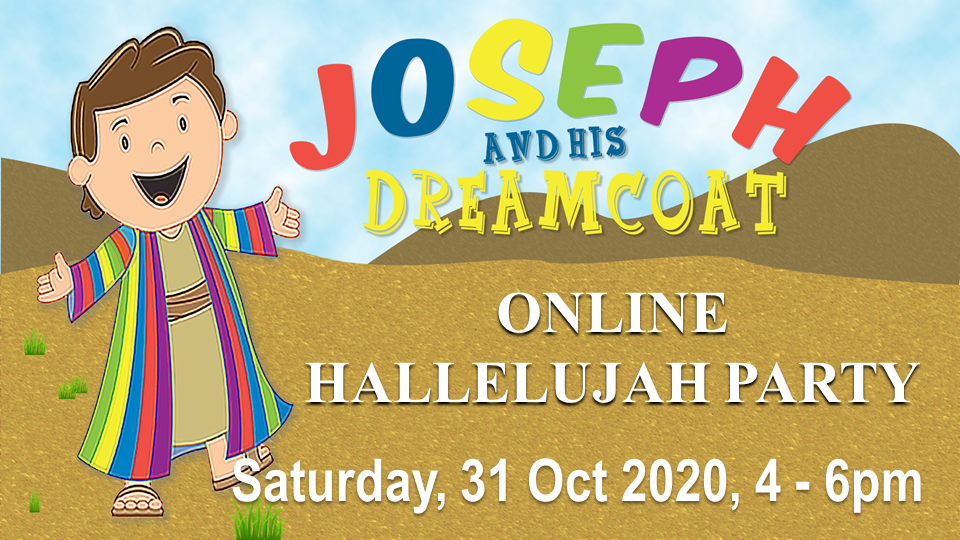 JOSEPH and his DREAMCOAT - ONLINE HALLELUJAH PARTY!
It is that time of the year again where our fellowship and connection with other families will be happening in the utmost fun and exciting way, it is our annual HALLELUJAH PARTY !!
Join us as we bring you and your family to an adventure of Joseph and his Dream Coat!
Here's how this year Hallelujah Party will take place!
Your family will organize a playdate for your children and 3 of their friends, if you are in a position to do that, or alternatively your whole family will joined in with your child/ren, at the comfort of your own home.
We, the Kingdom Kids, will provide a giant Goodie Bag filled with games, activities, prizes, snacks and sweets for your family to enjoy together at home. This giant Goodie Bag may be picked up directly from Union Church from the week of 18th of October to the 29th of October.
What's more, we will lead your children in songs, games and activities via Zoom live! Last but not least, the amazing crew of Dove Tales Theatre Co. will perform live from Union Church sanctuary with a play called "Joseph and His Dream Coat" for all of us to watch and enjoy!
We hope you are as excited as all of us here at Kingdom Kids, and we can't wait to see you for our one of a kind Hallelujah Party!
Please register to help us better organize your giant Goodie Bag, and let us know how many children you will be hosting.
We look forward to see your family for our ONLINE Hallelujah Party!