U MATTERS
We are in a series entitled the Resurrected Life and I appreciated Dan's message last week which reminded us that the resurrection is transformational. Transformation involves new life, and it also involves change. Recently, I had full week of "new life" experiences - a baptism, participation in the renewal of wedding vows, attending a funeral, participating in a baby shower and then on Sunday we confirmed three teens. All examples of new life and transformed lives.
Transformation also involves change. Although we recognise that in "everything there is a season" this summer our church will face some changes. After 10 plus years of a very full and vibrate ministry at Union Church, Chris and Barbara Yorks will be returning to Pennsylvania to be with family. Additionally, Monte Peterson after completing her Master of Divinity, the requirements of ordination and four years of pastoral ministry with us, she, along with Matt, Finn and Willa will be moving to Wisconsin for the next chapter in her ministry. Both of these colleagues (and families) have invested so much into our community and have served so faithfully and selflessly. We will miss them dearly.
Transformation, new life and change, it isn't always easy nor what we think it will be. But the resurrection reminds us of the power of God and gives us an eternal hope. He knows all of our next steps and encourages us to "seek the things that are above, where Christ is, seated at the right hand of God [and to] set your minds on things that are above, not on things that are on earth." Col 3:1-2
Blessings and peace, Pastor Michele
"May the God of hope fill you with all joy and peace in believing, so that you may abound in hope by the power of the Holy Spirit." Romans 15:13
WORSHIP SERVICE UPDATES
We are aware of and grateful for the latest relaxation of restrictions on group gatherings announced today. As it is a requirement for "all participants of the group gathering to have received the first COVID-19 vaccine dose", we will remain at 30% capacity. We will continue our registration process based on first-come, first-served sign up (starting Mondays at 10:00am on the website) and we will also continue to livestream our 9:45am and 11:15am services. We look forward to seeing you either in-person or online.
In addition to the in-person 8:45am (Family Communion), 9:45am (Traditional Worship) and 11:15am (Contemporary Worship) services, we also livestream the 9:45am and 11:15am services on our church website, Facebook page, church app and YouTube. And why not zoom in for Coffee Hour? See below.
Sunday Service Watch Parties: This Sunday, 2 May we also have groups of people gathering in homes around Hong Kong to watch either the 9:45am or the 11:15am service together. Register your interest here.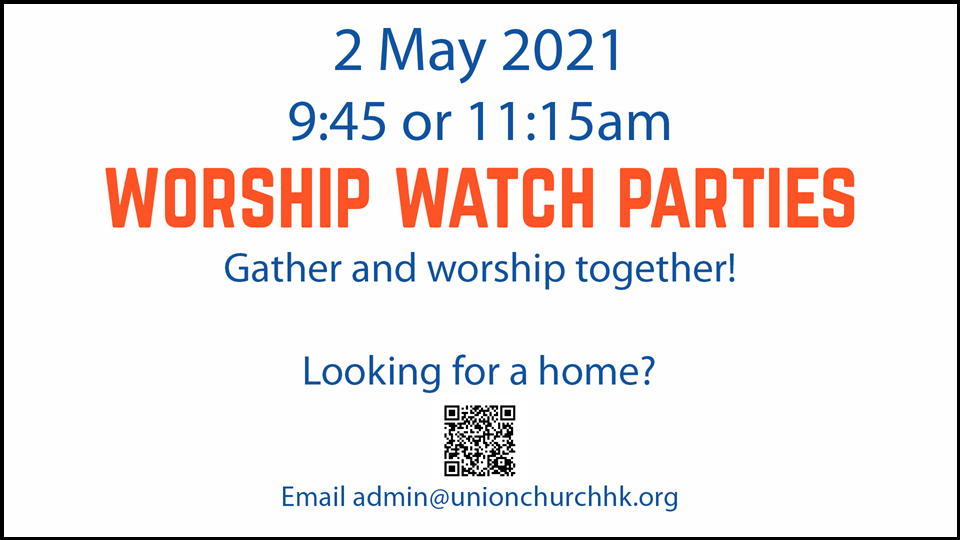 Zoom Coffee Hour is on with the Deacons! We want to connect with our online worshippers every Sunday in between services, 10:45am - 11:15am. To get the link, email .
FAMILY NEWS
It's a boy! Congratulations to Anna and George Issac on the safe arrival of Zachary Abraham Kurian on 27 April. We rejoice with you!
Annual General Meeting (AGM): All are welcome at our AGM on Saturday, 22 May, 7:00pm at Union Church. People who have been church members for at least six months may vote. Nominations for members of the Committee of Management will close on Sunday, 9 May at 8:00pm. Please contact the church office for the nominations form and return completed forms to to the attention of the Honorary Secretary.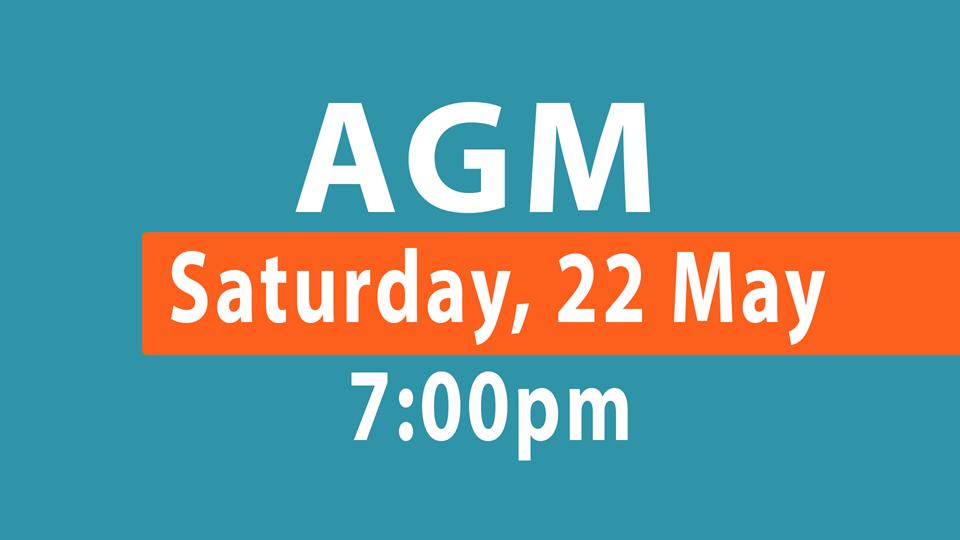 The Grace Race: Join us for the Grace Race! Together, we're walking (or running or hiking) 9,888km between 24 - 30 May to raise funds for the interior fit-out of the new Union Church building. 9,888km is the distance between the Rev. James Legge's birthplace in Huntly, Scotland and 22A Kennedy Road. We can do this together as a community. Learn more and sign up at https://www.unionchurchhk.org/the-grace-race/.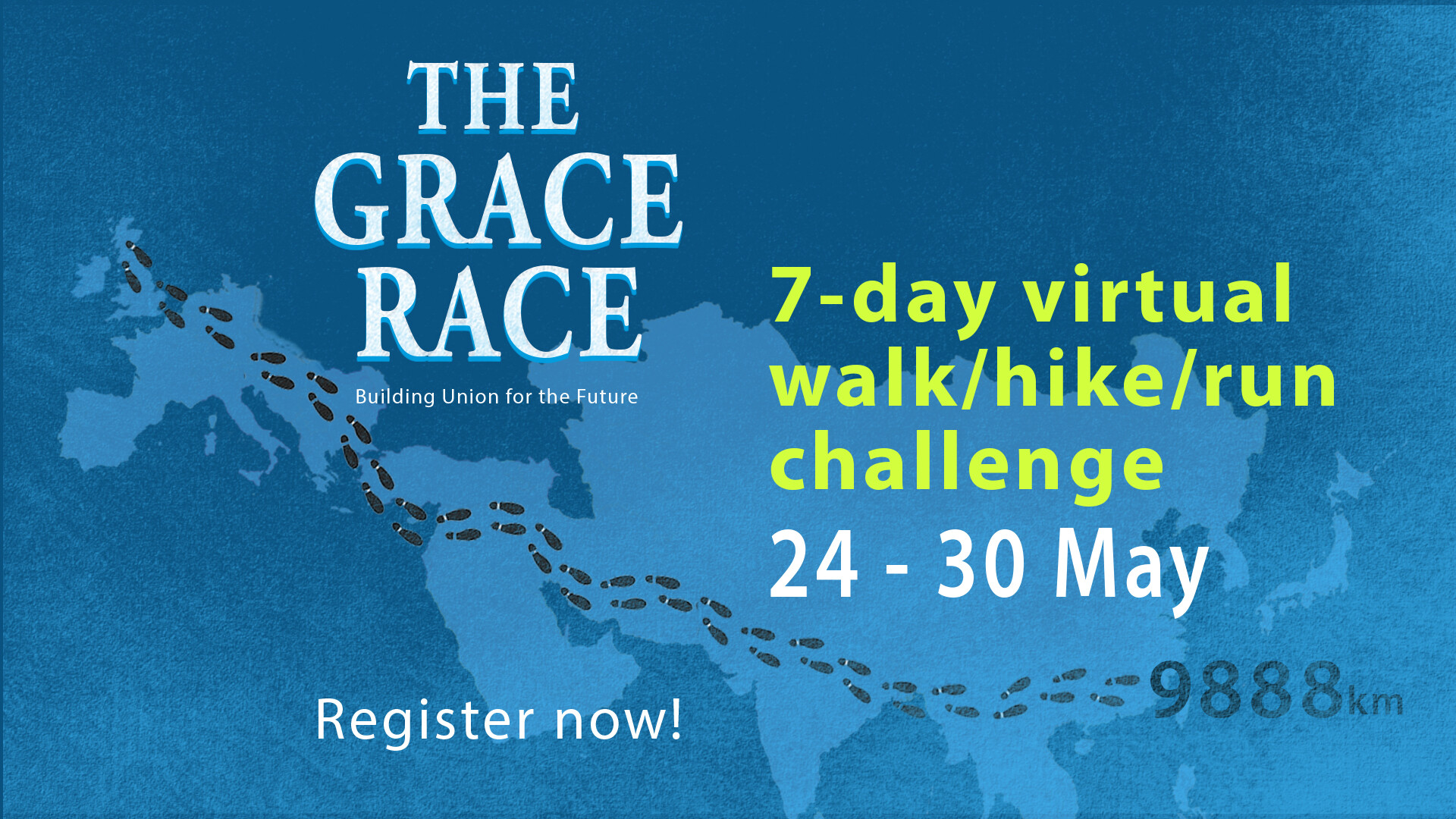 Commissioning of Stephen Leaders: This Sunday at the 11:15am service we will commission six new Stephen Leaders - Ellen Ahn, Crystal Lo, Tess Lyons, Monte Peterson, Trudy Staalman and Catriona Woodrow. Previously trained as Stephen Ministers, this team has now completed the Stephen Series Leader's Training Course and are equipped to serve in a leadership role within our Stephen Ministry. We are grateful for their dedication and gifting! Stephen Ministry provides high-quality, one-to-one, Christ-centred care to people who are hurting. (see below)
Union ReUnion: Thank you again for a fabulous family reunion on 17 April. It was wonderful to see so many of you participating. We are deeply touched that people across the congregation (and some beyond our church) gave $2.1M to help fund the interior fit-out of our new church at 22A Kennedy Road. Check out the updated Grace of Giving webpage including videos and images.
THIS WEEK
New courses started yesterday - but it's not too late to join the rich content and fellowship available on Wednesdays at Union.
Alpha: This is the chance to ask big questions about life and to explore the Christian faith in a fun, non-pressurised environment. Every week you will enjoy getting to know one another, watching a short film, and talking about the content.
Young Adults Alpha meets in-person on Wednesdays, 8:00pm. Led by Dan Tupps.
Adults meet online on Wednesdays at lunchtime, 12:45pm - 2:00pm. Led by Patrick Wilson and Monte Peterson.
Alpha for Youth starts on Friday, 14 May at 6:00pm (check out the Youth section, below).
Learn more and register here. It's not too late to invite someone to Alpha - ask the Lord to reveal a name to you. For 27 years, Jesus has transformed lives through Alpha at Union Church - and millions more worldwide.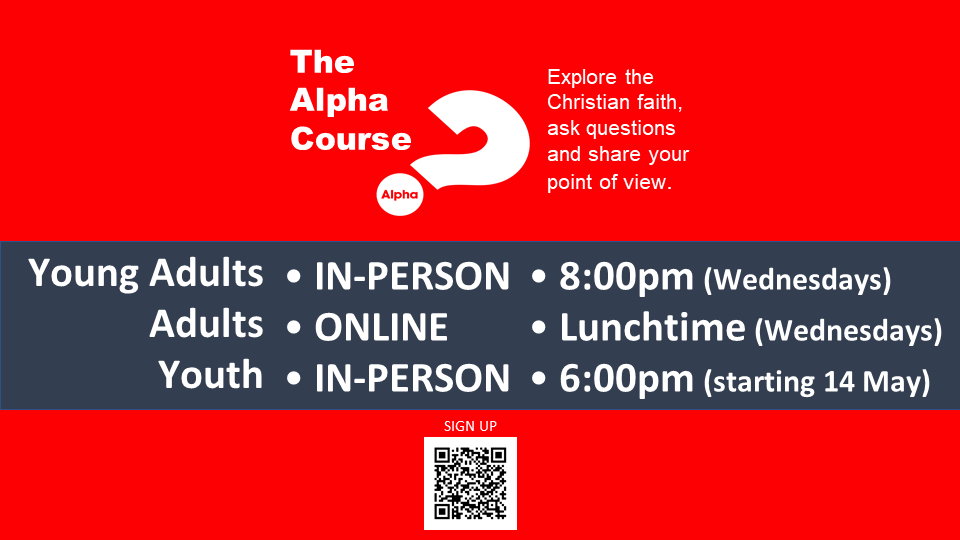 James Legge: the man, the mission, the legacy: This 3-part online series brought to you by teacher, local historian and theologian, Catriona Woodrow, will explore how the early years of James Legge fitted him uniquely to play an outstanding part in early missionary endeavours in the Far East. From his early arrival in Hong Kong, his influence contributed significantly not only to the vision of the London Missionary Society but also the development of the colony as a whole. These important insights will allow the current congregation to appreciate more fully the life and work of James Legge, and the history of Union Church Hong Kong. Register here and join us for the second and third classes on 5 and 12 May.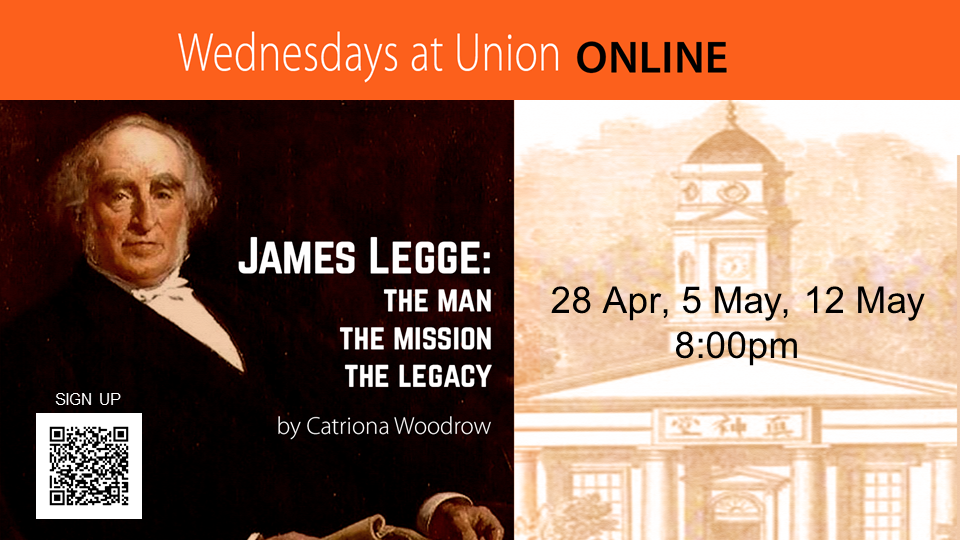 Difference: This course explores what it means to follow Jesus in the face of conflict and see transformation through everyday encounters. A transformed world starts with transformed relationships. The course teaches 3 habits to help us encounter others well, cross divides and see society transformed. Monte Peterson is teaching this 5-session, in-person course. Register here.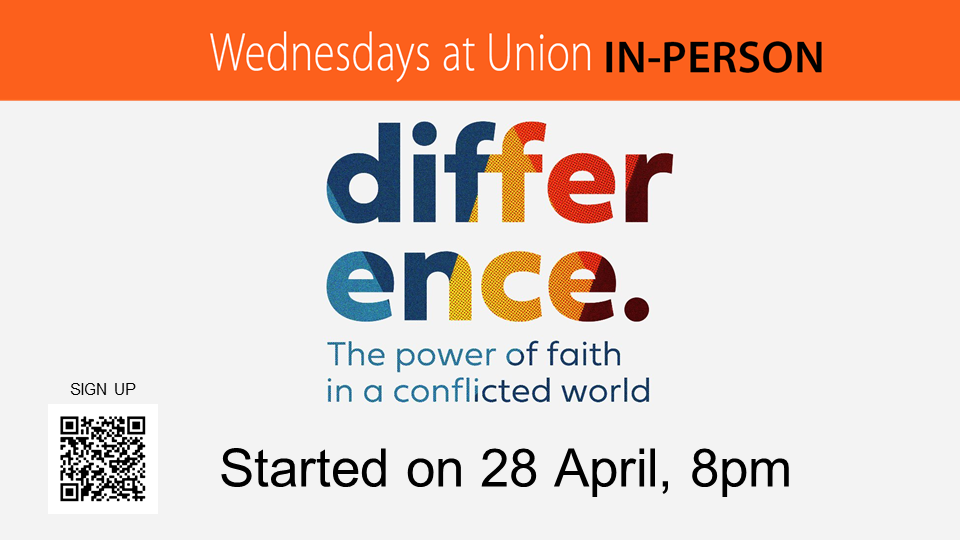 Young Adults: In addition to our Alpha course (above), we are also gathering on Saturday, 1 May for a hike on Dragon's Back. Please contact Dan Tupps for more information.
UPCOMING
Embracing your spiritual gifts: Starting on Thursday, 6 May, join Monte Peterson in person at Union Church for Discovering God's Vision For Your Life: You and Your Spiritual Gifts, 8:00pm-9:00pm. This 8-session course will help participants deepen their relationship with God, discover more about their Christian identity, learn more about the spiritual gifts God has gifted them with, and become empowered and equipped for ministry! This class includes a spiritual gifts inventory, and it is important to attend every session. The materials cost $100, and scholarships are available as needed. See here for more information, and contact Monte with further questions or to register.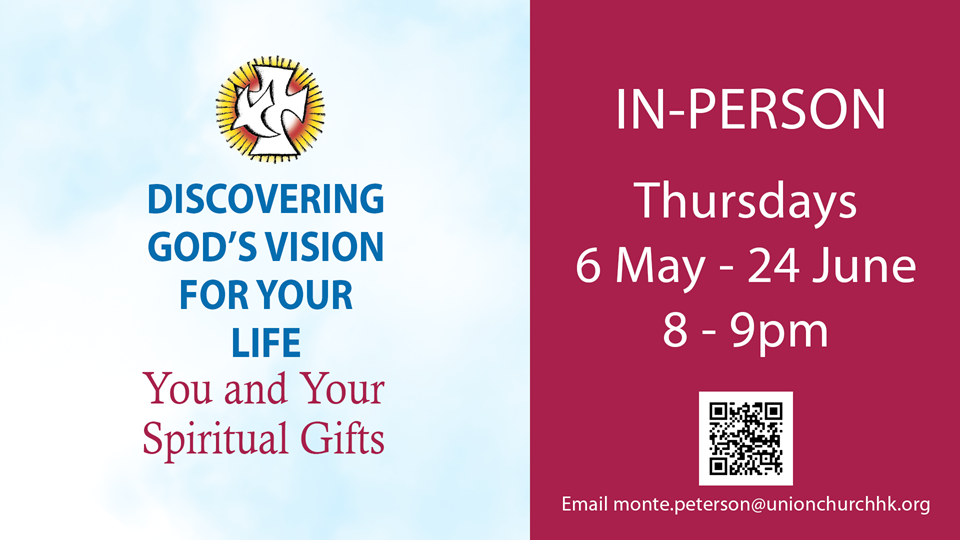 Film & Theology: On Tuesday, 11 May, 8:00pm, Chris McKenzie will lead us in a discussion of our next film, The Adjustment Bureau. At the heart of this romantic thriller is the age-old question of whether the course of your life is solely a result of your choice, or if there are other larger forces at work. Watch the film on your own, and then join us for the conversation! Register with .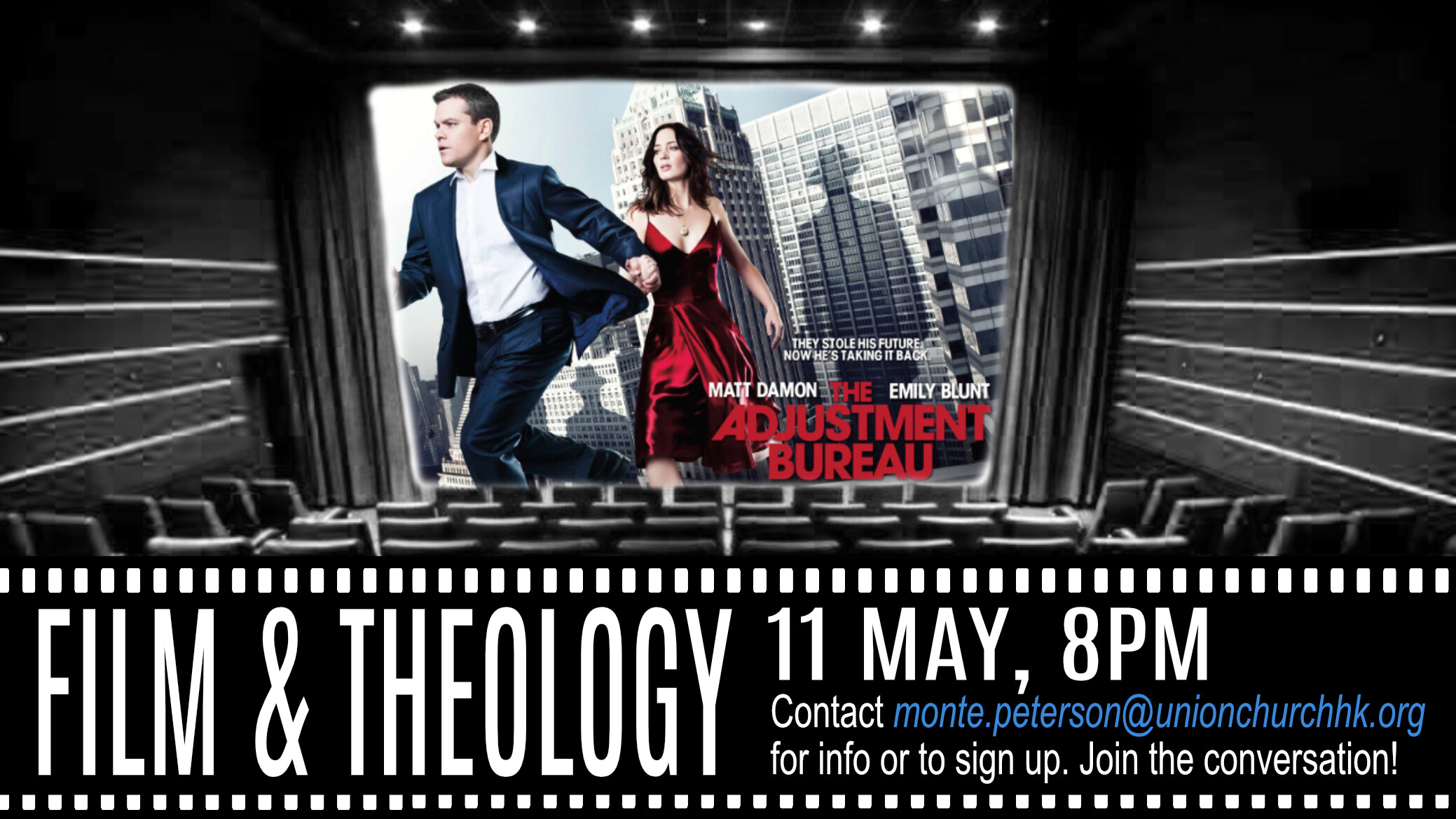 Hong Kong Men's Fellowship (Ladies are invited too!): Mark your calendars for Friday, 14 May, 12:00pm: MFHK Men's & Women's Lunch at Madame Fu's Grande Cafe Chinois. We will hear stories from various Alpha courses being run across the city. Cost is $300/person. Please register here: https://www.eventbrite.com/e/152253194403.
Union Church Book Group: Our next book is Black River, by S.M. Hulse, a story of "one man's struggle to find forgiveness in the wake of evil." Books are available at church for $100, and we will meet on Tues, 25 May, 7:30pm. Join us! Questions? Contact Monte.
KINGDOM KIDS
Creche & Sunday School Arrangements for this Sunday and until further notice: The Creche Centre will be open with restricted capacity. For children ages 3 years old and above, Veggie Tales movies will be shown in rooms 2 & 3 with strict hygiene measures, in accordance with the government guidelines. Services fill up quickly and your family must be successfully registered. Thank you for your patience during the occupancy restrictions.
Online Sunday School, Sunday 2 May: Children ages 3 to 10 years old are invited to join us for our Online Sunday School.
- 3-7 year old students: Joseph Goes to Jail (Genesis 39), via Zoom, from 10:45 am - 11:30am
- 8-10 year old students: Where Did God Come From? (1 Chronicles 29:11), via Zoom, from 10:45am - 11:45am
- Kingdom Kids Sunday edition is available at the end of the 9:45am and 11:15am worship services on the Union Church website or Facebook page.
The link to the Zoom classes will be emailed to families with children registered in our Sunday School programme for the year 2020-2021.
YOUTH
Friday Youth - 30 April - Union Youth is meeting in-person, and will be taking part in the HELP FirstHand experiential learning program from our friends from St John's Cathedral! Juniors (11-13) are invited to join from 6:00pm - 7:30pm; Seniors (14-18) will meet from 7:30pm - 9:00pm at church. Please note that we cannot serve food.
Sunday Youth - 2 May - Youth are invited this Sunday to join us at Ps. Michele's home for our weekly session. Juniors are continuing with their series on asking bold questions and Seniors are jumping into a bible study of the book of Philippians. Please contact Hunter (6466 5080) if you have any questions.
Wednesday Youth - 5 May - We're returning to our Wednesday sessions of discussing the TV series Chosen, an in-depth and creative look at the life of Jesus and his disciples. Please note that Wednesday Youth will continue online for the time being. Join us on Wednesday, 6:30pm - 8:00pm. Zoom link here
Youth Alpha - We are excited to announce that Union Youth will be starting Youth Alpha beginning May 14. Youth ages 11-18 are welcome to join, and if you have friends who would like to come along please feel free to invite them! If you have any questions please contact
MISSIONS
A Mother's Day idea from Sons & Daughters (S&D): Women whom S&D serve have handcrafted gift sets made of soy wax candles, beeswax wraps, invigorating coffee scrubs, notebooks and more. All the proceeds go to the women who made them. Let's celebrate the skills God has given them whilst honouring our mums at Union! You can order from www.restoreshop.org or whatsapp 62155245 before 12pm, 6 May and items can be couriered to your home. S&D is one of our 25 Missions Partners at Union Church.
We have a new Missions Partner! Agape International Ministries (AIM) is a Christ-led, non-denominational, not-for-profit organisation that exists to glorify God through our dedicated efforts to love, protect, and care for survivors of trafficking as well as other vulnerable and exploited individuals. AIM has a US headquarters in California and 300 staff in Cambodia. We will learn more soon about AIM through Cambodia-based Matthew and Melissa Stock. Check out AIM's website and read their 2020 Annual Report.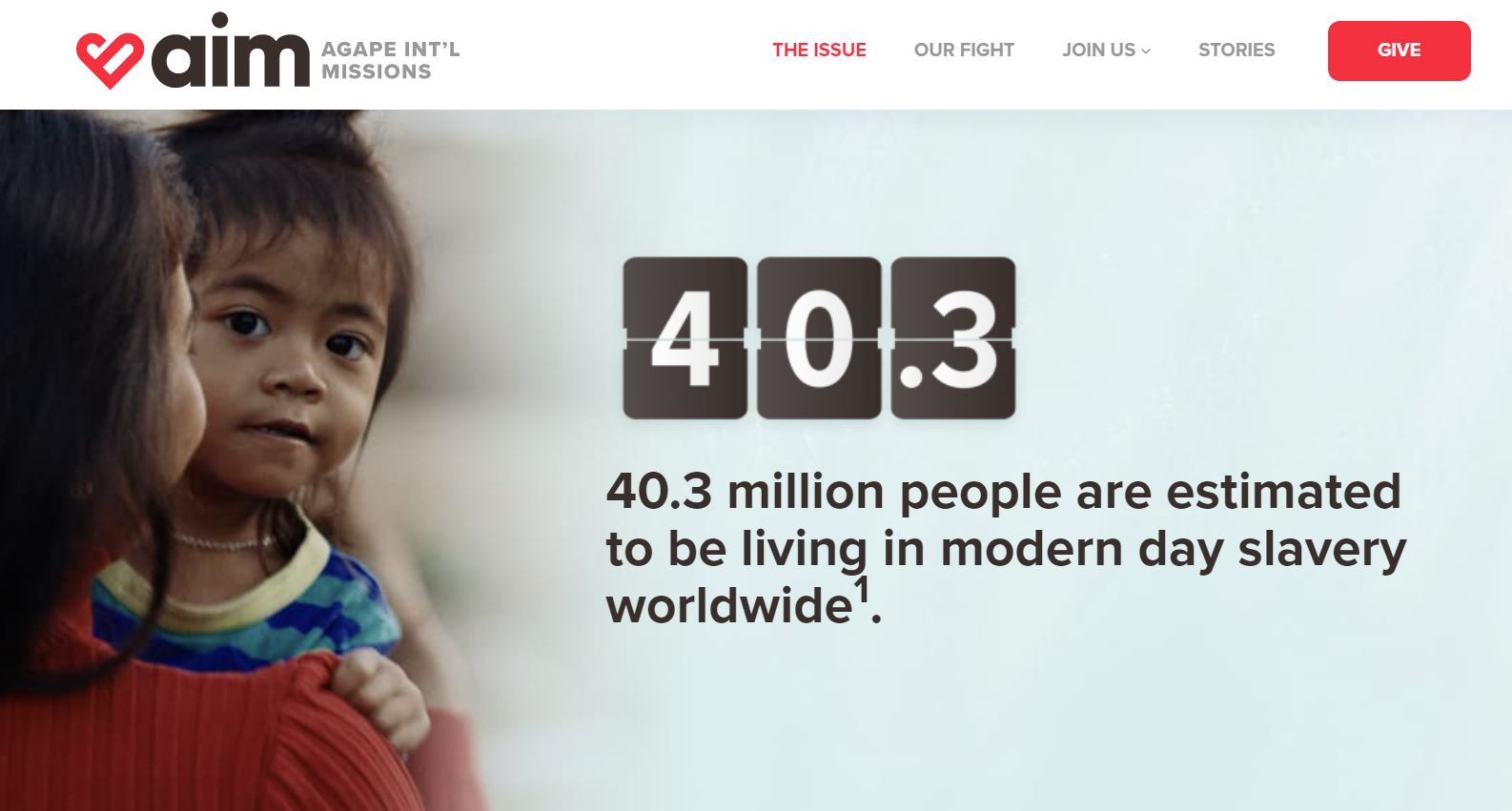 Prayers for Light of the World Church (LoTW), Myanmar: Thank you for praying continuously for Pastor Vum, his family and congregation. This week they praised the Lord for His presence amidst the Myanmar crisis, and gave thanks that a small group could worship in-person. Young newcomers came to church; pray that they heard and know the good news of Jesus Christ. Please also continue to pray for the congregation's livelihoods, daily provision of food, safety and protection.
Small Groups
Meeting as a small group at this time is challenging, but the support from each other is more important than ever. There are online options - please reach out if you need help figuring this out! If you aren't currently in a group, we encourage you to try it out. There are groups for women, men, couples, day-time, night-time, etc. Interested? Contact Monte Peterson.
Families in Need (FIN)
Our Families in Need ministry helps people with their basic monthly needs. If you can help, we are grateful for your generosity. Please mark your envelope "FIN".
Fertility & Pregnancy Loss
Fertility & Pregnancy/Infant Loss Support Group - Struggling and could use some fellowship, friendship and support? Please contact Tess Lyons.
Pastoral Care and Prayer
Need prayer? Reach out to us confidentially at .
Stephen Ministry
We provide high-quality, confidential care to people who are hurting through our Stephen Ministry programme. Contact Pastor Michele if you would like to know more about the programme or meet with a Stephen Minister.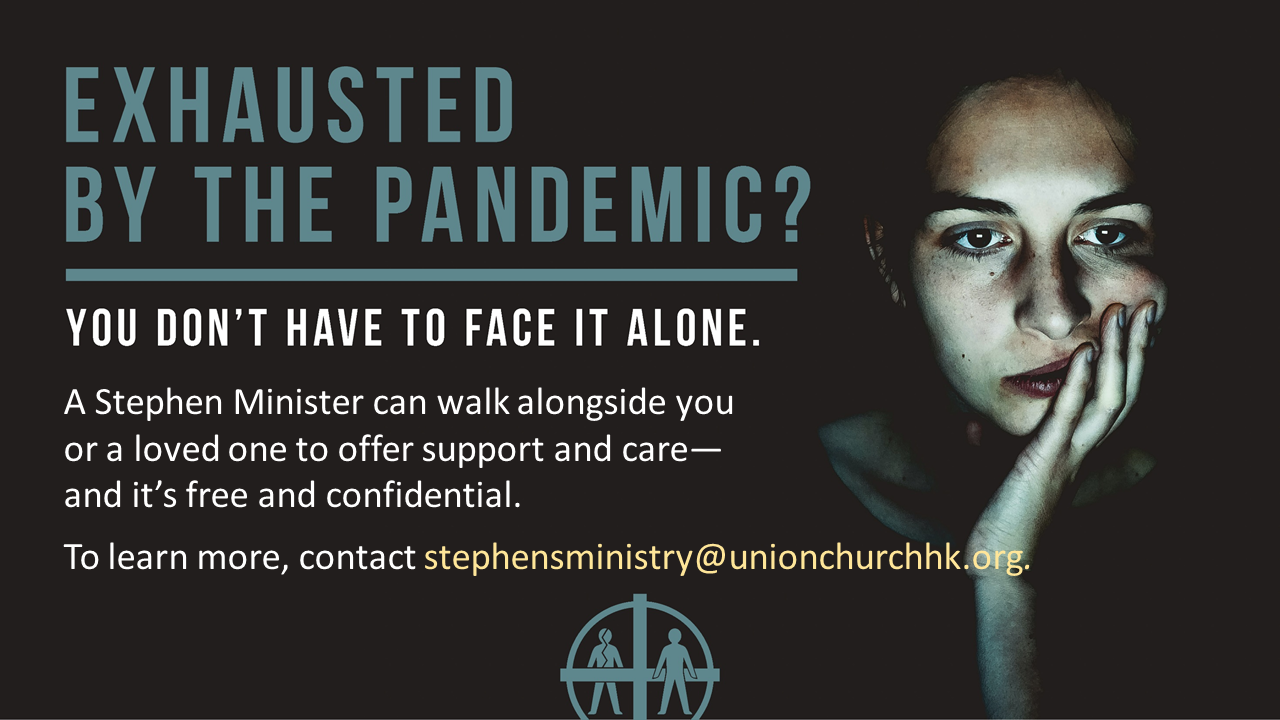 Last week's sermon
"The Resurrected Life...A Positive Transformation" Dan Tupps
Social Media
Please follow Union Church Hong Kong on Instagram, LinkedIn, Facebook and YouTube and share with your friends and family. Do you have images, video and stories for UC social media? Please share with Bronwyn.