U MATTERS
What an exciting week it has been! We are full swing into The Grace Race - such energy and enthusiasm! People have been walking, running and hiking - people have walked to and from work - people have walked at lunchtime - people have had meetings whilst walking. People have signed up in Scotland, Ireland, Australia, Portugal, Seattle, San Francisco, San Jose, Los Angeles, Washington DC and beyond, and it has been so exciting to see the participation of various groups - Small Groups, Youth, Young Adults to name a few.
Throughout the week, it has also been exciting to see the diversity of representatives who have been on our Leaderboard (top 10) - our Filipino leaders - Cristina Yangkin, Ruby Herico and Lolita Laudes; our Youth - Sebastian Caldwell, Britta Telvik and Elise Bland; our COM, Deacons and Trustee leaders - Charles Caldwell, Michael Birley and Geoff Lovegrove, and our Grace Race / Grace of Giving team - Tess Lyons, Wanda Yuen and David Ashton-Howorth. We hope Gerard Dubois continues to clock in the kms as he has consistently been on the leaderboard!
We are grateful for the participation of EVERYONE who is participating, either through giving or walking, and for EVERY KILOMETRE! Every km helps us reach our goal - from Scotland to Hong Kong - 9,888 km and every dollar helps Build Union for the Future. Not one person can accomplish this event alone - every person, every participant is needed. Just like the church - the body is made up of many parts - we need each other, and we need to work together to accomplish our goal. 1 Corinthians 12
Currently we have 192 participants. If you have not signed up, you still can! You can participate alone or join a walk. Please see our webpage for details - or contact the "Strava hotline" (church office and ask for David). As of tonight, we have 6,650 kms to go - we need YOU!
"Two are better than one, because they have a good reward for their toil. For if they fall, one will lift up the other; but woe to one who is alone and falls and does not have another to help." Ecclesiastes 4:9-10
Lace up, Pastor Michele
WORSHIP SERVICE UPDATES
We are grateful for your ongoing patience with the restrictions on our floor capacity. This coming Sunday we still have a limited number of seats at the 8:45am service.
If you register and then need to cancel or adjust your numbers down, please notify us as soon as possible before Sunday so we may offer your space to someone else. For the following Sunday, remember to jump on the registration on Monday at 10am. https://www.unionchurchhk.org/sunday-worship-service-registration/
In addition to the in-person 8:45am (Family Communion), 9:45am (Traditional Worship) and 11:15am (Contemporary Worship) services, we also livestream 9:45am and 11:15am services on our church website, Facebook page, church app and YouTube.
For our online worshippers, please join the Zoom Coffee Hour hosted by the Deacons! We want to connect with our online friends every Sunday in between services, 10:45am - 11:15am. Contact the church office to get the Zoom link.
Sunday Worship Watch Parties are a great way to experience church in a small group. Gather with your friends and neighbours on Sunday to watch the livestream, enjoy the message together, and sing hymns or praise songs. Communion Sunday on 6 June is a wonderful opportunity to give it a try. On the 6th you may prepare your own elements of bread and wine / juice or pick up the pre-packed communion elements at the church.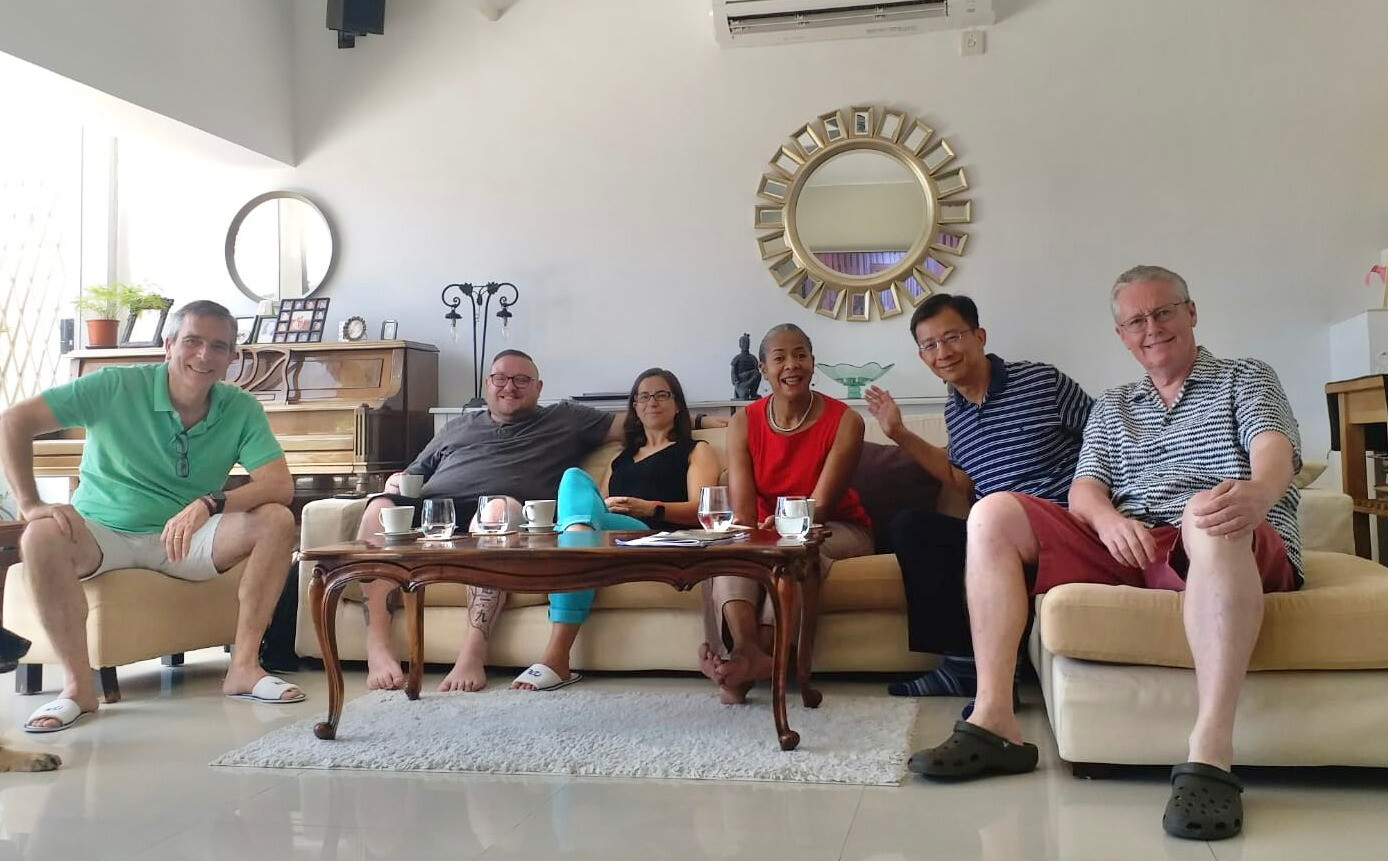 A Sunday worship watch party in progress in Clearwater Bay!
FAMILY NEWS
Special Offering - HOPE for South Asia: This week our offering will bring emergency food and medical relief and hope to families in South Asia (country not disclosed due to security reasons) via Hope International, a Christ-centred microfinance organisation founded in the USA 22 years ago. For 11 years, HOPE has provided discipleship, Biblically-based training and microfinance opportunities in country, impacting over 100,000 families. At this time, the immediate need is care packages with food (rice, lentils, onions, spices, children's snacks) and PPE (masks, soap, sanitisers, vaporisers, vitamins and medication) for 8,000 families. HK$400 will furnish one family for one month with essential food and PPE. Want to give? Please prepare a cheque payable to "Union Church" with "HOPE International" on the back and send it to the church office. You may also give online here and designate it for HOPE International on the form.
Sunday School Teacher Appreciation and Youth Volunteer Appreciation: What a blessing our Sunday School teachers and Youth volunteers are! We wish to express our appreciation at the 9:45am (Sunday School teachers) and 11:15am services (Youth volunteers). Praise God for your ministry to these young people and your generous assistance to our ministry leaders.
Annual General Meeting: The AGM on 22 May was a time of worship, church updates and seeing God at work in our church community. We celebrate the new Deacons who were voted in - Eric Fung and Juliana Rotmeyer. We also celebrate the election of new Committee of Management (COM) members - Shaun Dove, William Kuan, Cecilia Lee and Ester Li Chung; the election of Jonathan Ah-Weng as Honorary Secretary; and the re-election of COM members, Michael Birley and Trevor Tam. Thank you for joyfully serving the Lord and Union Church.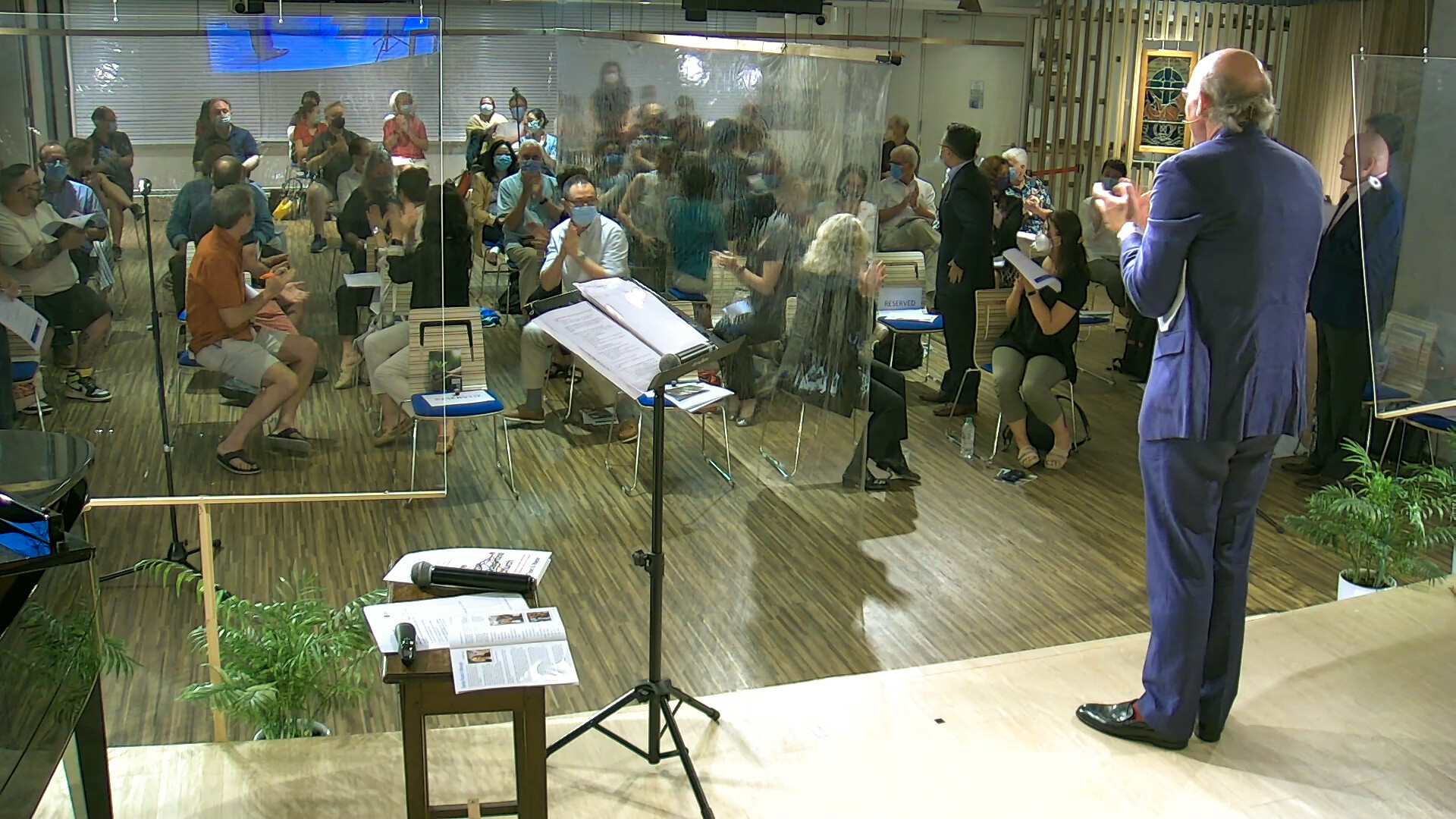 Memory Books: What cherished memories do you have of the ministries of Chris Yorks and Monte Peterson at Union? They are returning to the USA this summer so be sure to record your gratitude, signature and/or photos in memory books for them. Insert your contribution at the Memory Book table at church or feel free to take a page home for your creative handiwork. Please can we have your inputs by 27 June - Monte's last Sunday with us! Questions? Please contact .
THIS WEEK
Prayer Walk: Sunday, 30 May, 12:30pm from Dah Sing Financial Centre to 22A Kennedy Road, led by Pastor Michele and the Deacons. Pray for our church and city - and clock up some kms in Strava for The Grace Race! No registration required.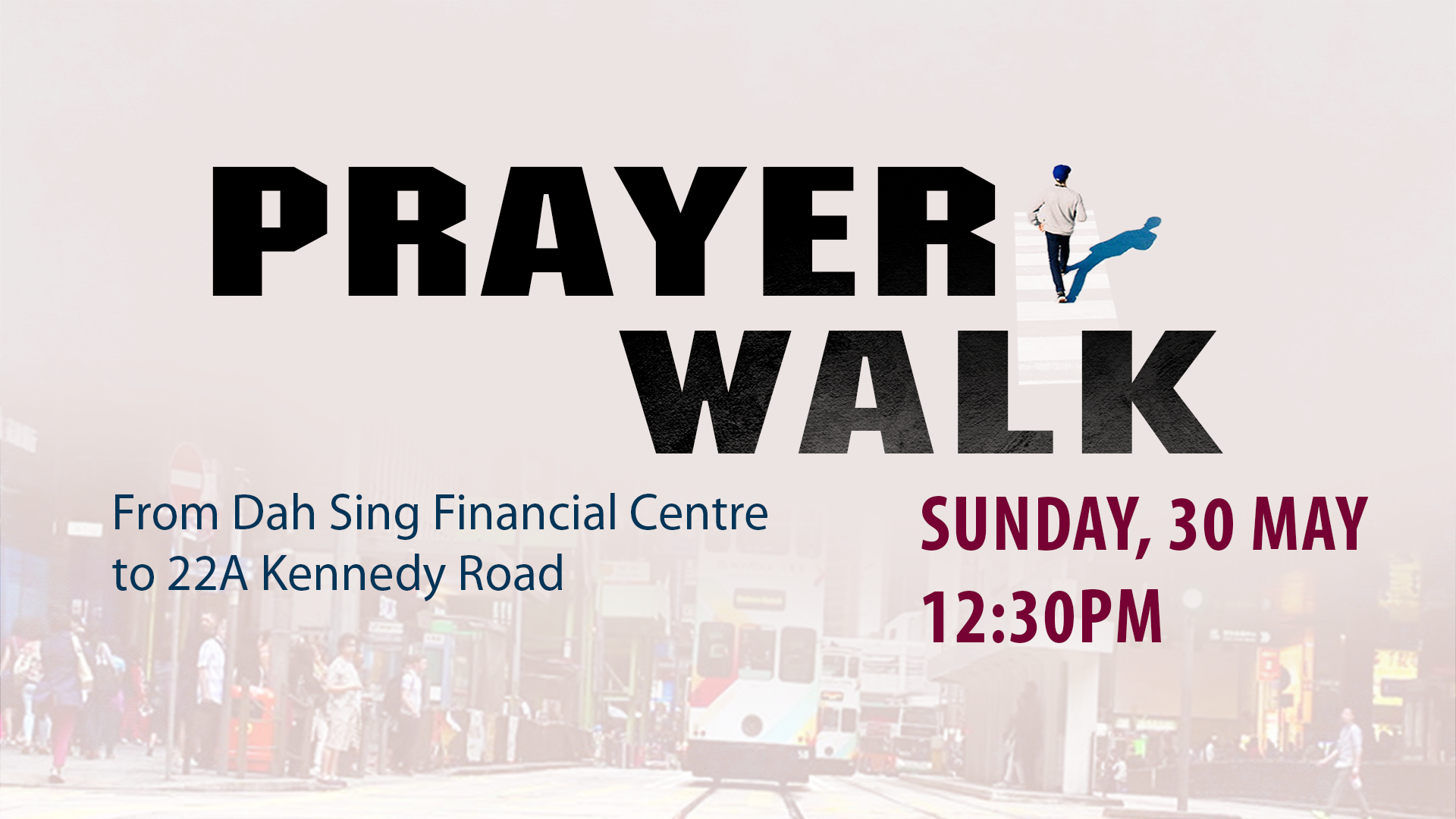 The Grace Race: It's Day 4 and we need your help to reach 9,888km! We want to make it all the way from Huntly in Scotland to 22A Kennedy Road. If we don't get all the kms we need, we might end up in the ocean or in South Asia. Is this God's way of telling us to church plant?! Every kilometre you record in the free Strava app is important. It's not too late to create your account, join the Grace Race Club in Strava, record your activity as a RUN (even if it's a walk or hike) - and voila - you're making a valuable contribution to The Grace Race and the completion of our new church building at 22A Kennedy Road. Want to join us on walks? There's Dan's Mystery Tour Walk from Central Ferry Pier 3 on Saturday, and on Sunday a Prayer Walk (12:30pm) and the Last Push event (4:00pm). Learn more and register here. Need a laugh? Check out the three Grace Race videos. Here's Miss Jacklien to help us with our Grace Race maths. And check out your staff en route to K'town!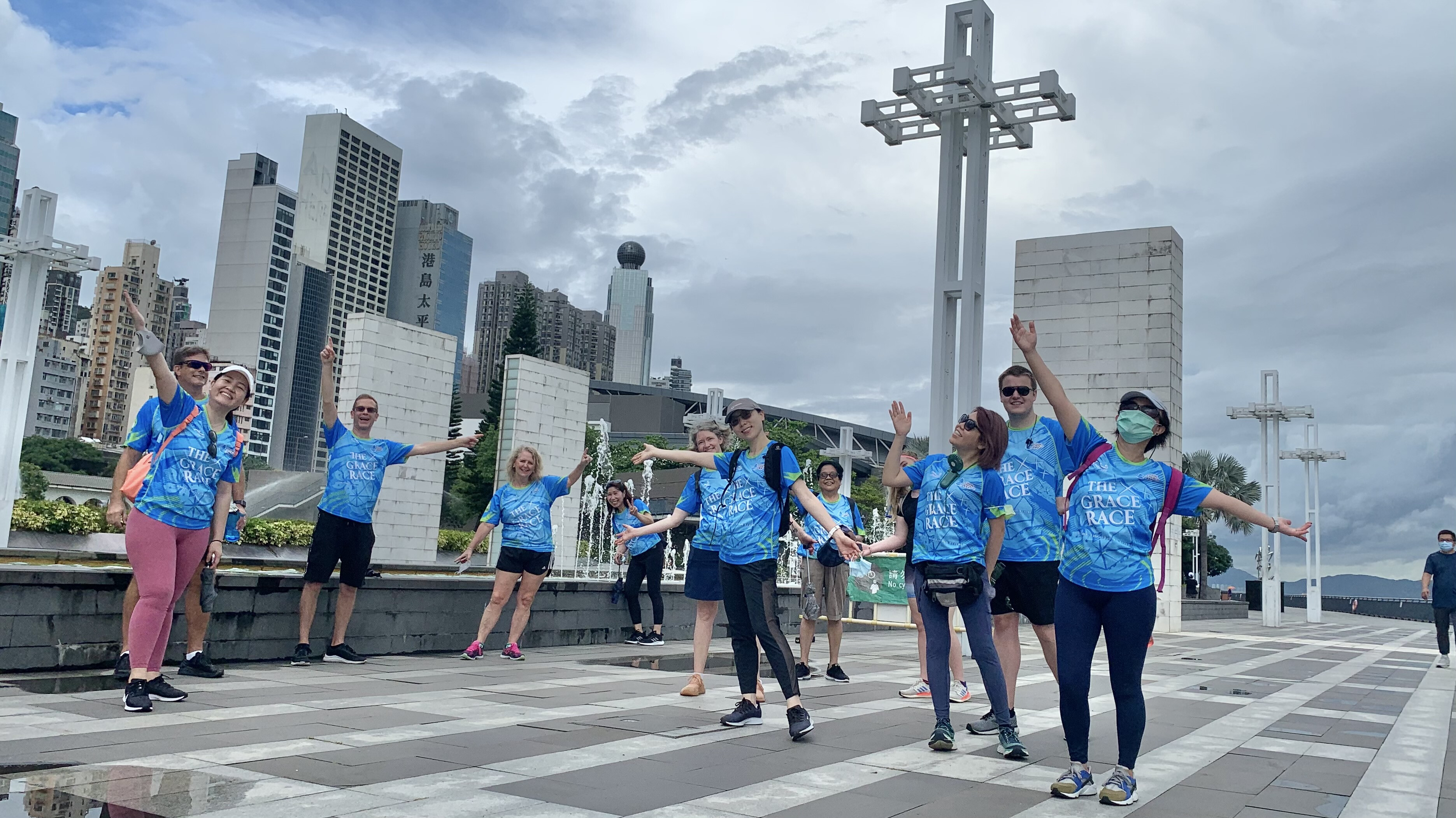 UPCOMING
New Bible Study for Men: Men are invited to join a new study on John 4-6, led by Andrew Lo. In this online study you will take part in:
- a 30-minute daily study including Bible reading, questions & study notes
- Friday group discussion meetings via Zoom from 11 June to 9 July at 1:00pm - 2:00pm
Register here. If you have questions, please contact Andrew at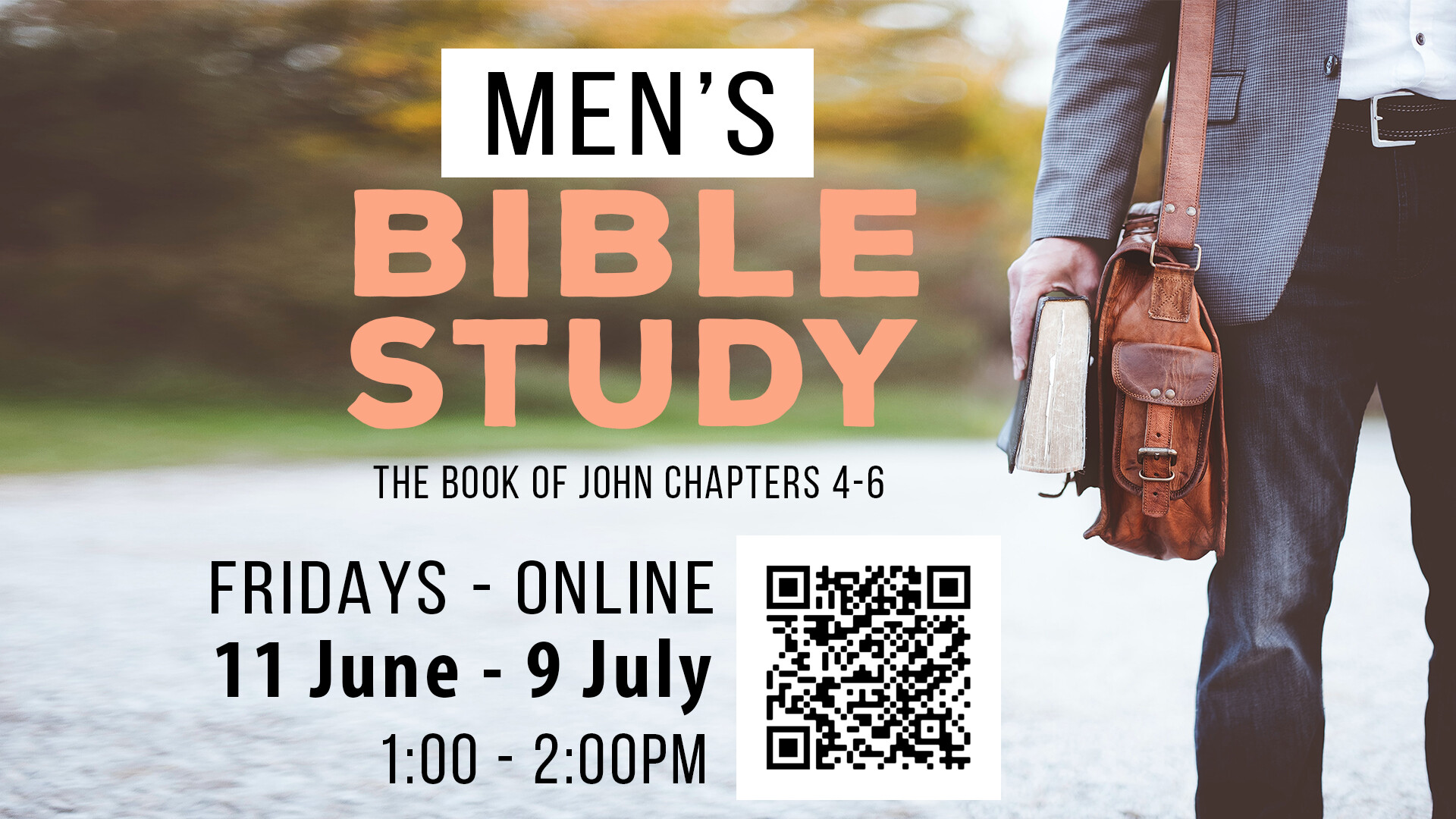 Film & Theology: The film Silence is the focus of our next gathering on Tuesday, 15 June, 8:00pm. Watch the film on your own and then enjoy Chris McKenzie's insights about this Martin Scorsese work that explores what it costs to follow Jesus. Register with Monte at .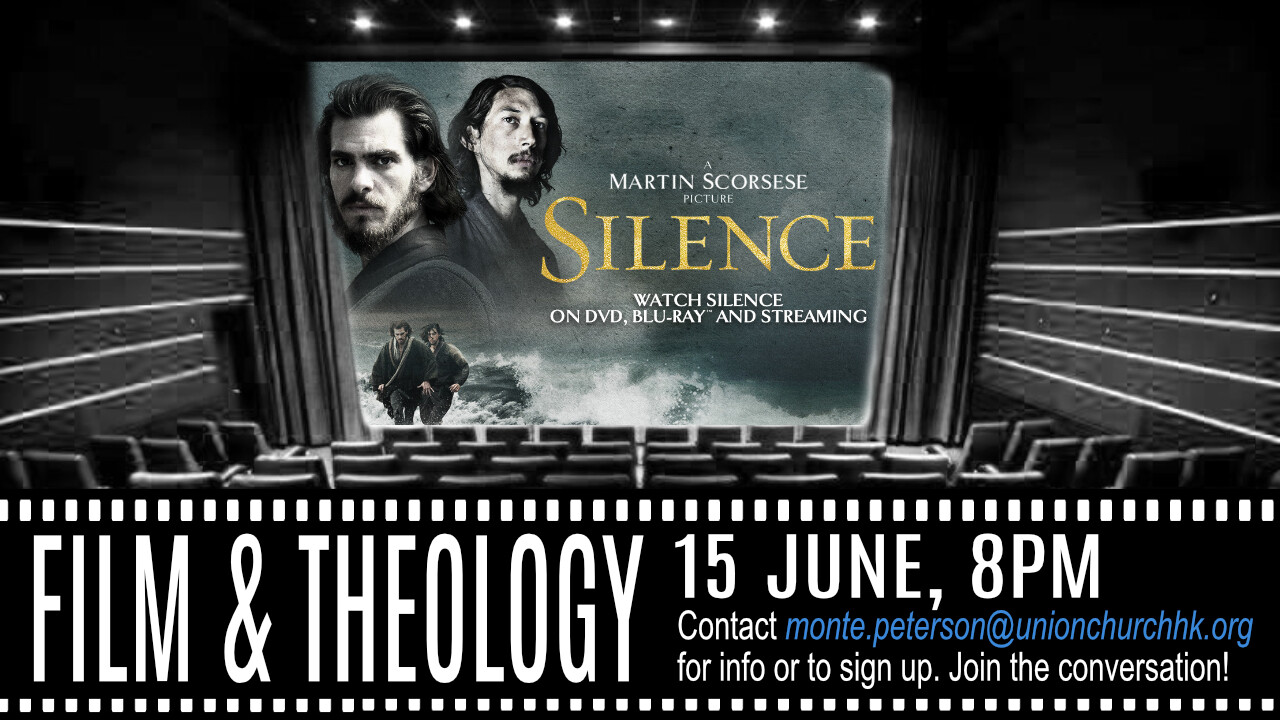 Children's Summer Programme: Get ready for fun classes for Union children and their friends this July! 12 students maximum per class. Learn more and register.
Programme 1: Drumming to the BEAT! Learn Djembe with Malama Piliae, 6-8 July, 10:00am - 11:30am, 5 - 12 years, $150 per child
Programme 2: Children's Musical Theatre with Forrest Morr, 11-13 July, 10:00am - 11:30am, 5 - 12 years, $150 per child
Programme 3: Watercolour Painting and Stamping by bymamalaterre, 20-22 July, 10:00am - 11:30am, 5 - 12 years, $600 per child
Programme 4: Drama Workshop by Dove Tales, 27-29 July, 10:00am - 11:30am, 7 years and older, $500 per child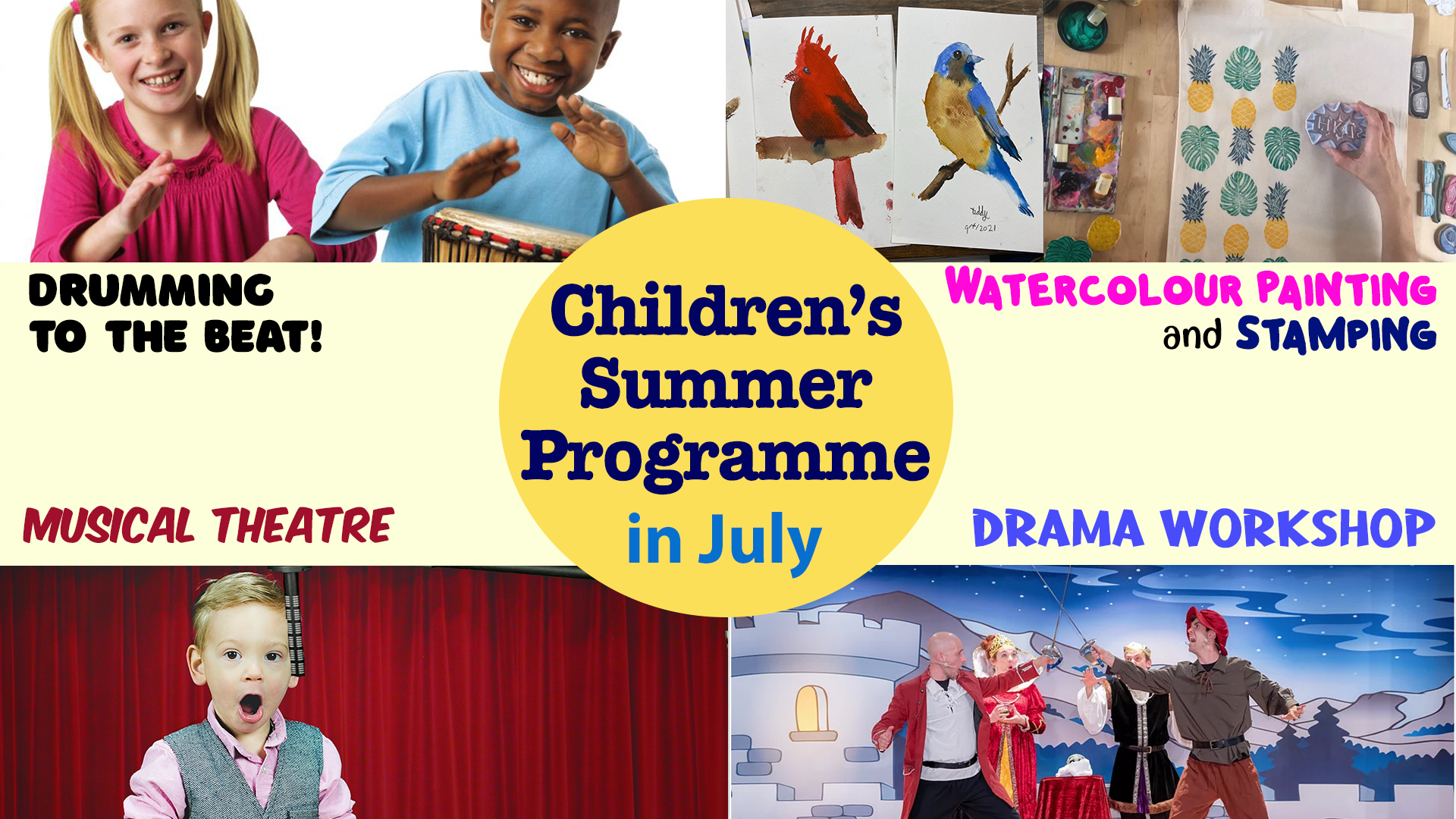 KINGDOM KIDS
Creche & Sunday School Arrangements for this Sunday and until further notice: The Creche Centre will be open with restricted capacity. For children ages 3 years old and above, Veggie Tales movies will be shown in rooms 2 & 3 with strict hygiene measures, in accordance with the government guidelines. Services fill up quickly and your family must be successfully registered. Thank you for your patience during the occupancy restrictions.
Online Sunday School, Sunday 30 May - Children ages 3 to 10 years old are invited to join us for our Online Sunday School.
- 3-7 year old students: Moses Is Rescued by Pharaoh's Daughter (Exodus 2:1-10) via Zoom, from 10:45 am - 11:30am
- 8-10 year old students: Who's Right: God or Science? (1 Chronicles 29:11), via Zoom, from 10:45am - 11:45am
- Kingdom Kids Sunday edition is available at the end of the 9:45am and 11:15am worship services on the Union Church website or Facebook page.
The link to the Zoom classes will be emailed to families with children registered in our Sunday School programme for the year 2020-2021.
YOUTH
Friday Youth - 28 May - Tomorrow we're moving into the 3rd session of our Alpha Youth Series. Juniors are invited to join 6:00pm - 7:30pm, while Seniors can join from 7:30pm - 9:00pm. If you have friends who would like to come along please invite them! Please contact for further information
Sunday Youth - 30 May - Youth are invited this Sunday to join us at Ps. Michele's home for our weekly session. Juniors are continuing with their series on asking bold questions and Seniors are jumping into a bible study of the book of Philippians. Please contact Hunter (6466 5080) if you have any questions.
Wednesday Youth - 2 June - We'll be picking back up with The Chosen next Wednesday at 6:30pm - and we're looking forward to jumping into season two! Join us for a fun online Zoom call and discussion as we learn more about Jesus and his disciples. Youth can join the Zoom call HERE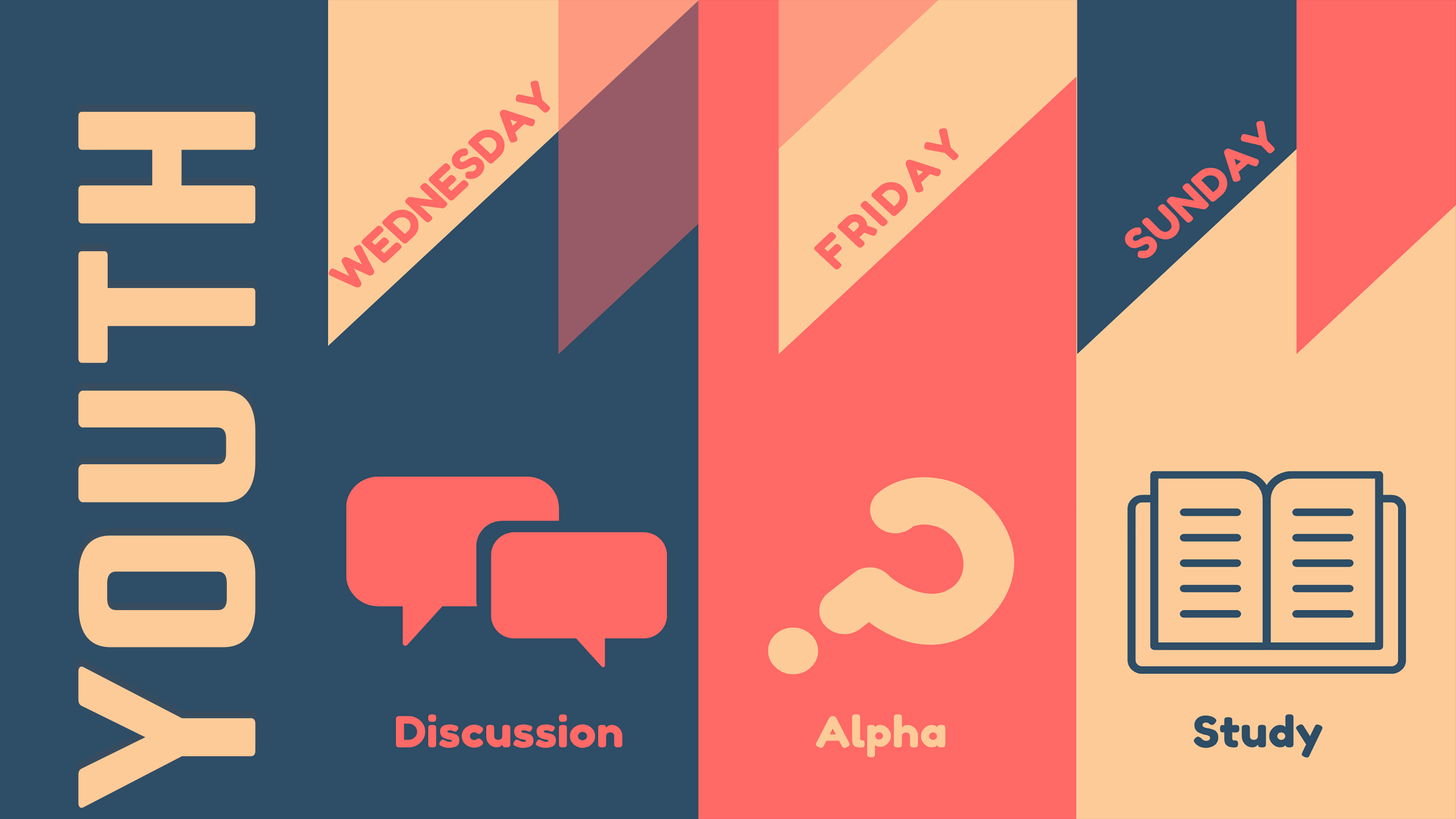 MISSIONS
Missions ministry team: We welcome Ester Li Chung to the Missions team! We are grateful for her yes and her heart for Missions. The Special Offering for HOPE International (see above) has been proposed by the Missions team to help respond to the COVID crisis in India and to demonstrate the love of Christ.
Worshipping together, apart with prisoners in Hong Kong: Our prison ministry team at Union recorded a worship service with our Missions partner, The Hong Kong Christian Kun Sun Association (prison ministry) this week. It will be distributed as a DVD to correctional institutions throughout Hong Kong. Lord, we pray that lives are transformed - that men, women and youth know that they are loved and have eternal hope in Jesus.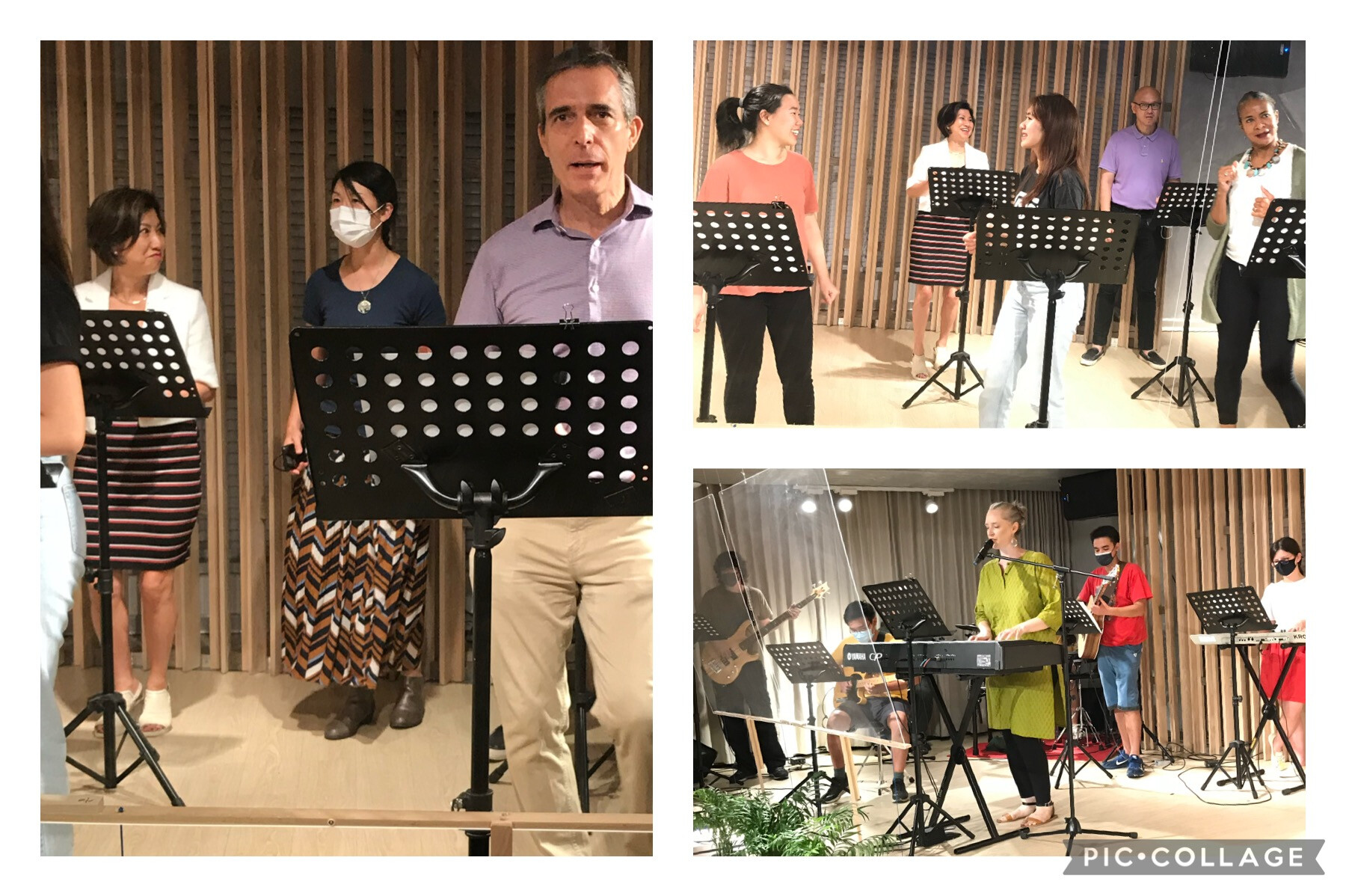 Prayers for Israel and Palestinians: We pray that the recently-brokered truce holds, that the families of those lost in Gaza and Israel are comforted, and that people trying to build unity have hope. We lift up our Missions partner, 4.2.20 Foundation, their Institute for Biblical Languages & Translation (IBLT) and the students who remain in Jerusalem and many others studying from around the globe through the 4.2.20-IBLT extension programme.
Stand Asia for the Persecuted Church: Farshid Fathi was imprisoned at the notorious Evin Prison in Tehran for five years. Asked what sustained him in prison, Farshid says, "You have to travel to dark places to taste grace in a new way." Join this online Stand Asia event featuring Farshid who comes from an Islamic background. Friday, 4 June, 7:30pm HKT. Learn more and register.
Prayers for Light of the World Church (LoTW), Myanmar: Pastor Vum asks for your prayers for Chin State, where Christians make up 85% of the population. The military is reported to be destroying houses and shops, torturing, killing, imprisoning and raping. Pray in particular for the cities - Mindat, Hakha, Falam, and Tedim and that the situation calms down. We pray for strength, stamina and hope for Pastor Vum, his family and congregation - that they may stand firm in the face of adversity. We pray for healing of soul, body and spirit for all.
Small Groups
Meeting as a small group at this time is challenging, but the support from each other is more important than ever. There are online options - please reach out if you need help figuring this out! If you aren't currently in a group, we encourage you to try it out. There are groups for women, men, couples, day-time, night-time, etc. Interested? Contact Monte Peterson.
Fertility & Pregnancy Loss
Fertility & Pregnancy/Infant Loss Support Group - Struggling and could use some fellowship, friendship and support? Please contact Tess Lyons.
Pastoral Care and Prayer
Need prayer? Reach out to us confidentially at .
Stephen Ministry
We provide high-quality, confidential care to people who are hurting through our Stephen Ministry programme. Contact Pastor Michele if you would like to know more about the programme or meet with a Stephen Minister.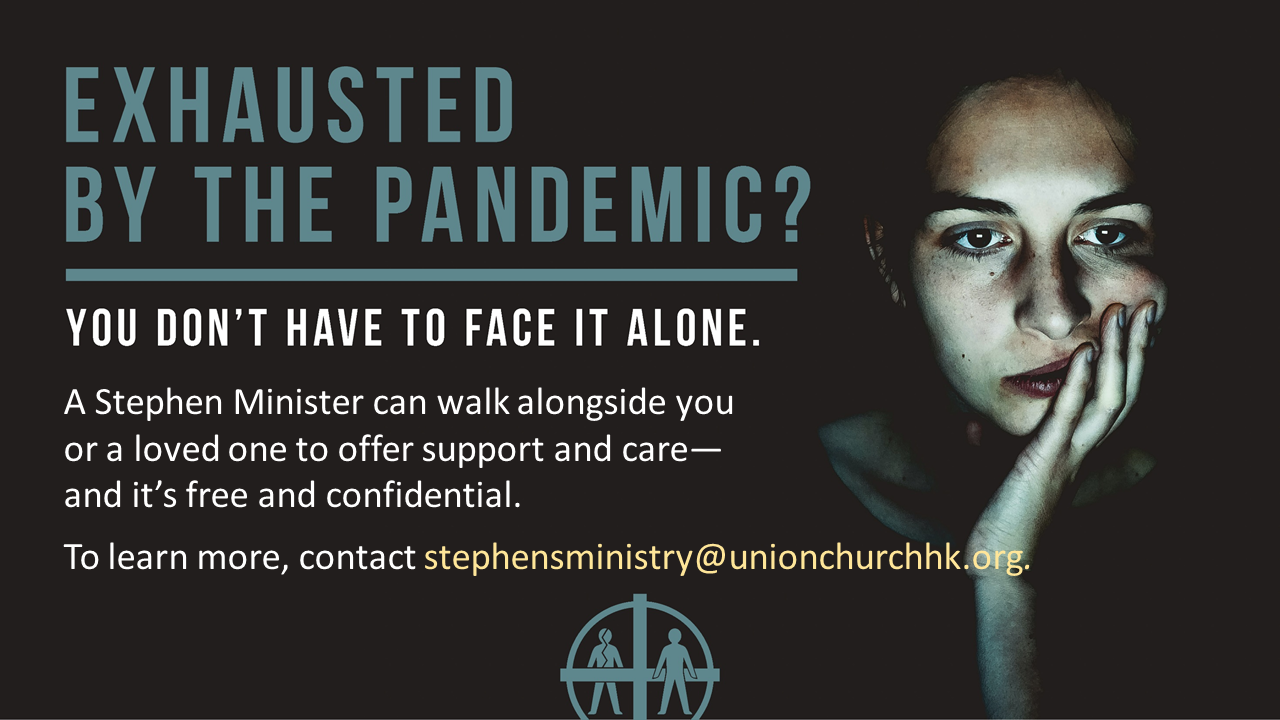 Last week's sermon
"Church On Fire - Pentecost" Rev Dr Michele Bland
Social Media
Please follow Union Church Hong Kong on Instagram, LinkedIn, Facebook and YouTube and share with your friends and family. Do you have images, video and stories for UC social media? Please share with Bronwyn.