U MATTERS
This week, we finish our three-week sermon series - Grateful. Not only is being grateful Biblical, being grateful has many benefits. Author Melody Beattie stated, "Gratitude unlocks the fullness of life. It turns what we have into enough and more. It turns denial into acceptance, chaos to order, confusion to clarity. It can turn a meal into a feast, a house into a home, a stranger into a friend. Gratitude makes sense of our past, brings peace for today, and creates a vision for tomorrow."
Being grateful takes us outside ourselves, our circumstances, and our challenges and enables us to gather perspective. God is the provider of all things - "The earth is the Lord's and the fullness thereof, the world and those who dwell therein, for he has founded it upon the seas and established it upon the rivers." Psalm 24:1–2 According to the Apostle Paul, it is God's will for us to be grateful – "Rejoice always, pray continually, give thanks in all circumstances; for this is God's will for you in Christ Jesus." 1 Thessalonians 5:17-18 We have so much to be grateful for.
November has been an incredible month in so many ways and I am very grateful. I give thanks for the 32 men and the 47 women who went on retreats to Lantau respectively, for baptism classes, baptisms, answered prayer, and seeing new people connect both online and in person.
The month of November is Stewardship Month - a month where we give thanks to God for His provision and intentionally consider our pledged amount of giving for the coming year. If you have not received a letter in the mail, please let our admin team know.
Grateful, Pastor Michele
WORSHIP SERVICES
Increased capacity needs your help! To do this, from Sunday the 28th of November, two thirds of our congregation need to have had at least one dose of a recognised COVID-19 vaccine.
When you arrive at Union Church, please scan the LeaveHomeSafe QR code and have your vaccination record ready for us to verify (you will need to do this every Sunday). This can be on the LeaveHomeSafe app, your eHealth app or your paper certificate.
Please note that if you are not vaccinated or are unable to take the vaccine we will still be able to welcome you to our services as part of the one third that isn't vaccinated.
We will continue to ask you to register in advance each week and to let us know if you and your party have been vaccinated as this provides the data needed to allow us to open to our full capacity.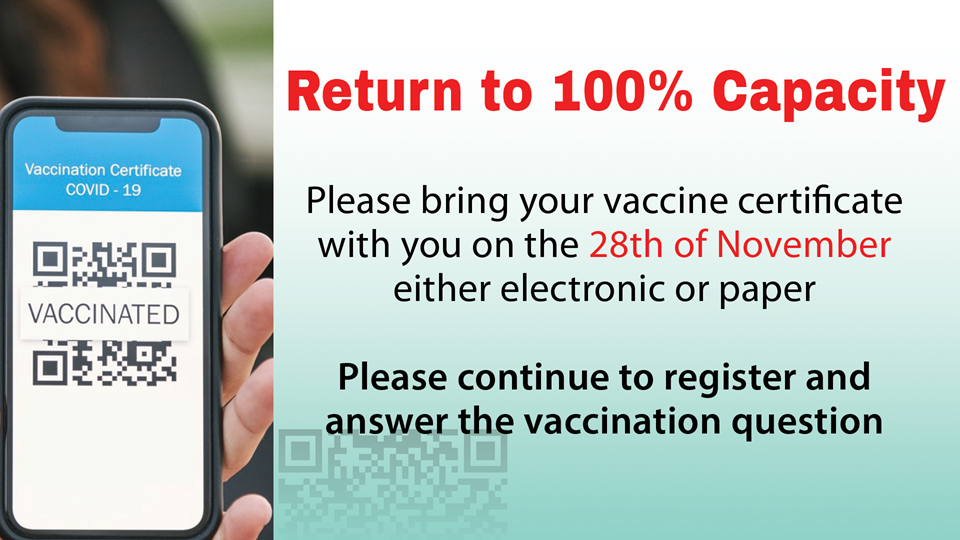 Please remember that registration for our Sunday services opens on Mondays from 10:00am.
This Sunday is our final service in the Grateful sermon series during Stewardship Month. What are you thankful for? Add a leaf to our Grateful wall in Fellowship Hall.
FAMILY NEWS
Congratulations to John and Alia Eyres on the safe arrival of Yasmine Mary Marwah Eyres on 5 November 2021, a sister to Paxton, Sheridan, Blake, Buchanan, Shackleton and Brady.
We are delighted to announce Union Church's Advent and Christmas programme. Enjoy all of your favourite services and activities - Christmas Cantata, Children's Christmas Musical, Blue Christmas, Carols on the Green, and Christmas Eve and Christmas Day services. Here is the full programme - be sure to save all the dates to your calendar - and read more about individual events below. Ask a friend to join the Union family this holiday season.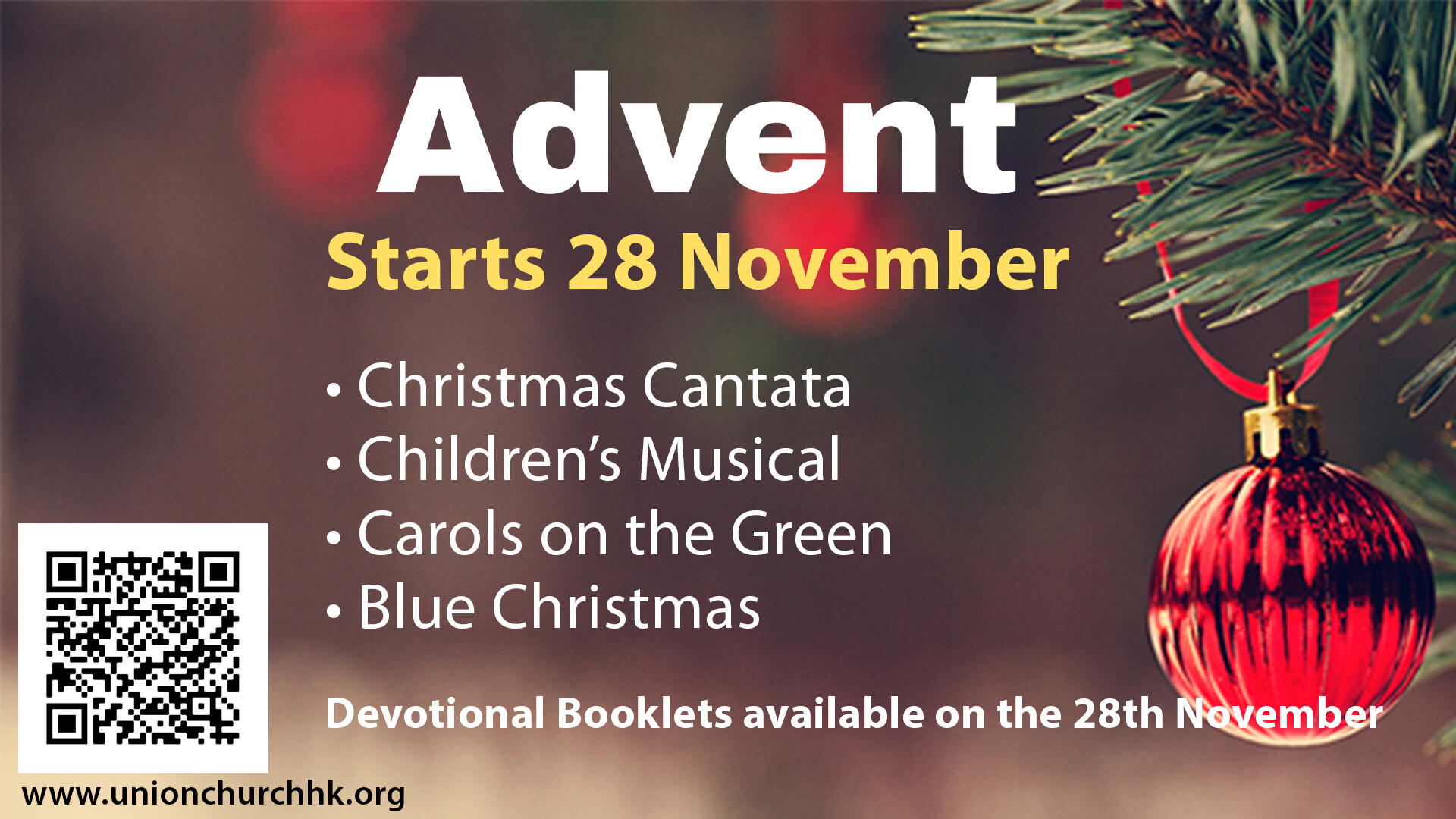 Grateful for the Ladies Retreat! Thank you for your prayers for the 47 women who attended Union's 6th annual ladies retreat - it was a time of spiritual renewal and going deeper with God and one another!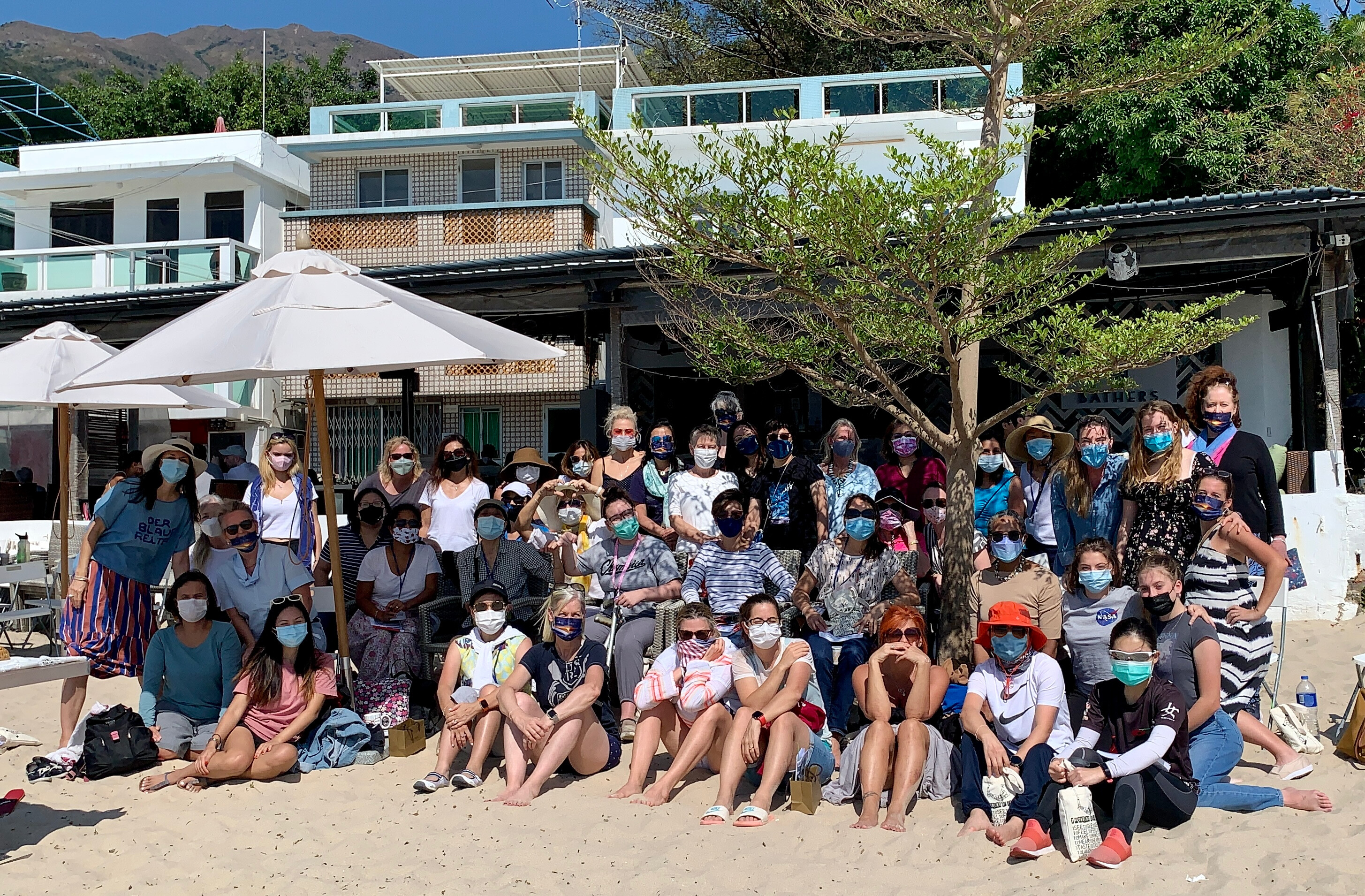 JOIN THE WORSHIP TEAM! - an opportunity to serve - do you have a heart to worship God through music? If you are a musician, a singer, or have skills in production and media and would like to get involved or simply find out more, we would love to hear from you! Please contact for further information.
Family in Need (FIN) - Union Church gives monthly to people in need through a ministry called FIN - Family in Need. We have recently received requests to help with school uniforms, books, medication, set up for returning to home countries and rental deposits. All of these are urgent and legitimate needs. These are people we have relationships with and we are keen to help. If you would like to support, we would love to hear from you. If you have an interest in being a part of this team please let us know. Regards - the FIN team - Brian Woo, Isabel Morrison and Pastor Michele.
THIS WEEK
Film & Theology, Tuesday, 23 November: Get ready for our next evening together as we celebrate movies - the storytellers of our time. All you need to do is watch Hacksaw Ridge in advance, and then Zoom in with facilitator Chris McKenzie to talk about the film together on Tuesday the 23rd at 8:00pm. Ask Chris questions and register here to get the Zoom link.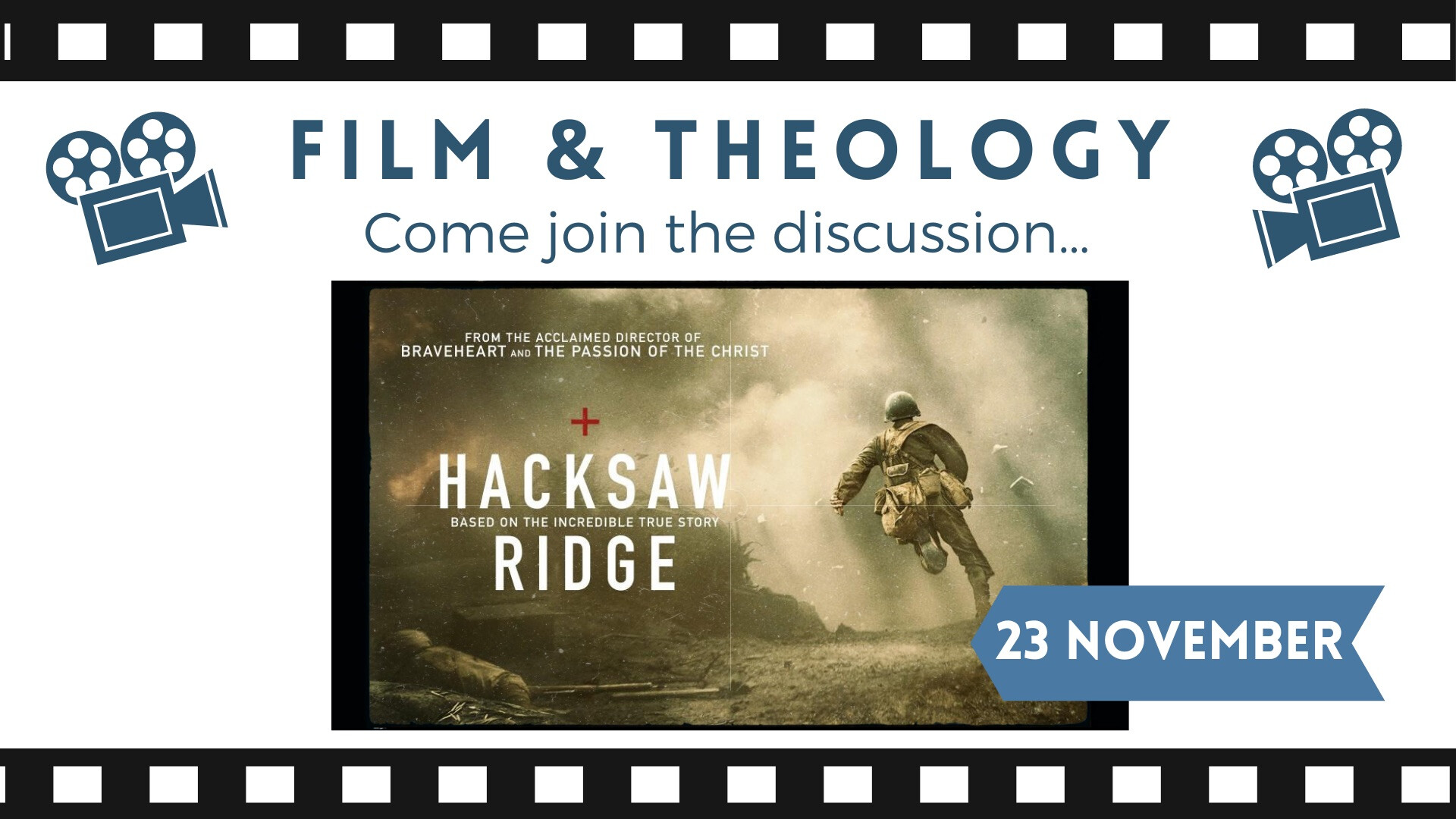 Young Adults - Work-Life Balance Discussion: Wednesday, 24 November, 7:30pm. Hong Kong has the longest working hours in the world, with the average person working over 50 hours per week! While this is the norm, is it healthy? Is it sustainable? Is it the way it has to be? Come join a discussion on how we can achieve a healthy work-life balance in a highly competitive, results-driven work environment. Questions? Ask Dan Tupps.
UPCOMING
Kindness Walk, Sunday, 28 November: Save the date for our next walk to meet our Wan Chai neighbours. Everyone is welcome. We will meet on 18/F at 12:30pm. If you have questions, contact .
St. Andrew's Sunday, 28 November, 9:45am: Join us as we observe St. Andrew's Sunday with bagpipes and kilts at the 9:45 service.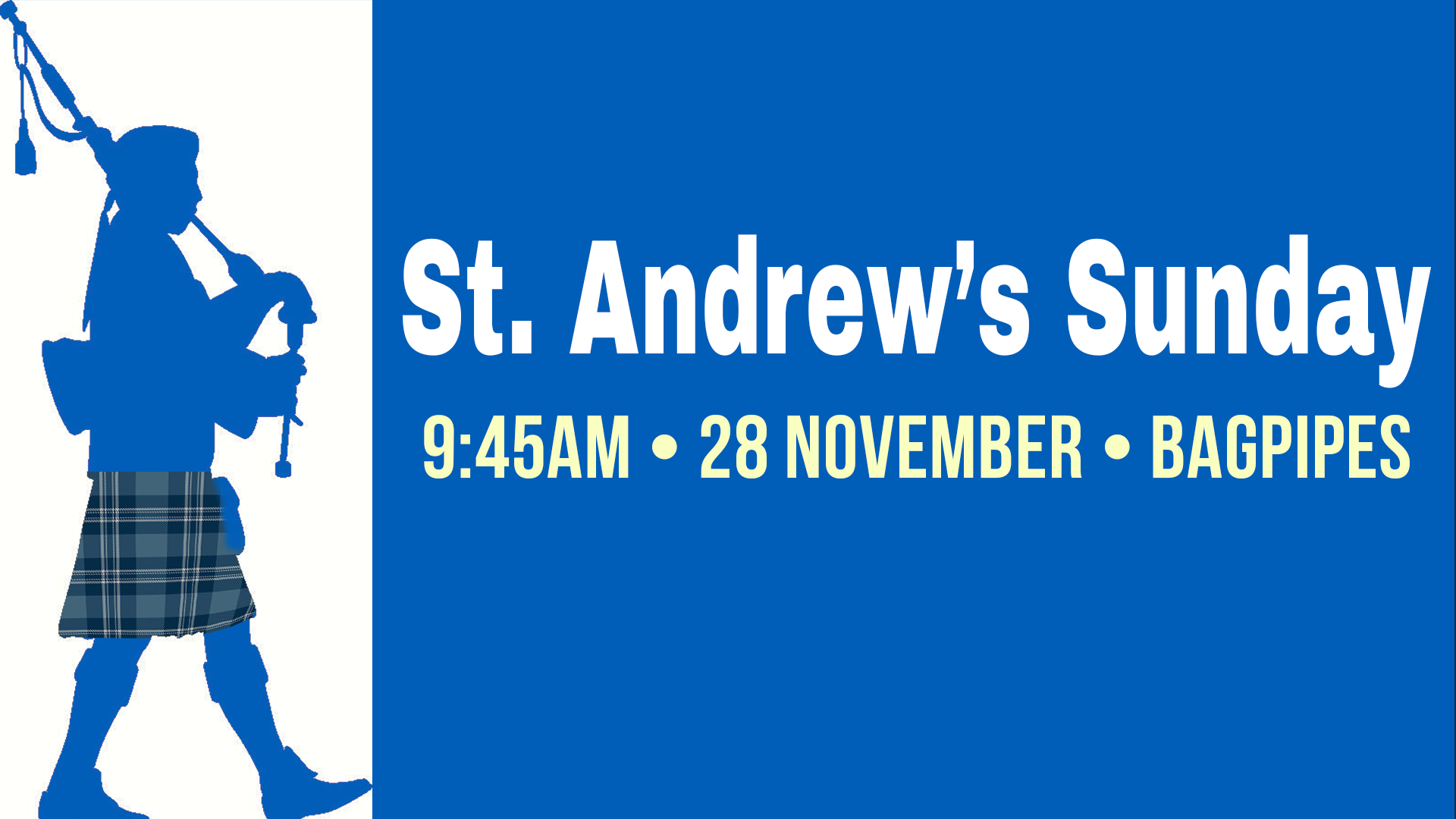 Missions Christmas Fair, Sunday, 28 November: Discover Christmas gifts offered by 11 of our ministry partners and other friends of Union Church. At the same time learn how they are joining God in His work as they serve the marginalised, underprivileged and future leaders in Hong Kong and overseas. In order to attend, be sure to register for a worship service!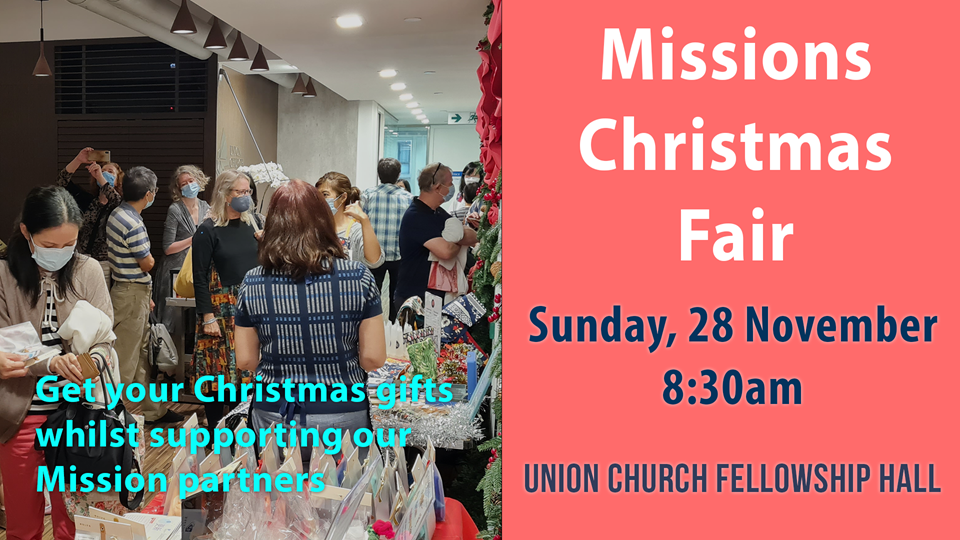 Christmas Outreach with HKCNP to Tin Shui Wai (deadline to register: 30 November): We are returning to Pastor Samson's community in Tin Shui Wai on Sunday, 19 December, 12:45pm to visit 40+ families with Christmas gift bags. Approximately twenty (20) Union people (all ages) are invited to participate. We will visit children who are being tutored by Pastor Samson's church members, their families, and the elderly who live alone. 'Tis the season! Register soon. Let us know if you are interested in the coach from Union to Tin Shui Wai.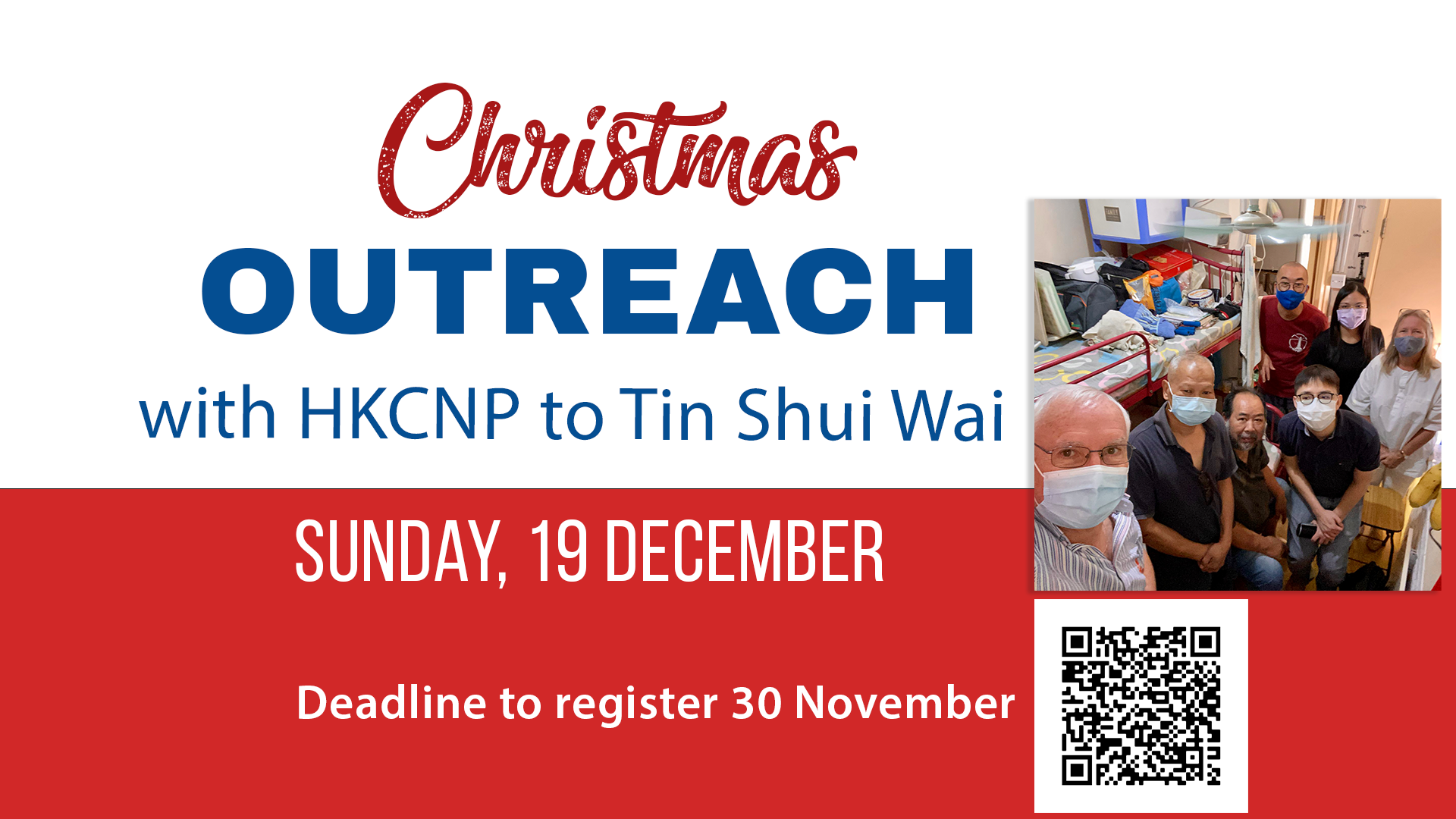 Coffee and Conversation, Thursday, 2 December, 10:30am - 12noon: Our older congregation is invited to meet for fellowship. Contact for details.
Christmas Cantata! Sunday, 5 December, 9:45am and 11:15am services: We are grateful for the return of the Christmas Cantata with our full choir and musicians. (For those attending the 8:45am service on the 5th, there will be a Communion service.)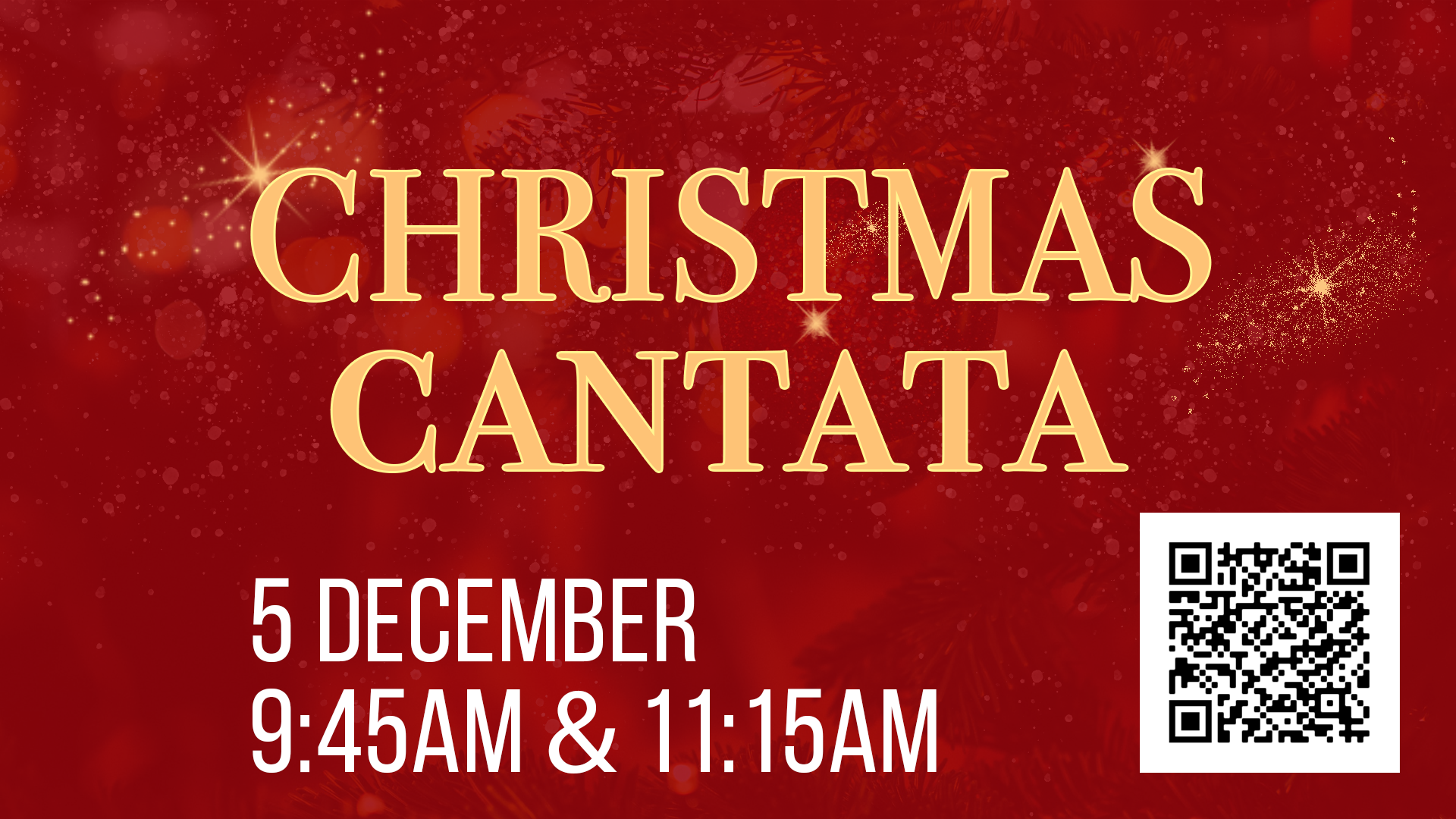 Children's Christmas Musical, Sunday, 12 December: The Children's Ministry will present "A Christmas Treasure Hunt" at the 9:45am and 11:15am services (see below in Kingdom Kids). At the 8:45am service on the 12th, we will offer a Communion service.
Carols on the Green is back! Sunday, 12 December, 3:00pm: We will see you "on the green" off the Peak Tram path at 22A Kennedy Road. This is a great opportunity to invite our Kennedy Road neighbours to sing beloved Christmas carols together. No registration required.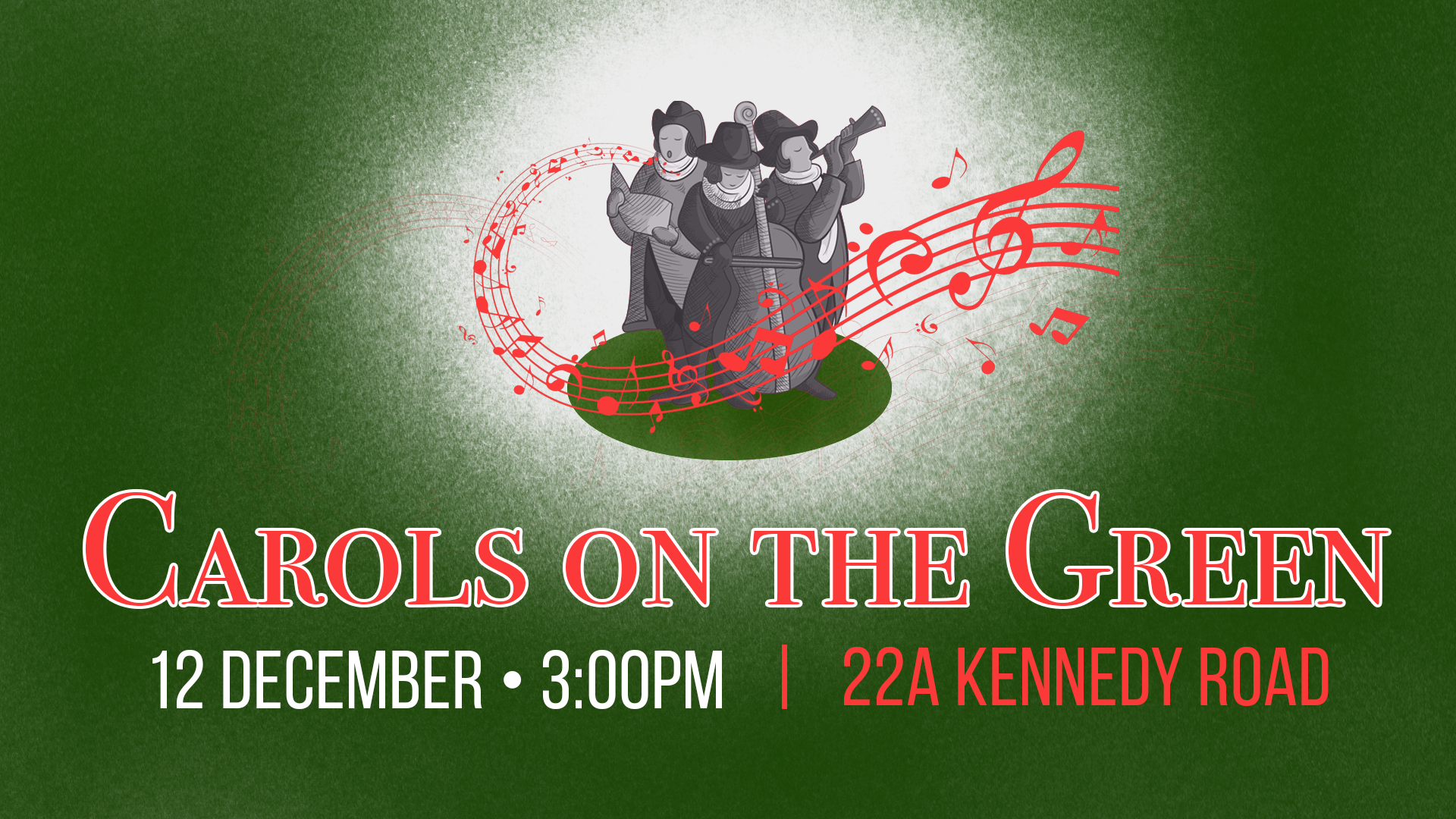 Blue Christmas: A Service of Reflection for Difficult Days, Wednesday, 15 December: Do you know someone who is hurting during these challenging times? This comforting service is an opportunity to invite a friend to church. Register to join us in-person or watch the livestream.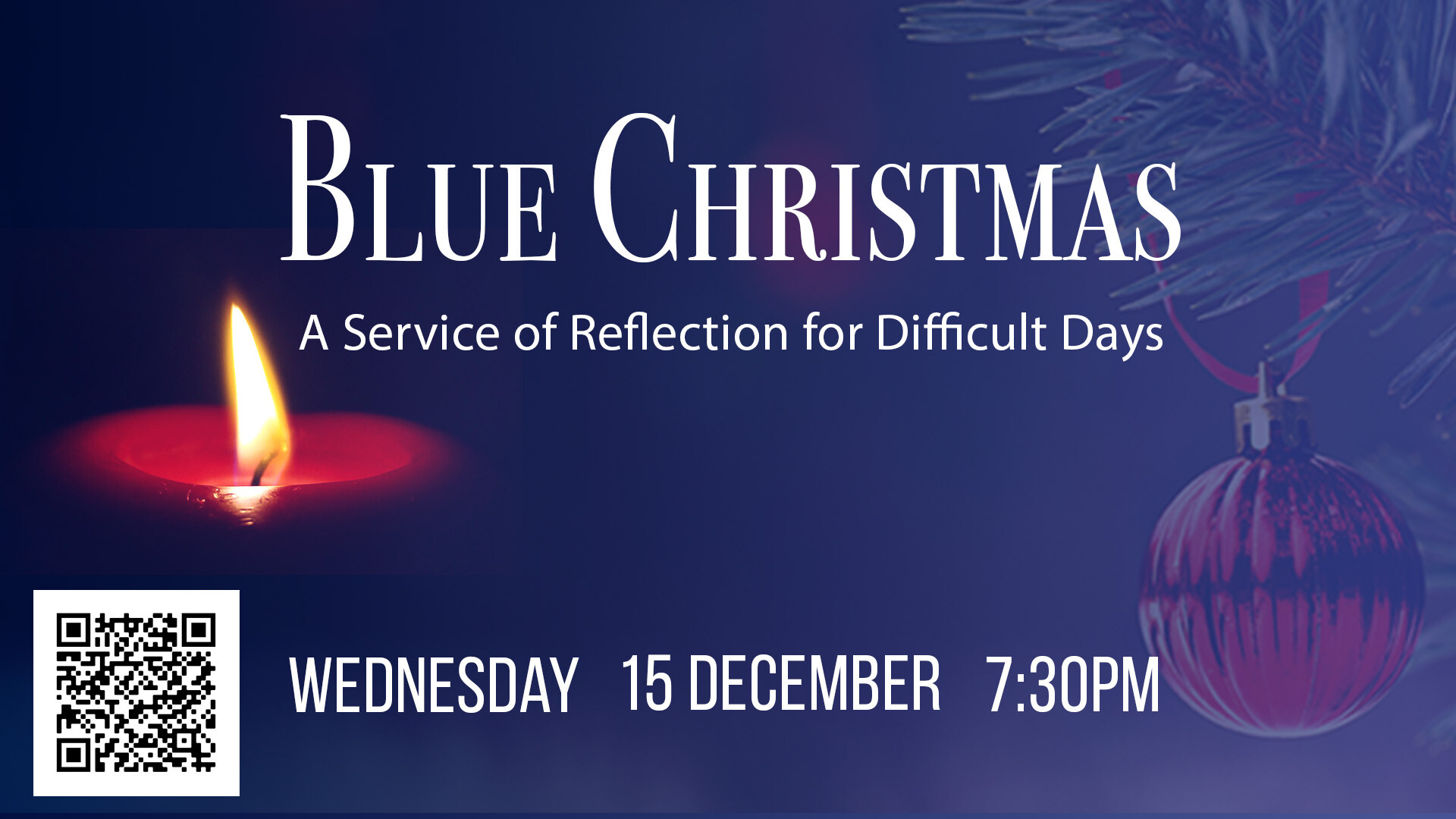 KINGDOM KIDS
Children's Christmas Musical Rehearsals - Sundays, 21, 28 November and 5 December, at 8:45am (group singing practice only), 9:45am and 11:15am: We are excited to have Dove Tales Theatre work alongside us again for this year's Children Christmas Musical titled "A Christmas Treasure Hunt." We invite all of our children ages 3 up to 11 years old to take part and help share the good news of Jesus' birth with everyone. Children are welcome to join the Musical practice at all the Sunday worship services time and everyone will have a part to play and it's not limited to only the main roles. We look forward to all the children participating in this year's Children's Christmas Musical.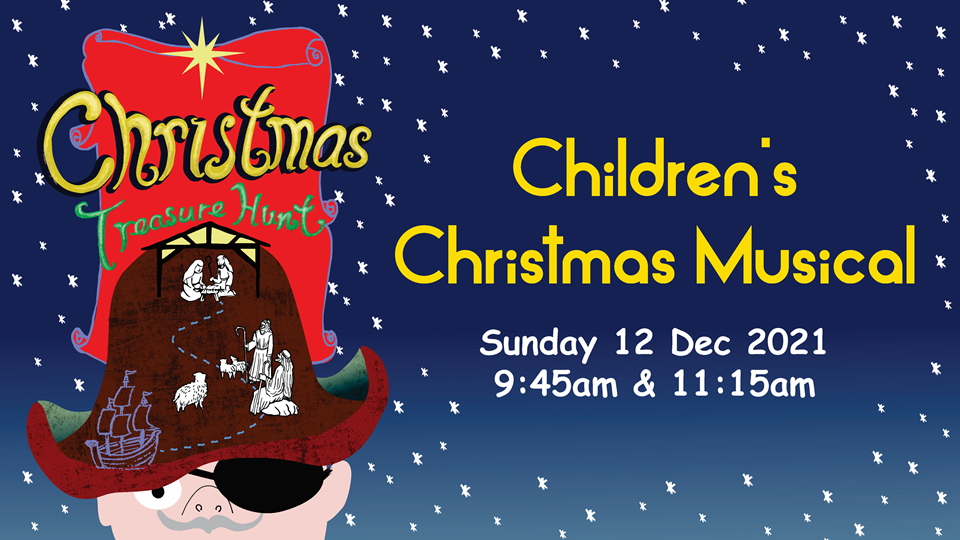 St. Barnabas' Society and Home (SBSH) Christmas Outreach - Sunday, 19 December, 3:00-5:00 pm:
We invite our children and families to join us in celebrating the good news of the birth of our Saviour
Jesus with the children of SBSH through fun and interactive activities. Sign up at the Children
'
s Check-in Table or email us at
with the number of people joining.
Kingdom Kids Dates:
Children's Christmas Musical: Sunday, 12 December 2021, 9:45am and 11:15am
Children's Christmas Musical Dress Rehearsals: Sunday, 5 December, 12:30pm - 2:30pm and Saturday, 11 December, 9:00am - 11:30am
Children's Christmas Party: Sunday, 19 December, 9:45am and 11:15am
Creche & Sunday School Arrangements:
Children ages 0 - 3 years old are welcome to join our Creche Centre and children ages 3 to 11 years old are invited to join us for our Christmas Musical Rehearsals. Families attending in-person services must be successfully
registered
before Thursday, 12:00pm. Thank you.
In-person Christmas Musical rehearsals: 8:45am, 9:45am and 11:15am
Online Sunday School will be on break through the remainder of the year and it resumes on the second Sunday of 2022.
Kingdom Kids Sunday edition - Discover How to Pray - Part 3 - will be available at the end of the 9:45am and 11:15am worship services on the Union Church website or Facebook page.
Sunday School Registration 2021-2022: Registration for the academic year 2021/2022 is open. Children ages 0-11 years old enrolling in our Creche and Sunday School programme must be registered by completing the form HERE. Registration forms are also available at the Children's welcome table. For more information, please visit Union Church's website or contact us at CHILDREN or 2101 0414.
YOUTH
Friday Youth – 19 November – Tomorrow! We're continuing our study of the 10 Commandments with J.John's just10. Come along for dinner, study and time to just hang out and decompress! Juniors (11-13 years) are invited to join for dinner at Fini's 6:00pm - 7:00pm and the study from 7:00pm - 8:30pm. Seniors (14-18) will start with the study at 6:00pm - 8:00pm and have dinner at Fini's from 8:00pm to 9:00pm.
Sunday Youth – 21 November – Sunday Youth are invited to Ps Michele's home at 11:15am for a lesson and a time of fellowship. Juniors (11-13) are doing a study on the book of Ephesians, while the Seniors are studying the book of Revelation and the challenging messages it faces us with! Please contact Hunter at 6466 5080 if you have any questions.
Wednesday Youth – 24 November - We will be continuing our series on Women in the Bible - see you at 6:00pm in the Youth room. Thanks Melody Meyers for helping put together this study!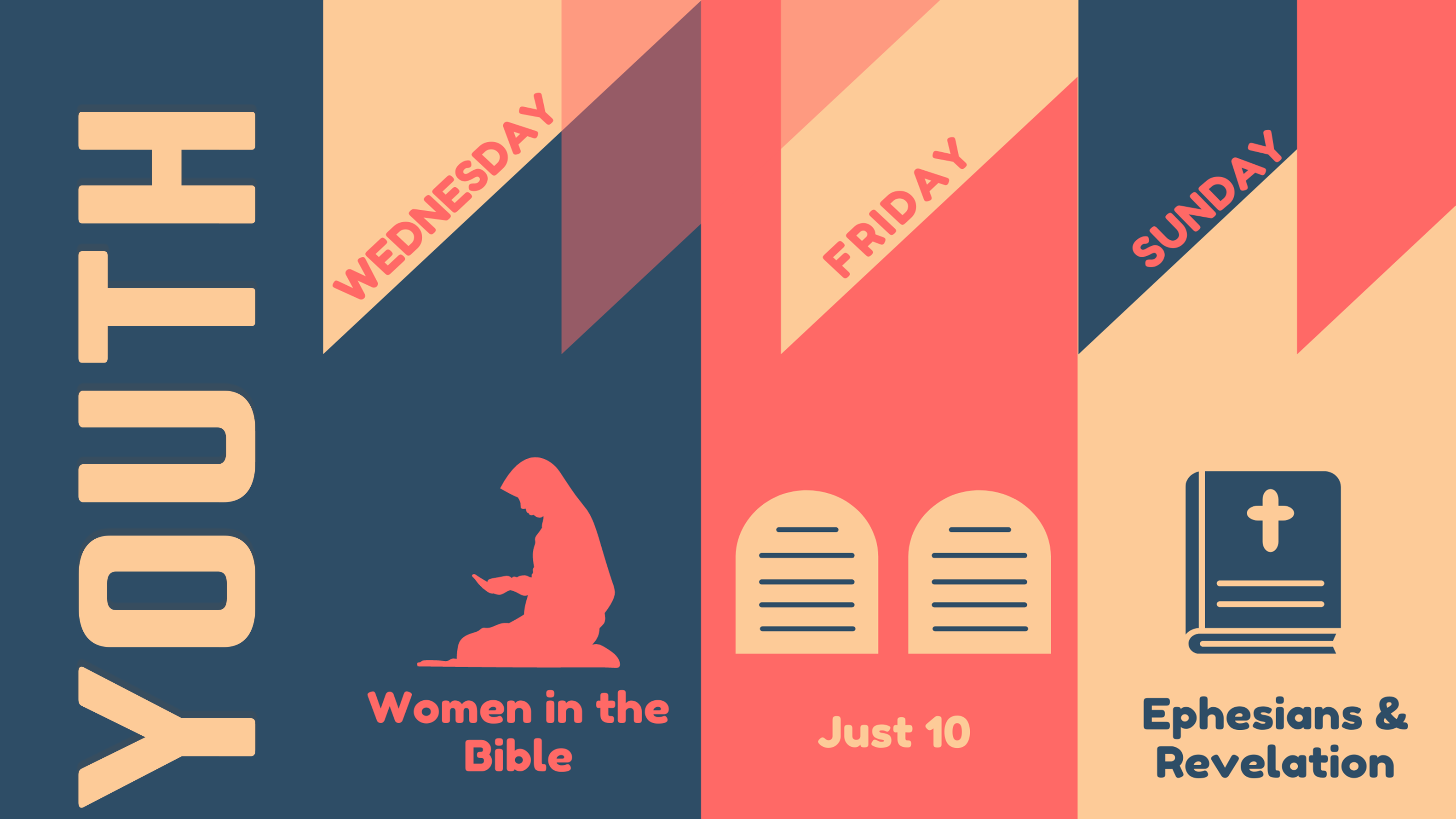 MISSIONS
Formula and Diapers for Sons & Daughters: Our Ministry Partner is working with a woman with a one-year-old. It's a difficult time. If you are able to donate Illuma Stage 3 baby formula and / or disposable diapers size XL and drop them off at the church Welcome Desk or office, it would be so appreciated.
Hong Kong Young Life welcomes you to their new base! They have been hosting a series of open house fundraisers. The next ones are on 22 November - International ministries, and 6 December - YL University & Developing Ministries. Please RSVP.
Please pray for ICC's Shushu: One of ICC's children, Shushu, has had a critical respiratory illness. Please pray for his complete recovery.
Light of the World Church and Preschool, Myanmar: Pastor Vum has many relatives (and fellow believers) who live near Kalay City (also known at Kale) in northwest Myanmar. Would you pray for their safety? There are bombings and gunfire in the area related to civil unrest and many villagers are fleeing from their homes.
The support from your friends in a small group is tangible demonstration of God's love for us. If you aren't currently in a small group, this is a wonderful time to try it out. There are groups for women, men, couples, day-time, night-time, etc. Contact for more information and pick up a Small Groups pamphlet from the welcome desk at church.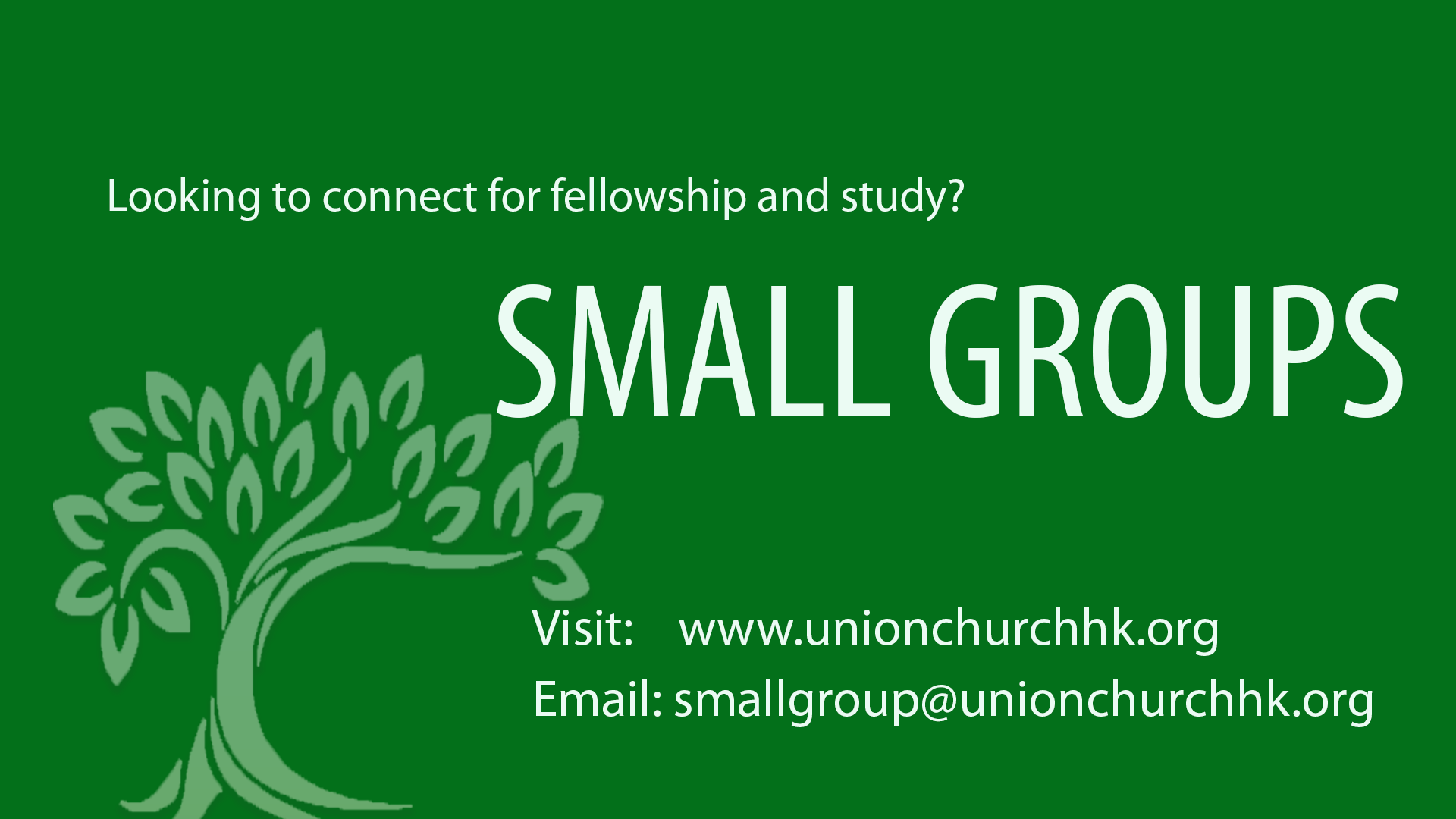 Pastoral Care and Prayer
Need prayer? Reach out to us confidentially at .
Stephen Ministry
We provide high-quality, confidential care to people who are hurting through our Stephen Ministry programme. Contact Pastor Michele if you would like to know more about the programme or meet with a Stephen Minister.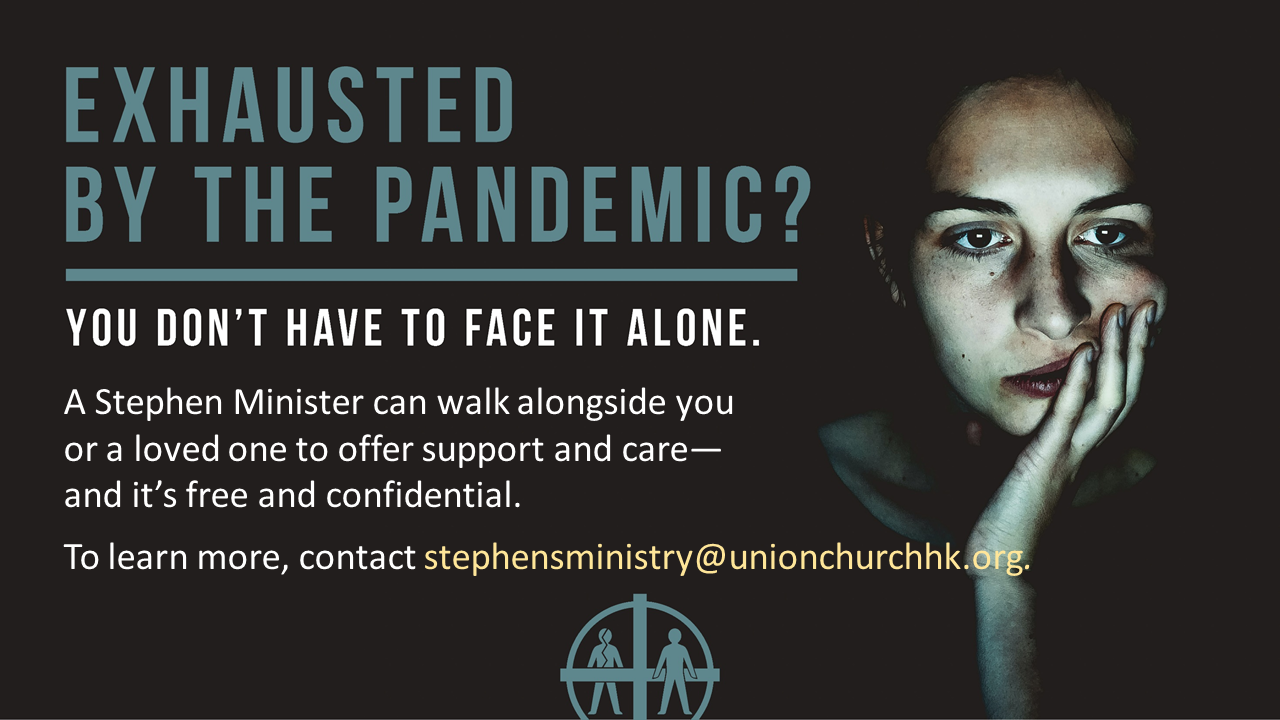 Sanctuary Flowers - Advent and Christmas
If you would like to make a contribution of any size/amount to the Sunday floral arrangement during the Advent and Christmas Season in loving memory of a loved one you are more than welcome to do so. Our Bulletin each Sunday will indicate who the flowers are dedicated to. These arrangements can be taken home at the end of the Sunday Services or given to a loved one. Please send a note to and arrangements can be made.
Last week's sermon
"Grateful...Aspects of a Thankful Heart" Dan Tupps
Social Media
Please follow Union Church Hong Kong on Instagram, LinkedIn, Facebook and YouTube and share with your friends and family.