U MATTERS
Saturday night I joined a Global Launch with about 185 leaders and pastors from around the world - from Sabah, Jakarta, Ghana, South Africa, Kansas City, Seoul, and the Philippines - to name a few, to launch the ONE2021 Hearing the Word campaign. On Zoom we heard what God was doing in various cities and prayed together. Like us, churches from around the world are joining to listen to the Gospel of Mark this Lenten season. It is exciting to see this type of unity - in language, denomination and country. I look forward to the next 40 days as we journey together listening to and reading the Gospel of Mark.
The word of God is powerful and can change lives. I had an opportunity to speak with Vivian Teu, a member of the Faith in the Marketplace ministry team, asking:
How has your faith been challenged in the marketplace? How have you dealt with the challenges?
Vivien replied:
"I didn't grow up as a Christian and came to faith during a difficult period when I was trying to balance a demanding legal career and being a mother of two young children. Overwhelmed by challenges in everyday life and the marketplace, I was touched when I read Matthew 11:28-29: 'Come to me, all you who are weary and burdened and I will give you rest. Take my yoke upon you and learn from me, for I am gentle and humble in heart, and you will find rest for your souls.' Although my faith was in its infancy, I was grateful for the blessed salvation and saw this as the one true way, and I decided to follow Christ and was baptised in 2010 at Union Church. It was actually challenges in the marketplace that brought me to faith, and perhaps this 'discovery' prompted me to ask questions about the differences that my newfound faith should make in my life and the significance of my work.
"In March 2010, I wrote this in an email to Union Church's pastor at the time:
'As you know I have been thinking about questions of significance and what I should do - and often it is a challenge to cope with work, find time for the children and time for my personal mental, physical, spiritual well-being and growth! I am conscious I need to re-evaluate my life carefully, though I am not entirely sure yet how, what and when. I am reading the book 'Halftime' thoughtfully and thinking about the 'one thing' that I should place in my 'box'. I need the courage and God's guidance on needed change!'
"Subsequently I attended the Halftime course, felt moved to pursue a passion in writing, and went on a career break that has seen me through an incredible journey of completing a Master's degree in journalism, then establishing and running a law firm for the past 6 years. I have been through many more difficulties and challenges in my career that have tested my faith and brought me closer to God. Throughout, I learned to lean on God's Word and provision for everything. I now realise that although I had the heart to serve, I was far from ready and needed to be pruned. Many of my old ways needed to be shed, and I had much to learn as a Christ follower.
"John 15:1-4 'I am the true vine, and my Father is the gardener. He cuts off every branch in me that bears no fruit, while every branch that does bear fruit, he prunes so that it will be even more fruitful. You are already clean because of the word I have spoken to you. Remain in me, as I also remain in you. No branch can bear fruit by itself; it must remain in the vine. Neither can you bear fruit unless you remain in me.'
"I am a poor example, and I am still far from ready today, but I always believe God calls on each one of us to serve, with our unique skills and abilities, in different circumstances, or in big or small ways.
"Romans 12:6-8 'We have different gifts, according to the grace given to each of us. If your gift is prophesying, then prophesy in accordance with your faith; if it is serving, then serve; if it is teaching, then teach; if it is to encourage, then give encouragement; if it is giving, then give generously; if it is to lead, do it diligently; if it is to show mercy, do it cheerfully.'
"God is bringing me into a new season of my career, in my growing focus on sustainability and purposeful capitalism, and at the same time, God has unexpectedly called me to serve in the working group on Faith in the Marketplace at Union Church. While we may not be sure what we may actually be called to do for God, by turning to His Word and opening our hearts and minds to serve, God will show us how and when.
"That's why I was so excited when Pastor John Snelgrove said during his sermon on the 14th of February: each of us is called, and each of us has a specific calling, quoting Os Guinness from the book, The Call: 'No idea short of God's call can ground and fulfil the truest human desire for purpose and fulfilment.'
"May more be fired up to serve God every day and in the marketplace. Amen!"
We hope you will join us for the journey through the Gospel of Mark as we grow together in His word and in His mission.
Blessings on your week - Pastor Michele
FAMILY NEWS
We are worshipping online this week, Sunday at 9:45am (Traditional service) and 11:15am (Contemporary service). Find us on our website, Facebook page, Union Church app or YouTube.

Union ReUnion: It's family time! Union Church is re-uniting for fellowship, fun, entertainment, silent auction and testimonies to benefit the new church at 22A Kennedy Road (aka The Grace of Giving!). This is an all-church event - we will gather in hosted homes, individual homes, and online alumni groups. Everyone is welcome! Register here for more details including links to the silent auction site and Zoom. As always we welcome your suggestions for beautiful auction items!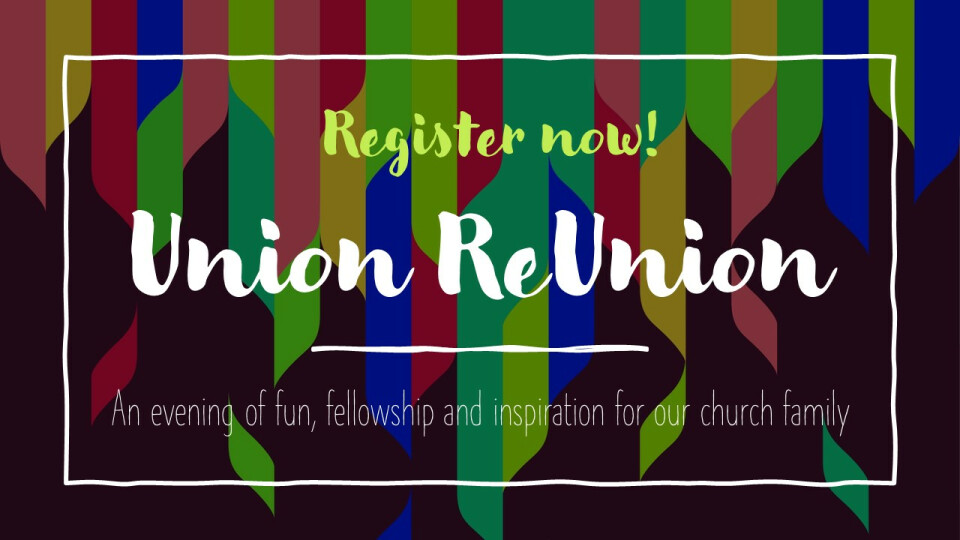 Faith in the Marketplace: The Living Faith at Work panel discussion on 10 February welcomed more than 30 professionals keen to hear the testimonies and experience of marketplace ministry practitioners Ken Lung, Patricia Lau, Anthony Lo and Andrew Lo. Vivien Teu of the Faith in the Marketplace working group further shares insights of the evening in this review.
Building Union for the Future update: Rosanna Chan recently reported on 22A construction progress and Bronwyn Alexander touches upon The Grace of Giving campaign in this first video on our The Grace of Giving webpage.
LENT
Lent is that season of the church year when we prepare to journey with Jesus to the cross and victorious resurrection. Often we engage in a new spiritual practice or leave something behind that gets in the way of the life we want to live. This year we are reading the Gospel of Mark, along with other churches in Hong Kong and throughout the world, as part of the ONE campaign.
Our Ash Wednesday service was last night - a time of worship with beautiful music, liturgy and a message as we start Lent. If you missed it, you can watch it here.
Next, we introduce the The Study of Mark series. We are participating in a church-wide (and city-wide) study of the Gospel of Mark from 24 February to 31 March. On 24 February at 8:00pm, Professor Simon Siu-Chung Chow, president of Lutheran Theological Seminary and New Testament scholar, will present an "Introduction to Mark". All are welcome. Register to receive the Zoom link.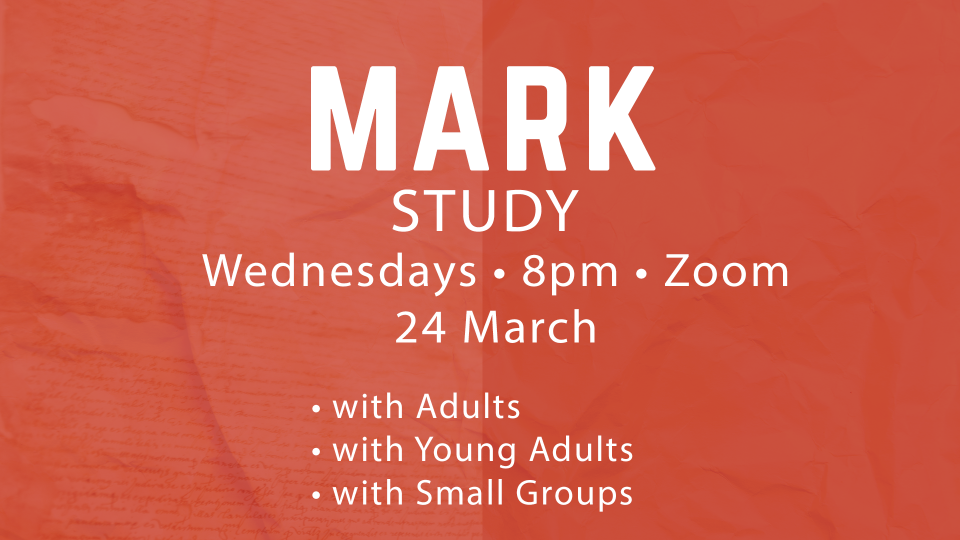 Study Mark with Monte: Wednesdays 3, 10, 17 and 24 March at 8:00pm.
Young Adults Study of Mark: Wednesdays from 24 February - 31 March at 8:00pm. Contact Dan Tupps for more details or register here.
The Passion in Mark, 31 March, 8:00pm: Professor Matthew Skinner, New Testament Professor at Luther Seminary will present this talk. All are welcome to join.
Register for any or all of the Mark events via the QR code above (or here) to receive the Zoom link.
Another option is Wisdom on Wednesdays, 8:00pm on 3, 10, 17 March and 25 March (Thursday), via Zoom. Register for any or all of these events via the QR code above (or here):
3 March - Maintaining Mental Health during COVID-19 with Rev. Dina Chamberlain
10 March - Screenagers NEXT CHAPTER: Uncovering Skills for Stress Resilience with Dr Amanda Oswalt Visher, Director of Psychological Services at SPOT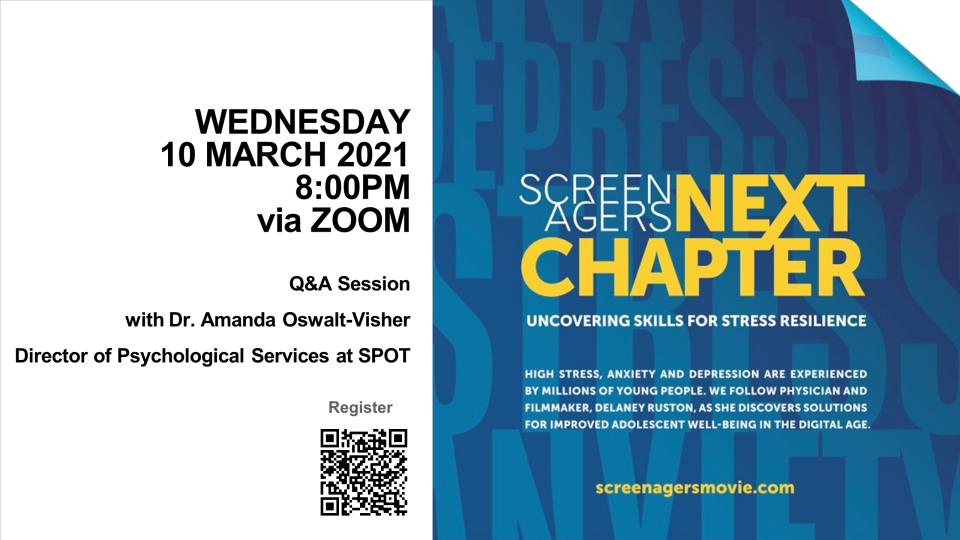 17 March - Helping your Marriage Thrive During COVID with Gary Thomas, bestselling author and international speaker, author of Sacred Marriage

25 March (a Thursday!) - heARTwork: A drawing experience with Crystal Lo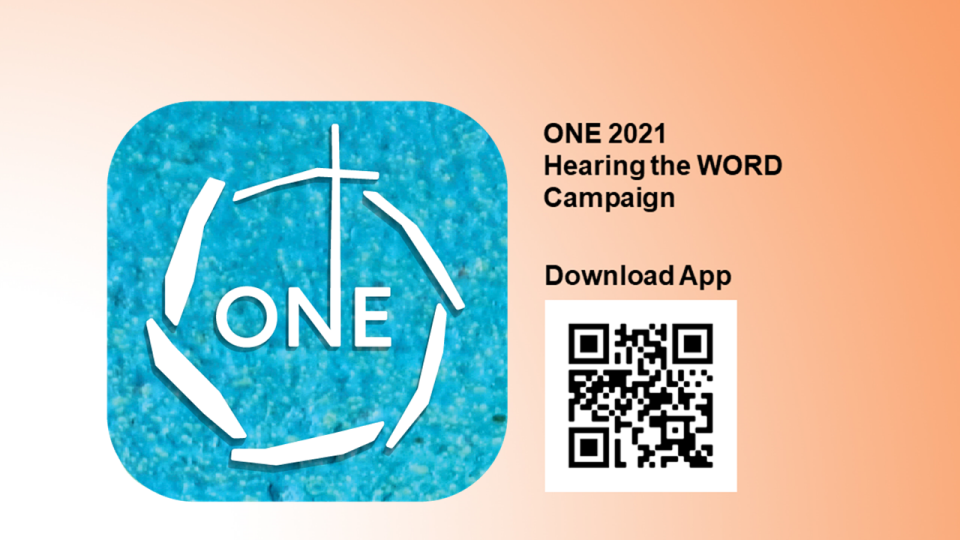 ONE2021 Hearing the Word campaign: Our Lenten season embraces the ONE campaign that runs from 17 February to 4 April. Download the app and unite with believers daily to read and enjoy ONE scripture, devotions, prayer and the Gospel Film. Learn more at http://www.onehtw.com.
24-7 Prayer Hong Kong - virtual prayer room: Praying is changing Union Church. We have launched a virtual prayer room during Lent to pray for our city, our leaders, churches, families and all sectors of society. Our hope is that believers throughout the city will join together to pray. This is another way to support the unity of the ONE campaign. Please sign up for a time slot at https://www.24-7prayer.com/signup/705233.
Book Group: Please carry on reading The Beekeeper of Aleppo by Christy Lefteri; a novel about an ordinary Syrian couple seeking refuge from the war that engulfs their homeland. We will discuss the book during our 23 February gathering. Contact Monte Peterson with questions.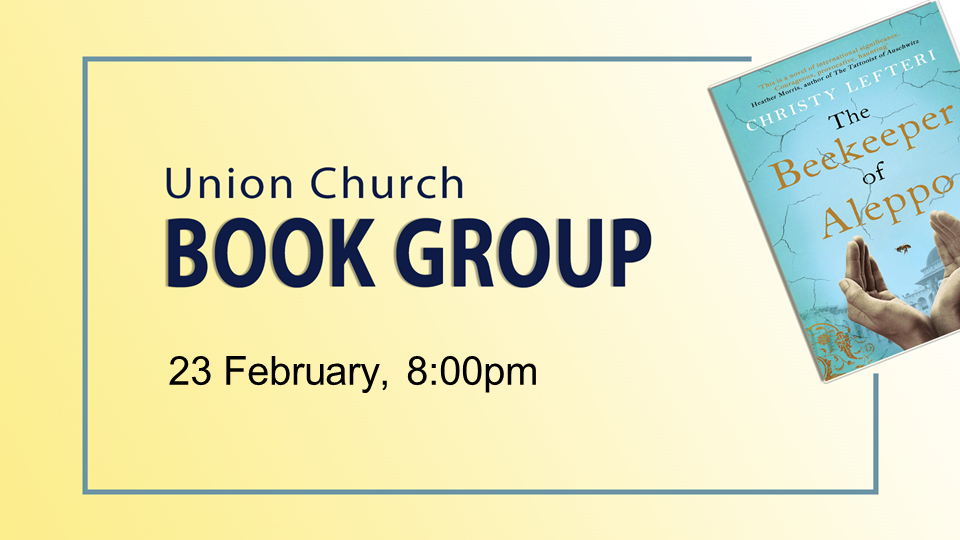 Film + Theology: It's showtime, folks! Let's watch another film on our own - The Apostle - and then gather on Zoom to discuss it with Chris McKenzie. Join us on Tuesday, 2 March, 8:00pm. Register with .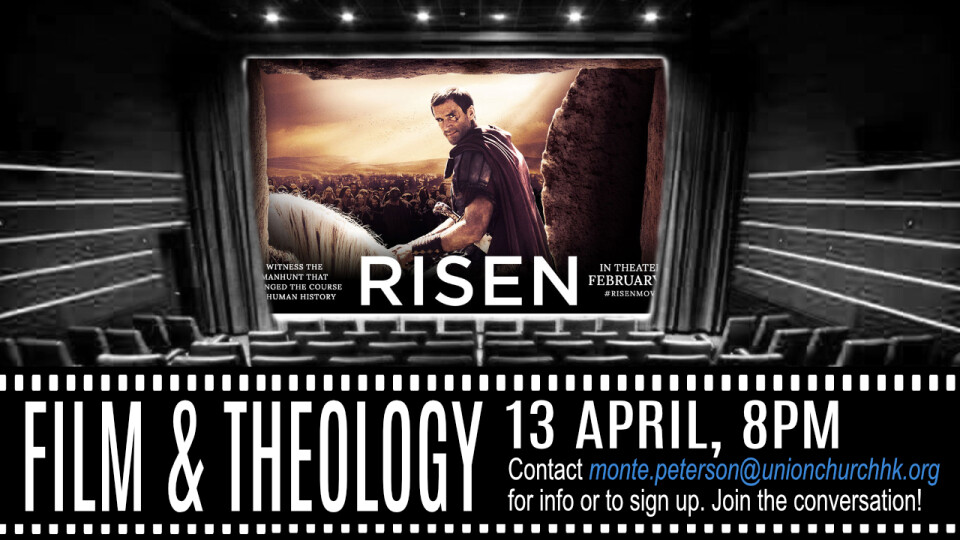 Annual General Meeting (AGM): Save the date - we hope to all gather in-person for Union Church's AGM on Saturday, 27 March 2021.
Kingdom Kids
Online Sunday School, Sunday 21 February: Children ages 3 to 10 years old are invited to join us for our online Sunday School.
- 3-7 year old students: God Has a Plan - God Calls Abraham (Genesis 12:1-8, 15:1-6), via Zoom, from 10:45am - 11:30am
- 8-10 year old students: Be Bold - God Is Always With You (Hebrews 13:5), via Zoom, from 10:45am - 11:45am
- Kingdom Kids Sunday edition is available at the end of the 9:45am and 11:15am worship services on the Union Church website or Facebook page.
The link to the Zoom classes will be emailed to families with children registered in our Sunday School programme for the year 2020-2021.
Youth
Friday Youth 19 February - This Friday we are back after our short break for CNY. We'll be gathering via Zoom from 6:00pm - 7:30pm. Join for a chance to connect and learn together! Youth can join here.
Sunday Youth 21 February - Youth are welcome to join us on Zoom at 11:15am where we'll get to spend time reading and discussing scripture. Seniors will be looking at what the Bible teaches us about Christian leadership, and Juniors will be starting a new series based around asking hard questions! Youth can join here.
Wednesday Youth 24 February - On Wednesdays, we're watching the series "Chosen" about Jesus' disciples and discussing it together. For this week we ask Youth to have watched up to episode 6. Join us on Wednesday, 6:30pm - 8:00pm. Youth can join here.
Missions
Union Church Missions partner, ICC Hong Kong, comes alongside families who struggle to care for a child with a disability. ICC is able to equip and strengthen them and indeed the government has asked ICC to fill this crucial role of helping families overcome and thrive. ICC's Cross Care teams have proven effectiveness in providing therapy, meeting special needs and keeping families together in China. Watch their new video on the Family Partners Programme to see how you might help.
Praise the Lord for CKM's faithful outreach and love for the homeless and poor in Chungking Mansions and vicinity. Chung King Ministry, a Union Church Missions partner is led by Pastor Samuel Dhavale and his wife Shlivya. They gave hope and a hot dinner to many people who dropped by the centre at Chinese New Year. Thank you Lord for new family relationships.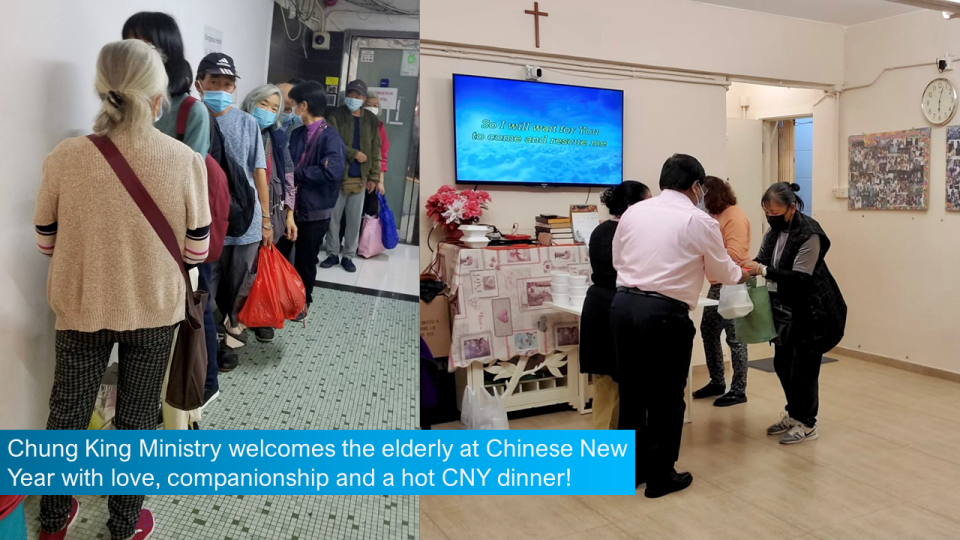 Prayers for Myanmar: We continue to pray for Myanmar following the military coup. Our Missions partner, Light of the World Church led by Pastor Vum, has most recently asked for prayers for the safety and security of his congregation and family. They know that the Lord is their shelter and refuge. Amidst threats of violence, they are praying not to succumb to fear but to stand firm in their faith and gather for Sunday worship.
Melody's cards to support LOVE 21 Foundation: Melody Funk Landes has illustrated and printed a lovely collection of cards to support LOVE 21 Foundation, a "Friend of Union Church". Please pick up a pack of 10 assorted cards and leave your donation ($200 suggested) with the church office. Thank you!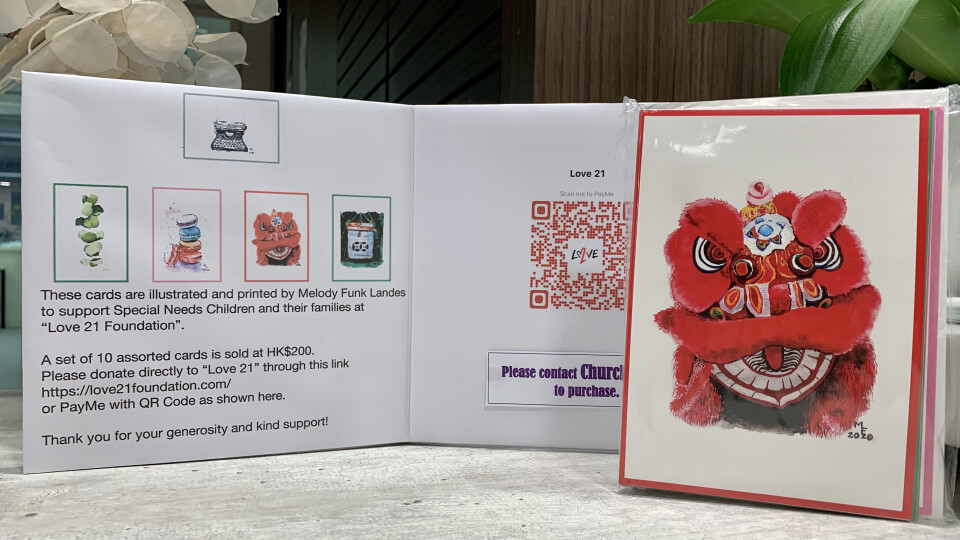 Small Groups
Meeting as a small group at this time is challenging, but the support from each other is more important than ever. There are online options - please reach out if you need help figuring this out! If you aren't currently in a group, we encourage you to try it out in the new year. There are groups for women, men, couples, day-time, night-time, etc. Interested? Contact Monte Peterson.
Pastoral Care & Prayer
Need prayer? Reach out to us confidentially at
Stephen Ministry
We provide high-quality, confidential care to people who are hurting through our Stephen Ministry programme. Five of our Stephen Ministers have started online training to become Stephen Leaders. They will be able to train and supervise Stephen Ministers, thereby expanding pastoral care at our church. Contact Pastor Michele if you would like to know more about the programme or meet with a Stephen Minister.
Fertility & Pregnancy Loss
Fertility & Pregnancy/Infant Loss Support Group - Struggling and could use some fellowship, friendship and support? Please contact Tess Lyons.
Giving
Thank you for supporting God's ministries at Union Church. Please see the website to learn how you may tithe, make an offering online or by cheque, or give to The Grace of Giving. Thank you for your generous heart.
Last Week's Sermon
"A New Breed" Rev Dr John Snelgrove
Social Media
Please follow Union Church Hong Kong on Instagram, LinkedIn, Facebook and YouTube and share with your friends and family. We can use social media for positive outreach to the community. Interested in volunteering as part of our social media team? Contact !