Marketplace ministry leaders share experience
We were blessed to have more than 30 in attendance at the first panel discussion – Living Faith at Work - organised by Union Church's Faith in the Marketplace ministry in Hong Kong. Held on 10 February 2021, it was a wonderful evening with moving testimonies by panel speakers, Ken Lung, Patricia Lau and Anthony Lo. They each addressed what it means to be God's disciples and serving the Lord at work.
Ken Lung - the daily calling to align ourselves to God's heart in the workplace
It was inspiring to hear Ken Lung share about how he finds meaning and God's purpose in each of the roles he has had in his career, loving each position with the confidence that it is a commission from God. Now Head of Corporate Communications at Octopus Cards and engaged in the launch of Alpha at Octopus, Ken shared how through Alpha and even during COVID there are opportunities to connect with colleagues and live out the spiritual calling to "love your neighbour" in the workplace. It is a daily calling to live in line with God in our thoughts, actions and attitudes, to align our ways of life not to the ways of the world but to God's heart.
patricia lau - talking to god about colleagues before evangelising
Patricia Lau shared her moving faith journey, coming to Christ 14 years ago through Alpha, and last year making the decision to take up the role as Executive Director of Alpha Hong Kong, leaving her senior role in investment banking. Earlier in her career, life had felt compartmentalised with work segregated from faith and seeming meaningless. It was a paradigm shift when Patricia realised ministry can happen in the workplace.
We were struck when Patricia said when she was unsure how to evangelise, she started talking to God about her colleagues instead of talking to her colleagues about God! Through prayers for and with colleagues, she has seen God moving and providing. Seeds were planted, ministry grew, and God has been at work through seven successful years of Alpha at Patricia's bank. It started from simple, humble steps, and to share Patricia's inspiring words – "Do not despise humble or small beginnings!".
anthony lo - pausing and praying before a challenging meeting at work
On the question of dealing with conflicts at work, Anthony Lo, the Chair of Lawyers Christian Fellowship, shared that he would always seek God's help in dealing with challenges at work. He emphasised the importance of praying before an important conversation, to help us recognise that we are not perfect beings and with God who knows us, we can gain peace and wisdom from God in handling difficult or stressful situations.
greater intentionality to build bridges and show more care for our colleagues
Even though COVID has brought isolation and significant strain to many, Patricia noted that through greater intentionality we can care more for colleagues and focus on relationships, and not simply tasks at work. Through the challenges of the pandemic, we need God more than ever, and with God we can overcome obstacles, as "the Holy Spirit has no bounds". Ken and Anthony also shared thoughtful reminders to be deliberate in reaching out to interact with colleagues and check-in with friends.
If there is any doubt about serving God and living out our faith at work, Anthony reminded us that he is called to bridge gaps and build bridges between faith and work. It is in the workplace that he is challenged to put faith into action, reaching non-believers and integrating his Christian life into his organisation.
Praise the Lord for such powerful messages in our first panel session, with practical and relatable wisdom from our marketplace ministry leaders and the ensuing discussions. With encouragement and many seeds sown, we pray we will move more to serve God in the workplace and transform Hong Kong's marketplace for God's glory!
Want to know more? Reach out to us at .
Return to Faith in the Marketplace
about the speakers:
Ken Lung, Octopus Cards Limited
Ken was born in Hong Kong, raised in Singapore, and lived in New Zealand where he came to Jesus. Currently he is Head of Corporate Communications at Octopus Cards. Ken is an advocate of workplace evangelism who seeks to bring the Good News to the marketplace in creative ways. Ken has been an active member of The Vine Church since 2009. He has volunteered as an advisor to the Vine's NGO arm, Branches of Hope, and is a board member of HOPE International, a global Christian-based microfinance organisation that serves the most underserved.
Patricia Lau, Executive Director, Alpha Hong Kong
Patricia was born in Hong Kong, studied engineering in the UK, and has held various leadership roles in the finance industry, most recently as Managing Director at Credit Suisse. She came to faith through Alpha 14 years ago and is passionate about seeing God's hand at work in the marketplace. Since July last year, God has led her to take up the role as Executive Director of Alpha Hong Kong. She is thrilled to join Alpha in this unprecedented season and desires to see every believer in Hong Kong being equipped and empowered to spread the Good News. Patricia worships at Island ECC.
Anthony Lo, Lawyers Christian Fellowship
Anthony has been passionate about serving God and expanding His Kingdom in the marketplace. God guided him and other colleagues to start a workplace fellowship when he was a trainee, and led him in his service at the Lawyers Christian Fellowship to bring the Gospel and God's encouragement to the legal profession. The fellowship now numbers over 700 members. Anthony is Legal Counsel at BNP Paribas, and he worships at Bountiful Grace Church which is a church plant of North Point Alliance Church.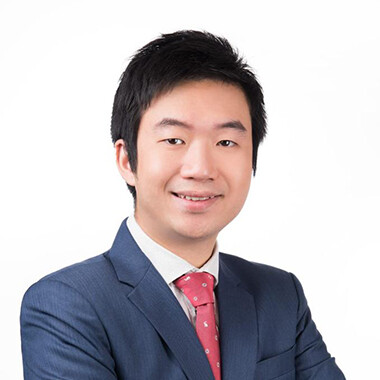 Andrew Lo, Moderator
Andrew serves in a discussion group for his Bible studies and is actively involved in workplace ministry. He is a facilitator of the Halftime Institute which helps leaders create a meaningful next season in their lives while also making an impact in the marketplace. Andrew is also CEO, Asia Pacific, Invesco. He worships at Union Church where he has previously served on the Committee of Management.