Acts@22A
"Making mature followers in all nations for Jesus Christ"
SHARE:
Yesterday, I was trapped in a lift. Twelve of us were crammed in a small elevator. I haven't felt this claustrophobic since I tried to find a seat at the wonderful "James Legge Christmas Musical" last Sunday. All of us, cheek to jowl, were forced to wait until the doorman and engineer could get us out. It was a relief to hear from the outside and then to be freed. Waiting is not fun, in a lift or in life. Yet Advent is the season where waiting becomes a virtue. For four hundred years Jewish people waited for a word from God. Then he sent a prophet (John the Baptist) and a Messiah (Jesus.) Ever since people have been hearing from God and finding rescue through his Son.

What are you waiting for?
Pastor Greg
Christmas Services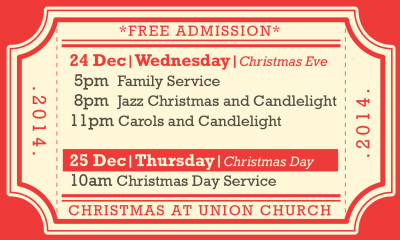 Christmas Eve Offering Tacloban City has been affected by 2 devastating typhoons in the last year. Our Christmas eve offering will be taken up for Kids International Ministry who are working closely with children and families affected by the typhoon in Tacloban - helping with the rebuilding of lives and homes.
Christmas Day Communion – in the month of December we will celebrate communion on Thur, 25 Dec at 10AM Service.
Christmas Fun Fair - This Sunday, 21 Dec, 12:00-5:00PM
Join us for our annual Christmas Fun Fair – great place to support different social enterprise organizations, buy last minute Christmas presents and fund for children of all ages.
The James Legge-acy continues! If you did not have a chance to purchase some James Legge related Christmas gifts, you can still do so this coming Sunday during the Christmas Fun Fair at the ICC table. We have special, James Legge and Union Church related mugs, notecards, postcards and prints. All the proceeds from the sales go to International China Concern (ICC), a Christian organization that cares for disabled and abandoned children in China. Thank you for continuing the "Legge-acy" of our founder – Reverend James Legge.
Oasis
Oasis will join the 8PM Jazz Christmas and Candlelight Service on 24 Dec Christmas Eve.
Youth
This Friday
(
19 Dec
) will be the last Youth Group till the new year. Come from Movie night at the Church. All youth are invited to come from
6:30PM to 9:00PM
.
Please note that there will
NO
Youth Group or
Sunday
School for Youth on the following dates:
Sun 21 Dec
,
Fri 26 Dec
,
Sun 28 Dec
,
Fri 2 Jan
& S
un 4 Jan.
We will re-start Youth on
9 Jan
&
Sunday
School on
11 Jan
.
Kingdom Kids
Children's Christmas Party Kingdom Kids invites all children from ages 3 to 10 years old to come to the Lower Annex this Sunday, 21 Dec during 9:30AM and 11AM services for a celebration of Christmas with songs, games, gifts and prizes, and loads of fun.
Christmas Film Showing on 28 Dec All children are invited to come to the Lower Annex for a showing of the Veggie Tales movie, "Saint Nicholas, A Story of Joyful Giving" during our 9:30AM and 11:00AM Service.
Sunday School Kingdom Kids Sunday School for ages 3 to 10 years old will resume on 4 Jan 2015. Children will remain in the same classes they attended in the Fall.
Outreach & Missions
Cookie Baking for a Cause Looking for an outreach opportunity for the whole family? Baking cookies is always fun and once again we will be preparing cookies for YWAM team members to hand out as Christmas gifts to the night workers in Wanchai. Join us on 20 Dec, 2:00-4:00PM - the whole family is invited to this fun activity. We will also be making cards of encouragement to be given out.
For US taxpayers wishing to make tax-deductible donations for the 2014 tax year, please ensure that checks are made out to Friends of Hong Kong Charities Inc, are dated before 31 Dec 2014 and are given to the church Admin Office by 31 Dec 2014, otherwise your donation will be recognized in 2015. Thank you for supporting Union Church.
Last Week's Sermon
Please click on the link below to download

"Pregnant with Potential" by Brenna Dykman
You are receiving this email because you are subscribed to our mailing list. If you wish to change your subscription or un-subscribe, please click on the links below:
Union Church, 22A Kennedy Road, Mid-Levels, Hong Kong
Tel: +852 2523 7247 | Fax: +852 2524 0473
Email: www.unionchurchhk.org