U MATTERS
"Prayer is awe, intimacy, struggle—yet the way to reality. There is nothing more important, or harder, or richer, or more life-altering. There is absolutely nothing so great as prayer." Tim Keller
The Apostle Paul reminds us that prayer is a fight to the finish.
"And that about wraps it up. God is strong, and he wants you strong. So, take everything the Master has set out for you, well-made weapons of the best materials. And put them to use so you will be able to stand up to everything the Devil throws your way. This is no weekend war that we'll walk away from and forget about in a couple of hours. This is for keeps, a life-or-death fight to the finish against the Devil and all his angels.
"Be prepared. You're up against far more than you can handle on your own. Take all the help you can get, every weapon God has issued, so that when it's all over but the shouting you'll still be on your feet. Truth, righteousness, peace, faith, and salvation are more than words. Learn how to apply them. You'll need them throughout your life. God's Word is an indispensable weapon. In the same way, prayer is essential in this ongoing warfare. Pray hard and long. Pray for your brothers and sisters. Keep your eyes open. Keep each other's spirits up so that no one falls behind or drops out." The Message ~Ephesians 6:10-18
The month of September is a month that we have set aside for prayer and we invite you to join. Pray daily using our Union Church prayer devotional, sign up for a prayer slot as we embark on 24-hour prayer - starting tomorrow 8:00am until Saturday 8:00am and/or join us at 22A Kennedy Road this Sunday at 12:45pm. Together let's pray for our church, our city and the needs of the world.
Blessings, Pastor Michele
WORSHIP SERVICES AND REGISTRATION
Currently there is space available at our three services. Please register soon as we expect the 9:45am and 11:15am services to reach capacity by Sunday. Email us at if your plans change. Thank you. Please carry on registering for services here starting every Monday, 10:00am.
Union Church offers three in-person services: 8:45am (Family Communion), 9:45am (Traditional Worship) and 11:15am (Contemporary Worship). The latter two services are available via livestream on our church website, Facebook page, church app and YouTube. Be part of our growing online congregation!
DEACONS
We are deeply grateful to our Deacons who oversee the spiritual welfare of the church with Pastor Michele. We are delighted to announce that Terri Appel has accepted the invitation to serve as Clerk of the Deacons' Court. After many years of serving as a Deacon and as Clerk, Charles Caldwell has stepped down and is now a resting Deacon. Thank you Charles for serving so faithfully all of these years. We are thankful to all the Deacons for their spiritual leadership, discernment and guidance. Learn more about our Leadership team here.
PRAYING FOR UNION
24 Hour Prayer starts in the morning - please book your time slot! We are praying for our church around the clock from Friday, 17 September 8:00am until Saturday, 18 September 8:00am. Everyone is invited - all ministries, all ages, all groups. Book your time slot here in our Union Church 24-7 virtual prayer room. (You will be able to book as a guest without having to create an account.) We welcome our friends from around the world to sign up and pray for Union Church in your time zone - which may be the middle of the Hong Kong night! You may also email your preferred prayer time(s) to .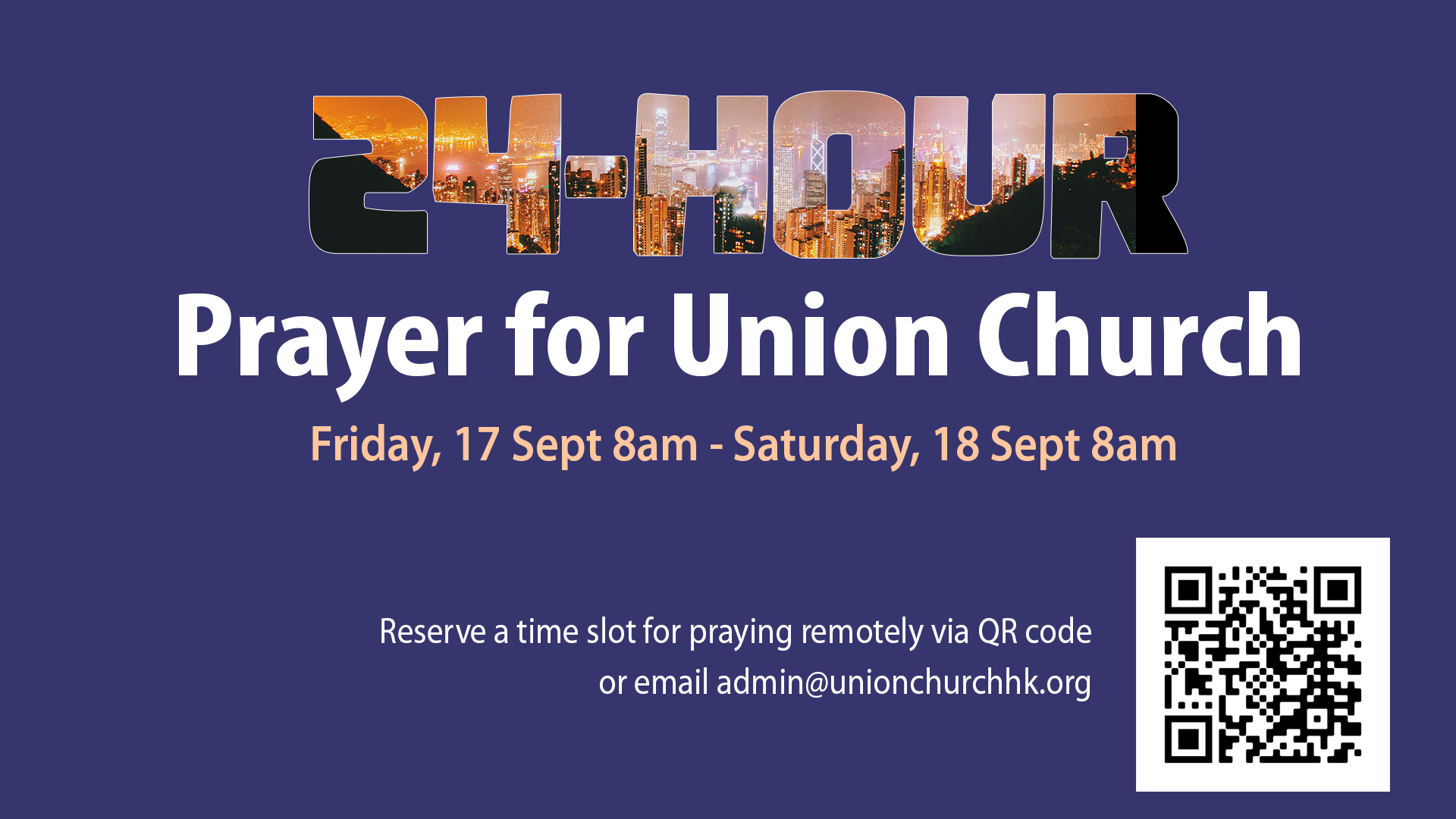 Praying God's Way to 22A: As God's people, we are going deeper into prayer as we lift up our church, all aspects of the move back to 22A and our future. You may pick up your copy On The Move: Praying God's Way to 22A at church or ask Admin to email you a soft copy. Follow our daily prayer journey this September on Instagram.
Today, 16 September, our Honorary Treasurer leads the devotion. Here are a few excerpts:

"Bring the whole tithe into the storehouse, that there may be food in my house. Test me in this," says the Lord Almighty, "and see if I will not throw open the floodgates of heaven and pour out so much blessing that there will not be room enough to store it." Malachi 3:10
"God dares us to trust Him in giving. Giving is an adventure that is rewarding beyond our wildest dreams. The joy of trust flows into every area of our life: from finances, to career, to relationships, to hand times and to the future.

"Father God, You desire peace and unity and encouragement for our body of believers. Help us, Lord, to pursue these things. Give us discerning hearts to know Your will and give us the courage to be obedient. Encourage us in this ministry of fundraising - give us an eagerness to engage everyone involved in The Grace of Giving and help us to understand the needs of our donors. We thank you Lord for your most generous love. In Jesus' name, amen."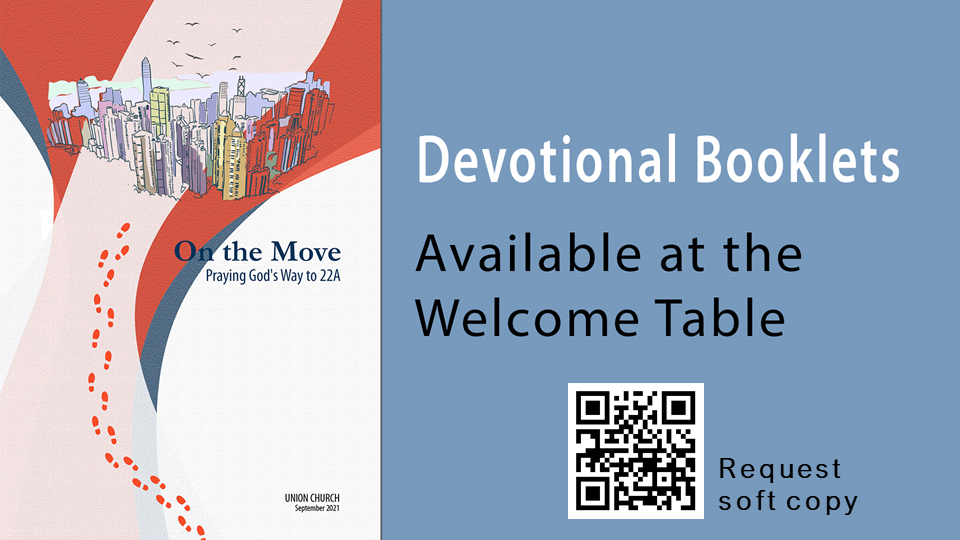 This Sunday - Prayer on-site at 22A Kennedy Road: Additionally, please join us as we pray for our church this Sunday, 19 September, 12:45pm. We will meet at 22A.
HAPPENINGS THIS WEEK
Young Marrieds Lunch - This Sunday! We would love to have all our young adult married couples join us for a special lunch. We will meet in the fellowship hall at 12:30pm then go to our venue together. Please contact Dan Tupps for more information.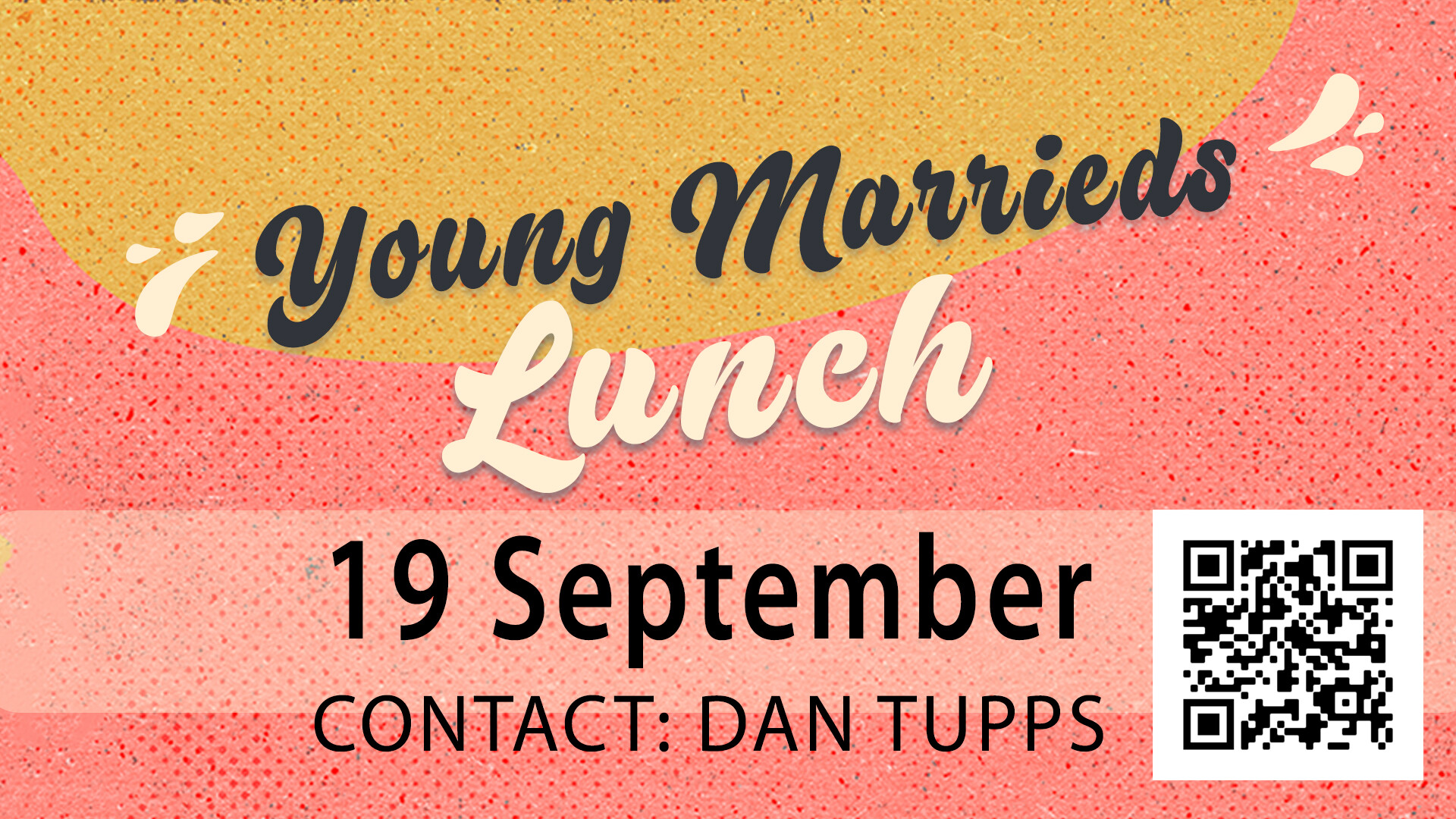 The Grace of Giving campaign - only 14 more days to go! We're in the home stretch of The Grace of Giving campaign which ends on 30 September. In the last two weeks the remaining gap to reaching our target has shrunk from HK$4.3M to HK$3.2M. Praise God for his faithfulness in our journey together! Learn more about The Grace of Giving here, including ways of further "bridging the gap".
Grace Race Final Push: Now it's time to finish one of the highlights of this Grace of Giving season - The Grace Race. Please join us as we complete the last leg of the virtual race next week from 20 - 26 September. We only have 1,618km to go, so "LACE UP" and together we can do it! Please register here. Make sure you have joined the Grace Race Club in the Strava app and that you log all your walks, hikes or runs in Strava as a "Run". Also, learn all about the planned finale in our Final Push video - on Sunday, 26 September at 12:30pm we will walk together from church here at Dah Sing Financial Centre to our new church building under construction at 22A Kennedy Road for a time of prayer and thanksgiving. We will then walk to Hong Kong Park's Olympic Square for fellowship and a picnic (from 1:30pm). Please bring your own food as we are not allowed to share. Let's get ready to celebrate the successful completion of The Final Push!
Young Adults Study - "Discipleship Explored": Wednesdays at 7:30pm. Please note: We will not meet on 22 September due to the public holiday. We will resume on 29 September. This journey through Paul's letter to the Philippians is ideal for new believers, those recommitting to their relationship with God, or anyone seeking to grow in their faith. For more details contact dan.tupps@unionchurchhk.org.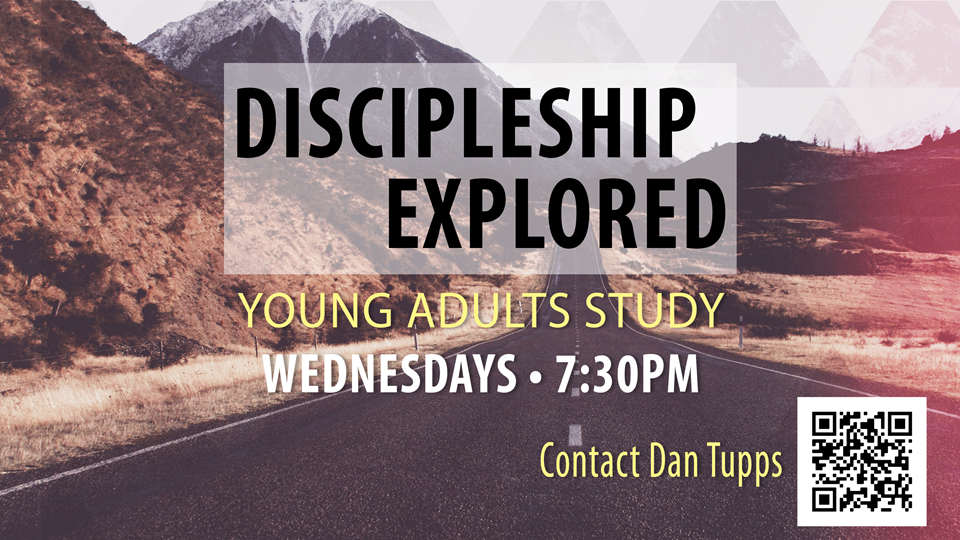 UPCOMING
Difference Course: We are excited to bring this popular course back to Union Church. Difference explores what it means to follow Jesus in the face of conflict and see transformation through everyday encounters. A transformed world starts with transformed relationships. Jessica Hexter and Lakshmi Jacota are facilitating the 5 in-person sessions, starting Wednesday, 29 September, 7:30pm - 9:00pm at church. All are welcome. Registration is open.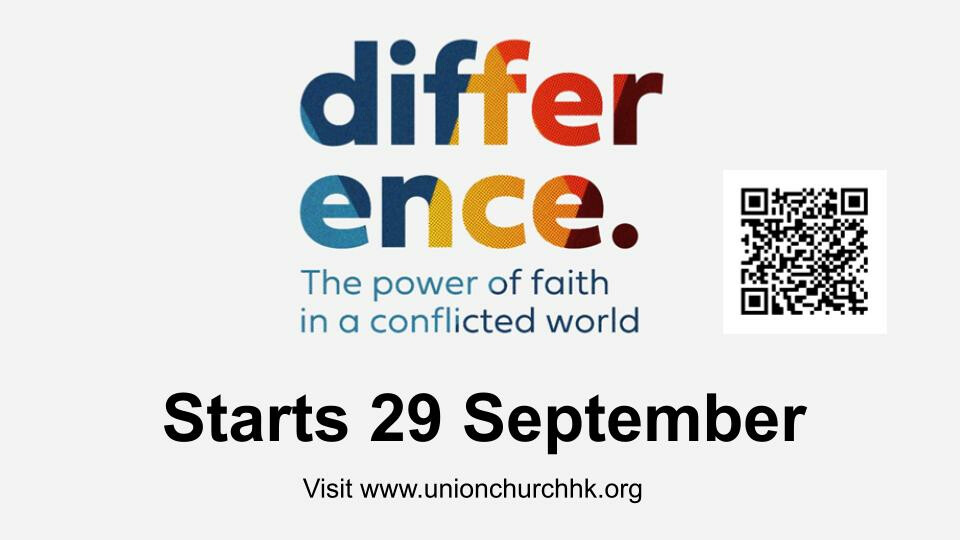 Worship Workshop - God Nourishes Us at the Table: We were delighted to welcome over 20 participants at the first session. The 2nd teaching workshop will be on Wednesday, 29 September, 7:30pm - 9:00pm. King Chau continues to lead us in this special time that invites you to reflect on the teaching of Jesus on Communion and how He is made known to us at the Table. Specifically, King will focus on the teaching of the Apostle Paul on the Lord's Supper, and the practice of Communion by the early church. King is working on his doctorate in Worship Studies. If you missed the first session, it's fine to attend on the 29th. Register here. You can also check out King's video!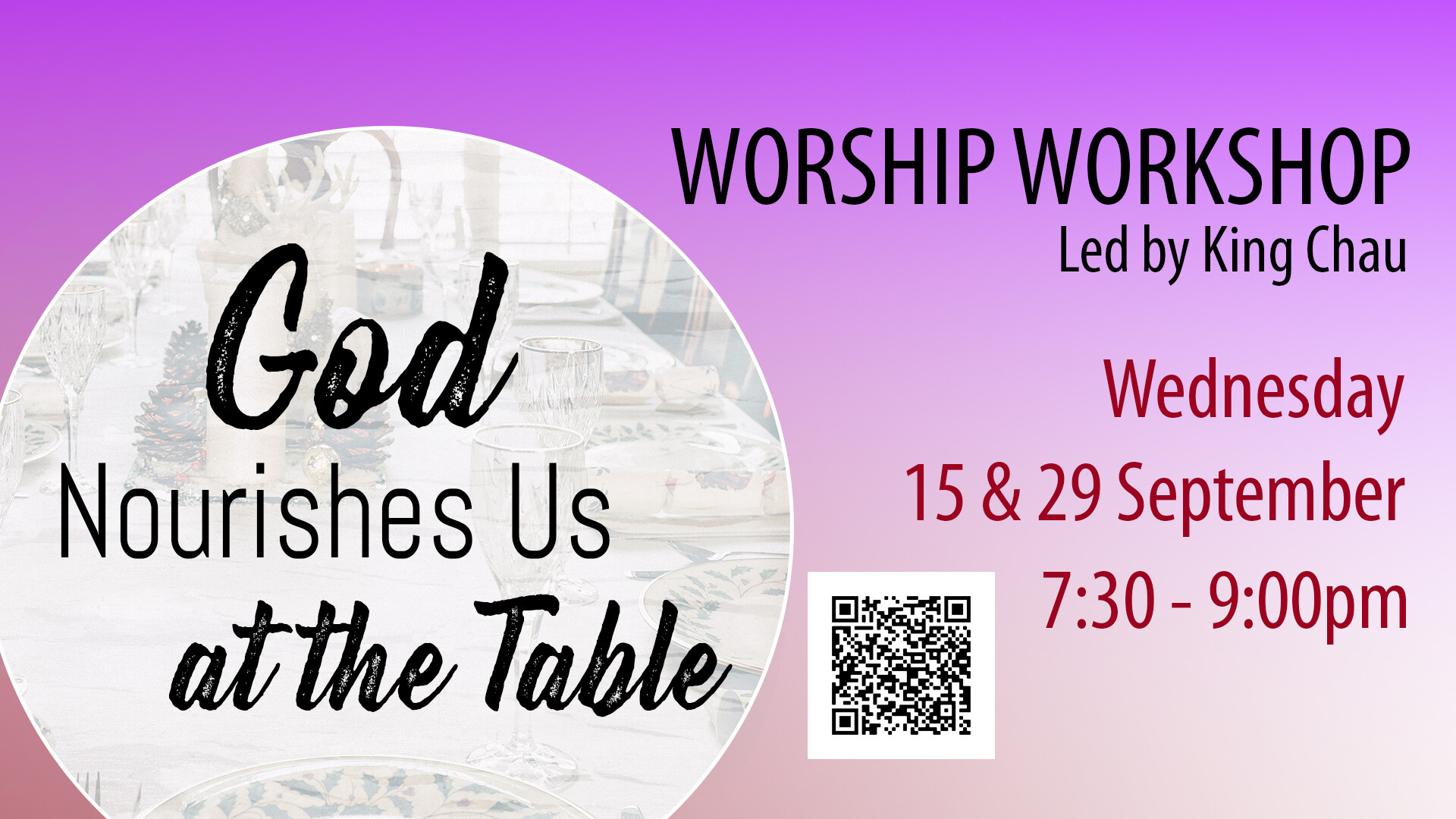 BLESS THE CITY, Saturday morning, 16 October: We are reminded that Jesus consistently cared for and ministered to marginalised people in society - the poor, the hungry, prisoners and the lonely. Now it is our time to go out to serve, pray and love His creation during a variety of outreach projects. Bring your families and friends and join us on the 16th. First we will meet at Union Church for worship and a blessing, and then go with our respective groups to bless the city. More details and registration are coming.
Men's Retreat, 5 - 6 November 2021. Men, we'd love to have you join us for an overnight retreat on South Lantau. It's a great opportunity to get away and discover the power of authentic relationships. Details + registration are coming soon!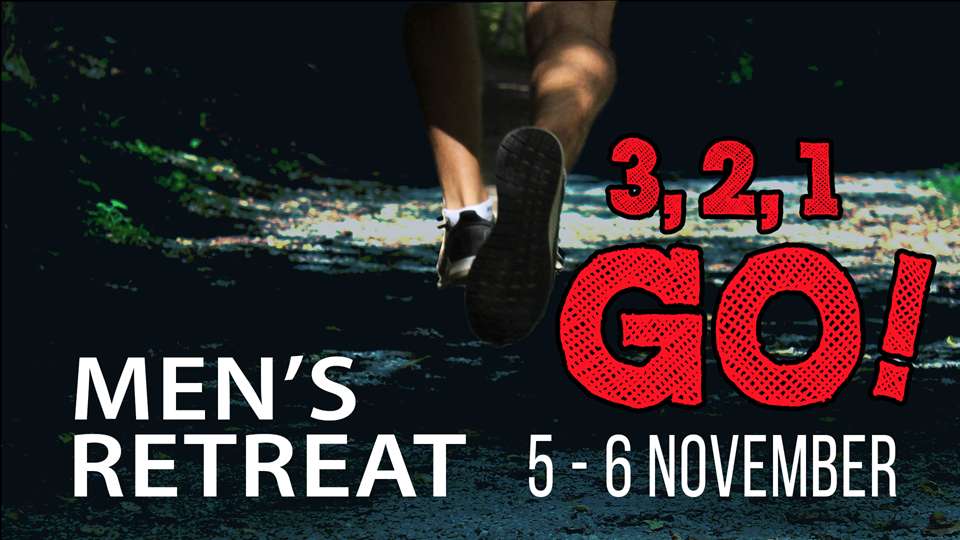 6th Annual Ladies Retreat - 7 WONDERS OF THE WORLD, 12 - 14 November 2021. This year we are delighted to announce a local retreat to South Lantau, staying two nights at the Sydney Leong Holiday Lodge, only a few minutes' walk from Cheung Sha Beach. Union Church women will have the entire facility as a private weekend retreat. Learn all about it - Registration is open!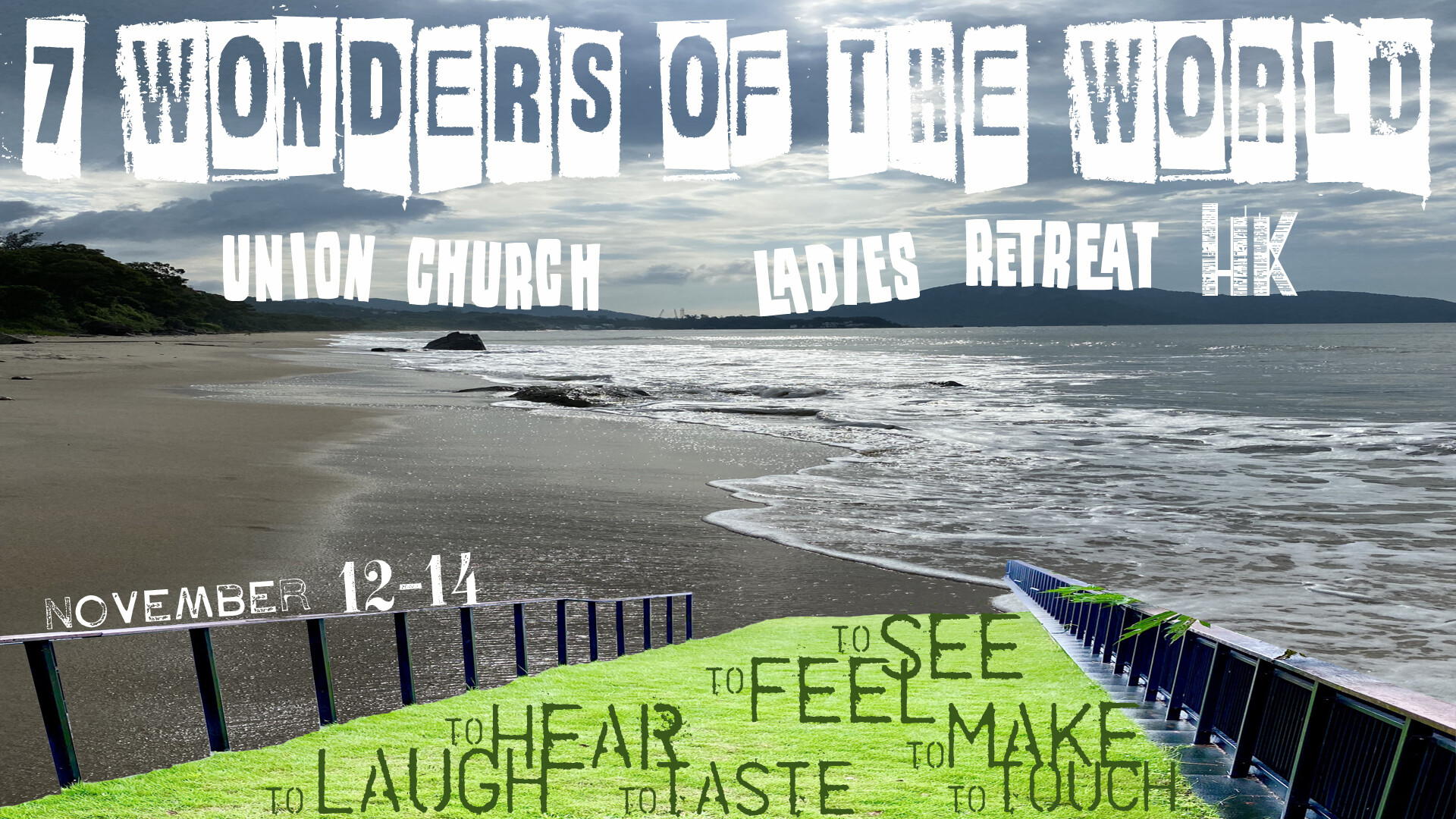 MARKETPLACE MINISTRY AND HALFTIME
Faith & Work Conference Hong Kong 2021: Purpose vs Paycheck, Saturday, 9 October. Join 100+ people who are passionate about faith in the marketplace at the in-person Faith & Work Conference. Explore how to find a better "connect" between what we believe and what we do at work, and how to pursue career success and follow Christ's calling as the same time. Venue: Island ECC. Co-organisers: Community Church Hong Kong, Island ECC, The Vine and Union Church. Registration is open. Cost is only $200. Scholarships are available.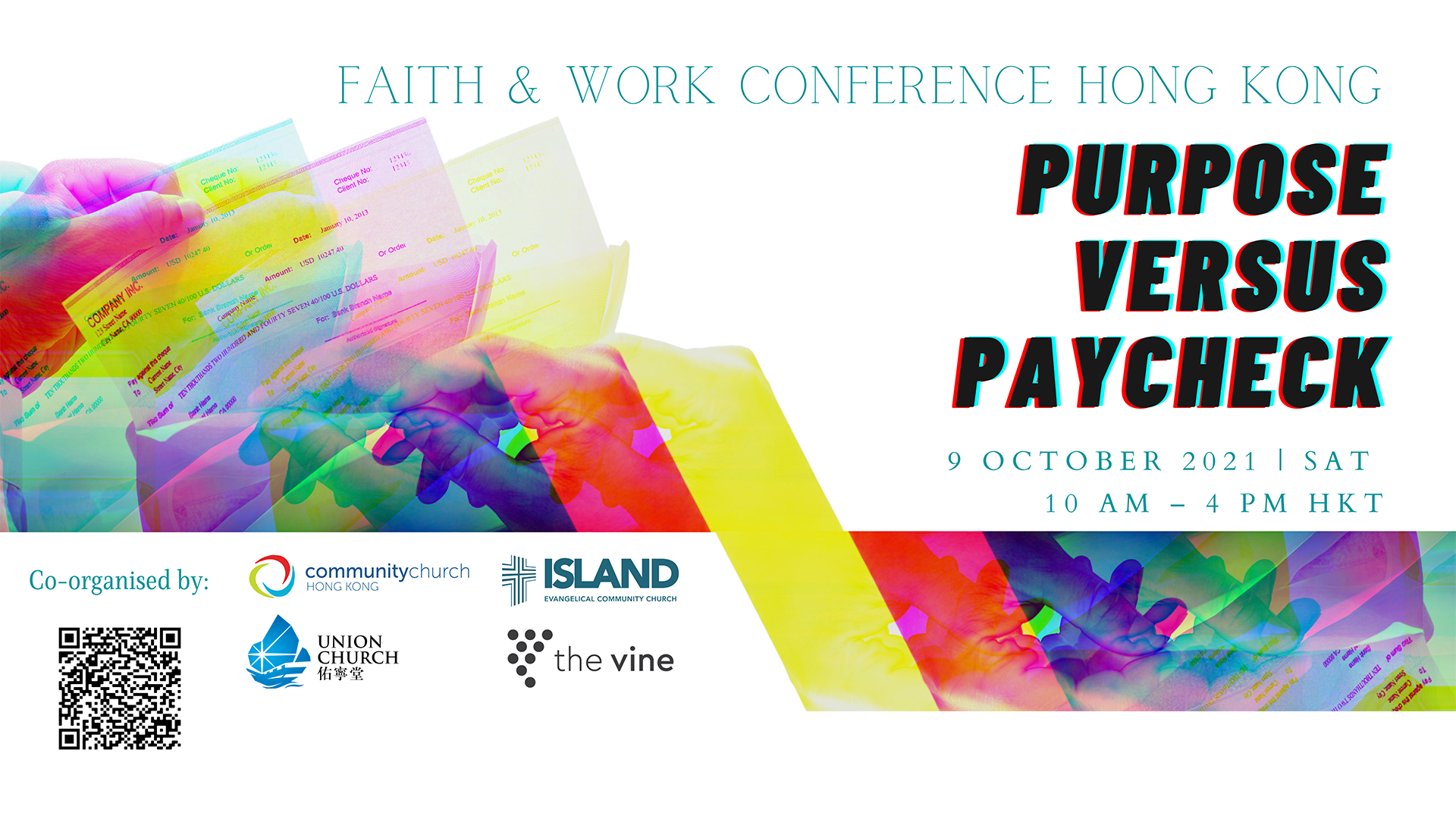 Halftime 6-Week Course: The Halftime team is offering a Halftime small group course at lunchtime over a six-week period starting in the second half of October. This course will help you clarify your core abilities and passions and discover creative ways to channel your talent towards Kingdom-significance. Exciting! Please let the team know you are interested. Contact .
KINGDOM KIDS
Creche & Sunday School Arrangements: Children ages 0 - 3 years old are welcome to join our Creche Centre and children ages 3 to 10 years old are invited to join us for Sunday School. This Sunday, our 3 - 7 year olds will be learning about the Ten Commandments from Exodus 20, and our children 8 years old and above will learn that God's love pursues us even when we don't believe (Jeremiah 31:3). Families attending in-person service must be successfully registered. Thank you for your kind understanding.
In-person Sunday School: 9:45am and 11:15am
Online Sunday School: 11:15am - the Zoom link to the online class will be emailed to families with children registered in our Sunday School programme for the year 2021-2022.
Kingdom Kids Sunday edition is available at the end of the 9:45am and 11:15am worship services on the Union Church website or Facebook page.
Sunday School Registration 2021-2022: Registration for the academic year 2021/2022 is now open. Children ages 0-10 years old enrolling in our Creche and Sunday School programme must be registered by completing the form HERE. Registration forms are also available at the Children's welcome table. For more information, please visit Union Church's website or contact us at CHILDREN or 2101 0414.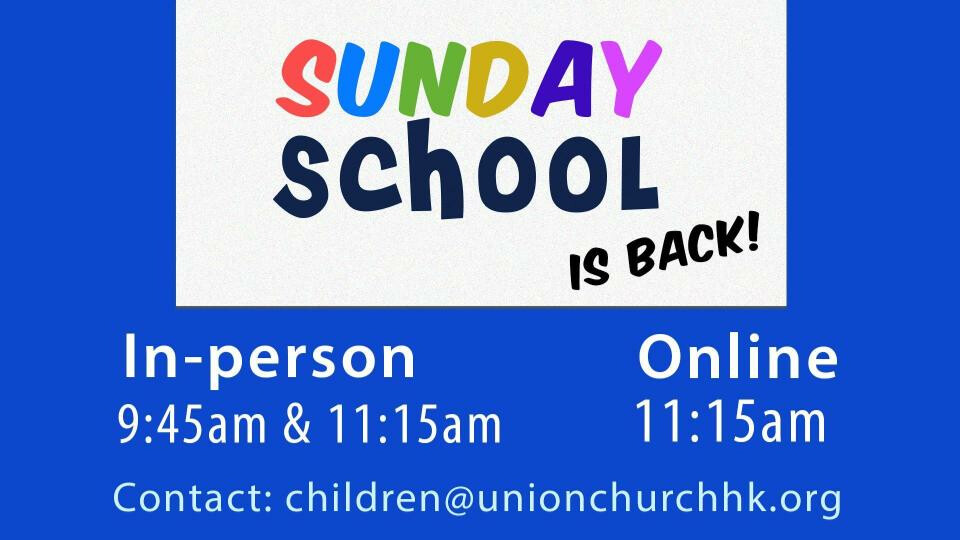 YOUTH
Friday Youth - 17 September – Tomorrow we will continue the Just 10 series from J John, and take a new and refreshing look at the 10 Commandments. If you've been looking for a deep dive into one of God's most important covenants with His people, look no further! Meet at Union Church. Juniors (11-13) will join from 6:00pm - 8:00pm with dinner until 9:00pm, and Seniors (14-18) with dinner 6:00pm - 7:00pm and lesson from 7:00pm - 9:00pm with hangout time afterwards.
Sunday Youth – 19 September – This Sunday, Youth are back at Ps. Michele's home at 11:15am for a lesson and a time of fellowship. Juniors (11-13) have begun a new series on the book of Ephesians, while Seniors are studying the Book of Revelation and the challenging messages it faces us with! Any questions - please talk to Hunter.
Wednesday Youth – 22 September - No Wednesday Youth on this day due to the public holiday.
Get read for Worship Night on Friday, 24 September!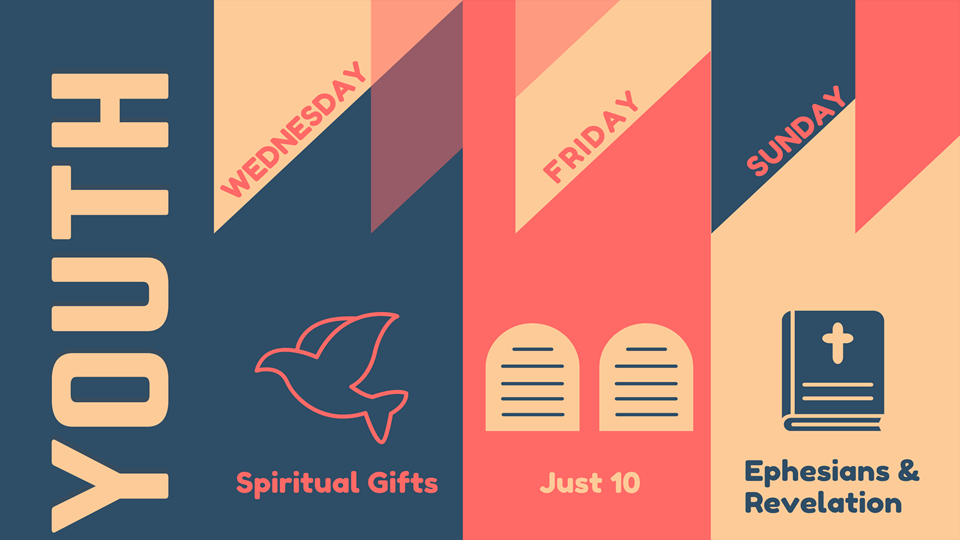 MISSIONS
Welcome Simone! We're delighted that Simone Loke has joined the Missions ministry team, bringing a heart for mission and a wealth of experience in NGO advisory services, portfolio management and several years on the Committee of Management (in a Stewardship role).
Each member of the Missions ministry team looks after several of our 24 ministry partners - praying for them, coming alongside and serving as their liaison with Union Church. This is an active group! We invite you to come to know the work and impact of our ministry partners better as we share partner news and prayer concerns in Acts@22A, the Sunday bulletin, church website and the welcome desk. Now we're delighted to bring our partners to meet with us once a month (see below). Any questions about the Missions ministry at Union Church? Please reach out to the team at .
Meet our Ministry Partners: On the 2nd Sunday of each month, you can meet 1-2 of our ministry partners when they visit Union Church. Thank you ICC for being with us last Sunday.
Here is the line-up for our partners' visits - mark your diaries and grab this excellent opportunity to learn about their mission, impact and ways you can pray, volunteer and support.
Sunday, 10 October - Hong Kong Church Network for the Poor
Sunday, 14 November - Sons & Daughters and Asian Development Ministries (SALT)
Sunday, 9 January 2022 - Alpha Hong Kong
and more visitors in the new year.
Save the date - Missions Christmas Fair, Sunday, 28 November - you won't want to miss it.
Prayers for Light of the World Church and Preschool, Yangon, Myanmar: Pastor Vum gave praise that a small group could meet in their home last week for their son's memorial service, and he has been able to visit some of their members' homes for Bible study. Continued prayer is needed for the community's safety and security as young men and youth are at risk of being kidnapped by the military junta. In the countryside, it is reported that middle-aged men have been killed and village homes burned. Lord, we continue to trust in you for peace and protection.
Ready to complement Sunday worship services with a small group experience? The support from your friends in a small group is tangible demonstration of God's love for us. If you aren't currently in a small group, this is a wonderful time to try it out. There are groups for women, men, couples, day-time, night-time, etc. Contact for more information and pick up a Small Groups pamphlet from the welcome desk at church.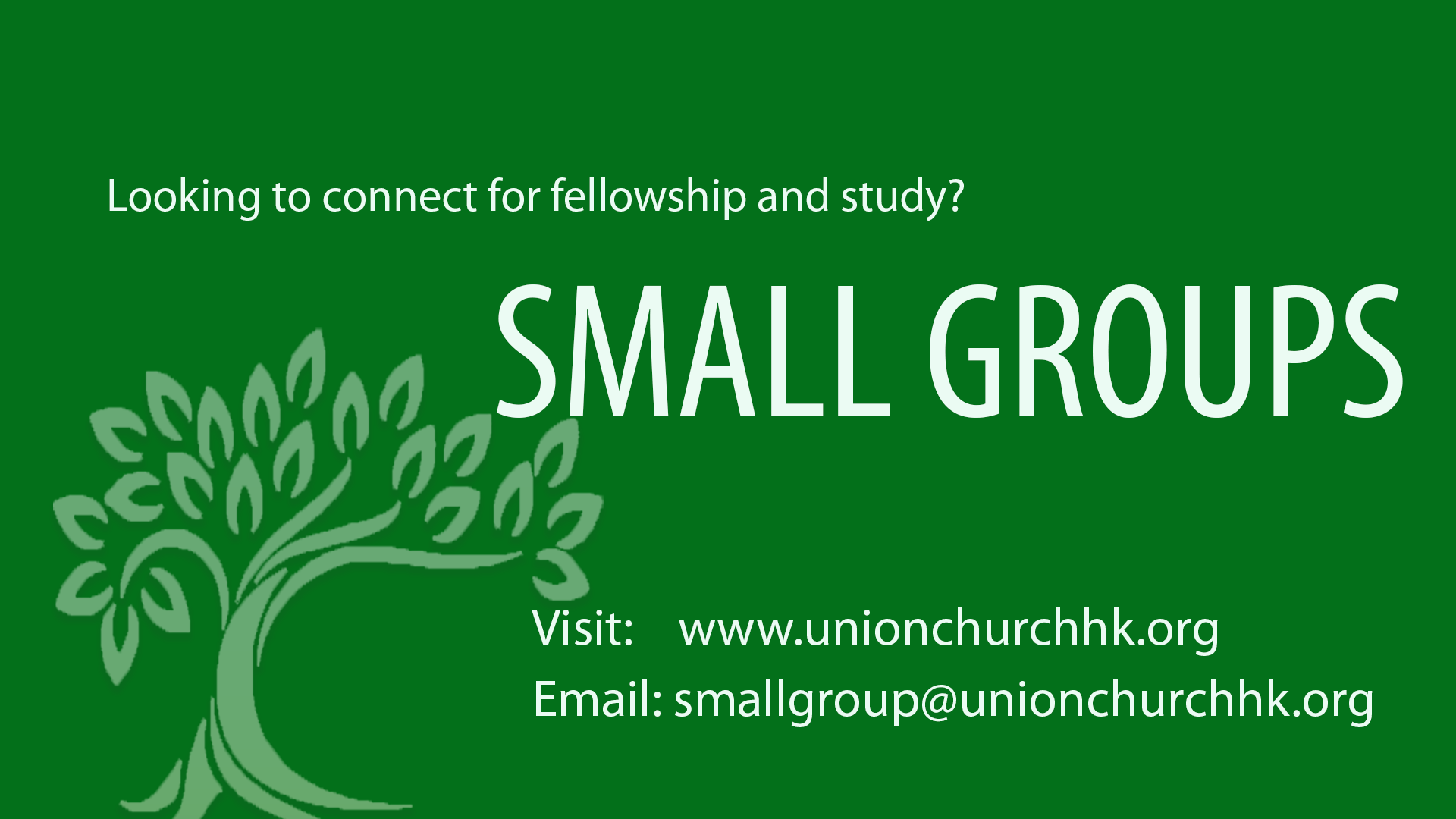 Friday Mornings Ladies group, 10 September - we're continuing the 6-video series by Dallas Willard based on his book "Hearing God: Developing a Conversational Relationship with God" led by Pastor Michele. Please contact Ellen Ahn with any enquiries.
Pastoral Care and Prayer
Need prayer? Reach out to us confidentially at .
Stephen Ministry
We provide high-quality, confidential care to people who are hurting through our Stephen Ministry programme. Contact Pastor Michele if you would like to know more about the programme or meet with a Stephen Minister.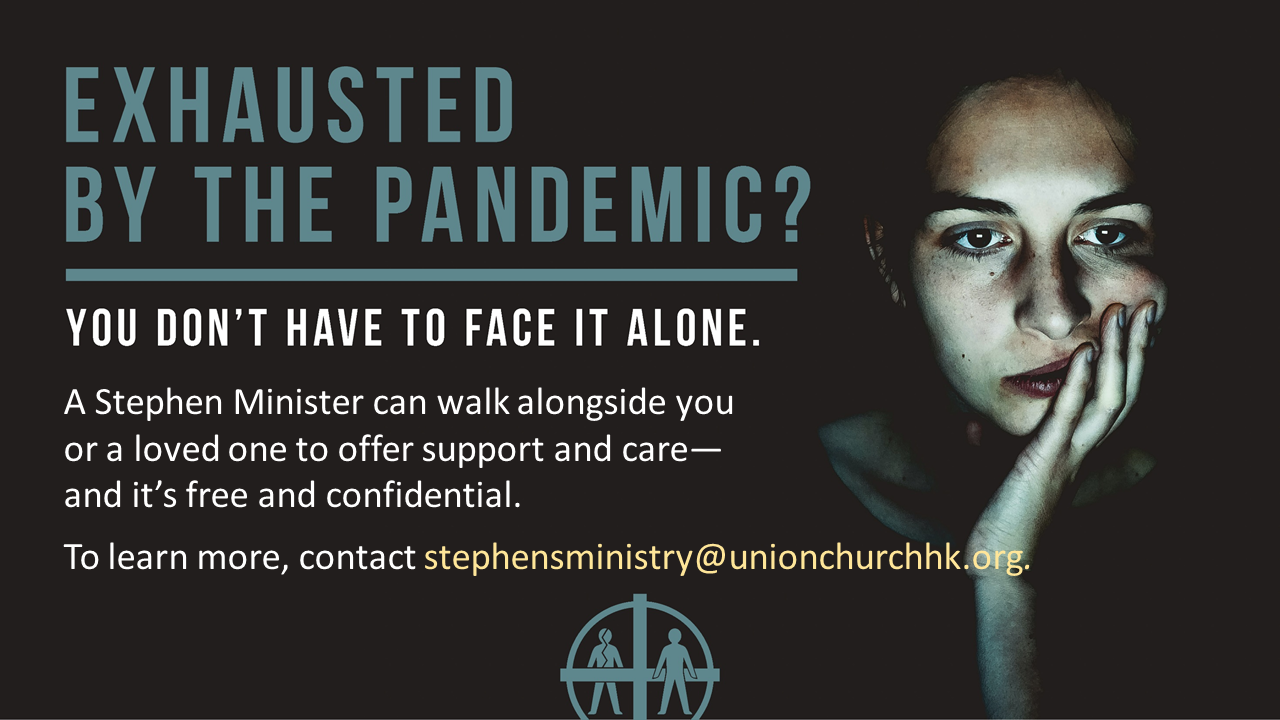 Sanctuary Flowers
We are blessed by the beauty of the flowers in the Sanctuary on Sundays. We invite you to donate flowers for any occasion - a birthday, anniversary, birth or in memory of a loved one. You may sign up on the flower calendar on the notice board or email . Thank you.
Last week's sermon
"Moving the Needle - Praying through Hardships" Dan Tupps
Social Media
Please follow Union Church Hong Kong on Instagram, LinkedIn, Facebook and YouTube and share with your friends and family. Do you have images, video and stories for UC social media? Please send them to Bronwyn.