U MATTERS
One night this week our staff team joined together to celebrate Christmas in July - there was turkey, ham, stuffing, Christmas cookies, decorations, and our traditional gift exchange. If you know Chris, you know he loves Christmas. We ate, we laughed, and we shared endless stories about Chris and Barbara. After 12 years of ministry at Union Church there was much to share. We chatted about his various ministries - Music Makers, Christmas Musicals, Youth Band, Worship Teams, Choir Support, Jazz Services, Christmas on the Green and the list goes on.
We chuckled when we learned at one point, Chris oversaw I.T. and was the children's ministry liaison. We were reminded of his agility when he mentioned the 70 different colleagues he had worked with over the years. We gave thanks for his passion for ministry and desire to do things well - especially if there was food involved and if there wasn't food, he often rallied the troops. We reminisced and reflected on how much he has meant to us - his encouragement, his support, his laughter, his friendship, his servant heart and his desire to do things big. We gave thanks for his heart for God, the church and for his ability to pull people into ministry.
We also gave thanks for Barbara. We will miss her dearly - she is a community builder. Barbara is a student of the Word, a thoughtful teacher who has been faithfully leading the Wednesday small group for years. She has also served the congregation in the sound booth - operating 'easy worship' and is a Stephen Minister.
Chris and Barbara, to you we say - well done good and faithful servants. You have served the people of God well - you have fought the good fight, finished the race and kept the faith. You leave a big hole in our hearts and we will miss you. Thank you for sowing so faithfully at Union Church.
May the Lord bless you and keep you and may His face shine upon you and give you peace.
– Pastor Michele
WORSHIP SERVICE UPDATES
Our in-person worship capacity is now up to 50%. At this time, all services this Sunday have availability. If you have registered and subsequently need to cancel or adjust your numbers down, please email as soon as possible so we may offer your space to someone else.
For Sunday services on 25 July, registration will open at 10:00am on Monday here. Once you have registered, you will receive an email to confirm if you are IN! or if you should select an alternative service or watch the livestream.
Union Church offers three in-person services: 8:45am (Family Communion), 9:45am (Traditional Worship) and 11:15am (Contemporary Worship). The latter two services are available via livestream on our church website, Facebook page, church app and YouTube. Be part of our growing online congregation!
Our online worshippers are invited to join the Zoom Coffee Hour hosted by the Deacons. We want to connect with our online friends every Sunday in between services, 10:45am - 11:15am. Contact the church office to get the Zoom link.
FAMILY NEWS
Youth Alpha Retreat: This past Friday and Saturday 30 students and leaders voyaged up to the YWAM Base in Kam Tin for a retreat focused on learning about and experiencing the presence of the Holy Spirit. It was a fantastic time of worship, discussion, food, fun and more. Thank God for His power and blessings, and thank you to everyone who prayed and helped make the retreat happen.
It's hot out there! Please pray for the construction workers at 22A. The weather is very hot and humid and the team is moving into a new stage of construction on the Sanctuary structure. Please pray for their safety and wellbeing.
Memory Book: What cherished memories do you have of Chris Yorks and his ministry at Union? Chris is returning to the USA this summer and we want to acknowledge all that he and Barbara have done for our church family. Please record your gratitude, photos, and / or signature in his memory book at church. Feel free to take a page home for your creative handiwork. The deadline is Wednesday, 21 July.
Their last Sunday with us is 25 July. If you would like to contribute to a love gift for Chris, please send a cheque before the 25th to "Union Church" with Chris Yorks on the back. We will have a marked donation box at the Welcome table too. You may also give via our online giving page - tick the box for "Love Gift for Chris Yorks". If you have any questions please contact .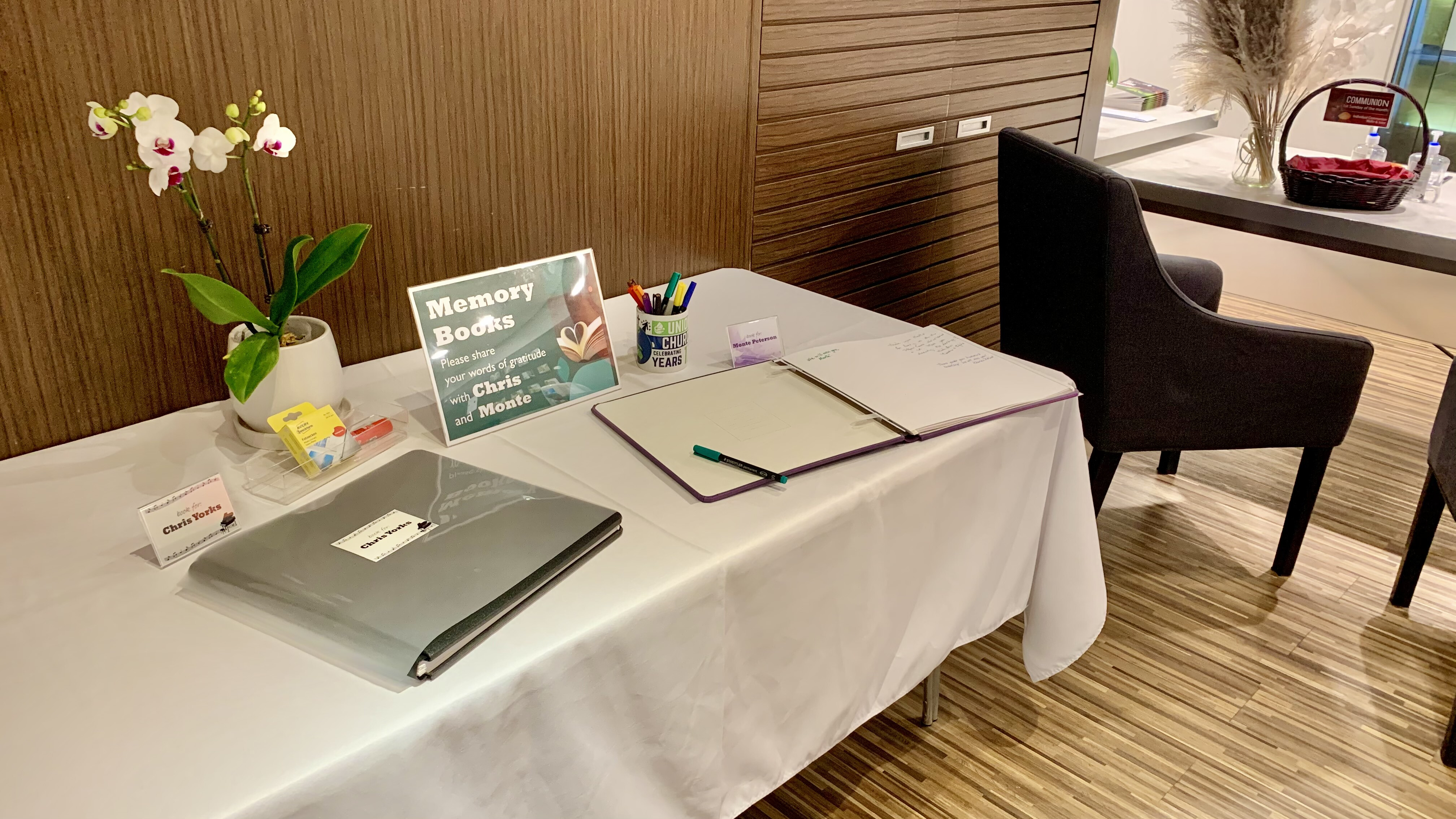 THIS WEEK
Worship Teaching by King Chau: As part of our Experiencing Worship series this July, King Chau will share about seeing God's story in our worship. On 21 July, we will focus on Jesus Christ, our role model for worship. Everyone is welcome - please register in advance.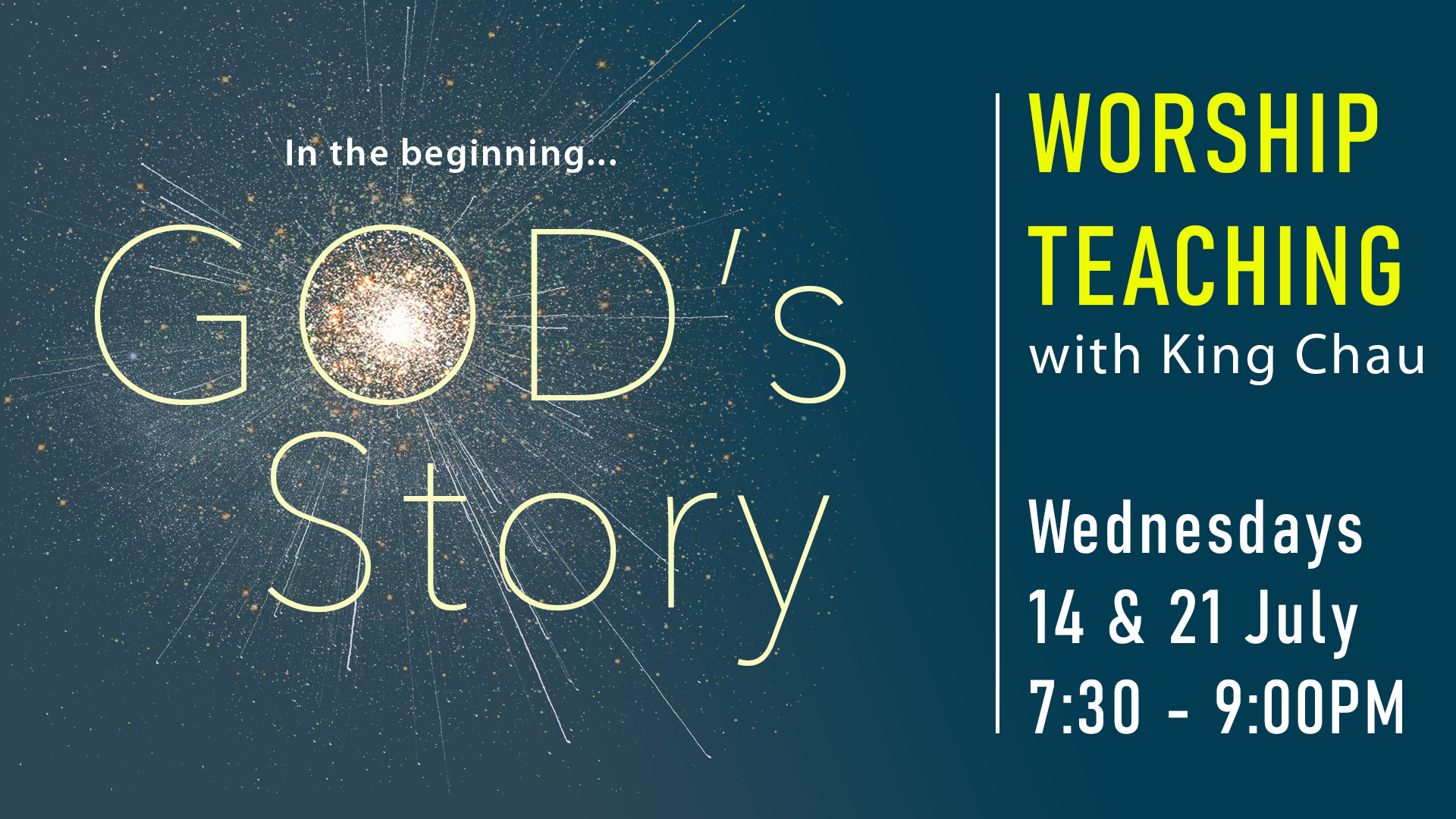 Selah Worship Service: The final Wednesday evening in the Experiencing Worship series features a creative worship experience. Juliana Rotmeyer, one of our Deacons, will lead a Selah service on 28 July at 7:30pm. This service invites you to step deeper by faith + celebrate being still to know God. This is a time to pause from your busyness + rest in a unique service that weaves together worship, prayer, silence + spiritual formation. Join Selah to draw close to Jesus + deepen your relationship with our Creator. Please register in advance.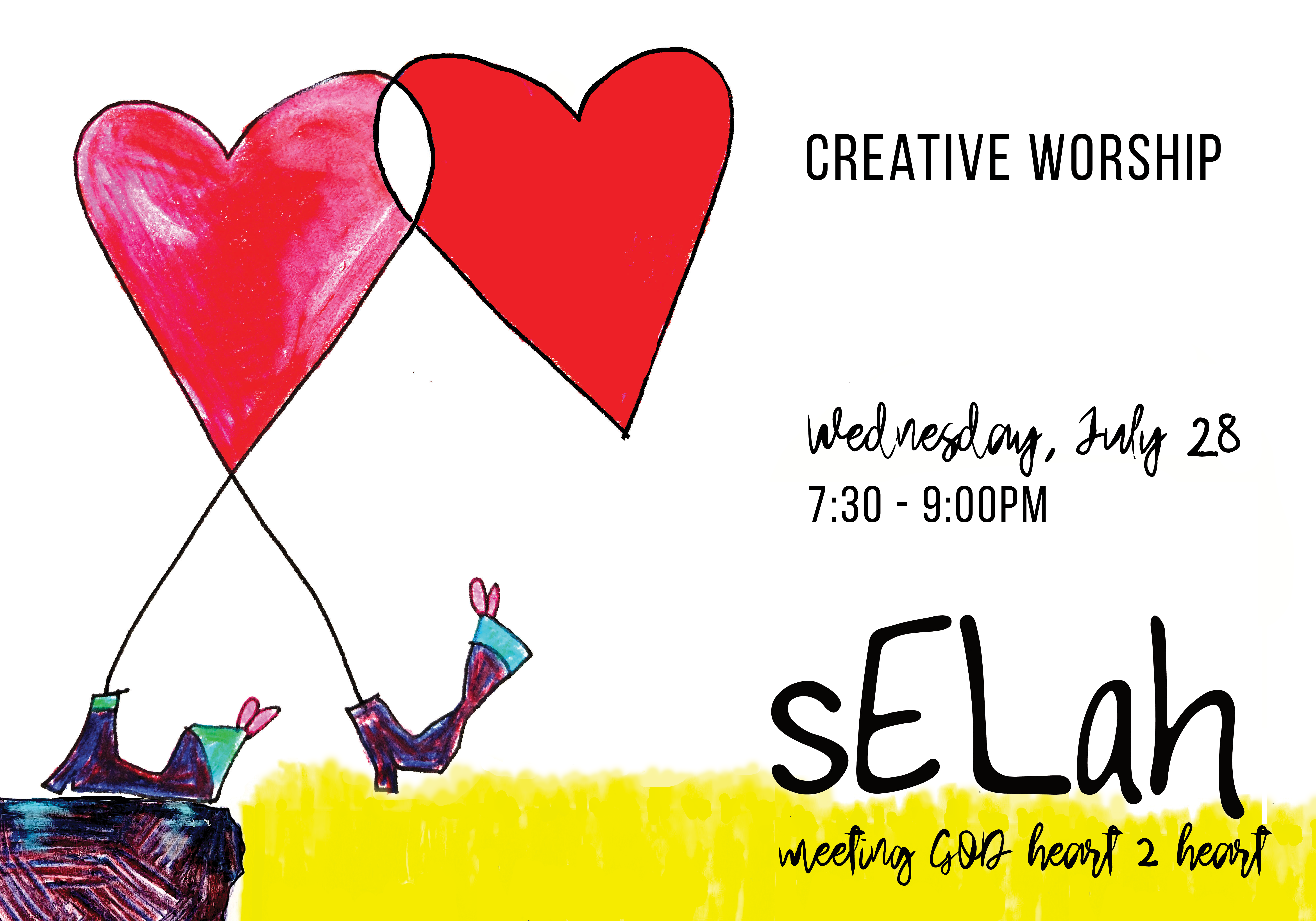 Men's Study of John 7-12: This is a new study for men - a follow-on from the study of John Chapters 4 - 6, led by Andrew Lo. Newcomers are welcome. In this online study you will take part in 1) a 30-minute daily study including Bible reading, questions & study notes, and 2) Friday group discussions on Zoom from 23 July to 27 August at 1:00pm - 2:00pm. Register here. If you have questions, please contact Andrew at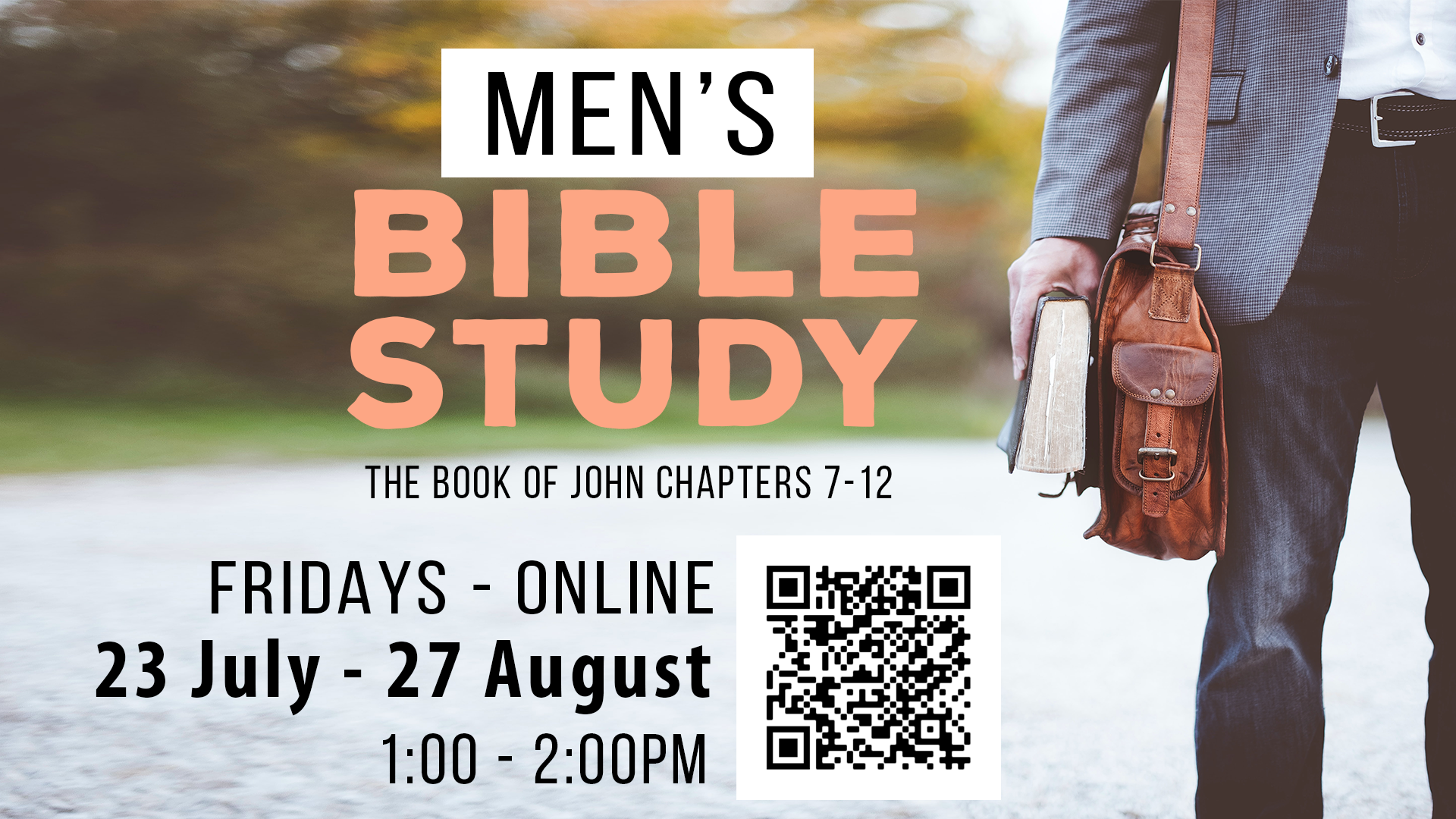 UPCOMING
Family Meeting – Save the date, Wednesday, 11 August for a Union Church Family Meeting at 7:00pm via Zoom. Hear updates about the new church building and get answers to your questions! Everyone is welcome. Details to follow.
Faith in the Marketplace webinar – Save the date, Wednesday, 18 August: What does it mean to seek His Kingdom first in the marketplace? Join the next Faith in the Marketplace webinar – let's recalibrate how we define success as we serve God and live out His purpose in the workplace. Invite your colleagues! All are welcome. Details and registration to follow soon.
KINGDOM KIDS
'TREASURED' VBS Sunday School – Save the date – 1, 8, 15, 22, 29 August, 9:45am and 11:15am. Children ages 3 to 11 years old are invited to join us for in-person Treasured VBS Sunday School. At Treasured VBS, kids dig into action-packed and faith-filled adventures. They'll discover God's greatest treasure isn't diamonds, gems, or gold - it's them!. Treasured is filled with Sciency-Fun Gizmos, team building games, cool Bible songs, and even take-home tasty treats. Register here or at Children's Welcome Table starting this Sunday. Children are welcome to bring friends along too. VBS Sunday School is free for all.
Sunday School Registration 2021-2022: Registration for the academic year 2021/2022 is now open. Children ages 0-10 years old enrolling in our Creche and Sunday School programme must be registered by completing the form here. Registration forms are also available at the Children's Welcome Table. For more information, please visit Union Church's website or contact us at CHILDREN or 2101 0414.
Creche & Sunday School Arrangements until further notice: The Creche Centre will be open with restricted capacity. For children ages 3 years old and above, Sunday School Lite will take place at the 9:45am and 11:15am service in rooms 2 and 3. Services can fill up quickly and your family must be successfully registered. Thank you for understanding.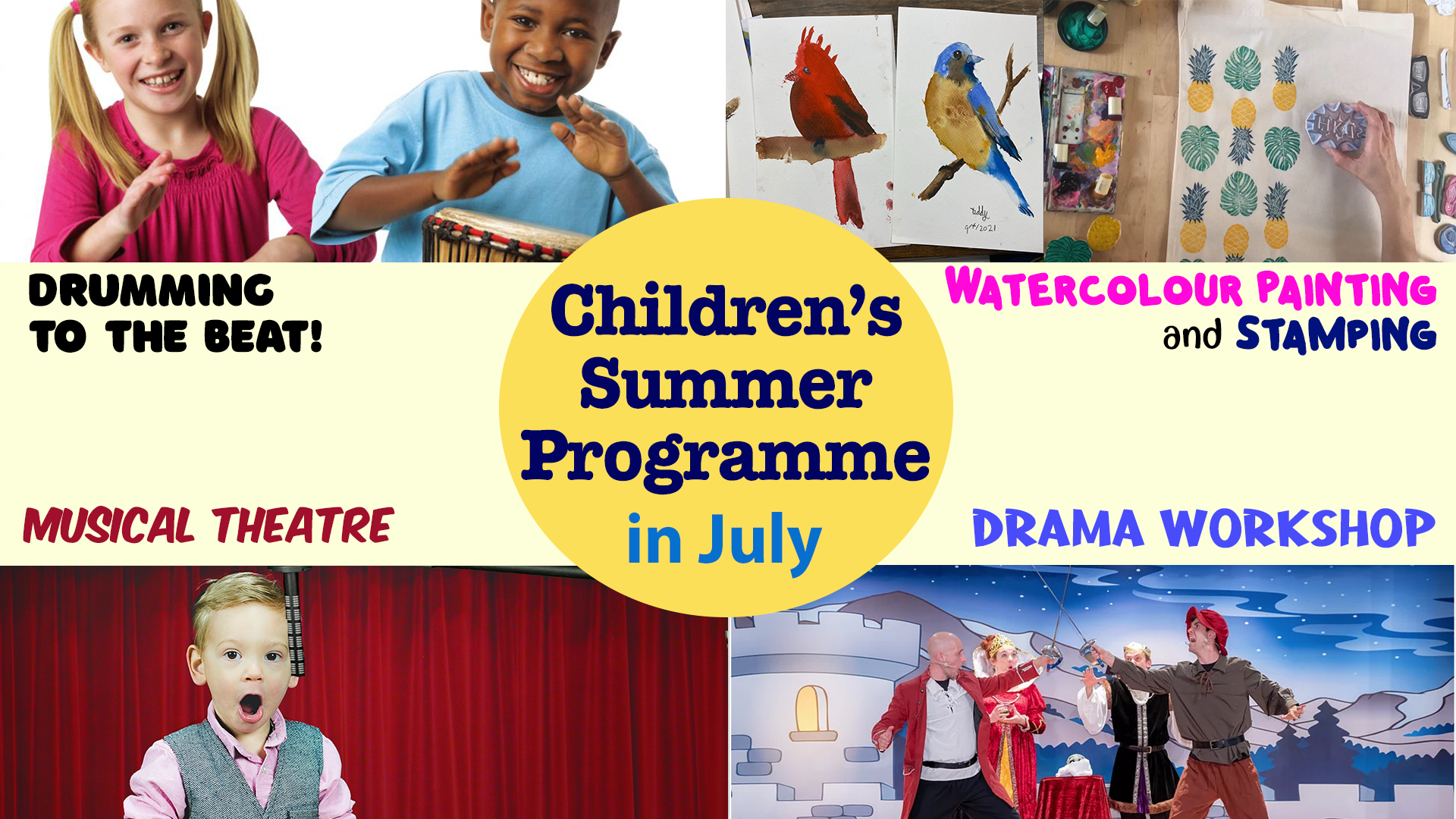 Children's Summer Programme:
There are a few spaces left for the Drama Workshop, so hurry and register your child and their friends for these fun children's summer programmes here at Union.
Register here
. Costs below are per child.
Programme 3:
Watercolour Painting and Stamping
by Bymamalaterre, 20-22 July, 10:00am - 11:30am, 5 - 12 years, $600 (Now FULL)
Programme 4:
Drama Workshop
by Dove Tales, 27-29 July, 10:00am - 11:30am, 7 years and older, $500.
YOUTH
Friday Youth - 16 July – This Friday we are diving back into our regular Alpha sessions with a video and discussion on the New Life we have in Christ! We'll meet at church - Juniors (11 - 13) will join from 6:00pm - 8:00pm, and Seniors (14 - 18) will be from 7:30pm - 9:00pm with hangout time afterwards.
Sunday Youth – 18 July – This Sunday Youth are invited to Pastor Michele's home at 11:15am for a lesson and a time of fellowship. Juniors (11-13) are working their way through the Be Bold series – asking the questions that really matter! Seniors are making their way through an exciting study of the Book of Revelation,
Youth – 21 Summer Programme
There's a lot going on! Join us and bring your friends.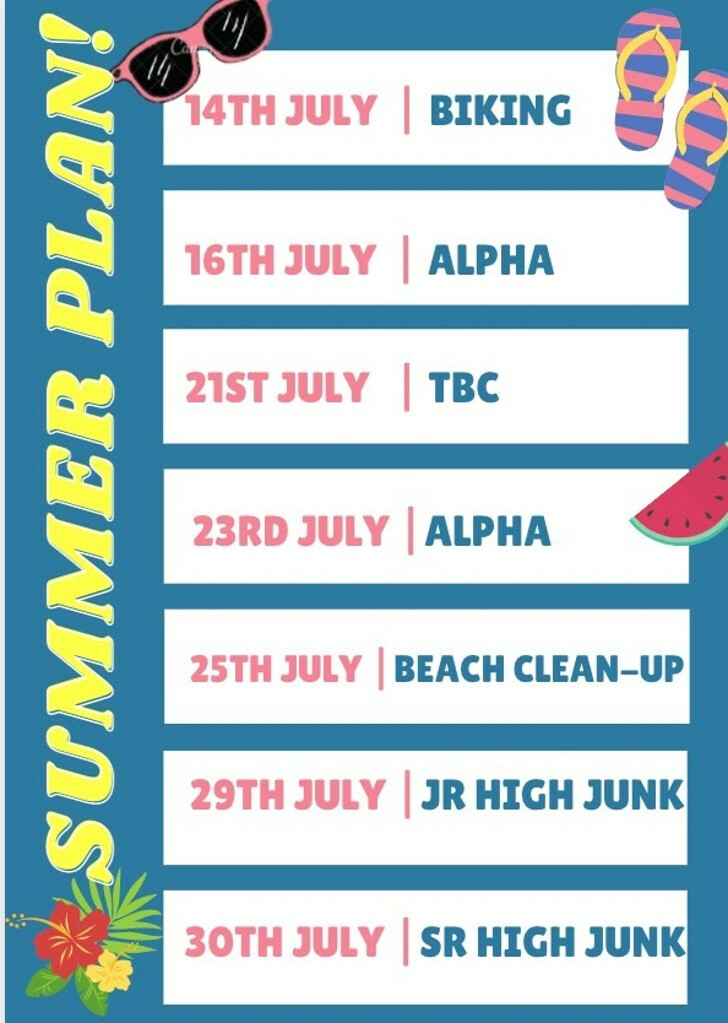 MISSIONS
Alpha's Handbags can make a difference - Alpha Hong Kong will be selling donated handbags from 31 July to 5 August. Your purchases will allow more people to develop a relationship with Jesus. Exciting! Details to follow soon.
Prayers for Light of the World Church and Preschool, Myanmar: Thank you for your prayers for the past 5 months for our brothers and sisters in Myanmar. Pastor Vum's mother-in-law had experienced COVID-like symptoms but is improving - praise God! Another church family is stricken with COVID symptoms. Please pray for their full recovery as increasingly medicine is not available at drugstores and oxygen at private and public hospitals has been taken for use in military hospitals. Many areas of Yangon are locked down due to a third wave of COVID-19. We pray for this nation and those with COVID; we pray for the protection of Pastor Vum and his family as they minister to their flock.
Agape International Missions (AIM): We lift up Cambodia Country Director, Matthew Stock, and his wife Melissa who runs international advancement. We pray for travel mercies during their time in the US, excellent treatment from medical teams, and for the AIM staff remaining in Cambodia and their daily operations to rescue victims of sex trafficking.
Meeting as a small group at this time is challenging, but the support from each other is more important than ever. If you aren't currently in a group, we encourage you to try it out. There are groups for women, men, couples, day-time, night-time, etc. Contact ADMIN for more information.
Families in Need (FIN)
Our FIN ministry helps people with their basic monthly needs. If you can help, we are grateful for your generosity. Please mark your envelope "FIN".
Pastoral Care and Prayer
Need prayer? Reach out to us confidentially at .
Stephen Ministry
We provide high-quality, confidential care to people who are hurting through our Stephen Ministry programme. Contact Pastor Michele if you would like to know more about the programme or meet with a Stephen Minister.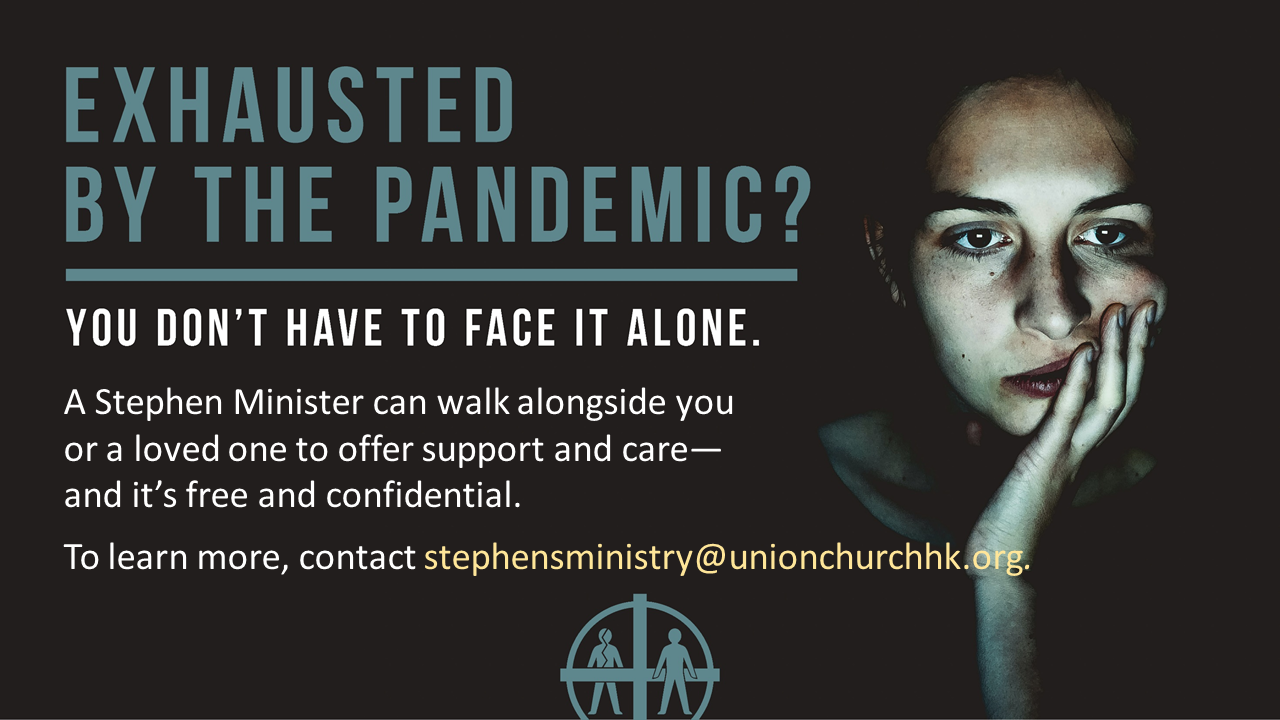 Last week's sermon
"Acts 2 Church - Sees and Responds Compassionately" Rev Dr Michele Bland
Social Media
Please follow Union Church Hong Kong on Instagram, LinkedIn, Facebook and YouTube and share with your friends and family. Do you have images, video and stories for UC social media? Please send them to Bronwyn.