U MATTERS
There are only 11 sleeps left before the start of The Grace Race. The Grace Race is the 9,888km virtual walk from Huntly, Scotland - home of our founding pastor James Legge, to our new church building at 22A Kennedy Road. Together we will accumulate the kilometres.
There are 5 Great Reasons to Join the Grace Race:
Get fit and fire up those endorphins
Build community - it doesn't take away time from family or friends
It's only 7 days
Great swag - the sport shirt is "fresh"
Build Union for the Future - this is a once in a lifetime opportunity!
Everyone - young and old - can participate in building Union Church for the future. We are delighted to announce that many groups are joining The Grace Race! In fact, the Filipino Fellowship has submitted 36 registration forms already. Small groups, Sunday School, youth, young adults, rugby groups, work colleagues are all gearing up to participate. If you have not registered, it's only HK$150. If you are unable to walk, run or hike and would like to sponsor someone you can. Please see our website for details. Don't miss out!
"We look at this Son and see the God who cannot be seen. We look at this Son and see God's original purpose in everything created. For everything, absolutely everything, above and below, visible and invisible, rank after rank after rank of angels—everything got started in him and finds its purpose in him. He was there before any of it came into existence and holds it all together right up to this moment. And when it comes to the church, he organises and holds it together, like a head does a body." Colossians 1:15-18 The Message
Blessings as we build together - Pastor Michele
WORSHIP SERVICE UPDATES
Please do come worship at Union in-person! Spaces fill quickly, but currently we some capacity available at the 8:45am service on 16 May. If for any reason, you register and then need to cancel or adjust your numbers down, please notify us as soon as possible before Sunday so we may offer your space to someone else. For the following Sunday, remember to jump on the registration on Monday at 10am. https://www.unionchurchhk.org/sunday-worship-service-registration/
In addition to the in-person 8:45am (Family Communion), 9:45am (Traditional Worship) and 11:15am (Contemporary Worship) services, we also livestream 9:45am and 11:15am services on our church website, Facebook page, church app and YouTube.
For our online worshippers, please join the Zoom Coffee Hour hosted by the Deacons! We want to connect with our online worshippers every Sunday in between services, 10:45am - 11:15am. Contact the church office to get the Zoom link.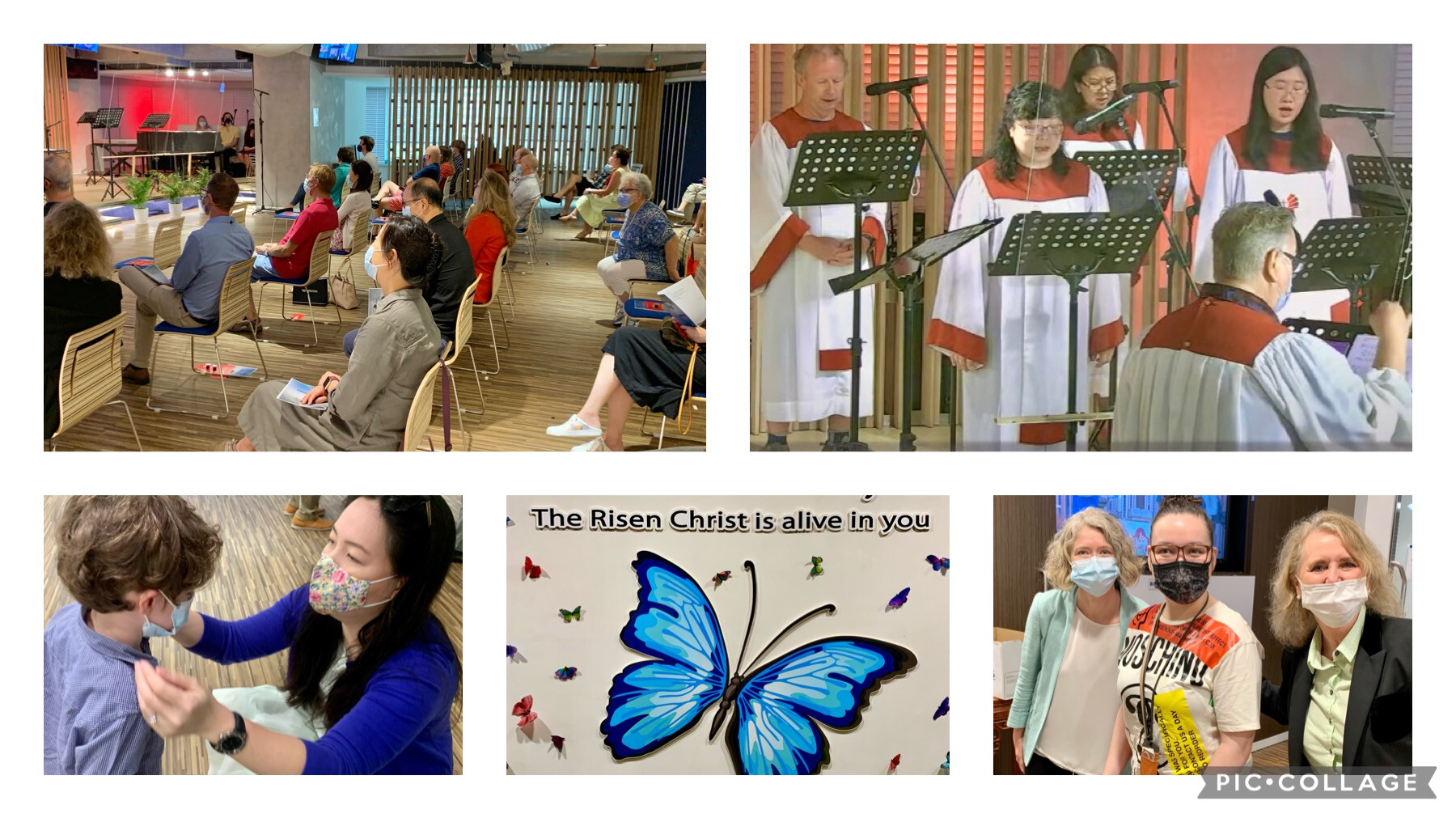 FAMILY NEWS
Annual General Meeting (AGM): We're excited about this year's AGM. Everyone is invited to join on Saturday, 22 May, 7:00pm at Union Church. You can vote if you have been a member of the church for at least six months. Please drop by the church office on Sunday or another day to get the annual report for 2020, bios of individuals nominated for the Committee of Management (COM), and the financial reports. See you on the 22nd!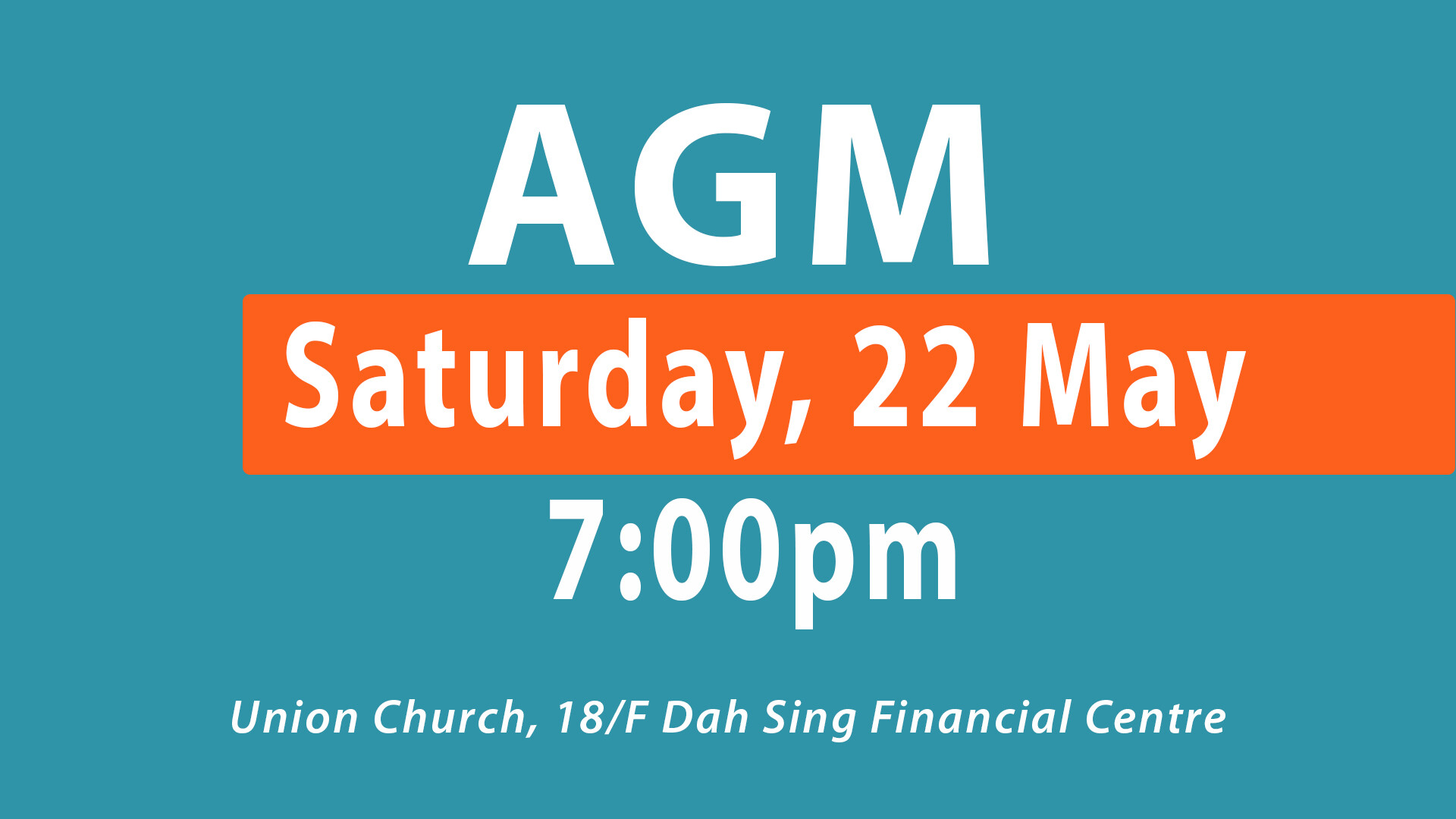 The Grace Race: Don't be left behind! The Grace Race starts on 24 May and whether you're walking around the office, hiking Dragon's Back with the family, or running along the waterfront promenade, your kilometres count! Be sure to join the kick-off - our FAST START event on Monday, 24 May at 7am. We're meeting at 22A Kennedy Road to walk together to the Peak. The Grace Race is for anyone - from our church, from the broader Hong Kong community, or abroad. It's all part of building Union for the future - your registration fee and sponsorships or donations go entirely to The Grace of Giving campaign for our new church's fitting-out works at 22A. And the church's matching fund applies to your financial contribution to The Grace Race!
OK, I'm in. What do I need to do?
Register

here

Pay the $150 registration

here

(and get the awesome shirt)

Download the free Strava app for iOS

here

or search for the Strava tracker for Android in the Play Store, and create your account

In the app, join The Grace Race Club in Strava Groups (so your kms between 24 - 30 May are added to the cumulative 9,888km we'll achieve together!)

In the app, set your walks, hikes or runs to RUN so that your kms count!

Find sponsors - to sponsor you per km or donate (

sponsorship form here

)

Join us for the FAST START and plan another stroll or hike for your family, friends and colleagues

Clock your kms in Strava every day!
Got questions? Check out our webpage with helpful guidance and videos or reach out to us on . This event is for everyone!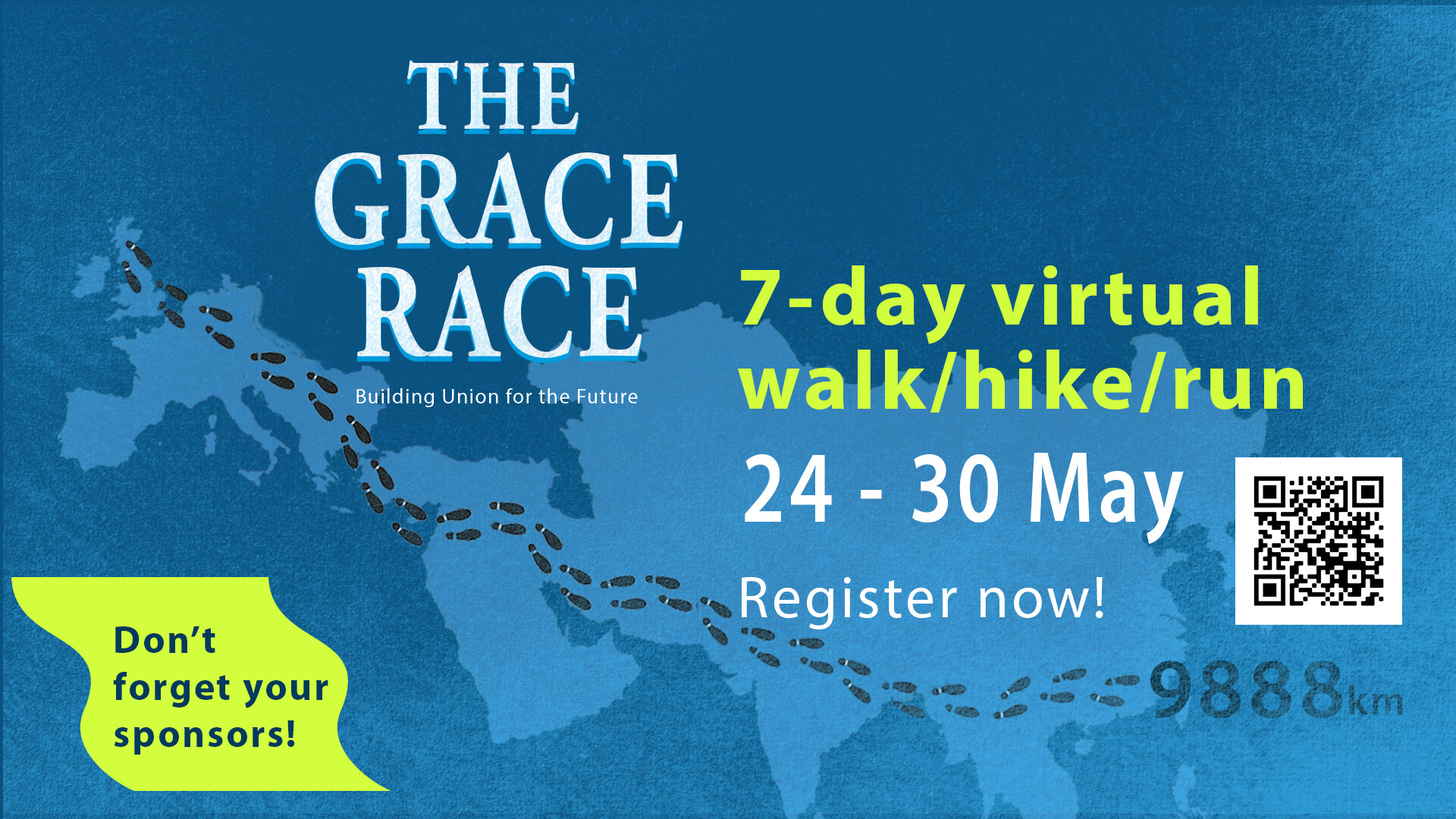 THIS WEEK
Hong Kong Men's Fellowship (Ladies are invited too!): It's tomorrow Friday, 14 May, 12:00pm: MFHK Men's & Women's Lunch at Madame Fu's Grande Cafe Chinois. We will hear stories from various Alpha courses being run across the city. Cost is $300/person. Please register here: https://www.eventbrite.com/e/152253194403.
Alpha for Youth starts on Friday, 14 May at 6:00pm (check out the Youth section, below).
Alpha for Adults and Alpha for Young Adults are both ongoing. Your prayers are appreciated for all the participants and leaders!
UPCOMING
The Justice Conference Global: Our friends and neighbours at The Vine are helping to organise an online global gathering on justice spanning a 24-hour period between 22 - 23 May. The topics will dive into the life of Jesus and explore the biblical narrative of restoration as it relates to the work of justice in our society. Learn more and register at www.thejusticeconferenceasia.com. (Good news! You can come to our Union Church AGM at 18/F on 22 May, 7pm, and then return to the online justice conference for a session at 9:30pm.)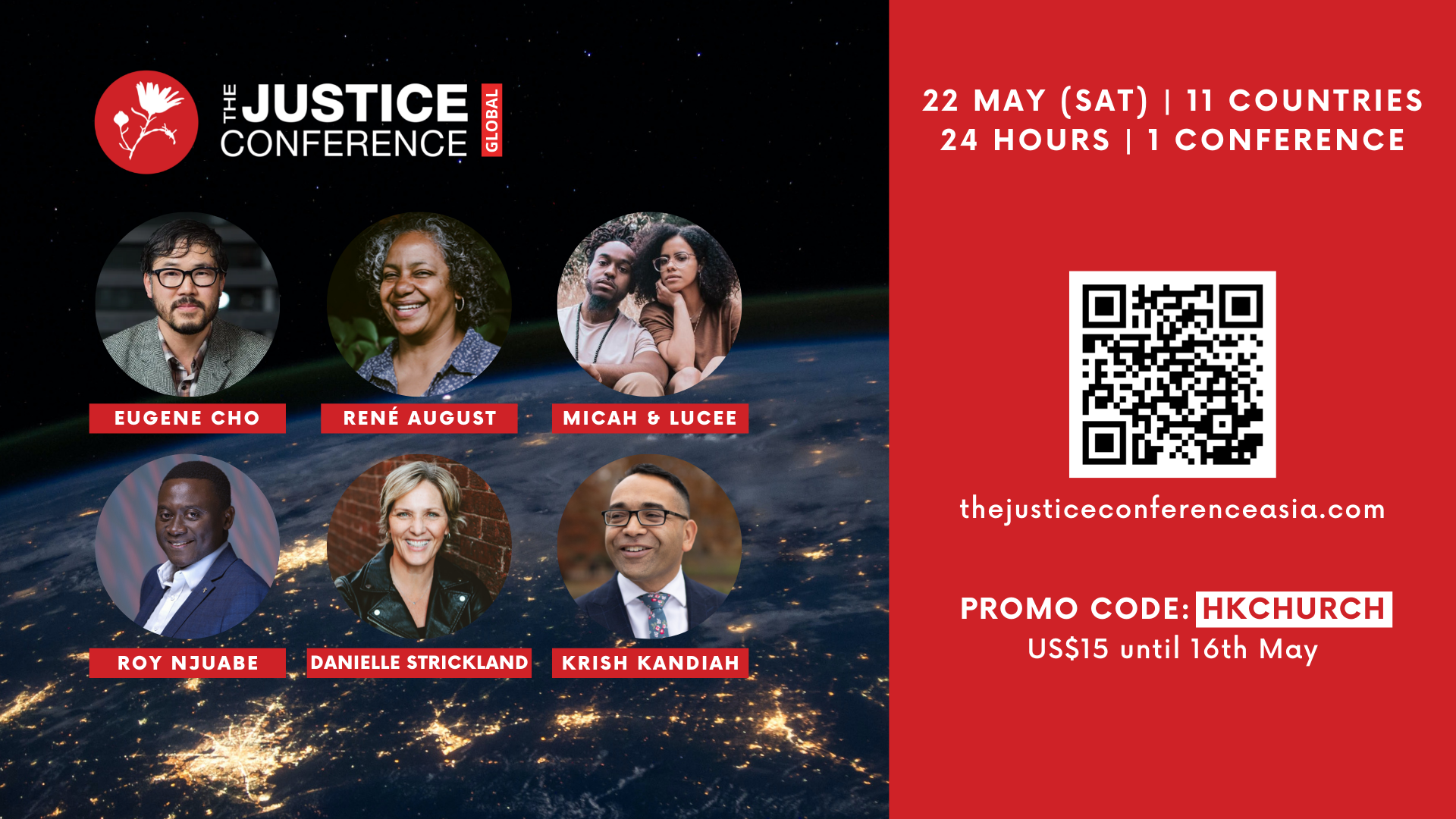 Young Marrieds Lunch: We would love to get together with all our young, married couples for a special lunch on Sunday, 23 May. Please contact Dan Tupps for more information.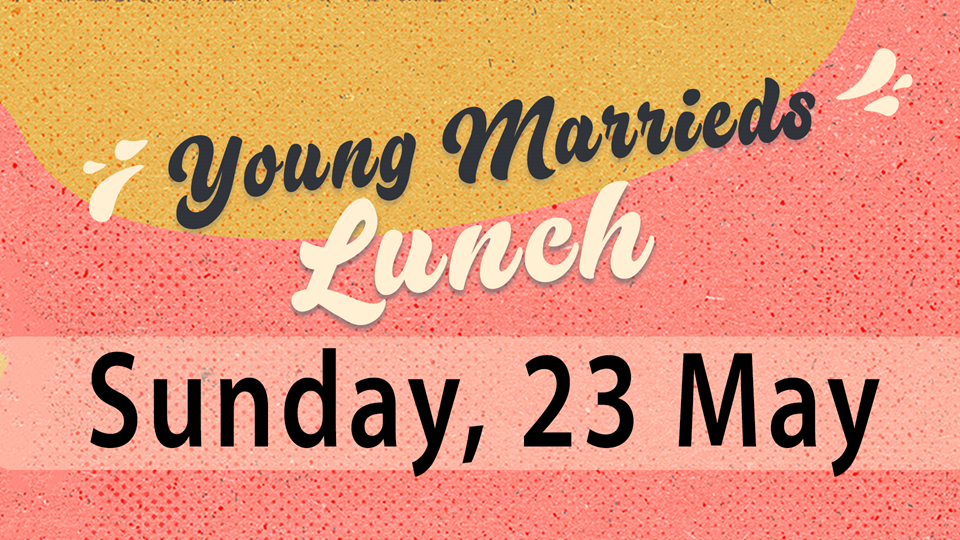 Union Church Book Group: Our next book is Black River, by S.M. Hulse, a story of "one man's struggle to find forgiveness in the wake of evil." Books are available at church for $100, and we will meet on Tuesday, 25 May, 7:30pm. Join us! Questions? Contact Monte.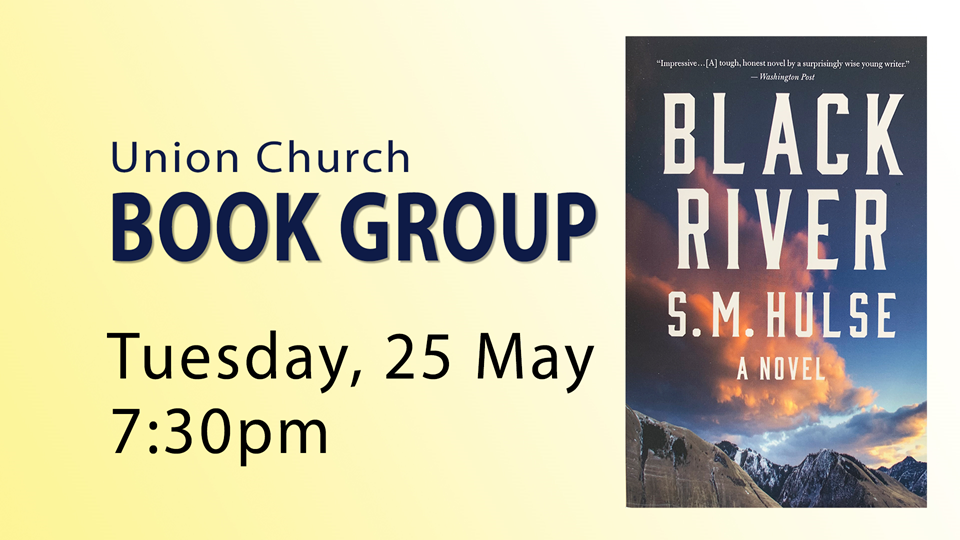 Men's Bible Study (Online): Men are invited to join a new study on John 4-6, led by Andrew Lo. In this online study you will take part in:
- a 30-minute daily study including Bible reading, questions & study notes
- Friday group discussion meetings via Zoom from 4 June to 2 July at 1:00pm - 2:00pm
Register here. If you have questions, please contact Andrew at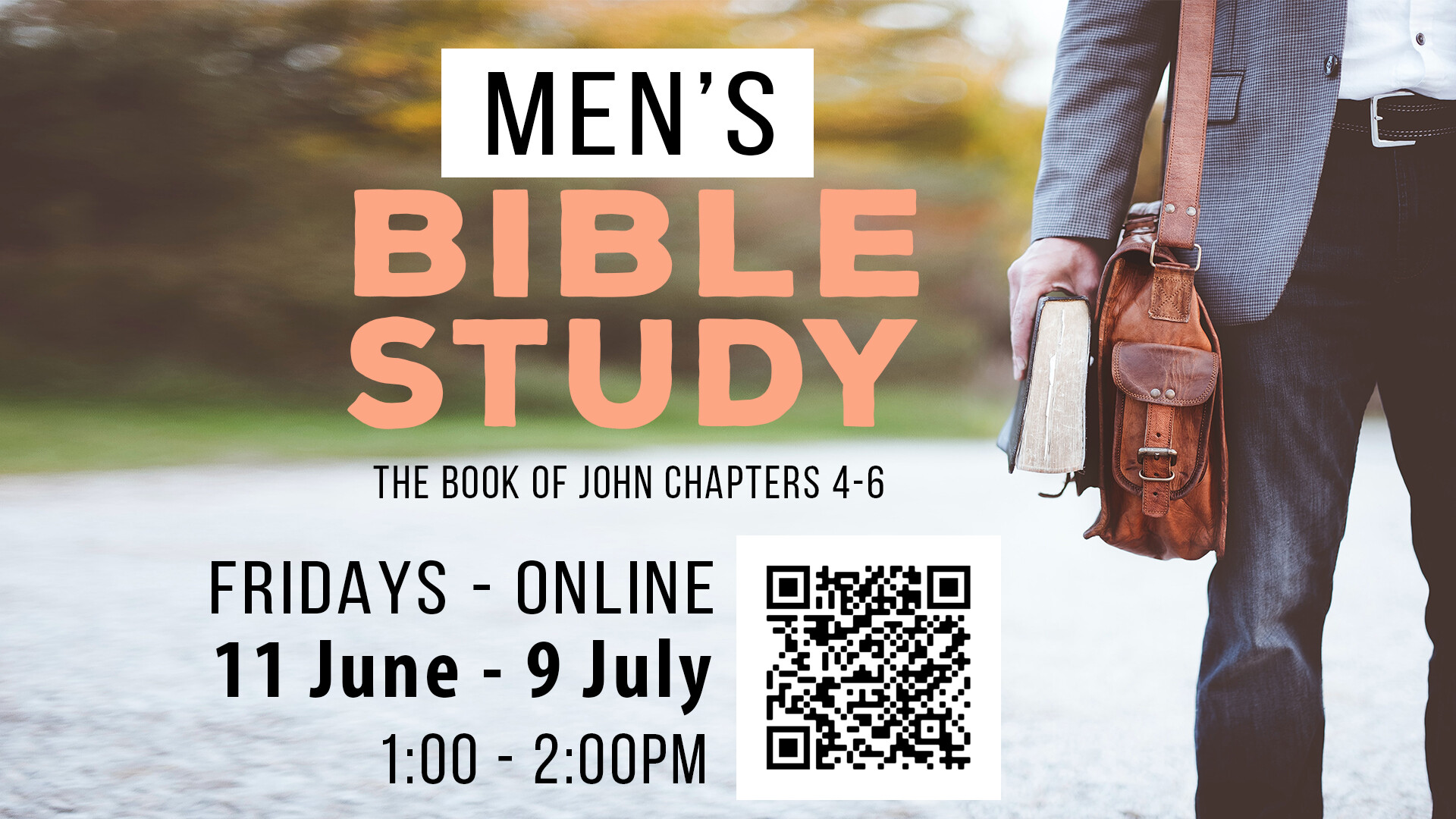 Vacation Bible School (VBS) - Lutheran Church Hong Kong Synod: While Union will be offering its own VBS in summer 2021, we also want to give you a head's up about VBS camps that will be run by the Lutheran Church. The organisers are looking for volunteers to help run VBS on Zoom - high school students or older, and proficient in Chinese and English. Training will be conducted in June / July. Feel free to whatsapp 9546 4497 for more information. We're praying that children everywhere come to know Jesus through all the Vacation Bible Schools in Hong Kong!
KINGDOM KIDS
Creche & Sunday School Arrangements for this Sunday and until further notice: The Creche Centre will be open with restricted capacity. For children ages 3 years old and above, Veggie Tales movies will be shown in rooms 2 & 3 with strict hygiene measures, in accordance with the government guidelines. Services fill up quickly and your family must be successfully registered. Thank you for your patience during the occupancy restrictions.
Online Sunday School, Sunday 16 May - Children ages 3 to 10 years old are invited to join us for our Online Sunday School.
- 3-7 year old students: God Helps Joseph Interpret Dreams (Genesis 40-41) via Zoom, from 10:45 am - 11:30am
- 8-10 year old students: What Does the Bible Say About What I Look At Online? (Proverbs 3:5-6), via Zoom, from 10:45am - 11:45am
- Kingdom Kids Sunday edition is available at the end of the 9:45am and 11:15am worship services on the Union Church website or Facebook page.
The link to the Zoom classes will be emailed to families with children registered in our Sunday School programme for the year 2020-2021.
YOUTH
Friday Youth - 14 May - This Friday, we are starting our Alpha Youth Series. Juniors are invited to join 6:00pm - 7:30pm, while Seniors can join from 7:30pm-9:00pm. If you have friends who would like to come along please feel free to invite them! Please contact for further information
Sunday Youth - 16 May - Youth are invited this Sunday to join us at Ps. Michele's home for our weekly session. Juniors are continuing with their series on asking bold questions and Seniors are jumping into a bible study of the book of Philippians. Please contact Hunter (6466 5080) if you have any questions.
Wednesday Youth - 19 May - We're continuing with our Wednesday sessions of discussing the TV series Chosen, an in-depth and creative look at the life of Jesus and his disciples. Please note that Wednesday Youth will continue online for the time being. Join us on Wednesday, 6:30pm - 8:00pm. Zoom link here
Saturday Beach Cleanup - 22 May - Youth are invited to join us as we head to Po Toi Island to do a beach cleanup next Saturday. You can find more information and our sign up sheet HERE. Please note that there are only 12 spots available - make sure to sign up as soon as possible.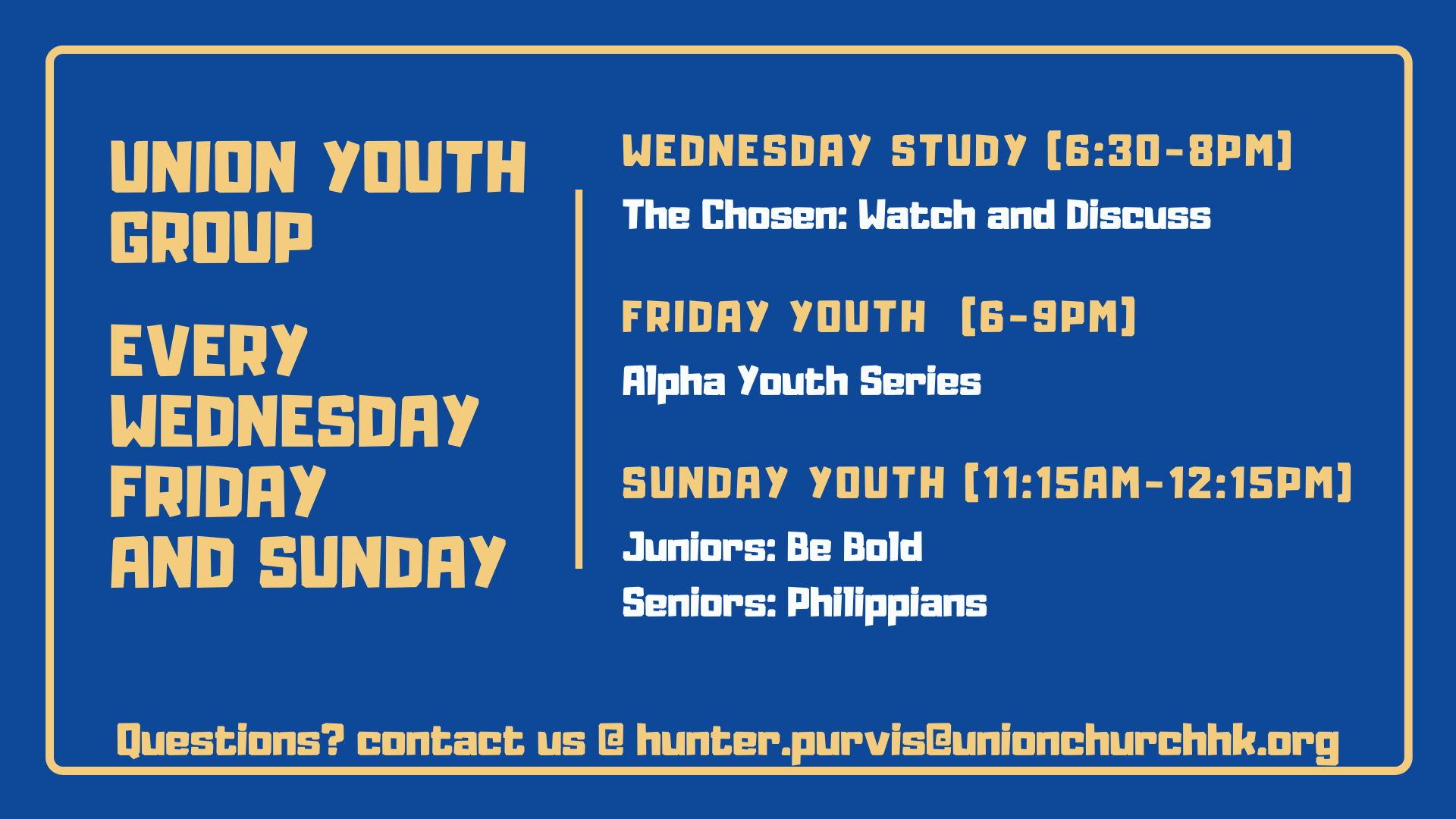 MISSIONS
Inner City Ministries needs children's masks! Our ministry partner serves ethnic minority families in Kowloon. Since wearing masks is mandatory at school, Inner City Ministries is looking for donations of children's masks to give to these low income and underprivileged families. Our ministry partner serves over 100 kids, but any quantity of children's masks is appreciated. Sizes needed are 12cm x 7.5cm and 14.5cm x 9.5cm. Please drop them off at Union Church by 23 May and we will coordinate with Inner City Ministries for the delivery. Thank you!
In a recent interview, International Care Ministries (ICM)'s CEO David Sutherland shared, "We have seen donors to be quite heroic." Without partners, ICM would not have been able to deliver help, hope, and change to those most affected by the pandemic. Check out David's interview to hear how people's generosity has impacted lives.
Part of International China Concern (ICC)'s mission is to provide life skills and vocational training to young people to develop their potential, prepare them for a more independent life and facilitate their integration into society. Learn more by watching ICC's video about The Little Ark Project.
Our Missions partner Agape International Ministries (AIM) loves, protects and cares for survivors of trafficking as well as other vulnerable and exploited individuals. While rescuing children and arresting traffickers is important, "breaking down doors is only half the battle". Take a look at The Lord's Gym in Svay Pak, Cambodia, to see how AIM serves kids who need to be lovingly transformed by Christ - allowing the cycle of abuse to end.
Prayers for Light of the World Church (LoTW), Myanmar: We give thanks that Pastor Vum and his congregation could meet last Sunday, Mother's Day and honour mums - as shown in the images below. They very much appreciate your prayers for safety, rest at night, no fear, daily provision of food, and standing firm in their faith. Pastor Vum's mother-in-law is recovering from recent illness. His father-in-law needs surgery but this is on hold given the local conditions. Please also pray for their health.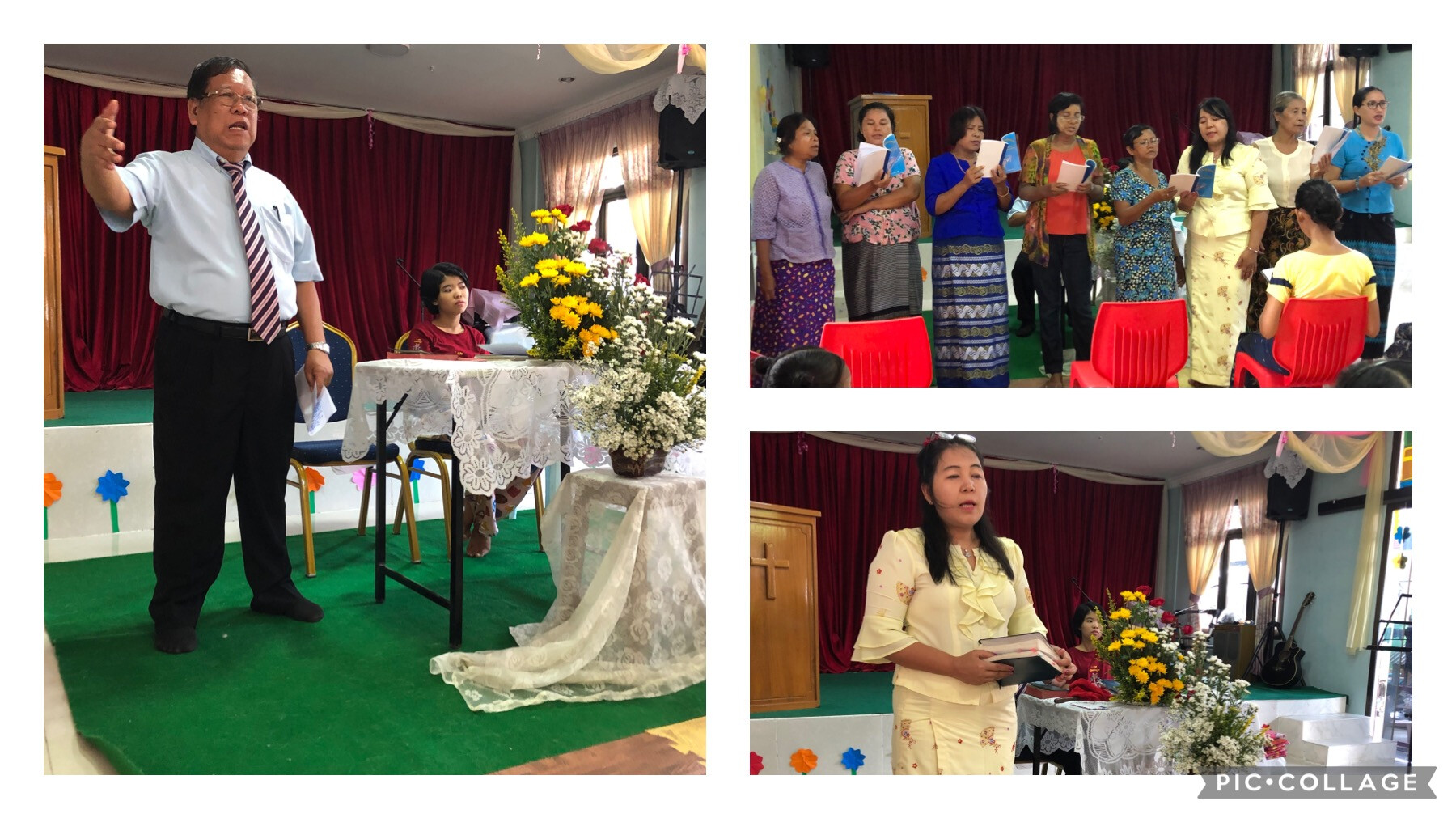 Small Groups
Meeting as a small group at this time is challenging, but the support from each other is more important than ever. There are online options - please reach out if you need help figuring this out! If you aren't currently in a group, we encourage you to try it out. There are groups for women, men, couples, day-time, night-time, etc. Interested? Contact Monte Peterson.
Families in Need (FIN)
Our Families in Need ministry helps people with their basic monthly needs. If you can help, we are grateful for your generosity. Please mark your envelope "FIN".
Pastoral Care and Prayer
Need prayer? Reach out to us confidentially at .
Stephen Ministry
We provide high-quality, confidential care to people who are hurting through our Stephen Ministry programme. Contact Pastor Michele if you would like to know more about the programme or meet with a Stephen Minister.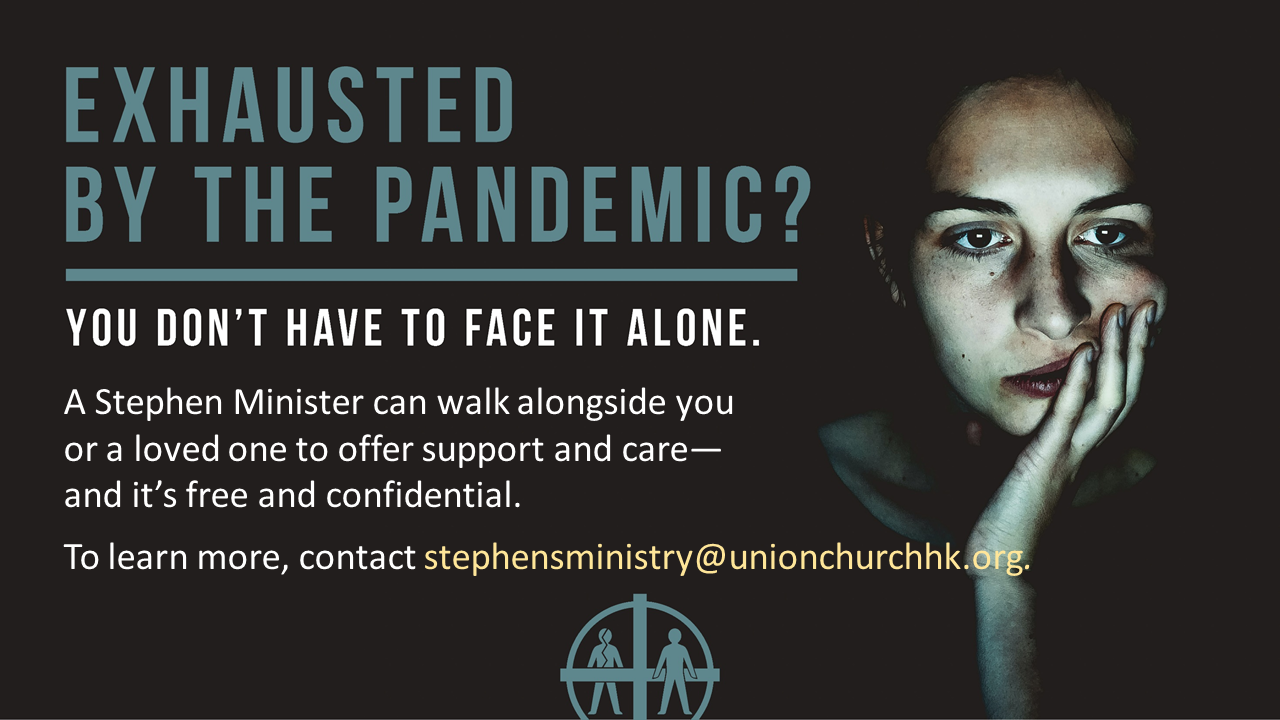 Last week's sermon
"The Resurrected Life...reimagines" Monte Peterson
Social Media
Please follow Union Church Hong Kong on Instagram, LinkedIn, Facebook and YouTube and share with your friends and family. Do you have images, video and stories for UC social media? Please share with Bronwyn.