U MATTERS
Today is Remembrance Day - a day set aside in many countries for us to remember those who gave their life in the line of duty. They were men and women who fought for peace. Men and women who gave their lives. Today we remember and give thanks.
Growing up, we were given the day off school. Donning our poppies, we went to the Cenotaph, recited the poem "In Flanders Fields", sat in silence, gave thanks and remembered. Every year at this time people wear poppies. The poppy is a visible pledge to remember and for a century people have remembered.
Many countries are still ravaged by war and live with the ongoing effects of war. May we remember those who are suffering. May we remember those who mourn - those who have lost loved ones, all those who have fled the fighting, and all who will lie down in fear. May we remember government leaders who are negotiating peace talks and who are working towards reconciliation.
And may we remember to do our part in building bridges - praying the prayer of St. Francis of Assisi.
Lord, make me an instrument of thy peace.
Where there is hatred, let me sow love,
Where there is injury, pardon;
Where there is doubt, faith;
Where there is despair, hope;
Where there is darkness, light;
And where there is sadness, joy.
In remembrance - Pastor Michele
FAMILY NEWS
We welcome newcomers to Union Church - those in the Sanctuary and those online! Please drop by the Welcome Desk, chat with our pastoral team and fill out a U Connect card. Or contact us online. We would love to learn more about you and introduce you to Union Church family life.
Watch this space for upcoming news about Union Church's Advent and Christmas programme. Who would you like to invite to one of our holiday services?
JOIN THE TEAM! - an opportunity to serve - do you have a heart to worship God through music? If you are a musician, a singer, or have skills in production and media and would like to get involved or simply find out more, we would love to hear from you! Please contact for further information.
Grateful for the Men's Retreat! Thank you for your prayers for the 32 men who attended Union's first-ever Men's Retreat! It was a refreshing, Spirit-filled weekend.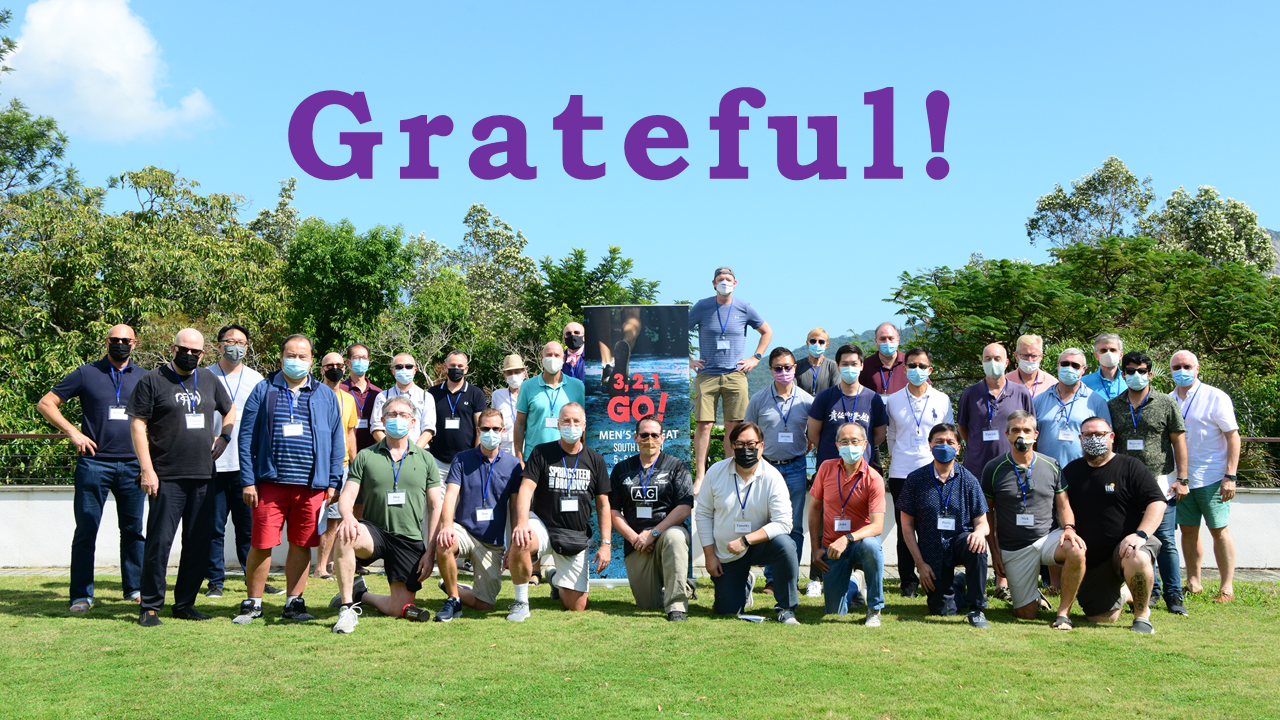 Family in Need (FIN) - Union Church gives monthly to people in need through a ministry called FIN - Family in Need. We have recently received requests to help with school uniforms, books, medication, set up for returning to home countries and rental deposits. All of these are urgent and legitimate needs. These are people we have relationships with and we are keen to help. If you would like to support, we would love to hear from you. If you have an interest in being a part of this team please let us know. Regards - the FIN team - Brian Woo, Isabel Morrison and Pastor Michele.
WORSHIP SERVICES
Please remember to register for our Sunday services on Mondays from 10:00am.
This Sunday is Remembrance Sunday - we remember those who have given their life in war, those families who have lost a loved one, and those countries who are facing the challenges of war.
We are also continuing with our Grateful sermon series during Stewardship Month. What are you thankful for? Add a leaf to our Grateful wall in Fellowship Hall.
We would like to return to 100% capacity. In order to do this, two thirds of our congregation must have had at least one dose of a recognised COVID-19 vaccine. We are asking you, when you register for Sunday services, if you meet this criteria. It would help our planning if you could answer this question, but it is optional. If we find that we meet this two thirds vaccinated (at least one dose) criteria, then we will proceed with planning a return to 100% capacity. Please note that if you are not vaccinated or are unable to take the vaccine we will still be able to welcome you to our services as part of the one third that isn't vaccinated.
THIS WEEK
Tomorrow! CHOSEN TO REFLECT Faith Comes by Hearing Gala Event: FCBH invites you to join them virtually for their annual event on Friday, 12 November. Partner with FCBH to fulfil Jesus' great commission by hosting a dinner at home to watch with friends or joining individually online. The event starts at 7:30pm with pre-event games followed by the Chosen programme from 8:00pm to 9:30pm. Please pray that FCBH will continue to take God's Word to the ends of the earth. Please register at http://www.onehtw.com/index.php/chosen/home/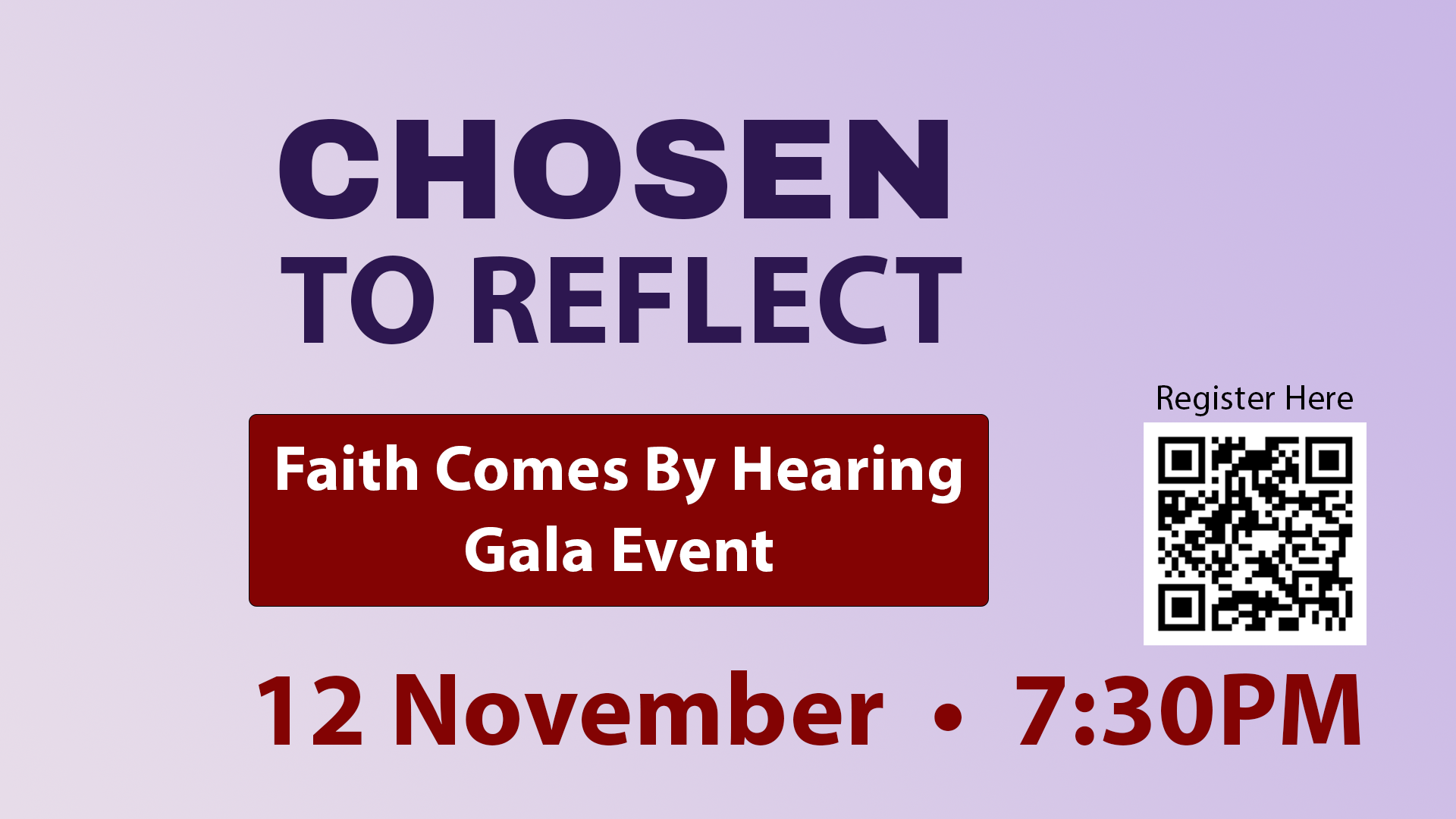 Ladies Retreat, 12 - 14 November 2021. Please pray for the 47 women who will be on retreat this weekend on Lantau for three days of fellowship, worship and knowing God more deeply.
Young Adults, Wednesday, 17 November 7:30pm. We will conclude our Discipleship Explored Series by studying Philippians 4:10-23 and the topic: Content in Christ. For more details contact Dan Tupps.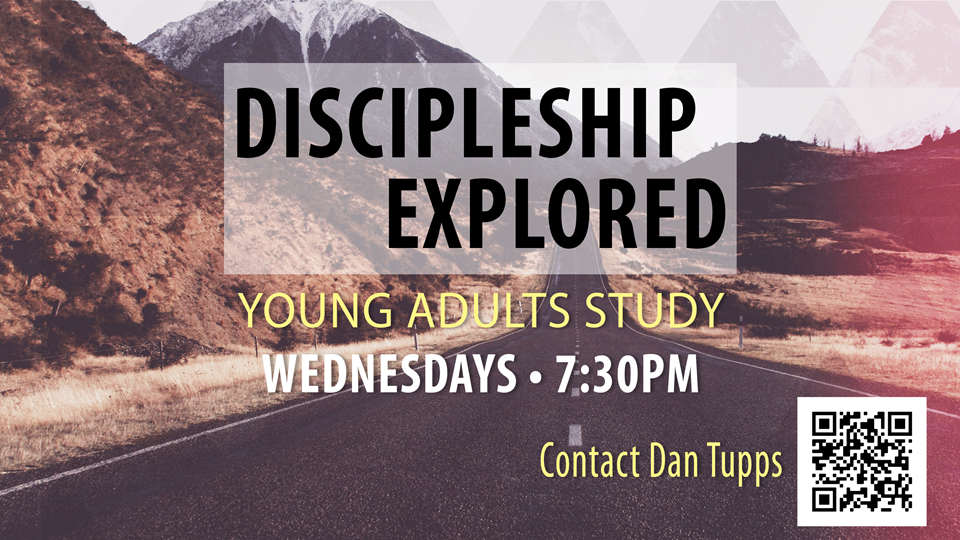 Coffee and Conversation, Thursday, 18 November, 10:30am - 12noon: Our older congregation is invited to meet on Thursday, 18 November and Thursday, 2 December. Contact for details.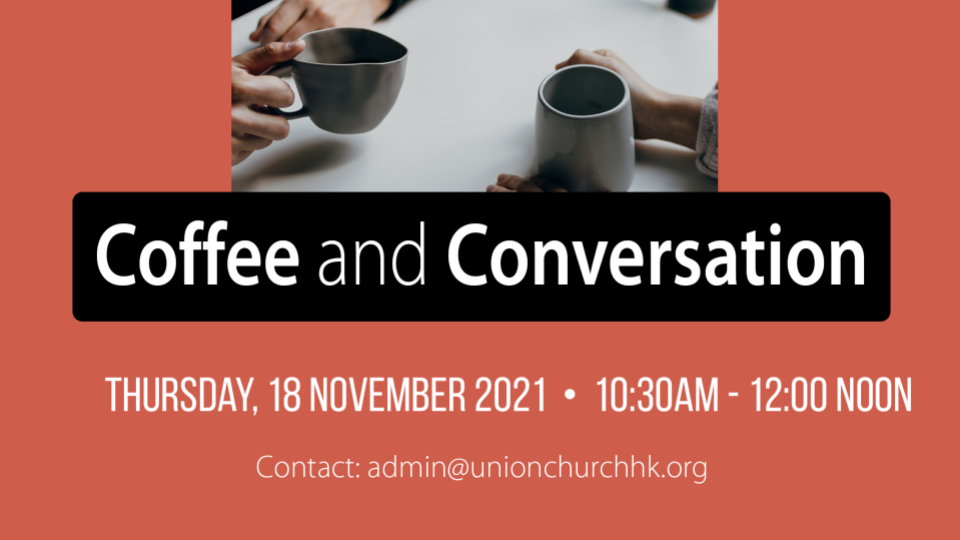 UPCOMING
Film & Theology, Tuesday, 23 November: Get ready for our next evening together as we celebrate movies - the storytellers of our time. All you need to do is watch Hacksaw Ridge in advance on your own, and then Zoom in with facilitator Chris McKenzie to talk about the film together on Tuesday the 23rd at 8:00pm. Ask Chris questions and register here to get the Zoom link.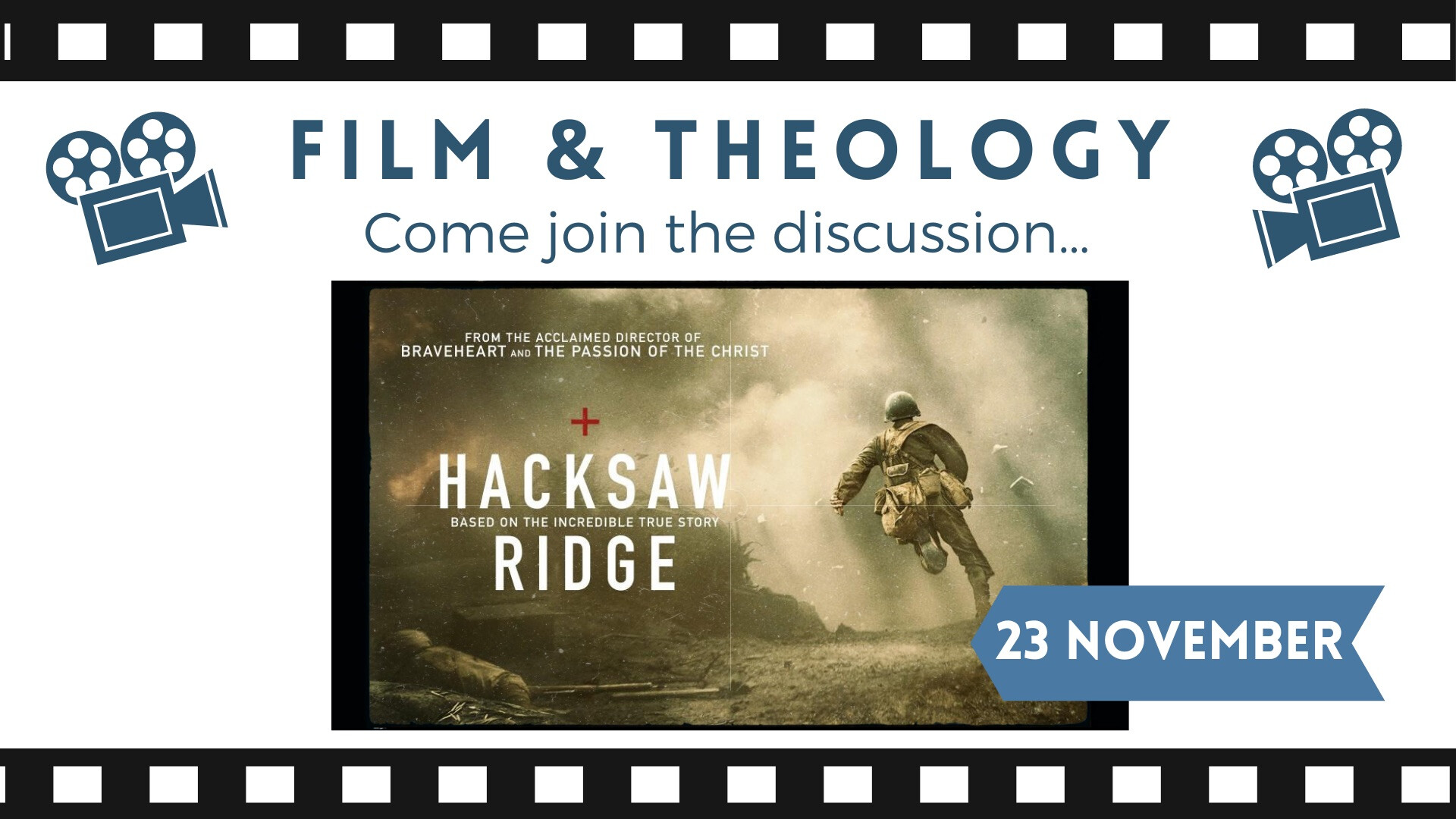 Kindness Walk, Sunday, 28 November: Save the date for our next walk to meet our Wan Chai neighbours. Everyone is welcome. We will meet in Fellowship Hall at 12:30pm. If you have questions, contact .
Christmas Outreach with HKCNP to Tin Shui Wai, Sunday, 19 December (deadline to register: 30 November): We are returning to Pastor Samson's community in Tin Shui Wai to visit 40+ families with Christmas gift bags. Twenty (20) Union people (all ages) are invited to participate. We will visit children who are being tutored by Pastor Samson's church members, their families, and the elderly who live alone. 'Tis the season! Register soon to secure your space.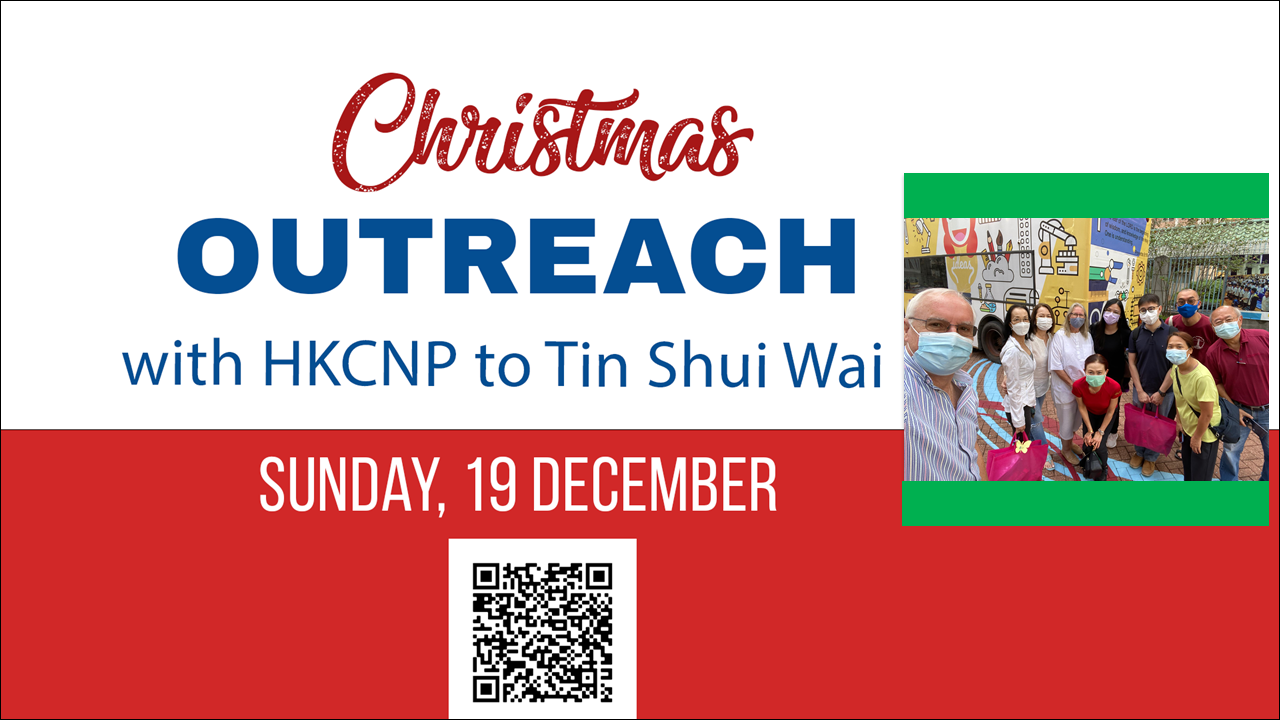 KINGDOM KIDS
Children's Christmas Musical Rehearsals - Sundays, 14, 21, 28 November and 5 December, at 8:45am (group singing practice only), 9:45am and 11:15am: We are excited to have Dove Tales Theatre work alongside us again for this year's Children Christmas Musical titled "A Christmas Treasure Hunt." We invite all of our children aged 3 up to 11 years old to take part and help share the good news of Jesus' birth with everyone. Children are welcome to join the Musical practice at all the Sunday worship services time and everyone will have a part to play and it's not limited to only the main roles. We look forward to see all of the children participate in this year's Children's Christmas Musical.


30 Stationery Packs and Meal Boxes for Christmas Outreach at St Barnabas' Society and Home:
Praise the Lord that our prayers have been answered - we are already able to bless the children at St Barnabas' Society and Home with 30 stationery packs and meal boxes. Thank you to our Kingdom Kids family who have generously responded to this need. We look forward to sharing and celebrating the birth of our Saviour Jesus with the St Barnabas' Society and Home community. We invite your family to join us for this family-oriented Christmas outreach. To join, please email us at
.

Kingdom Kids Dates:
Children's Christmas Musical: Sunday, 12 December 2021, 9:45am and 11:15am
Children's Christmas Musical Dress Rehearsals: Sunday, 5 December, 12:30pm - 2:30pm and Saturday, 11 December, 9:00am - 11:30am (please note updated time)
Children's Christmas Party: Sunday, 19 December, 9:45am and 11:15am
Children's Christmas Outreach: Sunday, 19 December, 3:00pm - 5:00pm - St. Barnabas' Society and Home
Creche & Sunday School Arrangements: Children ages 0 - 3 years old are welcome to join our Creche Centre and children ages 3 to 11 years old are invited to join us for our Christmas Musical Rehearsals. Families attending in-person services must be successfully registered before Thursday, 12:00pm. Thank you.
In-person Christmas Musical rehearsals: 8:45am, 9:45am and 11:15am
Online Sunday School will be on break through the remainder of the year and it resumes on the second Sunday of 2022.
Kingdom Kids Sunday edition - Discover How to Pray - Part 2 - will be available at the end of the 9:45am and 11:15am worship services on the Union Church website or Facebook page.
Sunday School Registration 2021-2022: Registration for the academic year 2021/2022 is open. Children ages 0-11 years old enrolling in our Creche and Sunday School programme must be registered by completing the form HERE. Registration forms are also available at the Children's welcome table. For more information, please visit Union Church's website or contact us at CHILDREN or 2101 0414.
YOUTH
Friday Youth – 12 November – Tomorrow! We're continuing our study of the 10 Commandments with J.John's just10. Juniors (11-13 years) are invited to join for dinner at Fini's 6:00pm - 7:00pm and the study from 7:00pm - 8:30pm. Seniors (14-18) will start with the study at 6:00pm - 8:00pm and have dinner at Fini's from 8:00pm to 9:00pm. Also let us know if you can join the Kindness Walk around Wan Chai from 5:00pm - 7:00pm with Kathy Foley.
Sunday Youth – 14 November – Sunday Youth are invited to Ps Michele's home at 11:15am for a lesson and a time of fellowship. Juniors (11-13) are doing a study on the book of Ephesians, while the Seniors are studying the book of Revelation and the challenging messages it faces us with! Please contact Hunter at 6466 5080 if you have any questions.
Wednesday Youth – 17 November - We will be continuing our series on Women in the Bible - see you at 6:00pm in the Youth room! A big thank you to Melody Meyers for helping put together this study.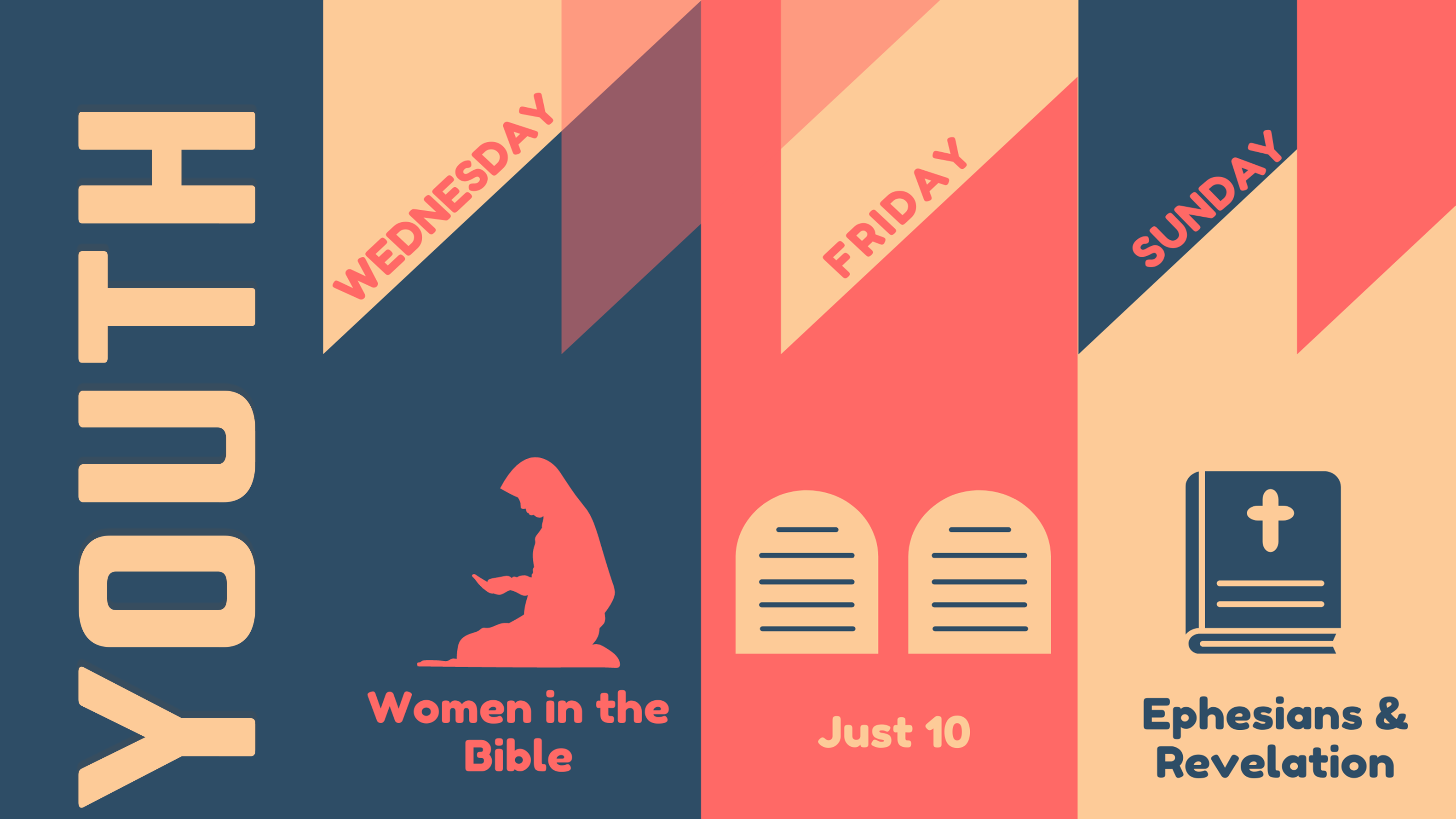 MISSIONS
This Sunday, 14November, meet two of Union's ministry partners: Wan Chai-based Sons & Daughters, an NGO that helps individuals caught in sexual exploitation reclaim a life of love, family and freedom in Christ, and ADM/SALT - Systematic Asian Leadership Training. They are dedicated to creating Biblically sound materials that enable nationals to become the primary teachers equipping church leaders. There are opportunities for you to be involved with these groups - find their representatives in Fellowship Hall.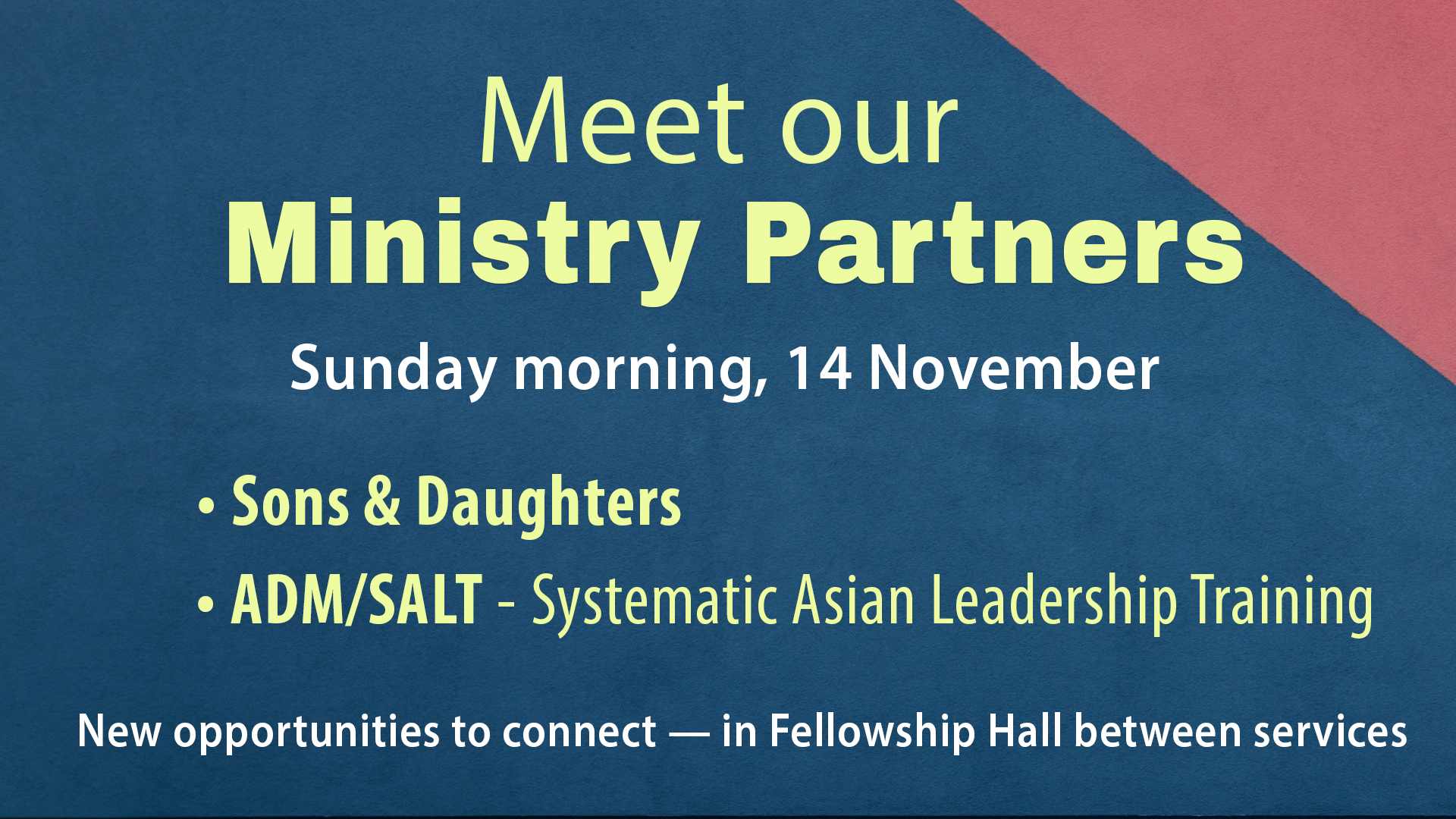 Missions Christmas Fair, Sunday 28 October: Discover Christmas gifts offered by 11 of our ministry partners and other friends of Union Church. At the same time learn how they are joining God in His work as they serve the marginalised, underprivileged and future leaders in Hong Kong and overseas. In order to attend, be sure to register for a worship service!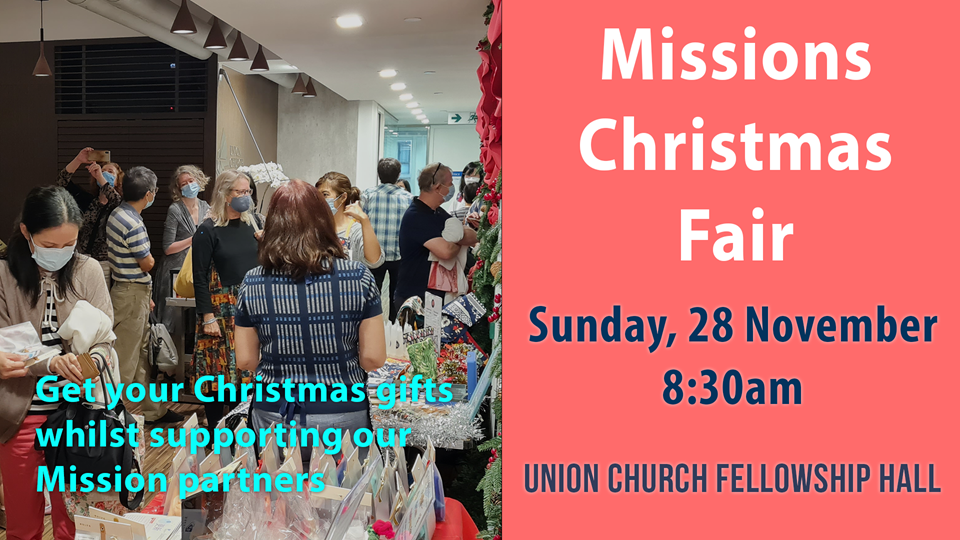 Hong Kong Young Life welcomes you to their new base! They're hosting a series of open house fundraisers: 16 November - Local ministries, 17 November - YoungLives teen moms' ministry, 22 November - International ministries, and 6 December - YL University & Developing Ministries. Please RSVP to the open houses that interest you.
Please pray for ICC's Shushu: One of ICC's children, Shushu, is in the pediatric intensive care unit in Hengyang with a critical respiratory illness. He has improved in the past few days although his gastric bleeding and feeding remain a concern. Please lift him up in your prayers.
Light of the World Church and Preschool, Myanmar: Daw Pan Wa's recovery from surgery has been slow. Please pray that she improves and strengthens. We continue to give thanks that Pastor Vum's congregation was able to worship together and the preschool continues to flourish.
The support from your friends in a small group is tangible demonstration of God's love for us. If you aren't currently in a small group, this is a wonderful time to try it out. There are groups for women, men, couples, day-time, night-time, etc. Contact for more information and pick up a Small Groups pamphlet from the welcome desk at church.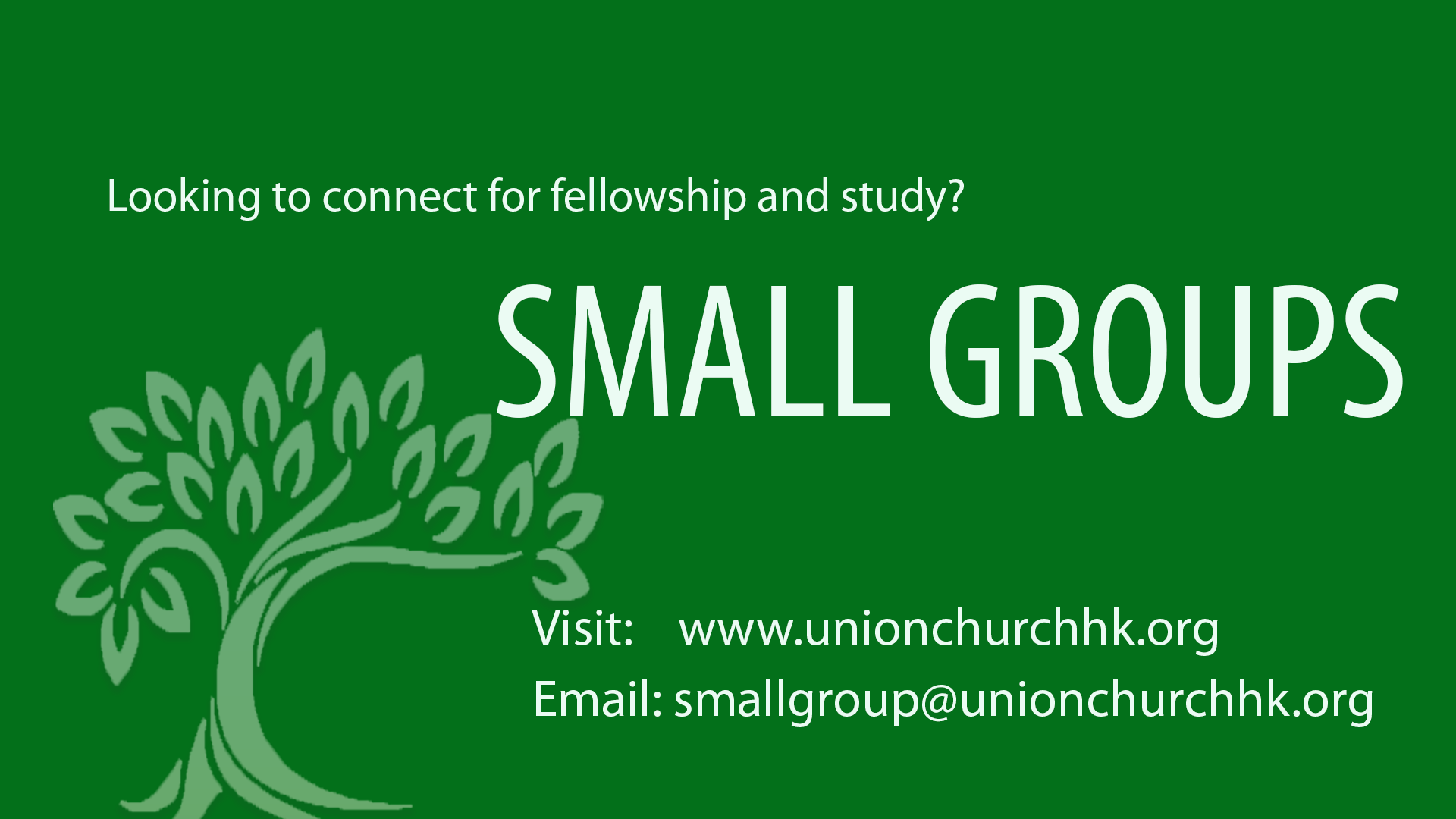 Pastoral Care and Prayer
Need prayer? Reach out to us confidentially at .
Stephen Ministry
We provide high-quality, confidential care to people who are hurting through our Stephen Ministry programme. Contact Pastor Michele if you would like to know more about the programme or meet with a Stephen Minister.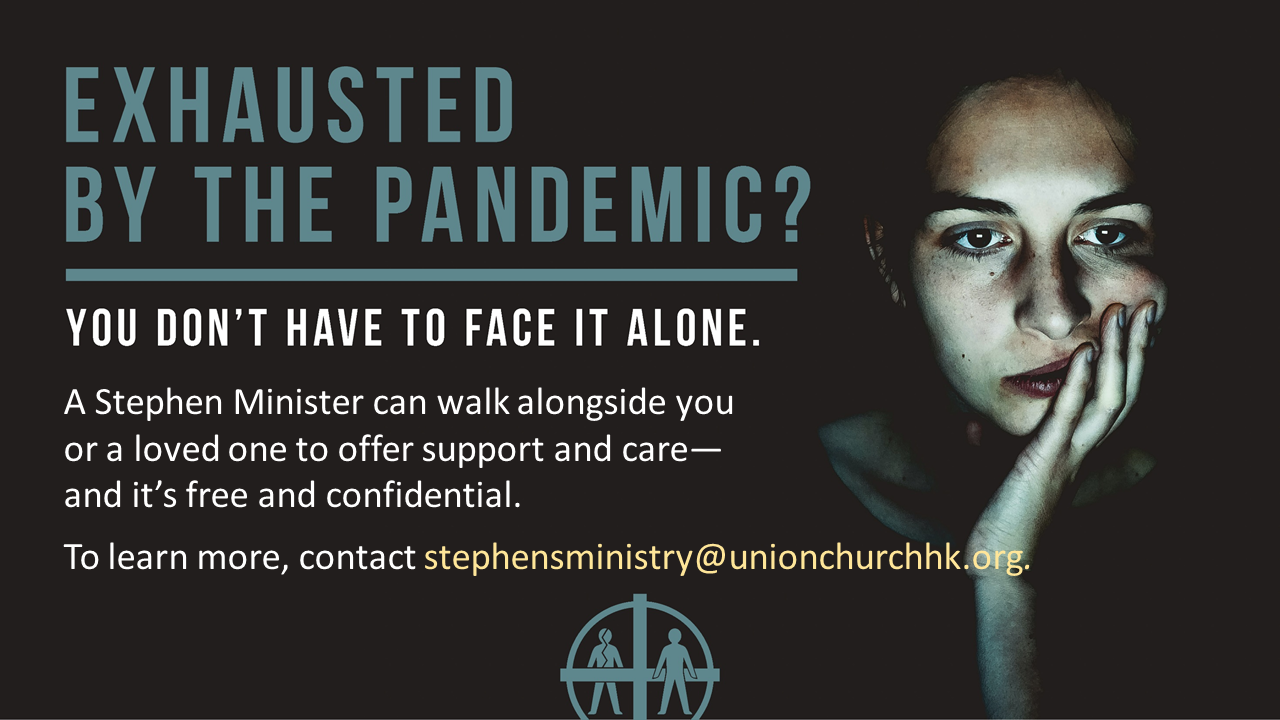 Sanctuary Flowers
If you wish to donate flowers during the Christmas season to honour a loved one, please email . You may take the floral arrangement home at the end of the Sunday services. Thank you.
Last week's sermon
"Grateful...in all things" Rev Dr Michele Bland
Social Media
Please follow Union Church Hong Kong on Instagram, LinkedIn, Facebook and YouTube and share with your friends and family.