U MATTERS
After 17 weeks of online worship services, the longest consecutive stint to date, Union Church celebrated in-person worship on Easter Sunday with a 7am sunrise service. Although we also continued online worship services, it was exciting to celebrate the risen Lord together in-person on Easter Sunday.
Easter - my favourite time of year. Easter is filled with hope, it offers new life, new beginnings and a powerful reminder that through the resurrection, God has a plan and is in control. In his book Surprised by Joy, N.T. Wright stated, "Jesus' resurrection is the beginning of God's new project not to snatch people away from earth to heaven but to colonize earth with the life of heaven." Interesting, Easter - "the beginning of God's new project" - I wonder, what will that mean for us at Union Church?
God makes all things new. Therefore,
"Be alert, be present. I'm about to do something brand-new.
It's bursting out! Don't you see it?
There it is! I'm making a road through the desert,
rivers in the badlands…
I provided water in the desert,
rivers through the sunbaked earth,
Drinking water for the people I chose,
the people I made especially for myself,
a people custom-made to praise me." Isaiah 43:17-20 MSG
Barbara Brown Taylor stated, "…Easter is the reminder that you never know where life is going to come from next, and there's no sense being attached to the day before yesterday because the day before yesterday is dead, and today something is alive."
We are an Easter people. May we individually and collectively experience that new life in fresh ways.
Blessings, Pastor Michele
WORSHIP SERVICE UPDATES
Please register to attend in-person worship services. We are allowed 30% of floor capacity - no more than 60 people at any one time including worshippers, staff, choir, worship team, and AV team.
Registration opens on Monday at 10:00am for the following Sunday services. You can find the registration instructions on the church website home page. There is still some capacity at the 11 April services, particularly the 8:45am service. Register soon!
In addition to in-person 8:45am (Family Communion), 9:45am (Traditional Worship) and 11:15am (Contemporary Worship) services, we will also livestream the 9:45am and 11:15am services on our church website, Facebook page, church app and YouTube.
Communion: We will share Holy Communion together on 11 April during all in-person Sunday worship services. If you are viewing the services from home, please have the elements ready - bread and wine or juice.
Zoom Coffee Hour is on! Even though we are resuming in-person worship, we want to continue to connect with our online worshippers. Zoom Coffee Hour is this Sunday in between services, 10:45am - 11:15am. To get the link, drop us a line at .
THIS WEEK
Film and Theology: On Tuesday, 13 April, 8:00pm, Chris McKenzie will lead us in discussing our next film, Risen. Risen tells the story of a Roman soldier's search for Jesus' body after the Resurrection. Watch the film on your own, and then join us for the conversation! Register with monte.peterson@unionchurchhk.org.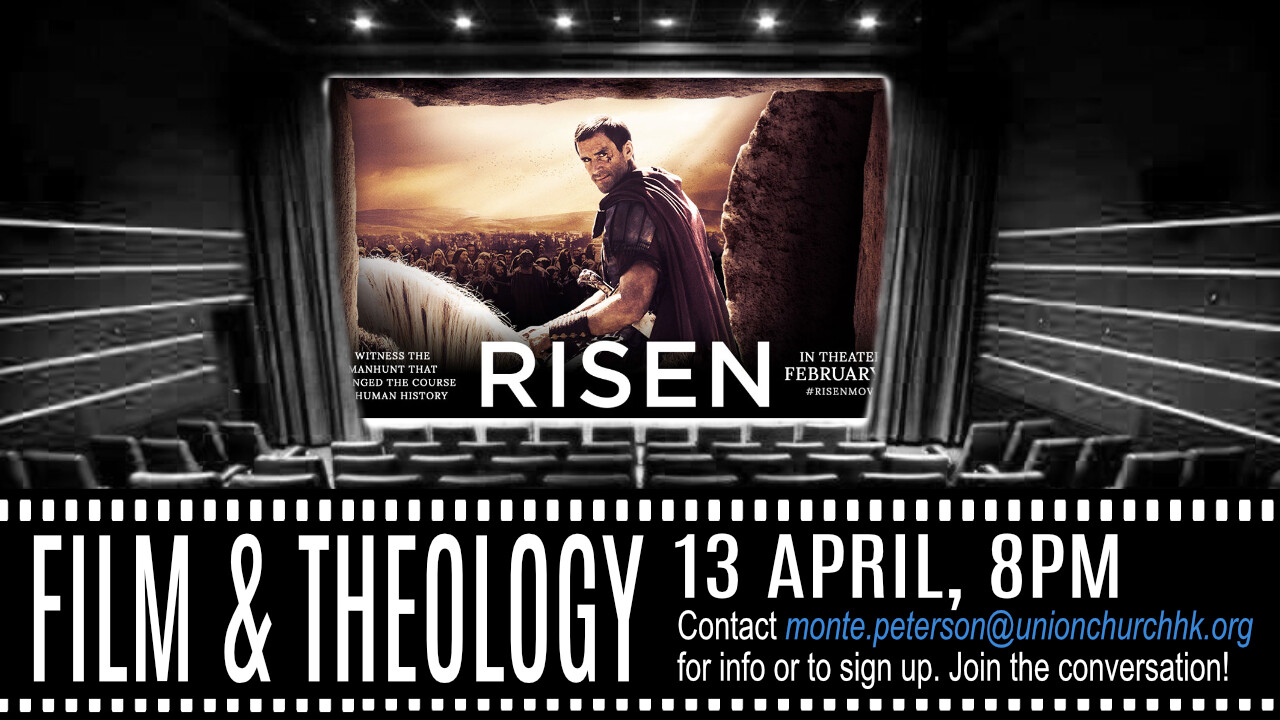 Parenting Through the COVID-19 Pandemic: Supporting our Children and Teens: On 14 April, we will welcome Anisha Abraham, MD, MPH who is a board certified paediatrician and adolescent health specialist with 25 years of global experience. Anisha is on faculty at Children's National Hospital in Washington DC, and previously she lived in Hong Kong and worked at Chinese University of Hong Kong. Registration is open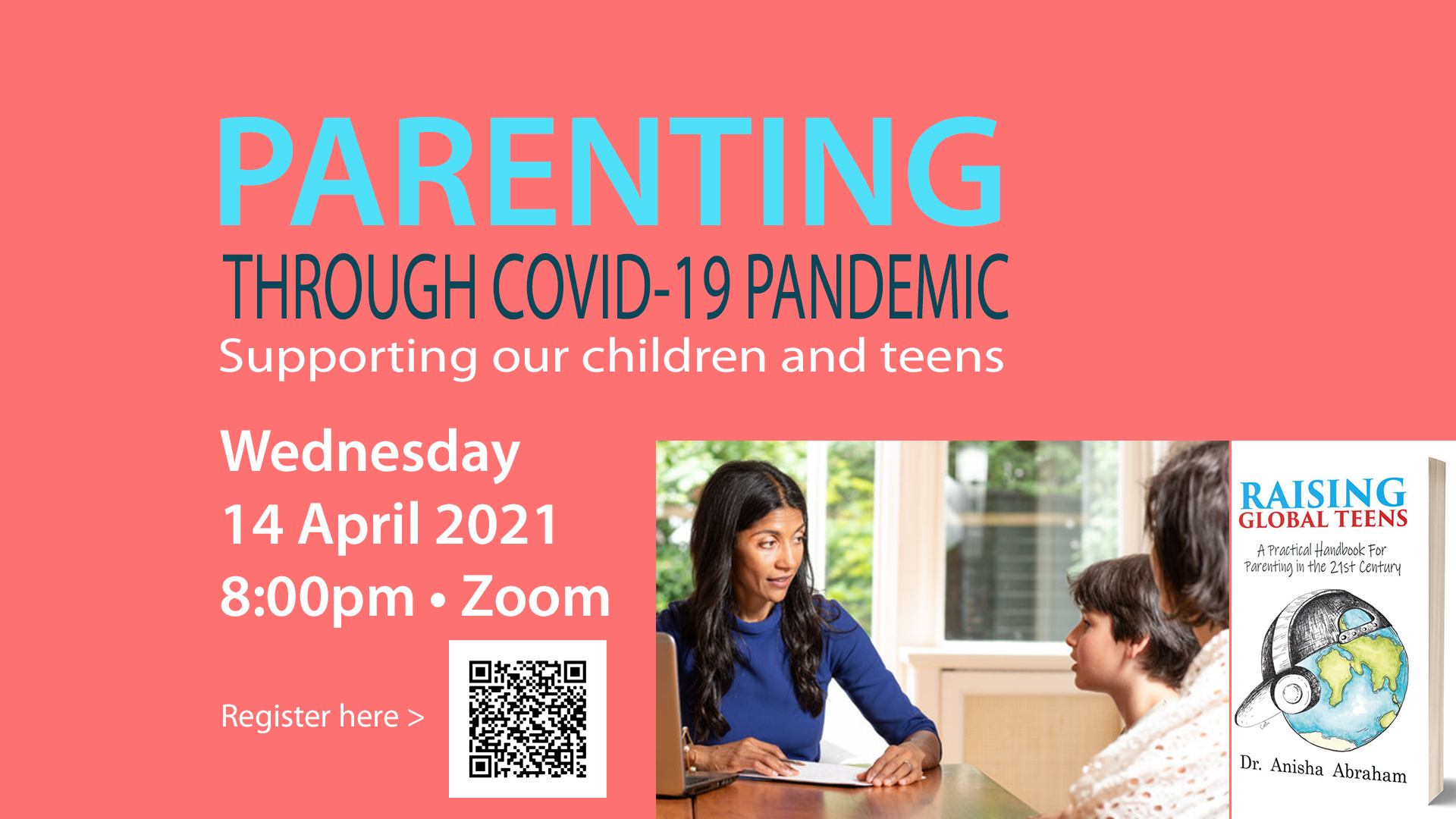 UPCOMING
Union ReUnion! Everyone should join this fabulous evening - in your own home or a hosted home. Testimonies, silent auction, games, moment of giving and more. 17 April is the new date of our online / in-home family gathering and Grace of Giving fundraiser. If you are available to host a group of friends, please contact Bronwyn or David.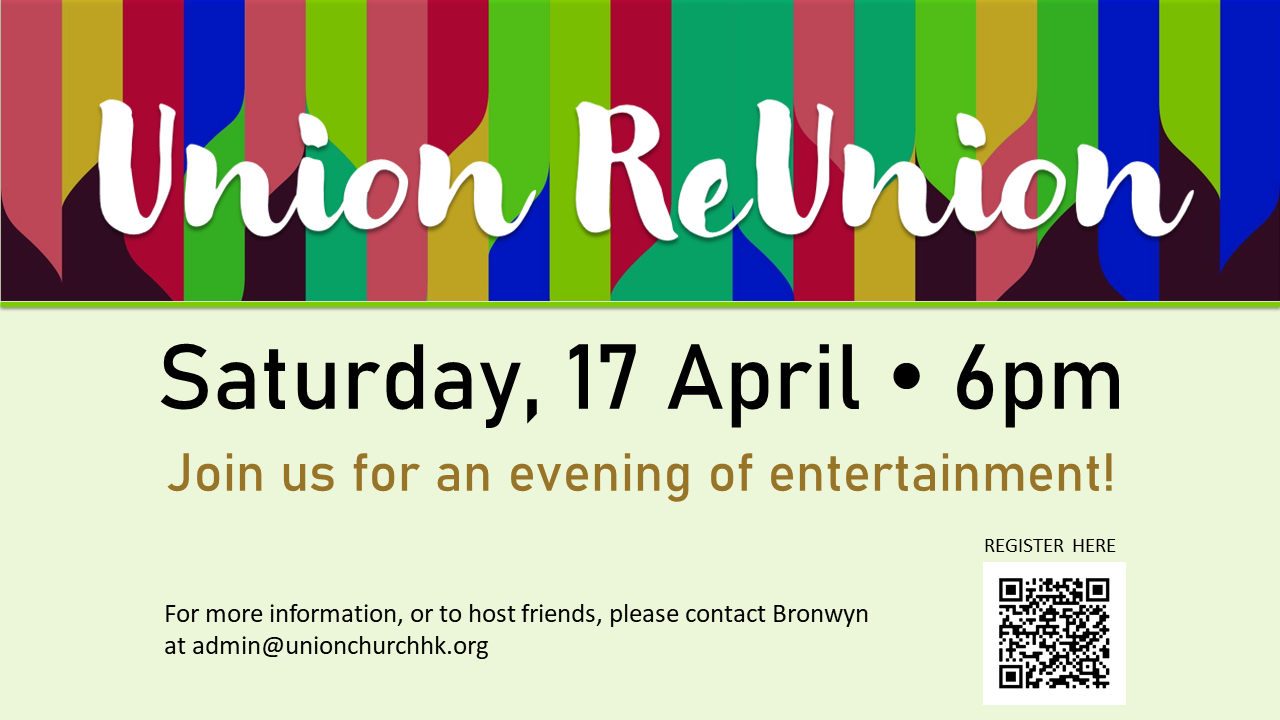 Annual General Meeting (AGM): As soon as we can start meeting in person at levels above 30% capacity, we will announce a date for our AGM. Thank you for your patience.
Union Book Group: Our next book is Pachinko, by Min Jin Lee. Pachinko is a story of identity and belonging, a multigenerational tale of a Korean family in Japan. We'll discuss it on Tuesday, 27 April at 7:30pm. Join us - all are welcome. Contact Monte Peterson with questions. Books are available for pick up at church, $100.
Cherish
is authored by Gary Thomas, one of our Wisdom on Wednesdays speakers last month. We have copies available for purchase at Union for $100. Please contact
Monte
to arrange a pick-up of the book.
4 NEW CLASSES STARTING 28 APRIL
We are kicking off exciting new courses. What will you choose? Here's a taste of what's to come. Registration is open.
- Alpha:
A new Alpha course for
Young Adults will meet in-person
in the evenings on Wednesdays.
Adults will meet online on Wednesdays at lunchtime
. This is the chance to ask big questions about life and to explore the Christian faith in a fun, non-pressurised environment. Can you believe we are in our 27th year of running Alpha at Union?! Learn more and
register here
. Start thinking and praying about whom YOU can invite.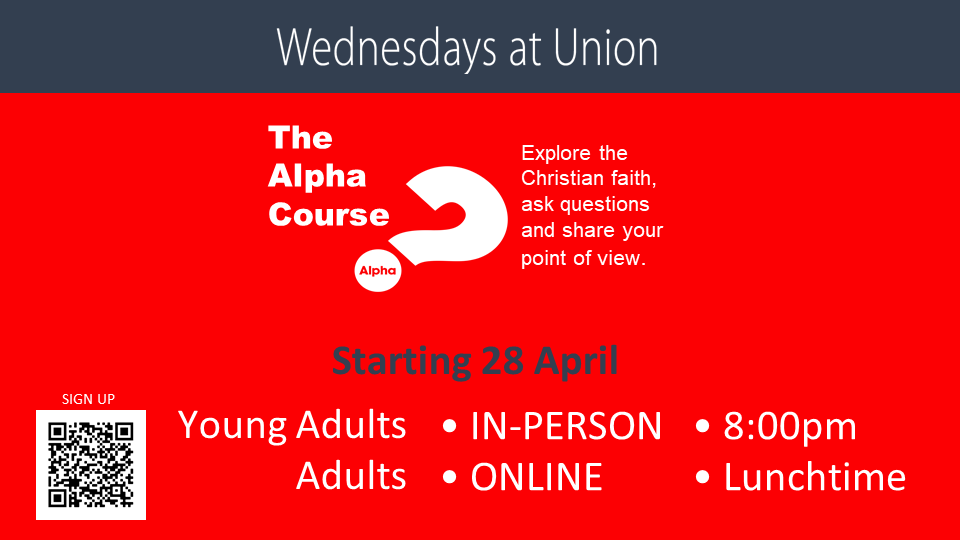 And two options for adult spiritual formation also starting 28 April at 8pm:
- James Legge: the man, the mission, the legacy: This 3-part online series brought to you by Catriona Woodrow will explore how the early years of James Legge fitted him uniquely to play an outstanding part in early missionary endeavours in the Far East. From his early arrival in Hong Kong, his influence contributed significantly not only to the vision of the London Missionary Society but also the development of the colony as a whole. These important insights will allow the current congregation to appreciate more fully the life and work of James Legge, and the history of Union Church Hong Kong. Register here.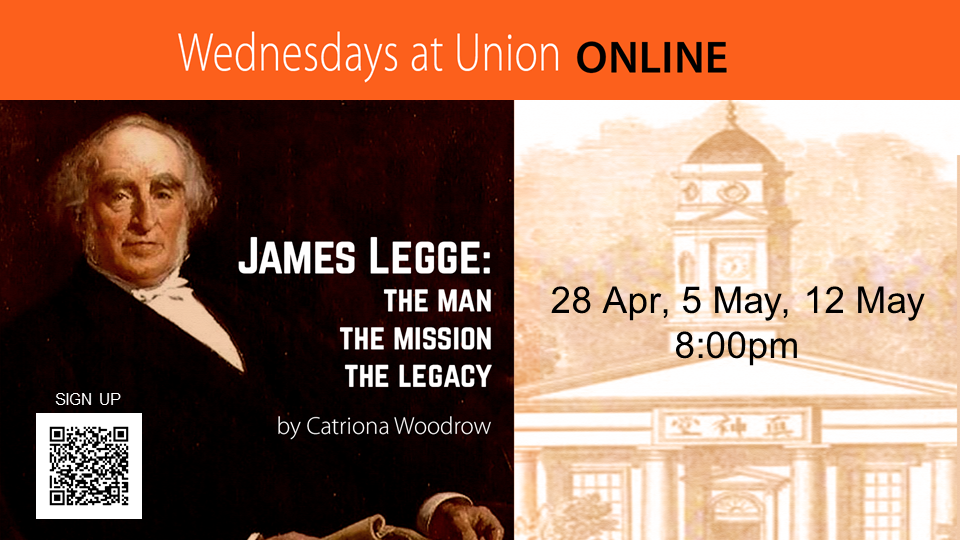 - Difference: This 5-session course explores what it means to follow Jesus in the face of conflict and see transformation through everyday encounters. Monte Peterson will teach this in-person course. Register here.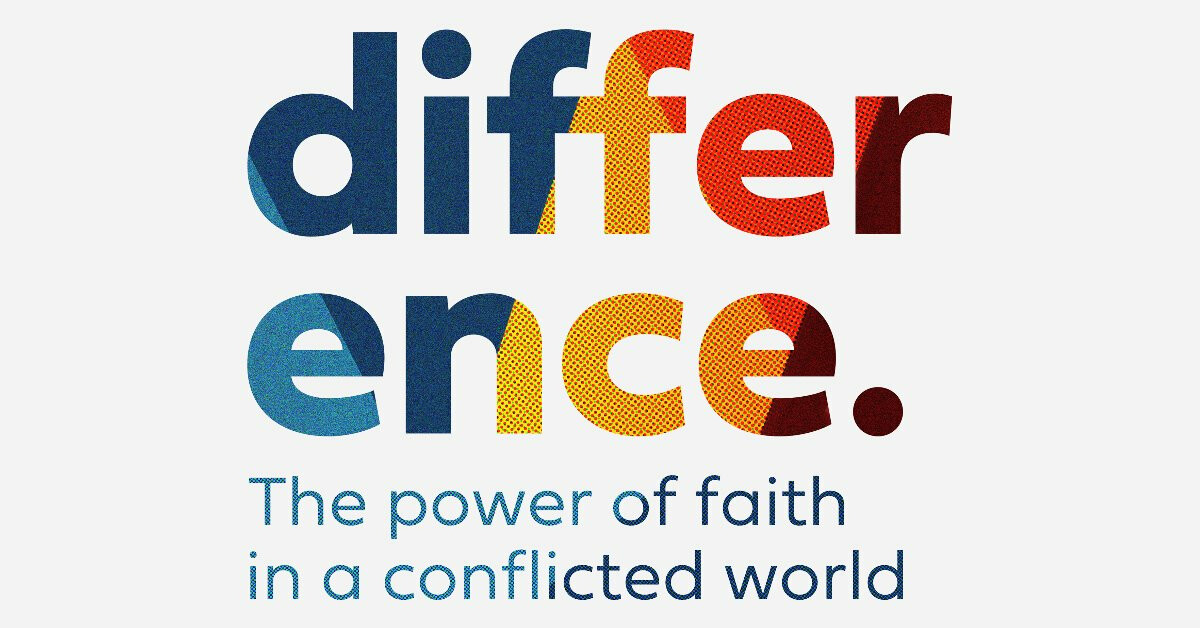 24-7 Prayer Hong Kong - virtual prayer room: The 24-7 virtual prayer room is a great way to commit to your prayer time on a daily or weekly basis. People in and beyond Union Church are praying for our city, leaders, churches, families and more. It's easy to sign up, and you will get a reminder for your approaching prayer time: https://www.24-7prayer.com/signup/705233. Lord, we lift up Hong Kong.
KINGDOM KIDS
Online Sunday School, Sunday 11 April: Children ages 3 to 10 years old are invited to join us for our Online Sunday School.
- 3-7 year old students: Jesus Welcomes Children (Luke 18: 15-17), via Zoom, from 10.45 am - 11.30am
- 8-10 year old students: God Is Your Friend (Romans 8:28), via Zoom, from 10:45am - 11:45am
- Kingdom Kids Sunday edition is available at the end of the 9:45am and 11:15am worship services on the Union Church website or Facebook page.
The link to the Zoom classes will be emailed to families with children registered in our Sunday School programme for the year 2020-2021.
YOUTH
Friday Youth Back in person! - 9 April - Union Youth will be meeting in-person for the first time in a long time! All Youth ages 11-18 are invited for a special night of worship, fellowship and fun. Join us from 6:00pm - 8:00pm. Please note that we cannot serve food. Youth are encouraged to eat before or after. We will also wear masks and be socially distanced.
Sunday Youth - 11 April - Sunday Youth will be back in person this week! Juniors and Seniors are invited to join us at 11:15am at Ps. Michele's apartment, where we'll break into our different age groups for the day's lesson! If you have questions or need directions please contact Hunter ( ) or Elise ( )
Wednesday Youth - 14 April - We're returning to our Wednesday sessions of discussing the TV series Chosen, an in-depth and creative look at the life of Jesus and his disciples. Please note that Wednesday Youth will continue online for the time being. Join us on Wednesday, 6:30pm - 8:00pm. Zoom link here
MISSIONS
Home of Loving Faithfulness (HOLF) has shifted its focus during the pandemic year to provide more holistic care that attends to the developmental needs of their family members. One of HOLF's main goals this year is the re-engineering work for the nursing unit (Block C) to create a warm and homely atmosphere. Pray that the work and resources will proceed smoothly so HOLF may receive more referrals from the Social Welfare Department and help more people in need - and their primary caregivers or parent. HOLF looks forward to being able to open its doors again to friends and supporters. You can read their spring newsletter here.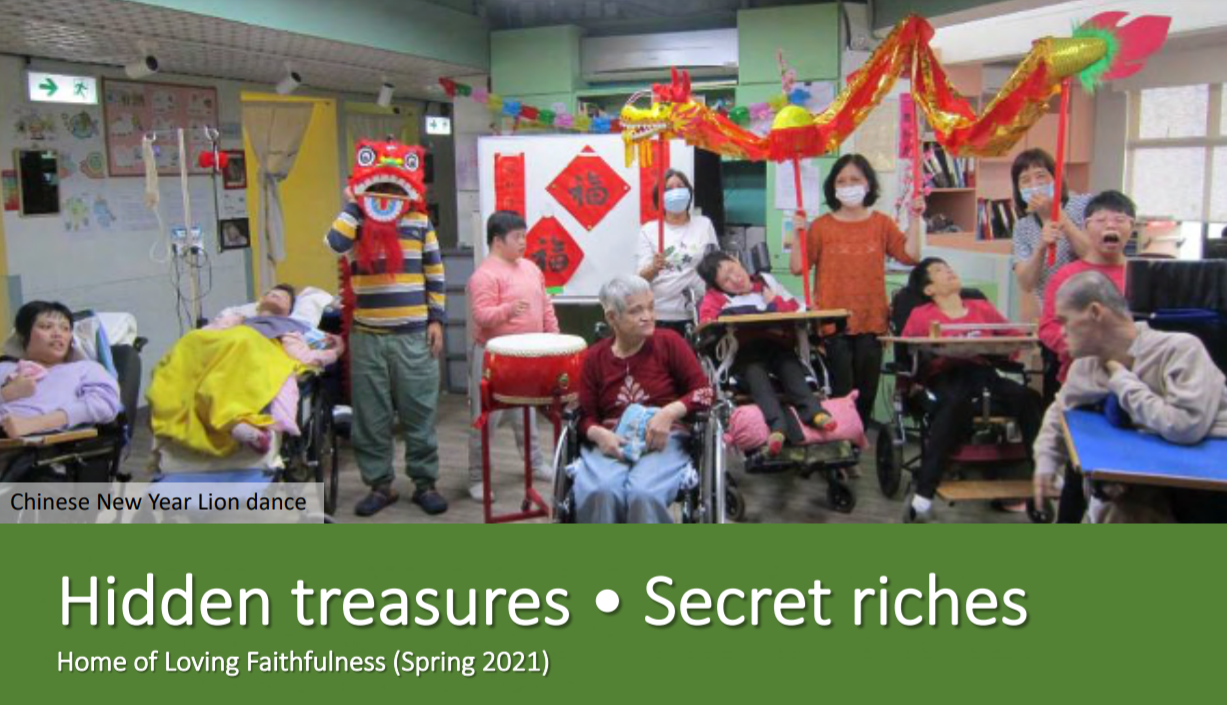 Prayers for Myanmar: Pastor Vum shares praises that they were able to hold a small Easter worship service despite the ongoing conflict. In Pastor Vum's birthplace yesterday, the military used bombs and guns against protestors, killing 8 and injuring 16. Please continue to pray for their physical safety, physical rest, and and peace in their spirit despite the anxiety from hearing gunfire, lack of sleep etc. We continue to pray for peace in Myanmar and the victims. Pray that they can stand firm in their faith. "He will cover you with his feathers, and under his wings you will find refuge; his faithfulness will be your shield and rampart." Psalm 91:4
Small Groups
Meeting as a small group at this time is challenging, but the support from each other is more important than ever. There are online options - please reach out if you need help figuring this out! If you aren't currently in a group, we encourage you to try it out. There are groups for women, men, couples, day-time, night-time, etc. Interested? Contact Monte Peterson.
FIN (Families in Need)
Our FIN ministry helps people with their basic monthly needs. If you can help, we are grateful for your generosity. Please mark your envelop "FIN".
Pastoral Care and Prayer
Need prayer? Reach out to us confidentially at .
Stephen Ministry
We provide high-quality, confidential care to people who are hurting through our Stephen Ministry programme. Contact Pastor Michele if you would like to know more about the programme or meet with a Stephen Minister.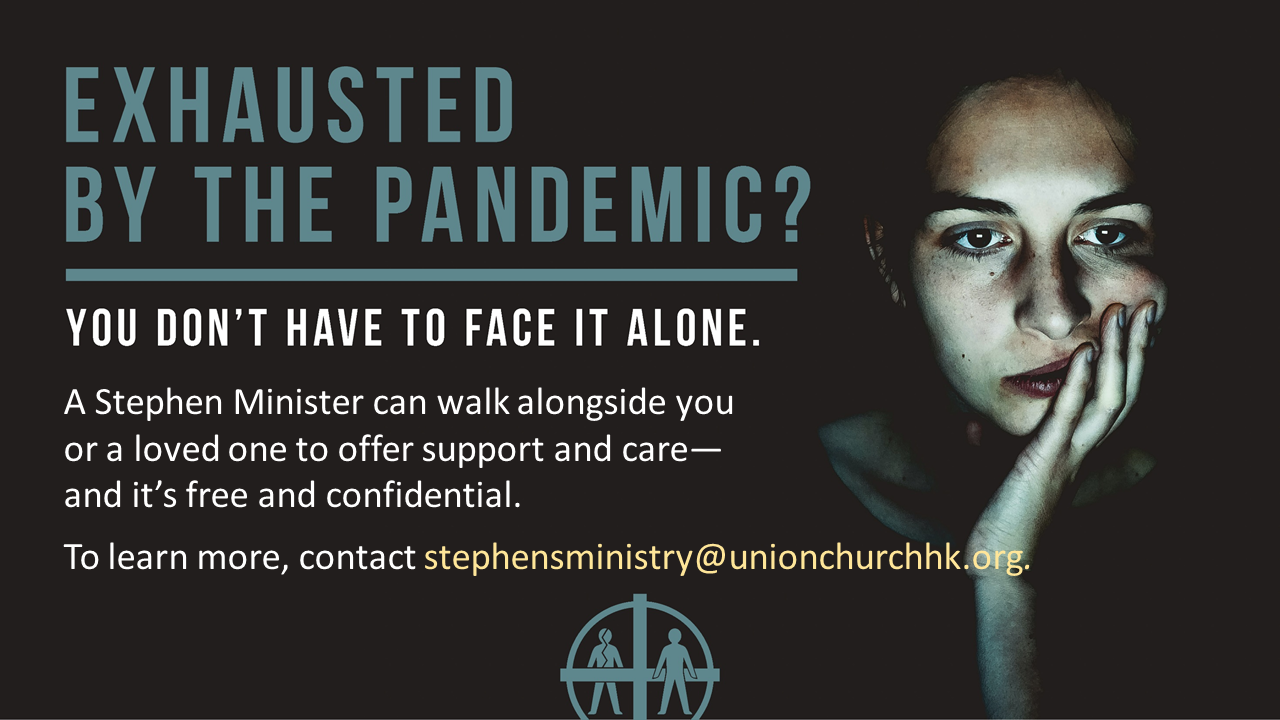 Last week's sermon
"Do Not Fear, Only Believe" Rev Dr Michele Bland
Social Media
Please follow Union Church Hong Kong on Instagram, LinkedIn, Facebook and YouTube and share with your friends and family. Do you have images, video and stories for UC social media? Please share with Bronwyn.