U MATTERS
We have just started a new sermon series on the book of James which is entitled "Living Faith." James wrote during a time when believers had scattered fearing persecution. In attempts to encourage Jewish Christians, James wrote suggestions on how they could deal with the challenges, the stresses and the pressures of life. In five chapters, James has a lot to say.
The theme verse in this book is,
"My brothers and sisters, whenever you face trials of any kind, consider it nothing but joy, because you know that the testing of your faith produces endurance; and let endurance have its full effect, so that you may be mature and complete, lacking in nothing." James 1:2-4
Our challenges and difficulties can wreak havoc on our relationship with God. Our life circumstances can really cause us to wrestle between an "owned faith" versus an "inherited faith." Nobel Peace Prize winner (2018) Dr Denis Mukwege stated, "As long as our faith is defined by theory and not connected with practical realities, we shall not be able to fulfil the mission entrusted to us by Christ…If we are Christ's…we have no choice but to be alongside the weak, the wounded, the refugees and women suffering discrimination." Our owned faith is meant to be a living faith.
Although Martin Luther questioned whether the book of James was worthy of being in the New Testament, I believe it has words for us living today. We hope to see you this week and feel free to read ahead - we embark on chapter 2 of James.
Blessings, Pastor Michele
OUTREACH AND SERVICE OPPORTUNITIES FOR ALL
BLESS THE CITY, Saturday morning, 16 October: It is our time to go out to serve, pray and love the Lord's creation. Choose one of seven (7) family-friendly outreach projects with our ministry partners and "Friends of Union Church" - Hong Kong Church Network for the Poor, China Coast Community, Kun Sun Prison Ministry Flag Day, Chung King Ministry, Sons & Daughters, Art in the Park, and St. Barnabas' Society and Home (SBSH). (Registration is full for SBSH). Let's bless Hong Kong. Learn more, register and GO!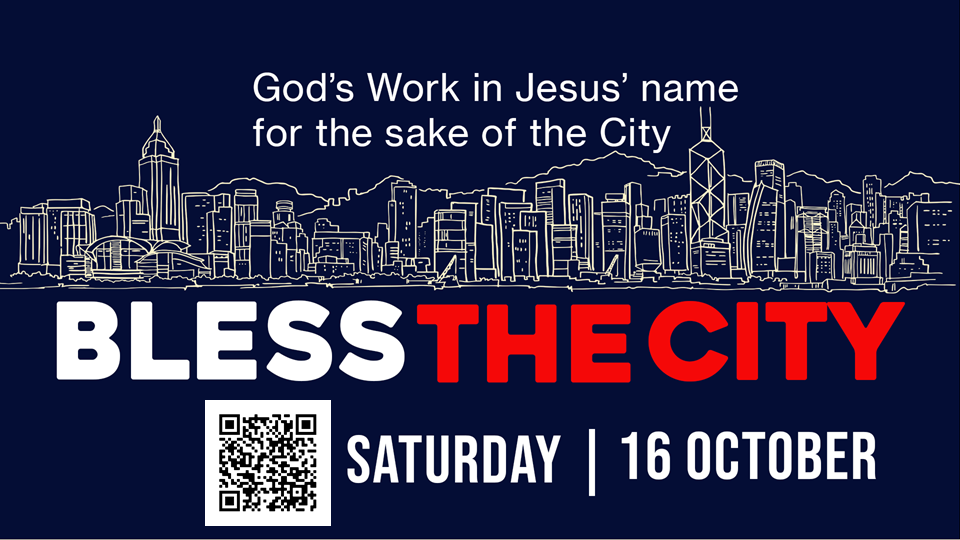 THE GRACE OF GIVING
We are grateful to God and to everyone who has prayed and participated during this Grace of Giving season. Thank you! It has been an amazing time in the life of our church. The gap to reaching our financial target now stands at HK$1.84M. Let's all continue to pray about this as we lean into God, our Jehovah Jireh.
WORSHIP SERVICES AND REGISTRATION
Please remember to register for our Sunday services on Mondays from 10:00am. If you are 15 minutes late, your space may be given to others. Thank you for understanding. If your plans change, please email us at .
Union Church offers three in-person services: 8:45am (Family Communion), 9:45am (Traditional Worship) and 11:15am (Contemporary Worship). The latter two services are live-streamed on our church website, Facebook page, church app and YouTube. Our 9:45am service this Sunday will be broadcast live on RTHK radio. Pray that people listening from homes, quarantine hotels, workplaces and prisons find encouragement and hope through God's message.
THIS WEEK
This Sunday - Special 10.10.10 Offering for Hong Kong Church Network for the Poor (HKCNP): We look forward to welcoming our "Friend of Union Church", HKCNP, this Sunday, 10 October. For many years, Union Church has participated in HKCNP's anti-poverty campaigns to serve the underprivileged in Hong Kong. Please welcome Dr Susanna Ma in the Fellowship Hall (and sign up for the HKCNP Bless the City event!).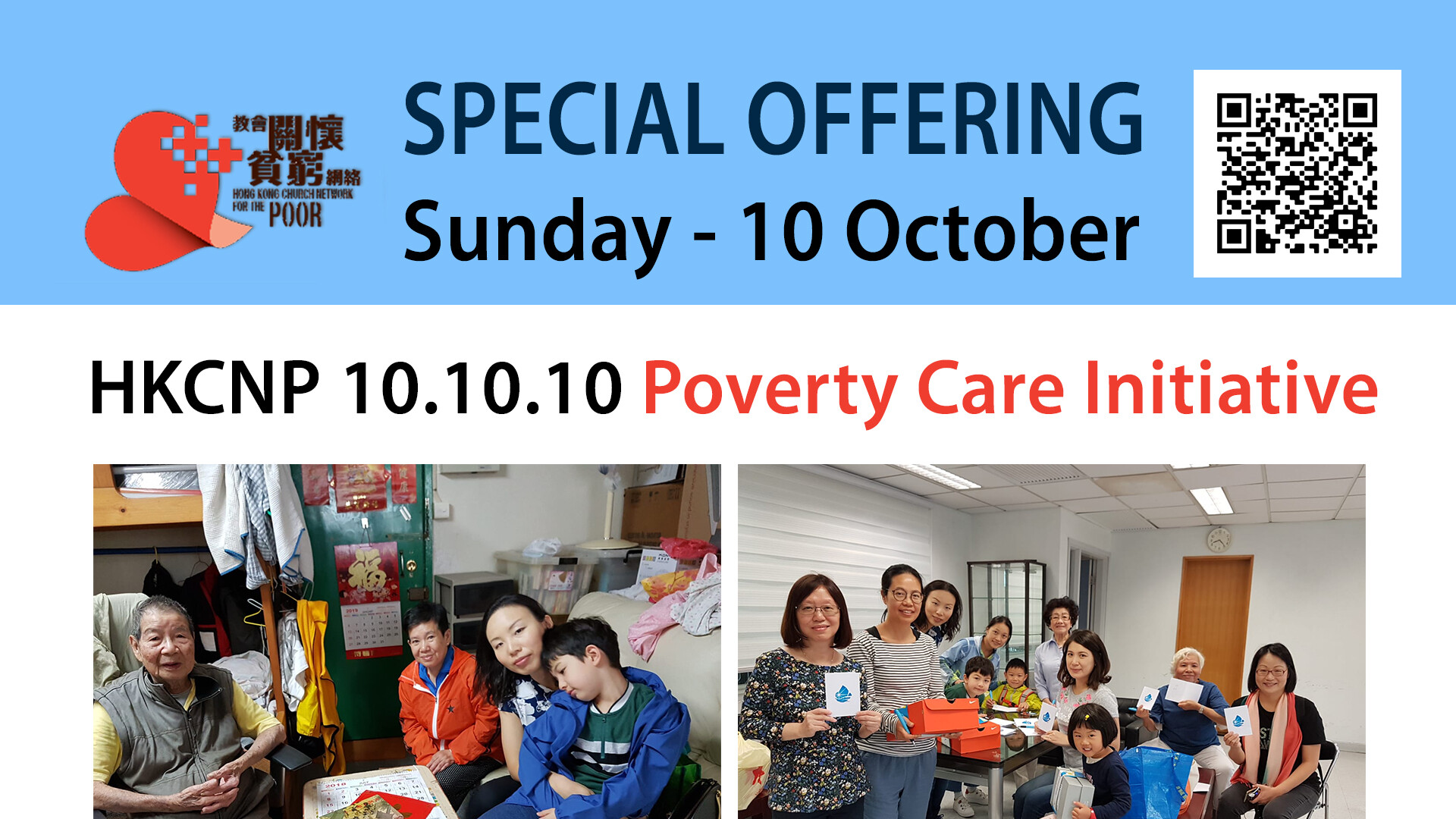 Cheer up the China Coast Community residents! We would love to receive more donations of plain digestive biscuits in addition to a variety of unopened jams and marmalade. Please drop them off at church by 15 October. Also join the Bless the City activity coordinated by Grace Payne on 16 October. The group will write notecards and scripture for the residents and box up the donations.
Young Adults Study - "Discipleship Explored": Wednesdays at 7:30pm. This journey through Paul's letter to the Philippians is ideal for new believers, those recommitting to their relationship with God, or anyone seeking to grow in their faith. For more details contact dan.tupps@unionchurchhk.org.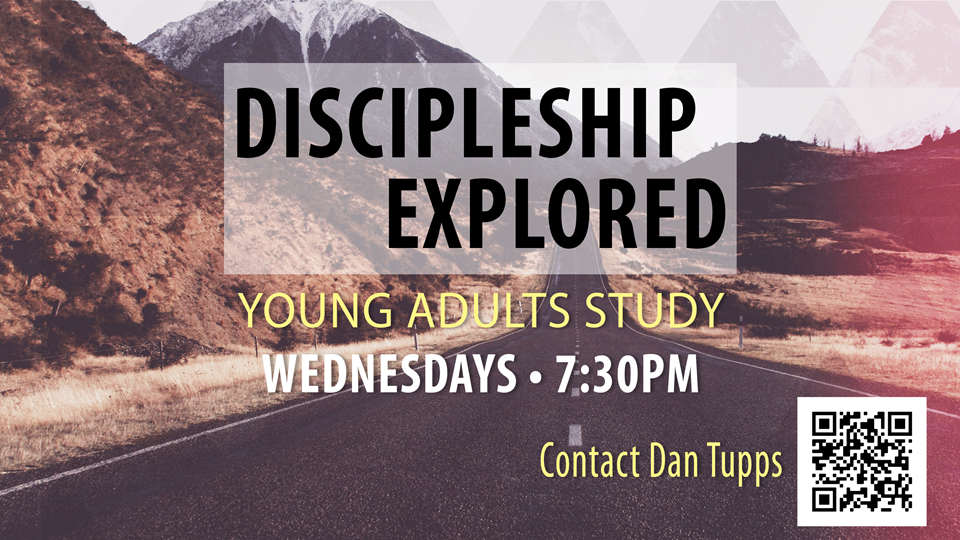 UPCOMING
Halftime Small Group Study - register now: Our Faith in the Marketplace Ministry is offering a new small group study that explores the Halftime course over 6 weekly sessions, online at lunchtime, starting the week of 18 October. This small group study will help you clarify your core abilities and passions and discover creative ways to channel your talent towards Kingdom-significance. To be responsive to busy schedules, the group will together determine the exact dates and times. Register here.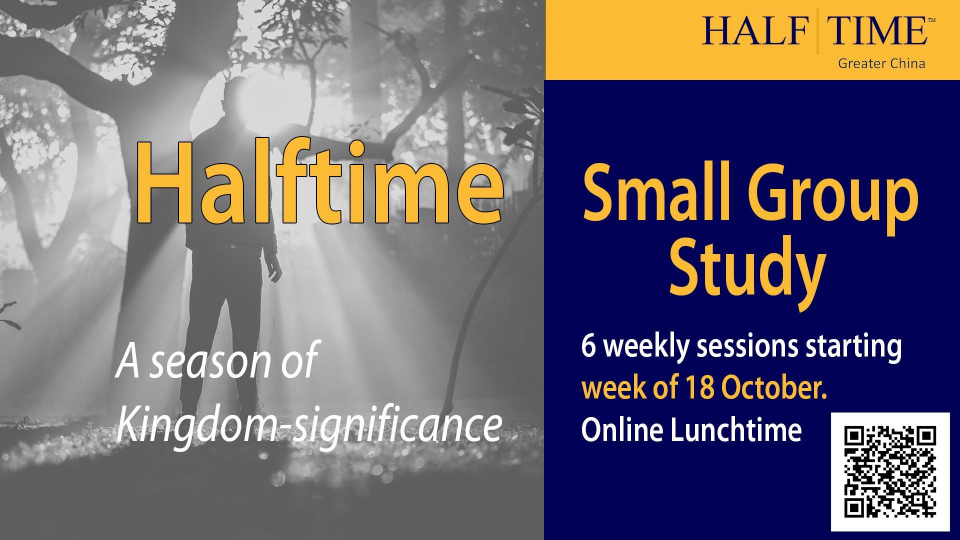 One Hour with J.John: Our Deacon Juliana Rotmeyer will be interviewing Canon J.John live via Zoom on Wednesday, 3 November, 7:00pm. J.John is an international evangelist + author renowned for his humour + storytelling. Our Youth are doing his just10 study on the Ten Commandments right now. Register to join either the watch party at Union Church or receive the Zoom link so you can watch remotely. We would love to receive questions that you would like Juliana to ask J.John. Please submit them on the registration form here.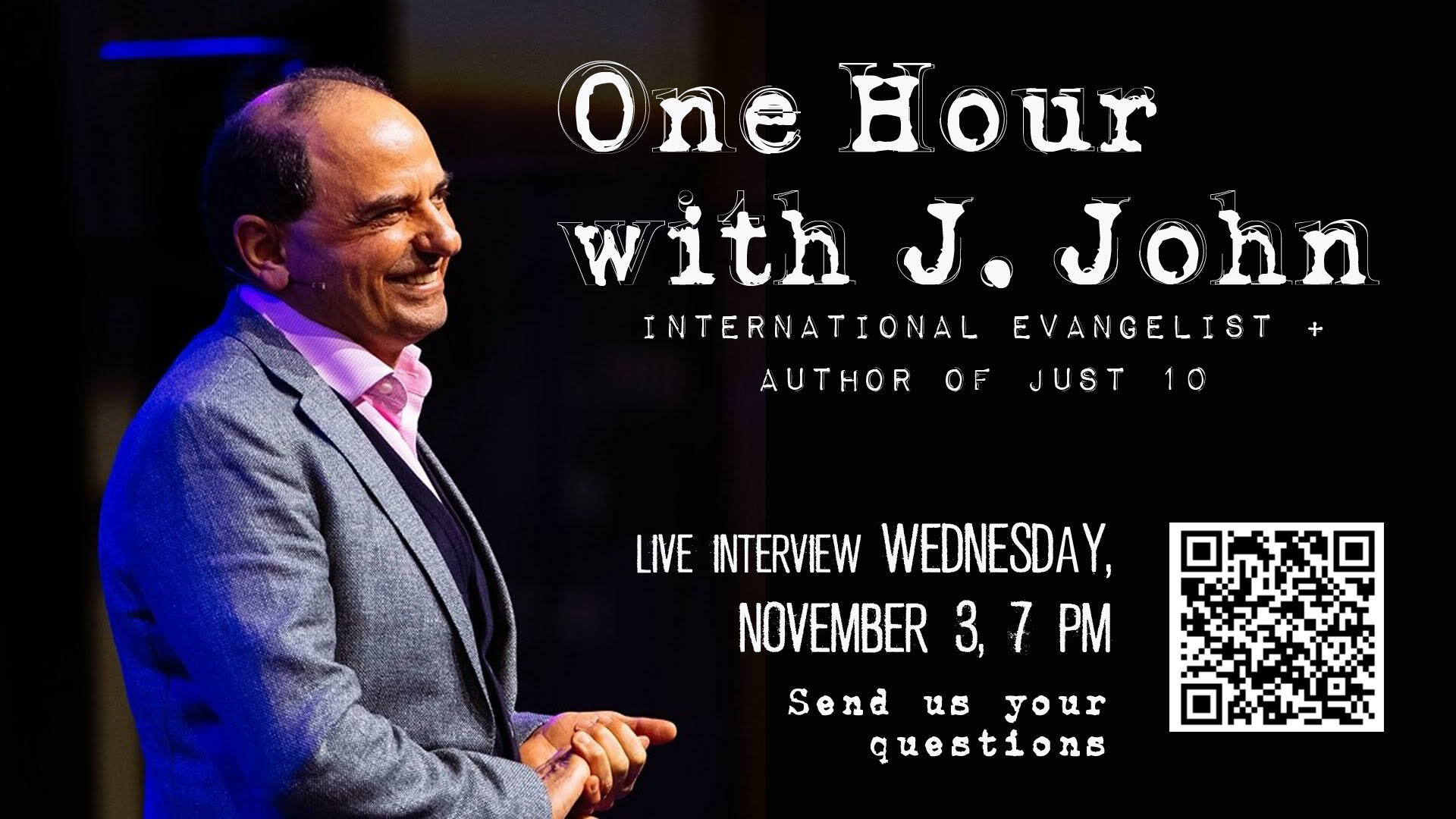 Men's Retreat, 5 - 6 November 2021. Men, please join us for this great opportunity to get away and discover the power of authentic relationships. Dr. Lance Lee will be our special guest speaker. Lance is one of the pastors at The Vine Church and leads the Men's Fellowship of Hong Kong. As a pastor, psychologist and coach, Lance has a passion for helping empower men to achieve their greatest potential. We will also hear from Union's own Charles Caldwell, Dan Tupps and more. Register here to reserve your spot!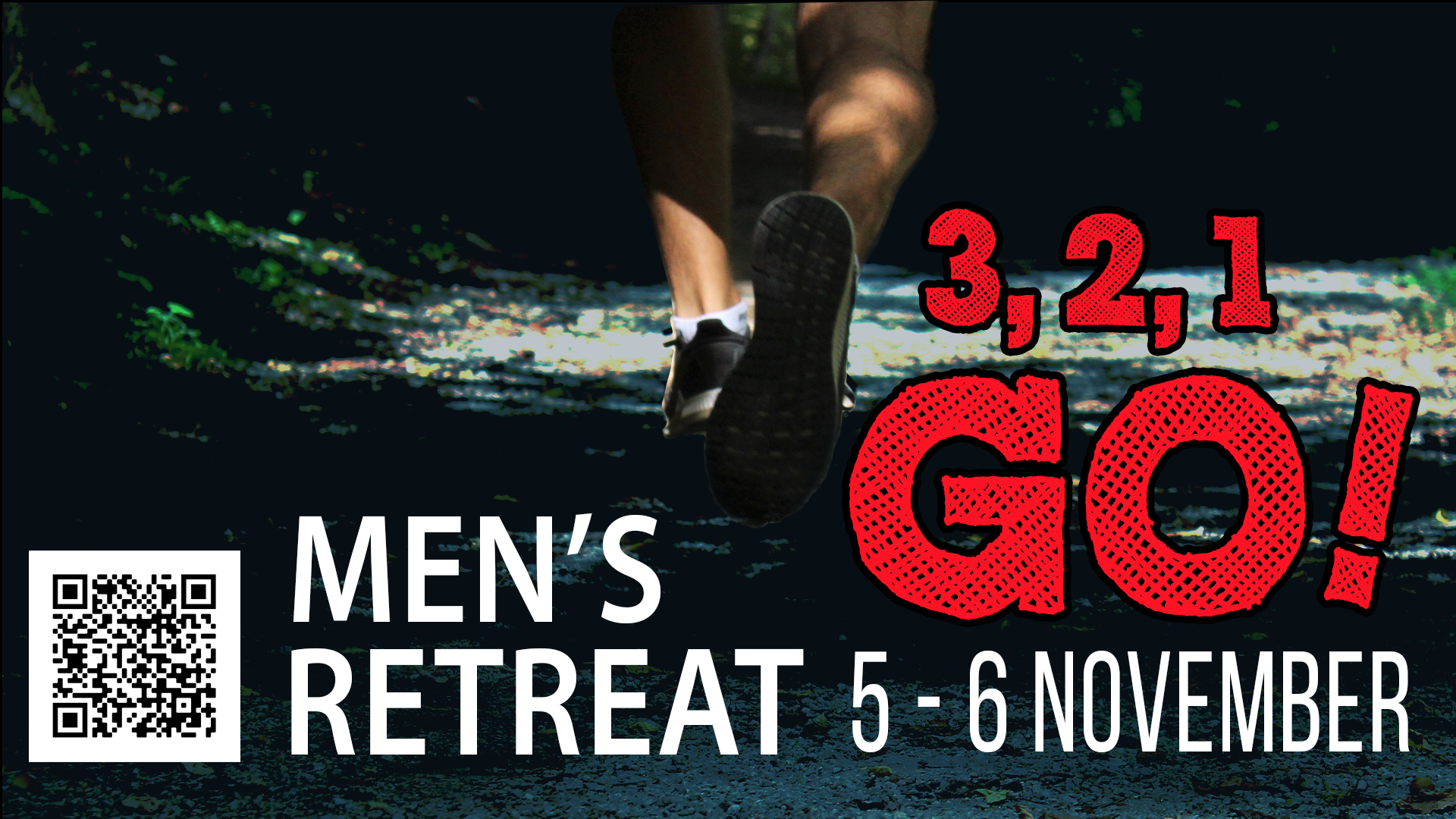 6th Annual Ladies Retreat - 7 WONDERS OF THE WORLD, 12 - 14 November 2021. We invite you to step deeper in your relationship with our creator as all Union women are invited to a two-night retreat at South Lantau. It will be a wonderful time of worship, fellowship and teaching. Spaces are limited so please register now.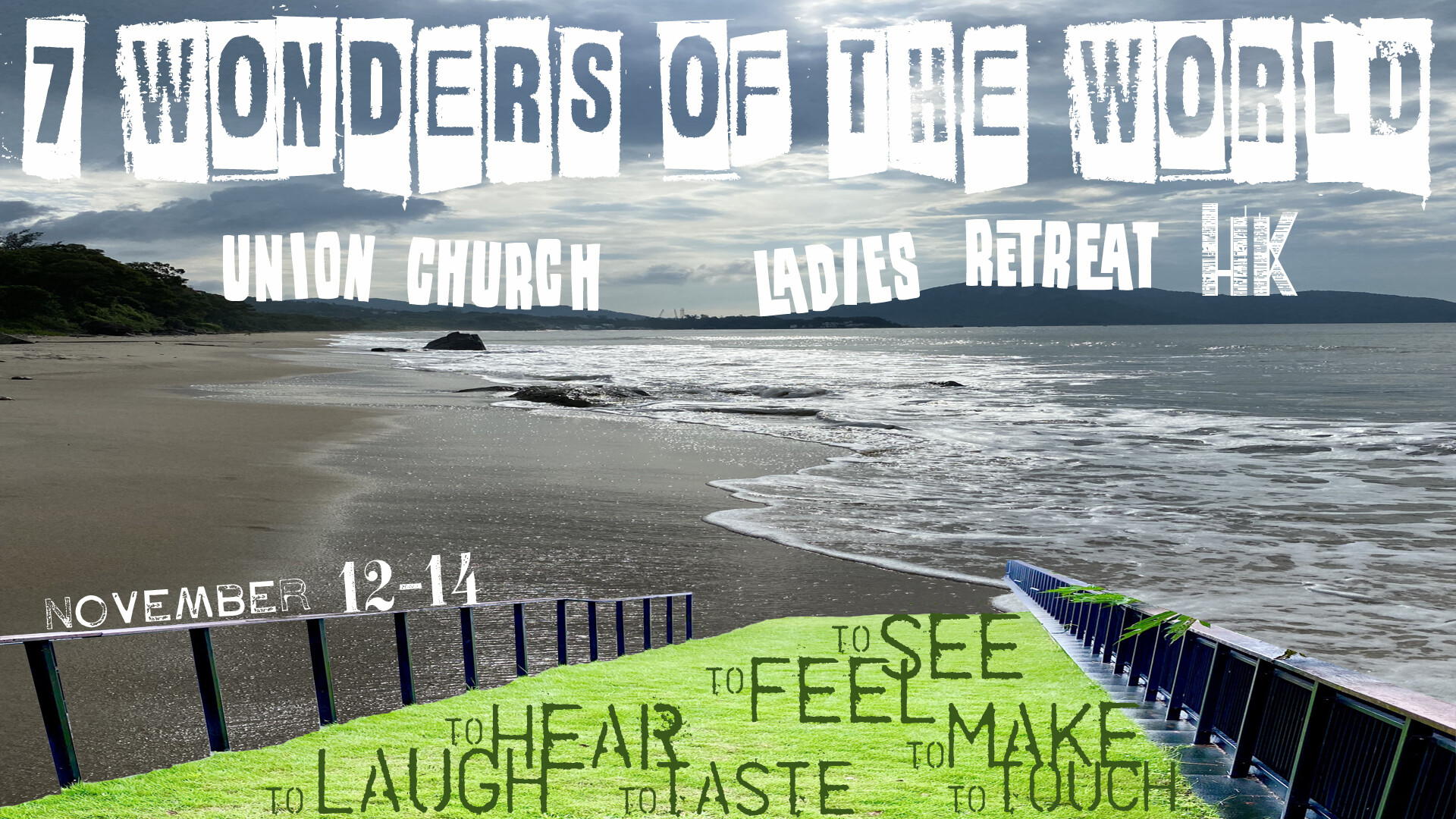 KINGDOM KIDS
Hallelujah Party: Saturday, 30 October, 3:00pm - 5:30pm. Kingdom Kids invites families and friends to join us for "The Adventure of Noah," our annual Hallelujah Party which will be held in-person on Saturday, 30 October. There will be lots of games, prizes, crafts, a photo booth and live performance by Dove Tales Theatre. Bring your friends along too. Register here.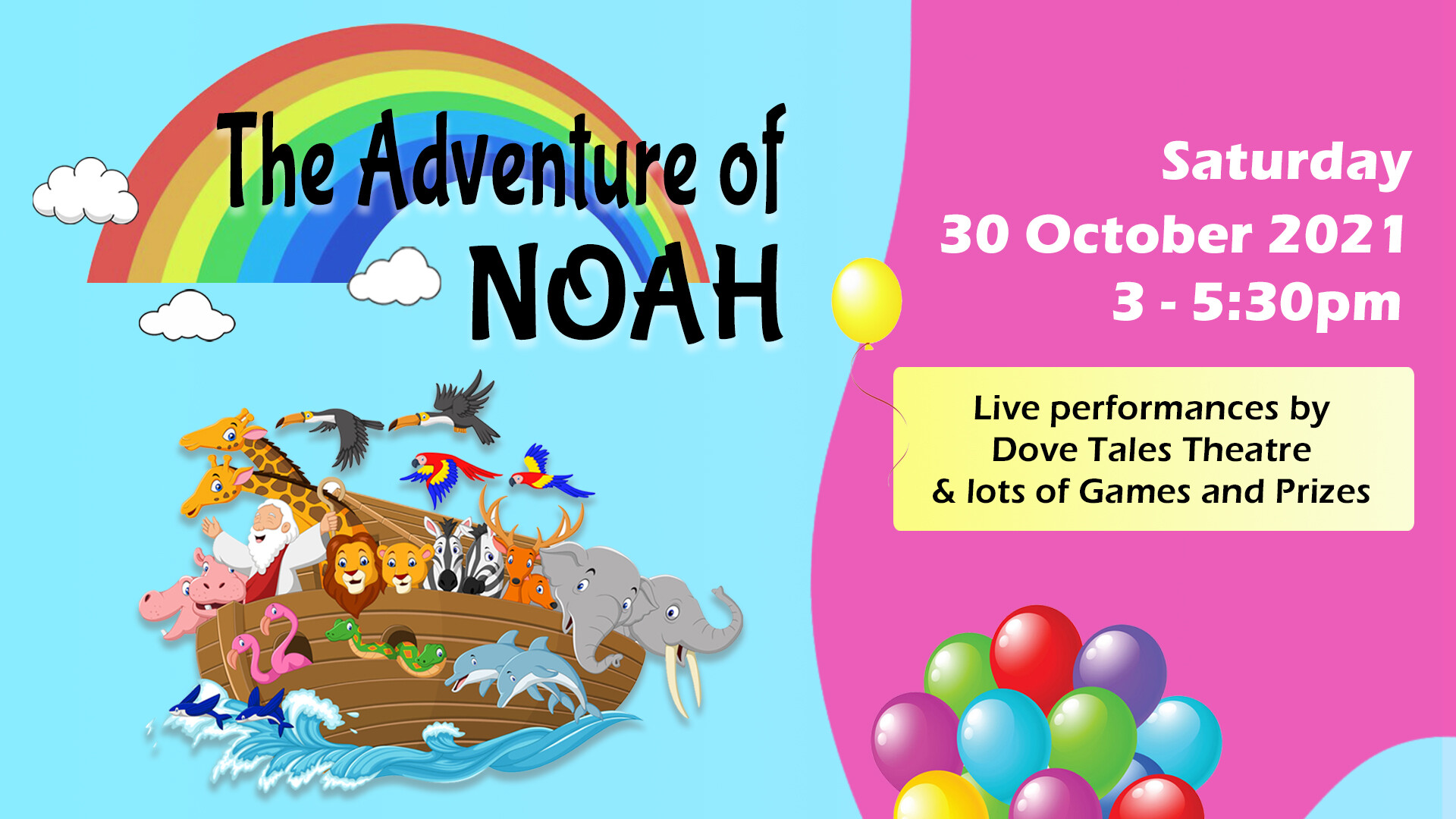 Kingdom Kids upcoming events - mark your family calendar:

Children's Christmas Musical: Sunday, 12 December 2021, 9:45am and 11:15am
Children's Christmas Party: Sunday, 19 December, 9:45am and 11:15am
Children's Christmas Outreach - new date: Sunday, 19 December, 3:00pm - 5:00pm - St. Barnabas' Society and Home
Creche & Sunday School Arrangements: Children ages 0 - 3 years old are welcome to join our Creche Centre and children ages 3 to 10 years old are invited to join us for Sunday School. Families attending in-person services must be successfully registered before Thursday, 12:00pm. Thank you.
In-person Sunday School: 9:45am and 11:15am
Online Sunday School: 11:15am - the Zoom link to the online class will be emailed to families with children registered in our Sunday School programme for the year 2021-2022.
Kingdom Kids Sunday edition is available at the end of the 9:45am and 11:15am worship services on the Union Church website or Facebook page.
Sunday School Registration 2021-2022: Registration for the academic year 2021/2022 is open. Children ages 0-10 years old enrolling in our Creche and Sunday School programme must be registered by completing the form HERE. Registration forms are also available at the Children's welcome table. For more information, please visit Union Church's website or contact us at CHILDREN or 2101 0414.
YOUTH
Friday Youth – 8 October – Tomorrow youth we will be jumping back into our study of the 10 Commandments with J.John's just10. Youth are invited for dinner, study, and time to just hang out and decompress! Please note the different schedules. Juniors (11-13) are invited to join for dinner 6:00pm - 7:00pm and the study 7:00pm - 8:30pm. Seniors (14-18) will start with study at 6:00pm - 8:00pm and dinner 8:00pm - 9:00pm.
Sunday Youth – 10 October – Sunday Youth are invited to Ps. Michele's home at 11:15am for a lesson and a time of fellowship. Juniors (11-13) are doing a series on the book of Ephesians, while Seniors are studying the Book of Revelation and the challenging messages it faces us with! Any questions - please talk to Hunter.
Wednesday Youth – 13 October - This Wednesday we will continue our "Network" study, a look into what spiritual gifts God has given us and how we can better use them to build His kingdom! We will meet at Union Church Youth Room at 6:00pm and dismiss no later than 8:00pm.
During BLESS THE CITY on Saturday, 16 October, Hunter will lead a group to do Art in the Park at Tamar and youth and their families are encouraged to join. Sign up here.
Sunday Youth in the Union Church Sanctuary on 17 October! Please let Hunter know by Thursday, 14 October if you can join. Space is limited and we want to secure a space for you.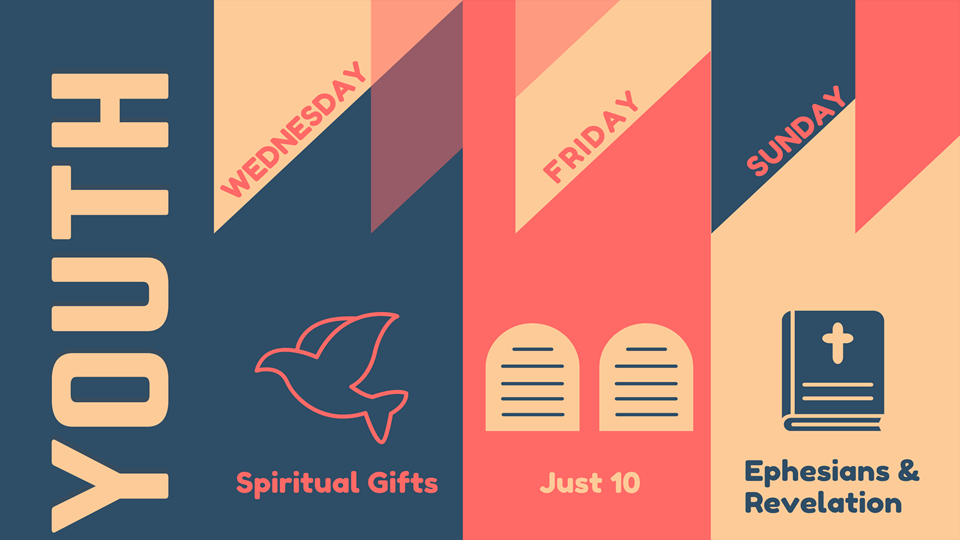 MISSIONS
Alpha Hong Kong is launching Alpha Cantonese Teen Series (ACTS), an engaging video series exploring timeless questions about life, faith and Jesus for teenagers. ACTS has been premiered and Alpha has received very positive feedback - praise God. There is no comparable gospel media tool customised for local students. Please pray for continued impact among Hong Kong's youth.
The Home of Loving Faithfulness (HOLF) asks for prayers for smooth processing of their application to Social Welfare Department to extend their license to cover Block C which has been under renovation. In addition, HOLF is seeking prayers and volunteers to support and work in a new sensory garden that will broaden residents' life experiences and engage them in new ways.
Prayers for Light of the World Church and Preschool, Yangon, Myanmar: Pastor Vum and his congregation are giving praise that the preschool just re-opened. Please pray that the preschool remains a safe place and that the church can meet regularly soon.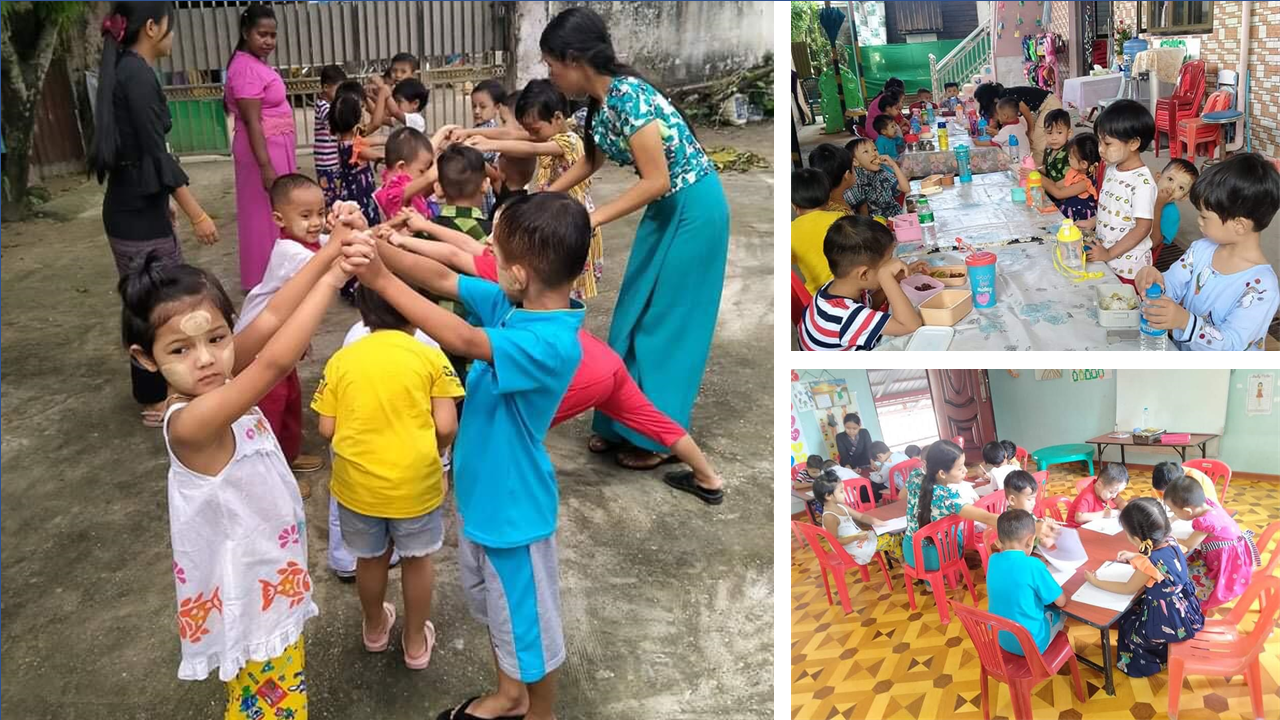 Meet our Ministry Partners: This is a great way to find opportunities for you to pray, serve and support God's mission and work in Hong Kong and internationally.
This Sunday, 10 October - Hong Kong Church Network for the Poor (see above)
Sunday, 14 November - Sons & Daughters and Asian Development Ministries (SALT)
Sunday, 9 January 2022 - Alpha Hong Kong
and more visitors in the new year.
Save the date - Missions Christmas Fair, Sunday, 28 November
The support from your friends in a small group is tangible demonstration of God's love for us. If you aren't currently in a small group, this is a wonderful time to try it out. There are groups for women, men, couples, day-time, night-time, etc. Contact for more information and pick up a Small Groups pamphlet from the welcome desk at church.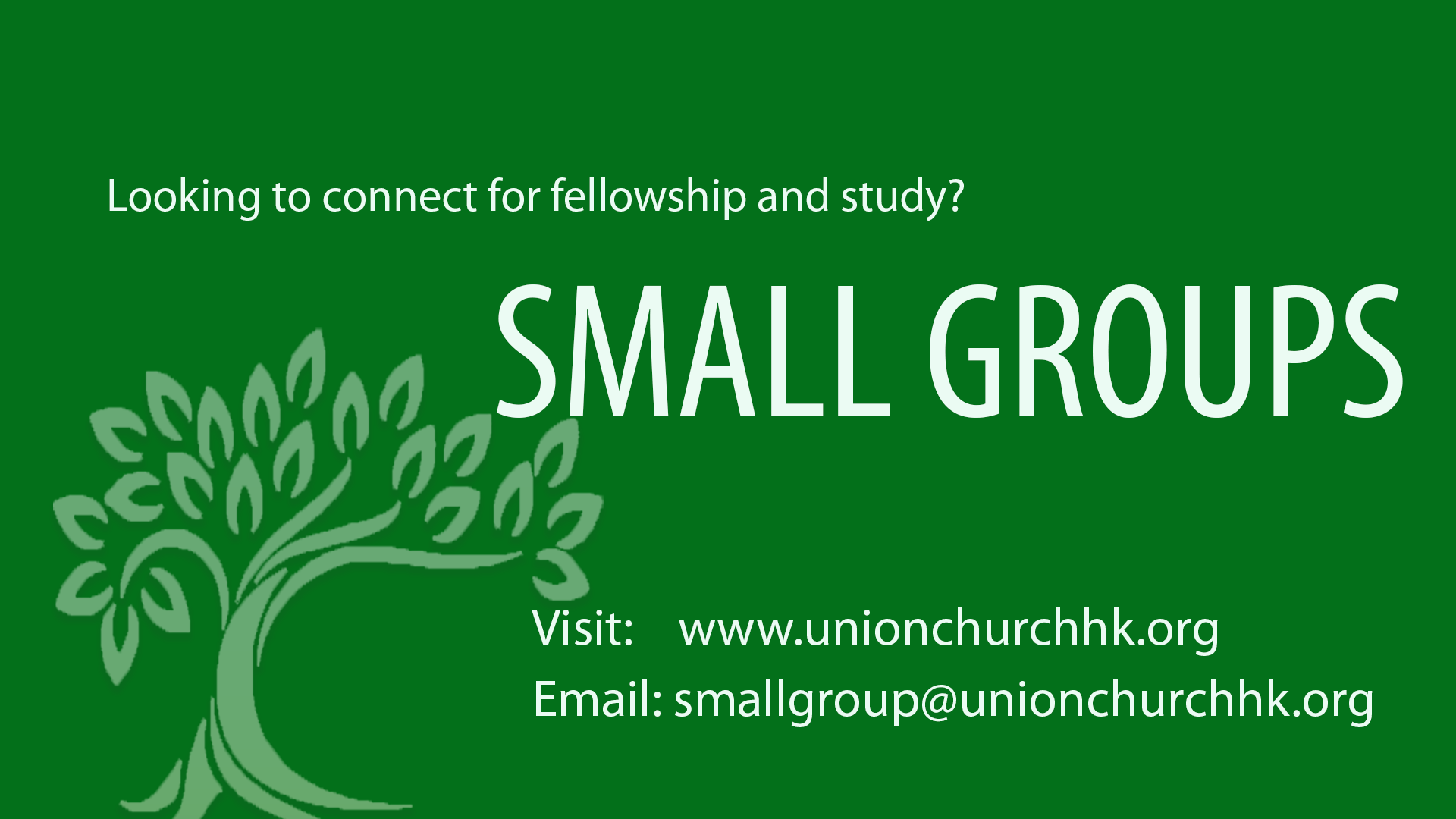 Families in Need (FIN)
We understand the desire to give money directly to people in need in our congregation. Thank you for your compassion and generosity. Rather than give directly, may we ask that you refer these individuals to our Families in Need committee and Pastor Michele? Our FIN ministry helps people with their basic monthly needs, and if you can help we would be grateful. Please mark your envelope "FIN".
Pastoral Care and Prayer
Need prayer? Reach out to us confidentially at .
Stephen Ministry
We provide high-quality, confidential care to people who are hurting through our Stephen Ministry programme. Contact Pastor Michele if you would like to know more about the programme or meet with a Stephen Minister.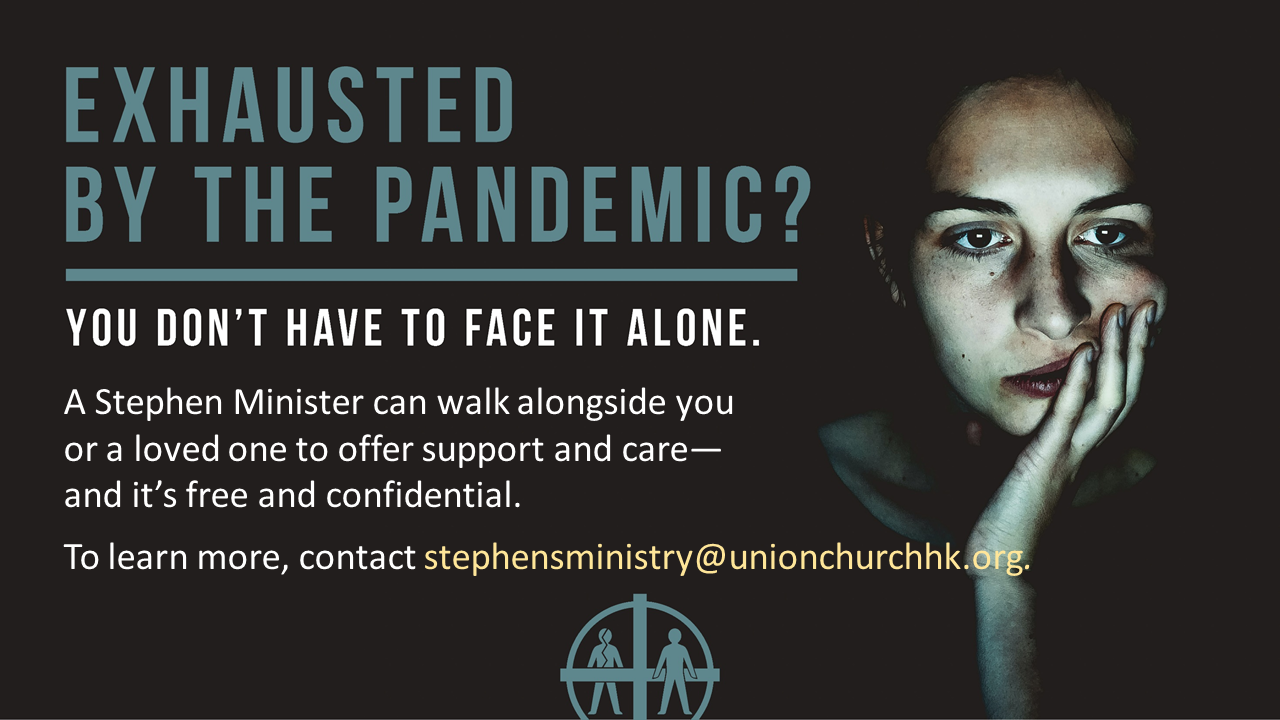 Sanctuary Flowers
If you wish to donate flowers to honour a birthday, anniversary, birth or in memory of a loved one, you may sign up on the flower calendar on the notice board or email . Thank you.
Last week's sermon
"Living Faith: Takes Action" Rev Dr Michele Bland
Social Media
Please follow Union Church Hong Kong on Instagram, LinkedIn, Facebook and YouTube and share with your friends and family. Do you have images, video and stories for UC social media? Please send them to Bronwyn at .