U MATTERS:
Numbers. Whether we are counting COVID cases locally or abroad, ballots in the US election, or the number of floors constructed at 22A Kennedy Rd -numbers seem to be on our radar. We have completed the 5th Sunday of in-person worship and we have some exciting numbers to report from Union Church this week.
We had:
66 children at the Hallelujah Party on Saturday & many children invited their friends
Full house at 9:45, 11:15 and U-Café for Sunday worship (space at 8:45)
6 couples at the Young Married lunch -who want to meet monthly
85 ladies at the 'Get to Gather' on Monday night plus 10 ladies on Zoom
3 New Recharge Classes -youth, young adults and adults
Additionally, it has been encouraging to hear that people are connecting with us regularly from all over the world. We have people worshipping with us on Sundays and joining us weekly for Alpha, Prayer, Ladies 'Get to Gather' and Small Groups from the United States, UK, Portugal, and Scotland.
Interestingly however, the Apostle Paul reminds us of the most important number -ONE. Because of Jesus -we are ONE -"so we, who are many, are one body in Christ, and individually we are members one of another." Romans 12:5 I am grateful that we can remain connected and we can reach out to one another around the world -unified in purpose and love.
May we continue to reflect our "oneness."
This Sunday we will continue with our By Faith -stewardship series and we hope you will join us.
Blessings, Pastor Michele
St Barnabas Special Offering:
We are delighted to announce that we raised over $132,000 for the St Barnabas Society and Home with our special offering last Sunday. Thank you all so much for your outpouring of generosity.
Stewardship:
On Sunday we started our annual Stewardship campaign. Each week, one of our Committee of Management members will be sharing their testimony. We start with Ellen Ahn:
Trust and Obey in Times of Trouble :
In 2010, Michel and I moved to Jakarta with our newborn baby, Marie. After having been with Union for a decade, it wasn't easy to find a church where we felt like home. Eventually we settled into Jakarta International Christian Fellowship (JICF) and slowly rebuild our lives there.
As we were accustomed to at Union, we set up a monthly pledge to JICF via an automated bank transfer order. After barely living for a year and half, we learned that Michel's employer had decided to close the Jakarta office following a change in strategy in the aftermath of the 2008-09 financial crisis.
We prayed earnestly for God's guidance and direction for the next following year. A month before we were due to leave Jakarta and still not knowing what lied ahead of us, we found out the bank had stopped our automated transfer to the church for more than a year. At that moment, I thought perhaps the Lord knew we needed the money for our unknown future, but Michel didn't hesitate to pay the tithe in full.
Leaving our belongings in storage, we went to Michel's family home in Belgium for him to rest and find other job opportunities. As he travelled town to town in Europe for his interviews, Marie and I found nearby church to pray.
Few months passed and while we were on the road, Michel received a job offer in Hong Kong. We were shocked as he didn't lobby for this position. Earlier that year as I was reading Hebrews 11:15, I felt the strange prompting to pray that we can return to Hong Kong. I knew in my head it wasn't possible, but out of obedience, I prayed.
It's been 8 years since we moved back to Hong Kong. As I look back, I'm grateful for this valuable teaching and experience we had with God on giving and on prayer. I pray that we can all trust God in times of trouble and come through this season victoriously.
Ellen Ahn
We are currently meeting in-person at half our normal capacity in the Sanctuary - 100 people. We will be offering live services at 8:45AM (with communion), 9:45AM and 11:15AM. We will also hold U-Cafe, with a live Worship team, at Hotel Indigo (2nd floor) at 11:15AM. We look forward to seeing you at one of our services in-person. If you are unable to come and worship with us in the sanctuary or Hotel Indigo please join us online, at either 9:45AM or 11:15AM, via our website, mobile app or Facebook page. If you are unable to be online at the time of our worship services, you can watch them later in the day, again via our website, app or Facebook page
Youth: Christmas Banquet Save the Date – December 4. We'll be doing things a little differently this year for the Christmas Banquet – we are asking members of our congregation to host smaller 'Home Banquets' and invite friends and neighbours to join. Entertainment and an auction will be zoomed in! If you are interested in hosting or just being involved, please email Hunter.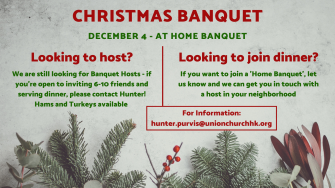 Creche & Sunday School Arrangements for Sunday 8th November 2020 and until further notice: the Creche Centre will be open with restricted capacity. For children aged 3 years old above, Veggie Tales Movies will be shown in rooms 2 & 3 with strict hygiene measures and in accordance with the government guidelines. We greatly appreciate your understanding and kind cooperation as we gather and worship God responsibly.
Prayer and Discernment: Join us as we continue to pray for our church. Tuesdays, at 7:45AM - 8:30AM on Zoom. Contact ADMIN for the zoom link.
Don't forget that you can still give your offering online via the giving page of our website, or by using the QR code below. You can also send us a cheque, made payable to "Union Church" or "Friends of Hong Kong Charities, Inc" if you are a US taxpayer. Please send them to: 18F, Sunlight Tower, 248 Queen's Road East, Wan Chai, Hong Kong.
A new study! Friday mornings ladies starting 13th November, 10:00AM to gather and chat, then 10:30AM -12:00PM: Goliath must fall - a 6 week study as we discover some key giants in our life - Fear must Fall, Rejection must fall, Comfort must fall, Anger must fall and Addiction must fall. We hope you will join us either in-person or via zoom. Please contact Pastor Michele or Ellen Ahn to sign up or for more information.
"ReCreate!" Open Arts Studio, 12noon-2pm, 5 Thursdays, Starting 19 November. Creating art is a great way to relax, de-stress and rejuvenate your mind, soul and spirit. We're inviting you and our neighbours in Sunlight Tower to "ReCreate!"- an open time and space to refresh and express yourselves through art-making. Rest and relax as you reconnect with your creativity and explore different themes while creating art alongside others. A diverse assortment of art supplies will be provided for you to create any artwork of your own. Feel free to drop by and say hello, to de-stress and create together! Join us for one or more Thursdays as we find new inspirations each week. It's free of charge! Click HERE for more details and to sign up. Contact Crystal Lo for more information.
Men's Dinner - Monday, 23 November at 6:30PM. Join us for a fun night of fellowship and testimonies. Sign up HERE or contact Dan Tupps
Book Group: Do you enjoy reading? The Union Book Group reads a variety of Christian and secular books, and discusses them from a Christian perspective. Our upcoming book is The Inner Voice of Love, by Henri Nouwen, meeting Nov 24, 7:30 pm. Books available at church, 100$. Contact Monte Peterson with any questions.
Ladies Retreat: We are organising the 2021 Ladies Retreat. Please save the date, January 28-29, 2020. More details to follow soon
Choosing Generosity:
As Christians, we live "by faith"--and that includes living generously. Join us as we explore God's call to choose generosity in every area of our lives--our time, money, compassion and talents. We will hear from congregational members, engage the Bible and reflect on our stories together. We will meet both
in-person
and
online,
Wednesdays in November, 8 pm. To help us plan for this hybrid format, please register in advance.
Young Adults ReCharge:
Young adults will be joining the "Choosing Generosity" study throughout November (see details above).
Missions:
The mission of Sons & Daughters is to help those caught in sexual exploitation to reclaim a life of love, family, and freedom in Christ. They reach out to those in the red light districts to offer tangible, psychosocial and spiritual support through activities and classes in their drop-in centre, and also through their aftercare program, for those who make the decision to leave commercial sexual exploitation. They have recently started an Alpha course, and we encourage you to pray for those that have joined and may still join.
Sons & Daughters is looking for a donation of an electric piano to use during worship times at their drop-in centre. They are also in need of everyday items for their drop-in centre and safe house. Please see the link to donate: https://forms.gle/6pUQ7LqAte5DdY1bA. Another way to show your support is by shoppi ng at ReStore, their social enterprise that supports people coming out of exploitation. Consider purchasing a gift here: https://www.restoreshop.org/
In speaking with our partners at Light of the World Church and Preschool in Yangon, Myanmar, the present situation there is rather dire due to COVID-19. Most church members are out of a job and have no income. Churches and schools are closed. Church members need assistance to meet their basic needs. Pastor Vum and his family have been providing food to church members during this time using funds provided by Union Church. Please pray for: strong faith in God and Christ Jesus during this time; safety and health for each family during the pandemic; for places of work, schools, and churches to be able to re-open. Please also pray for Pastor Vum's father-in-law, Pastor Kam, who will be having surgery within the next few weeks.
Kingdom Kids:
VBS LOVE PACK:
A HUGE THANKS to all the families that have lovingly prepared and contributed LOVE PACKS for the children under the care of St.Barnabas Society and Home. We have reached our target of 50 Love Packs and they will be delivered to St.Barnabas Society and Home. Once again, thank you so much for sharing Jesus's love and goodness with the children in need.
ONLINE SUNDAY SCHOOL
3-7 years old students: Faithweaver - "David Spares Saul's Life", this Sunday via Zoom, from 10.45 am - 11.30 am.
8 years old and above students: Be Bold - "
Who Is The Holy Spirit and What Does The Holy Spirit Do?"
this Sunday via Zoom, from 10.45 am - 11.45 am.
Sunday School 2020/2021 Registration IS NOW OPEN
: All children enrolling in our Sunday School and Creche Centre MUST BE REGISTERED by filling in and signing the Registration Form HERE. For safety reasons, only children officially registered in our Sunday School program will receive the Zoom link to our Online Bible Study. For more information, please visit Union Church's website or contact us at
CHILDREN
or 21010414.
Youth:
In Person Friday Youth Group - Friday November 6. Youth are invited to join us at Union Church! We'll warm up with some different activities and then have a special guest who will be sharing their testimony with us!
What: In Person Friday Youth
When: Friday Nov 6, 6PM-9PM. Juniors (11-13) dismissed at 7:30PM
Details: Due to continuing restrictions, we will not be serving dinner. Youth will also be asked to sign a health declaration for and have their temperature checked.
In Person Sunday Youth – Sunday November 8
We will also be having In Person Sunday Youth this week at both 9:45 and 11:15 services. Youth are invited to join us at 29/F Indigo Hotel as we read scripture, discuss the sermon and pray together.
Wednesday Church History Study – November 11. On Wednesdays we are going to start a series based around the History of the Church – diving into how the church started, how it has evolved and grown over the centuries.
What: Youth Church History Study
When: Every Wednesday, 6:30-8PM
Details: Zoom Link HERE.
Confirmation Course – Starting November 8. We will be starting a new Confirmation class that will run from November to March. Confirmation is a process through which Youth review and learn the fundamentals of their faith, and prepare to affirm their commitment to Christ in front of the Congregation. Youth 12+ are invited to sign up and can contact Hunter or Monte for more information.
Small Groups:
Meeting as a small group in this time is challenging, but the support from each other is more important than ever. There ARE online options - please reach out if you need help figuring this out! If you aren't currently in a group, we encourage you to try it out. There are groups for women, men, couples, day-time, night-time, etc. Interested? Contact Monte Peterson.
Connecting:
The Marriage Course: please contact Joanna Yau for more details.
Pastoral Care Support, if you are looking for some support and prayer please let our staff know. Contact Ministry leaders directly or admin at: or call 6225 5042.
If you have been attending Union Church for a while and have never gone through the official process to become a member, now is your chance! Please collect a green form and make it official! If you have never been baptised and are interested, please contact Monte Peterson.
A Stephen Minister can help. Stephen Ministers are members of our congregation who listen, care, encourage, and provide emotional and spiritual support to people going through a crisis or a difficult time. Please contact Pastor Michele if we can help ( )
Fertility & Pregnancy/Infant Loss Support Group - Struggling and could use some fellowship, friendship and support? Contact Sonia Lee.
Family in Need (FIN):
If you would like to help support our family in need ministry, which helps people monthly with basic needs, please mark your envelope "FIN".