U MATTERS
Olympic fever - the only fever we want to have.
It has been an exciting 17 days watching athletes make Olympic history! And it has been so encouraging to see Hong Kong communities gather, rejoice and celebrate Hong Kong athletes. I love hearing the personal stories of the athletes - how they have pushed through injury, how they have overcome obstacles and how hard they have trained. These are incredible stories of perseverance and for many - a marathon.
This week, I along with some of the staff, joined members of the BUFF team for a meeting to discuss lighting. It was a 3.5-hour meeting, and this was only one of many meetings the BUFF team has had in the past few weeks. In many respects this meeting felt like a marathon - a stark reminder that our BUFF team has been running their own marathon for several years. Please join with me to continue to pray for and cheer the BUFF team on from the side lines. We are grateful and appreciate your ministry - both to us and to the city of Hong Kong.
"Therefore, since we are surrounded by such a great cloud of witnesses…let us run with perseverance the race marked out for us, fixing our eyes on Jesus, the pioneer and perfecter of faith." Hebrews 12:1-2
Blessings, Pastor Michele
WORSHIP SERVICE UPDATES
Our 9:45am and 11:15am services are reaching capacity (50% of floor capacity). We would love to see you - please register early to secure your spot. If you need to cancel or alter your booking, please email as soon as possible so we may offer your space to someone else.
For Sunday services on 15 August, registration will open at 10:00am on Monday here. Once you have registered, you will receive an email to confirm if you are IN! or if you should select an alternative service or watch the livestream.
Union Church offers three in-person services: 8:45am (Family Communion), 9:45am (Traditional Worship) and 11:15am (Contemporary Worship). The latter two services are available via livestream on our church website, Facebook page, church app and YouTube. Be part of our growing online congregation!
Our online worshippers are invited to join the Zoom Coffee Hour hosted by the Deacons. We want to connect with our online friends every Sunday in between services, 10:45am - 11:15am. Contact the church office to get the Zoom link.
FAMILY NEWS
Pray for New 22A - We are asking our entire church family to pray for the new building project. We lift up the site workers and pray that they remain safe during the current rainstorms and heat. We also lift up the architects and specialist consultants, together with the BUFF team, and pray for God's wisdom as they address many complex issues and decisions during detailed design. We give thanks for their perseverance and commitment.
Save the date for Prayer @ 22A - we'll meet at 22A Kennedy Road on Sunday 15 August, 12:45pm to pray together.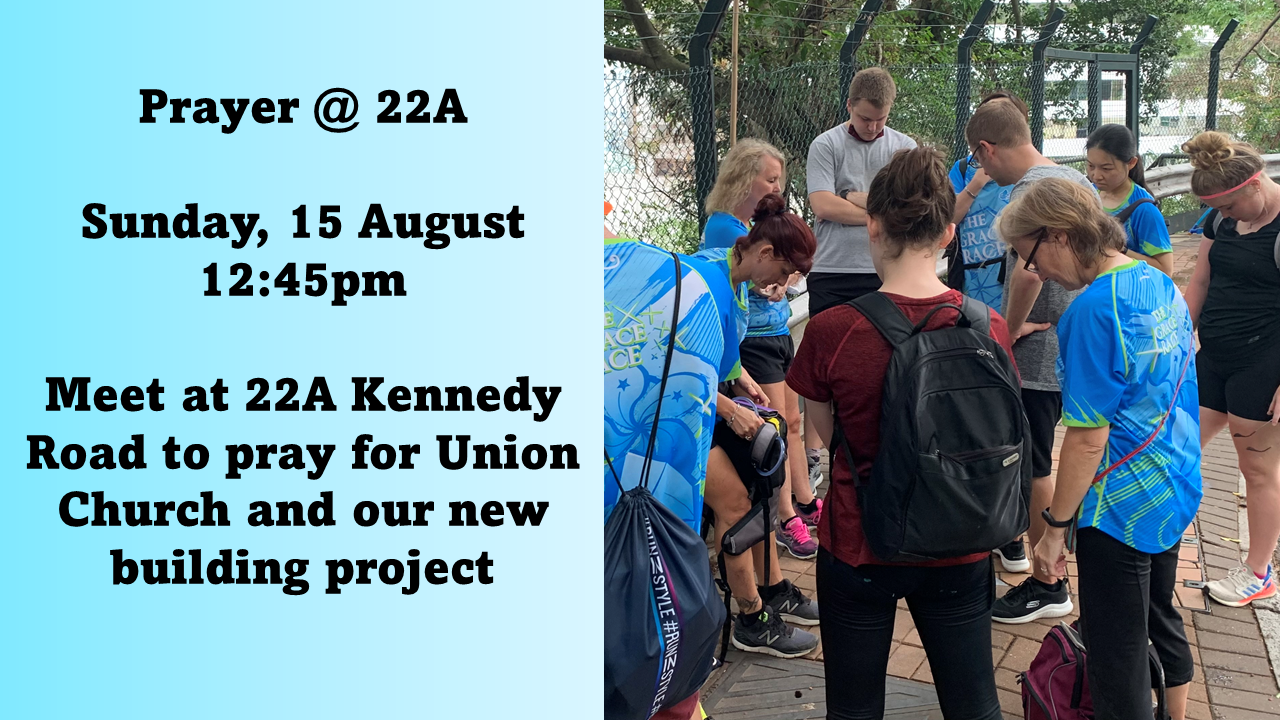 Journey of Faith - Did you see last Sunday's Grace of Giving video featuring Eric and Crystal, Christina and David? Their stories about God growing their faith at Union Church are powerful. You can watch here on The Grace of Giving page on the Union Church website.
THIS WEEK
Young Adults Bowling Night: Join us on Wednesday, 11 August, 7:30pm for bowling followed by dinner at the South China Athletic Association. Please contact Dan Tupps for more details.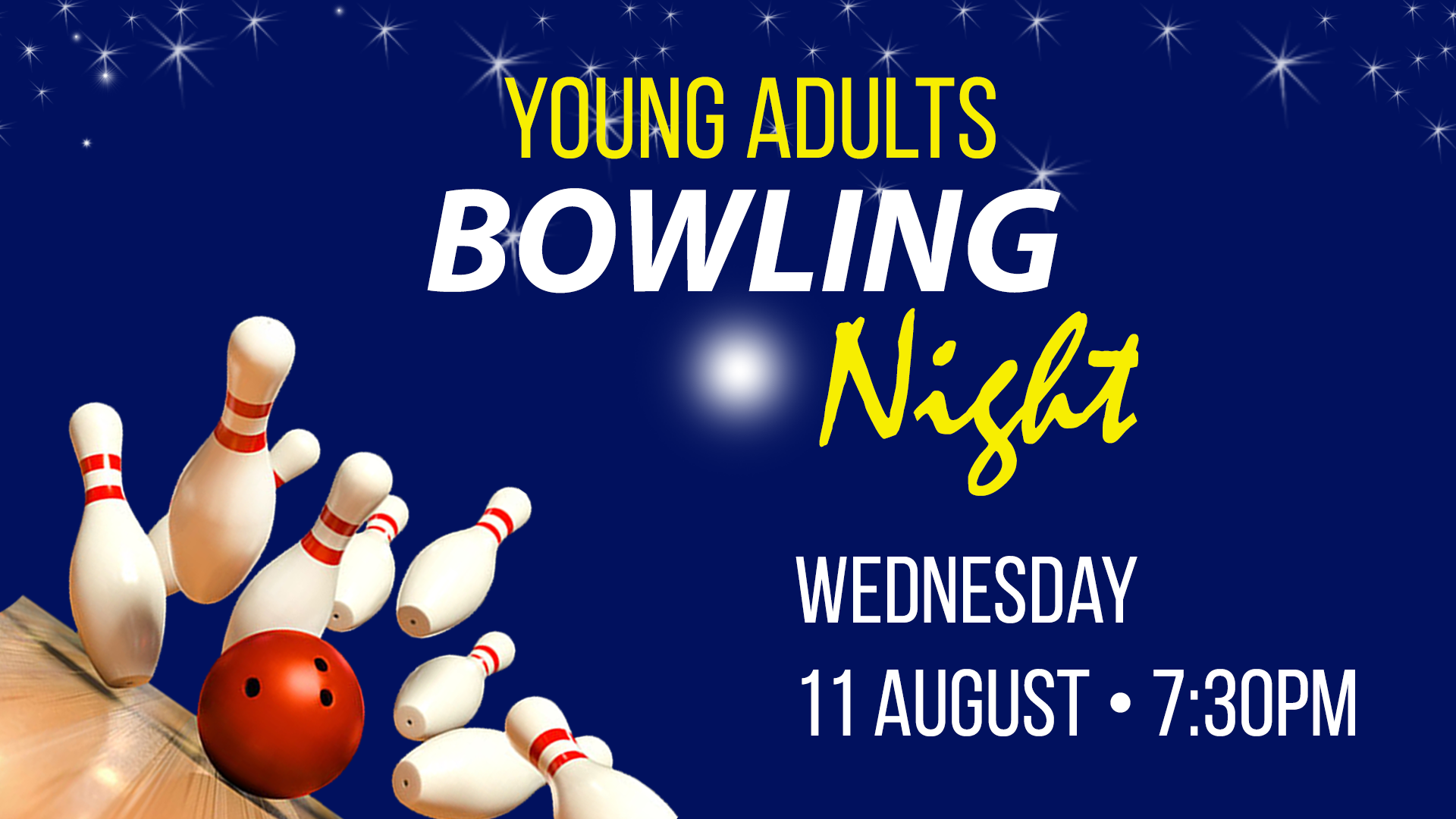 Family Meeting – Wednesday, 11 August, 7:00pm, online is an opportunity for the entire congregation to learn the latest about progress at 22A Kennedy Road. Share the excitement of our expanded space as the BUFF team shows us updated architectural renderings, and hear some of the wonderful surprises and lessons we have learned during our Grace of Giving journey. Come with lots of questions. On Zoom. Please sign up here.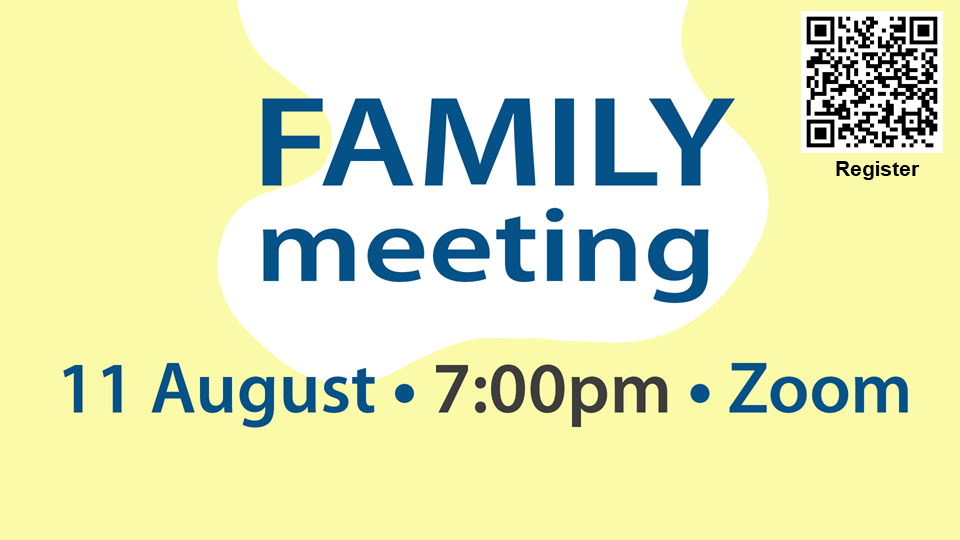 UPCOMING
Hong Kong Men's Fellowship: Men, we would love to have you join our next MFHK Lunch on Friday, 13 August 12:00-1:45pm at Madam Fu Grand Cafe Chinois, Tai Kwun, No. 10 Hollywood Road, Central. Cost is $300/person. Please register and find out more details here.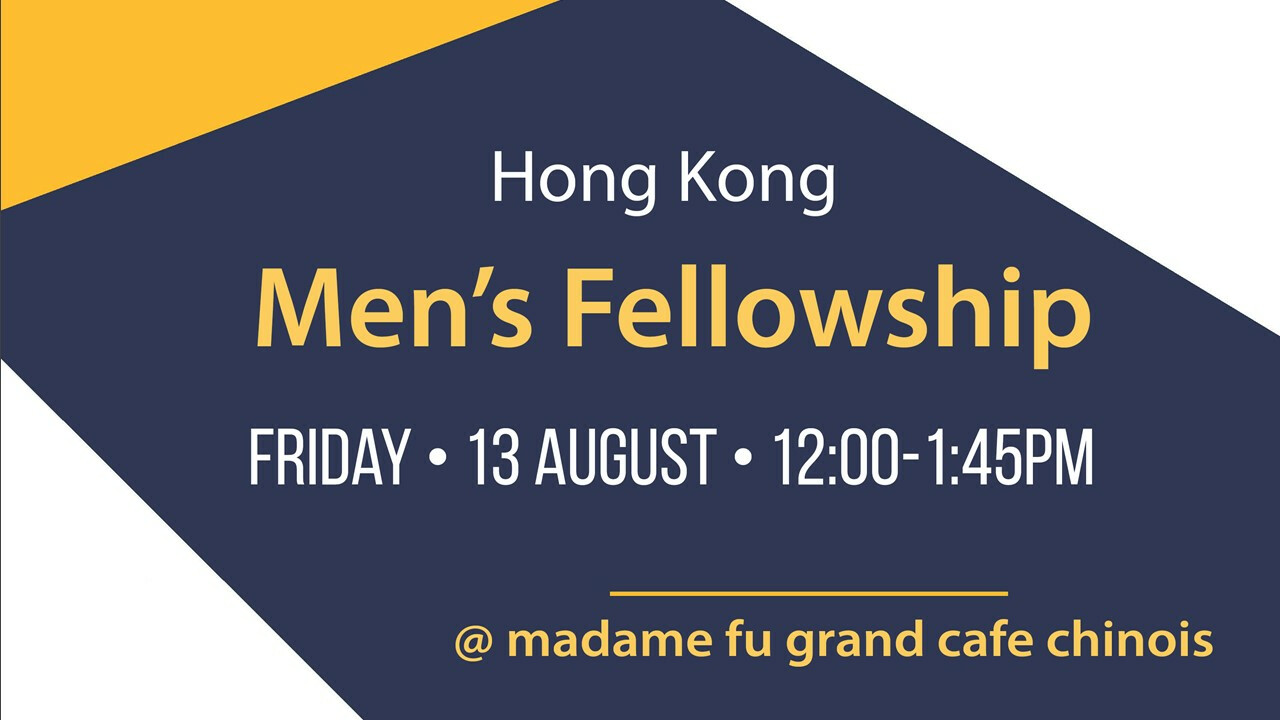 Young Marrieds Lunch: We would love to get together with all our young adult married couples for a special lunch on Sunday, 15 August. Please contact Dan Tupps for more information.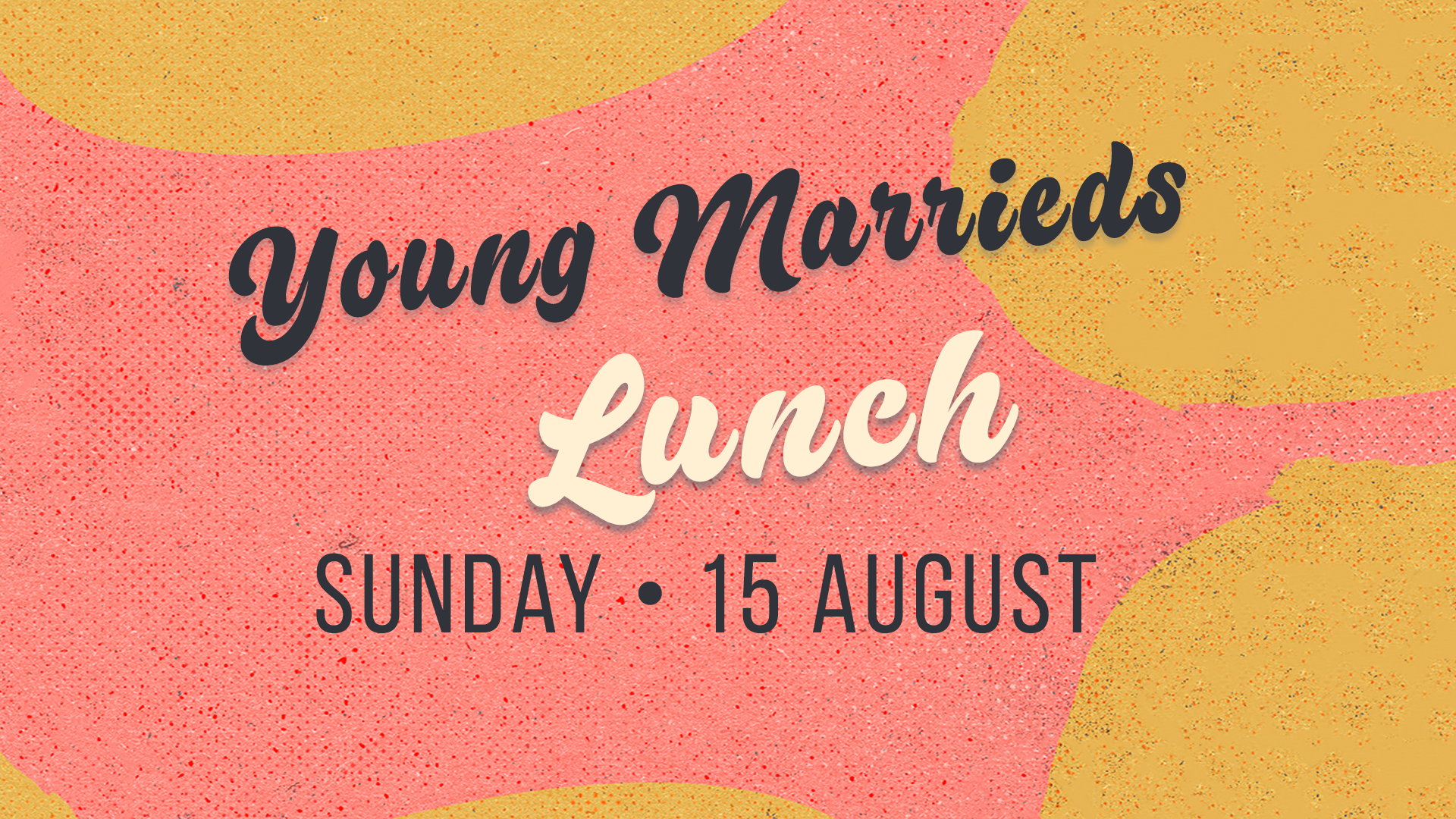 Serving God in the Marketplace - Redefining Success, Wednesday, 18 August: Join the fireside chat with the Rev Dr John Snelgrove, a leading advocate of workplace ministry, and one of our Faith in the Marketplace ministry team leaders, Vivien Teu, as we explore what it means to seek His Kingdom first in our places of work. Invite your colleagues! All are welcome to this online event. Learn more and register here.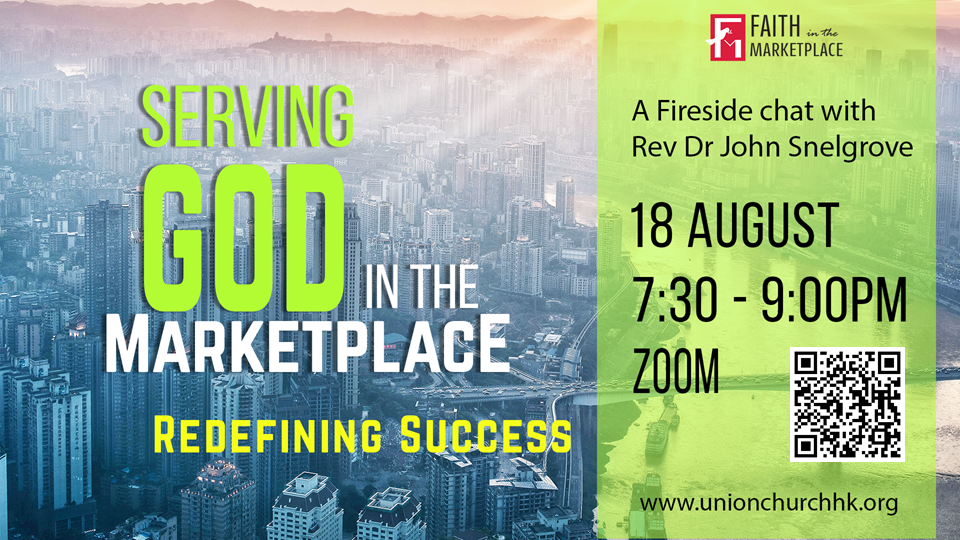 BSF Hong Kong Women's Distance Class: An online English-language BSF (Bible Study Fellowship) class is planned for women starting in early September! This is a wonderful option for women from Hong Kong (and beyond) who prefer to join BSF and the Study of Matthew from their own homes or offices. The instructor will be Union's Emilie Banfield. If you wish to learn more or register, contact Emilie will also lead an informational session on Wednesday, 11 Aug, 8:30pm - 9:30pm (right after the Union Church Family Meeting!) Please email to receive the Zoom link. Please pray that the Lord moves hearts as He calls women to join.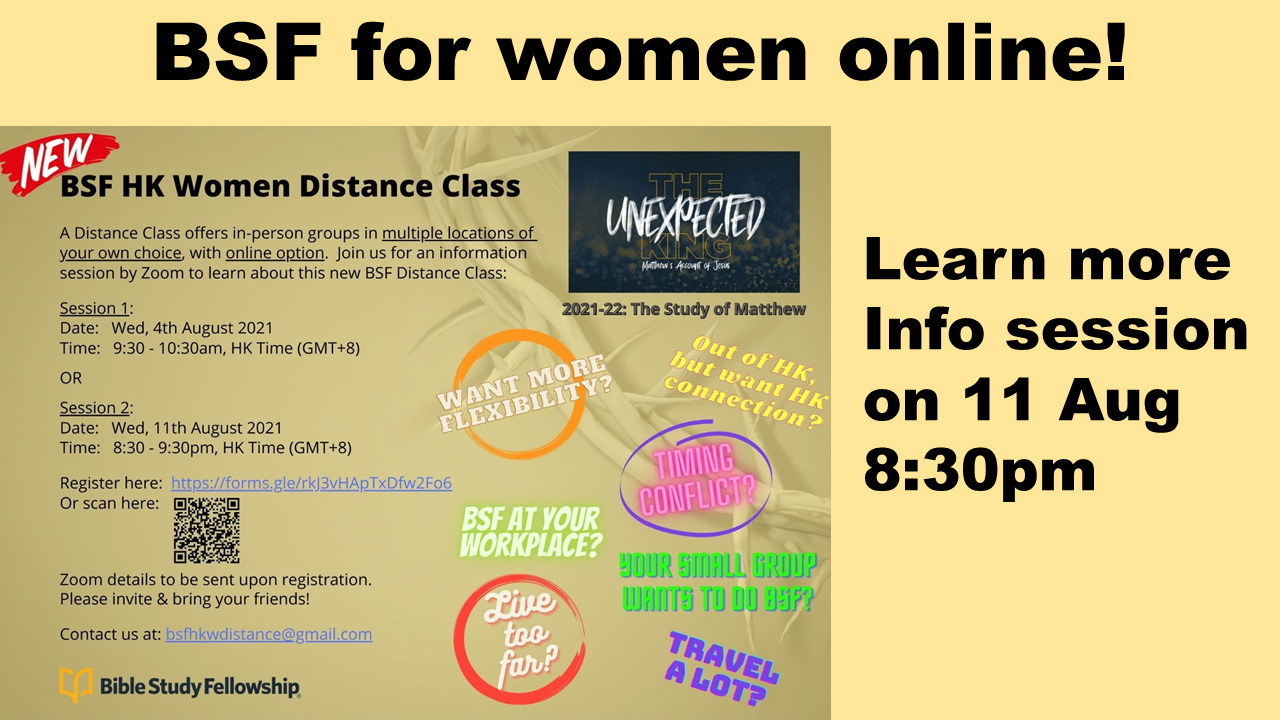 KINGDOM KIDS
'TREASURED' In-Person VBS Sunday School – 8, 15, 22, 29 August, 9:45am and 11:15am. We've had a great start to our in-person VBS Sunday School and look forward to Week 2 of Treasured VBS. Kids will discover that they're priceless to God through exciting Bible Adventures, Sciency-Fun Gizmos, team building games, cool Bible songs, and take-home tasty treats. Register here or at the Children's welcome table. Children are welcome to bring friends along too. VBS Sunday School is free for all.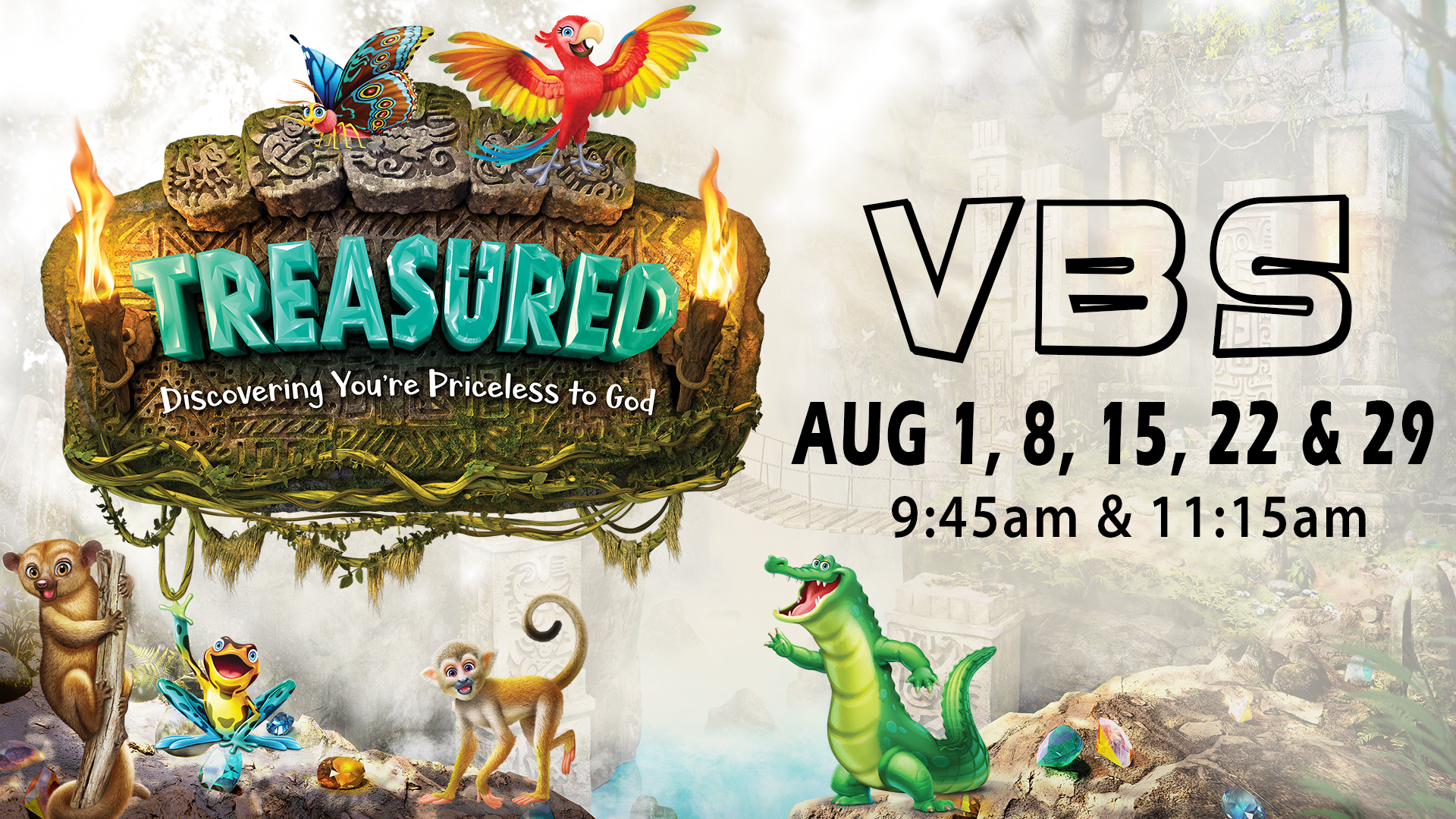 Sunday School Registration 2021-2022: Registration for the academic year 2021/2022 is now open. Children ages 0-10 years old enrolling in our Creche and Sunday School programme must be registered by completing the form HERE. Registration forms are also available at the Children's welcome table. For more information, please visit Union Church's website or contact us at CHILDREN or 2101 0414.
Creche & Sunday School Arrangements: The Creche Centre will be open with restricted capacity. Children ages 3 years old and above are invited to join Treasured VBS Sunday School at the 9:45am and 11:15am services. Services fill up quickly and your family must be successfully registered. Thank you for understanding.
YOUTH
Friday Youth - 6 August – There is no Friday Youth tomorrow but join us the next day for....
Saturday, 7 August - Beach Cleanup! All Youth are invited to clean up beaches on Peng Chau Island as faithful stewards of God's creation. We will meet at Central Ferry Pier 6 at 1:30pm and return around 5:30pm. Please let Hunter know if you can come along.
Sunday Youth – 8 August – Youth are invited to Ps. Michele's home at 11:15am for a lesson and a time of fellowship. Juniors (11-13) are working their way through the Be Bold series - asking the questions that really matter! Seniors are studying the Book of Revelation.
Wednesday Youth - 11 August - Youth soccer in Sai Ying Pun! Meet up with Hunter and Justin at the Sai Woo Lane football court at 5:00pm. Bring water and appropriate footwear!
There's lots more planned - the Junior Youth Junk trip on Friday, 13 August; kayaking in Tai Tam on Wednesday, 18 August; Worship Night on Friday, 20 August; Airsoft Wargaming on Wednesday, 25 August; Amazing Race on Friday, 27 August - all leading up to the Fall Kickoff and Lockin on Friday, 3 September. Bring your friends. Talk to Hunter about signing up and making sure you receive the Youth communications!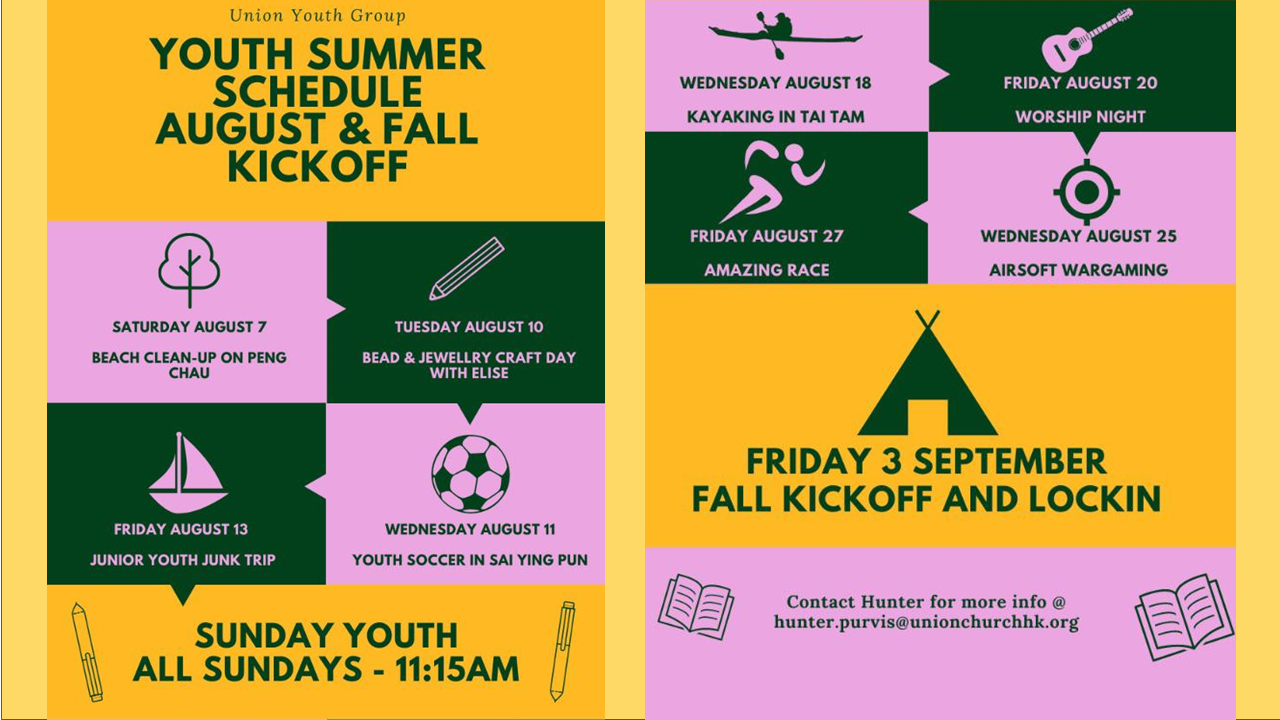 MISSIONS
Can you volunteer your time and smile at Inner City Ministries VBS over the next two weeks? ICM's volunteers (ages 16 and up) can join in the preparation and orientation on Monday, 9 August, 11:00am - 4:30pm for Vacation Bible School sessions on Tuesday - Friday, 1:30pm - 4:30pm. The exact same schedule will follow the next week Monday, 16 August - Friday, 20 August. Your help would be so appreciated! ICM has also asked us to pray that the Holy Spirit does the work within the lives of VBS kids and their parents. We pray for joy, safety and God's great love for everyone involved. To volunteer or learn more, contact our Missions ministry team partner for ICM, Jeff Cheung, or reach out directly to Emmanuel at ICM.
SAT-7 is celebrating 25 years since it first broadcast in 1996 when it launched the first Christian satellite channel in the Middle East and Africa. In 2021, SAT-7 is launching the region's first Christian video-on-demand platform. SAT-7 reports that the pandemic has worsened many of the issues that Middle Easterners face, and the road to recovery will be long. Please pray that people in need see God's love for them and have hope, and that SAT-7 will be there to share the love and grace we have in Him. There is a beautiful new Insight magazine from SAT-7 on the welcome table with stories of God's faithfulness and the impact of the ministry.
We continue praying for 4.2.20 Foundation and their remote learners in the Hebrew Extension Programme (HEP). COVID-19 is impacting dozens of HEP participants and their families in India, Brazil, Southeast Asia and the Pacific Islands. Please pray for their protection and also lift up the Hebrew instructors in Jerusalem who manage both the programme and emotional progress of 100 students - they are juggling a lot. We also join the entire 4.4.20 staff team who are committed to praying for 5 different language groups of 500,000 speakers or more who are still waiting for the Old Testament.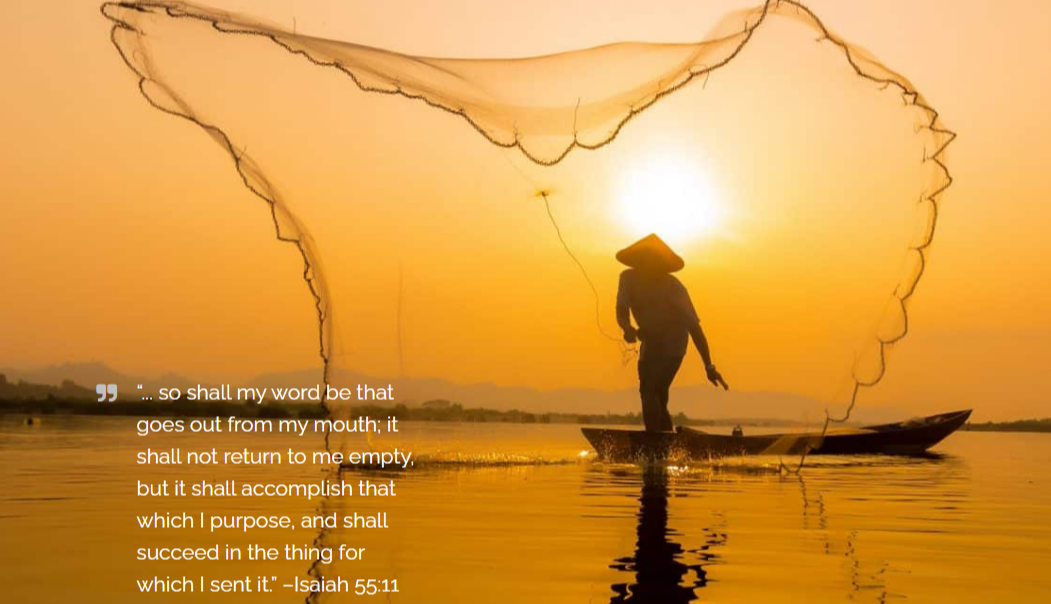 Prayers for Light of the World Church and Preschool, Yangon, Myanmar: Pastor Vum asks for continued prayers for good health and the daily livelihoods of his church members. They pray that Sunday worship services and the preschool can reopen but this is likely some time away due to COVID-19. We give thanks that Pastor Vum and his family are well and that he continues to stand firm and minister to his flock.
Last 3 hours! Alpha's Reborn Handbags for sale so more people can hear the gospel for free - Today's sale of handbags extends until 9:00pm at 15/F Sino Cheer Plaza, 23 Jordan Road. Your contribution will allow more people to develop a relationship with Jesus!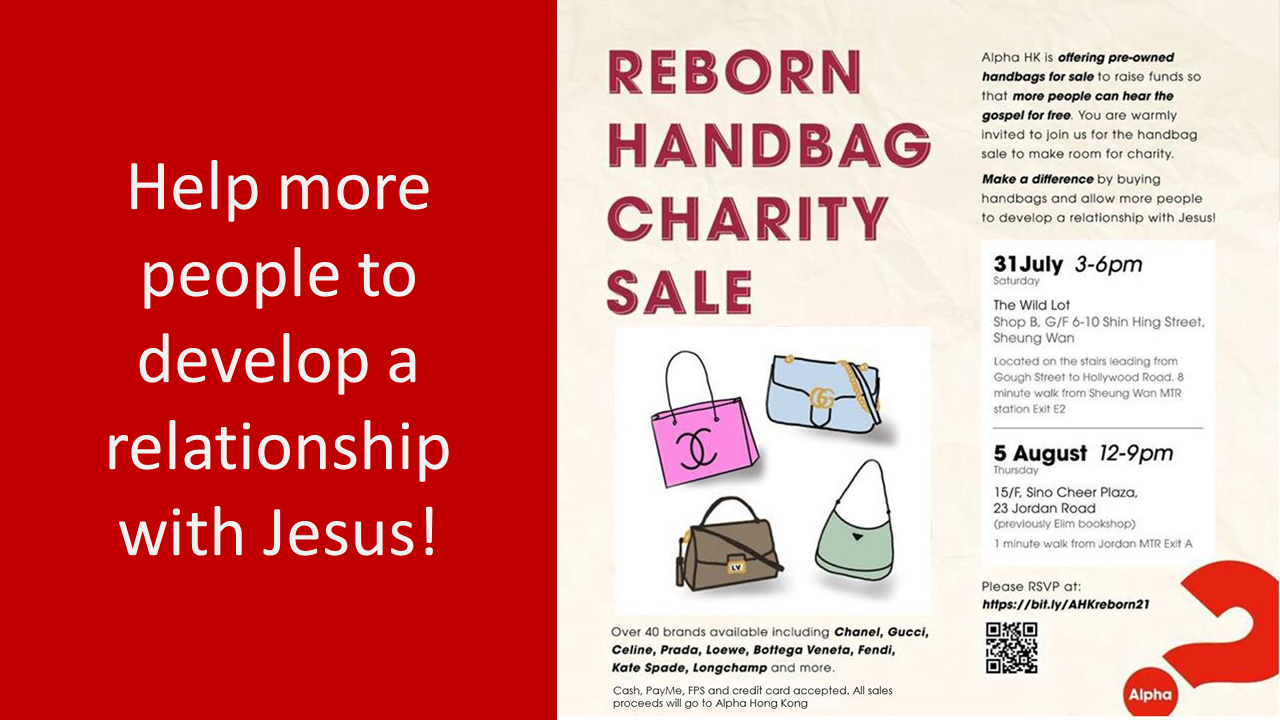 Meeting as a small group at this time is challenging, but the support from each other is more important than ever. If you aren't currently in a group, we encourage you to try it out. There are groups for women, men, couples, day-time, night-time, etc. Contact Pastor Michele for more information.
Pastoral Care and Prayer
Need prayer? Reach out to us confidentially at .
Stephen Ministry
We provide high-quality, confidential care to people who are hurting through our Stephen Ministry programme. Contact Pastor Michele if you would like to know more about the programme or meet with a Stephen Minister.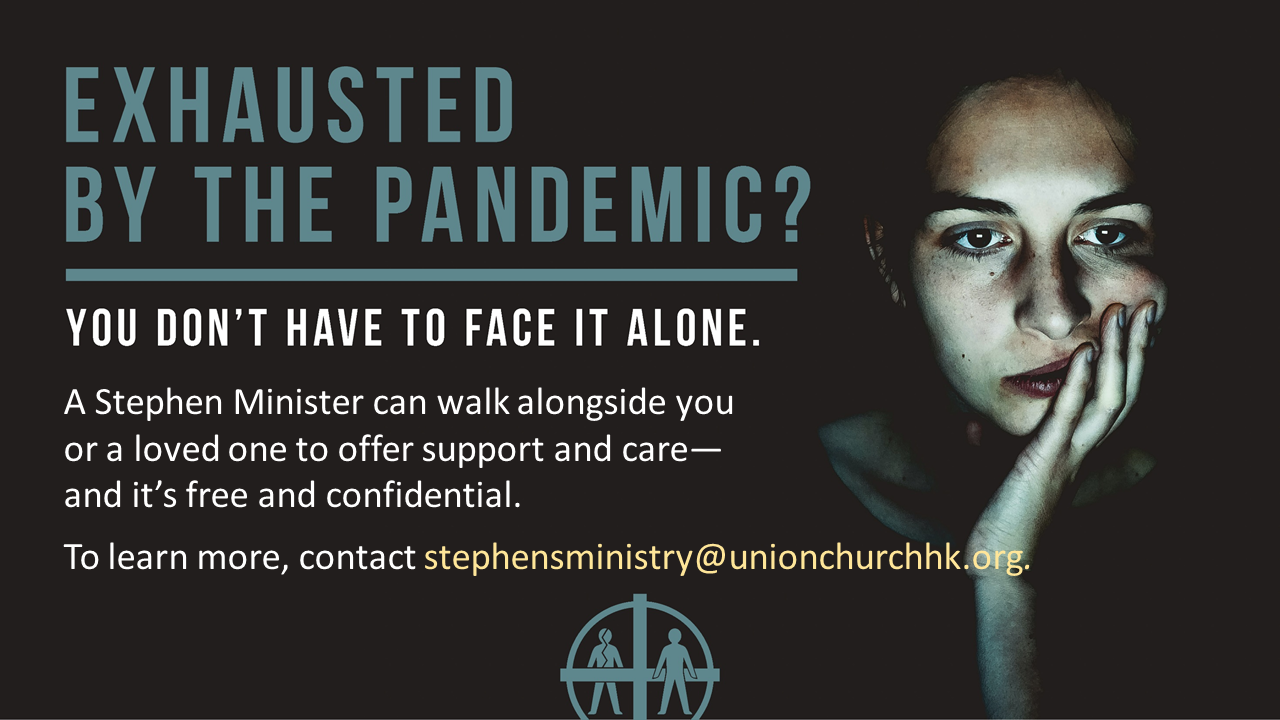 Last week's sermon
"Are You Listening? " Dan Tupps
Social Media
Please follow Union Church Hong Kong on Instagram, LinkedIn, Facebook and YouTube and share with your friends and family. Do you have images, video and stories for UC social media? Please send them to Bronwyn.