U MATTERS
In our staff meeting we read the Gospel of John where Jesus fed 5000 people with five barley loaves and two fish. Scripture states, "Then Jesus took the loaves, and when he had given thanks, he distributed them to those who were seated; so also, the fish, as much as they wanted." (John 6:11) If you have ever hosted an event and run out of food, you know this would have been an overwhelming situation - all those people and so little provision. The gap was great - it would have taken more than six months' wages to feed that many people. But God provided. And when Jesus sees God's provision, how did He respond? He gave thanks. Jesus gave thanks even for a small piece of bread.
We have so much to be thankful for. This week 20 leaders were able to go onsite at 22A Kennedy Road, and although restricted in number, we held a mini service of Celebration and Thanksgiving. I am grateful for our church, for all those who are praying and serving. This re-development project is no small undertaking and I give thanks for our BUFF team. I am also grateful for the servant-leadership of our COM, Deacons, Trustees and staff - and look forward to the many celebrations to come.
As we begin a new sermon series - GRATEFUL, we hope you join us and take time to reflect on what you are grateful for.
In gratitude, Pastor Michele
WORSHIP SERVICES
Please remember to register for our Sunday services on Mondays from 10:00am. This Sunday we celebrate Communion at all three services.
As a church we are aiming to return to 100% capacity. In order to do this, two thirds of our congregation must have had at least one dose of a recognised COVID-19 vaccine. We will be asking you, when you register for Sunday services, if you meet this criteria. It would help our planning if you could answer this question, but it is optional. If we find that we meet this two thirds vaccinated (at least one dose) criteria, then we will proceed with planning a return to 100% capacity.
Please note that if you are not vaccinated or are unable to take the vaccine we will still be able to welcome you to our services as part of the one third that isn't vaccinated.
THE GRACE OF GIVING - TO GOD BE THE GLORY!
The Grace of Giving team wishes to thank everyone who participated in the Grace of Giving campaign, whether through prayer support, donations, the Union Reunion, the Grace Race or by sponsoring participants. You certainly were IN and we're so grateful.
The initial timeline for completing the fundraising was June 2022. However, due to the progress of the redevelopment works this timeline was advanced, initially to the end of March 2022, then to December 2021 and, finally, to the end of September 2021 - from nearly 18 months to just 9 months!
And yet, despite the shortened timeframe, God moved hearts and encouraged so many to participate. Our guiding scripture from 2 Corinthians 8:7 exhorts us to "… excel in this grace of giving." And you did! "Graces of giving" were received from 300 donors. Moreover, we were continuing to receive donations even after the 30 September deadline.
And so, we are delighted to report that, as at the end of October, our target of HK$32 million has been reached - and in fact exceeded.
We are so grateful and encouraged by the enthusiastic participation of so many in these past months. Your donations – indeed every donation - has made a difference and has really helped in reaching our target.
We anticipate receiving tenders from contractors by 12 November for the fit-out costs of "New 22A", at which time we will have a clearer picture of the likely overall costs to be incurred. If it transpires that there is a surplus of funds raised over the contracted costs, the church leadership will prayerfully consider how best to utilise such surplus - in missions, outreach and the work of the church.
We have clearly seen God at work in blessing the Union Church community during our Grace of Giving campaign, not only in fundraising but also in faith-raising. We have been truly "blessed to be a blessing"! Thank you again for joining us in this amazing journey. To God be the glory!
THIS WEEK
Young Adults Game Night! Wednesday, 10 November 7:30pm. Join us for some exciting board and card games, such as Dominion, Carcassonne, Saboteur, and more! For more details contact Dan Tupps.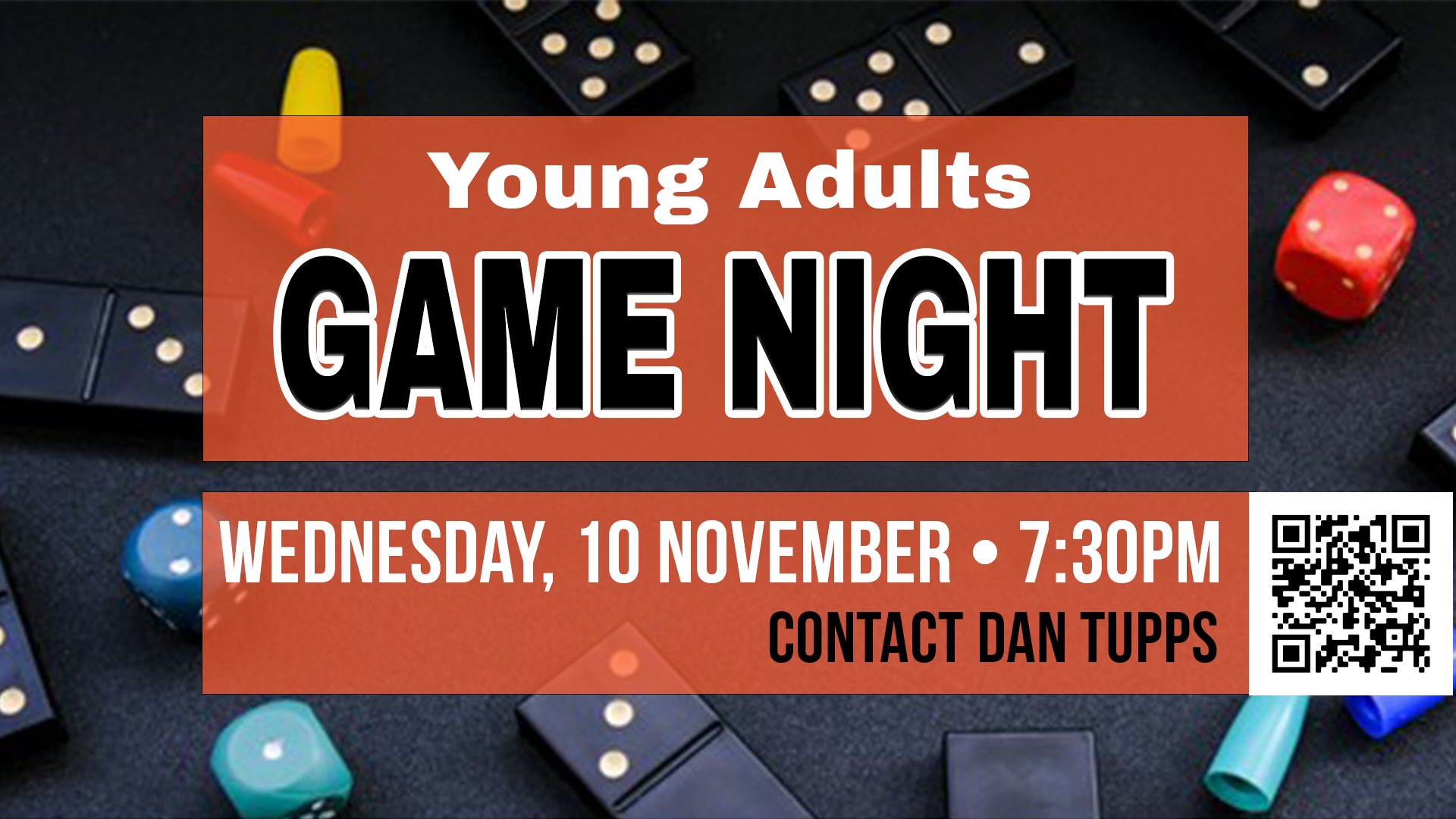 Men's Retreat, Tomorrow, 5 - 6 November 2021. Pray for the 32 men who will be getting away to Lantau Island for two days of fun, fellowship and learning about the power of authentic relationships.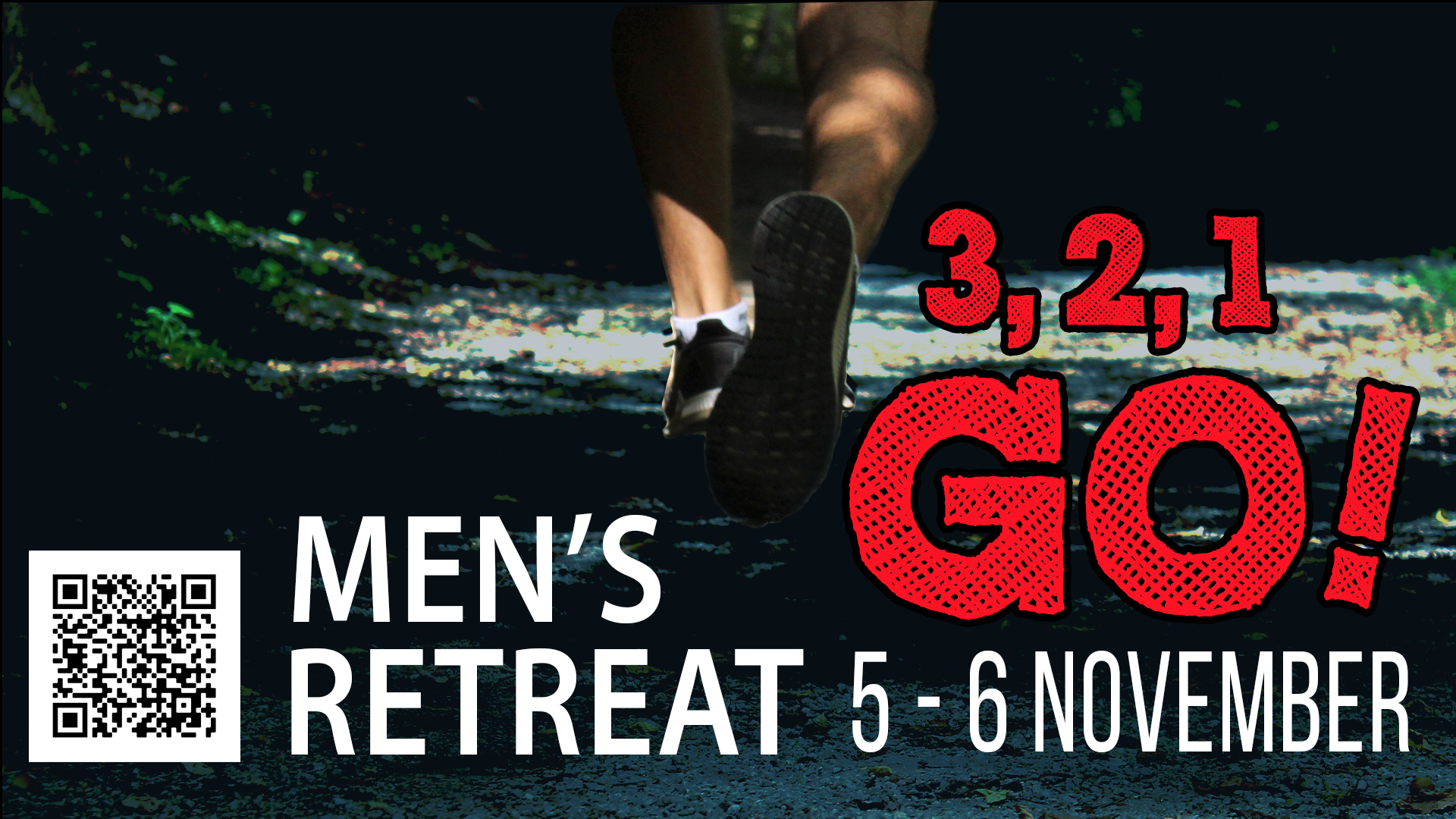 KOWLOON UNION CHURCH is recruiting. KUC is looking for a bilingual, full-time Church Secretary. Please find more details at https://bit.ly/2Zyuu5d or on Facebook. The deadline to apply is Wednesday, 24 November.
UPCOMING
CHOSEN TO REFLECT Faith Comes by Hearing Gala Event: FCBH invites you to join them virtually for their annual event on Friday, 12 November. Come partner with FCBH to fulfil Jesus' great commission by hosting a dinner at home to watch with friends or joining individually online. The event starts at 7:30pm with pre-event games followed by the Chosen programme from 8:00pm to 9:30pm. Please pray that with the support of many, FCBH will continue to take God's Word to the ends of the earth. For registration, other details and latest updates please visit http://www.onehtw.com/index.php/chosen/home/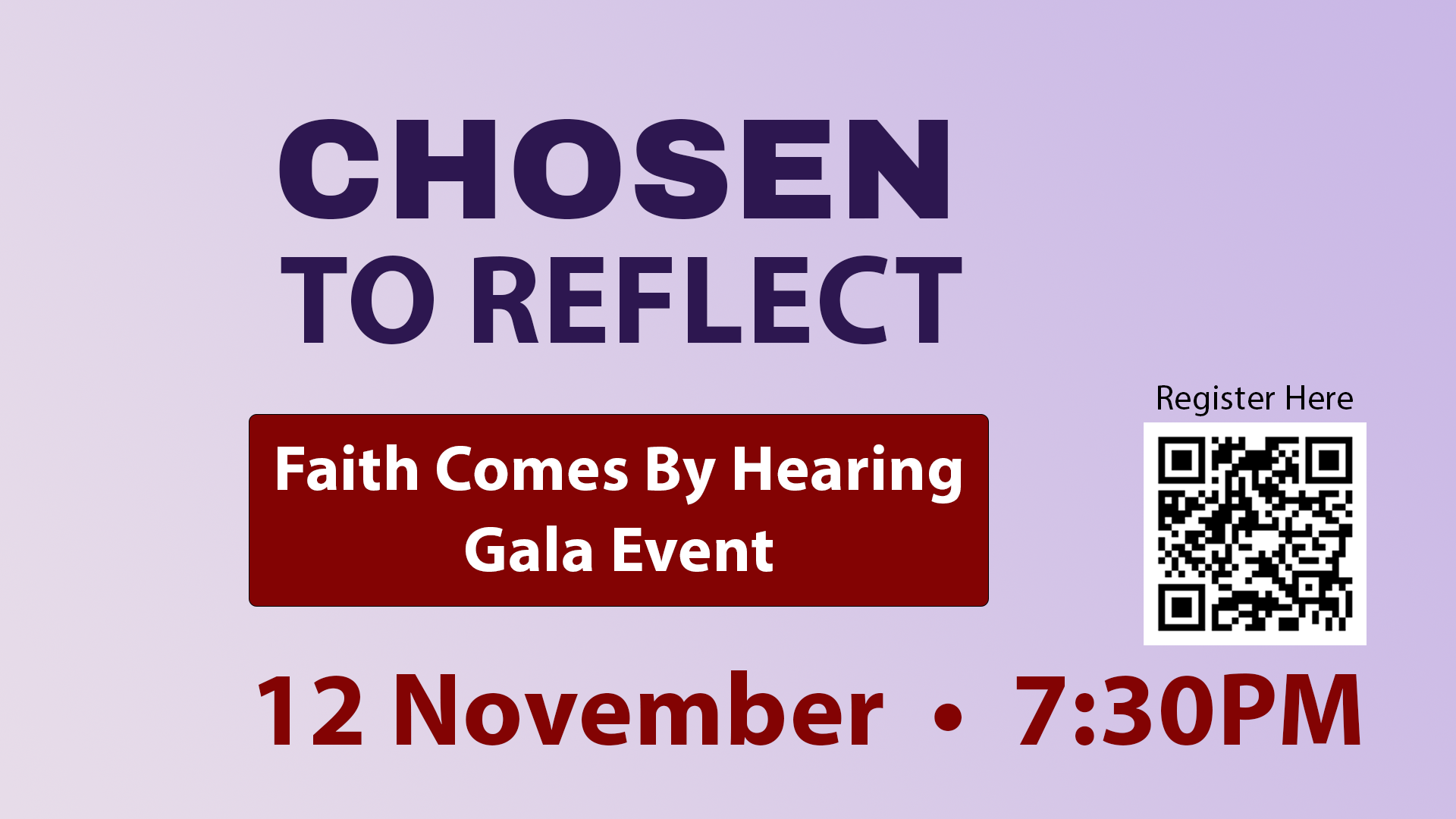 Men's & Women's Fellowship of HK Lunch - Friday, 12 November, 12:00pm. Come celebrate the life-transforming "Walk to Emmaus" (WTE) and hear from WTE alumni as they share about their experiences and how you can be involved as WTE launches its 2022 season. Location is at Madame Fu Grand Cafe Chinois, Central. Cost is $300, scholarships available upon request. Sign up today as seating is limited! https://forms.gle/AdR1QRfQaW4tu7648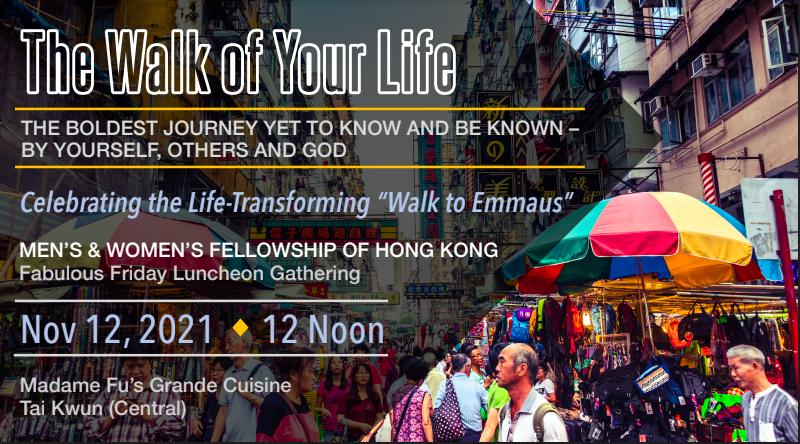 6th Annual Ladies Retreat - 7 WONDERS OF THE WORLD, 12 - 14 November 2021. We have one space remaining for this journey across three days in South Lantau. It will be a wonderful time of worship, fellowship and teaching. Register now.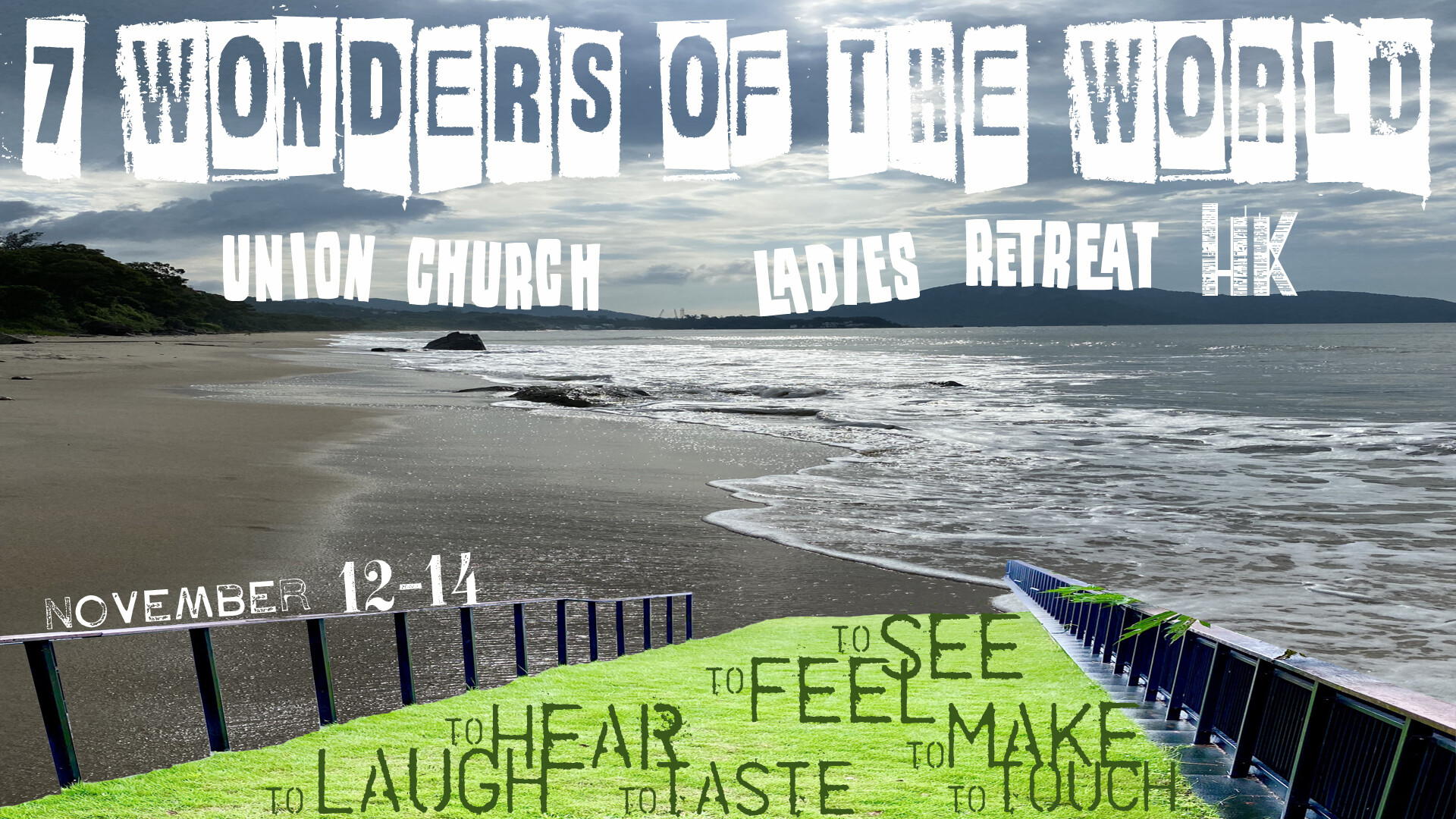 Coffee and Conversation, Thursday, 18 November, 10:30am - 12noon: Our older congregation is invited to meet on Thursday, 18 November and Thursday, 2 December. Contact for details.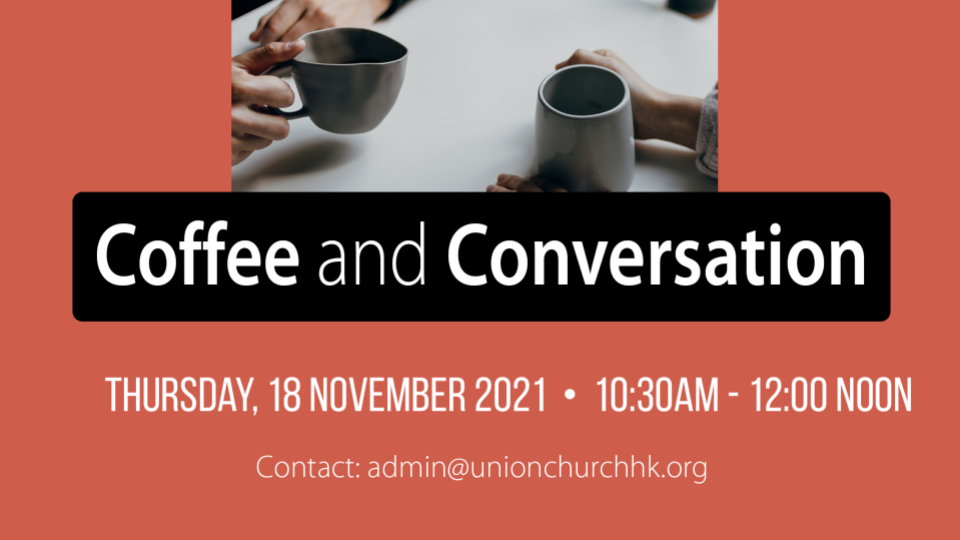 (Sold out) Faith & Work Conference Hong Kong 2021 - Purpose versus Paycheck: We look forward to seeing our Union Church friends and professionals from across the city at this event on 20 November. Please pray for transformation in people's lives and workplaces.
Film & Theology, Tuesday, 23 November: Get ready for our next evening together as we celebrate movies - the storytellers of our time. All you need to do is watch Hacksaw Ridge in advance on your own, and then Zoom in with facilitator Chris McKenzie to talk about the film together on Tuesday the 23rd at 8:00pm. Ask Chris questions and register here to get the Zoom link.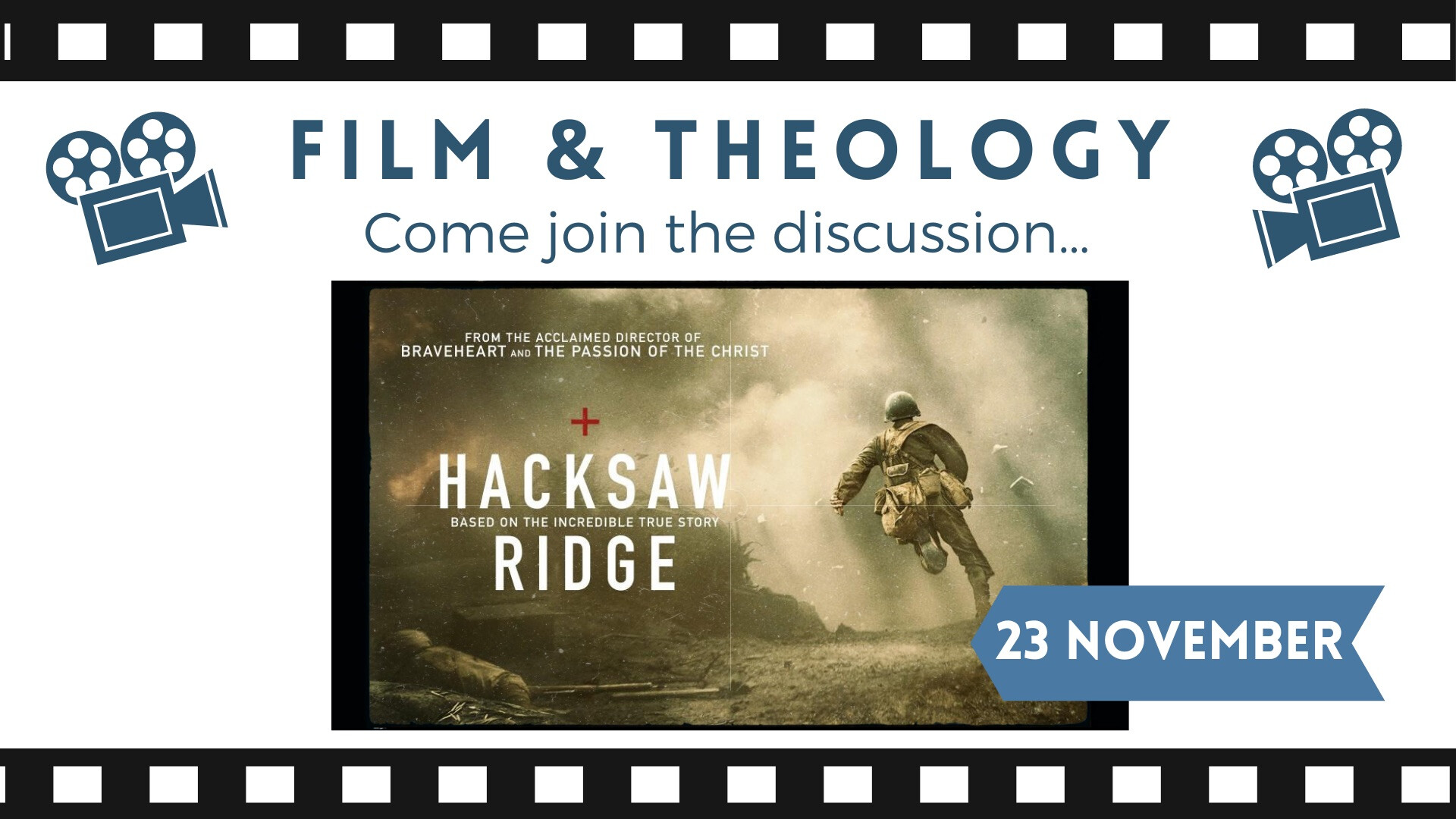 Kindness Walk, Sunday, 28 November: Save the date for our next walk to meet our Wan Chai neighbours. Everyone is welcome. We will meet in Fellowship Hall at 12:30pm. If you have questions, contact .
Christmas Outreach with HKCNP to Tin Shui Wai, Sunday, 19 December: Following Bless the City in October, we are returning to Pastor Samson's community in Tin Shui Wai to visit 40+ families with Christmas gift bags. Twenty (20) Union people (all ages) are invited to participate! We will visit children who are being tutored by Pastor Samson's church members, their families, and the elderly who live alone. Registration is now open. Note the registration deadline of Tuesday, 30 November.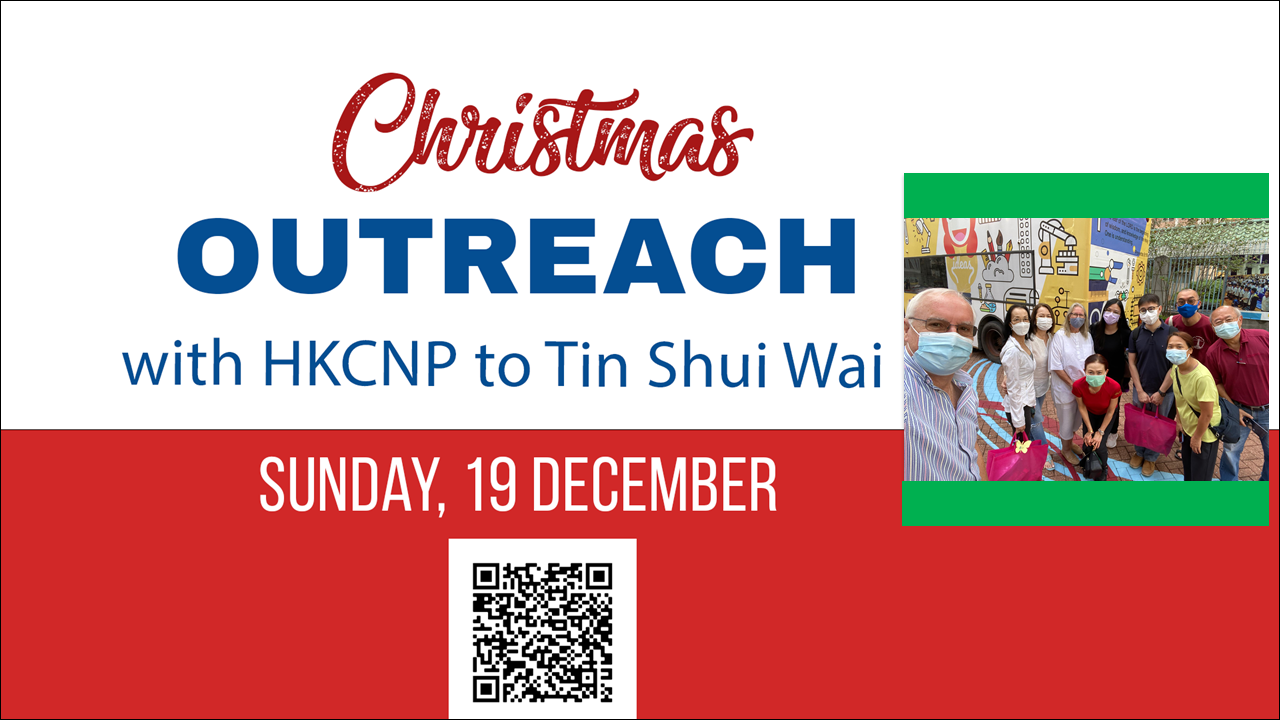 KINGDOM KIDS
Children's Christmas Musical Rehearsals - Sundays, 7, 14, 21, 28 November and 5 December, at 8:45am (group singing practice only), 9:45am and 11:15am: We are thrilled to announce that starting from this Sunday, 7 November, children ages 3 to 11 years old will be rehearsing for this year Children's Christmas Musical, "A Christmas Treasure Hunt". To ensure that all children are able to join the Christmas Musical Sunday practice, we are now opening up the 8:45am service for families who are unable to register for the 9:45am and 11:15am in-person services. Everyone will have a part to play and it's not limited to only the main roles. We look forward to seeing all of the children participate in this year's Children's Christmas Musical.
Kingdom Kids upcoming events - save the dates:

Children's Christmas Musical: Sunday, 12 December 2021, 9:45am and 11:15am
Children's Christmas Musical Dress Rehearsals: Sunday, 5 December, 12:30pm - 2:30pm and Saturday, 11 December, 9:00am - 11:30am (please note updated time)
Children's Christmas Party: Sunday, 19 December, 9:45am and 11:15am
Children's Christmas Outreach: Sunday, 19 December, 3:00pm - 5:00pm - St. Barnabas' Society and Home
Creche & Sunday School Arrangements: Children ages 0 - 3 years old are welcome to join our Creche Centre and children ages 3 to 11 years old are invited to join us for our Christmas Musical Rehearsals. Families attending in-person services must be successfully registered before Thursday, 12:00pm. Thank you.
In-person Sunday School: 9:45am and 11:15am
Online Sunday School will be on break through the remainder of the year and it resumes on the second Sunday of 2022.
Kingdom Kids Sunday edition - Discover How to Pray - will be available at the end of the 9:45am and 11:15am worship services on the Union Church website or Facebook page.
Sunday School Registration 2021-2022: Registration for the academic year 2021/2022 is open. Children ages 0-11 years old enrolling in our Creche and Sunday School programme must be registered by completing the form HERE. Registration forms are also available at the Children's welcome table. For more information, please visit Union Church's website or contact us at CHILDREN or 2101 0414.
YOUTH
Friday Youth – 5 November – Tomorrow! We're continuing our study of the 10 Commandments with J.John's just10. Juniors (11-13 years) are invited to join for dinner at Fini's 6:00pm - 7:00pm and the study from 7:00pm - 8:30pm. Seniors (14-18) will start with the study at 6:00pm - 8:00pm and have dinner at Fini's from 8:00pm to 9:00pm.
Sunday Youth – 7 November – Sunday Youth are invited to Ps Michele's home at 11:15am for a lesson and a time of fellowship. Juniors (11-13) are doing a study on the book of Ephesians, while the Seniors are studying the book of Revelation and the challenging messages it faces us with! Please contact Hunter at 6466 5080 if you have any questions.
Wednesday Youth – 10 November - We'll be starting a new series on women in the Bible - see you at 6:00pm in the Youth room! A big thank you to Melody Meyers for helping put together this study.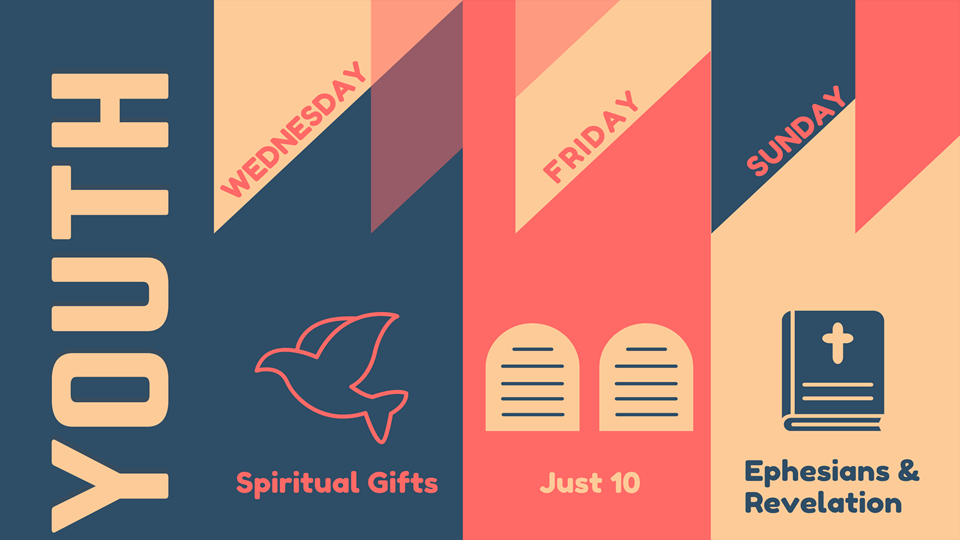 MISSIONS
ICC Circle of Friends 2021, Wednesday, 10 November: Please pray for God to touch hearts and for His provision at this event.
Thank you for giving to the Hong Kong Church Network for the Poor (HKCNP) 10.10.10 Special Offering in October. A total of $35,232.46 was raised and is being used to care for the poor and help bring transformation to our Hong Kong communities.
Two ministry partners are visiting Union Church on Sunday, 14 November 2021. Please come meet Wan Chai-based Sons & Daughters, an NGO that helps individuals caught in sexual exploitation reclaim a life of love, family and freedom in Christ. We also welcome ADM/SALT - Systematic Asian Leadership Training which is dedicated to creating Biblically sound materials that enable nationals to become the primary teachers equipping church leaders.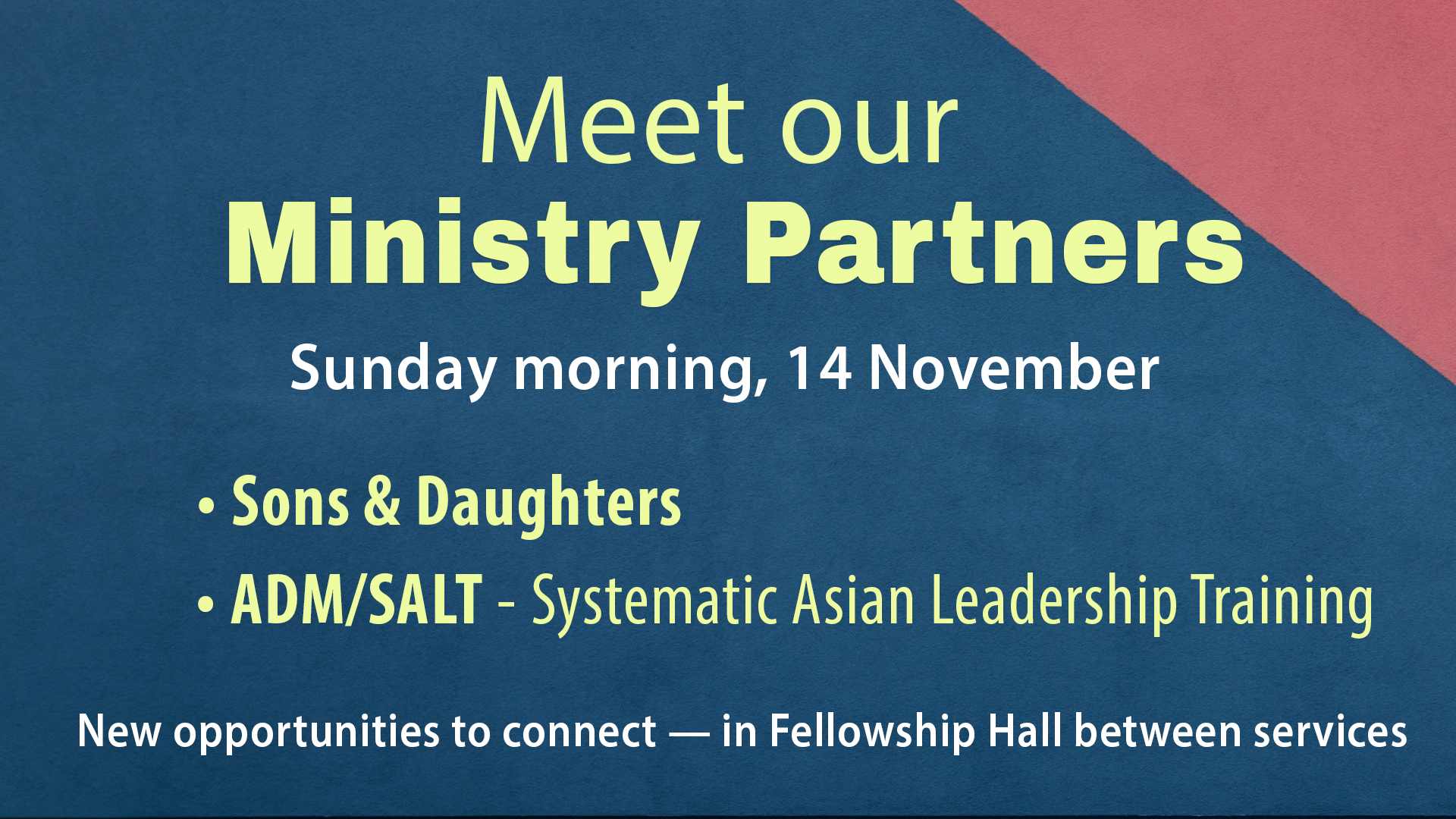 Missions Christmas Fair, Sunday 28 October: Discover Christmas gifts offered by 11 of our ministry partners and other friends of Union Church. At the same time learn how they are joining God in His work as they serve the marginalised, underprivileged and future leaders in Hong Kong and overseas.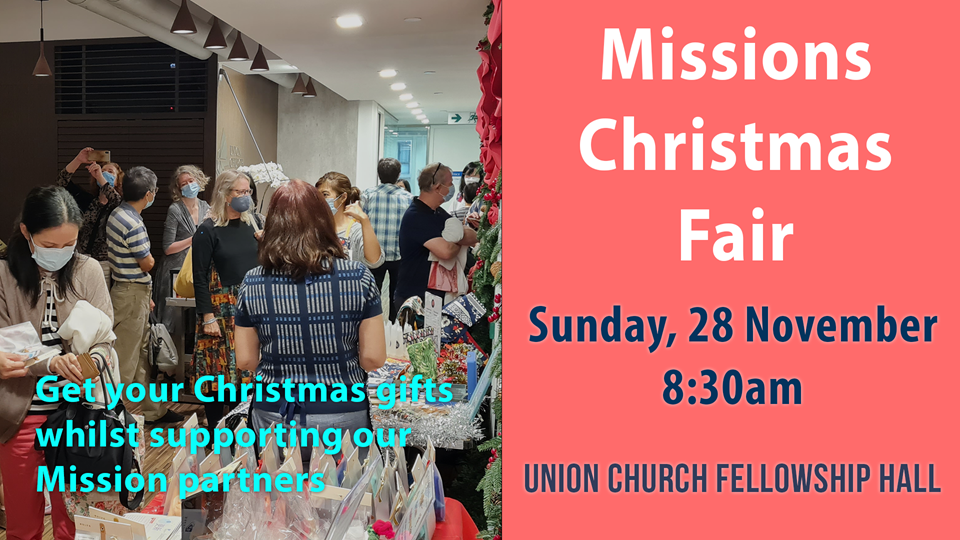 Our ministry partner, SAT-7, provides inspirational, informative and educational television services as a witness to Christ in the Middle East and North Africa. One of SAT-7's services is a 9-month old on-demand streaming platform, SAT-7 PLUS. Praise God that its most-watched programme is As in Heaven, a new Arabic worship programme created especially for the digital audience. Learn more about SAT-7 and download their prayer calendar.
Light of the World Church and Preschool, Myanmar: Wonderful praise report from Pastor Vum - the preschool enrollment has been high and the church member, Daw Pan Wa, had successful surgery! Please pray for her full recovery, that the congregation can meet safely this Sunday for worship, and for safety and good health for the Vums, church members, preschoolers and their families.
The support from your friends in a small group is tangible demonstration of God's love for us. If you aren't currently in a small group, this is a wonderful time to try it out. There are groups for women, men, couples, day-time, night-time, etc. Contact for more information and pick up a Small Groups pamphlet from the welcome desk at church.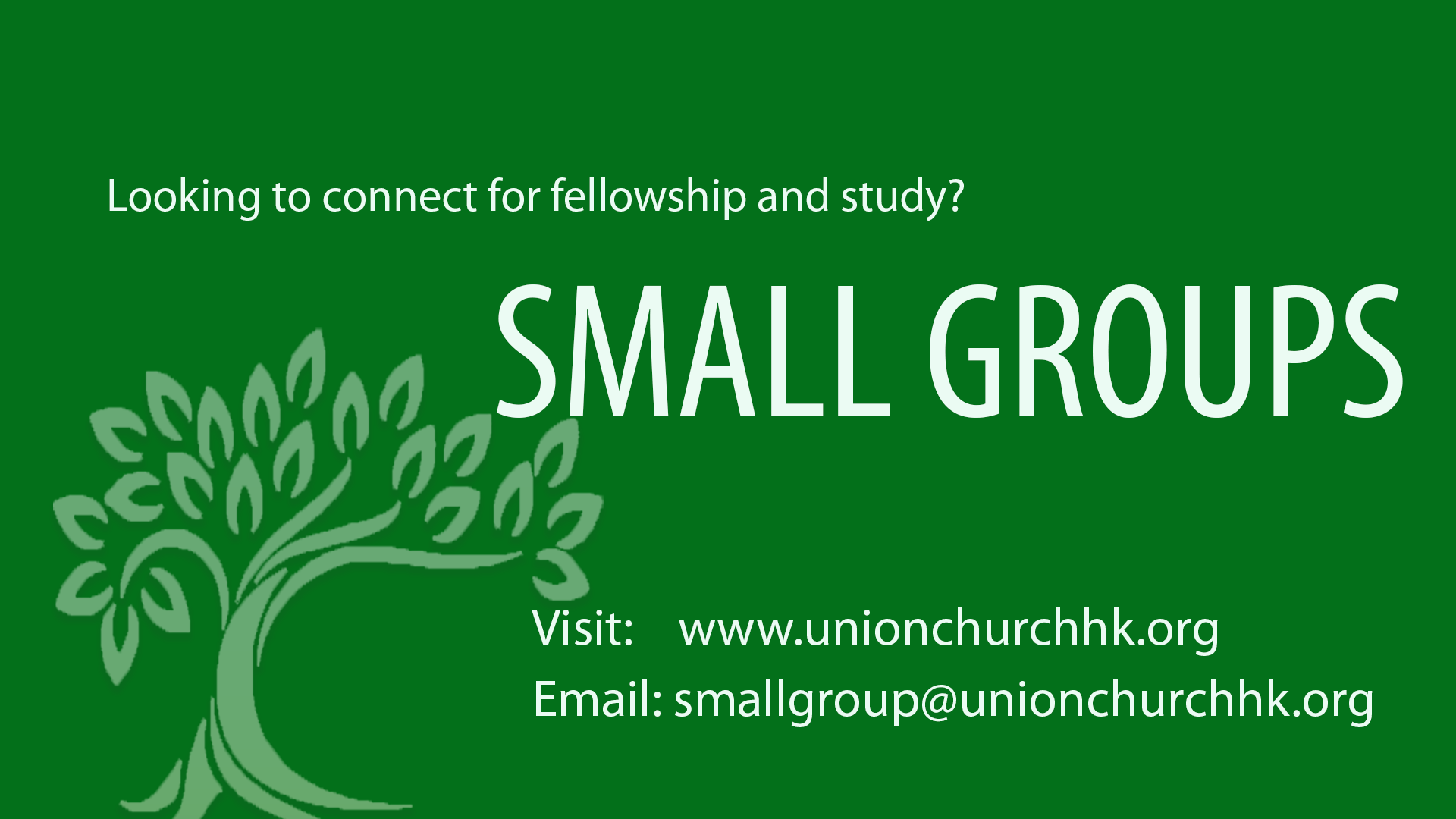 Families in Need (FIN)
Our FIN ministry helps people in need with their basic monthly needs. If you can help we would be grateful. Please mark your envelope "FIN". Also, rather than give directly to people in need, may we ask that you refer these individuals to our Families in Need committee and Pastor Michele? Thank you.
Pastoral Care and Prayer
Need prayer? Reach out to us confidentially at .
Stephen Ministry
We provide high-quality, confidential care to people who are hurting through our Stephen Ministry programme. Contact Pastor Michele if you would like to know more about the programme or meet with a Stephen Minister.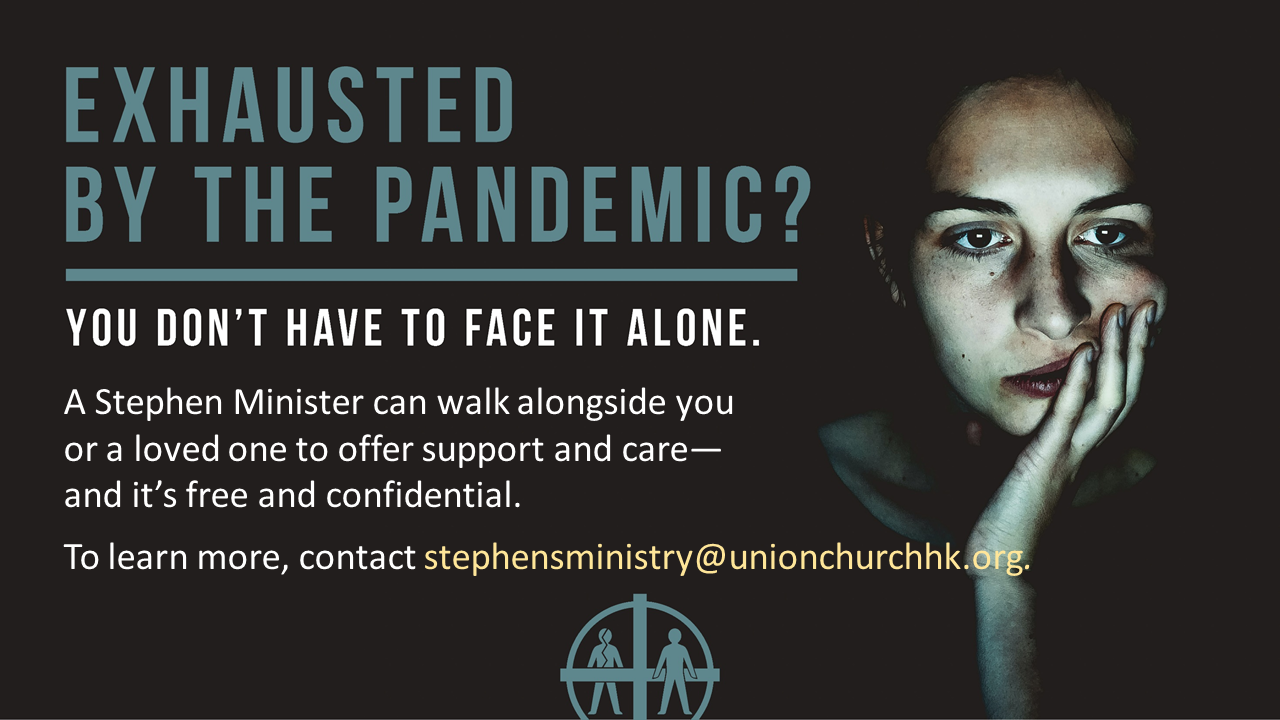 Sanctuary Flowers
If you wish to donate flowers to honour a birthday, anniversary, birth or in memory of a loved one, you may sign up on the flower calendar on the notice board or email . Thank you.
Last week's sermon
"Living Faith: Endures" Rev Dr Michele Bland
Social Media
Please follow Union Church Hong Kong on Instagram, LinkedIn, Facebook and YouTube and share with your friends and family.