U Matters
Saint Theresa of Avila (1515-1582) wrote:
"Christ has no body now but yours. No hands, no feet on earth but yours. Yours are the eyes through which he looks compassion on this world. Yours are the feet with which he walks to do good. Yours are the hands through which he blesses all the world. Yours are the hands, yours are the feet, yours are the eyes, you are his body. Christ has no body now on earth but yours."
We have entered into a new series on the book of Acts -the book is also known as the Acts of the Apostles. The book of Acts starts with the Ascension of Christ (1), followed by Pentecost and the first church (2), and then proceeds with wonderful examples of the mission and ministry of the Apostles. This week we will explore the churches first issue found in chapter 5 with Ananias and Sapphira.
We hope you will join us for worship. There will be communion at all services.
Traditional Service 8:45AM - in person
Classic Worship Service 9:45AM - in person, Online and Indigo Hotel 2nd Floor
Contemporary Service 11:15AM - in person, Online and Indigo Hotel 2nd Floor.
May we all discover how we can be the hands and feet in which God uses us to bless the world.
" . . . But you will receive power when the Holy Spirit has come upon you; and you will be my witnesses in Jerusalem, in all Judea and Samaria, and to the ends of the earth." Acts 1:8
Blessings, Pastor Michele
CHURCH FAMILY NEWS:
We will hold another
informal family meeting
on
Thursday, 11 June 2020, 7:00-8:00PM
- this time via
Zoom
- to answer any questions our congregants have about the all-church letter that was posted to 700 families in Hong Kong on 20 May 2020. Sent on behalf of the Joint Leaders, the letter shared our recommendation that Pastor Michele become our next Senior Pastor, and described the journey during which we believe God has led us to make this recommendation. Thus far, the Deacons have engaged with small groups, staff and ministry teams to respond to questions, and we held our first family meeting at Sunlight Tower on 31 May. Now we wish to provide a virtual option for our congregants to enhance sharing of news and views at Union. Please register
HERE
and we will email a Zoom link to you.
After registering, a confirmation e-mail will be sent by 10:00PM on Wednesday, 10 June with the Zoom meeting link and password.
We are launching "Agile Church" a new series of short videos to help us communicate with our congregation. Please click HERE for the first episode, which is about our leadership teams and the Committee of Management in particular.
Congratulations to our deacon: Yan Yu! Yan is graduating from an MA in Theology from Lutheran Theological Seminary. We rejoice with you.
Nominations for COM members and Trustees will close on Sunday 14th June at 8:00PM. If you wish to nominate someone, please collect a form from the Church office. You will need their agreement and a seconder. Please return the form to the office.
Sunday Worship: We are delighted to announce that the Government has given permission for Churches to worship in person. This Sunday, 7th of June we will hold four services: 8:45AM, 9:45AM, 11:15AM and a 3:00PM for our Filipino congregation. Please note that there are conditions to allowing us to worship together. The following criteria must be met: reduce to 50% capacity on the floor, temperature check on arrival, wearing masks, no food or drink allowed and we will keep a record of attendees. Please arrive in plenty of time to sign your health declaration (or download it HERE and bring it with you). We are restricted in numbers please consider joining the 8:45AM service if you are able. Please note we will stream the 9:45 and 11:15 services at the Hotel Indigo if we surpass numbers. You are also welcome to worship from home, we will be streaming the 9:45AM and 11:15AM services via our website, app, Facebook page and YouTube.
World Refugee Day is on! We are pleased that the live event is planned to proceed on 20 June (Sat) at Kowloon Union Church, 4 Jordan Road, Kowloon, 3-5PM. We hope to see you all there.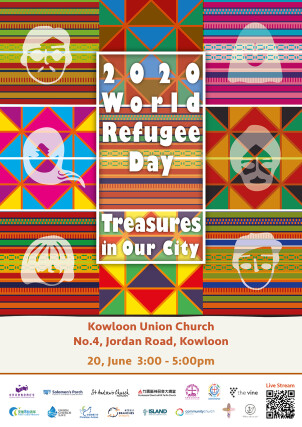 Please check our website and your email for latest news.
Upcoming:
Men's Group: Is anyone up for a project we can do together? We need some help to clean up the site of the "Canoe Hut" in Tai Tam that was damaged during Typhoon Mangkhut. It's a great facility that we want to start using again for the whole Church to enjoy. We will be there this coming Saturday, June the 6th, from 11:00AM. Please come along, even if it's only for an hour, all help will be welcomed. Please contact for more information.
Union Book Group: Summer is a great time to read! Our next book is Corrie Ten Boom's The Hiding Place, a story of a Christian family in Holland who hid persecuted Jews. We'll meet Tuesday, July 7, 7:30PM to discuss. All are welcome! Books available at the welcome table, $100.
ReCharge:
- Prayer for the World: For the next three Wednesdays, June 10, 17 and 24, we will gather AT CHURCH to ReCharge with prayer. There will be opportunities to pray together, to pray silently, and to be prayed for. Please join us in this opportunity to lift ourselves, our city and our world before the Lord. 7:30-8:30PM.
- "Your Comeback" by Tony Evans. In this 5-part series, pastor Tony Evans will journey through the Bible to study examples of comebacks as well as the principles God prescribes for our lives as we wait on Him;
with
Dan Tupps.
Missions:
If you would like to find out more about Union Church's Kindness Walk in our neighbourhood, please contact the Missions committee.
COVID-19 has hit the Philippines hard! Union Church is raising funds to help ICM and the poor in the Philippines. HK$300 supplies 1000 meals. Please consider giving generously using the QR code and specify: "ICM".
Sons & Daughters, our neighbours in Wan Chai, share God's love with the women and men of the red light districts throughout Hong Kong.
-They are looking for a manager for their drop-in centre and volunteers. The job description can be found here. For more information, or to apply, please send an email to
-They are looking for volunteers for their Outreach and Drop-in teams. If you're interested, please email .
-They are also in need of food, toiletries, cleaning supplies, electronics, and board games. If you're able to make a donation, please see the items needed at: https://forms.gle/ZDzeekPP2Nhdpekg6
Connecting:
The Marriage Course: please contact Joanna Yau for more details.
Pastoral Care Support, if you are looking for some support and prayer please let our staff know. Contact Ministry leaders directly or admin at: or call 6225 5042.
Small Groups
Meeting as a small group in this time is challenging, but the support from each other is more important than ever. There ARE online options - please reach out if you need help figuring this out! If you aren't currently in a group, we encourage you to try it out. There are groups for women, men, couples, day-time, night-time, etc. Interested? Contact Monte Peterson.
Friday Youth Group – June 3. We are at Sunlight Tower this week! Youth are invited to join us at Union Church this Friday for a night of Scripture and Small Groups as we discuss the Church's role in working for Justice.
What: Scripture and Small Groups – The Church and Justice
When: All youth are invited to join us at 6PM. Juniors (11-13) will be dismissed at 8PM. Seniors (14-18) will be dismissed at 9PM.
Details: There will be no dinner provided, so please make plans to either eat before or after. Youth are required to wear masks, and there will be guidelines on distance between youth when seated etc. All youth will also be asked to sign a Declaration of Health form when entering.
Sunday Youth Group – June 5. All Youth are invited at 11:15AM to join Hunter and leaders downstairs at the 6th floor veranda to read scripture together and discuss.
Kingdom Kids
CRECHE & SUNDAY SCHOOL ARRANGEMENTS for Sunday 7th June 2020 and until further notice:
Creche Centre will be open with restricted capacity. For children aged 3 years old above, Veggie Tales Movies will be shown in room 2&3 with strict hygiene measures and in accordance with the government guidelines. We greatly appreciate your understanding and kind cooperation as we gather and worship God responsibly.
ONLINE SUNDAY SCHOOL
Senior Students (10 years old and above): Fruit of the Spirit Bible study, every Saturday via Zoom, from 4 - 5 pm.
6 years old and above students: Books of the Bible study, every Sunday via Zoom, from 10.45 am - 11.30 am.
3-5 years old students: Kingdom Kids Sunday edition, through Union Church website, app and Facebook, at the end of the 9.45 am and 11.15 am service.
Sunday School 2019/2020 Registration & Zoom Link to Online Sunday School :
All children enrolling in our Sunday School and Creche Center MUST BE REGISTERED by filling in and signing the Registration Form HERE. For safety reasons, only children officially registered in our Sunday School program will receive the Zoom link to our Online Bible Study. For more information, please visit Union Church's website or contact us at or 21010414
Stephen's Ministry
A Stephen Minister can help. Stephen Ministers are members of our congregation who listen, care, encourage, and provide emotional and spiritual support to people going through a crisis or a difficult time. Please contact Pastor Michele if we can help ( )
Fertility & Pregnancy/Infant Loss Support Group - Struggling and could use some fellowship, friendship and support? Contact Sonia Lee.
Family in Need (FIN)
If you would like to help support our family in need ministry, which helps people monthly with basic needs, please mark your envelope "FIN".