U MATTERS
This week we learned of the death of Captain Sir Tom Moore - the 100-year-old British army officer veteran who desired to raise one thousand pounds for the NHS by walking 100 laps in an 82 ft (25m) loop of his garden. Not only did Captain Tom exceed in his fundraising (£33m), he won the hearts of the nation and was knighted by the Queen in July 2020.
In the words of Archbishop Justin Welby, "Captain Tom was the very best of us. His courage, compassion, resilience, hope and generosity have been an inspiration to millions - and an example to us all. Where he walked, a nation followed."
Imagine people saying that about you? – "where he/she walked, a nation followed." Remarkable impact. We all face challenges and difficulties every day and that is why I am excited about our Faith in the Marketplace ministry. I am excited about the impact that it can have.
In the words of Andrew Lo:
How has your faith been challenged in the marketplace? How have you dealt with the challenges? 2020 has been a challenging year with COVID. Working from home means longer working hours during the day and instead of the typical few-times-a-week evening work calls, the calls have become more frequent and intense. The blessing to me is that I don't have to travel or commute to work and can use the extra time in the morning for more quiet time and Bible studies. This better relationship with God not only gives me good grounding for the rest of the day, it also gives me the strength and peace to deal with the challenges as they come. I've also learned to integrate my work issues in my quiet time and prayers in asking God to lead and guide my planning and that helps me tremendously. So, while life sometimes is not easy, we just need to cling to God even more.
Tell us about your workplace ministry? We started a workplace ministry in the office in 2018 and it's meant for companies in our neighborhood. My friend who works for a family office and a colleague of mine are leading it. Over this time, we have done Bible studies, a course on faith in the workplace and a book study. I found workplace fellowship to be fulfilling, encouraging and it also gives us accountability to live out our faith better at work. I may be exhausted by the middle of the week with work issues, but I feel refreshed and energised every time after our discussion.
Captain Tom finished well. Whether we are finishing well for the day, the week, the month - God's word can help us and we can help one another. We hope you find ways to connect to our Faith in the Marketplace series and community. Scripture says, "Let us love, not in word or speech, but in truth and action." 1 John 3:18
Blessings, Pastor Michele
FAMILY NEWS
We are worshipping online this week at 9:45am (Traditional service) and 11:15am (Contemporary service). Find us on our website, Facebook page or YouTube.
Faith in the Marketplace: This Sunday we continue with our new preaching series on Faith in the Marketplace with Dr David Wong, the founding Chairman of Halftime Limited in Hong Kong. Halftime's mission to serve high-capacity leaders in the transition from their first-half success in life into their second-half significance. The following Sunday, 14 February, we welcome the Rev Dr John Snelgrove as guest preacher. Learn more about our new ministry and the upcoming Living Faith at Work panel discussion on 10 February here.
Wisdom for Well-being: God cares deeply about each one of us - not just our spirituality but the whole person. Last Sunday, Dan Tupps kicked off a new video series with Charles Caldwell who gave us practical suggestions for dealing with chronic stress situations. It's worth watching a second time!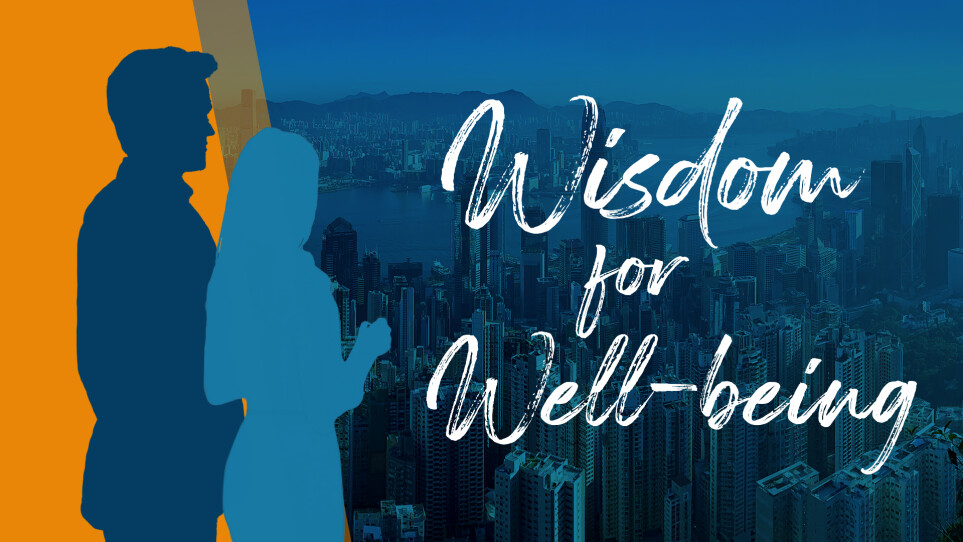 The Grace of Giving - Our Grace of Giving webpage includes updated site photos and our latest video about returning to 22A Kennedy Road with Pastor Michele and Hunter. Take a look!
THIS WEEK
All-church Communion, Sunday, 7 February, 10:45am - 11:15am: This Sunday we remember Jesus' love and sacrifice for each of us as we share communion together on Zoom. Please prepare your own wine (or grape juice) and bread, or drop by the church office to pick up the elements. Ask for the Zoom link from the Admin team (same as the Zoom Coffee Hour link we have been using).
Living Faith at Work Panel Discussion, 10 February, 7:30pm - 9:00pm: Brought to you by Union Church's Faith in the Marketplace ministry, this interactive session on Zoom features workplace ministry leaders Ken Lung, Patricia Lau, Anthony Lo and moderator, Andrew Lo. They will speak about integrating faith in your work and also lead small group discussions. Learn more at Faith in the Marketplace or head directly to registration.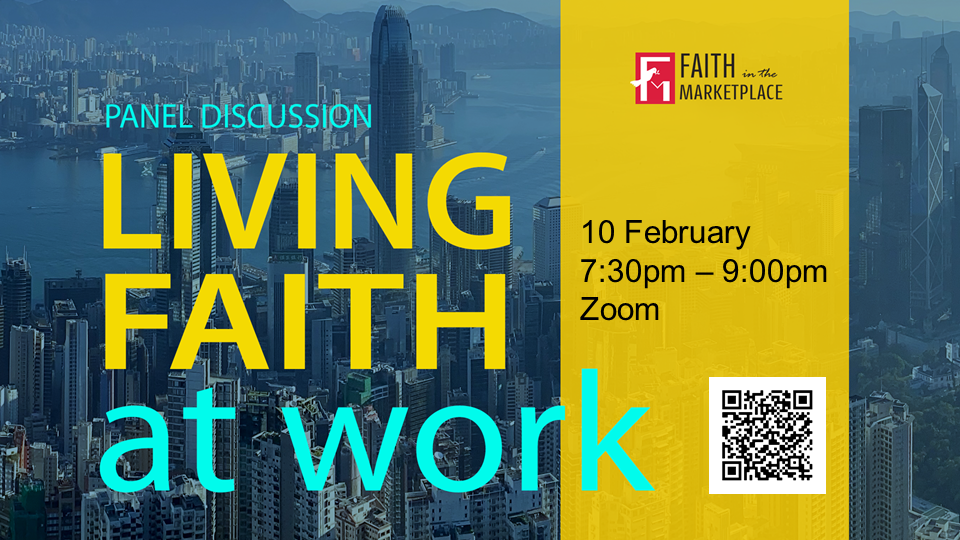 The History of the Church in China, from the Tang Dynasty to the early modern era, our concluding session is on Wednesday, 10 February, 8:00pm - 9:00pm, on Zoom. This week, Catriona Woodrow, local historian, teacher and theologian will walk us through the missionaries and local church growth during the colonial era. Register here to receive the Zoom link. If you missed earlier sessions, it's not too late to join us!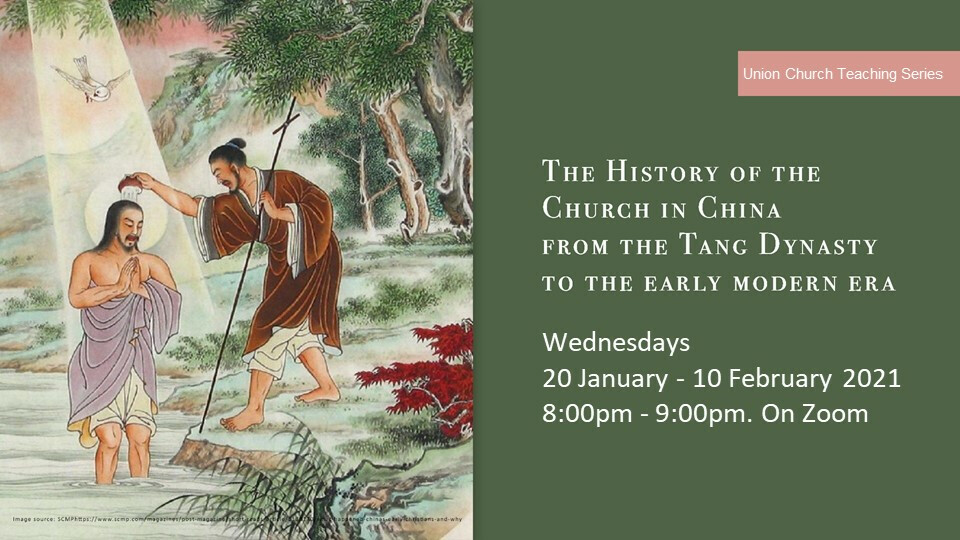 Young Adults Study: Wednesday, 10 February at 8:00pm. We're joining the Living Faith in the Workplace event this coming week. See above and register here. Questions? Please contact Dan Tupps.
Giving: Thank you for supporting God's ministries at Union Church. Please see the website to learn how you may tithe, make an offering online or by cheque, or give to The Grace of Giving. Thank you for your generous heart.
UPCOMING
Lent: You know that Chinese New Year is fast approaching ... did you also know that Lent begins soon after? Lent is that season of the church year when we prepare to observe Jesus' death and celebrate his resurrection. Often we engage in a new spiritual practice or leave something behind that gets in the way of the life we want to live. This year we are reading the Gospel of Mark, along with other churches in Hong Kong and throughout the world. Lent begins with Ash Wednesday. Watch for more details about other opportunities for growth this Lent.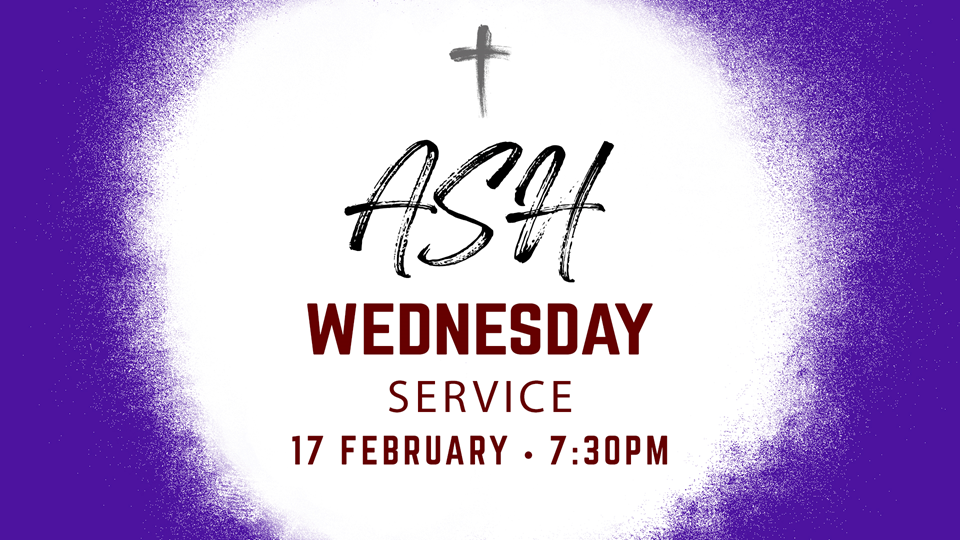 Book Group: We can start reading for our 23 February gathering where we will discuss The Beekeeper of Aleppo by Christy Lefteri; a novel about an ordinary Syrian couple seeking refuge from the war that engulfs their homeland. Contact Monte Peterson with questions.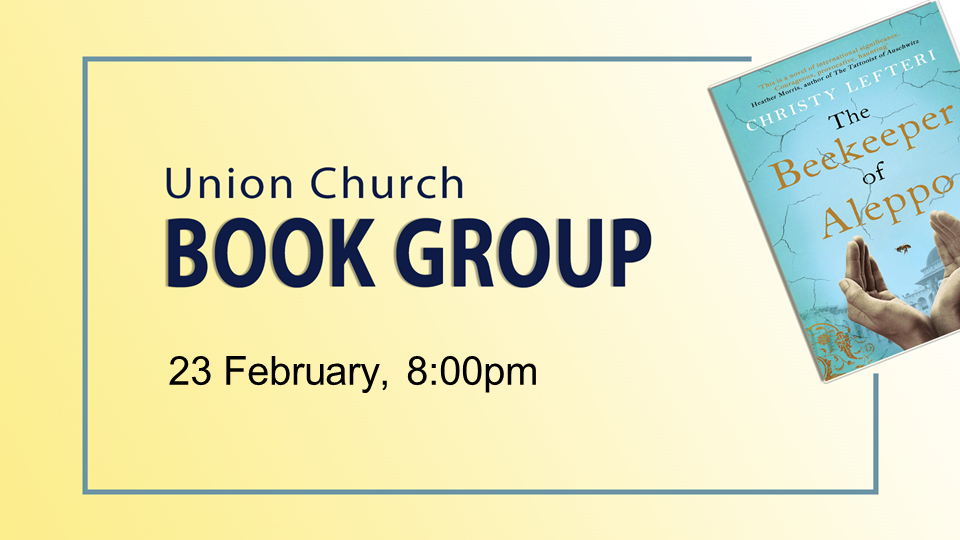 Save the date 13 March 2021 for Union ReUnion, our all-church gathering in hosted homes or your own place. It will be a fabulous evening of testimonies, entertainment, and silent auction to go towards the church's contribution to meeting the 22A fit-out costs. We are looking for volunteers, hosts, and auction items. Want to have some fun? If you are interested in helping, please contact any one of us - Bronwyn Alexander, Tess Lyons, Ken Morrison or David Ashton-Howorth or email .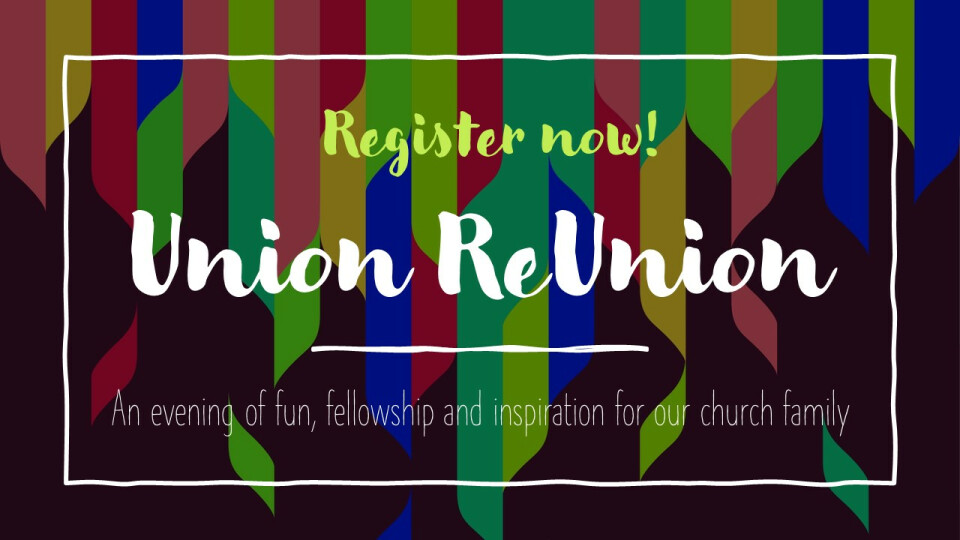 Annual General Meeting (AGM): Save the date of Saturday, 27 March 2021. We hope we can gather in-person for Union Church's AGM.
Kingdom Kids
Online Sunday School, Sunday 7 February: We are delighted to welcome your children to online Sunday School!
- 3-7 year old students: In The Beginning - A Flood Covers the Earth (Genesis 6:9-9:17), via Zoom, from 10:45am - 11:30am
- 8-10 year old students: Be Bold - The Bible Is True (2 Timothy 3:16), via Zoom, from 10:45am - 11:45am
- Kingdom Kids Sunday edition is available at the end of the 9:45am and 11:15am worship services on the Union Church website, app and Facebook.
The link to the Zoom classes will be emailed to families with children registered in our Sunday School programme for the year 2020-2021.
Sunday School 2020/2021 Registration: All babies and children need to be registered for the Creche and Sunday School. Please register here. For more information, please visit the Union Church website, contact us by email or ring us on 2101 0414.
Youth
Friday Youth Group – 5 February: We'll be focusing on small groups for the next several weeks, so please join us for Friday Youth Discussion Night. We'll start at 6:00pm with some warm up activities and then jump into a conversation and see what each small group is covering and how we can apply it to our every day! Youth can join here.
Sunday Youth Group – 7 February: Youth are welcome to join us on Zoom at 11:15am where we'll get to spend time reading and discussing scripture. Seniors will be looking at what the Bible teaches us about Christian leadership, and Juniors will be starting a new series based around asking hard questions! Youth can join here.
Wednesday Night Study – 10 February: On Wednesdays, we're watching the series "Chosen" about Jesus' disciples and discussing it together. For this week we ask Youth to have watched up to episode 6. Join us on Wednesday, 6:30pm - 8:00pm. Youth can join here.
Missions
Prayers for Myanmar: Last Monday, the military seized control of the country and declared a year-long state of emergency. Our Missions partner, Light of the World Church led by Pastor Vum has asked for prayers covering this situation and for the safety of his congregation. In Hong Kong, students from Myanmar at the Lutheran Theological Seminary have asked for prayers for peace and reconciliation - all people, all faiths, all ethnic groups; for the release of political leaders from detention; and for the restoration of communications.
Melody's cards to support LOVE 21 Foundation: Melody Funk Landes has illustrated and printed a lovely collection of cards to support LOVE 21 Foundation, a "Friend of Union Church". The charity is dedicated to bettering the lives of those living with Down syndrome and autism in Hong Kong through physical activity and nutrition. The suggested donation is $200 per set. Please pick up a pack of 10 assorted cards and leave your donation with the church office. Thank you!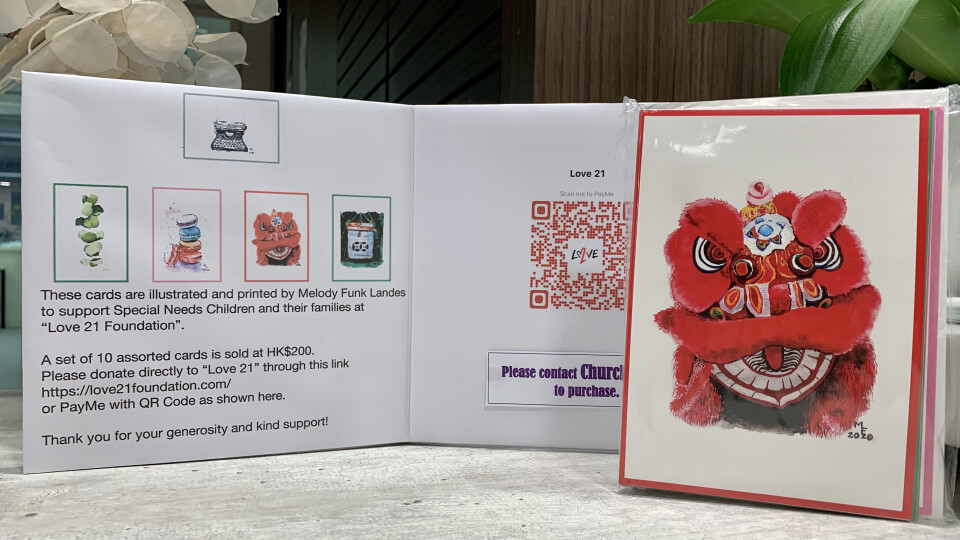 Update from St Barnabas' Society and Home: Our Missions partner helps the homeless and poor people reintegrate into society. They recently reported donations of Christmas gifts including jackets and scarves for the elderly and homeless. New friends have been introduced to St. Barnabas' and have joined the charity's worship services, fellowship and Bible study. They have celebrated knowing Christ and been baptised in recent months. Praise God! The team at St Barnabas' asks for prayer for the increased number of people seeking help. They are endeavouring to keep close contact with their elderly service users who live alone and need physical, psychological and spiritual support.
Missions at Union Church video series: The Missions team has prepared videos about our Missions ministry at the church. The third instalment was aired on Sunday 31 January, Giving to Missions at Union Church. If you missed it, view it here.
Small Groups
Meeting as a small group at this time is challenging, but the support from each other is more important than ever. There are online options - please reach out if you need help figuring this out! If you aren't currently in a group, we encourage you to try it out in the new year. There are groups for women, men, couples, day-time, night-time, etc. Interested? Contact Monte Peterson.
Pastoral Care & Prayer
Need prayer? Reach out to us confidentially at
Stephen Ministry
We provide high-quality, confidential care to people who are hurting through our Stephen Ministry programme. We are delighted that five of our Stephen Ministers will start online training this coming week to become Stephen Leaders who will be able to train and supervise Stephen Ministers, strengthening and expanding pastoral care at our church. Contact Pastor Michele if you would like to know more about the programme or meet with a Stephen Minister.
Fertility & Pregnancy Loss
Fertility & Pregnancy/Infant Loss Support Group - Struggling and could use some fellowship, friendship and support? Please contact Tess Lyons.
FIN
Our Families in Need ministry helps people with their basic monthly needs. If you can help, we are grateful for your generosity. Please mark your envelope or cheque with "FIN".
Last Week's Sermon
"Faith in the Marketplace" Rev. Dr. Michele Bland
Social Media
Please follow Union Church Hong Kong on Instagram, LinkedIn, Facebook and YouTube and share with your friends and family. We can use social media for positive outreach to the community.