U MATTERS
What we week we had for the Grace Race! It was incredible! We walked in groups, we walked alone, we walked at night, we walked on carpets in hotel rooms. We connected, we got fit, we pushed ourselves (and each other), we got to know new names and found ourselves saying - "I didn't know they were hikers." Together we travelled great distances, together we cheered one another on and together we built Union for the future. A week to remember.
Some days in 33-degree heat, with over 200 participants from all over the world, we are grateful for every kilometre - our expanded leaderboard includes:
| | | |
| --- | --- | --- |
| 1. | Gerard Dubois | 221.6 km |
| 2. | Tess Lyons | 200.6 km |
| 3. | Charles Caldwell | 200.4 km |
| 4. | Elise Bland | 200.0 km |
| 5. | Sebastian Caldwell | 196.6 km |
| 6. | Agnes Cristina Yangkin | 196.4 km |
| 7. | Wanda Yuen | 193.2 km |
| 8. | Geoff Lovegrove | 175.1 km |
| 9. | David Ashton-Howorth | 152.9 km |
| 10. | Glenn Bland | 146.0 km |
| 11. | Julie Ashton-Howorth | 140.1 km |
| 12. | Ruby Herico | 136.8 km |
| 13. | Steven Goudy | 130.0 km |
| 14. | Dora Macaso | 128.0 km |
| 15. | Caitriona Jennings | 126.5 km |
| 16. | Pastor Michele | 125.6 km |
| 17. | Lolita Laudes | 113.5 km |
| 18. | Villamina Dumangia | 111.9 km |
| 19. | Euge Foo | 108.2 km |
| 20. | Walter Wu | 103.2 km |
| 21. | Wilfred Ding | 99.0 km |
Thank you to everyone who participated - in giving and in walking. Your participation matters. Building Union for the future is for everyone - everyone has a role to play. In the words of Helen Keller, "alone we can do so little, together we can do so much."
…"let us run with perseverance the race that is set before us, looking to Jesus, the pioneer and perfecter of our faith.." Hebrews 12:1b-2
Blessings, Pastor Michele
WORSHIP SERVICE UPDATES & COMMUNION
The 6th of June is Communion Sunday. Let's remember Jesus' sacrifice and love for each one of us, whether we are worshipping online or at Union Church. Please prepare the elements at home or feel free to drop by the church to pick up some pre-packaged elements.
We are grateful for your ongoing patience with the restrictions on our floor capacity. As at this time, all three in-person Sunday services are full and waitlists have formed. If you have registered and subsequently need to cancel or adjust your numbers down, please notify us as soon as possible so we may offer your space to someone else. For the following Sunday, remember to register as early as Monday, 10am. https://www.unionchurchhk.org/sunday-worship-service-registration/
Why not worship online? In addition to the in-person 8:45am (Family Communion), 9:45am (Traditional Worship) and 11:15am (Contemporary Worship) services, we livestream 9:45am and 11:15am services on our church website, Facebook page, church app and YouTube. Be part of our online congregation!
Our online worshippers are invited to join the Zoom Coffee Hour hosted by the Deacons. We want to connect with our online friends every Sunday in between services, 10:45am - 11:15am. Contact the church office to get the Zoom link.
Sunday Worship Watch Parties are a great way to experience church in a small group. Gather with your friends and neighbours on Sunday to watch the livestream, enjoy the message together, and sing hymns or praise songs. Communion Sunday is a wonderful opportunity to give it a try.
FAMILY NEWS
Special Offering - HOPE for South Asia*: Last Sunday we had a special offering to bring emergency food and medical relief and hope to families in South Asia via Hope International, a Christ-centred microfinance organisation. For 11 years, HOPE has provided discipleship, Biblically-based training and microfinance opportunities in South Asia, impacting over 100,000 families. HOPE is delivering care packages with food (rice, lentils, onions, spices, children's snacks) and PPE (masks, soap, sanitisers, vaporisers, vitamins and medication) for 8,000 families. HK$400 will furnish one family for one month with essential food and PPE. If you still wish to give, please prepare a cheque payable to "Union Church" with "HOPE International" on the back and send it to the church office before 9 June. You may also give online here and designate it for HOPE International on the form. Next week will we share the amount raised for this cause.
(*the specific country name has not been disclosed for security reasons)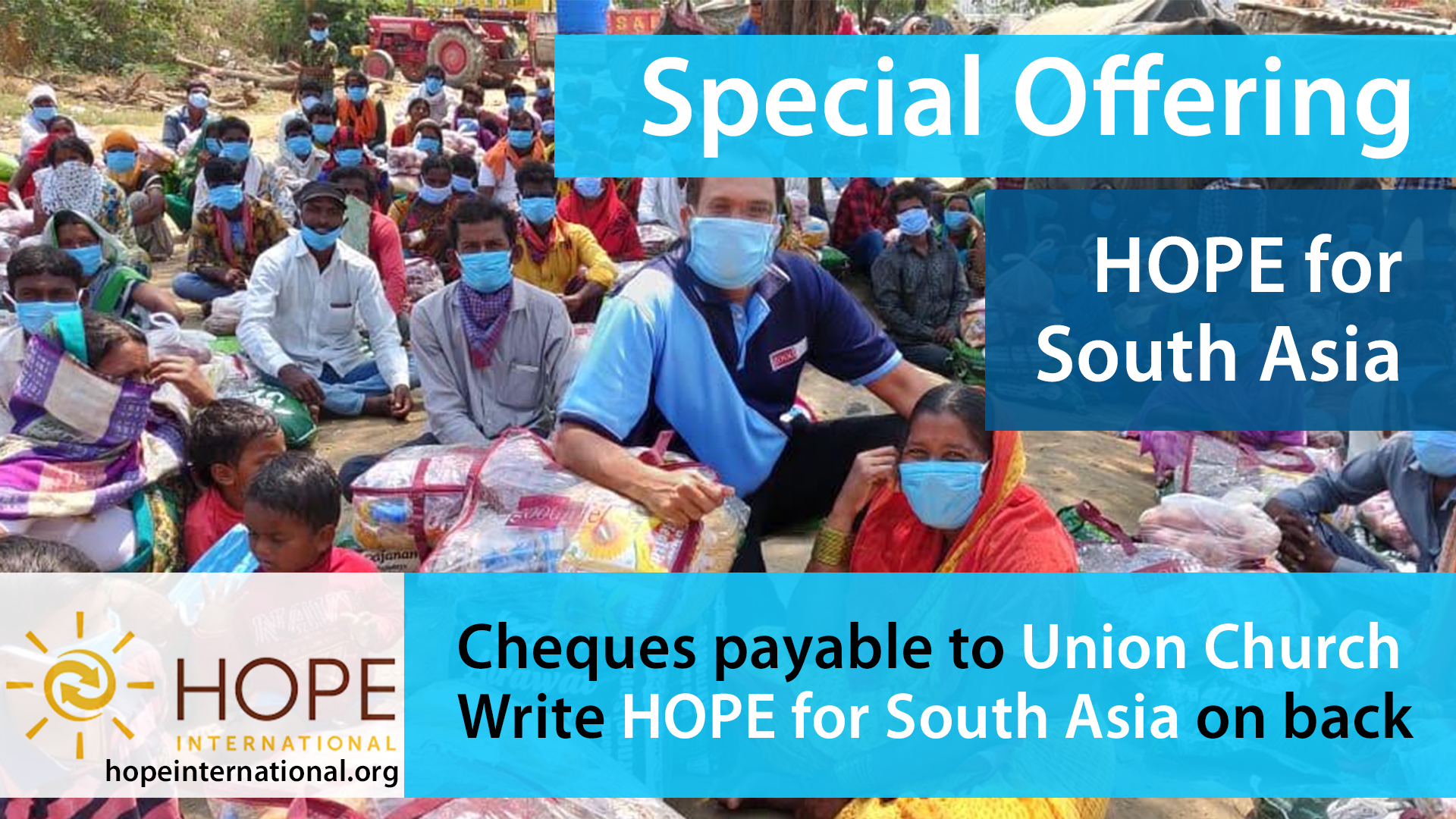 The Grace Race: What a stunning week! Over 200 people ran, walked and hiked 8,270 kms for fun, fitness and fundraising for the new church building at 22A Kennedy Road. It was a week filled with awe (as we were glued to the Strava stats), chance encounters with Grace Racers all across the city, and a wee bit of competition among those on the leaderboard. So many of us joined in - small groups, Youth, Young Adults, Sunday School, staff, families, heads of Leadership bodies, and the unbelievable Filipino Fellowship. 80% of the Filipino Fellowship participated and three of them were near the top of the leaderboard. Well done to Gerard in the number 1 slot. We love the unity finish for the number 2 slot - Tess, Charles and Elise at 200 kms each. Bravo everyone!
BUT - WE'RE NOT DONE YET! We're going to finish off those remaining 1,618 kms as a church family on 25-26 September 2021. Save the dates, save your Grace Race shirt, and we'll share more about the "Final Final Push" in the coming days!
Later in June we will let you know the fundraising grand total for The Grace Race.
If you have not yet collected and deposited your Grace Race sponsorship money, can you please do so by 18 June? You may pay via our online form on the website or via bank transfer to our church account: Account Name: Union Church, Account No. 521-68-00975-1, Account Type: HKD Savings Account, Bank Name: The Bank of East Asia, Limited, Bank Code: 015, Swift Code: BEASHKHH, Bank Address: Shop A-C, G/F, Easey Commercial Building, 253-261 Hennessy Road, Wan Chai. Thank you everyone!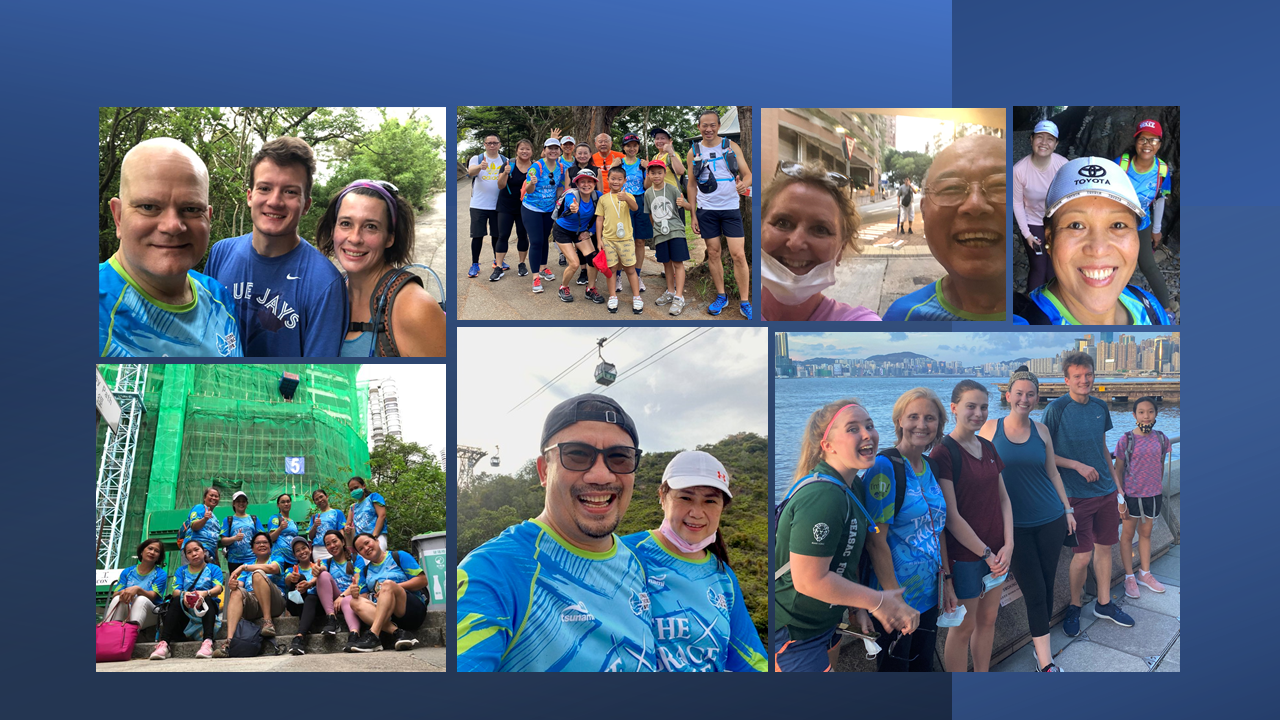 What a week!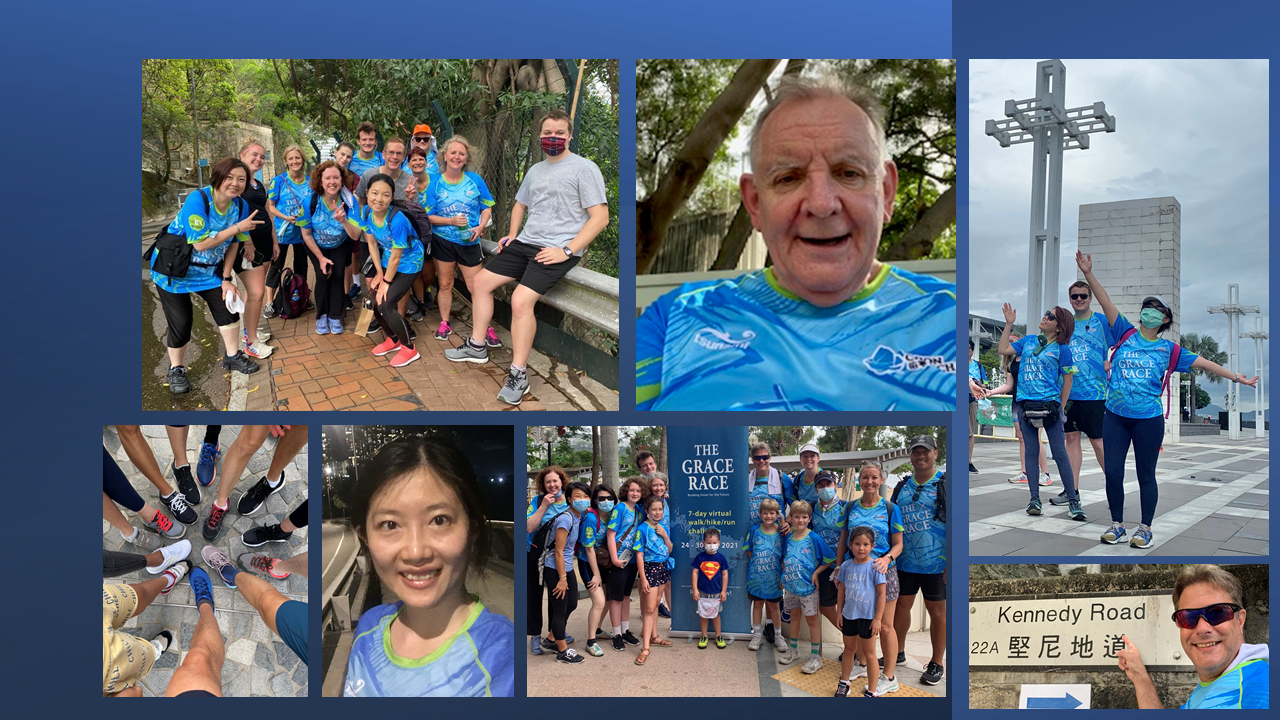 Memory Books: What cherished memories do you have of Chris Yorks and Monte Peterson and their ministries at Union? They are returning to the USA this summer and we want to acknowledge all they have done for our church family. Please record your gratitude, photos, and / or signature in memory books - you'll find them at the Memory Book table at church or feel free to take a page home for your creative handiwork. Please can we have your inputs by 27 June - Monte's last Sunday with us! Questions? Please contact .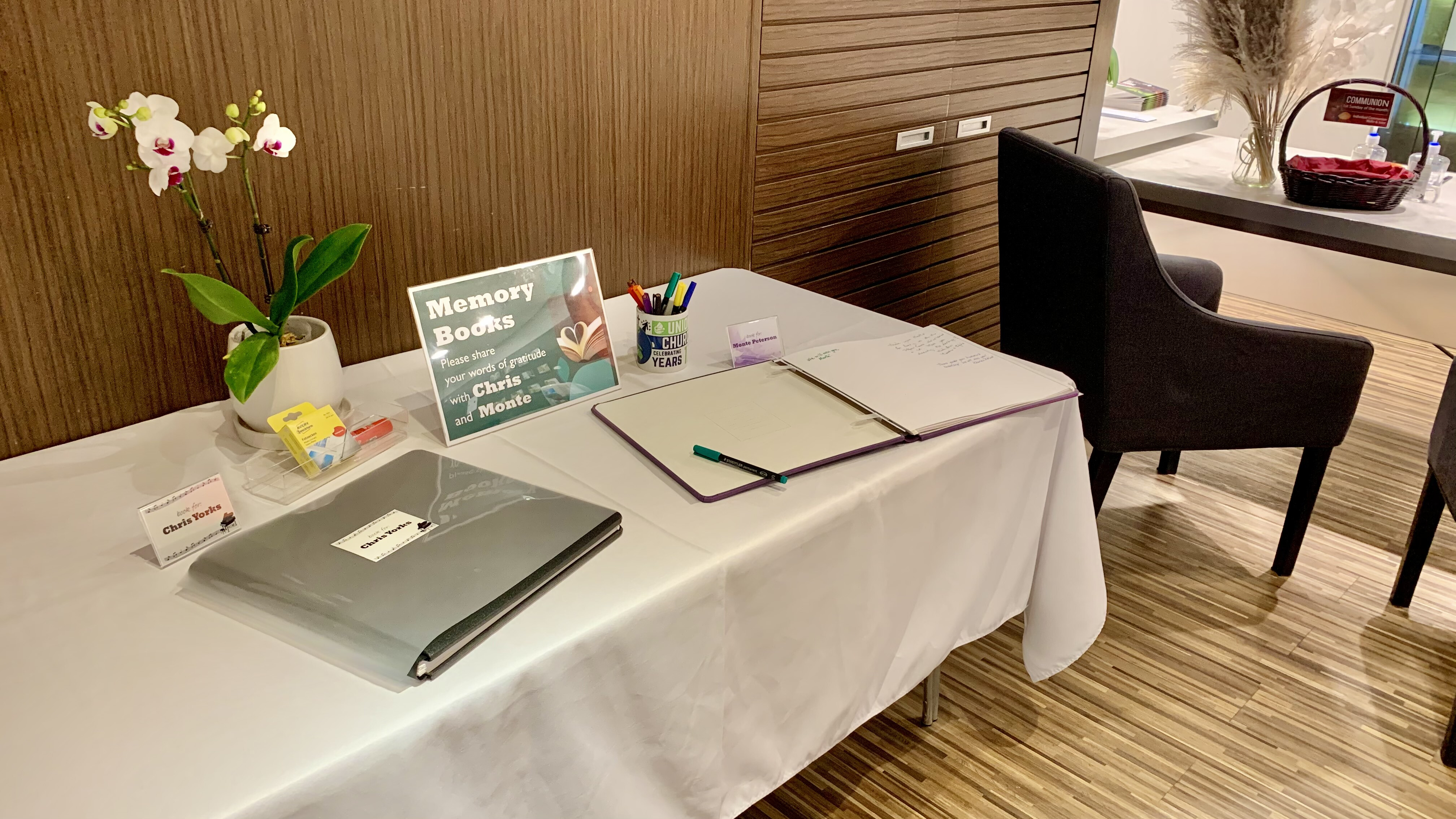 THIS WEEK
The Alpha Away Day is this Saturday for our Young Adults and Adults Alpha groups. Please pray for all of the participants and helpers. Holy Spirit, you are welcome here. We invite you to dwell within us and touch our hearts!
UPCOMING
Men's Study of John 4-6: Men are invited to join a new study on John 4-6, led by Andrew Lo. In this online study you will take part in:
- a 30-minute daily study including Bible reading, questions & study notes
- Friday group discussion meetings via Zoom from 11 June to 9 July at 1:00pm - 2:00pm
Register here. If you have questions, please contact Andrew at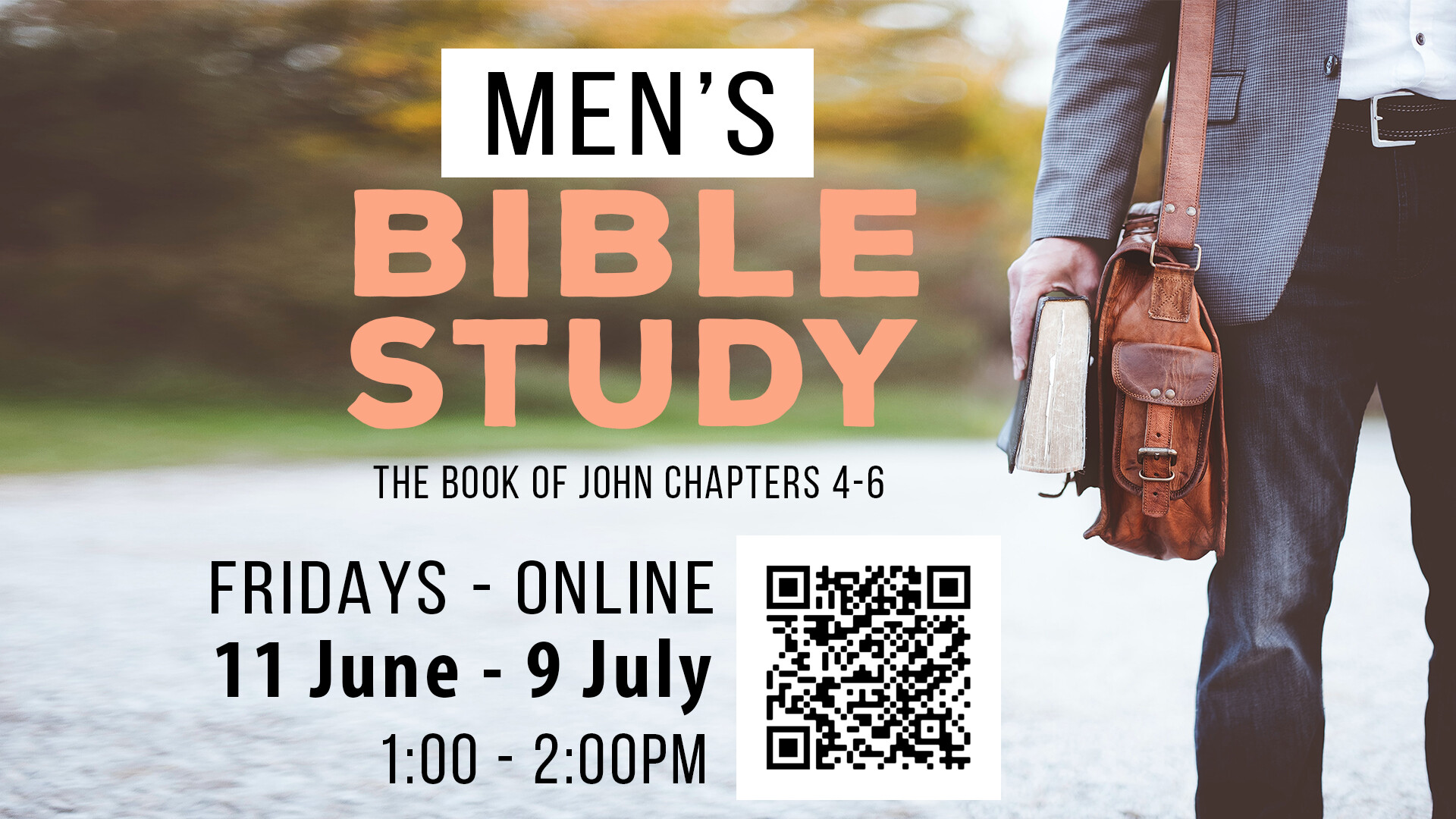 Film & Theology: For the last few months, Chris McKenzie has been hosting the Film & Theology events at Union Church. Movies are a great way to teach us about ourselves, our faith and the world around us. On Tuesday, 15 June, 8:00pm Chris will help lead the conversation around the film Silence, a Martin Scorsese film that explores the cost of following Jesus. Watch the film on your own and then join the discussion. It is a beautiful film but not an easy one to watch as it deals with faith, martyrdom and the exchange of cultures. Register with Monte at .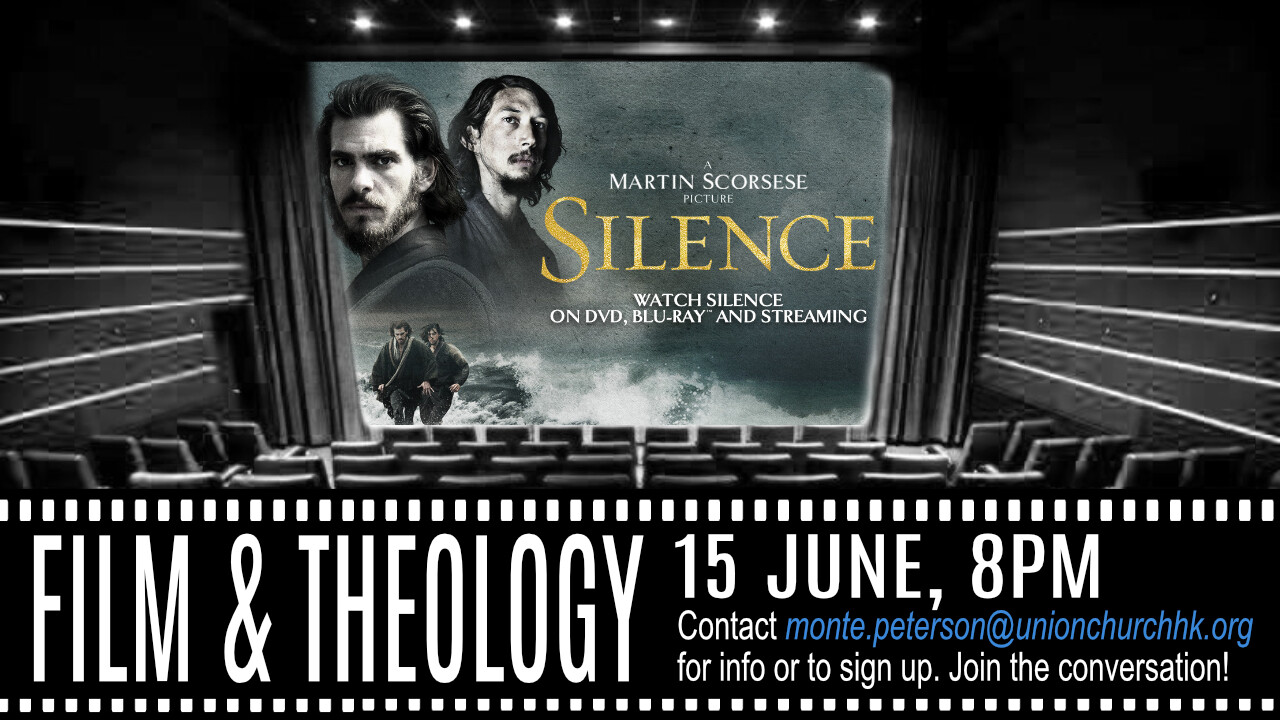 Children's Summer Programme: Get ready for fun classes for Union children and their friends this July! 12 students maximum per class. Registration is open. Costs below are per child.
Programme 1: Drumming to the BEAT! Learn Djembe with Malama Piliae, 6-8 July, 10:00am - 11:30am, 5 - 12 years, $150
Programme 2: Children's Musical Theatre with Forrest Morr, 11-13 July, 10:00am - 11:30am, 5 - 12 years, $150
Programme 3: Watercolour Painting and Stamping by bymamalaterre, 20-22 July, 10:00am - 11:30am, 5 - 12 years, $600
Programme 4: Drama Workshop by Dove Tales, 27-29 July, 10:00am - 11:30am, 7 years and older, $500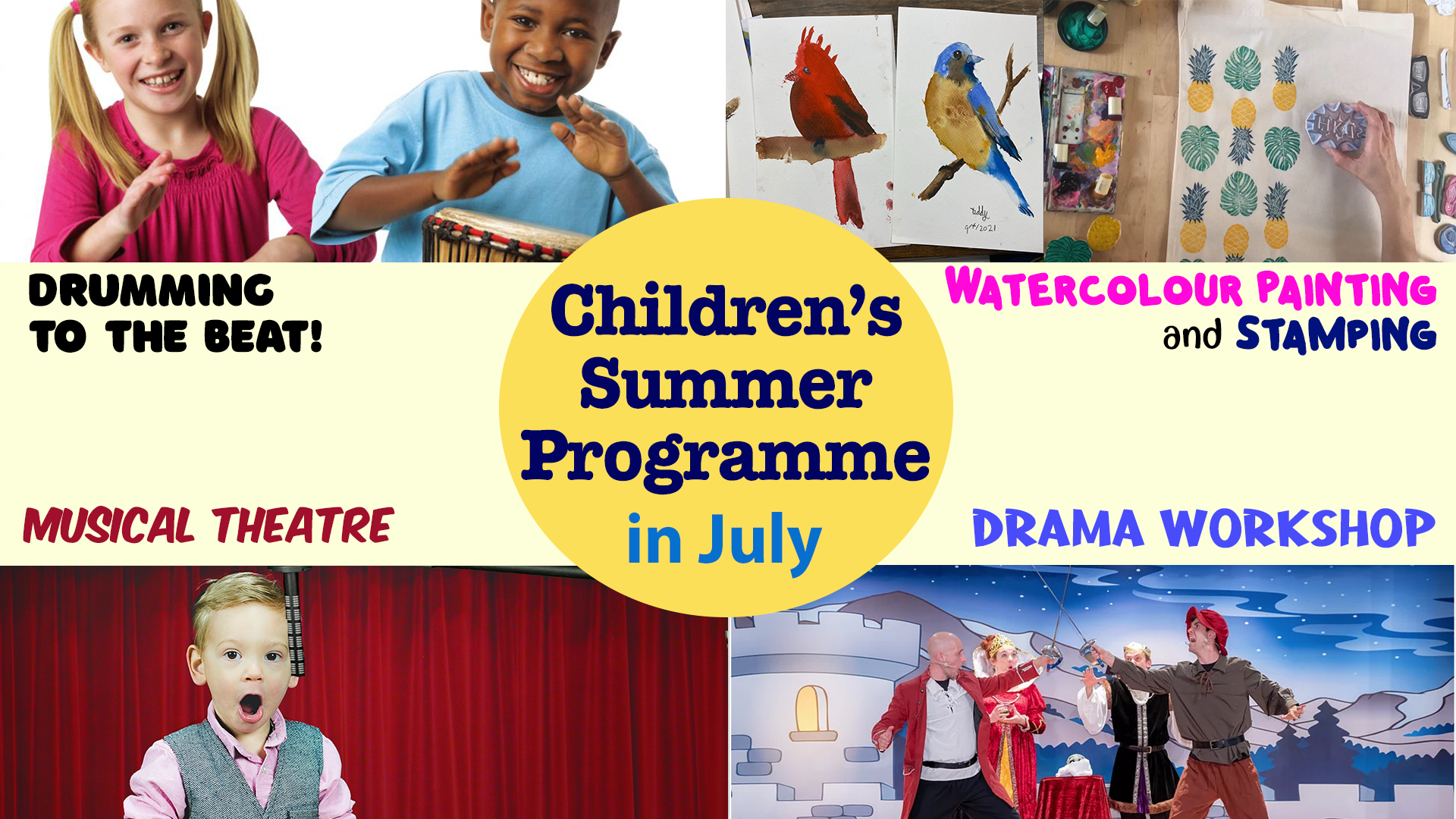 KINGDOM KIDS
Creche & Sunday School Arrangements for this Sunday and until further notice: The Creche Centre will be open with restricted capacity. For children ages 3 years old and above, Veggie Tales movies will be shown in rooms 2 & 3 with strict hygiene measures, in accordance with the government guidelines. Services fill up quickly and your family must be successfully registered. Thank you for your patience during the occupancy restrictions.
Online Sunday School, Sunday 30 May - Children ages 3 to 10 years old are invited to join us for our Online Sunday School.
- 3-7 year old students: Moses Talks to God at a Burning Bush (Exodus 2:23-4:17) via Zoom, from 10:45 am - 11:30am
- 8-10 year old students: How Did People Who Lived Before Jesus Get to Heaven? (Psalm 46:10), via Zoom, from 10:45am - 11:45am
- Kingdom Kids Sunday edition is available at the end of the 9:45am and 11:15am worship services on the Union Church website or Facebook page.
The link to the Zoom classes will be emailed to families with children registered in our Sunday School programme for the year 2020-2021.
YOUTH
Friday Youth - 4 June - Worship Night & Art Jam - This week we're taking a short break from our Alpha Youth Series and are inviting Crystal Lo to lead an Art Jam - All Youth will have the opportunity to create, reflect and share together. The Youth Band will also be leading worship this week and we have a special surprise for all the Youth - make sure not to miss it! 6:30pm - 8:00pm. If you have questions, please contact
Sunday Youth - 6 June - Youth are invited this Sunday to join us at Ps. Michele's home for our weekly session. Juniors are continuing with their series on asking bold questions and Seniors are jumping into a bible study of the book of Philippians. Please contact Hunter (6466 5080) if you have any questions.
Wednesday Youth - 9 June - This Wednesday we returning to The Chosen series - this time with the newly released Season 2! Join us 6:30pm - 8:00pm as we learn more about Jesus and his disciples. Youth can join the Zoom call HERE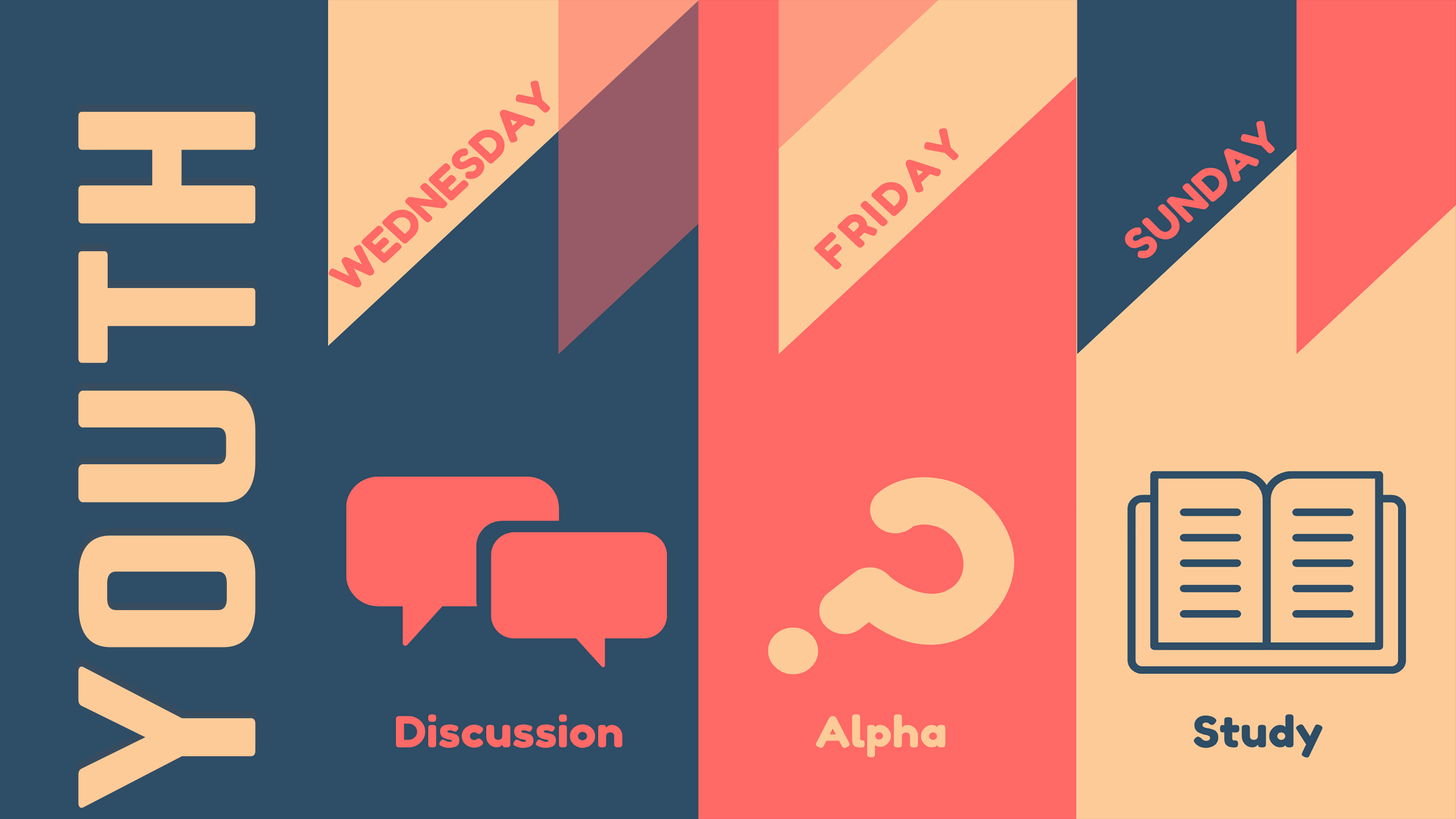 MISSIONS
Sons & Daughters (S&D) helps those caught in sexual exploitation to reclaim a life of love, family, and freedom. S&D, one of Union's Missions partners, has an urgent need for a volunteer to teach sewing skills to the women embarking on a new life. You are needed on Thursdays, 1:00pm - 5:00pm and you may share any sewing project of interest such as how to make alterations, pillow cushions etc. S&D will brief you fully on their organisation and mission. You can start now! Please contact .
4.2.20 Foundation, our partner committed to advancing access and engagement with the whole Word of God for every language, culture & people, has further news about their Hebrew Extension Programme. This is the online equivalent of their residential training programme in Jerusalem. A second online cohort is starting this month and 4.2.20 reports an unprecedented take-up in the course from participants across the Asia Pacific region, including Hong Kong. In fact, 4.2.20 may have 125 students in its combination of programmes in 2021, which is 4 times what they have had in any one previous year. Praise God for His mighty work during COVID! Let's pray for all involved in the online Hebrew Extension Programme that is starting, and for the planned residential programme in Jerusalem this September. Learn more about 4.2.20 Foundation.
Prayers for Light of the World Church (LoTW), Myanmar: Sadly, it has been 4 months since the military coup began in Myanmar, and the time has been marked by violence, fear, hardship, and uncertainty for people. As we understand from our brothers and sisters in Christ, there has been a recent increase in bombing activity where people gather. The new school year was scheduled to begin on 1 June. Military leaders are trying to force schools to open and require parents to send their children, but parents are terrified due to the civil unrest and bombings. People are living in constant fear. Please pray for the people of Myanmar and specifically for Pastor Vum and his family, and for the church members of Light of the World Church. We lift up their safety, daily provision, ability to rest, peace of mind, ability to travel to work and school, and ability to receive an education. Lord, hear our prayers. Thank you, Union Church, for your continued prayers for the people of Myanmar.
Stand Asia for the Persecuted Church: Farshid Fathi was imprisoned at the notorious Evin Prison in Tehran for 5 years. Asked what sustained him in prison, Farshid says, "You have to travel to dark places to taste grace in a new way." Join this online Stand Asia event featuring Farshid who comes from an Islamic background. Friday, 4 June, 7:30pm HKT. Learn more and register.
Small Groups
Meeting as a small group at this time is challenging, but the support from each other is more important than ever. There are online options - please reach out if you need help figuring this out! If you aren't currently in a group, we encourage you to try it out. There are groups for women, men, couples, day-time, night-time, etc. Interested? Contact Monte Peterson.
Fertility & Pregnancy Loss
Fertility & Pregnancy/Infant Loss Support Group - Struggling and could use some fellowship, friendship and support? Please contact Tess Lyons.
Pastoral Care and Prayer
Need prayer? Reach out to us confidentially at .
Stephen Ministry
We provide high-quality, confidential care to people who are hurting through our Stephen Ministry programme. Contact Pastor Michele if you would like to know more about the programme or meet with a Stephen Minister.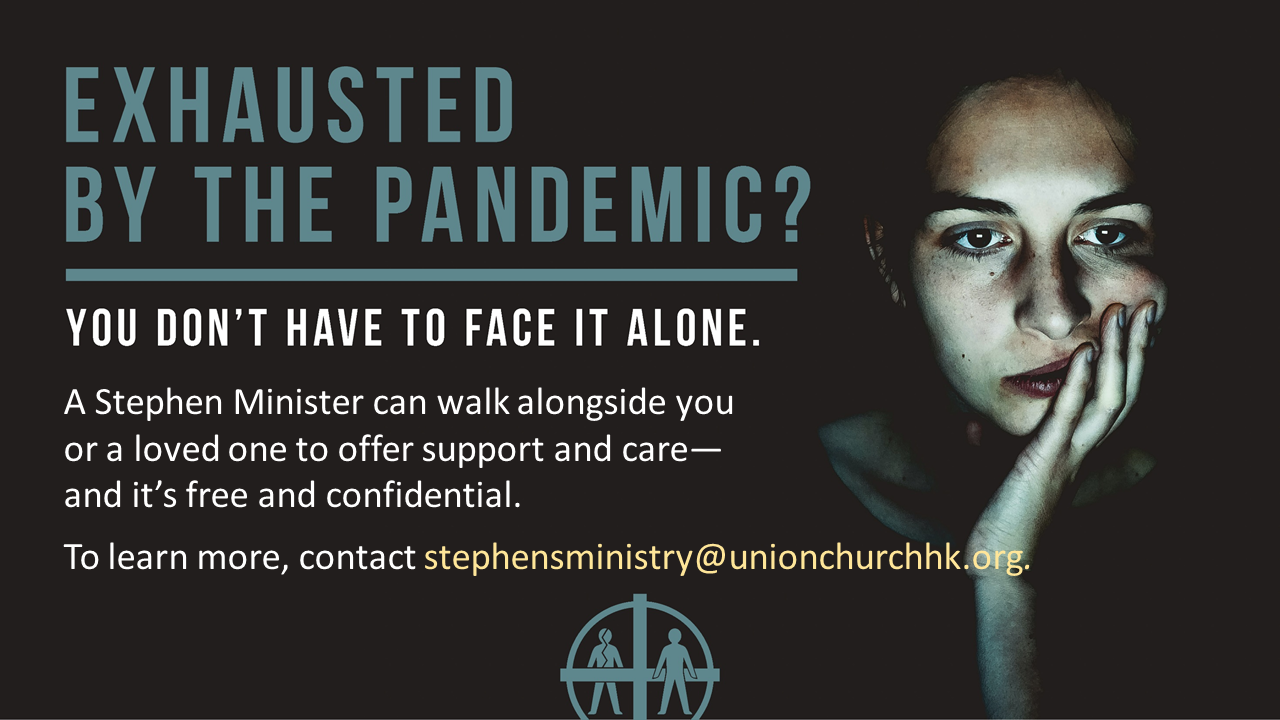 Last week's sermon
"Prayer: Unleashing God's Goodness" Dan Tupps
Social Media
Please follow Union Church Hong Kong on Instagram, LinkedIn, Facebook and YouTube and share with your friends and family. Do you have images, video and stories for UC social media? Please share with Bronwyn.