U MATTERS
This week, we launch a new sermon series and ministry - Faith in the Marketplace. I am excited that we will be talking about how our faith intersects with our work. I am excited by the team - Andrew Lo, Alexander Mak, Joshua Ng, Vivien Teu and Walter Wu - and their passion to care for those in the marketplace. In the words of Eugene Peterson, "the primary location for spiritual formation is the workplace."
This week, I read about Jeremiah Lanphie, the businessman who started the first prayer meeting in the marketplace. It was the fall of 1857, during a time of despair and economic hardship in New York City. The meetings started slow, but within months there were many meetings held daily throughout the city. In fact, the New York Tribune and the New York Herald carried the story and called it a revival. The spiritual fervour blew across the nation and a year later meetings were held in Chicago, Philadelphia, Baltimore, Washington, Cincinnati, Chicago, and New Orleans. Remarkable. Lives were changed, and thousands met to pray because one man stepped out in faith on Wall Street.
God has given each of us a sphere of influence. We all have a role to play in building up the kingdom and we have no idea what the results will be.
"When he [Jesus] saw the crowds, he had compassion for them, because they were harassed and helpless, like sheep without a shepherd. Then he said to his disciples, "The harvest is plentiful, but the labourers are few; therefore, ask the Lord of the harvest to send out labourers into his harvest." Matthew 9:36-38
Blessings, Pastor Michele
FAMILY NEWS
We are worshipping online this week at 9:45am (Traditional service) and 11:15am (Contemporary service). Find us on our website, Facebook page or YouTube.
New Rules for Stewardship - These new rules were created and voted on by the Joint Leaders on 22 December 2020 and were posted to the notice board in the church. The consultation period has ended and the new rules have been adopted by the church. If you wish to receive a copy, please contact David.
Faith in the Marketplace - As a missional church, we live out Jesus' Great Commission (Matthew 28:18-20) wherever the Lord places us - including the workplace. Join us for a 3-week sermon series with special guests and a panel discussion, Living Faith at Work on 10 February. Learn more here.
Family Meeting - All are invited - our leaders want to hear from you. Please join us for a presentation and Q&A. Zoom in on either Sunday, 31 January 12:30pm - 1:30pm or Wednesday, 3 February 7:00pm - 8:00pm. Please sign up here.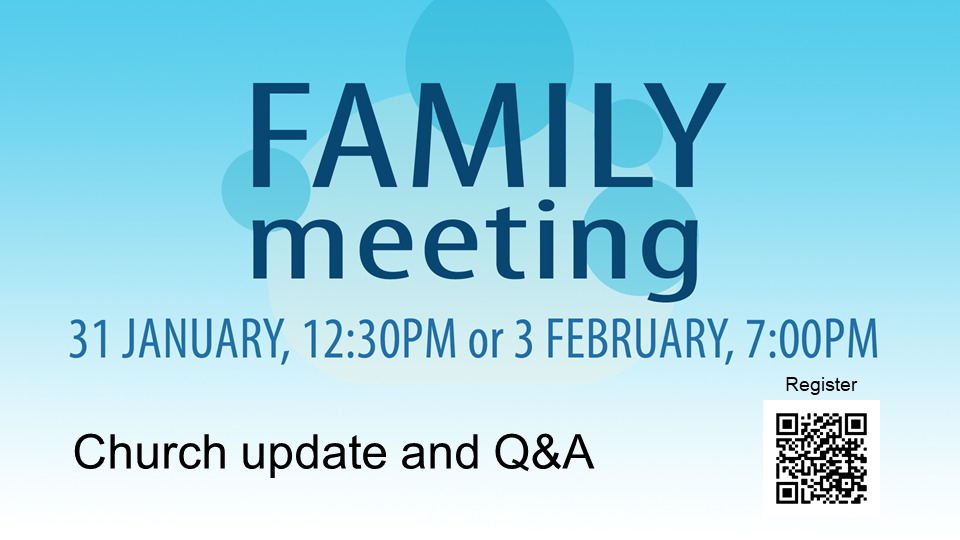 The Grace of Giving - Did you see our latest video about returning to 22A Kennedy Road with Pastor Michele and Hunter? Check it out on our Grace of Giving webpage.
Follow us on Social Media - Please follow us on Instagram, LinkedIn, Facebook and YouTube and share with your friends and family. We can use social media for positive outreach to the community.
THIS WEEK
Quiz Night: This Saturday evening! We've had so much fun at past quiz nights; it's time to do it again! Join us at our all-church QUIZ NIGHT on 30 January, 6:00pm - 7:00pm. Topics will include geography, music, history, Bible and general knowledge - great fun for all ages. Register here to receive the Zoom link.
Zoom Coffee Hour: Between Sunday services, pour yourself a cup of coffee or tea and connect with friends and church leaders 10:45am - 11:15am. Contact us at any time - even Sunday morning - to get the Zoom link.
The History of the Church in China, from the Tang Dynasty to the early modern era, the third of four sessions will be held on Wednesday, 3 February, 8:00pm - 9:00pm, on Zoom. Catriona Woodrow, local historian, teacher and theologian walks us through the introduction and growth of Christianity in the nation. In this week's session we look at the role of the Jesuits, and in the fourth session we learn about the missionaries and local church growth during the colonial era. Pre-register here to receive the Zoom link. If you missed the initial sessions, it's not too late to join us.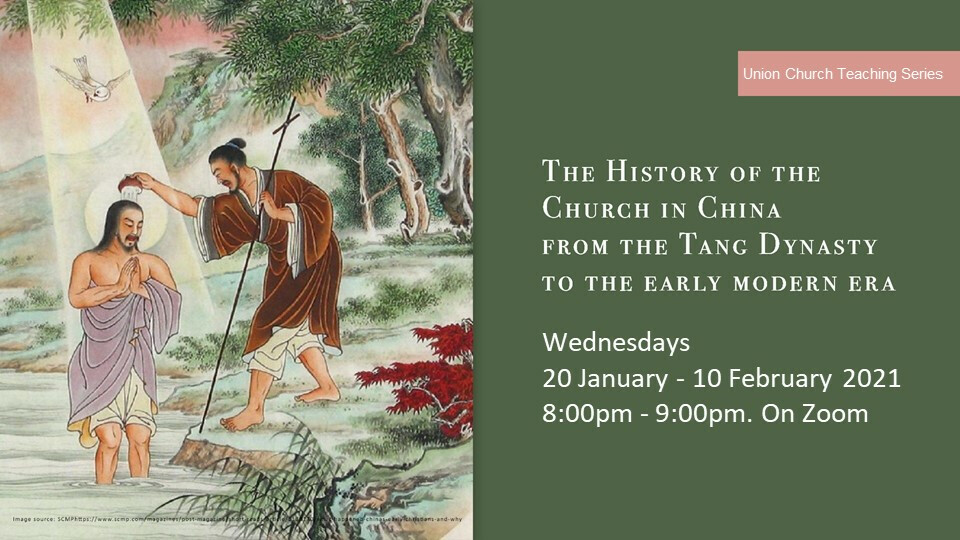 Young Adults Study - Greater Than: Wednesday, 3 February at 8:00pm. We continue the study with author and speaker Francis Chan who walks us through his own difficult childhood to help us understand that God is greater than any pain, obstacle or hardship that we might encounter in this life. Email Dan Tupps for the Zoom link.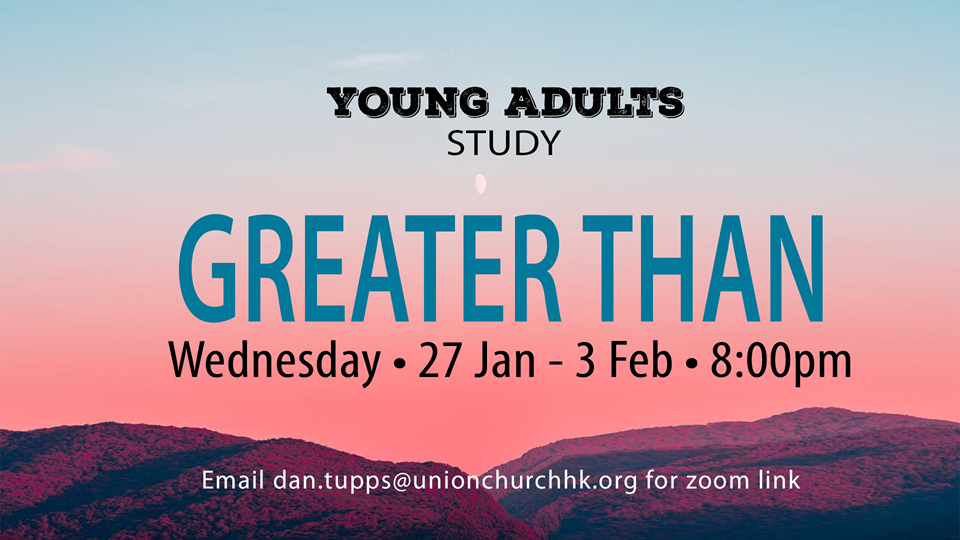 CHOSEN to Proclaim Spring Gala: All are welcome to join Faith Comes by Hearing's virtual event. Be inspired by FCBH's work to fulfill Jesus' Great Commission through Vision 2033 - and your potential role. 1 February 2021, 8:30pm - 9:30pm. See the QR code. Also check out the FCBH Asia YouTube channel for A Minute with Morgan on 20, 23, 26 and 29 January.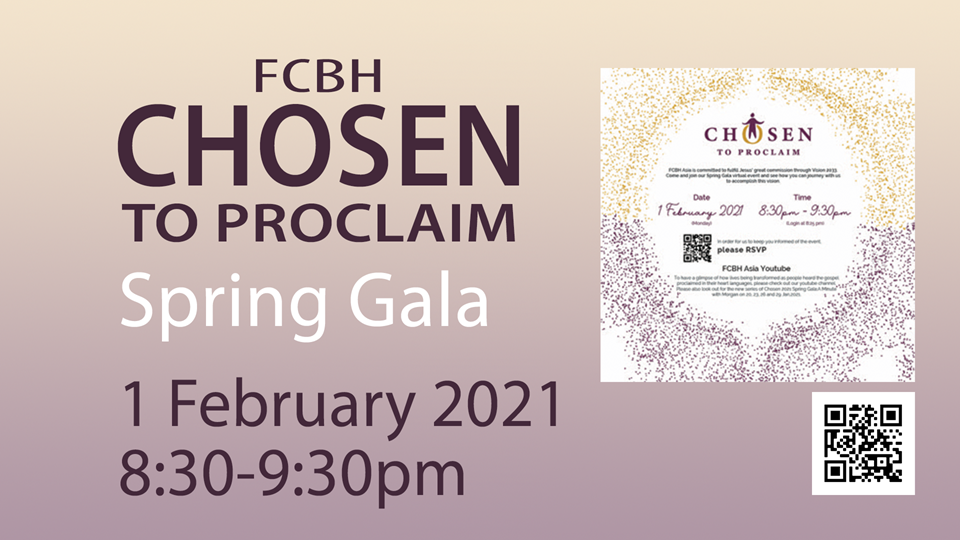 Film & Theology: People are watching a lot of movies these days; let's get together to talk about them! Art and story can unlock our imaginations regarding God and faith and give us new eyes to see what God is up to. We'll watch a film on our own, and then gather on Zoom for conversation, led by Chris McKenzie. Join us on Tuesday, 2 February at 8:00pm for the 2nd film we'll discuss together, Groundhog Day. You can find the film on YouTube, Google Play, Amazon Prime, iTunes etc. Register here.
Giving: Thank you for supporting God's ministries at Union Church. Please see the website to learn how you may tithe, make an offering online or by cheque, or give to The Grace of Giving. Thank you for your generous heart.
UPCOMING
All-church Communion, Sunday, 7 February, 10:45am - 11:15am: Together we are remembering Jesus' love and sacrifice for each of us as we share communion on Zoom. Please prepare your own wine (or grape juice) and bread, or drop by the church office to pick up the elements. Ask for the Zoom link from the Admin team (same as the Zoom Coffee Hour link).
Living Faith at Work event, 10 February, 7:30pm - 9:00pm: This interactive session on Zoom features workplace ministry leaders - Ken Lung, Patricia Lau, Anthony Lo and moderator, Andrew Lo - who will speak about integrating faith in your work and engaging your organisation or business with initiatives that blend work and faith. Learn more at Faith in the Marketplace or head directly to registration.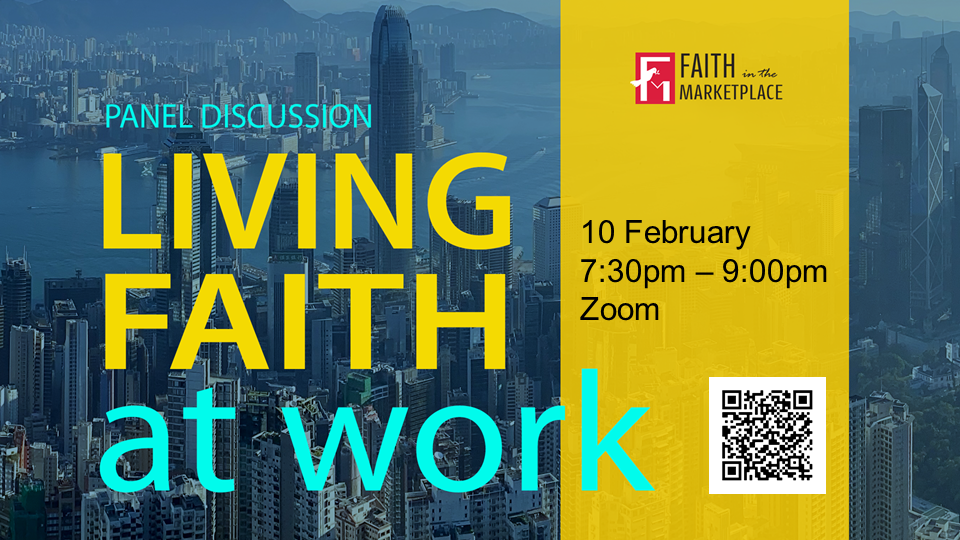 Book Group: We're now looking ahead to our next book study - start reading now to prepare for our 23 February gathering where we will discuss The Beekeeper of Aleppo by Christy Lefteri; a novel about an ordinary Syrian couple seeking refuge from the war that engulfs their homeland. Contact Monte Peterson with questions.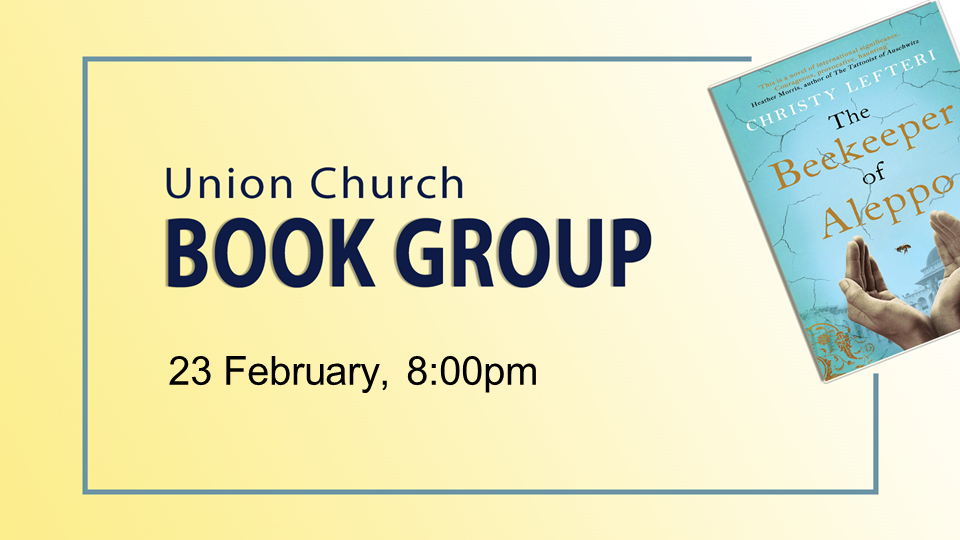 Save the date for Union ReUnion, our all-church gathering on 13 March 2021. If you liked the Christmas Banquet, just wait for Union ReUnion, our virtual event organised by The Grace of Giving Team and hosted in homes - we promise it will be fun - and it is for everyone! (And if you wish to stay in your own home, that's fine too.)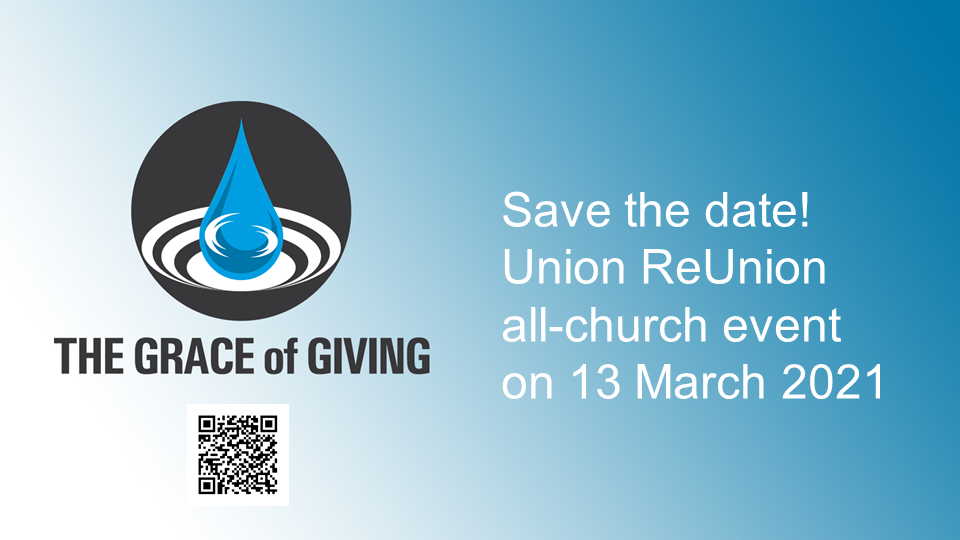 Kingdom Kids
Online Sunday School, Sunday 31 January: We are delighted to welcome your children to online Sunday School!
- 3-7 year old students: In The Beginning - Sin Enters God's World (Genesis 3:1-24), via Zoom, from 10:45am - 11:30am
- 8-10 year old students: Be Bold - God is at Work Today (Romans 8:28), via Zoom, from 10:45am - 11:45am
- Kingdom Kids Sunday edition is available at the end of the 9:45am and 11:15am worship services on the Union Church website, app and Facebook.
The link to the Zoom classes will be emailed to families with children registered in our Sunday School Program for year 2020-2021.
Sunday School 2020/2021 Registration: All babies and children need to be registered for the Creche and Sunday School. Please register here. For more information, please visit the Union Church website, contact us by email or ring us on 2101 0414.
Youth
Friday Youth Group / Social Media Workshop – 29 January, 6:00pm - 8:00pm: This Friday we are presenting a Social Media Workshop, for both youth and their parents. Social media is a constant part of our lives - as technology continues to evolve and change it's important that we take time to consider its impact. In advance of the 29th, please watch the movie Social Dilemma (available on Netflix). On the 29th, we welcome back Anto Ficatier, our guest speaker who will help facilitate the discussion on how social media affects us and how we can use it in a healthily. Youth and Parents can join here.
Sunday Youth Group – 31 January: We're online! Youth are welcome to join us on Zoom at 11:15am where we'll get to spend time reading and discussing scripture. Seniors will be looking at what the Bible teaches us about Christian leadership, and Juniors will be starting a new series based around asking hard questions! Youth can join here.
Wednesday Night Study – 3 February: On Wednesdays, we're watching the series "Chosen" about Jesus' disciples and discussing it together. For this week we ask Youth to have watched up to episode 5. Join us on Wednesday, 6:30pm - 8:00pm. Youth can join here.
Missions
Videos: The Missions team has prepared a new series of videos, "Missions at Union Church". Last Sunday 24 January, we aired the second video, Being Missional at Union Church. if you missed it, view it here.
Small Groups
Meeting as a small group at this time is challenging, but the support from each other is more important than ever. There are online options - please reach out if you need help figuring this out! If you aren't currently in a group, we encourage you to try it out in the new year. There are groups for women, men, couples, day-time, night-time, etc. Interested? Contact Monte Peterson.
Pastoral Care
Need prayer? Reach out to us confidentially at We also provide high-quality, confidential care to people who are hurting through our Stephen Ministry programme. Contact Pastor Michele for further assistance.
Fertility & Pregnancy Loss
Fertility & Pregnancy/Infant Loss Support Group - Struggling and could use some fellowship, friendship and support? Please contact Tess Lyons.
Last Week's Sermon
"Our Mission: Living Stones" Rev. Dr. Michele Bland