U MATTERS:
This is our final week of studying the book of Acts. It has been a journey. We have witnessed the birth of the church, the coming of the Holy Spirit, the life, ministry and suffering of the Apostle Paul.
The Apostle Paul had an amazing ability to face his sufferings. He said, "For the sake of Christ, then, I am content with weaknesses, insults, hardships, persecutions, and calamities. For when I am weak, then I am strong." 2 Corinthians 12:10
There are many people I know who are suffering and who are feeling weak. We are mindful of those in our community with COVID, those who are grieving, those whose children have left for University, those awaiting a diagnosis, those who are looking for employment, those who are separated from their families and the list goes on. I am grateful that no matter what is happening around us, we can be strong in the promises of God. We can be strong in knowing that God is with us. (Is. 41:10) We can be strong that God is for us and not against us (Rm 8:31). We can be strong that we belong to God.
My dear children, you come from God and belong to God. You have already won a big victory over those false teachers, for the Spirit in you is far stronger than anything in the world. 1 John 4:4-5 MSG
Blessings, Pastor Michele
FAMILY MATTERS:
Building Union For the Future (BUFF) Outreach to Workers at 22A: BUFF is planning to reach out to the site workers at 22A every month with small gifts of snacks or protective equipment to show our appreciation for their hard work. We invite you to join us in this outreach by praying, donating or coming with us to visit them. Feel free to WhatsApp Rosanna Chan at 98770447 for more details. Please mark your donation: 'BUFF – hospitality'.
THIS WEEK:
Love Your Neighbour Online Games Night:
Saturday, August 29, 6-7 pm. Think you can't play games online? Think again! Join us as we laugh our way through games like Pictionary, Charades, and Taboo, getting to know our neighbours and our church community better. Sign up
HERE
Youth: During the month of August, Youth are invited to join us on Wednesdays for our Youth Acts Study at 6:30PM, or on Sundays at 12:30PM as we discuss the scripture and sermon for the week! See our weekly Newsletter for more info
Final Week of Sunday Morning Class: Faith In Trying Times. It's not too late to join!
Join us from 10:30-11:15am on zoom as we discuss how times of uncertainty (like now!) are really opportunities to grow in faith. Using Laurie Short's video series "Fear, Waiting, Hope" we'll look at situations in the Bible where people had to overcome fear, lean into God's timing and see dark times as an opportunity to increase hope. Register here to get the zoom link. Led by Dan Tupps, Monte Peterson and Pastor Michele. August 30.
Please join us this Sunday, ONLINE ONLY, at 9:45AM for our traditional service and 11:15AM for our contemporary service. Please join us via our website, mobile app or Facebook page.
If you are unable to be online at the time of our worship services, you can watch them later in the day, again via our website, app or Facebook page. Don't forget that you can still give your offering online via the giving page of our website, or by using the QR code below. You can also send us a cheque, made payable to "Union Church" or "Friends of Hong Kong Charities, Inc" if you are a US taxpayer. Please send them to: 18F, Sunlight Tower, 248 Queen's Road East, Wan Chai, Hong Kong.
Time and Talent:
Looking to share your time and talent at Union Church as part of your stewardship? We need a
CRM expert
or systems developer to join a multi-disciplinary task force to evaluate our church's management system needs and next steps. We're a fun group! Learn more by reaching out HERE
Upcoming:
Want to know more about our Kindness Walks?
Join us this Sunday (30th of August) at 10.30am via zoom. Contact
MISSIONS
to register for the briefing.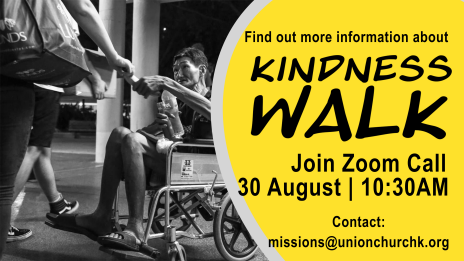 New lunchtime ZOOM study: Discipleship Explored.
Are you just starting (or restarting) your walk with Jesus? Or perhaps you'd like to grow from a "Sunday faith" to a 7 days/week faith? This journey through Paul's letter to the Philippians is ideal for new believers, those recommitting to their relationship with God, or anyone who seeks to deepen their discipleship. Wednesdays, 1-2 pm. Begins September 9. Contact
Monte.peterson@unionchurchhk.org
Coffee Hour: Miss running into friends and connecting over a cup of coffee on Sunday mornings? Join us for "Coffee Hour," from 10:45 to 11:15. You'll have to brew your own coffee, but we'll all bring the conversation! Begins Sunday, September 6. Sign up HERE for the zoom link.
ReCharge:
On September 2, we continue with our summer options:
Youth Study with Hunter, 6:30-8:00pm
Online Prayer from 8:00-8:30pm, email
Monte Peterson
for the zoom link to join.
Young Adults, from 8:00-9:00pm, a brief study, prayer and encouragement. Contact
Dan Tupps
for the zoom link and more information.
New ReCharge Lineup for the Autumn! Beginning September 9: Several New Studies (all online for now)
6:30-8:00 pm: Youth with Hunter
8:00 pm: Prayer with Pastor Michele
Revelation with Chris Fung--Chris has written a book on Revelation, and loves to teach about it! He is convinced that the "most difficult book in the Bible" can be understood through common sense reading! Background knowledge of Revelation IS NOT NECESSARY, but reading the passage before each session will help participants get the most out of it.
Goliath Must Fall with Dan Tupps and Monte Peterson. This is a video and discussion-based study on the various "Goliaths" in our lives (like fear, comfort, anger) and how focusing on Jesus can help us to overcome.
Register HERE to get the zoom links for any of these classes. Please join us!
Missions:
CIRCLE OF FRIENDS with International China Concern 12th September 2020 - 7:30 pm - Online Event.
International China Concern is pleased to invite you to a unique 1-hour experience packed with entertainment, compassion, inspiring stories and cute kids. On 12th September 2020 (Saturday), we will bring you an exclusive performance by a violin impresario, plus Dr. Peter Cheung will share his personal testimony. The joy will be provided by dozens of children who are learning what it's like to be part of a family that cares deeply about them and strives to meet their needs. At a time when there is so much gloom and stress in the world, we offer you a brief respite and a glimpse into our special world. Tiaras are optional! Smiles and warm hearts are guaranteed. To join, please use these links:
International China Concern (ICC) was founded in 1993 by David Gotts after seeing firsthand the suffering of Chinese children with disabilities who had been abandoned and left without hope in desperate conditions.In the beginning, ICC sent short-term teams into China to provide care in government welfare centres.
Pour out your love 傾福行動 - https://fundrazr.com/pouroutyourlove: We invite you to share the blessings and contribute one-tenth of your $10,000 government subsidy for the ICC children.
Connecting:
The Marriage Course: please contact Joanna Yau for more details.
Pastoral Care Support, if you are looking for some support and prayer please let our staff know. Contact Ministry leaders directly or admin at: or call 6225 5042.
Kingdom Kids:
'ROCKY RAILWAY' VBS ONLINE SUNDAY SCHOOL
Save the Date: SEPTEMBER 6, 13, 20, 27 and OCTOBER 4
TIME: 10.45 AM
Children aged 3 to 11 years old are invited to join us for Kingdom Kids ROCKY RAILWAY" VBS ONLINE SUNDAY SCHOOL. On this faith-filled adventure, kids will discover that trusting Jesus, especially during this pandemic time, helps pull them through life's ups and downs. The VBS package will be mailed home to families and an email notification with the link to Zoom will be sent to families who complete the ONLINE Registration Form. Please make sure to include your correct and complete postal address to ensure the package reaches your home. Children are welcome to invite their friends to join too. REGISTER HERE
Sunday School 2020/2021 Registration IS NOW OPEN: All children enrolling in our Sunday School and Creche Centre MUST BE REGISTERED by filling in and signing the Registration Form HERE. For safety reasons, only children officially registered in our Sunday School program will receive the Zoom link to our Online Bible Study. For more information, please visit Union Church's website or contact us at or 21010414.
Creche and Sunday School are SUSPENDED until further notice. To safeguard the health and safety of all of our families and staff and to help curb the spread of Covid-19, we have SUSPENDED all of our Children's Ministry Programs until further notice. We encourage the children to join our Online Sunday School Lessons. Thank you for your patience and kind understanding, we look forward to sending you all an update once we can meet in person again.
ONLINE SUNDAY SCHOOL:
- 3-5 years old students: Fruit of the Spirit Bible study, starting this Sunday via Zoom, from 10.45 am - 11.15 am.
- 6 years old and above students: How to Study Your Bible for Kids, every Sunday via Zoom, from 10.45 am - 11.30 am.
- Kingdom Kids Sunday edition, through Union Church website, app and Facebook, at the end of the 9.45 am and 11.15 am services.
Youth:
No Friday Youth Group
We are taking a break from Friday Zoom Calls until our Fall Kick Off in September. There are a bunch of other options for youth however - see below for more details!
Wednesday Youth Acts Study - September 2. During the month of August we are jumping into the book of Acts - Youth are invited to join us as we read Scripture, watch the video series from Joe Boyd on Acts, and discuss together about the founding of the early Church!
What: Youth Acts Study
When: Every Wednesday, 6:30-8PM
Details: Zoom Link HERE. Please note that Youth need to have a Rightnow Media Account to watch the videos with the group - use this LINK to register for free through Union Church
Sunday Discussion – August 30. Youth are invited to join a small group discussion on the Sunday sermon at 12:30 on Sunday. Zoom link is available HERE
Small Groups:
Meeting as a small group in this time is challenging, but the support from each other is more important than ever. There ARE online options - please reach out if you need help figuring this out! If you aren't currently in a group, we encourage you to try it out. There are groups for women, men, couples, day-time, night-time, etc. Interested? Contact Monte Peterson.
Men's Lunch Study:
+ 30 minute daily study including Bible reading, questions and study notes.
+ Friday group discussion via Zoom, from 1-2 pm.
+ Anyone interested please WhatsApp Andrew Lo @ 9864-5999
A Stephen Minister can help. Stephen Ministers are members of our congregation who listen, care, encourage, and provide emotional and spiritual support to people going through a crisis or a difficult time. Please contact Pastor Michele if we can help ( )
Fertility & Pregnancy/Infant Loss Support Group - Struggling and could use some fellowship, friendship and support? Contact Sonia Lee.
Family in Need (FIN):
If you would like to help support our family in need ministry, which helps people monthly with basic needs, please mark your envelope "FIN".