U MATTERS
In his book Mere Christianity, C. S. Lewis wrote:
"One must train the habit of Faith [by making] sure that … some of its main doctrines shall be deliberately held before your mind for some time every day. That is why daily prayers and religious reading and church-going are necessary parts of the Christian life. We have to be continually reminded of what we believe. Neither this belief nor any other will automatically remain alive in the mind. It must be fed."
It has been exciting to meet people in-person each week who have been faithfully worshipping with us online - people we have not seen in months if not a year. Whether we are worshipping weekly online or coming to in-person worship, I am struck by the comment, "we have to be continually reminded of what we believe."
Each week our ministry staff work hard to feed our congregation. Jacklien, Hunter and Dan prepare weekly opportunities to nurture faith in Christ. Pastor Ruth has trained and equipped leaders - leaders who pray, leaders who teach and encourage. Our small group leaders prepare lessons and provide weekly gatherings for us to learn and build community. It is our hope that you plug into some of these wonderful opportunities and remain connected!
"And let us consider how we may spur one another on toward love and good deeds, not giving up meeting together, as some are in the habit of doing, but encouraging one another—and all the more as you see the Day approaching." Hebrews 10:24-25
Blessings, Pastor Michele
WORSHIP SERVICE UPDATES
Our 9:45am service is now full as we have reached 50% of floor capacity. There is space available at the 8:45am and 11:15am services - we would love to see you. If you need to alter your booking, please email as so we may offer your space to someone else. Thank you.
For Sunday services on 5 September, registration will open at 10:00am on Monday here. We will confirm your registration by email or ask you to select an alternative service or watch the livestream.
Union Church offers three in-person services: 8:45am (Family Communion), 9:45am (Traditional Worship) and 11:15am (Contemporary Worship). The latter two services are available via livestream on our church website, Facebook page, church app and YouTube. Be part of our growing online congregation!
FAMILY NEWS
Special Offering for Crossroads, Sunday 29 August: Flooding and poor quality concrete have created serious problems at Crossroads Village in Tuen Mun, and funds are needed for spalling concrete and emergency power supply repairs. A long-time "Friend of Union Church", Crossroads has the goal of connecting people in a broken world, bringing together those in need with those who can help - through Global Distribution, Global Hand, Global X-Perience and Global Handicrafts. This Sunday we will collect a Special Offering to help Crossroads make urgent repairs. You will be able to give via credit card online, cheque payable to "Union Church" with Crossroads designated on the back, or by giving in the special envelope at church on Sunday. Thank you!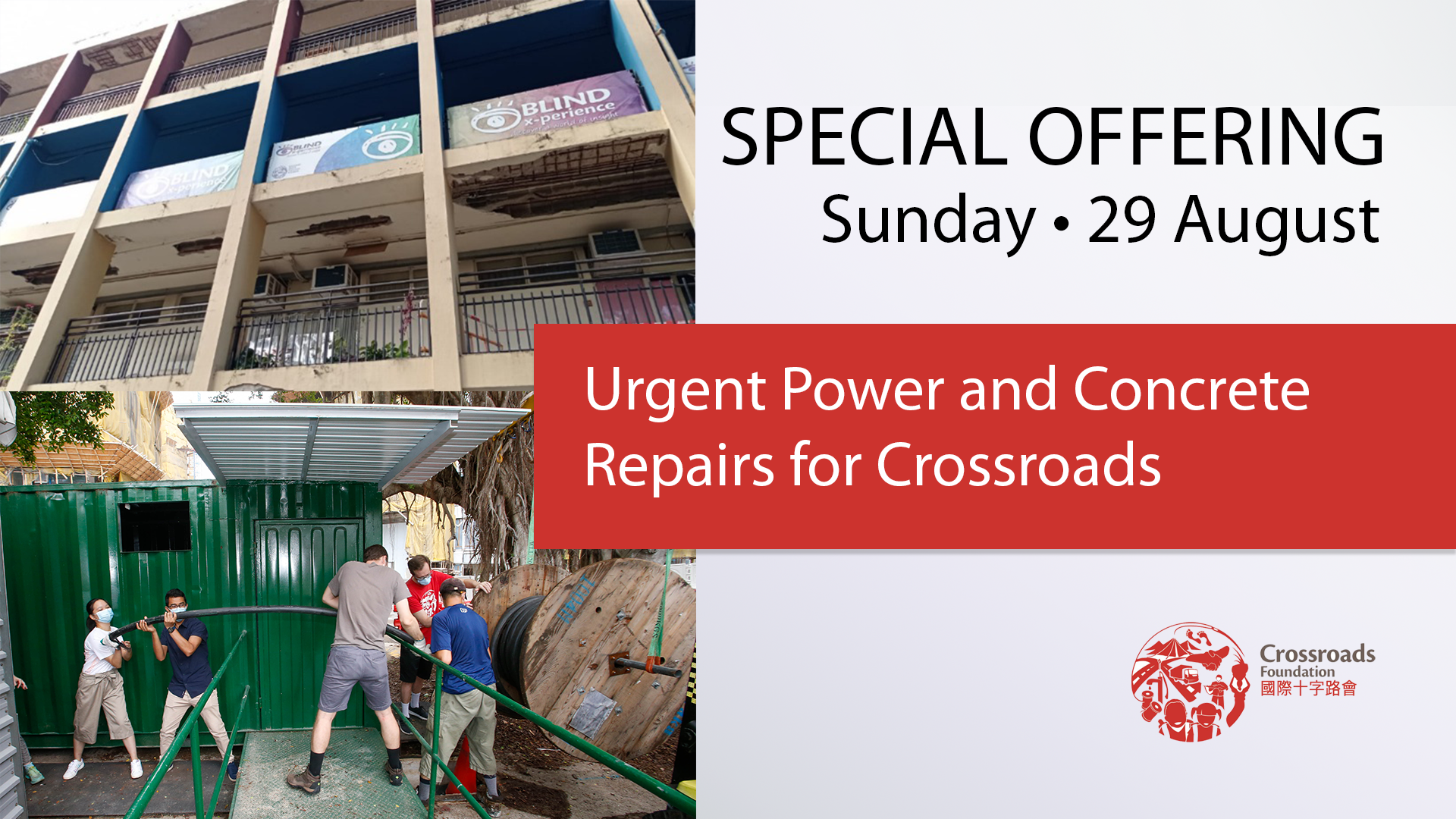 A message from Pastor Michele and Ken Morrison, on behalf of The Grace of Giving: Did you receive the email on Friday, 20 August from Union Church on behalf of Pastor Michele and Ken? They shared news about progress made to date during The Grace of Giving campaign - both spiritually and financially. We sense the relationships that are broadening and deepening across the congregation and the excitement about the return to 22A Kennedy Road. We are also profoundly touched by people's generosity in giving to "New 22A" to pay for the fit-out works. We are so close to meeting the goal! Only HK$4.4 million to go - we have come so far in such a short period of time. God has been faithful in seeing us through this season of faith-raising and fundraising. We needed to truncate the fundraising period by 9 months as the programme accelerated - and still we believe the HK$4.4 million gap will close by end September. God has done His part and provided for Union Church - we are so deeply grateful. Here's the letter.
Fall Kickoff - It's almost September and that means it's time for the Fall Kickoff of Children's, Youth, Young Adults and Small Group ministries. There are so many ways to find community, support and Christian study. Read on for more information and check out the Union Church website.
Pray for New 22A - We're also inviting the entire church to pray for our move back (move forward!) to 22A Kennedy Road. The church leadership is contributing to a prayer devotional that will be ready in September to help guide our prayers for our ongoing faith journey.
THIS WEEK
Kindness Walk! This Sunday, 29 August: This is a great way to love our neighbours as we share smiles and snacks with street cleaners, the homeless, elderly, market stall owners and more. The next Walk leaves Union Church at 12:30pm on the 29th. All are welcome. We will congregate in groups of four.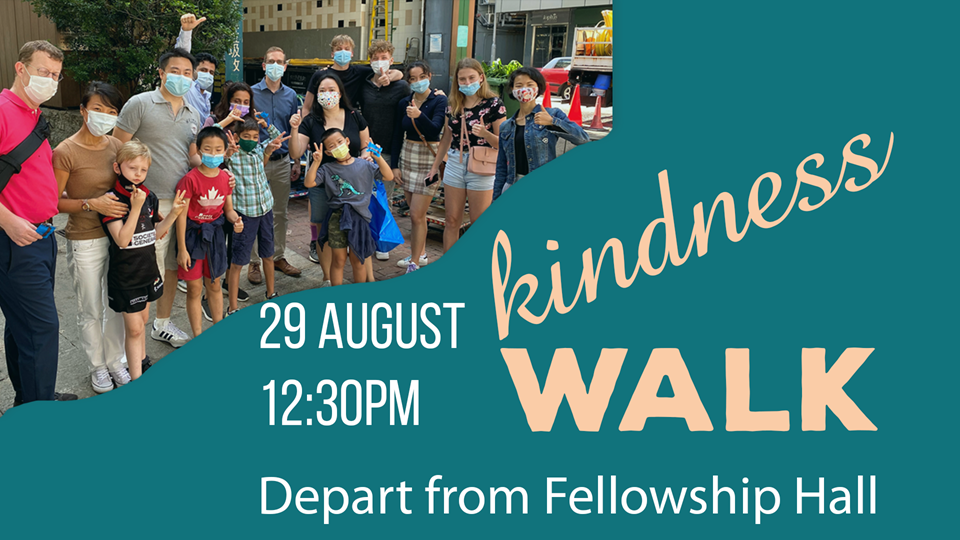 UC Men - Wednesday Wings & Fries: We'd love to have all our men join us at Fini's Wanchai on Wednesday, 1 September any time from 5:00pm - 7:00pm for unlimited wings, fries, drinks and fellowship. Cost is $100. For more details contact .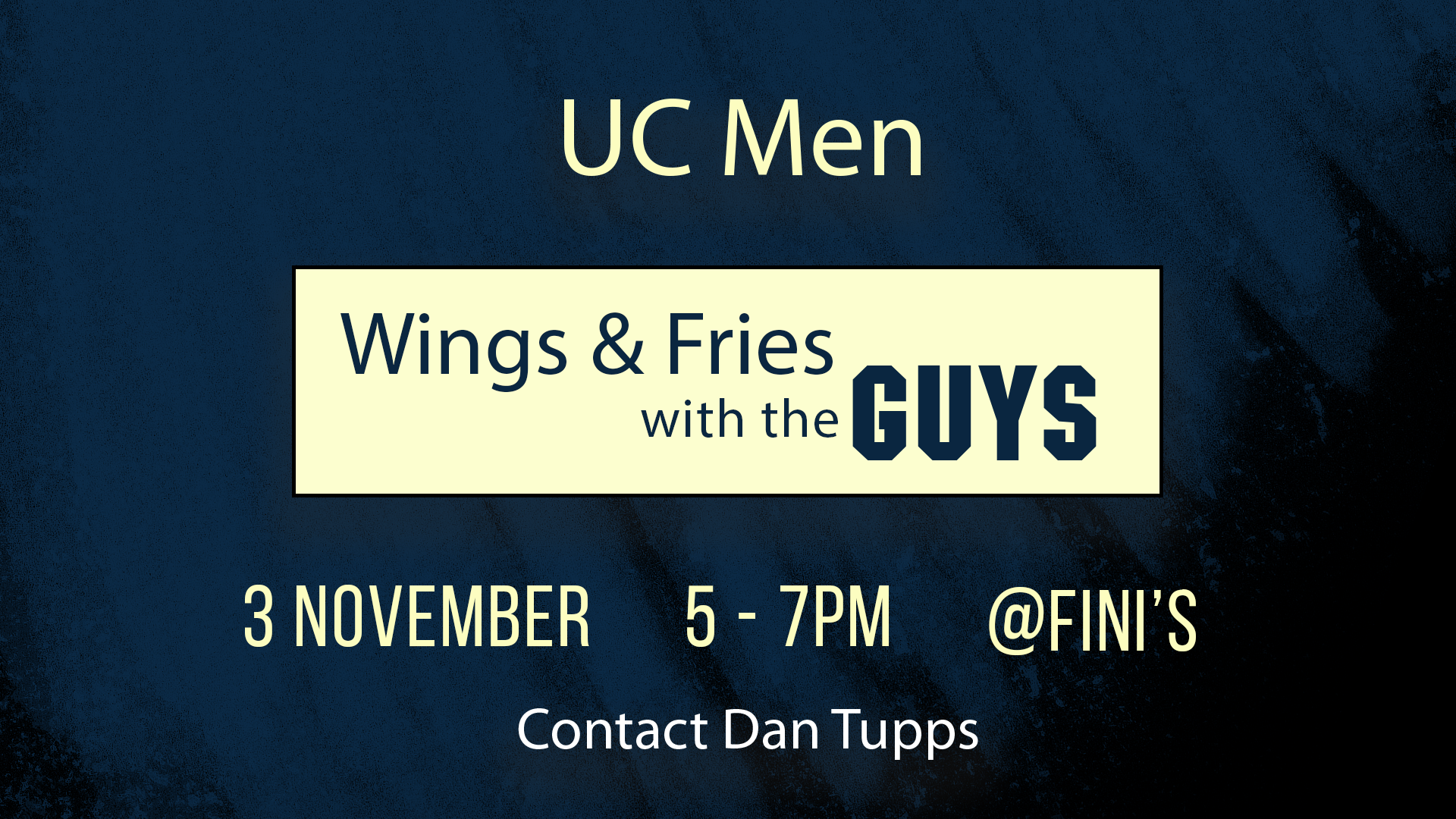 Mother's Choice - Medical and Healthcare Volunteers Needed: Mother's Choice is a local, grassroots charity serving the many children without families and pregnant teenagers in Hong Kong, and one of our "Friends of Union Church". They are urgently looking for medical volunteers, including General Practitioners, Dentists, Pediatricians, and Obstetrician & Gynecologists who can give their time when needed; as well as healthcare volunteers, including Physiotherapists, Speech Therapists, and Occupational Therapists who can conduct child development assessments and administer early intervention treatments to children awaiting forever families. Your contribution could help change the life stories of vulnerable children and youth in our city. If you are interested, please contact .
UPCOMING
Young Adults Study - "Discipleship Explored": Wednesdays at 7:30pm, beginning 8 September. Are you just starting (or restarting) your walk with Jesus? Or perhaps you'd like to grow from a "Sunday faith" to a 7 days / week faith? This journey through Paul's letter to the Philippians is ideal for new believers, those recommitting to their relationship with God, or anyone seeking to grow in their discipleship. For more details contact .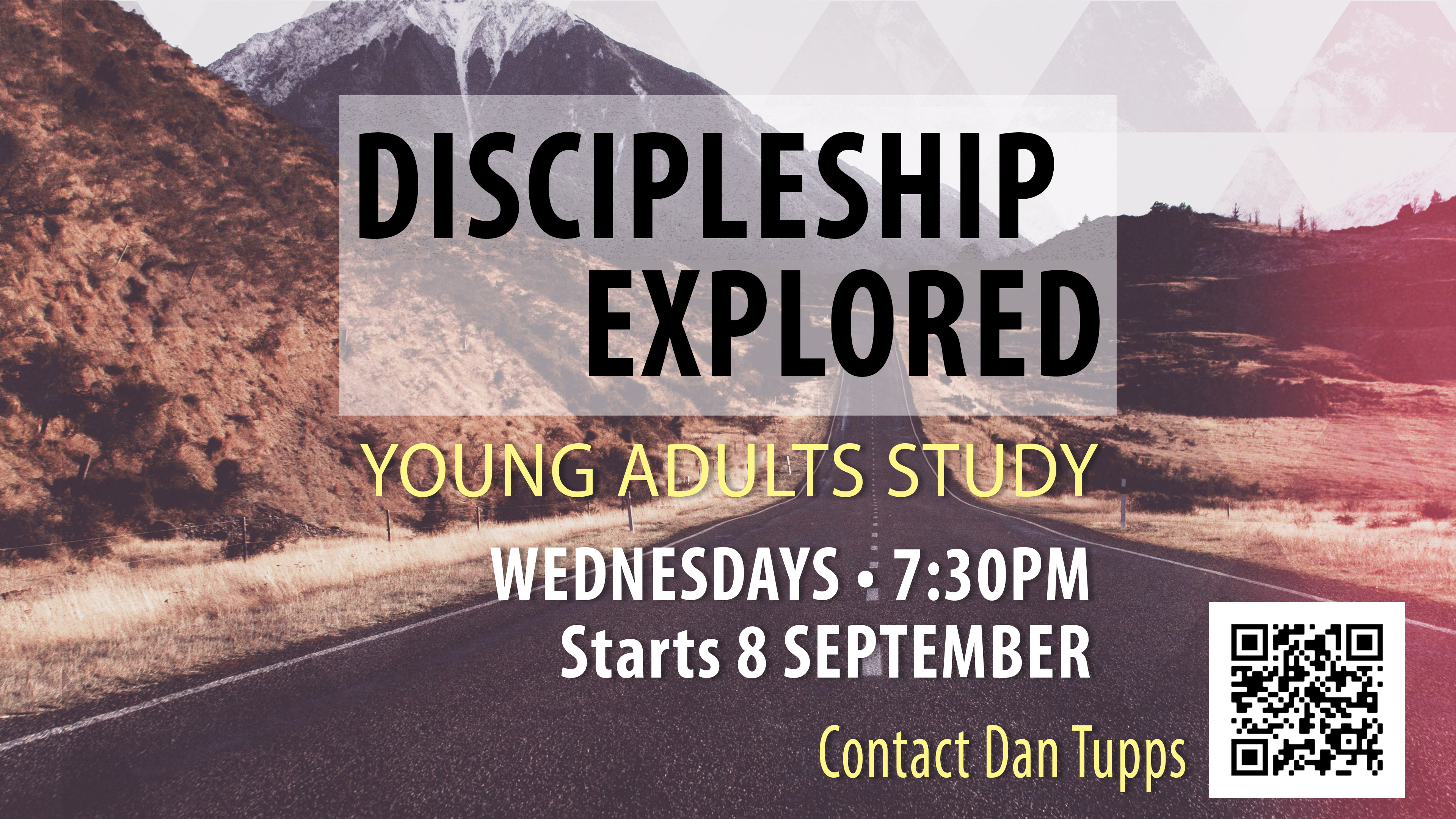 BSF Hong Kong Women's Distance Class: An online English-language BSF (Bible Study Fellowship) class for women will start during the week of 6 September! This is a wonderful option for Hong Kong women who prefer to join BSF and the Study of Matthew from their own homes or offices. To learn more or register, contact
Halftime Summit 2021, 10 - 11 September: Returning to Union Church, Halftime Summit is a two-day, in-person conference that gives you time to pause, reflect and plan for a new season that gives your life more meaning. You will be equipped to clarify your core abilities and passions and discover creative ways to channel your talent towards Kingdom-significance. Learn more about God's plan to give you new-found purpose, clarity and passion for your second half. Flyers are available via the QR code below or here. Questions? Contact Andrew Lo at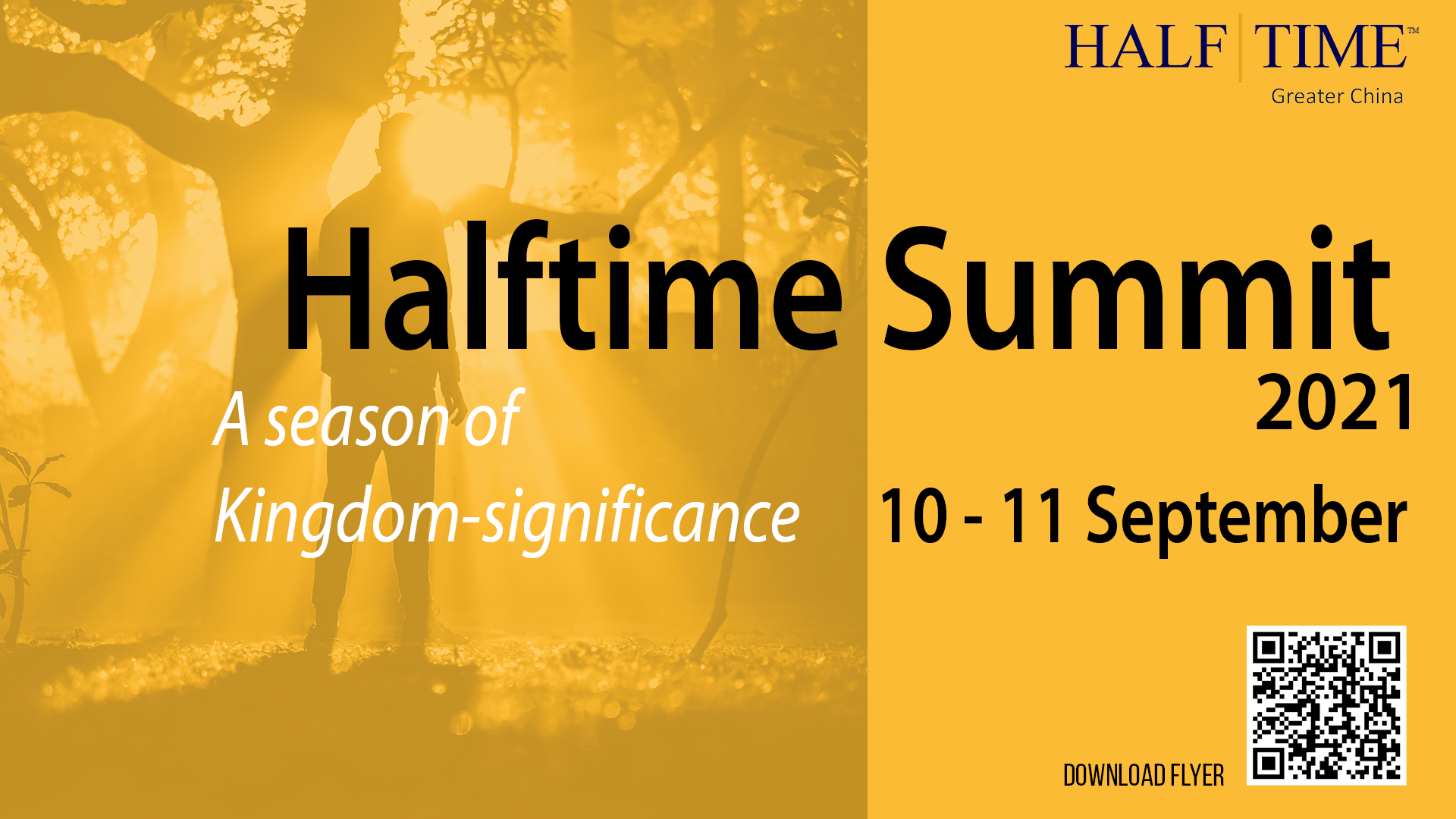 Halftime 6-Week Course: The Halftime team is separately checking interest in a Halftime small group course to be held at lunchtime over a six-week period starting in the second half of October. The content is similar to the intensive 2-day Summit. If you would like to attend or know more, please contact .
Faith & Work Conference Hong Kong 2021: Purpose vs Paycheck, Saturday, 9 October. Join 100+ people who are passionate about faith in the workplace at the in-person Faith & Work Conference. Explore how to find a better "connect" between what we believe and what we do at work, and how to pursue career success and follow Christ's calling as the same time. Consider practical guidance on how God can help you navigate office politics, work-life balance, and dubious practices - and more. Connect with old and new friends and colleagues from across Hong Kong. Receive a fresh outpouring of the Holy Spirit and the heart of God for you in your life and work! Venue: Island ECC. Co-organisers: Community Church Hong Kong, Island ECC, The Vine and Union Church. Registration is open. The early-bird price expires 31 August.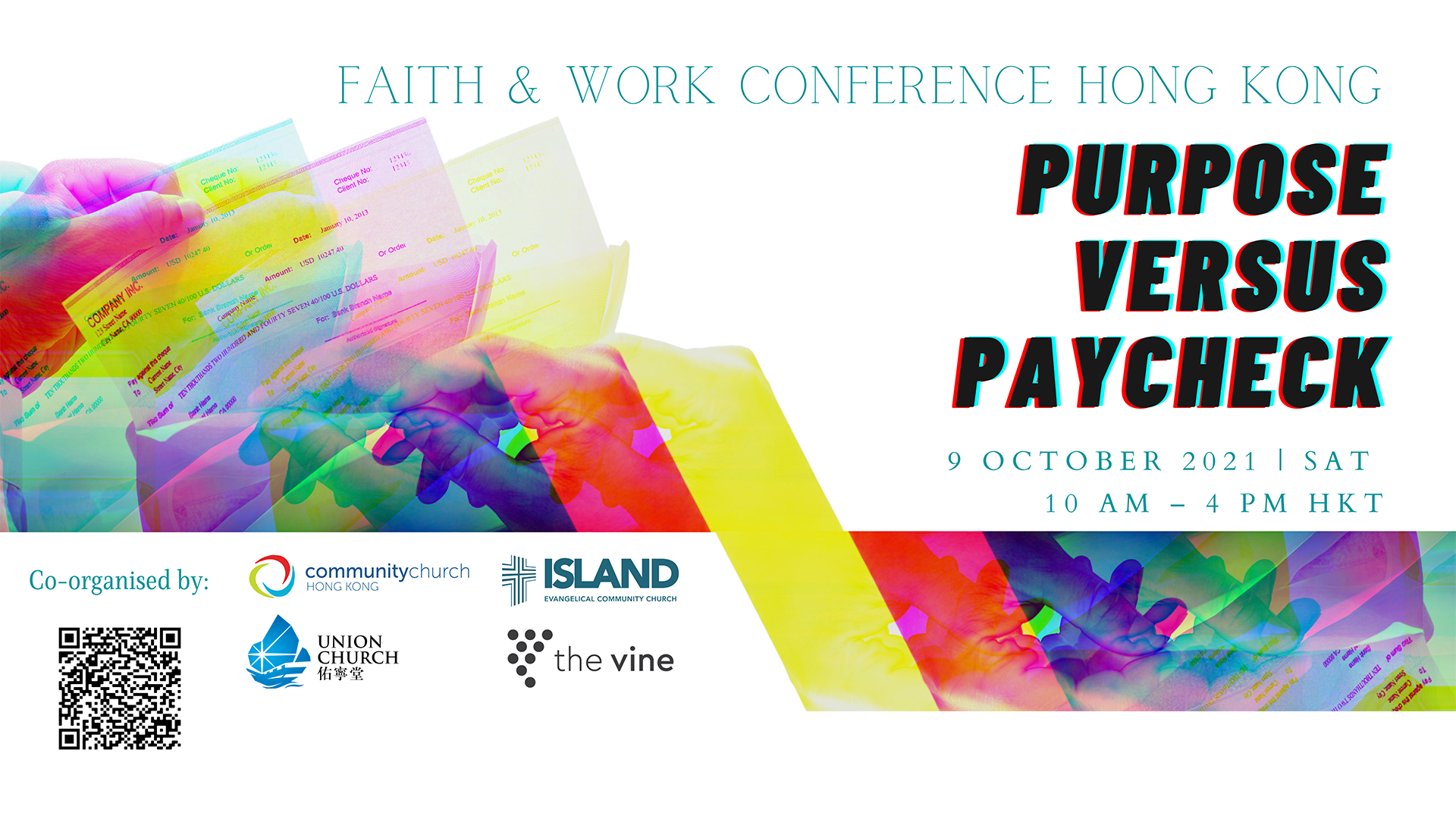 Worship Workshop: God Nourishes Us at the Table on Wednesdays, 15 and 29 September, 7:30pm - 9:00pm. Led by King Chau, this in-person workshop invites you to reflect on the teaching of Jesus on Holy Communion and how He is made known to us at the Table. Learn more and register here.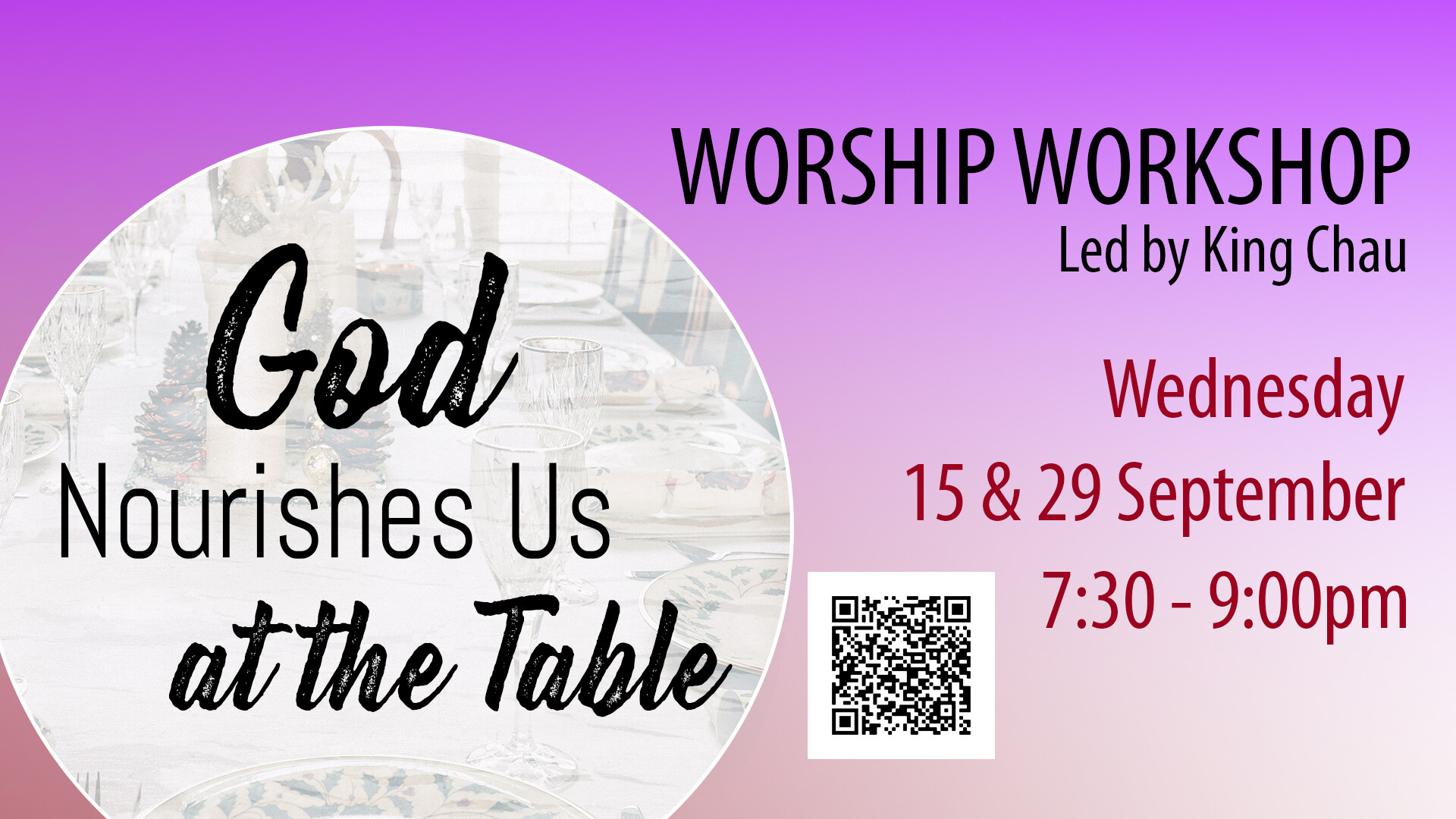 Grace Race Final Push: Come and join us as we finish the last leg of The Grace Race over the weekend of 25 - 26 September. We only have 1,618km to go, so "LACE UP" and join in! Please register here.
Men's Retreat - Save the date! 5 - 6 November 2021. Men, we'd love to have you join us for an overnight retreat on South Lantau. Details + registration are coming soon!
6th Annual Ladies Retreat - 7 WONDERS OF THE WORLD, 12 - 14 November 2021. This year we are delighted to announce a local retreat to South Lantau, staying two nights at the Sydney Leong Holiday Lodge, only a few minutes' walk from Cheung Sha Beach. Union Church women will have the entire facility as a private weekend retreat! Registration is now open.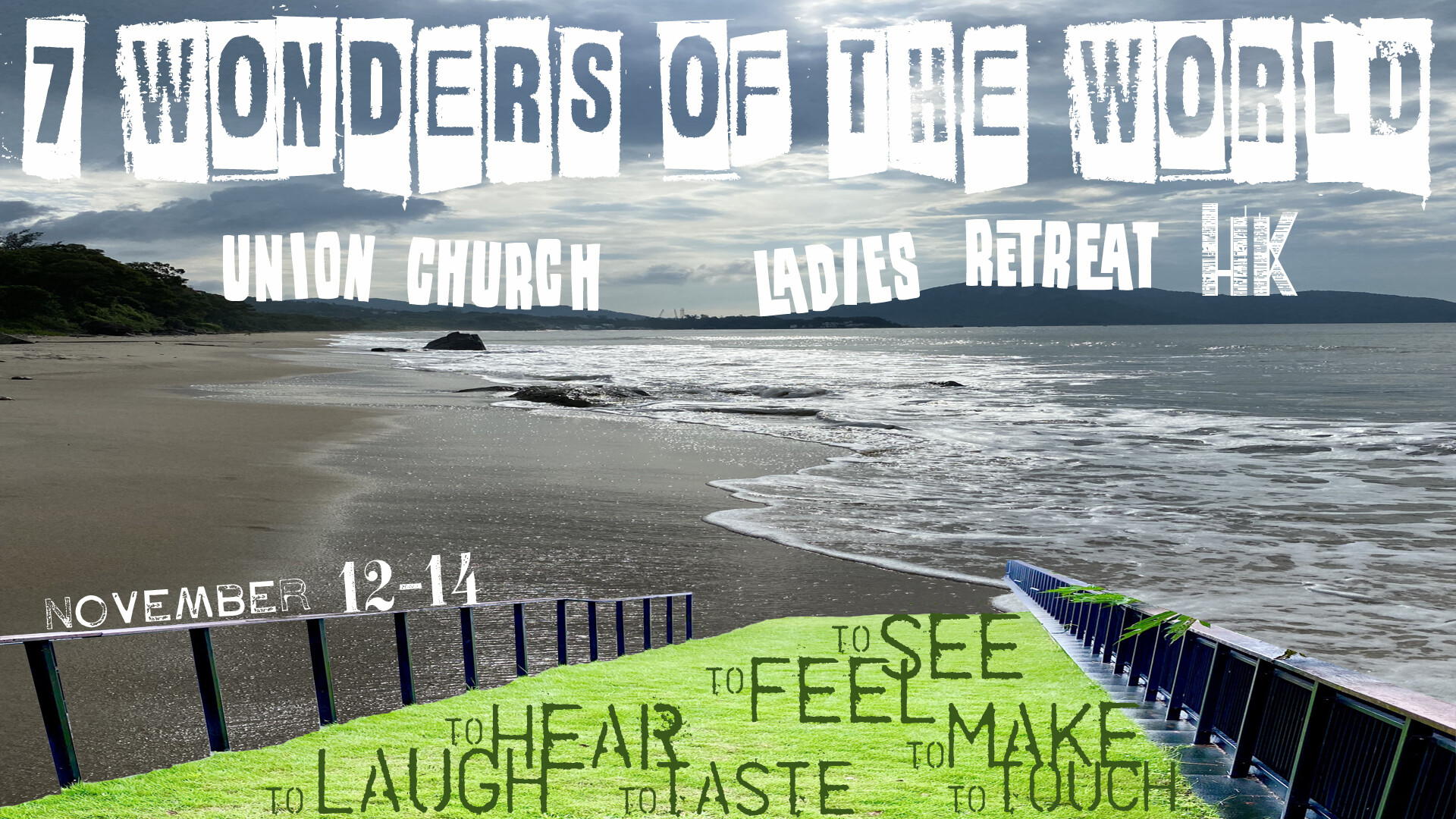 KINGDOM KIDS
'TREASURED' In-Person VBS Sunday School – 29 August, 9:45am and 11:15am. This Sunday we will close off this year's Treasured VBS with the theme of GOD CHOOSES YOU! We look forward to celebrating with our children and sharing with them that we are all God's priceless treasure! Families registered for VBS Sunday School are automatically registered for the Sunday worship service. If your family has yet to register for this coming Sunday, please register here.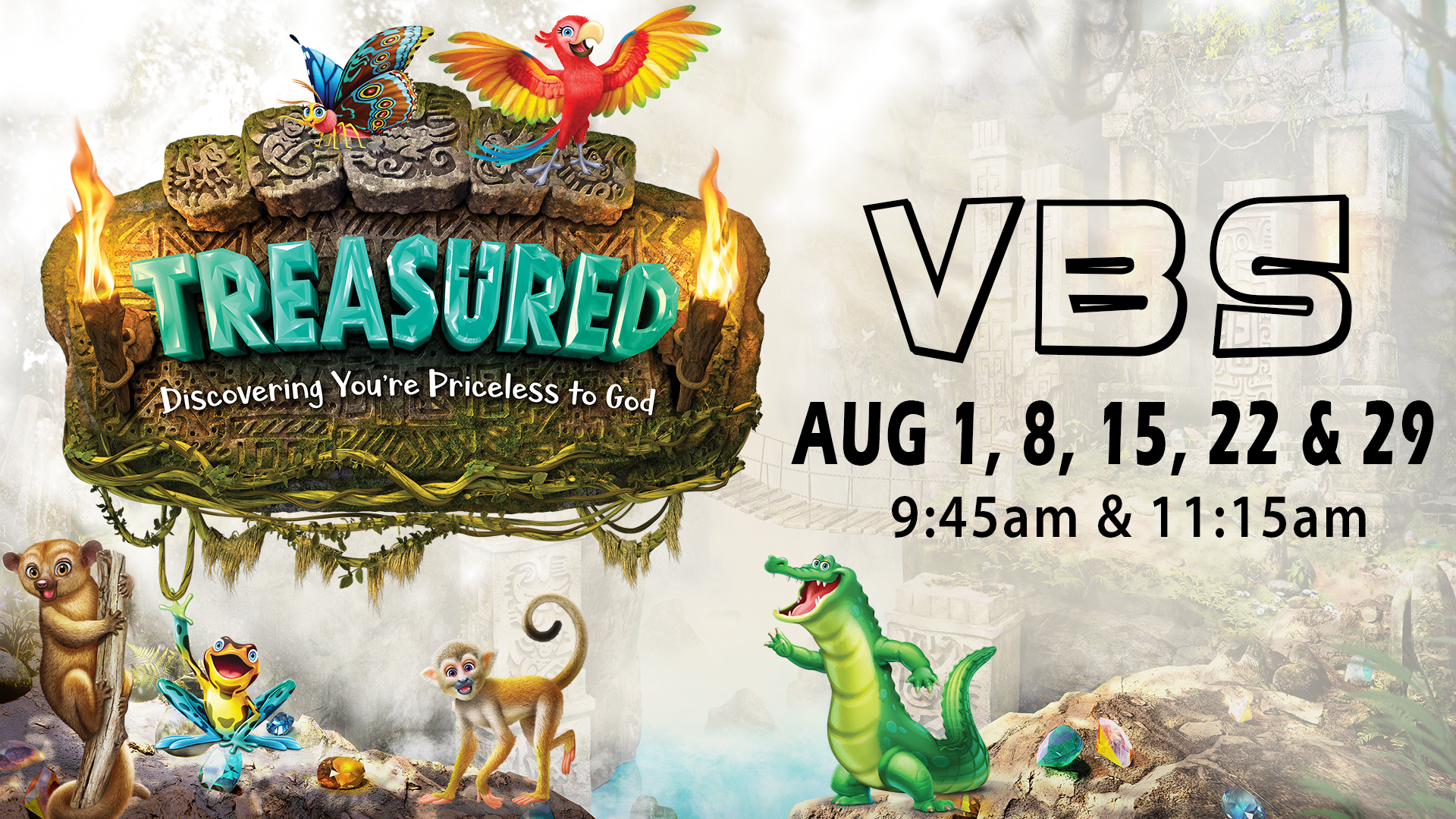 Sunday School Registration 2021-2022: Registration for the academic year 2021/2022 is now open. Children ages 0-10 years old enrolling in our Creche and Sunday School programme must be registered by completing the form HERE. Registration forms are also available at the Children's welcome table. For more information, please visit Union Church's website or contact us at CHILDREN or 2101 0414.
Creche & Sunday School Arrangements: The Creche Centre will be open with restricted capacity. Children ages 3 years old and above are invited to join Treasured VBS Sunday School at the 9:45am and 11:15am services. Services fill up quickly and your family must be successfully registered. Thank you for understanding.
YOUTH
Friday Youth Juniors - 27 August – Amazing Race tomorrow! 6:00pm - 9:00pm. Join us for the Amazing Race! Youth will be grouped into teams who will be challenged with completing a scavenger hunt around the local area. Fabulous prizes await the winning teams. Meet at Union Church. Please sign up here.
Sunday Youth – 29 August – Youth are invited to Ps. Michele's home at 11:15am for a lesson and a time of fellowship. Juniors (11-13) have begun a new series on the book of Ephesians, while Seniors are studying the Book of Revelation and the challenging messages it faces us with! Any questions - please talk to Hunter.
Get ready for the Youth Lock-In and Fall Kickoff on Friday - Saturday, 3 - 4 September! Bring your friends. Learn more and register here.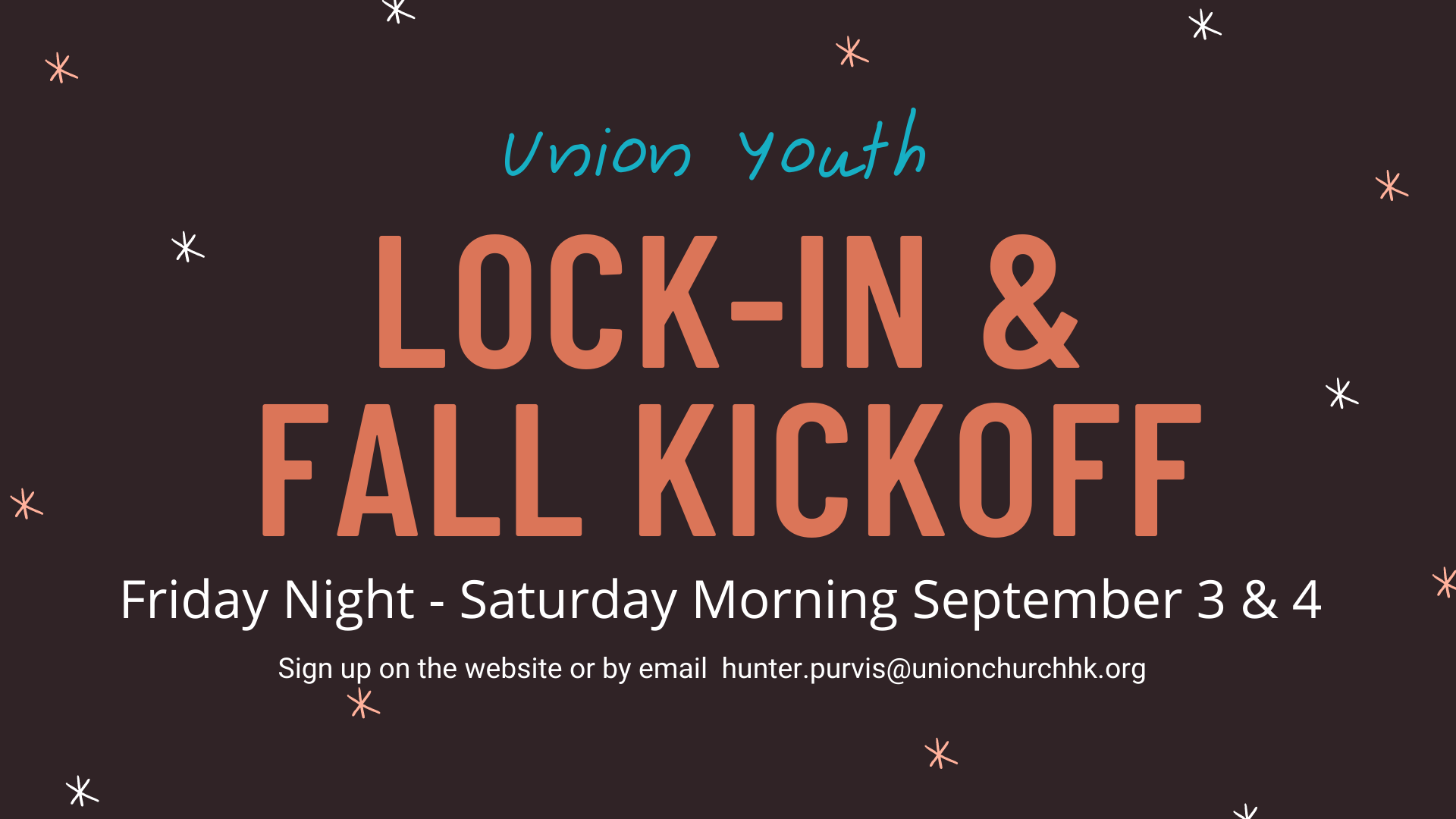 MISSIONS
An opportunity with Kun Sun Prison Ministry on 29 August: Have you ever thought about extending a hand of friendship to inmates at Stanley Prison? Our ministry partner, Hong Kong Christian Kun Sun Association (Kun Sun) is running an introduction to prison ministry for volunteers this Sunday, 29 August, 2:30pm - 5:30pm at Kun Sun's offices in Sham Shui Po: 7th floor, Cheung Lee Building, 137-143 Cheung Sha Wan Road (Sham Shui Po MTR exit A1). All you need to bring is a pen, your own water, and a mask! Kun Sun is specifically looking for more men or couples to join the Stanley team. Questions? Contact Esther at . Remember those in prison, as if you were there yourself. Remember also those being mistreated, as if you felt their pain in your own bodies. [Hebrews 13:3]
Missions Sundays: Looking for ways to get involved in Missions? Our Missions committee is bringing representatives of our ministry partners to church on the 2nd Sunday of each month, starting in September. This is a great way to get to know our partners' organisations and the people they serve, and see how you might participate in their activities. We're excited to welcome ICC (International China Concern) all morning on Sunday, 12 September. Have a conversation with them in Fellowship Hall regarding their work in China with abandoned and disabled children as well as families who have disabled children (Family Partners Programme). Any questions, please contact our ICC prayer partner on the Missions committee, Dale Weathington.
Prayers for Light of the World Church and Preschool, Yangon, Myanmar: Pastor Vum gave a praise report - he expressed tears of joy as his congregation received a payment from Union Church in the past few days. It's bridging the gap for his hard-hit community. Pastor Vum also asked for prayers for God's protection from the military for his ethnic group, the Chin people in Chin State and the Karen people in Kayin (or Karen) State. Secondly, he asks for prayers for his wife and himself as they continue to mourn their young adult son, Joshua, whom they lost nearly two years ago. They miss him terribly, and hope to have a memorial service in early September.
International Care Ministries (ICM) - 17th Annual Banquet: Save the date of Thursday, 28 October for Inspiring Hope - Empowering Change, an in-person event in Hong Kong (and in Manila, USA and UK) that will also be streamed live to the ICM community around the world.
Sunday teaching + small group fellowship and support = match made in heaven (on earth). The support from each other is more important than ever as we navigate life during the pandemic. If you aren't currently in a small group, this is a wonderful time to try it out. There are groups for women, men, couples, day-time, night-time, etc. Contact for more information.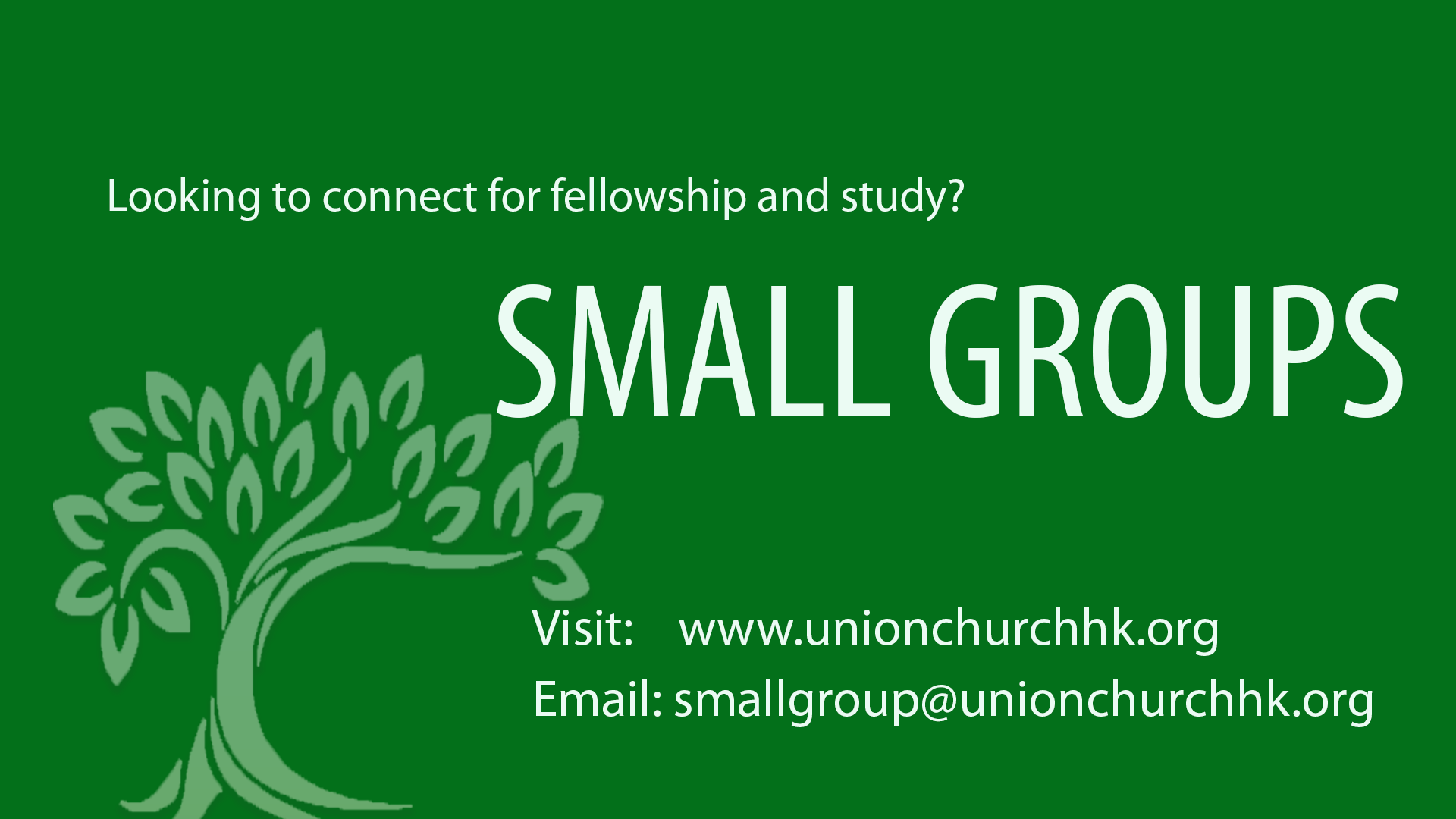 Pastoral Care and Prayer
Need prayer? Reach out to us confidentially at .
Stephen Ministry
We provide high-quality, confidential care to people who are hurting through our Stephen Ministry programme. Contact Pastor Michele if you would like to know more about the programme or meet with a Stephen Minister.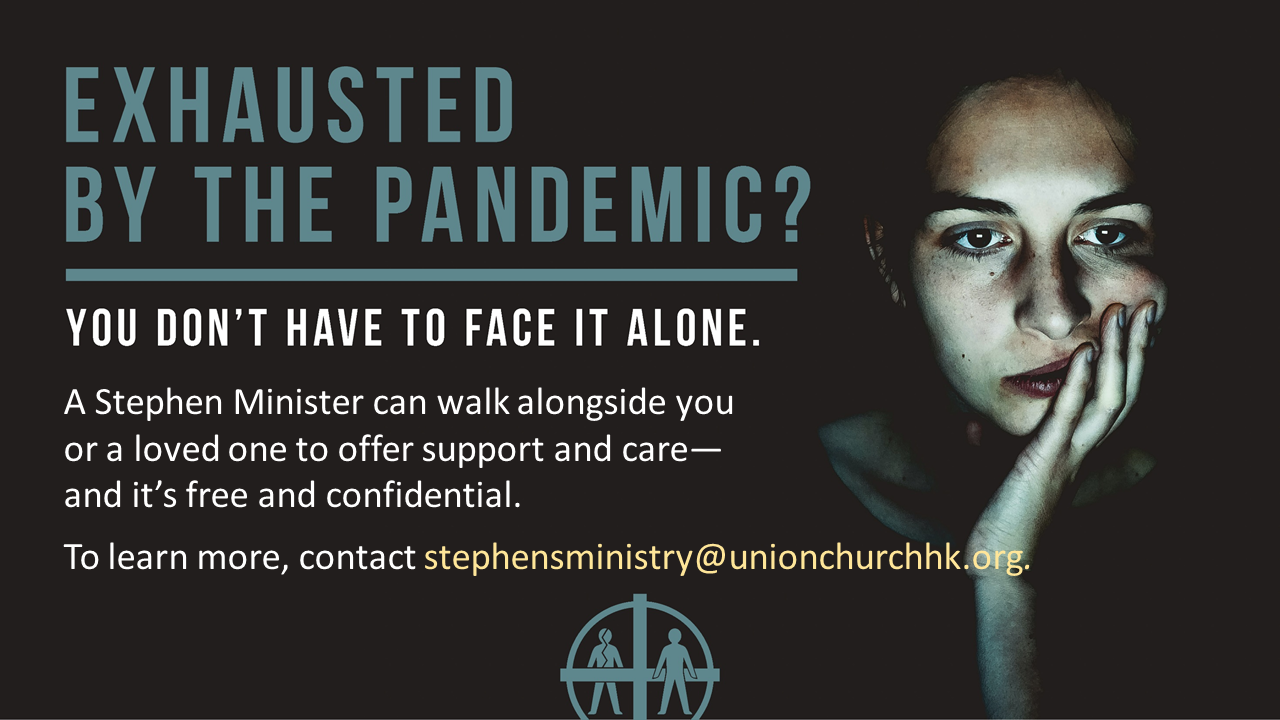 Flowers for the Altar
We are so blessed by the beauty of the flowers on the altar on Sundays. We invite you to donate flowers for any occasion - a birthday, anniversary, birth or in memory of a loved one. You may sign up on the flower calendar on the notice board. You may use the florist you prefer. If you have questions, please reach out to
Last week's sermon
"Navigating Transitions - Remembering" Rev Dr Michele Bland
Social Media
Please follow Union Church Hong Kong on Instagram, LinkedIn, Facebook and YouTube and share with your friends and family. Do you have images, video and stories for UC social media? Please send them to Bronwyn.