U MATTERS
Today is American Thanksgiving - a day set aside to give thanks. As I reflect on the month of November there is no other word that comes to mind than thankful. It has been an incredible month in so many ways. Each week we meet new people at our worship services, we are connecting with our online community, people are requesting baptism, we hosted two retreats involving 79 people - and we are moving forward with Building Union for the Future.
Additionally, I am thankful for our Faith in the Marketplace team. Last weekend our team was well represented in the first inter-church Faith & Work Conference in Hong Kong involving 240 people. Thank you, co-organiser Alexander Mak, workshop leaders and facilitators, Andrew Lo, Dan Tupps and Christine Yeung, small group leader Eunice Seng and our Union Church worship team Joshua Ng, Anson Chan, Chinn Tan, Daphne Wong, and Daniel Ng. Our admin team also provided tremendous support for this event. Thank you all.
As you look around and reflect on your day, week and month - what are you thankful for?
"O give thanks to the Lord, call on his name, make known his deeds among the peoples." 1 Chronicles 16:8
With thanksgiving and gratitude, Pastor Michele
INCREASING CAPACITY AT WORSHIP SERVICES
Starting this Sunday, 28 November, it is our hope that we can increase our capacity during worship services. To do this, we need two thirds of our congregation to have had at least one dose of a recognised COVID-19 vaccine. We also welcome people who are non-vaccinated (1/3 of the congregation). Please continue to register for Sunday services at https://www.unionchurchhk.org/sunday-worship-service-registration/ and let us know if you and your party have been vaccinated.
On Sunday, please arrive 10 minutes early and scan the LeaveHomeSafe QR code and have your vaccination record ready for us to verify. (You will need to do this every Sunday / worship service.) Your vaccination record can be on the LeaveHomeSafe app, the eHealth app, or on a copy of the paper certificate.
Thank you for your patience on Sunday morning as we implement the new system at the door! We will continue to livestream the 9:45am and 11:15am services.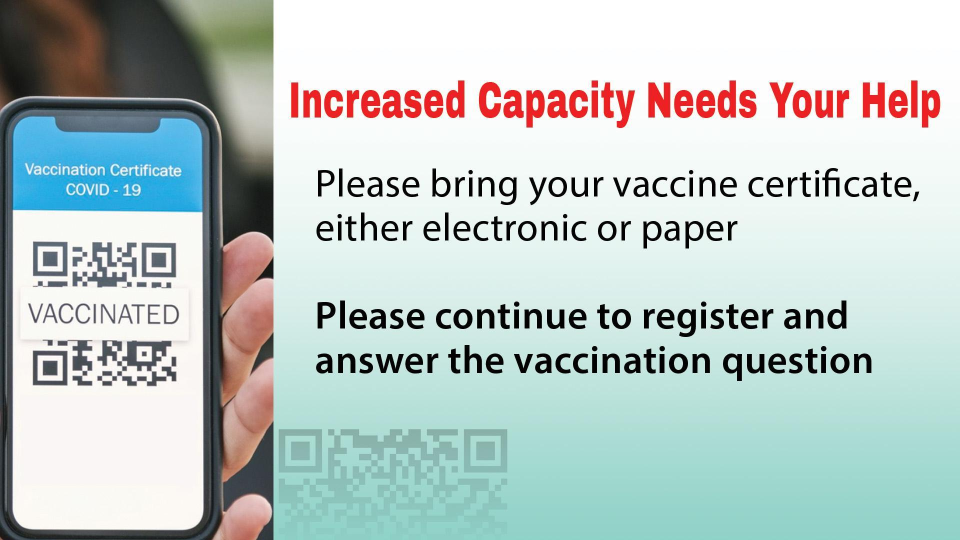 THIS SUNDAY
Advent starts this Sunday, 28 November - the four week period before Christmas that helps us prepare our hearts for the birth of Jesus Christ, the Messiah. At church, you will receive an Advent gift bag with daily devotions prepared by members of our congregation. If you are worshipping online, please drop by the church office to receive your bag. Take a look at our webpage with the full list of Advent and Christmas activities and share the link with your family and friends. https://www.unionchurchhk.org/celebrating-advent-and-christmas/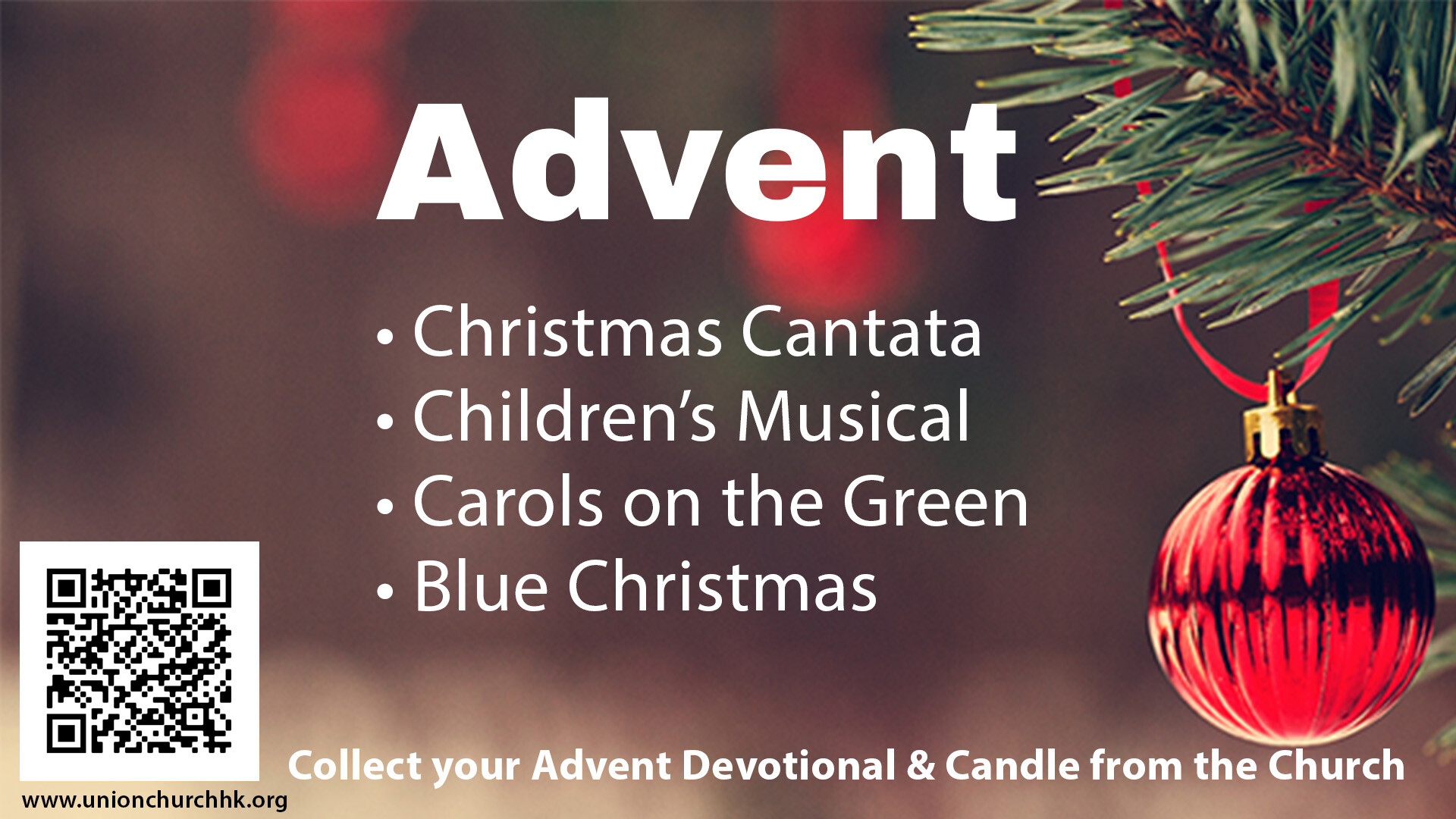 St. Andrew's Sunday, 28 November, 9:45am: Union is a church with Scottish heritage and indeed our founder, Rev Dr James Legge, was himself from Scotland. Join us as we celebrate St. Andrew's Sunday with bagpipes and kilts at the 9:45am service.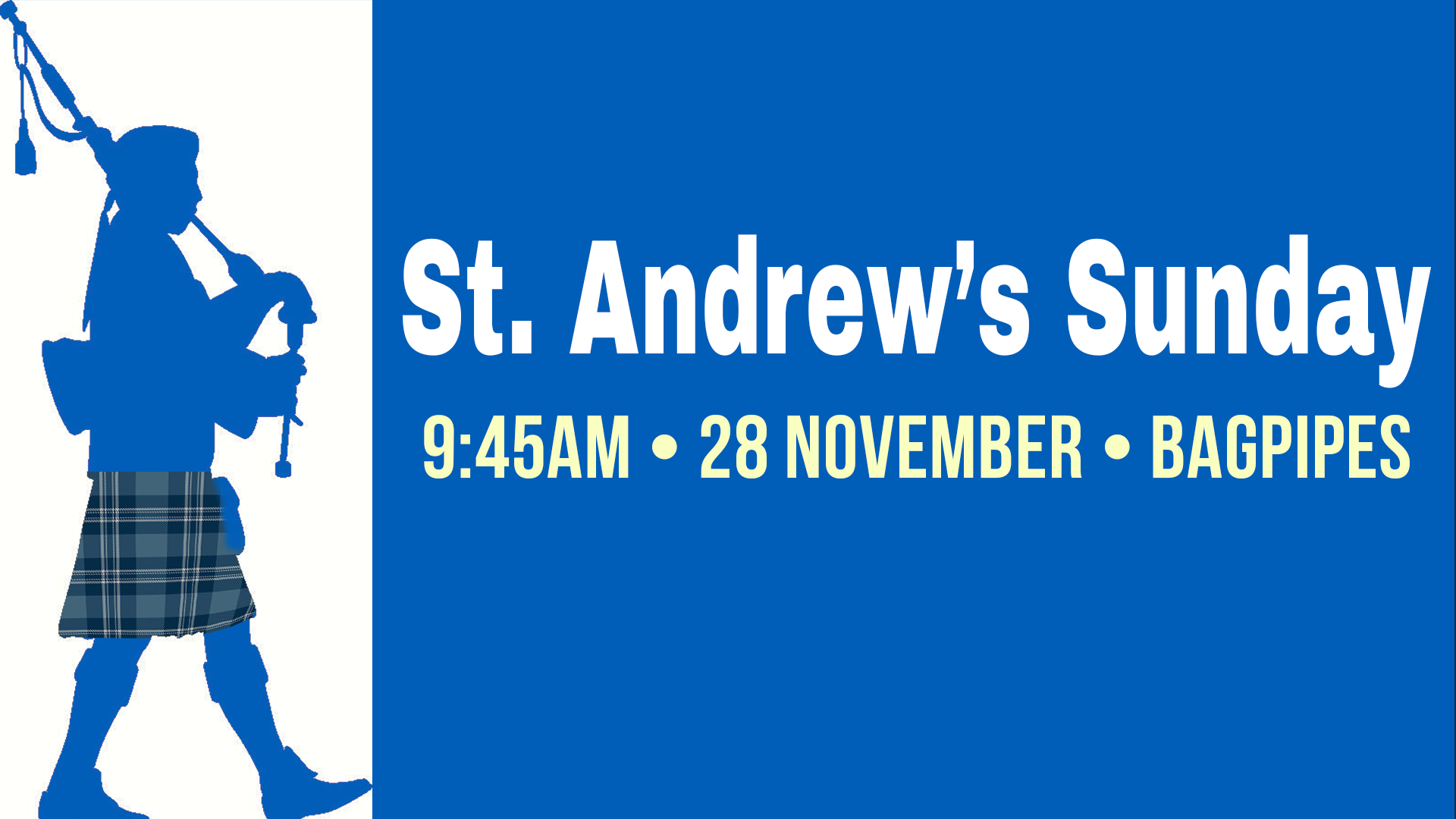 Missions Christmas Fair, This Sunday, 28 November: Discover Christmas gifts offered by 10 of our ministry partners and other friends of Union Church. At the same time learn how they are serving the marginalised, underprivileged and future leaders in Hong Kong and overseas - and help them raise funds for their ministry! Please bring small bills and change and a carrier bag (or perhaps buy one).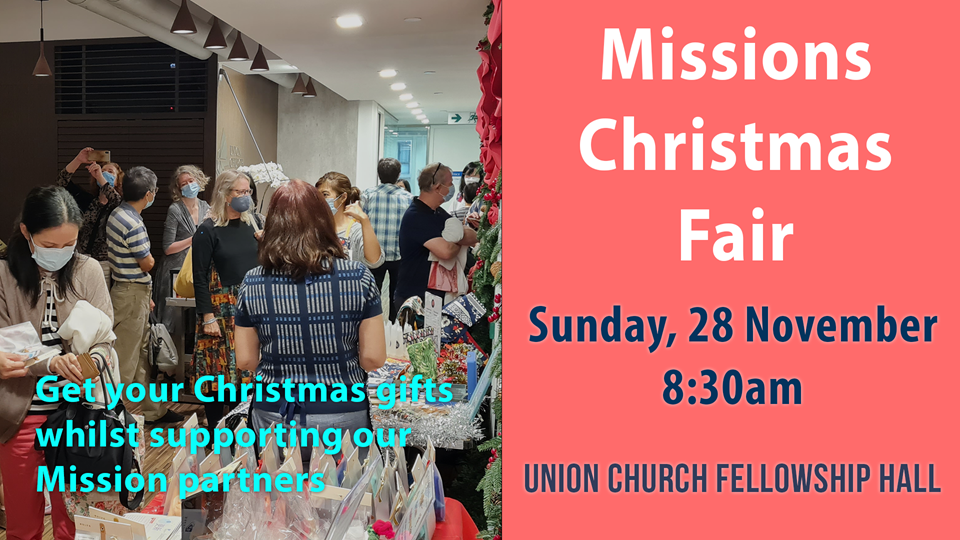 Kindness Walk, This Sunday, 28 November: Join our next walk to serve our Wan Chai neighbours. Everyone is welcome. We will meet on 18/F at 12:30pm. If you have questions, contact .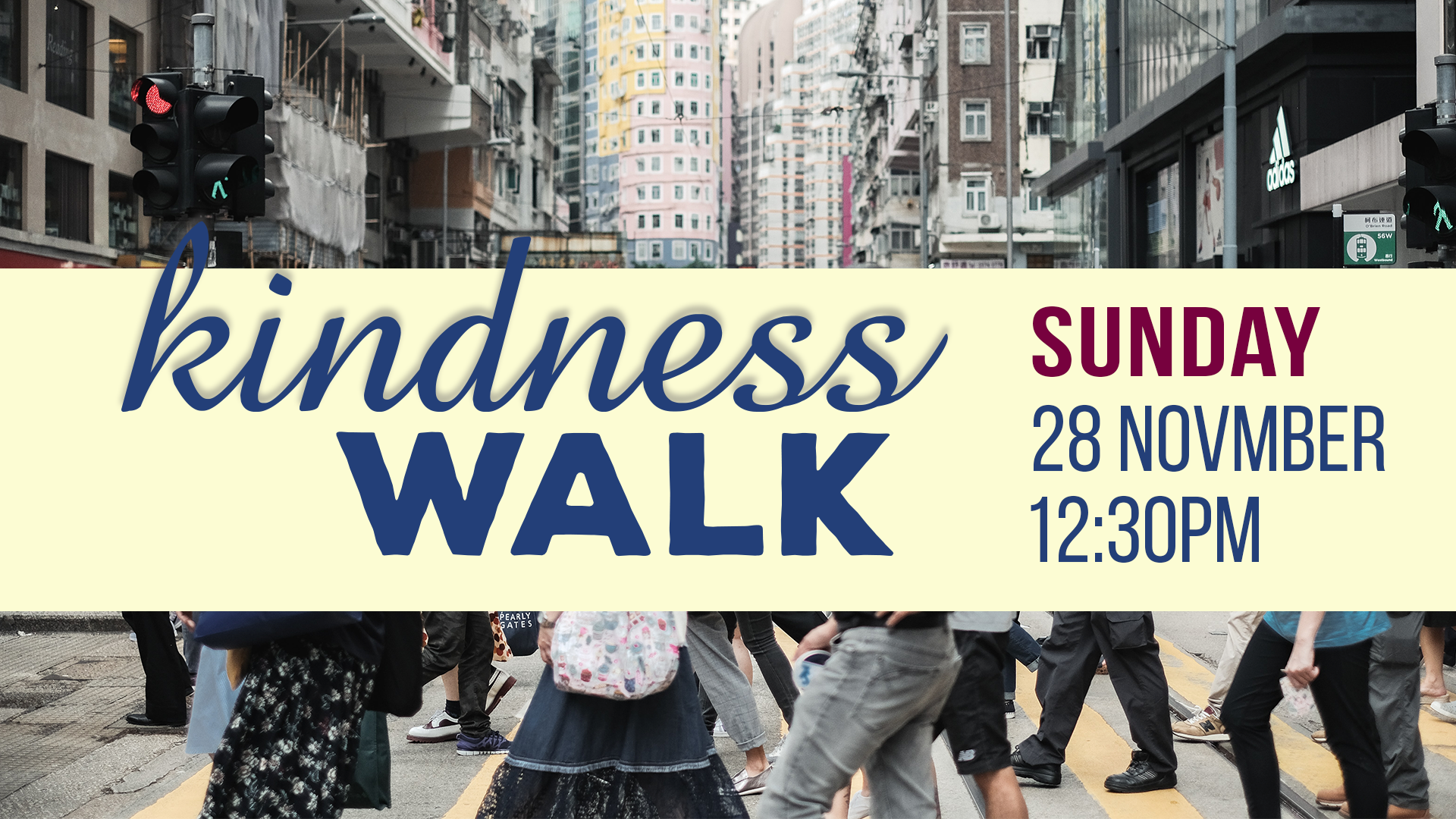 CHURCH MEMBERSHIP
We love having you worship at Union. Why not become a member if you have not already joined Union Church? Membership allows you to vote on church-wide matters and makes you eligible for leadership roles. Ready to take the next step? Contact Pastor Michele.
ADVENT AND CHRISTMAS AT UNION
Christmas Outreach with HKCNP to Tin Shui Wai - Deadline to register is approaching! Register on or before 30 November. Following the successful Bless the City event, we will return to Tin Shui Wai on Sunday, 19 December, with a coach departing Union Church at 12:45pm. Together with a partner church, we'll visit the homes of young families and the elderly and share Christmas gift bags. Questions? Contact Admin.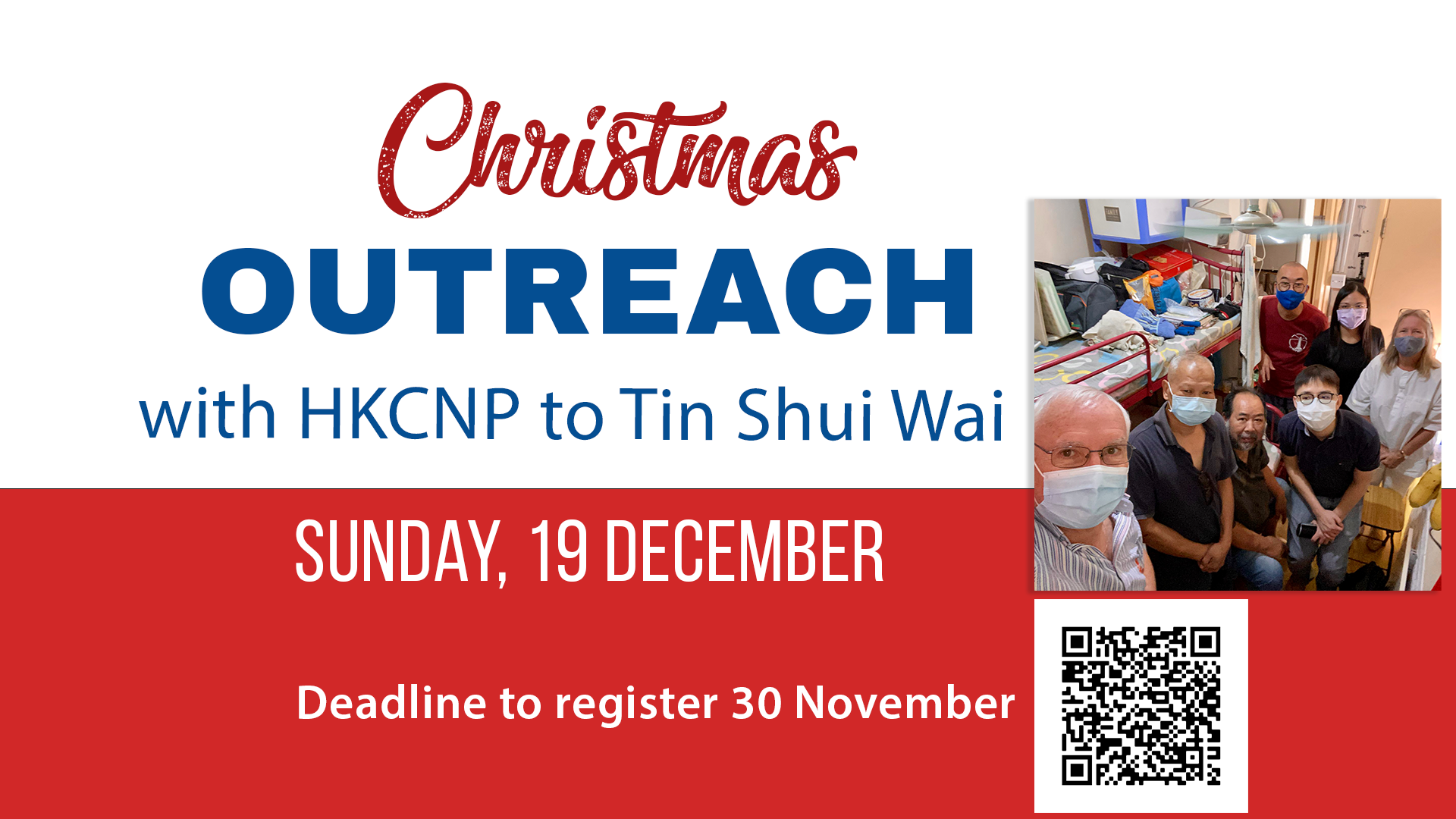 Christmas Cantata! Sunday, 5 December, 9:45am and 11:15am services: We are grateful for the return of the Christmas Cantata with our full choir and musicians. (For those attending the 8:45am service on the 5th, there will be a Communion service.)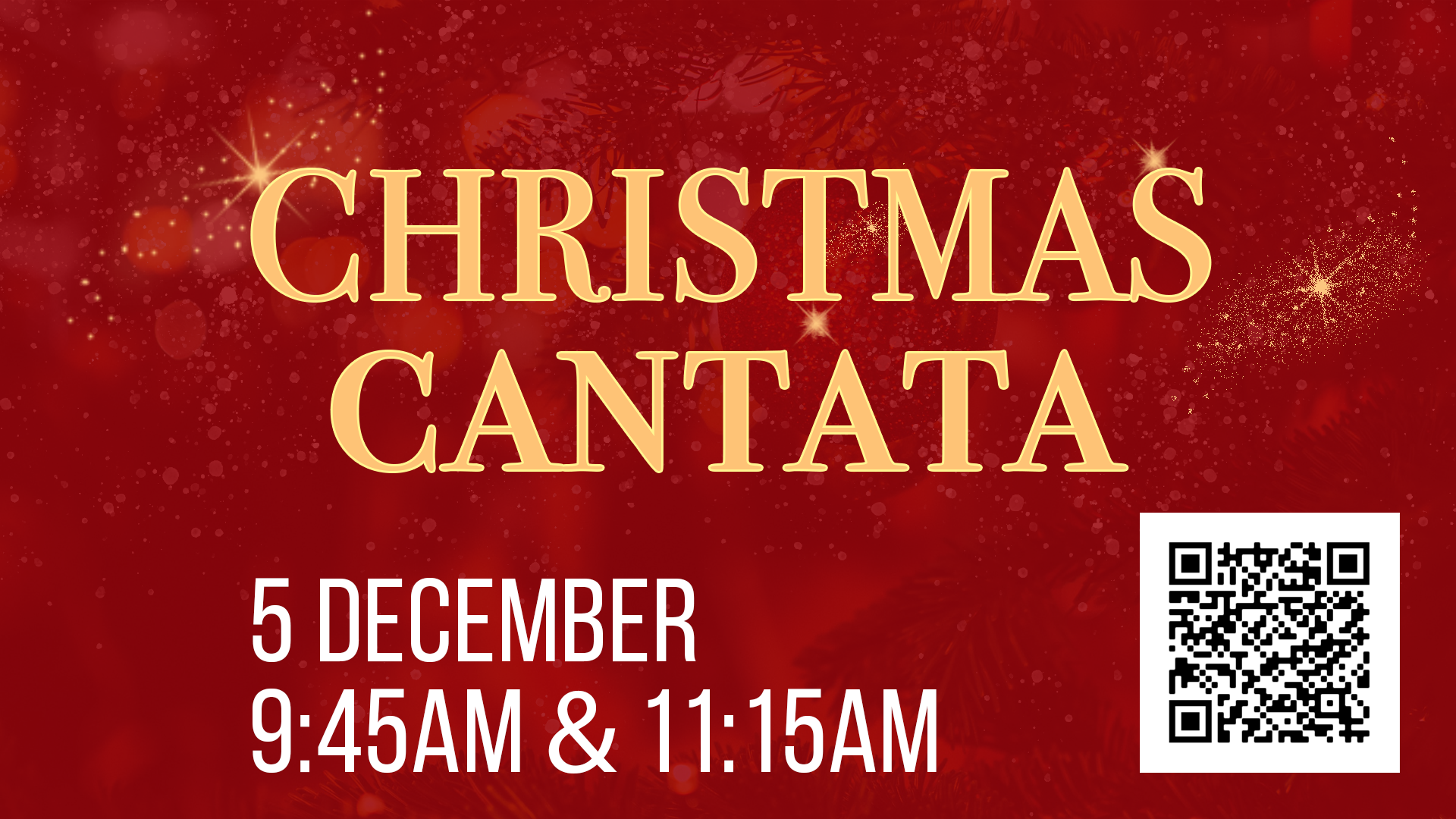 Children's Christmas Musical, Sunday, 12 December: The Children's Ministry will present "A Christmas Treasure Hunt" at the 9:45am and 11:15am services (see below in Kingdom Kids). At the 8:45am service on the 12th, we will offer a Communion service.
Carols on the Green, Sunday, 12 December, 3:00pm: We will see you off the Peak Tram path at 22A Kennedy Road, weather permitting. This is a great opportunity to invite our Kennedy Road neighbours to sing beloved Christmas carols together. No registration required but on arrival please scan the QR code with your LeaveHomeSafe app and have your vaccination record ready.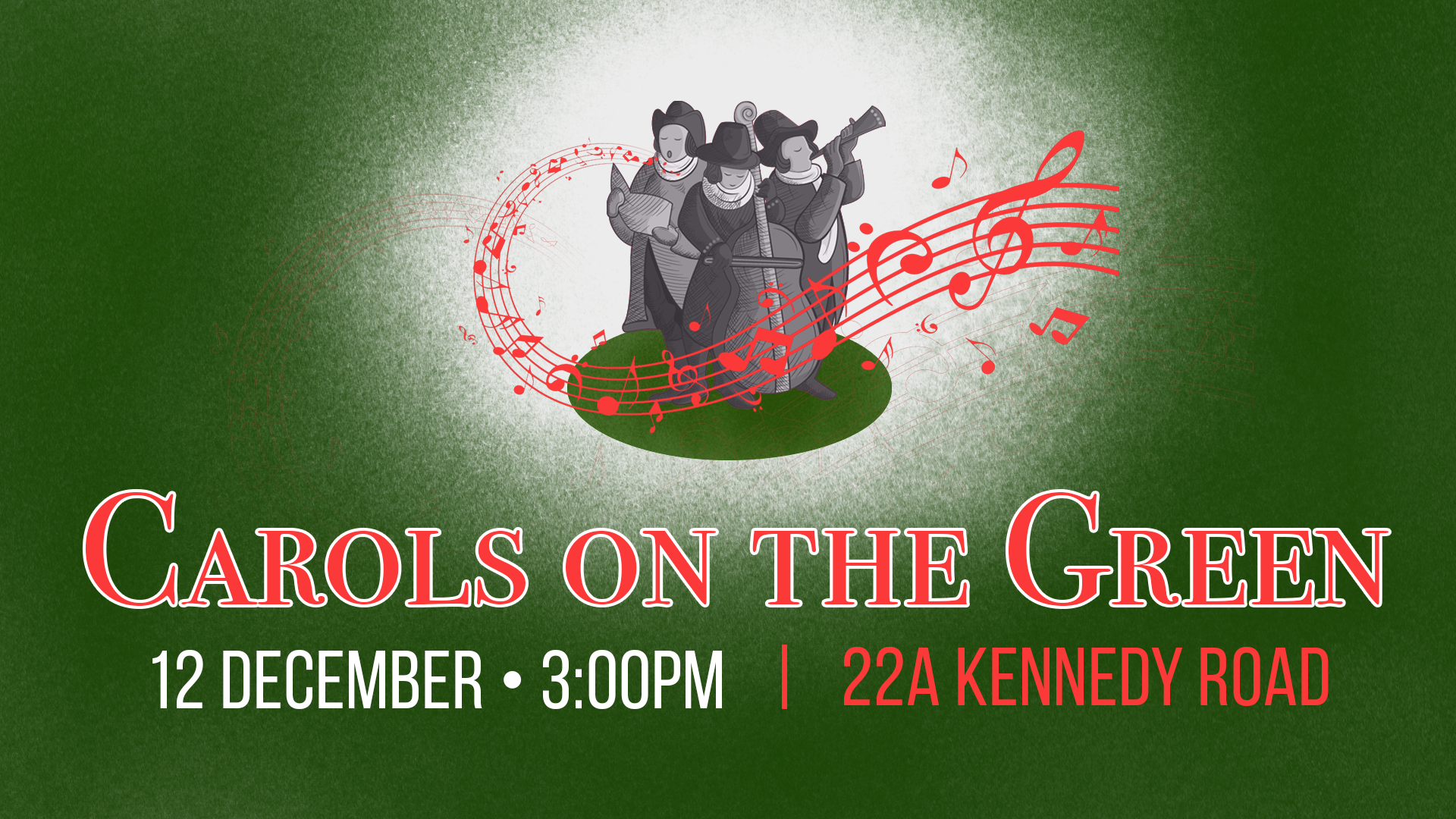 Blue Christmas: A Service of Reflection for Difficult Days, Wednesday, 15 December: Do you know someone who is hurting during these challenging times? This comforting service is an opportunity to invite a friend to church. Register to join us in-person or watch the livestream.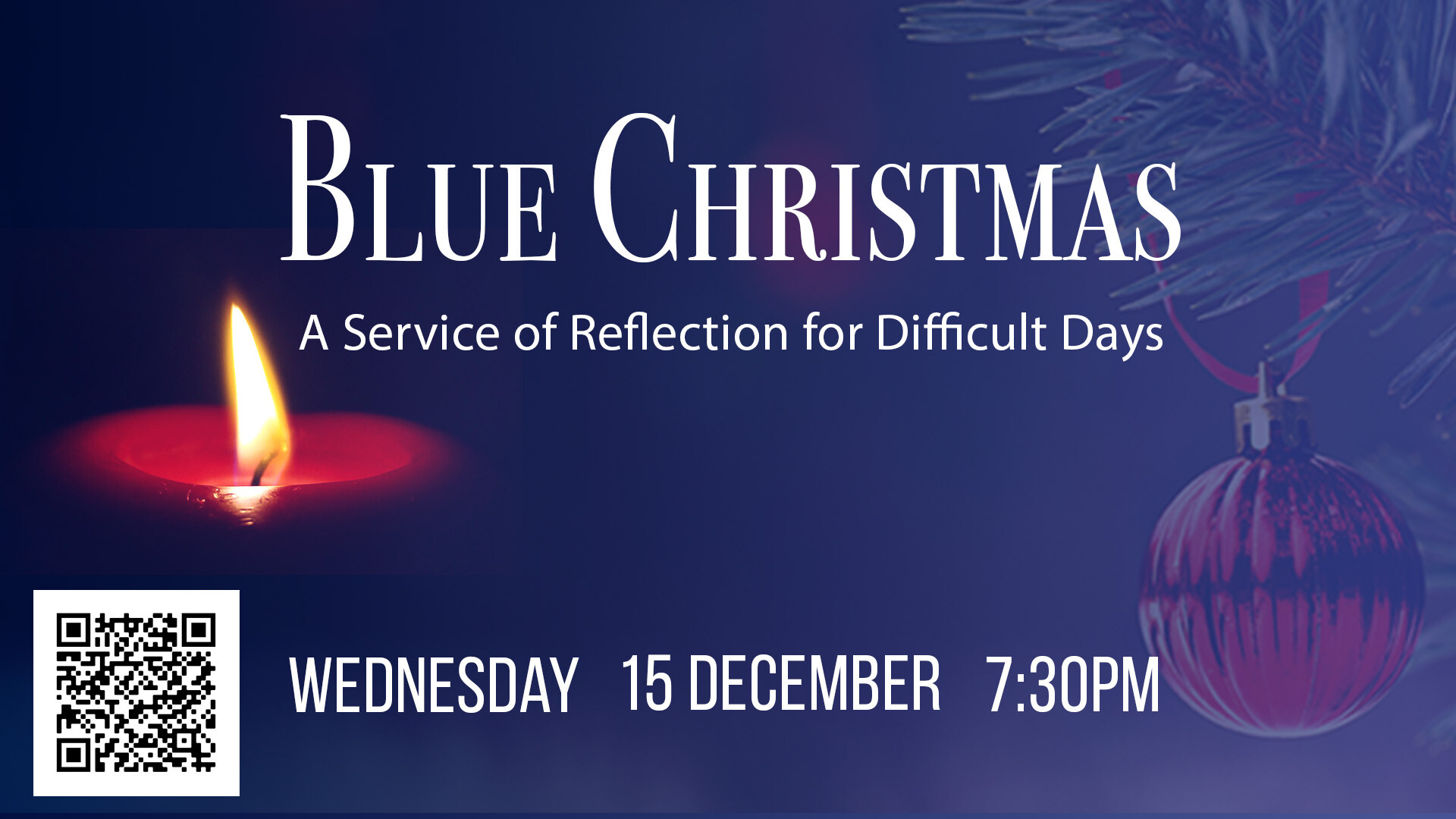 We also look forward to worshipping with you on:
19 December - Advent IV - Hope is Here
24 December - Christmas Eve, 5:00pm and 7:00pm
25 December - Christmas Day, 10:30am
More details are on the website.
Advent and Christmas Sanctuary Flowers: If you would like to make a contribution of any size/amount to the Sunday floral arrangement during the Advent and Christmas Season in loving memory of a loved one you are more than welcome to do so. Our Bulletin each Sunday will indicate who the flowers are dedicated to. These arrangements can be taken home at the end of the Sunday Services or given to a loved one. Please send a note to and arrangements can be made.
MORE EVENTS THIS WEEK
Wings & Fries with the Guys, Wednesday, 1 December: We'd love to have all our men join us at Fini's in Wan Chai any time from 5:00pm - 7:00pm for unlimited wings, fries, drinks and fellowship. Cost is only $100! Questions? Contact .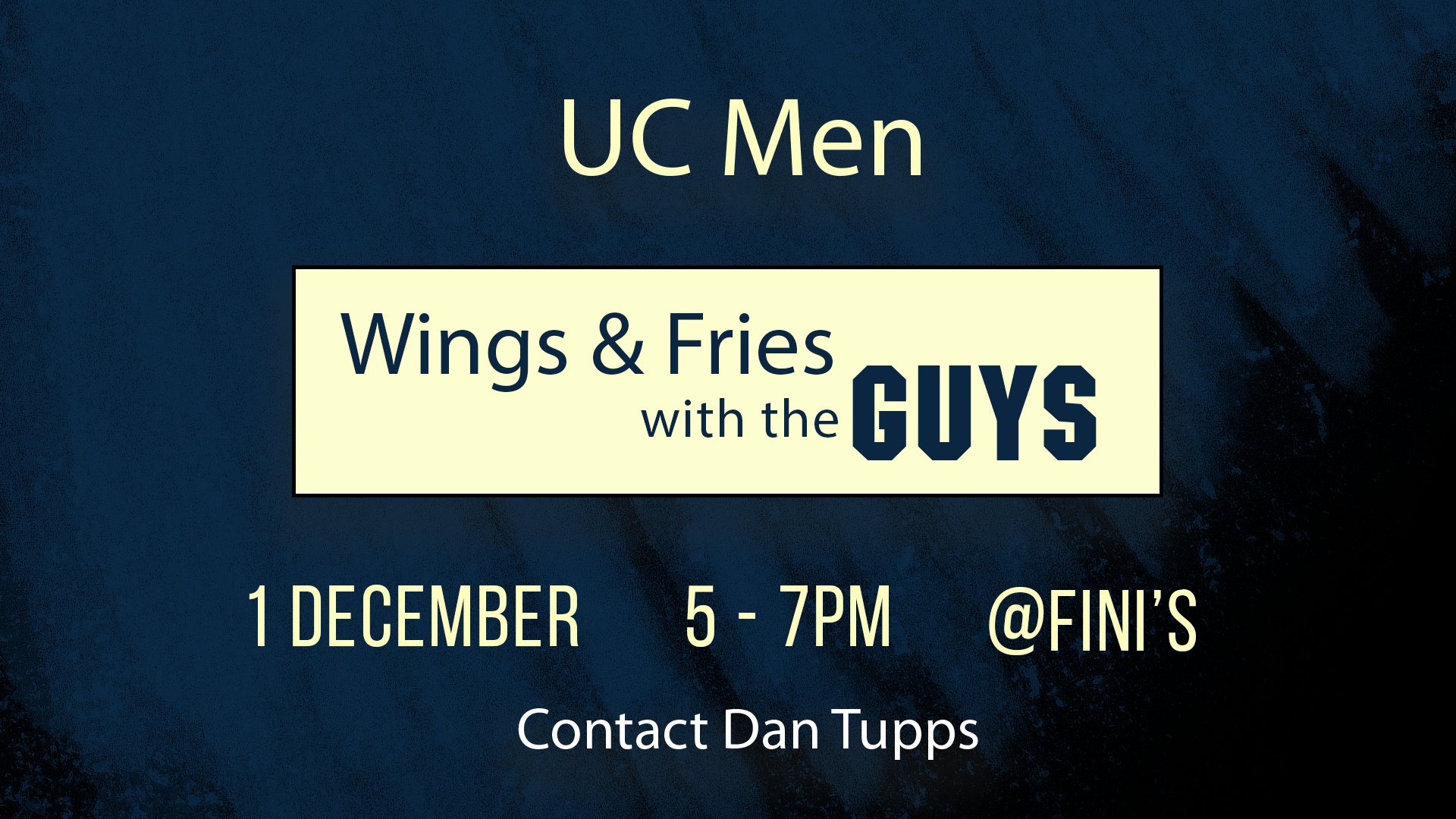 Worship Jam Session, Wednesday, 1 December, 7:30pm – 9:00pm: You're invited to come and play with worship team members in the Sanctuary. Bring your voice, an instrument, your passion for worshipping the Lord! Come be filled up and see what Union's worship team is up to. Questions? Contact Eric Fung.
Coffee and Conversation, Thursday, 2 December, 10:30am - 12noon: Our older congregation is invited to meet for fellowship. Contact for details.
UPCOMING
GriefShare is coming to Union in January: Pastor Michele will lead this weekly grief recovery support group on Wednesdays, 5, 12, 19 and 26 January 2022, 7:30pm - 9:00pm. Learn more here about how GriefShare helps those who have lost someone. The classes will be open to people at Union and beyond. Registration to follow.
KINGDOM KIDS
Children's Christmas Musical Rehearsals - Sundays, 28 November and 5 December, 9:45am and 11:15am: We are just two weeks away from our Christmas Musical and we can't wait to share with you the good news of Jesus' birth. Make sure you join us for "A Christmas Treasure Hunt". Children ages 3 up to 11 years old are welcome to join the musical practice at the Sunday worship service times mentioned above and everyone will have a part to play. It's not limited to only the main roles. We look forward to all the children participating in this year's Children's Christmas Musical.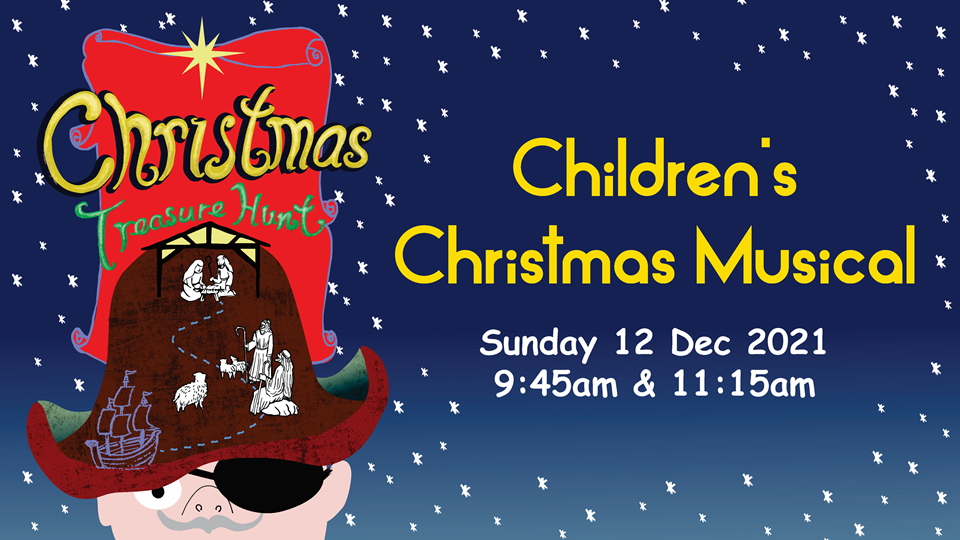 St. Barnabas' Society and Home (SBSH) Christmas Outreach - Sunday, 19 December, 3:00-5:00 pm:
We invite our children and families to join us in celebrating the good news of the birth of our Saviour
Jesus with the children of SBSH through fun and interactive activities. Sign up at the Children
'
s Check-in Table or email us at
with the number of people joining.
Kingdom Kids upcoming events - save the dates:
Children's Christmas Musical: Sunday, 12 December 2021, 9:45am and 11:15am
Children's Christmas Musical Dress Rehearsals: Sunday, 5 December, 12:30pm - 2:30pm and Saturday, 11 December, 9:00am - 11:30am
Children's Christmas Party: Sunday, 19 December, 9:45am and 11:15am
Creche & Sunday School Arrangements:
Children ages 0 - 3 years old are welcome to join our Creche Centre and children ages 3 to 11 years old are invited to join us for our Christmas Musical Rehearsals. Families attending in-person services must be successfully
registered
before Thursday, 12:00pm. Thank you.
In-person Christmas Musical rehearsals: 8:45am, 9:45am and 11:15am
Online Sunday School will be on break through the remainder of the year and it resumes on the second Sunday of 2022.
Kingdom Kids Sunday edition - Discover How to Pray - Part 4 - will be available at the end of the 9:45am and 11:15am worship services on the Union Church website or Facebook page.
Sunday School Registration 2021-2022: Registration for the academic year 2021/2022 is open. Children ages 0-11 years old enrolling in our Creche and Sunday School programme must be registered by completing the form HERE. Registration forms are also available at the Children's welcome table. For more information, please visit Union Church's website or contact us at CHILDREN or 2101 0414.
YOUTH
Friday Youth – 26 November – Tomorrow! We're coming together for a Worship Night while student leader Gemma McKenzie helps lead us through the next commandment from J.John's just10. Note the following schedule. Juniors (11-13 years) and Seniors (14-18) will join together for dinner at Fini's, 6:00pm - 7:00pm and then have worship and the lesson, 7:00pm - 9:00pm. Seniors can hang out in the Youth room afterwards until 10:00pm.
Sunday Youth – 28 November – Sunday Youth are invited to Ps Michele's home from 11:15am - 12:30pm for a lesson and a time of fellowship. Juniors (11-13) are doing a study on the book of Ephesians, while the Seniors are studying the book of Revelation and the challenging messages it faces us with! Please contact Hunter at 6466 5080 if you have any questions. Please ensure Youth know plans for dismissal on the day or can be contacted directly.
Wednesday Youth – 1 December - We will continue our series on Women in the Bible - see you at 6:00pm in the Youth room. Thank you Melody Meyers for helping put together this study!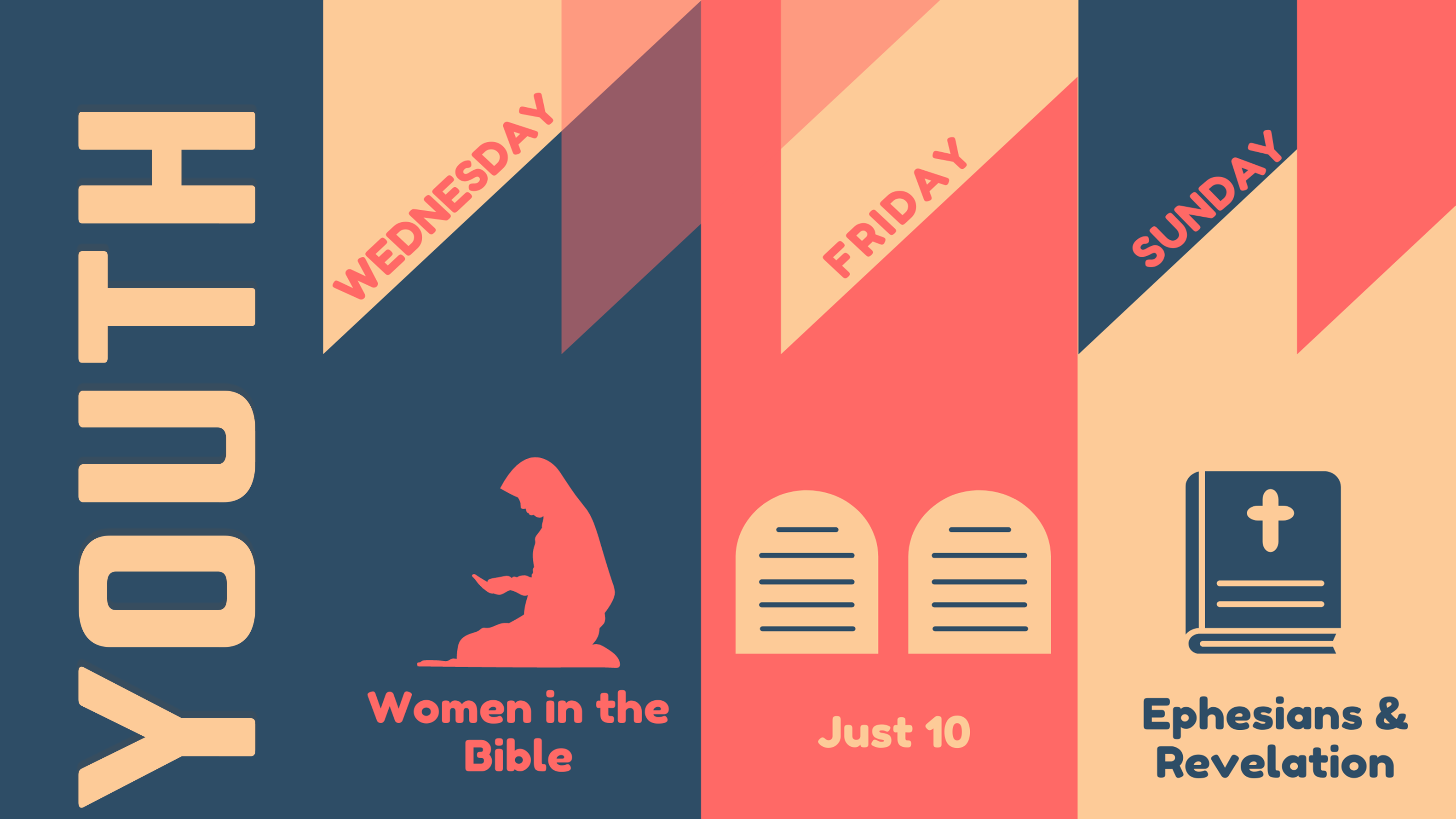 MISSIONS
4.2.20 Foundation, a Union Church Ministry Partner, is committed to advancing access to the whole Word of God for every language, culture & people. Their Institute for Biblical Languages & Translation (IBLT) is accelerating Old Testament translations so that they are accessible in every language and among oral and Deaf communities. Their recent update on their ministry is now available. Please click to access the recording of the presentation.
The Home of Loving Faithfulness (HOLF) gives praise for celebrating 56 years of providing lifelong care for individuals with intellectual and physical disabilities in a loving family home. They have also resumed their volunteer programmes. Union is looking for opportunities to return to HOLF to serve! Learn all about HOLF news in their 2021 Autumn Newsletter.
Formula and Diapers for Sons & Daughters: Our Ministry Partner is working with a woman with a one-year-old. It's a difficult time. If you are able to donate Illuma Stage 3 baby formula and / or disposable diapers size XL and drop them off at the church Welcome Desk or office, it would be so appreciated.
Light of the World Church and Preschool, Myanmar: You might recall that elderly congregant, Daw Pan Wa had surgery several weeks ago. She is improving and test results are favourable. Praise God! Please pray for her full recovery. Please also pray that the preschool and children's ministry continues to flourish and children remain in good health. Please pray for the safety and security of male youth. They are being picked up late at night by the military and police if they have been reported as traitors. Lord we lift up the Vums' teenaged son and the other boys and young men - keep them secure, in Jesus' name.
Ministry Partner visits: We have more of our Ministry Partners visiting in 2022, starting with Alpha on Sunday, 9 January. Save the date to connect with our friends at Alpha Hong Kong.
Union Church gives monthly to people in need through a ministry called FIN - Family in Need. We have recently received requests to help with school uniforms, books, medication, set up for returning to home countries and rental deposits. All of these are urgent and legitimate needs. These are people we have relationships with and we are keen to help. If you would like to support, we would love to hear from you. If you have an interest in being a part of this team please let us know. Regards - the FIN team - Brian Woo, Isabel Morrison and Pastor Michele.
The support from your friends in a small group is tangible demonstration of God's love for us. If you aren't currently in a small group, this is a wonderful time to try it out. There are groups for women, men, couples, day-time, night-time, etc. Contact for more information and pick up a Small Groups pamphlet from the welcome desk at church.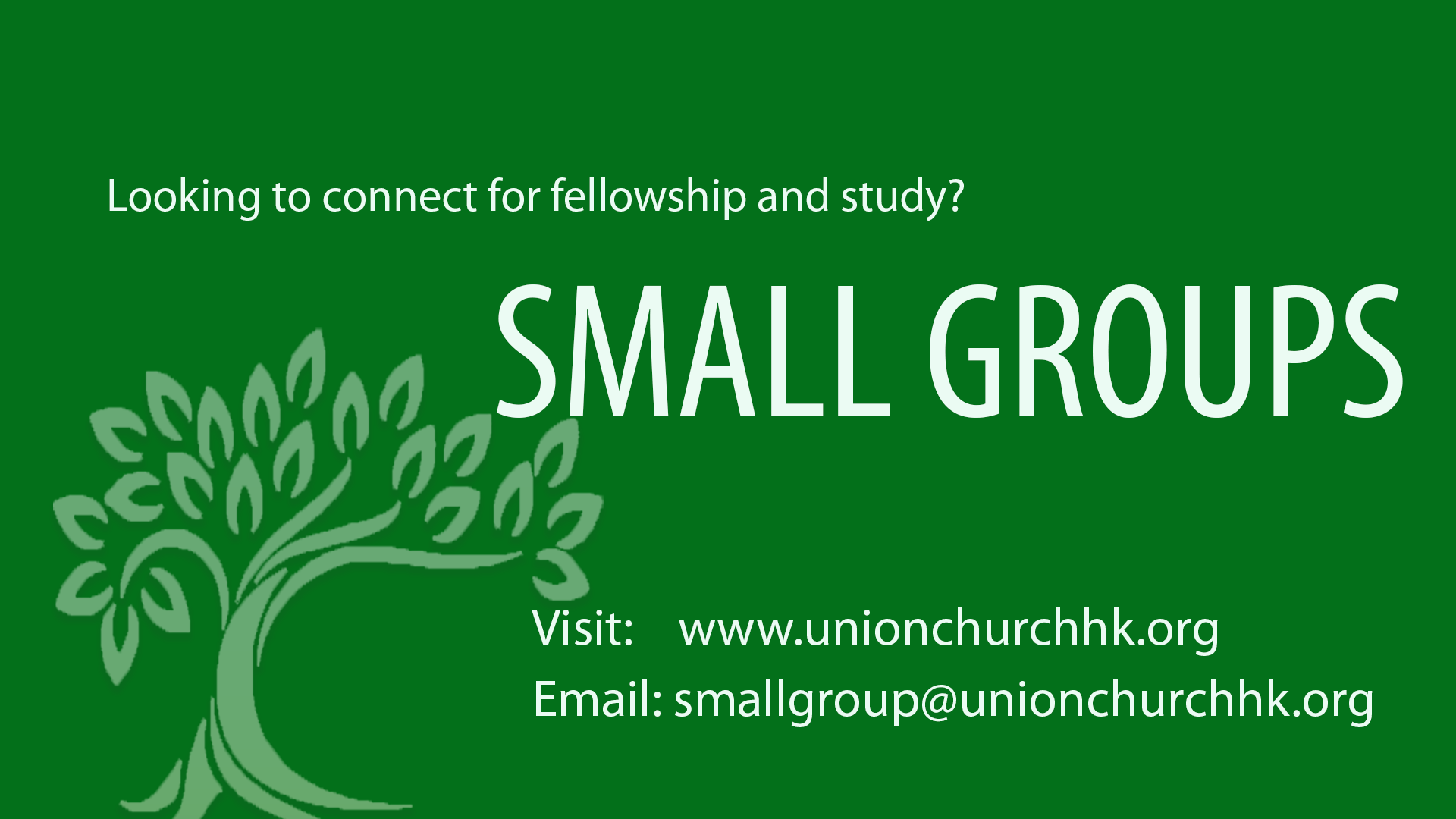 Pastoral Care and Prayer
Need prayer? Reach out to us confidentially at .
Stephen Ministry
We provide high-quality, confidential care to people who are hurting through our Stephen Ministry programme. Contact Pastor Michele if you would like to know more about the programme or meet with a Stephen Minister.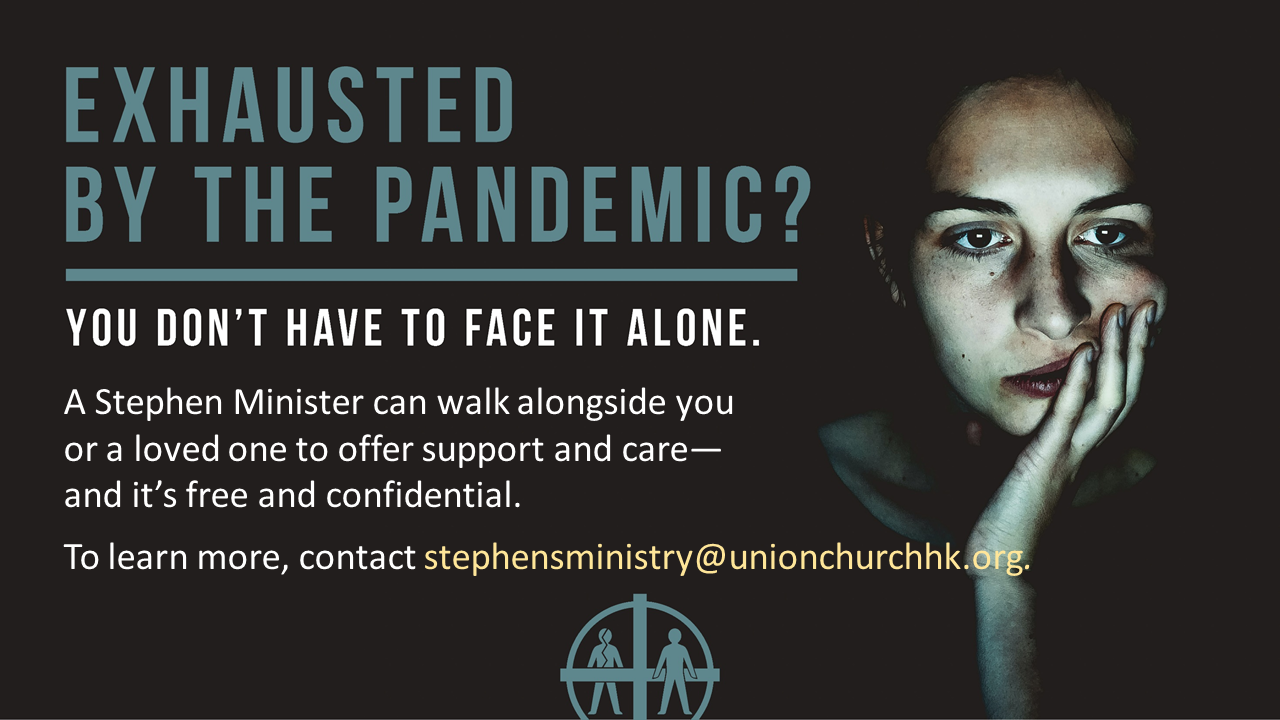 Last week's sermon
"Grateful...and so we respond" Rev Dr Michele Bland
Social Media
Please follow Union Church Hong Kong on Instagram, LinkedIn, Facebook and YouTube and share with your friends and family.