U MATTERS
The last two years with protests and COVID, our community and city have faced tremendous strain and challenge. We have spent more time online and made more adjustments to schedules, work, parenting and worship than ever before. It has been a little over a year since our first lockdown and we have been stretched in so many ways. Many are grieving the loss of a loved one, others are working their way through losses in life - jobs, health, marriages, opportunities and the list goes on.
Self-care is critical at times like these. Self-care involves caring for your mind, body and soul. It means exercising, eating properly, getting enough rest, socialising, worshipping, and monitoring our emotional health. At times we may need to reach out for additional help and help may come in the form of reaching out to a friend, seeing a therapist or reaching out to one of our Stephen Ministers.
Overall, Union Church has trained 19 Stephen Ministers with more than 50 hours of pastoral care training and they have been active in providing pastoral care to members of our congregation and the public. In fact, last week, five Stephen Ministers and Monte completed an additional 25 hours of training to become Stephen Leaders. We rejoice and give thanks for the gift they are to the community and we look forward to the opportunities we have to grow this ministry. Graduates include Ellen Ahn, Tess Lyons, Monte Peterson, Crystal Lo, Trudy Staalman and Catronia Woodrow.
If you are interested in receiving a Stephen Minister, please contact me directly and I would be happy to find an appropriate Stephen Minister for you. This is suitable for both men and women. Enquiries are kept confidential.
He (Jesus) said to them, "Come away to a deserted place all by yourselves and rest a while." For many were coming and going, and they had no leisure even to eat. Mark 6:31
Blessings, Pastor Michele
FAMILY NEWS
This Sunday is Palm Sunday - Hosanna in the Highest! Please have ready the palm cross we posted to you at the beginning of Lent. We're worshipping online at 9:45am (Traditional service) and 11:15am (Contemporary service). Find us on our website, Facebook page, Union Church app or YouTube.
This week's flowers are given by Kowloon Union Church in memory of Charles Schmitt in honour of his service and dedication for those seeking a "place" of refuge in Hong Kong. You may still view the Celebration of Life service for Charles on our YouTube channel. Bronwyn and family are deeply appreciative of everyone's outpouring of love, grace and prayers.
Tonight! heARTwork: A drawing experience with Crystal Lo, Thursday, 25 March, 8:00pm. Please register to receive the Zoom link, as well as a .pdf file with drawing references and a list of the materials needed.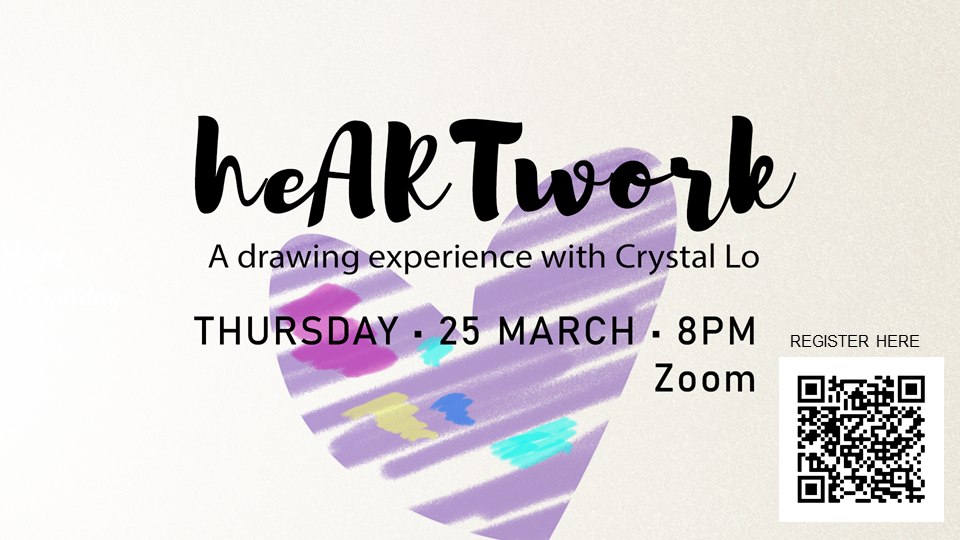 Video project - please help: We would love it if you or your family recorded a short video saying "He is risen, He is risen indeed!". Please whatsapp your clip to Rob at +852 9778 9130 by Monday, 29 March. Also please follow these helpful tips while recording: 1) turn off your air-conditioning 2) place the camera close to you 3) ensure the camera is in landscape format (not vertical) 4) after you start the video, pause 3 seconds before speaking and do the same after speaking, and 5) do not use a window as the backdrop - no matter how nice the view! Thanks.
The Grace of Giving Campaign: We have achieved over 30% of our goal in this fundraising year. Praise the Lord!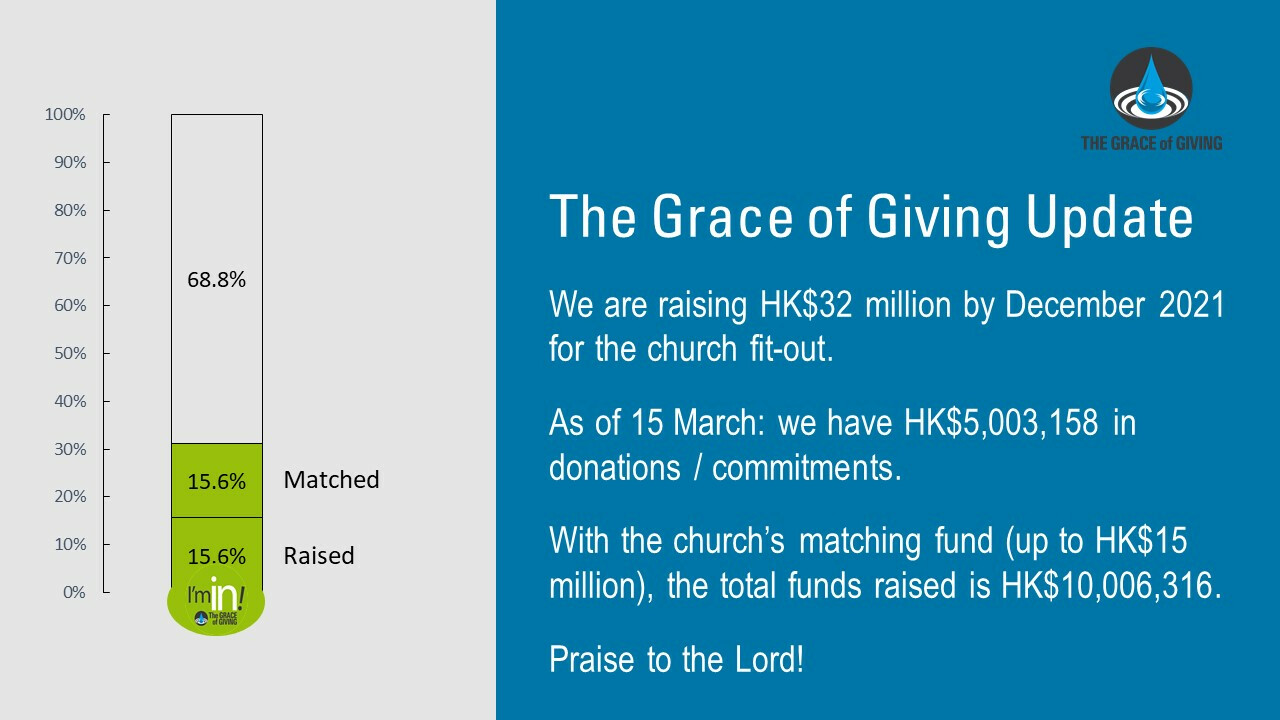 Union ReUnion! 17 April is the new date of our online / in-person family gathering and Grace of Giving fundraiser. We have an exciting evening planned and all are invited. If you would like more information, or are available to host a group of friends, please contact Bronwyn or David.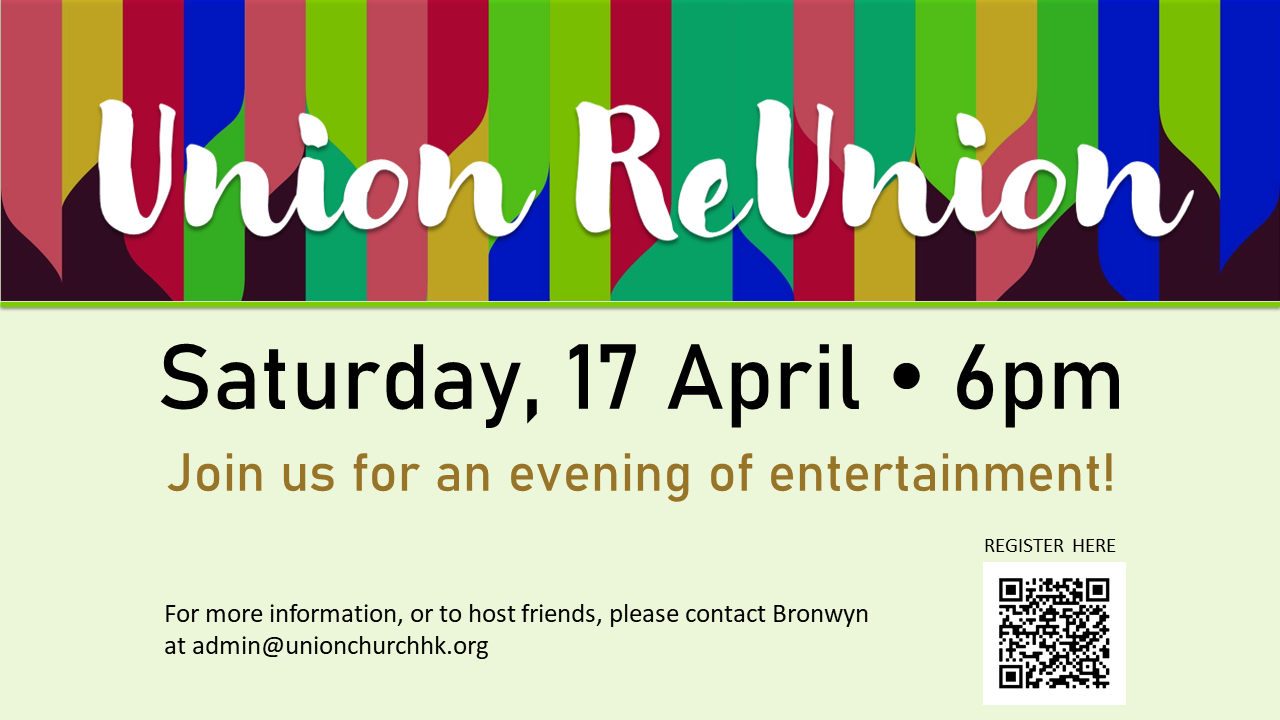 Outreach to 22A workers at Easter: The Committee of Management is joining with the BUFF team to give a small gift to 120 workers at the construction site - mmm, Easter chocolate! Please continue to pray for their safety, joy in the work of their hands, and for them to know Jesus as Lord and Saviour.
Giving by Hong Kong taxpayers: If you wish to make a tax-deductible donation to Union Church that is recognised in the 2020/2021 Hong Kong tax year, kindly date and send your cheque made payable to "Union Church" to our Accounts department no later than 31 March 2021. Please see the website for details on giving. Thank you for your generosity!
Sunlight Tower's name has changed: Our building name has changed to Dah Sing Financial Centre. Please update your records.
Annual General Meeting (AGM): As soon as we can start meeting in person, we will announce a date for our AGM. Thank you for your patience.
LENT AND HOLY WEEK
Lent is drawing to a close, and Holy Week gives us an opportunity each year to understand Jesus' death and resurrection more deeply. Join us as we walk together through Jesus' last week.
Palm Sunday, 28 March, normal services online at 9:45am and 11:15am.
The Passion in Mark, 31 March, 8:00pm
presented by Professor Matthew Skinner, New Testament Professor at Luther Seminary. All are welcome to join this talk - register here to receive the Zoom link.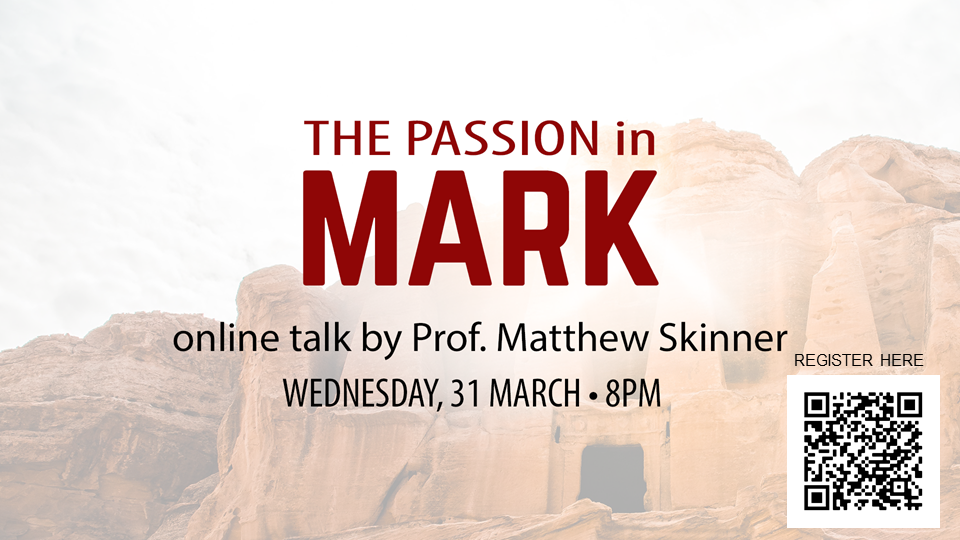 Good Friday Service, 2 April, 3:00pm, online.
Saturday, 3 April, 7:00pm
,
Watch Party.
Join us as we watch the film version of the Gospel of Mark. Register with the
Admin team
to receive the Zoom link.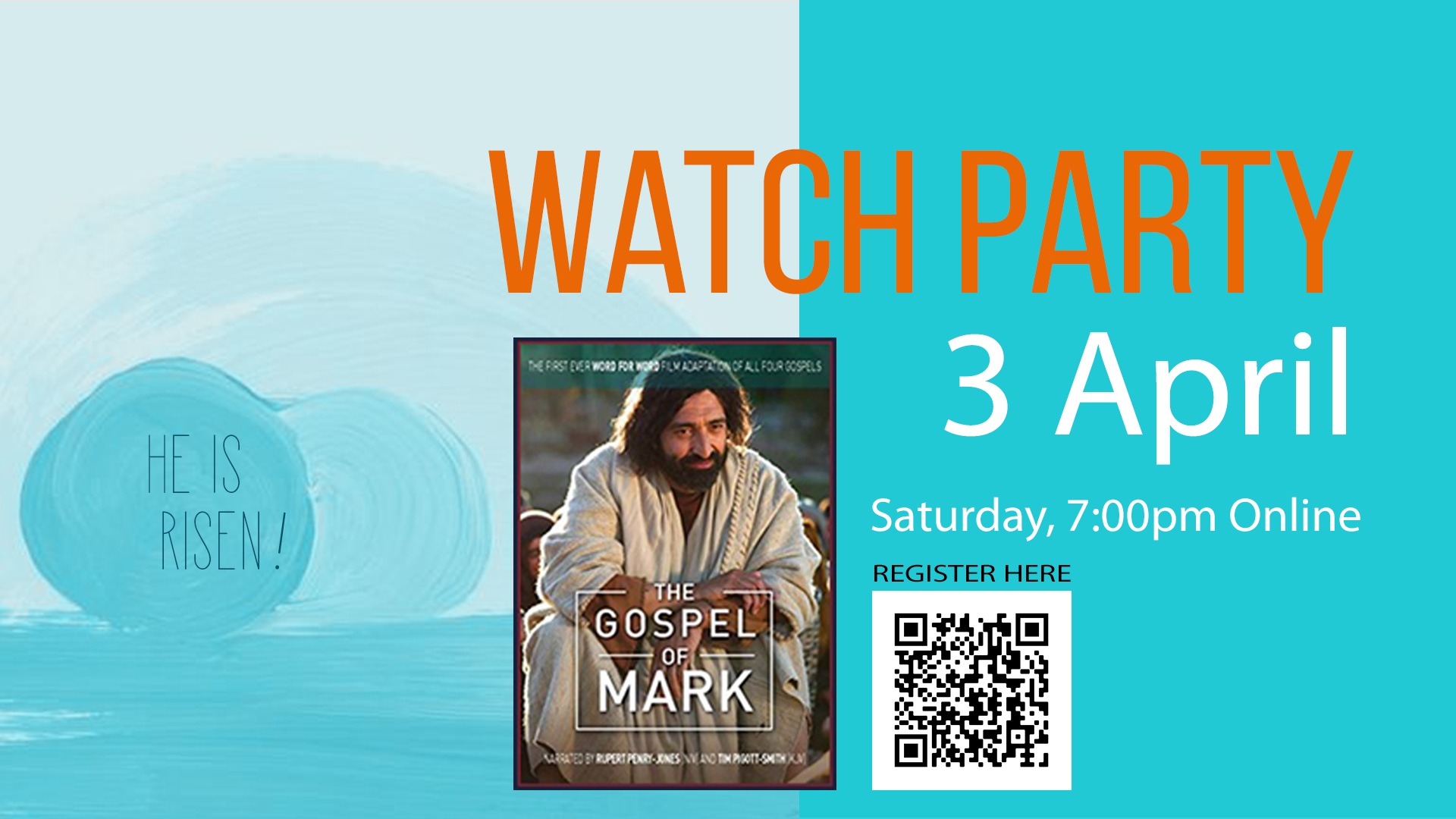 Easter Sunday, 4 April, we will celebrate the Resurrection together at 9:45am and 11:15am, online.
Young Adults Study of Mark: We continue our study on 31 March at 8:00pm. Contact Dan Tupps for more details or register here.
ONE2021 Hearing the Word campaign: Our Lenten season embraces the ONE campaign that runs from 17 February to 4 April. Unite with believers daily to read and enjoy ONE scripture, devotions, prayer and the Gospel Film. Learn more at http://www.onehtw.com.
24-7 Prayer Hong Kong - virtual prayer room: The 24-7 virtual prayer room is a great way to commit to your prayer time on a daily or weekly basis. People in and beyond Union Church are praying for our city, leaders, churches, families and more. It's easy to sign up, and you will get a reminder for your approaching prayer time: https://www.24-7prayer.com/signup/705233. Lord, we lift up Hong Kong!
SAVE THE DATE
Film and Theology: On Tuesday, 13 April, 8:00pm, Chris McKenzie will lead us in discussing our next film, Risen. Risen tells the story of a Roman soldier's search for Jesus' body after the Resurrection. Watch the film on your own, and then join us for the conversation! Register with monte.peterson@unionchurchhk.org.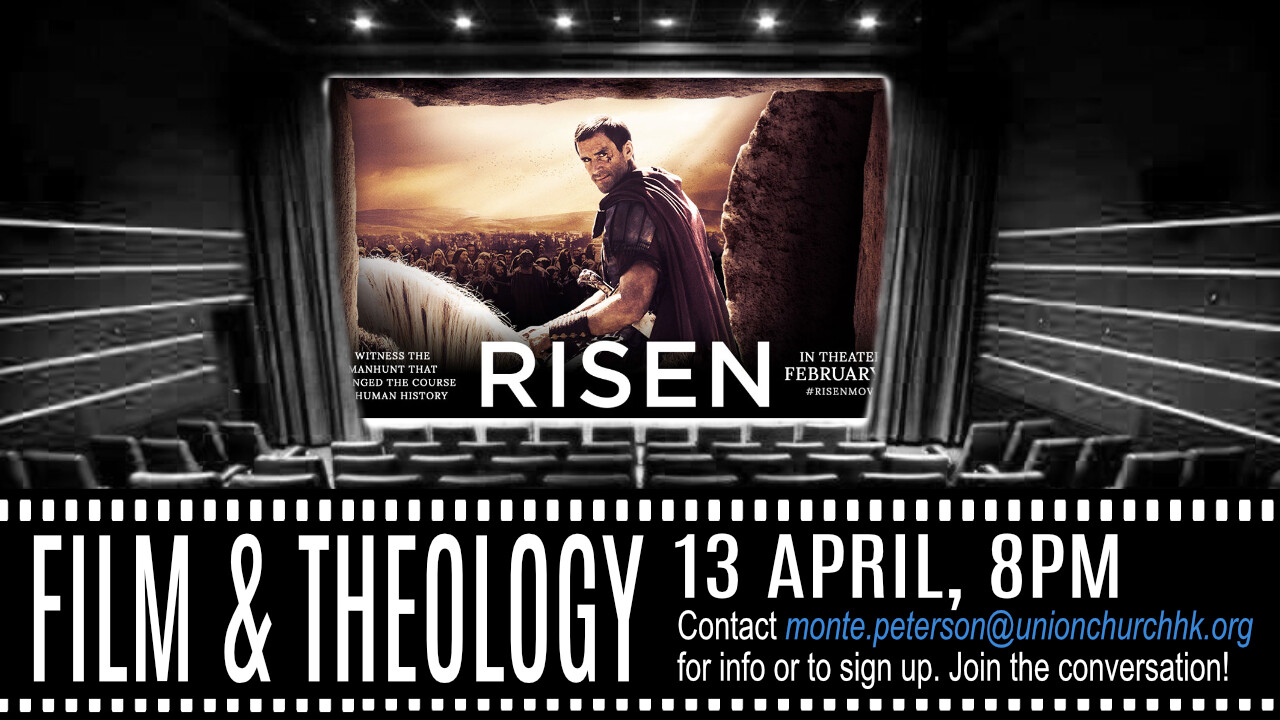 Parenting Through the COVID-19 Pandemic: Supporting our Children and Teens: On 14 April, we will welcome Anisha Abraham, MD, MPH who is a board certified paediatrician and adolescent health specialist with 25 years of global experience. Anisha is on faculty at Children's National Hospital in Washington DC, and previously she lived in Hong Kong and worked at Chinese University of Hong Kong. Details of this talk to follow. Registration is open.
Union Book Group: Our next book is Pachinko, by Min Jin Lee. Pachinko is a story of identity and belonging, a multigenerational tale of a Korean family in Japan. We'll discuss it on Tuesday, 27 April at 7:30pm. Join us - all are welcome! Contact Monte Peterson with questions. Books are available for pick up at church, $100.
Cherish is authored by Gary Thomas, one of our Wisdom on Wednesdays speakers earlier this month. We have copies available for purchase at Union for $100. Please contact Monte to arrange a pick-up of the book.
KINGDOM KIDS
Online Sunday School, Sunday 28 March: Children ages 3 to 10 years old are invited to join us for our online Sunday School.
- 3-10 year old students: Palm Sunday - The Triumphal Entry (Matthew 21:1-11; Luke 19:28-44), via Zoom, from 10:45am - 11:45am
- Kingdom Kids Sunday edition is available at the end of the 9:45am and 11:15am worship services on the Union Church website or Facebook page.
The link to the Zoom classes will be emailed to families with children registered in our Sunday School programme for the year 2020-2021.
YOUTH
Friday Youth Group – 26 March HELP Series with St John's Cathedral - All youth are invited as we join hands with our friends at St John's in an experiential learning programme called "FirstHand". FirstHand helps students broaden their channels of empathy by creatively immersing them into the lives and experiences of Hong Kong's migrant domestic workers. Our first session will be this Friday, 26 March, online via Zoom, 6:00pm. Zoom link here
Sunday Youth - 28 March - Youth are welcome to join us on Zoom at 11:15am where we'll get to spend time reading and discussing scripture. Seniors will be looking at what the Bible teaches us about Christian leadership, and Juniors are working through a series based around asking hard questions! Zoom link here
Wednesday Youth - 31 March - We're switching things up for this Season of Lent! We'll be joining with Christians all over Hong Kong and around the world as we study the life and teachings of Jesus through the Gospel of Mark. Join us on Wednesday, 6:30pm - 8:00pm. Zoom link here
MISSIONS
New Missions webpages: Check out the new Missions webpages on the Union Church website. We have 12 local Missions partners, 12 international Missions partners, and 5 "Friends of Union Church" with whom we have had long-standing relationships. Our partnerships represent opportunities for you to pray, engage, volunteer and give.
SALT 25th Anniversary: Our Missions Partner, SALT, is celebrating its 25th anniversary this year. SALT assists the church in Asia by equipping leaders to train others. Their prayer requests include ongoing updates to SALT courses and the revision team's wisdom, strength and health; God's protection over the health of the Director of Ministry and his family; new training arrangements in light of COVID; and the multiple roles and health of the SALT co-founder.
Sons & Daughters (S&D) helps those caught in sexual exploitation to reclaim a life of love, family, and freedom. Supermarket vouchers are needed for single mums who are struggling to make ends meet following their exit from the commercial sex industry. Union Church joins S&D in celebrating these women who have been faithfully attending Alpha and skills classes at S&D's drop-in centre. Please consider donating a supermarket voucher (increments of $50 and $100 preferred) and send them directly to S&D or drop them at the church office.
Pastor Installation in GenSan, Philippines: We celebrate with the congregation in Bawing, General Santos, Philippines as they install their new senior pastor, Benjie Saligan, on Palm Sunday, 28 March!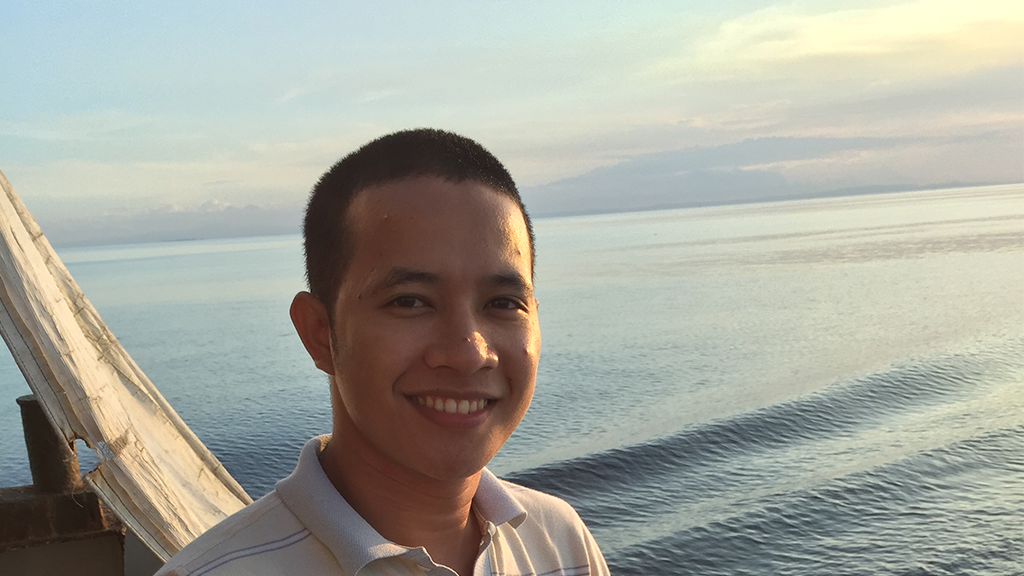 Pastor Benjie was sponsored by the Union Church Filipino Fellowship in his studies at the Shekinah Alliance Bible College in General Santos and graduated with high honours. He was privileged to serve under the tutelage of CAMACOP Bishop Reniel Nebab for a couple years and is now senior pastor role at the Bawing Church where over 80 UC members have visited and helped support in scholarships and other various ministry programs since 2006. It's exciting to see how God has involved Union Church in Mindanao as He draws this rural community closer to Him and raises up a new generation of church leaders!
Prayers for Myanmar: We continue to pray for Myanmar including Light of the World Church, Pastor Vum and his family and congregation. The Myanmar Army has destroyed property near their premises. They stand guard at night and cannot sleep for fear of destruction or being kidnapped. Pray that they can stand firm in their faith and be delivered from the violence. Pray as well for grieving families, wounded and captured people, and for the safety of all people.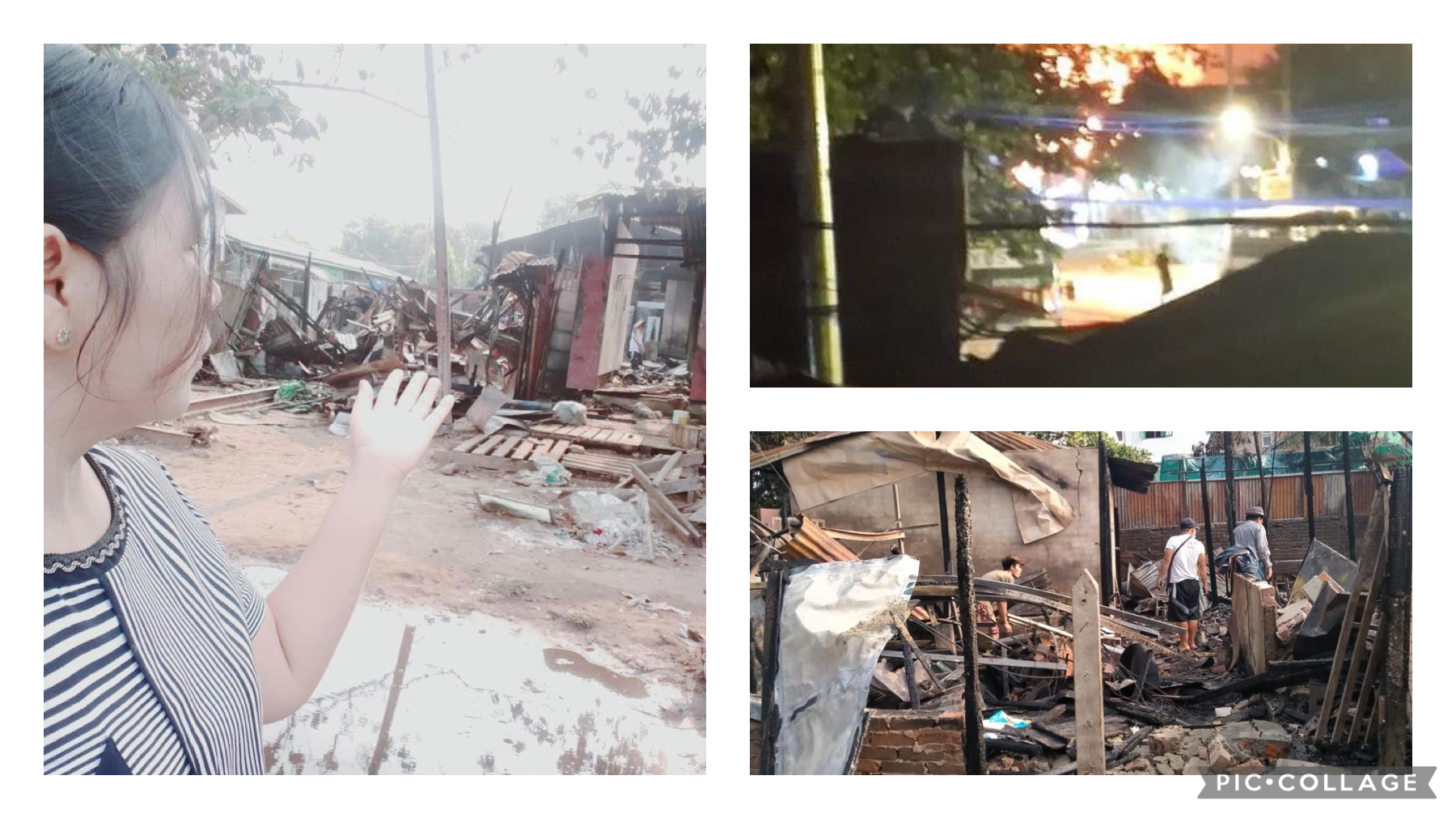 Union Church Missions Partner, ICM, is inviting you to their Easter event Hope is Alive on 1 April, 8:00pm. Register at . See below for details:
Small Groups
Meeting as a small group at this time is challenging, but the support from each other is more important than ever. There are online options - please reach out if you need help figuring this out! If you aren't currently in a group, we encourage you to try it out in the new year. There are groups for women, men, couples, day-time, night-time, etc. Interested? Contact Monte Peterson.
Pastoral Care and Prayer
Need prayer? Reach out to us confidentially at .
Stephen Ministry
We provide high-quality, confidential care to people who are hurting through our Stephen Ministry programme. Contact Pastor Michele if you would like to know more about the programme or meet with a Stephen Minister. (See U Matters above.)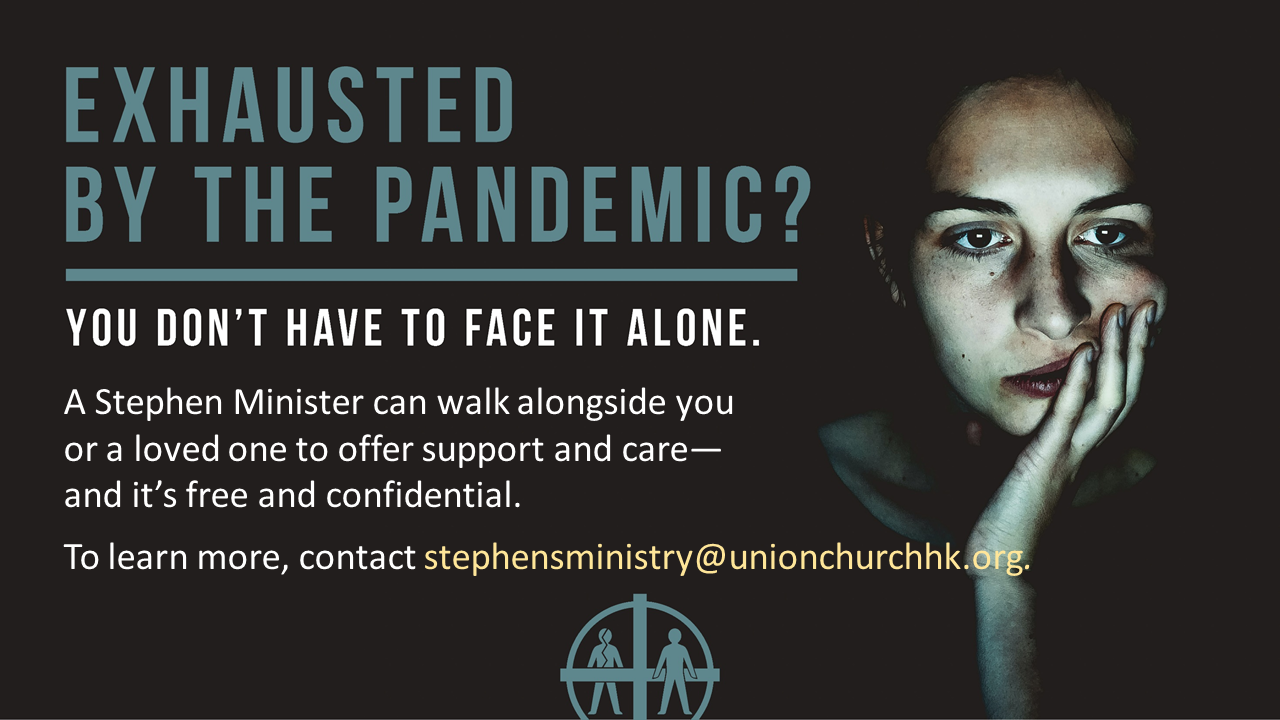 Fertility and Pregnancy loss
Fertility & Pregnancy/Infant Loss Support Group - Struggling and could use some fellowship, friendship and support? Please contact Tess Lyons.
Last week's sermon
"Keeping Score" Rev Dr Michele Bland
Social Media
Please follow Union Church Hong Kong on Instagram, LinkedIn, Facebook and YouTube and share with your friends and family. We can use social media for positive outreach to the community. Interested in volunteering as part of our social media team? Contact Bronwyn!