U MATTERS
This week, I had the privilege to spend two mornings with ministry leaders from around the world, again - from Mongolia, Vietnam, Cambodia, Japan, Thailand, Taiwan, Indonesia, Philippines, UK, USA, Australia to name a few. This week, the conference was related to Alpha. God is clearly on the move uniting churches worldwide from different languages and denominations. How exciting!
COVID has shaken us up and has challenged the many ways we live life. My prayer is that we the church will emerge stronger, healthier, more intentional and more focused on the mission and ministry that Jesus Christ has called us to. It is my hope that we will know Christ in a deeper way and have a deep desire to make Him known.
Prayer is a critical part of this transformation. Praying may feel awkward, but in the words of Max Lucado, "Our attempts may be feeble. But since the power of prayer is in the one who hears it and not in the one who says it, our prayers do make a difference."
During Lent we invite you to take the time and commit to pray for our church, our city and our world. We hope that during this Lenten season you will join us for 24/7 Prayer. Be a part of the movement and sign up for a prayer slot at https://www.24-7prayer.com/signup/705233.
"if my people who are called by my name humble themselves, pray, seek my face, and turn from their wicked ways, then I will hear from heaven, and will forgive their sin and heal their land." 2 Chronicles 7:14
Blessings, Pastor Michele
FAMILY NEWS
We are worshipping online this week, Sunday at 9:45am (Traditional service) and 11:15am (Contemporary service). Find us on our website, Facebook page, Union Church app or YouTube.

Register for Union ReUnion! The church is coming together on the evening of 13 March for fellowship, fun, entertainment, silent auction and testimonies to benefit the new church at 22A Kennedy Road. We're gathering in hosted homes, individual homes, and online alumni groups. Everyone is welcome! Let us know your preference by registering here. Later we will give you the links to the silent auction site and Zoom. If have a service or lovely object or gift to donate to the silent auction, please contact David or Bronwyn at .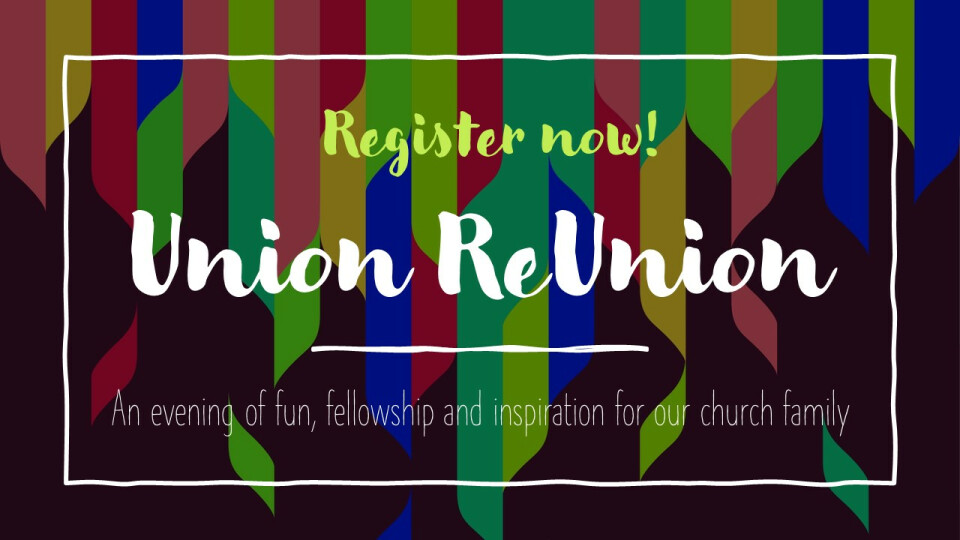 Outreach to 22A workers: We visited the construction site at 22A Kennedy Road this week, bestowing Chinese New Year blessings and gifts for 120 workers. Thank you to Union Youth who made cards, and for Lai See packets with a chocolate gold coin and ParknShop voucher! Please pray for the workers' safety, well-being and that they see the love of Jesus.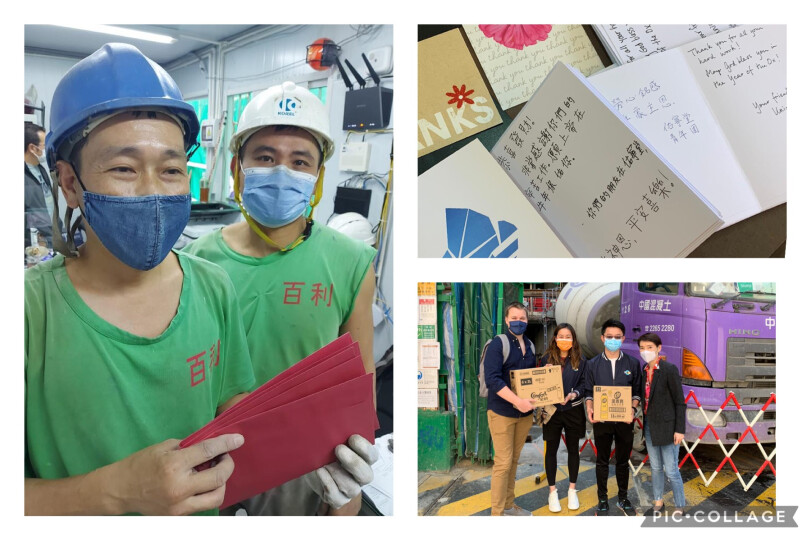 All-church Communion service, Sunday, 7 March, 10:45am - 11:15am: We look forward to sharing communion together on Zoom. Please prepare your own wine (or grape juice) and bread, or drop by the church office to pick up the elements. Ask for the Zoom link from the Admin team (same link as last month's Communion and our Zoom Coffee Hour).
Annual General Meeting (AGM): As soon as we can start meeting in person, we will announce the planned date of the AGM. Thank you for your patience!
Right around the corner: Film + Theology on Tuesday, 2 March - It's showtime, folks! Let's watch another film on our own - The Apostle - and then gather on Zoom to discuss it with Chris McKenzie on the 2nd at 8:00pm. Register with .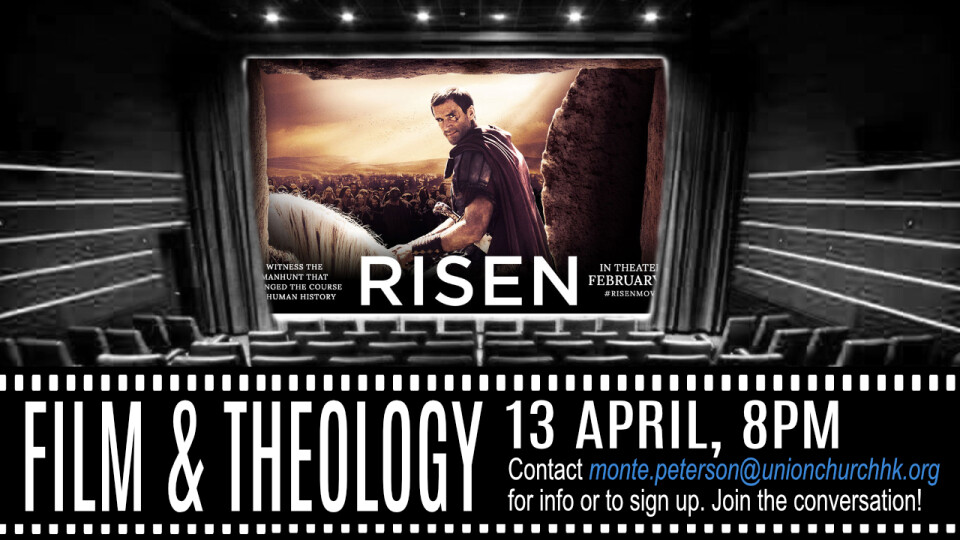 LENT
During Lent we're reading the Gospel of Mark, along with other churches in Hong Kong and throughout the world as part of the ONE campaign. Following on from our Ash Wednesday service, we're introducing a church-wide study of Mark throughout March.
Study Mark with Monte: Wednesdays 3, 10, 17 and 24 March at 8:00pm. Register to receive the Zoom link.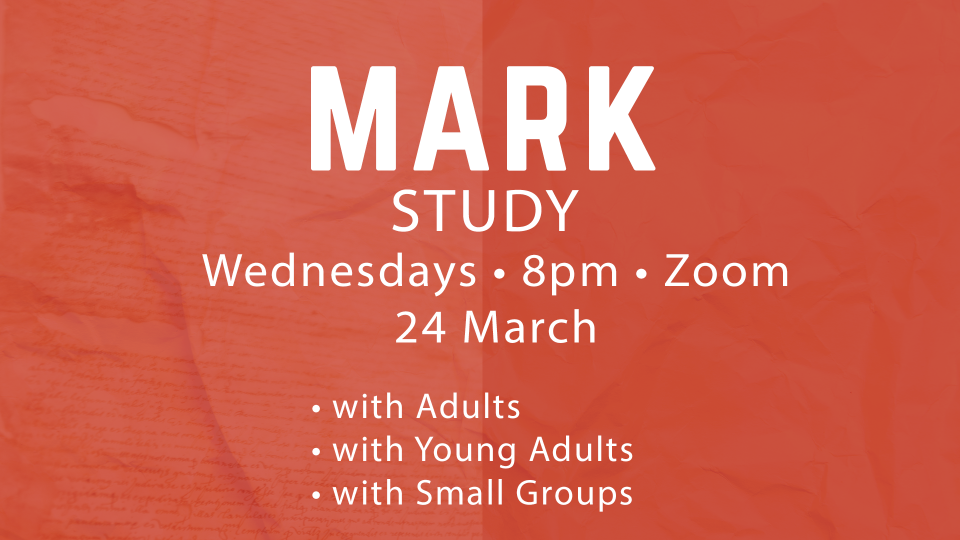 Young Adults Study of Mark: Wednesdays through March at 8:00pm. Contact Dan Tupps for more details or register here.
The Passion in Mark, 31 March, 8:00pm presented by Professor Matthew Skinner, New Testament Professor at Luther Seminary. All are welcome to join this talk.
Register for any or all of the Mark events via the QR code above (or here) to receive the Zoom link.
Another option is Wisdom on Wednesdays, 8:00pm on 3, 10, 17 March and 25 March (a Thursday), via Zoom. We are excited to bring to Union Church excellent speakers and topics - invite your friends to view these programmes with you. Register for any or all of these events via the QR code above (or here).
3 March - Maintaining Mental Health during COVID-19 with Rev. Dina Chamberlain
10 March - Screenagers NEXT CHAPTER: Uncovering Skills for Stress Resilience documentary and Q&A with Dr Amanda Oswalt Visher, Director of Psychological Services at SPOT. This is the only showing thus far in Hong Kong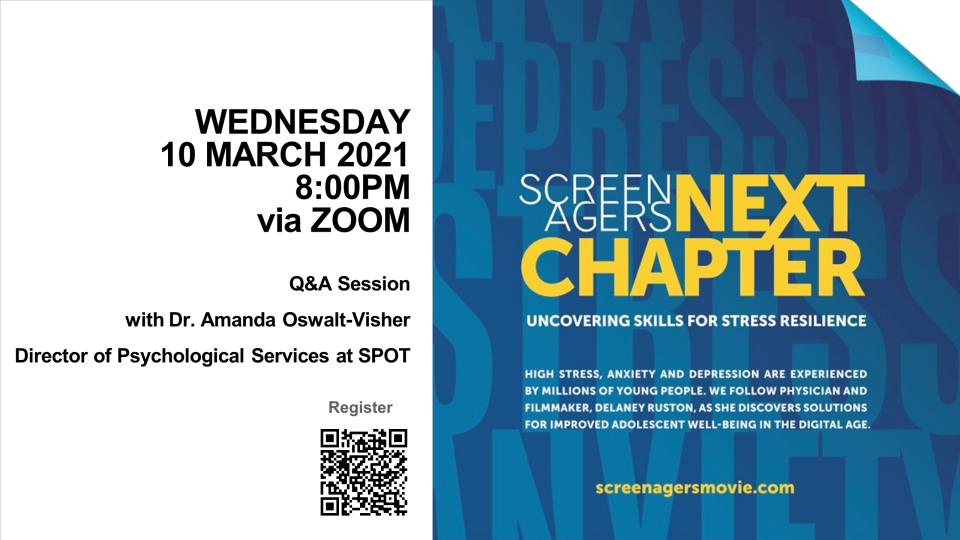 17 March - Helping your Marriage Thrive During COVID with Gary Thomas, best-selling author of Sacred Marriage and Cherish, and renowned public speaker whose ministry brings people closer to Christ and closer to others. Cherish is a great resource for helping your marriage move from "surviving" to "thriving." Available for purchase at Union Church for $100. Please email to confirm pick-up time.

25 March (a Thursday!) - heARTwork: A drawing experience with Crystal Lo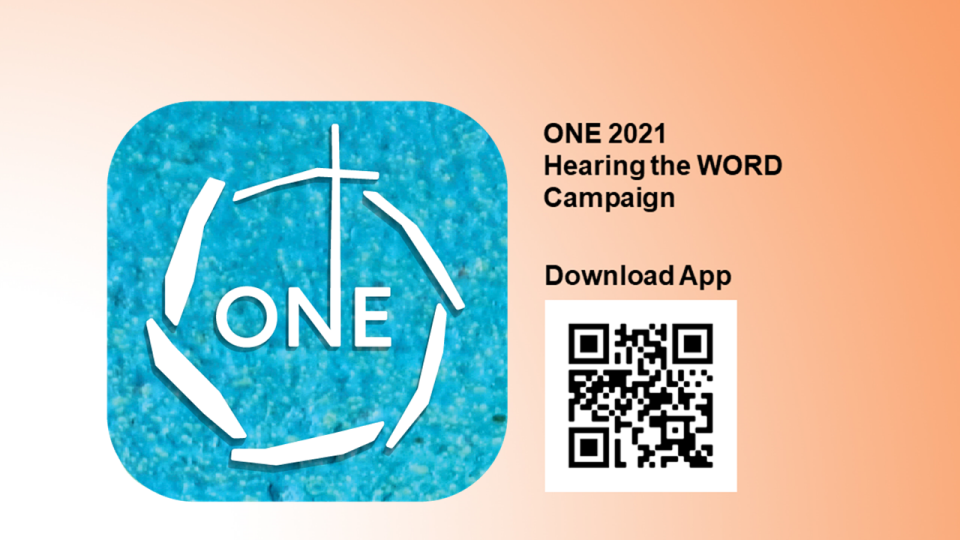 ONE2021 Hearing the Word campaign: Our Lenten season embraces the ONE campaign that runs from 17 February to 4 April. Download the app and unite with believers daily to read and enjoy ONE scripture, devotions, prayer and the Gospel Film. Learn more at http://www.onehtw.com.
24-7 Prayer Hong Kong - virtual prayer room: Pray during Lent for our city, leaders, churches, families and all sectors of society. Sign up for a time slot at https://www.24-7prayer.com/signup/705233. This is another way to support the unity of the ONE campaign.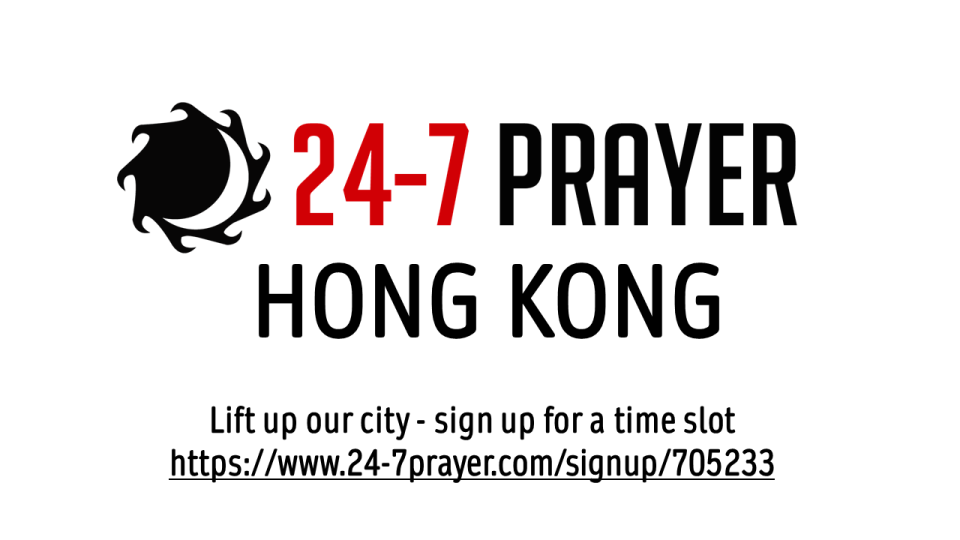 Online Sunday School, Sunday 28 February: Children ages 3 to 10 years old are invited to join us for our online Sunday School.
- 3-7 year old students: God Has a Plan - Isaac is Born (Genesis 18:1-15, 21:1-7), via Zoom, from 10:45am - 11:30am
- 8-10 year old students: Be Bold - God Is All Powerful (1 Chronicles 29:11), via Zoom, from 10:45am - 11:45am
- Kingdom Kids Sunday edition is available at the end of the 9:45am and 11:15am worship services on the Union Church website or Facebook page.
The link to the Zoom classes will be emailed to families with children registered in our Sunday School programme for the year 2020-2021.
Youth
Friday Youth 26 February - Join us this Friday for a Youth Group Quiz Night! We'll be gathering via Zoom from 6:00pm - 7:30pm. Join for a chance to connect, compete and win some great prizes! Youth can join with their own teams, or we'll put teams together on the spot. Youth can join this quiz night here.
Sunday Youth 28 February - Youth are welcome to join us on Zoom at 11:15am where we'll get to spend time reading and discussing scripture. Seniors will be looking at what the Bible teaches us about Christian leadership, and Juniors are working through a series based around asking hard questions! Youth can join here.
Wednesday Youth 3 March - We're switching things up for this Season of Lent! We'll be joining with Christians all over Hong Kong and around the world as we study the life and teachings of Jesus through the Gospel of Mark. Join us on Wednesday, 6:30pm - 8:00pm. Youth can join here.
Missions
In the 11 February issue of Acts@22A, we introduced our Missions partner, 4.2.20 Foundation, and their 2020 Impact Report. 4.2.20's vision is to see the full Word of God available to everyone in their own language, to fill the Old Testament (OT) gap, where 6500+ languages out of the world's 7350+ languages still need the translation of the OT. 4.2.20 trains mother tongue translators in biblical Hebrew so that they can embark in translating the whole bible into their own language. It is a young organisation that started in mid-2015, and first admitted students in 2017. So, by 2020, the first 3 cohorts totalling 73 students have graduated.
Would you pray for 4.2.20? Firstly, they have started a new partnership with a local translation agency in Indonesia, a nation with a very high density of language groups that do not have the full Bible. They will send people to Jerusalem and also plan to enrol an additional 20 translators on the distance learning programme, aiming to start in May-July, for which under normal circumstances, there would be face-to-face intensive sessions. They need prayers for wisdom, guidance and provision for this to go ahead, given the COVID environment. Secondly, God has used the COVID environment to accelerate their distance learning programme which started in 2020 with 20 students. This year they have already seen this number tripling, with over 51 new students who have already just started. In May-July, the students from Indonesia will add to this, and later in the year, there is plan to start this programme in India as well. They need prayers for God's wisdom and guidance for the local teaching team which is developing another 3 modules of the full online curriculum that would be equally immersive and interactive as their immersive programme in Jerusalem.
SAT-7, another Union Church Missions partner, delivers Christian satellite television for the Middle East and Africa (MENA). They're doing great things to reach seekers and the unreached in this region. You are invited to join SAT-7's Open Studios online event on 16 March, 6:00pm - 7:00pm to explore the diversity and richness of growing Christian communities across MENA. Learn more in this invitation and register here.
Union Church Missions partner, ICC Hong Kong, comes alongside families who struggle to care for a child with a disability. ICC's Cross Care teams have proven effectiveness in providing therapy, meeting special needs and keeping families together in China. Watch their new video on the Family Partners Programme to see how you might help.
Prayers for Myanmar: We continue to pray for Myanmar following the military coup. Pastor Vum of Light of the World Church is travelling for a week for a church-related conference. Please pray for travel mercies and the safety of his family and congregation in Yangon. We pray for peace to return to Myanmar.
Small Groups
Meeting as a small group at this time is challenging, but the support from each other is more important than ever. There are online options - please reach out if you need help figuring this out! If you aren't currently in a group, we encourage you to try it out in the new year. There are groups for women, men, couples, day-time, night-time, etc. Interested? Contact Monte Peterson.
Pastoral Care & Prayer
Need prayer? Reach out to us confidentially at .
Stephen Ministry
We provide high-quality, confidential care to people who are hurting through our Stephen Ministry programme. Five of our Stephen Ministers have started online training to become Stephen Leaders. They will be able to train and supervise Stephen Ministers, thereby expanding pastoral care at our church. Contact Pastor Michele if you would like to know more about the programme or meet with a Stephen Minister.
Fertility & Pregnancy Loss
Fertility & Pregnancy/Infant Loss Support Group - Struggling and could use some fellowship, friendship and support? Please contact Tess Lyons.
Giving
Thank you for supporting God's ministries at Union Church. Please see the website to learn how you may tithe, make an offering online or by cheque, or give to The Grace of Giving. Thank you for your generous heart.
Last Week's Sermon
"Hope for the Hopeless" Rev Dr Michele Bland
Social Media
Please follow Union Church Hong Kong on Instagram, LinkedIn, Facebook and YouTube and share with your friends and family. We can use social media for positive outreach to the community. Interested in volunteering as part of our social media team? Contact !