U MATTERS
It is so encouraging to hear that D. L. Moody experienced 50,000 answered prayers during his lifetime. Last week we prayed for 24 hours, onsite at 22A and corporately - twice a week for the church. We invite you to pray along. Here are some of the things we have been praying for:
Visa for Fe Lyn - our new Filipina Pastor
The final fundraising push for Grace of Giving Campaign HK$2.6M remaining
Recruiting of new staff - Director of Operations, Worship and Youth
New staff positions - as we envision our future ministries
Ways we can reach out to our Wanchai neighbourhood
Creative ways to reach out to our Online neighbourhood
Discovering the needs to reach out to the neighbours at 22A Kennedy Road
BUFF tendering and negotiations
Continued unity of the congregation as we seek to fulfill the Great Commission
For those who have received new diagnoses and going through treatments
It is my prayer that we can add these requests to our prayer journal of answered prayers in the days, weeks and months to come.
"Pray in the Spirit at all times in every prayer and supplication. To that end keep alert and always persevere in supplication for all the saints." Ephesians 6:18
Blessings, Pastor Michele
WORSHIP SERVICES AND REGISTRATION
We ask that you continue registering for worship services here, starting on Mondays at 10:00am. We will continue to adhere to the capacity restrictions and need your help! Email us at if your plans change.
Union Church offers three in-person services: 8:45am (Family Communion), 9:45am (Traditional Worship) and 11:15am (Contemporary Worship). The latter two services are available via livestream on our church website, Facebook page, church app and YouTube. Be part of our growing online congregation!

THE GRACE OF GIVING
The Grace of Giving campaign - only 7 more days to go! We're in the home stretch of The Grace of Giving campaign which ends on 30 September. The gap to reaching our financial target has narrowed further to HK$2.6M! Praise God for His provision and building of our Union Church community during this season. We are profoundly grateful for the gift of the new church building at 22A and we pray that Union will be a beacon of hope in our Hong Kong neighbourhood for generations to come. Learn more about The Grace of Giving here, including ways of further "bridging the gap".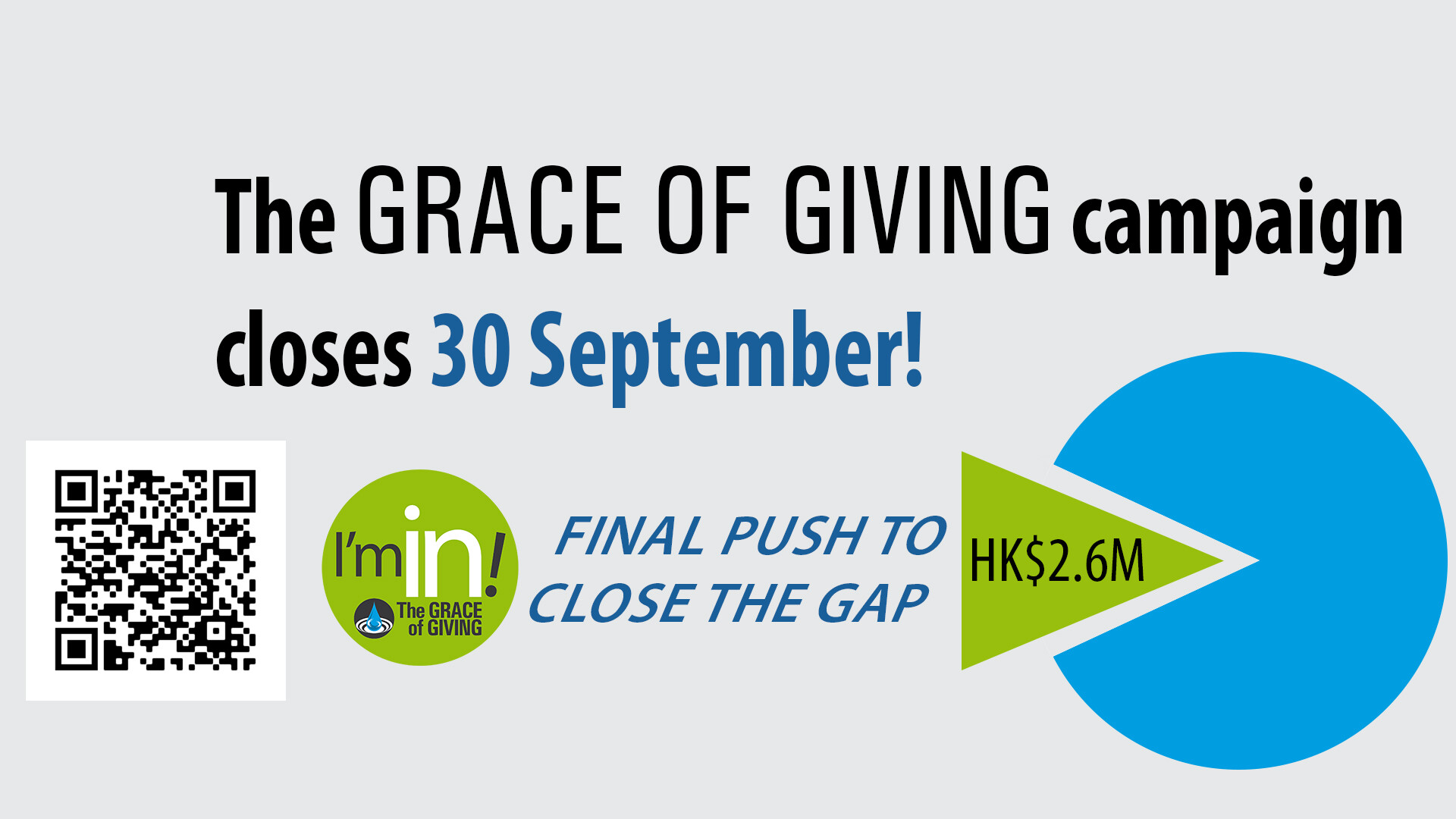 The Grace Race "FINAL PUSH" Celebration: We have moved this to our Sanctuary. Please meet in the church at 12:15pm on Sunday, 26 September to celebrate. Everyone is welcome and after a short celebration, we invite you to join us as we walk to 22A Kennedy Road to give thanks and pray for our church. Don't forget to wear your Grace Race t-shirt!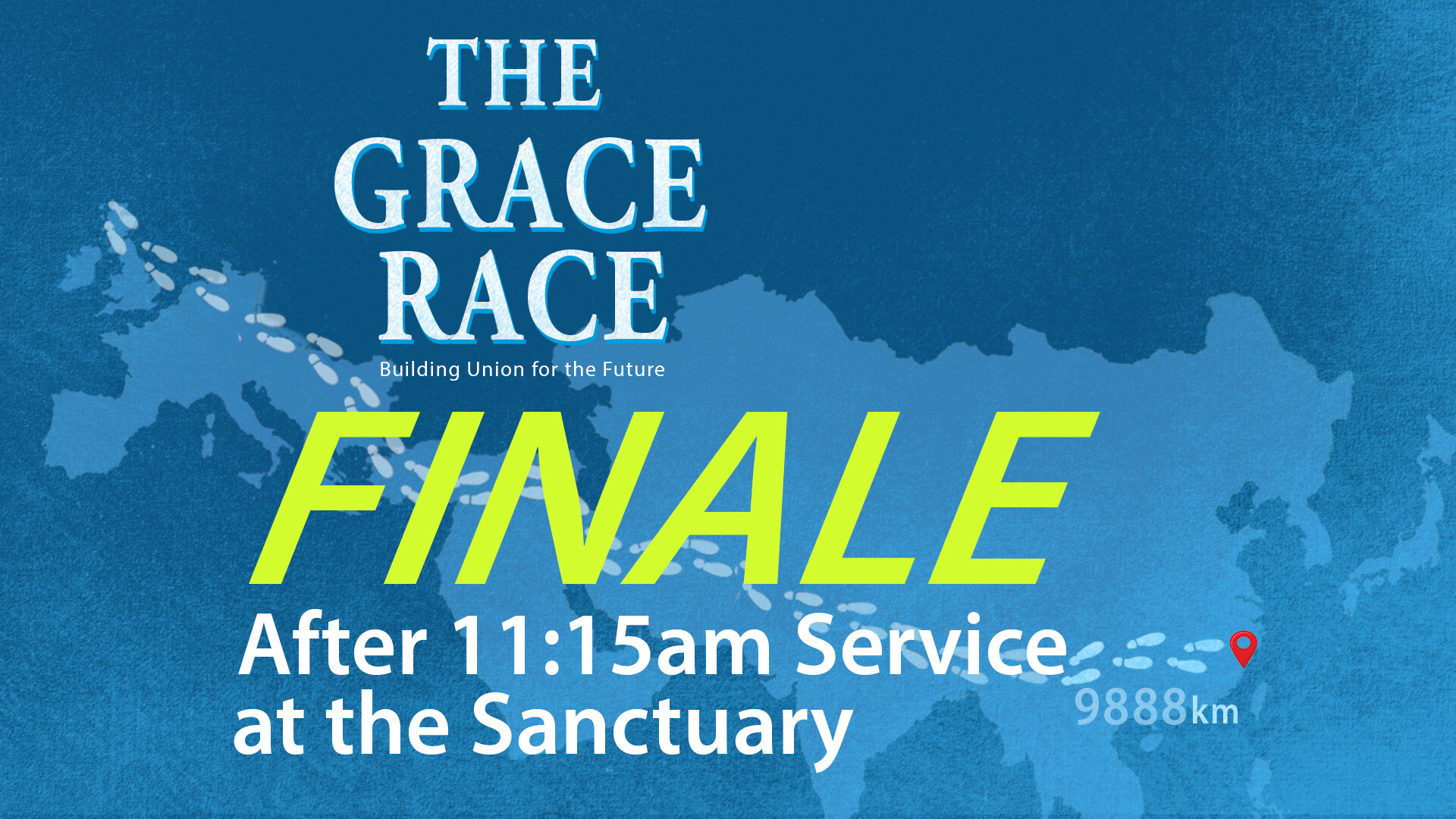 PRAYING FOR UNION
Praying God's Way to 22A: As God's people, we are going deeper into prayer as we lift up our church, all aspects of the move back to 22A and our future. You may pick up your copy On The Move: Praying God's Way to 22A at church or ask Admin to email you a soft copy. Follow our daily prayer journey this September on Instagram. We also thank everyone who prayed during the 24 Hour Prayer for Union Church and our city on 17 - 18 September.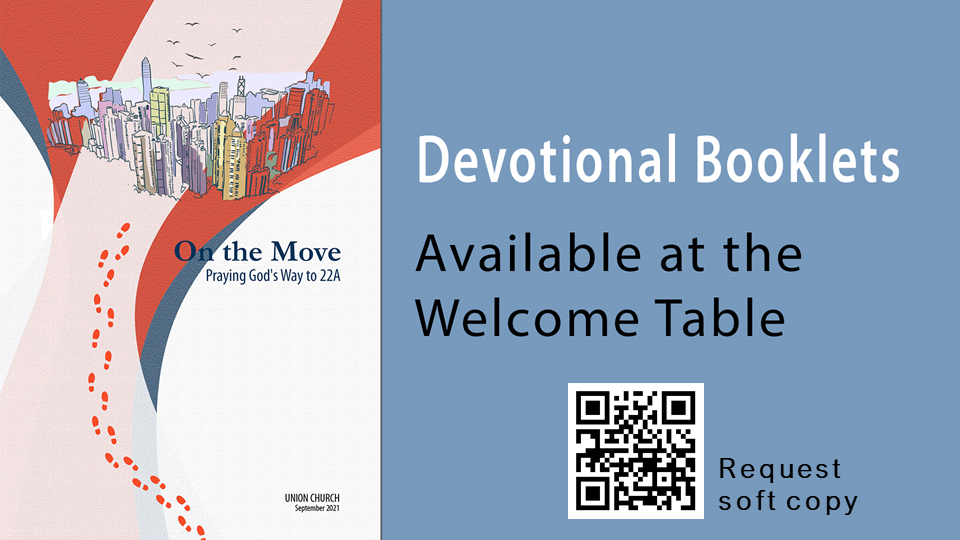 HAPPENINGS THIS WEEK
Difference Course: We are excited to bring this popular course back to Union Church. Difference explores what it means to follow Jesus in the face of conflict and see transformation through everyday encounters. A transformed world starts with transformed relationships. Jessica Hexter and Lakshmi Jacota are facilitating the 5 in-person sessions, starting Wednesday, 29 September, 7:30pm - 9:00pm at church. All are welcome. Register now!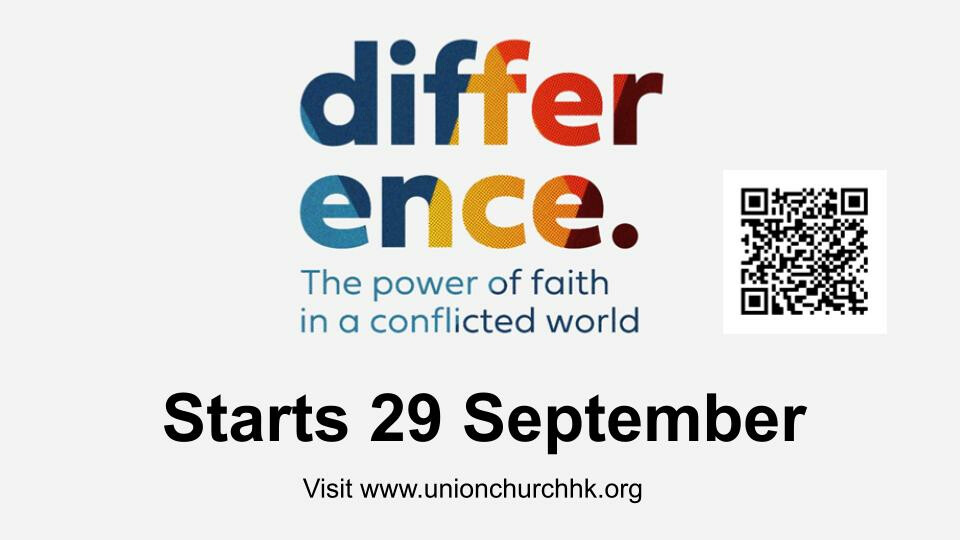 Worship Workshop - God Nourishes Us at the Table, 29 September, 7:30pm - 9:00pm: At this 2nd teaching workshop, King Chau invites us to reflect on the teaching of Jesus on Communion and how He is made known to us at the Table. Specifically, King will focus on the teaching of the Apostle Paul on the Lord's Supper, and the practice of Communion by the early church. King is working on his doctorate in Worship Studies. If you missed the first session, it's fine to attend on the 29th. Register here.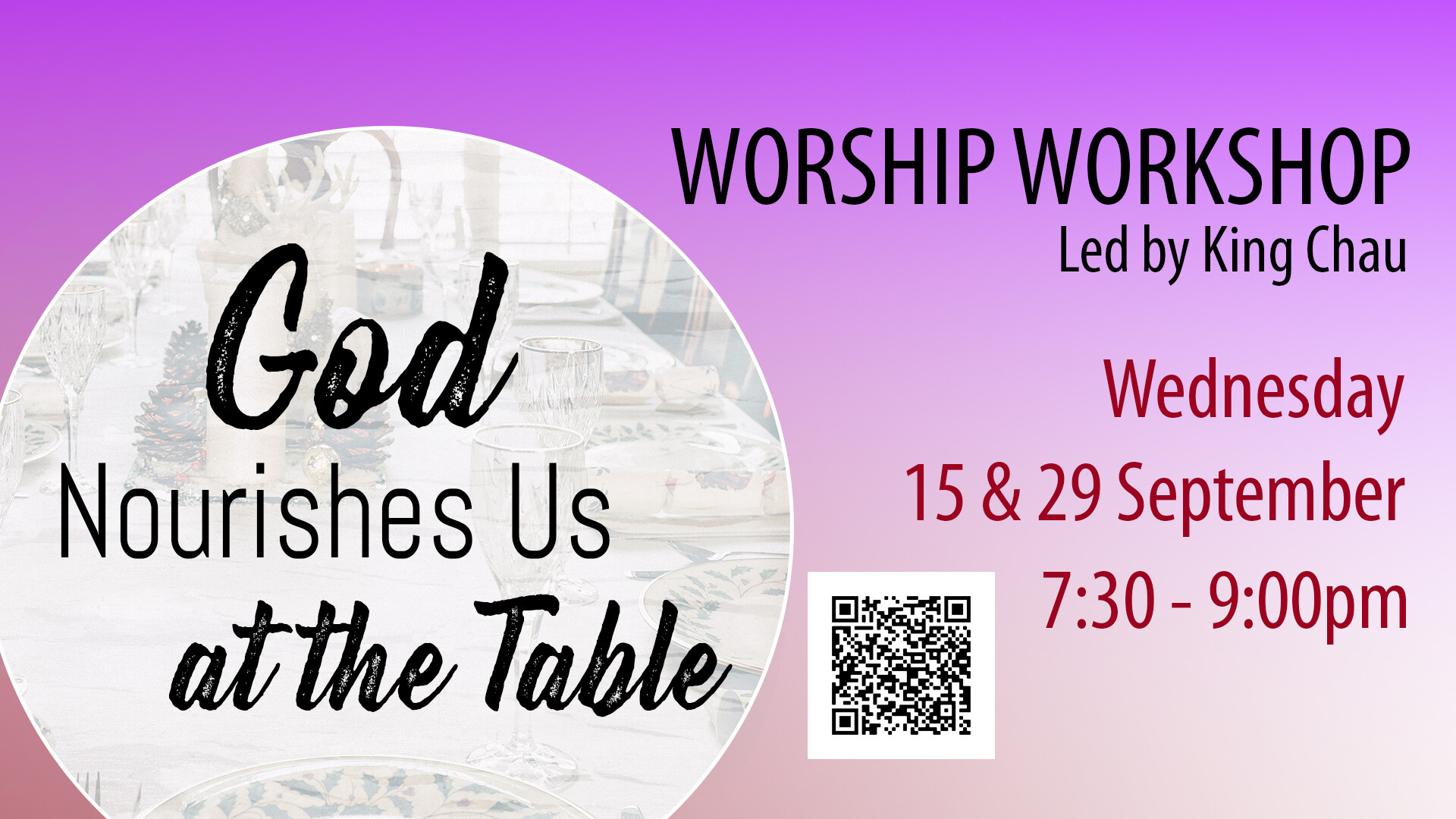 Young Adults Study - "Discipleship Explored": Wednesdays at 7:30pm. This journey through Paul's letter to the Philippians is ideal for new believers, those recommitting to their relationship with God, or anyone seeking to grow in their faith. We will next meet on 29 September. For more details contact dan.tupps@unionchurchhk.org.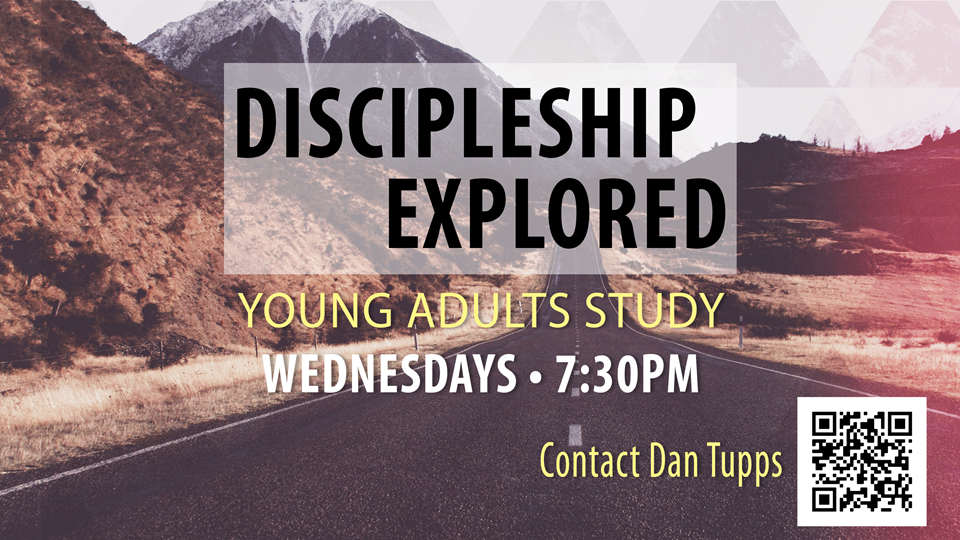 UPCOMING
BLESS THE CITY, Saturday morning, 16 October: We are reminded that Jesus consistently cared for and ministered to marginalised people in society - the poor, the hungry, prisoners and the lonely. Now it is our time to go out to serve, pray and love His creation. Choose one of seven (7) projects that best suits you and your family and friends - Kun Sun Prison Ministry Flag Day, serving the poor in Tin Shui Wai through the Hong Kong Church Network for the Poor, Chung King Ministry, Sons & Daughters, St Barnabas' Society and Home, Art in the Park, and China Coast Community. Learn more, register and GO!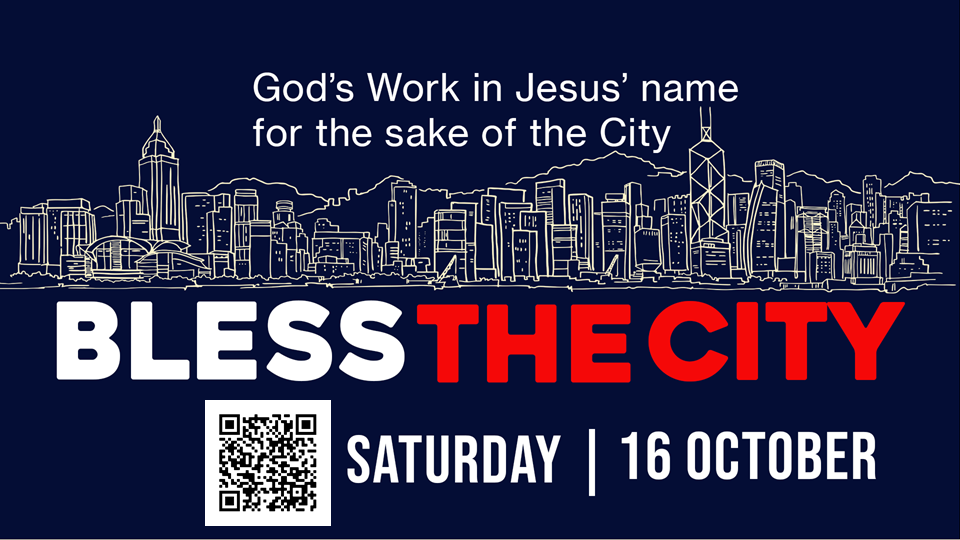 Men's Retreat, 5 - 6 November 2021. Men, we'd love to have you join us for an overnight retreat on South Lantau. It's a great opportunity to get away and discover the power of authentic relationships. Dr. Lance Lee will be joining us as our special guest speaker. Lance is one of the pastors at The Vine Church and leads the Men's Fellowship of Hong Kong. As a pastor, psychologist, and coach, Lance has a passion for helping empower men to achieve their greatest potential. Register here to reserve your spot!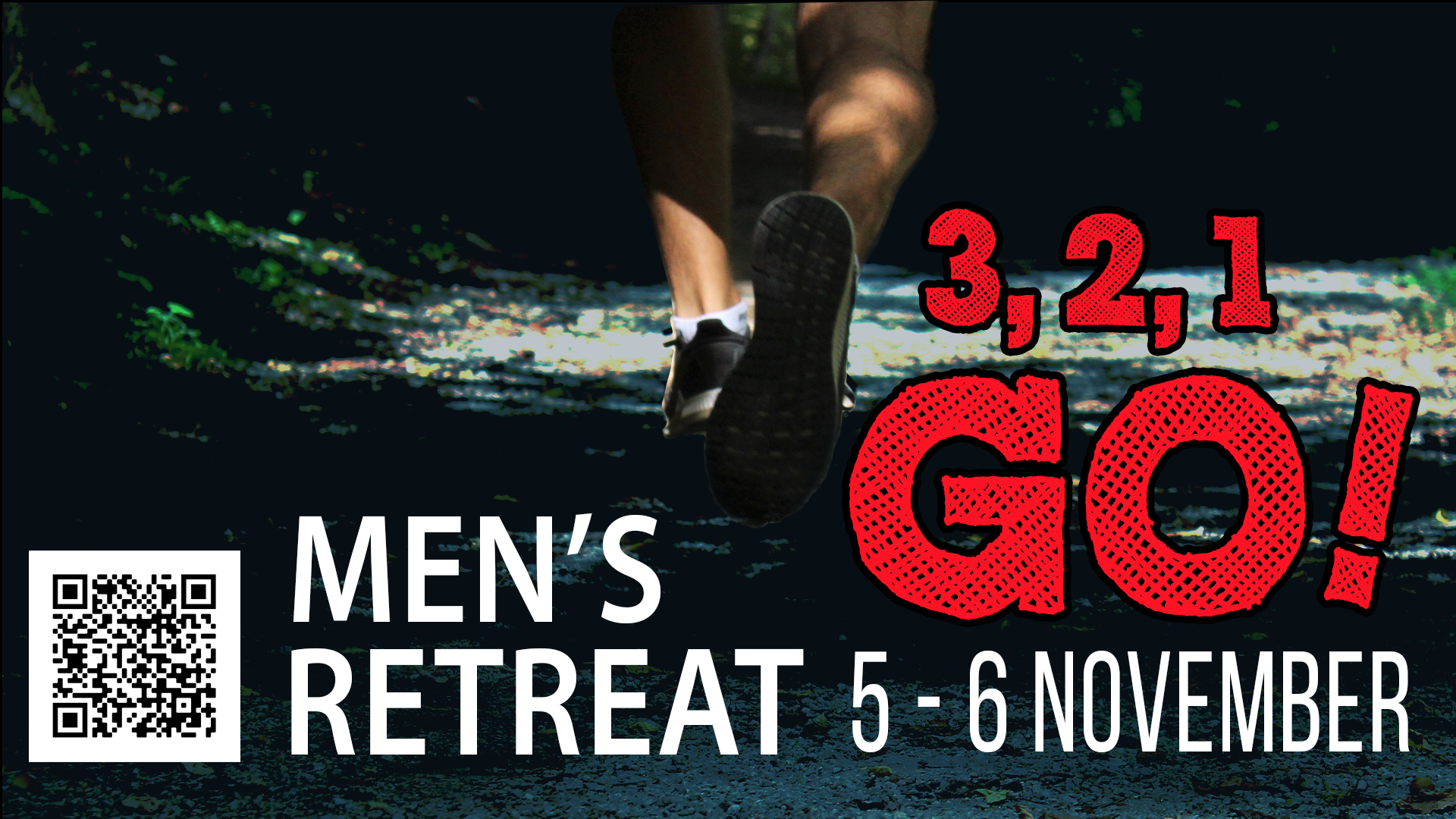 6th Annual Ladies Retreat - 7 WONDERS OF THE WORLD, 12 - 14 November 2021. This year we are delighted to announce a local retreat to South Lantau, staying two nights at the Sydney Leong Holiday Lodge, only a few minutes' walk from Cheung Sha Beach. Union Church women will have the entire facility as a private weekend retreat. Learn all about it - Registration is open!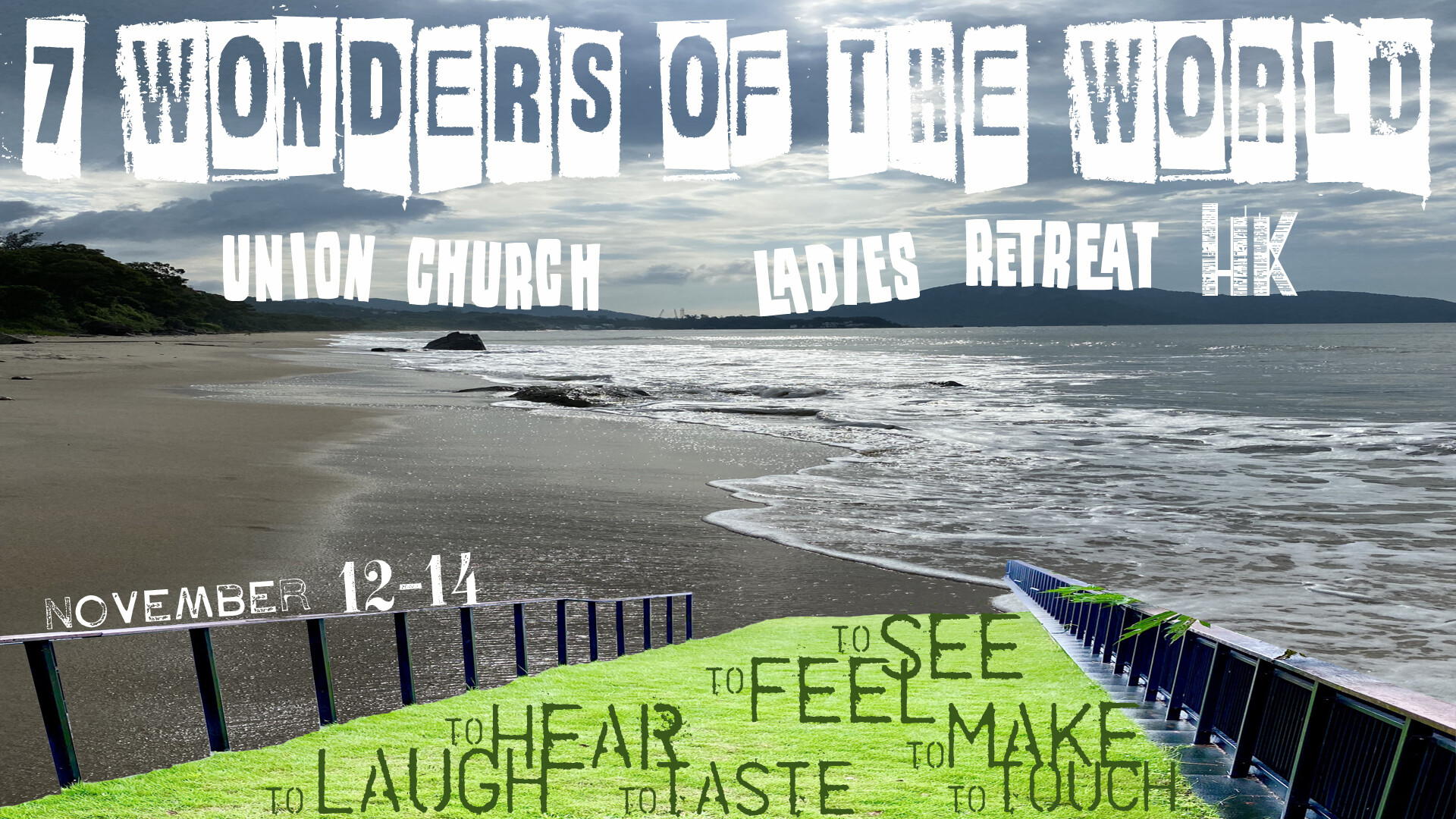 MARKETPLACE MINISTRY AND HALFTIME
Faith & Work Conference Hong Kong 2021: Purpose vs Paycheck, Saturday, 9 October. Join 100+ people who are passionate about faith in the marketplace at the in-person Faith & Work Conference co-organised by Community Church Hong Kong, Island ECC, The Vine and Union Church. Venue: Island ECC. Registration is open. Cost is $200. Scholarships are available.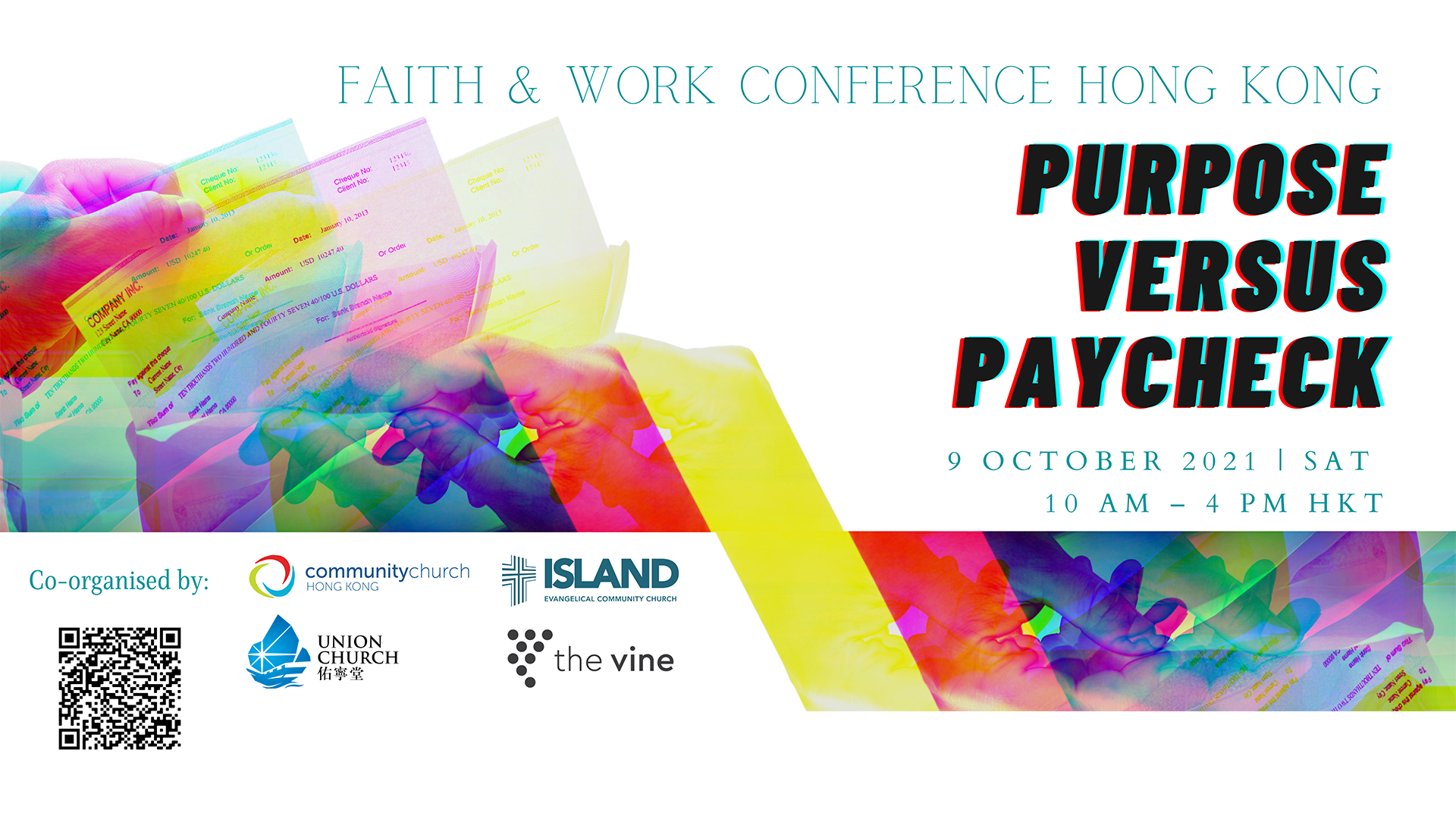 Halftime 6-Week Course: The Halftime team is offering a Halftime small group course at lunchtime over a six-week period starting in the second half of October. This course will help you clarify your core abilities and passions and discover creative ways to channel your talent towards Kingdom-significance. Please let the team know you are interested. Contact .
KINGDOM KIDS
Creche & Sunday School Arrangements: Children ages 0 - 3 years old are welcome to join our Creche Centre and children ages 3 to 10 years old are invited to join us for Sunday School. This Sunday, our 3 - 7 year olds will be learning about the Israelites worshipping a golden calf from Exodus 32, and our 8 year olds and above will learn that they can approach God directly about anything, 2 Timothy 3:16. Families attending in-person services must be successfully registered before Thursday, 12:00pm. Thank you for your kind understanding.
In-person Sunday School: 9:45am and 11:15am
Online Sunday School: 11:15am - the Zoom link to the online class will be emailed to families with children registered in our Sunday School programme for the year 2021-2022.
Kingdom Kids Sunday edition is available at the end of the 9:45am and 11:15am worship services on the Union Church website or Facebook page.
Sunday School Registration 2021-2022: Registration for the academic year 2021/2022 is now open. Children ages 0-10 years old enrolling in our Creche and Sunday School programme must be registered by completing the form HERE. Registration forms are also available at the Children's welcome table. For more information, please visit Union Church's website or contact us at CHILDREN or 2101 0414.
Hallelujah Party - Save the date: Saturday, 30 October, 3:00pm - 5:30pm. We are thrilled to inform you that will be hosting our annual Hallelujah Party in-person on Saturday, 30 October. More details to be announced soon but save the date and don't miss out on all the fun we have in store for all of our children.


Children's Christmas Musical & Auditions - Save the dates: We are excited to let you know that this year Children's Christmas Musical will take place on Sunday, 12 December 2021. We will have our auditions on two Sundays, 3 and 31 October during Sunday School sessions. We look forward to seeing all of our children at the auditions.

Kingdom Kids upcoming events - more dates for your family calendar!
Christmas Musical Pageant: Sunday, 12 December 2021, 9:45am & 11:15am
Children's Christmas Outreach: Saturday, 18 December, 4:00pm - 6:00pm - St. Barnabas' Society and Home
Children's Christmas Party: Sunday, 19 December, 9:45am and 11:15am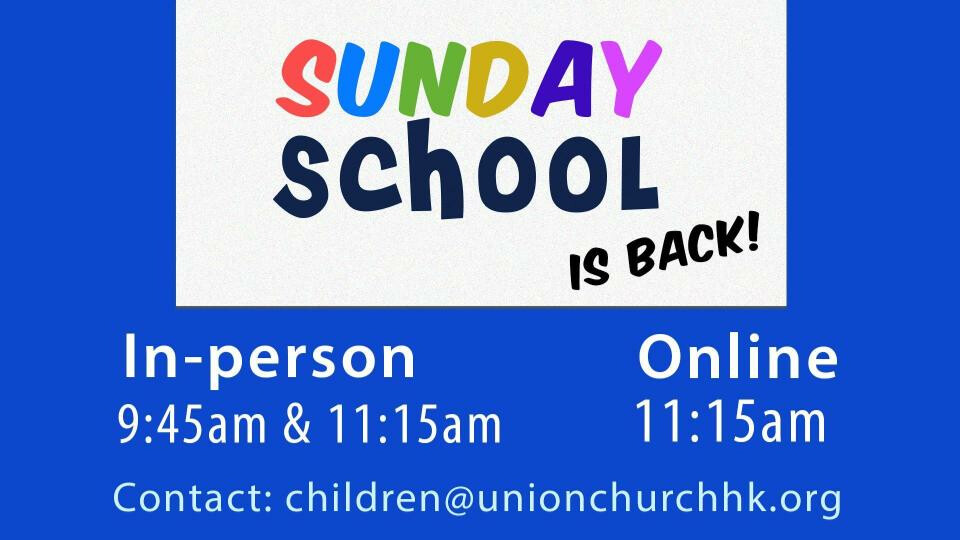 YOUTH
Friday Youth - 24 September – Tomorrow we invite Youth to join together in Worship, as our Youth band leads us in praising our Lord! We will be eating together as a group and having plenty of time for games and activities as well. Both Juniors and Seniors are invited for dinner at Fini's at 6:00pm, with worship and fellowship starting at Union Church at 7:00pm. We will dismiss at 9:00pm.
Sunday Youth – 26 September – This Sunday, Youth are invited to Ps. Michele's home at 11:15am for a lesson and a time of fellowship. Juniors (11-13) are doing a series on the book of Ephesians, while Seniors are studying the Book of Revelation and the challenging messages it faces us with! Any questions - please talk to Hunter.
Wednesday Youth – 29 September - This Wednesday we will continue our new "Network" study, a look into what spiritual gifts God has given us and how we can better use them to build His kingdom! We will meet at Union Church Youth Room at 6:00pm and dismiss no later than 8:00pm.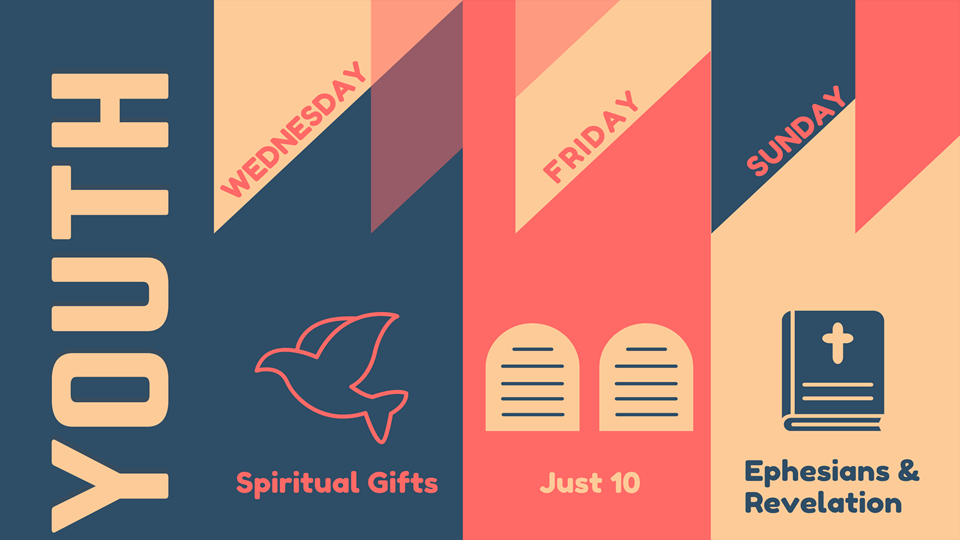 MISSIONS
Treats for China Coast Community: China Coast Community (CCC) residents have not been able to receive visitors (aside from family members) since the civil unrest and onset of COVID-19. As per the General Manager, the residents are growing weary. Want to cheer them up? They would love some special treats. Please drop off at Union Church new, unopened jars of marmalade, different flavours of jams, and plain biscuits for CCC before 15 October. They would be so appreciated! Feel free to join the CCC activity led by Grace Payne and Lindy Fok during Bless the City on 16 October to write notecards and box up the donations!
St Barnabas' Society and Home has asked for our prayers. One of our 12 local ministry partners, SBSH serves the poor and homeless in Hong Kong. Here are prayers for this week:
Several service users have contracted various illnesses. Please pray for Uncle Yin with Meniere's disease, Uncle Lam with severe headache, Auntie Connie with pain in her legs, and the husbands of Auntie Ying and Auntie Zheng who have been hospitalised.
SBSH's centre and projects are back to operational levels eg Weekday's Meal, Outreach, Material Aids and Food Bank distribution. SBSH asks for prayers that the Lord will provide volunteers or other resources to support these projects.
Meet our Ministry Partners: On the 2nd Sunday of each month, you can meet 1-2 of our ministry partners when they visit Union Church. Here is the line-up for our partners' visits - add the dates to your calendar and meet them in Fellowship Hall to learn about their mission, impact and ways you can pray, volunteer and support.
Sunday, 10 October - Hong Kong Church Network for the Poor
Sunday, 14 November - Sons & Daughters and Asian Development Ministries (SALT)
Sunday, 9 January 2022 - Alpha Hong Kong
and more visitors in the new year.
Save the date - Missions Christmas Fair, Sunday, 28 November - you won't want to miss it!
Prayers for Light of the World Church and Preschool, Yangon, Myanmar: Pastor Vum and his wife are asking if our church family would join their church family in praying for 1) in-person Sunday worship twice a month starting in October and 2) resumption of preschool classes in October, if it is God's will. The political situation is influencing their ability to meet. COVID-19 conditions have improved but they still need to be vigilant.
Praying for Afghanistan, Tuesday, 28 September: Shoaib Ebadi fled Afghanistan as a young man. He hosts a live Christian programme every week to share the gospel with Afghans under the Taliban. Join the prayer meeting for the nation and Afghan Christians, hosted by Stand Asia at 7:30pm. Please ask for the Zoom link (capacity is for 100+).
Ready to complement Sunday worship services with a small group experience? The support from your friends in a small group is tangible demonstration of God's love for us. If you aren't currently in a small group, this is a wonderful time to try it out. There are groups for women, men, couples, day-time, night-time, etc. Contact for more information and pick up a Small Groups pamphlet from the welcome desk at church.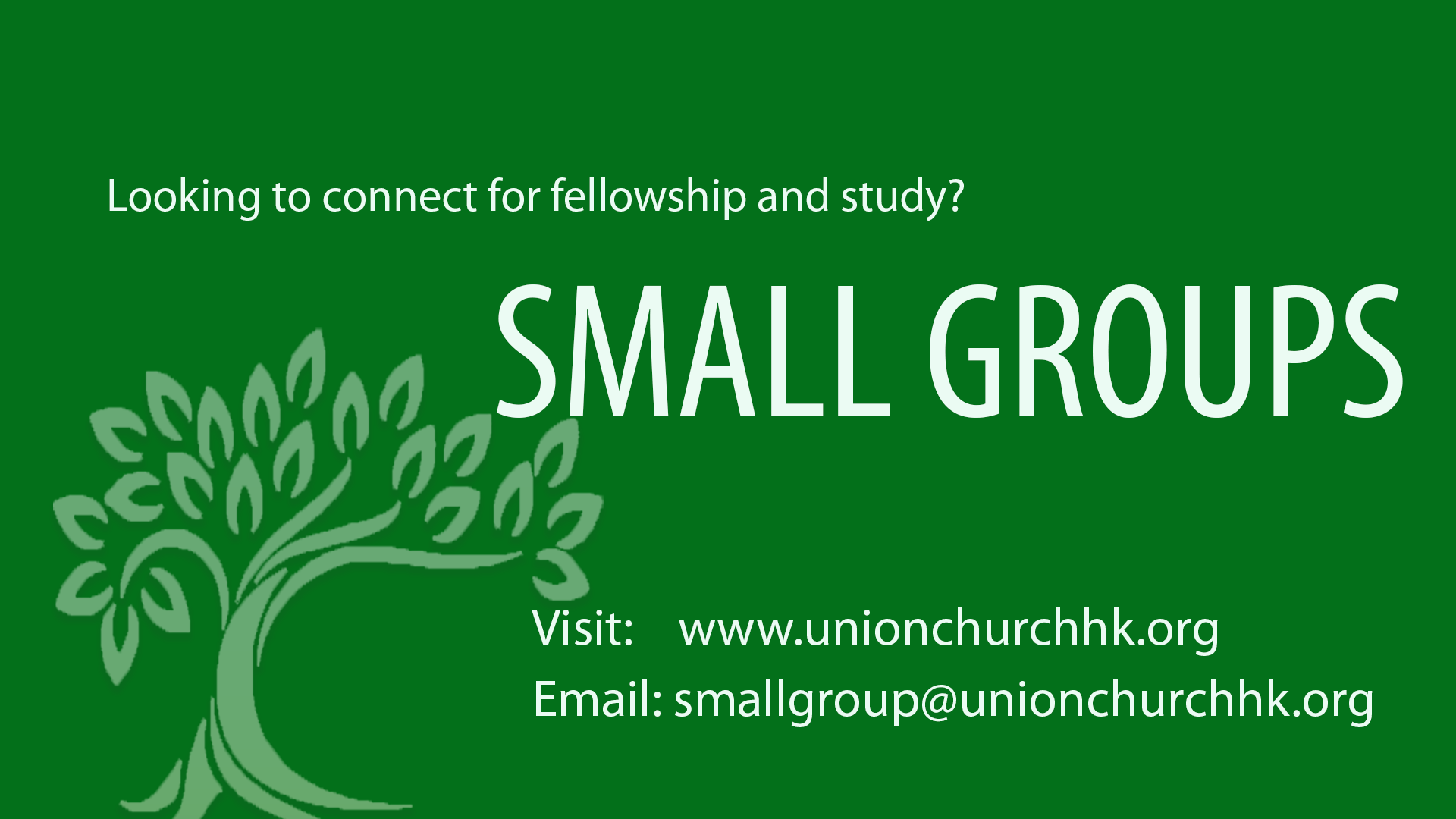 Friday Mornings Ladies group, 10 September - we're continuing the 6-video series by Dallas Willard based on his book "Hearing God: Developing a Conversational Relationship with God" led by Pastor Michele. Please contact Ellen Ahn with any enquiries.
Families in Need (FIN)
We understand the desire to give to people in need in our congregation - thank you for your compassion and generosity. May we ask that you instead refer these individuals to our Families in Need committee and Pastor Michele? Our FIN ministry helps people with their basic monthly needs. If you can help, we would be grateful. Please mark your envelope "FIN".
Pastoral Care and Prayer
Need prayer? Reach out to us confidentially at .
Stephen Ministry
We provide high-quality, confidential care to people who are hurting through our Stephen Ministry programme. Contact Pastor Michele if you would like to know more about the programme or meet with a Stephen Minister.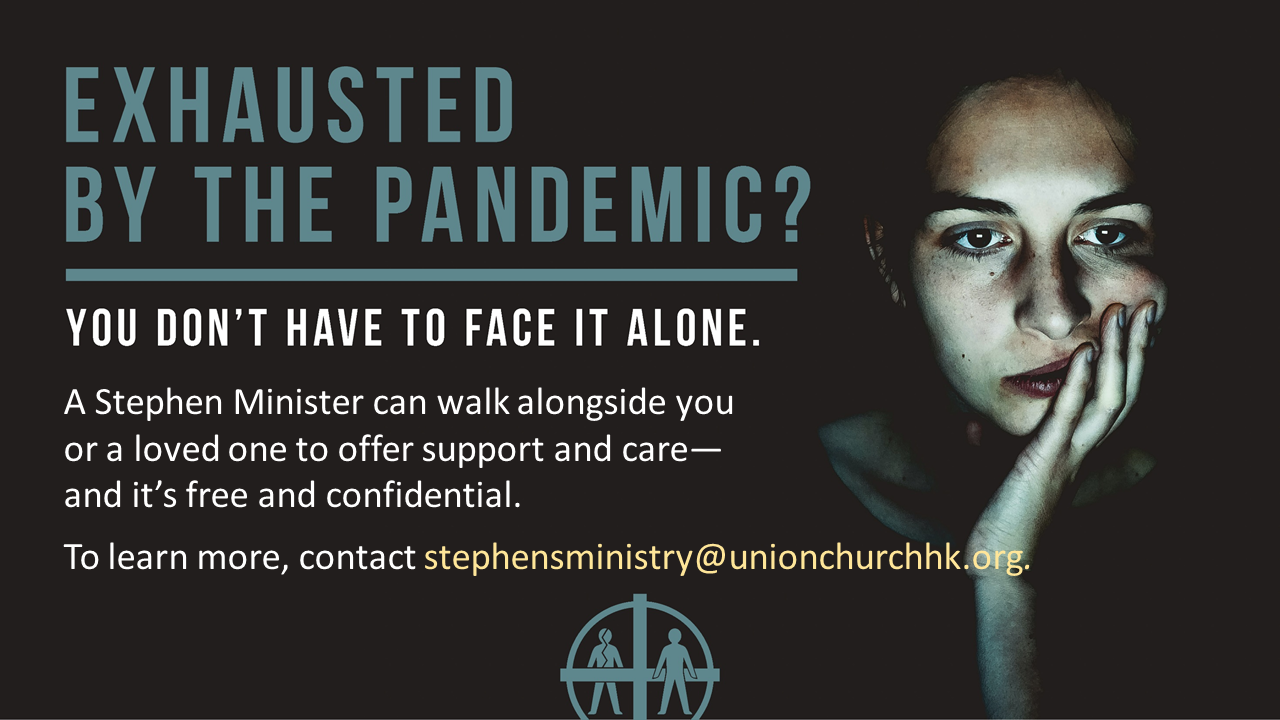 Sanctuary Flowers
If you wish to donate flowers to honour a birthday, anniversary, birth or in memory of a loved one, you may sign up on the flower calendar on the notice board or email . Thank you.
Last week's sermon
"Moving the Needle - Persistent Prayer" Rev Dr Michele Bland
Social Media
Please follow Union Church Hong Kong on Instagram, LinkedIn, Facebook and YouTube and share with your friends and family. Do you have images, video and stories for UC social media? Please send them to Bronwyn.