U MATTERS
It has been said,
If our greatest need had been education, God would have sent a teacher.
If our greatest need had been money, God would have sent a banker.
If our greatest need had been advice, God would have sent a counselor.
If our greatest need had been pleasure, God would have sent an entertainer.
But since our greatest need was forgiveness, God sent a Saviour. His name is Jesus. He is Christ the Lord, the Son of God who came from heaven to earth.
"Therefore the Lord himself will give you a sign. Look, the young woman is with child and shall bear a son, and shall name him Immanuel." Isaiah 7:14
Immanuel - which means God with us. He is with you!
May you experience His love, joy and peace in new ways this Christmas season. Please join us as we celebrate the Christ child - Christmas Eve, Christmas Day and Boxing Day.
Merry Christmas to you and your family, Pastor Michele
INCREASING CAPACITY AT WORSHIP SERVICES
Please continue to register for services, arrive early, scan LeaveHomeSafe, and have your vaccination record readily accessible.
We need two thirds of our congregation to have had at least one dose of a recognised COVID-19 vaccine. We also welcome people who are non-vaccinated (1/3 of the congregation).
You can register for services on 24, 25 and 26 December at https://www.unionchurchhk.org/sunday-worship-service-registration/. Please note that our 5:00pm Christmas Eve service is full - watch the livestream!
FAMILY NEWS
Christmas Outreach: Over 100 people participated in outreach projects in recent days - from the Choir's outreach to workers at 22A Kennedy Road (with beautiful artwork and calligraphy), to visits to the elderly and children at St Barnabas' Society and Home, to service at a housing estate in Tin Shui Wai through the Hong Kong Church Network for the Poor. We're grateful for these opportunities to be Christ's hands and feet and be blessed through serving.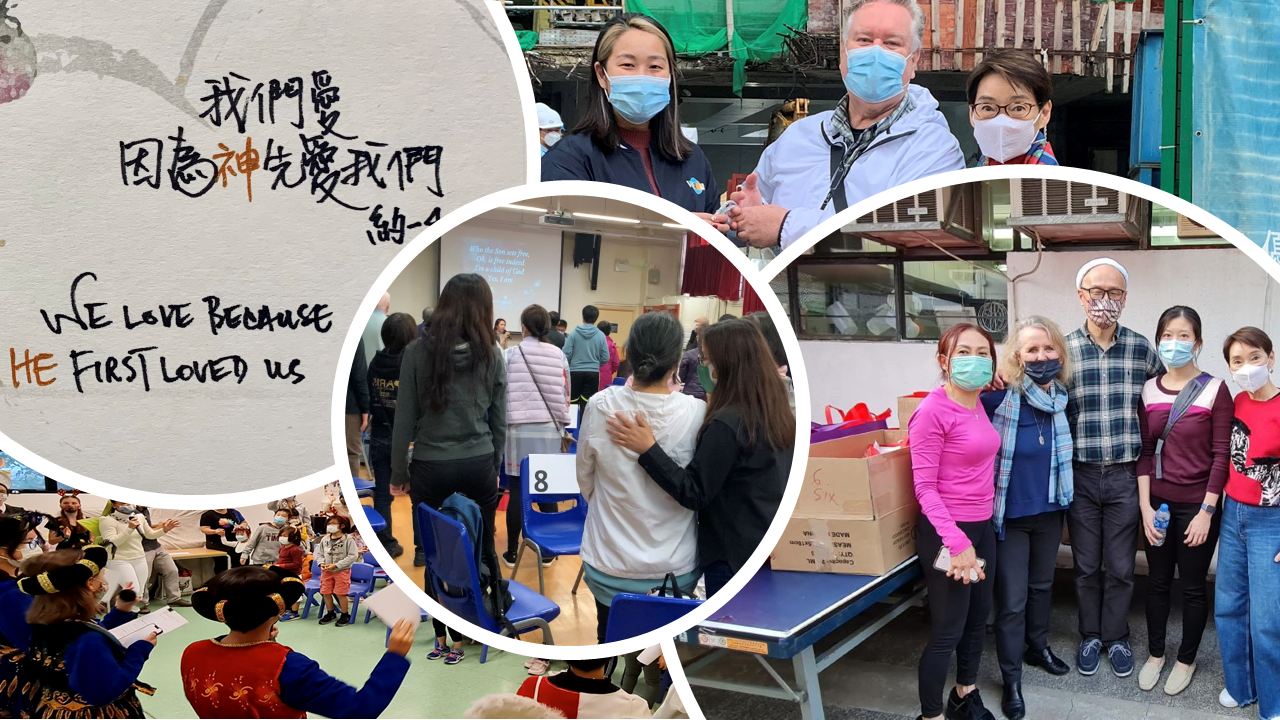 RTHK Radio Christmas Service: English-speaking congregations in Hong Kong have come together to record a Christmas service for radio. We are delighted that the service will feature the music of the Union Church choir.
Christmas Love Offering: Every Christmas, we collect an offering for one of our ministry partners or a special appeal. This year Union Church has selected our long-time friend and partner, the Home of Loving Faithfulness (HOLF). For over 65 years, HOLF has provided lifelong care for individuals with intellectual and physical disabilities in a loving family home in Hong Kong's New Territories. HOLF is planning for new residential capacity, team members, programmes and facilities in 2022, and they are praying for God's provision. You may send a cheque payable to "Union Church" (with HOLF on the reverse) to the church office. You may also give online. Learn more in the video. Thank you.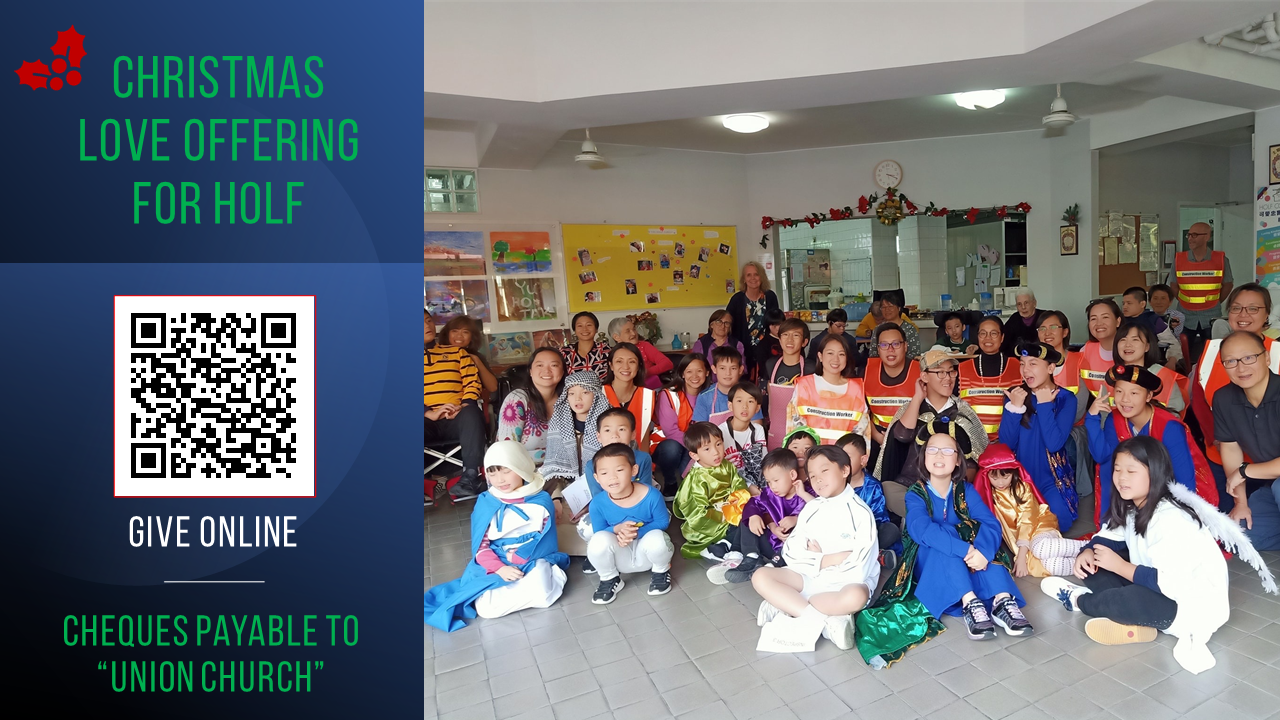 Giving by US taxpayers: If you wish to make a tax-deductible donation, please date and send your cheques payable to "Friends of Hong Kong Charities, Inc." to the Union Church Accounts department no later than 31 December 2021. If it is late, your donation cannot be recognised in the 2021 tax year.
If you have not made your pledge to Union Church ministry for 2022, pledges are still welcome as they help us set the budget for ministry in 2022. You can post your Stewardship commitment card, complete the online Commitment Form or email .
CHRISTMAS SERVICES AND EVENTS
We look forward to celebrating Jesus' birth with you. The schedule is shown below and registration is open. We welcome your family members and friends. We will also livestream Christmas Eve and Christmas Day services - share the online service link with others.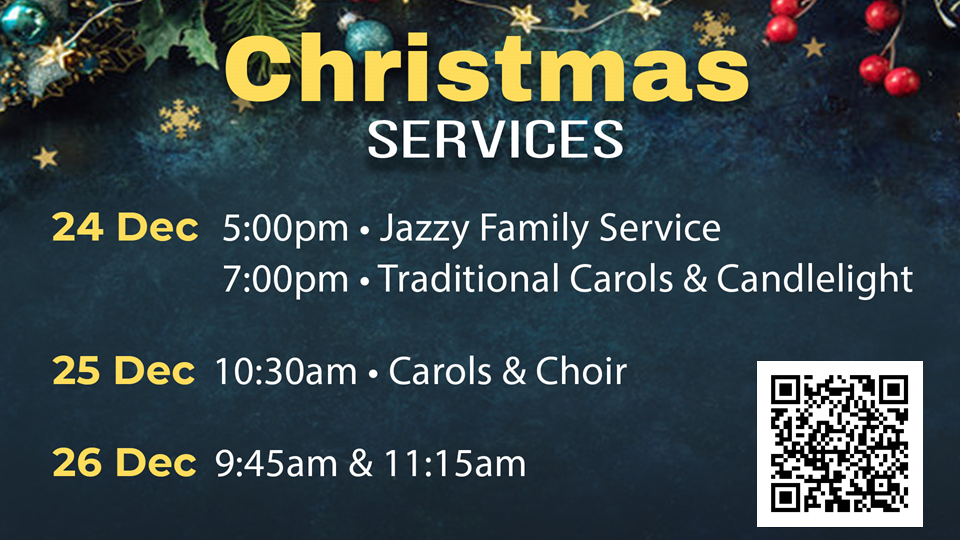 Tomorrow - Christmas Kindness Walks, Christmas Eve, 24 December: Meet at Union Church at 2:30pm. Adults / families will spread Christmas cheer on a walk in Wan Chai. Youth will head out with the Caldwells on a Kindness Walk in Jordan. Any questions? Contact .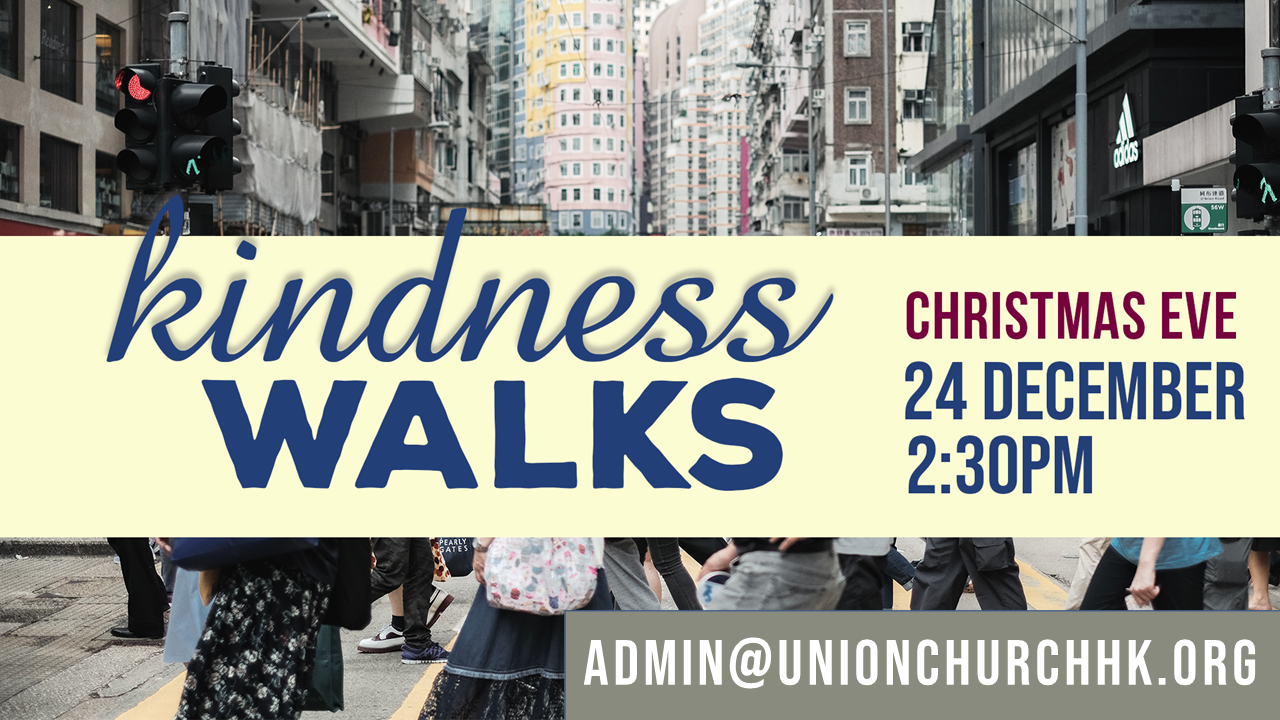 Tomorrow - Friday, 24 December - Christmas Eve
- 5:00pm - Jazzy Family Service (in person is full - watch the livestream)
- 7:00pm - Traditional Carols & Candlelight

Saturday, 25 December - Christmas Day
- 10:30am - Carols & Choir

Sunday, 26 December - Boxing Day
- 9:45am Traditional Worship
- 11:15am Contemporary Worship
There is no 8:45am Family Communion service on the 26th.
Miss the Christmas Cantata, Children's Musical or Blue Christmas service? Find your seasonal favourites here and enjoy the playbacks.
LOOKING AHEAD TO 2022
GriefShare is coming to Union in January: Pastor Michele will lead this weekly grief recovery support group for people who have lost a loved one. Sessions will include didactic teaching on grief and grieving and opportunities for reflection, listening and sharing. Topics include:
- Living with Grief
- The Journey of Grief
- The Effects of Grief, and much more
Wednesdays, 5, 12, 19 and 26 January 2022, 7:30pm - 9:00pm. Confidential, free, open to all. Do you know someone who might be helped by this ministry? Watch the video and register here.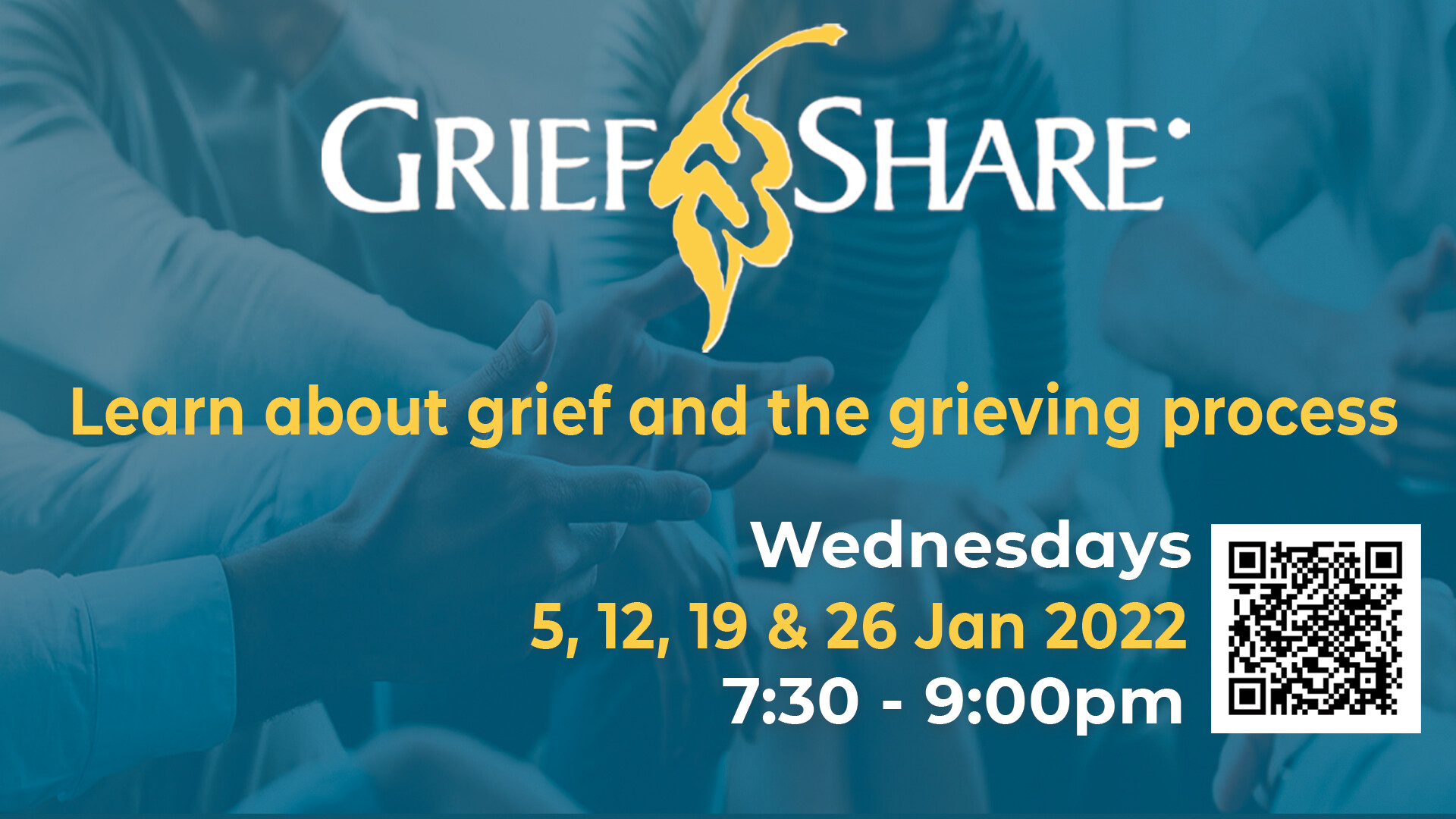 Wings & Fries with the Guys, Wednesday, 5 January: Men, we'd love to have you join us for this monthly gathering at Fini's in Wan Chai. Come any time between 5:00pm - 7:00pm. Only $100 for unlimited wings, fries, drinks, fellowship and more! Questions? Contact Dan Tupps.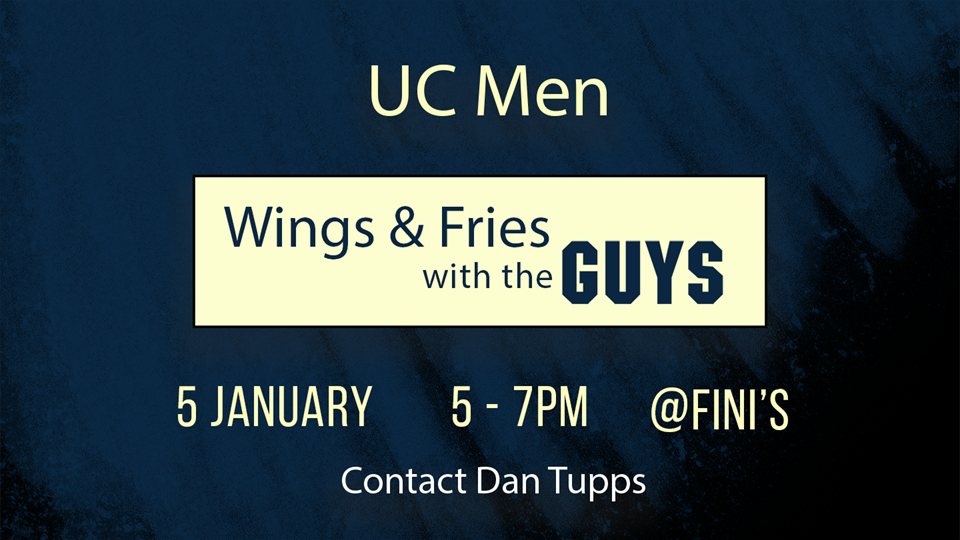 Young Adults Study - "Your Time is Now": Wednesdays at 8:00pm, starting 5 January. Want to know God's purpose for your life now? In this six-part series, speaker and chaplain Jonathan Evans encourages us to walk in God's purpose today and for the rest of our lives. Learn how we can take hold of what God wants to give us right now. For more details contact Dan Tupps.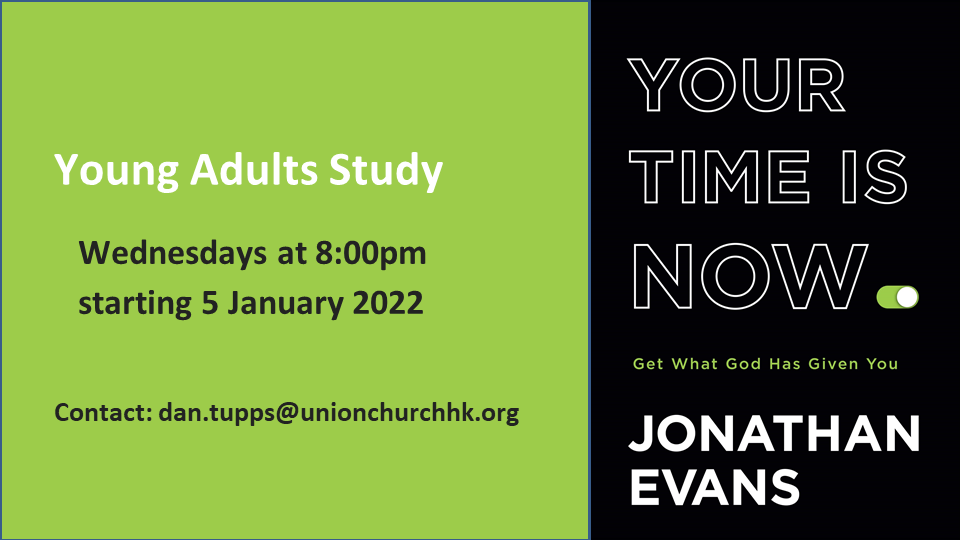 BSF Distance Class Mini Study: The women's BSF Distance class is offering a two-session pop-up study! Part two is Wednesday, 5 January 2022, 8:30pm - 9:30pm. To get the Zoom link, contact . View the flyer.
Selah, Tuesday, 11 January, 7:30pm: Join this unique, contemplative worship service designed to help you pause, be still and meet God heart 2 heart. Registration is open.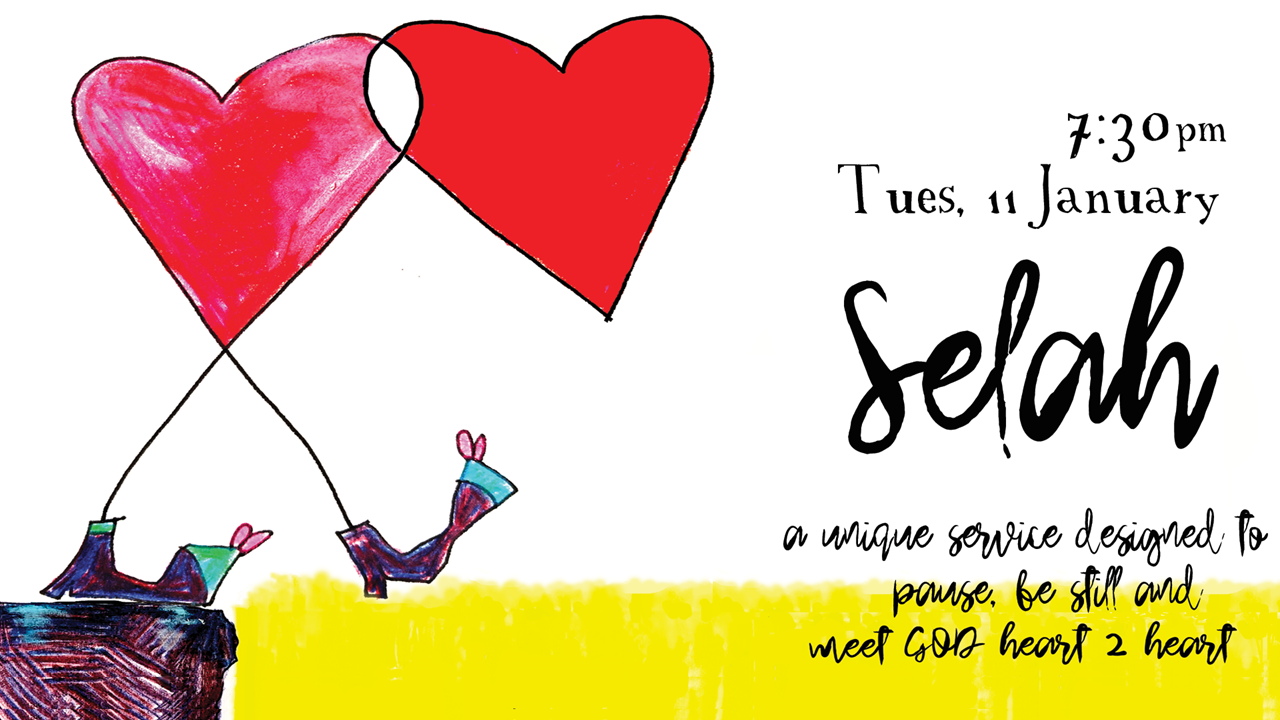 Women's Ministry, Tuesday, 25 January: Our first event of the year begins at 5:00pm with @thetable, a new regular event creating opportunities for women to gather together, invite friends to join + support local restaurants in our Wan Chai neighbourhood. This month, we'll meet at Motorino, 15 Ship Street. Bloom Where You Are begins at 7:30pm in the Sanctuary with a celebration of creativity! Learn more and register. Note the revised times.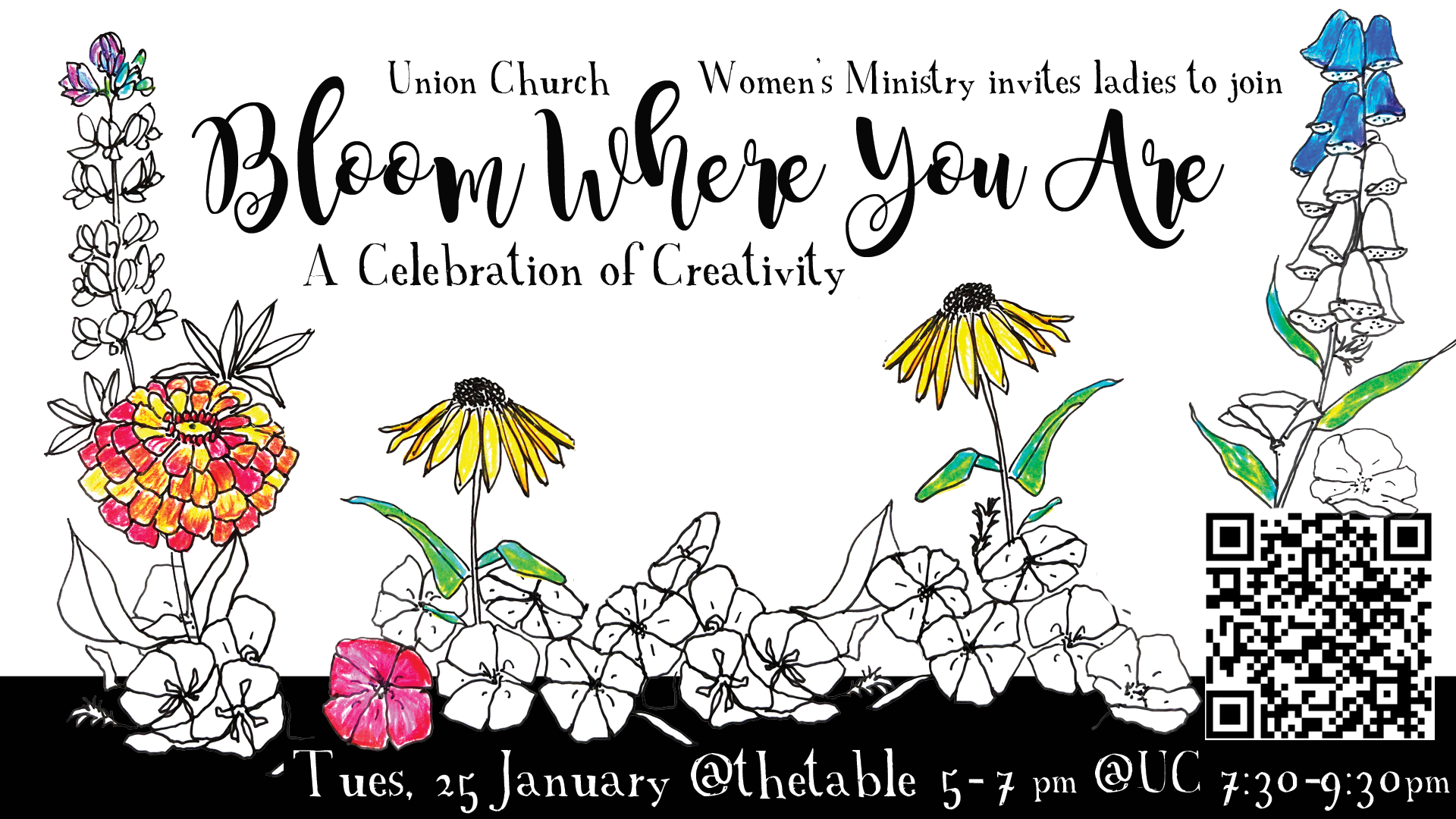 The Alpha course returns: We are excited to offer Alpha starting on Thursday, 10 February. Whom might you invite? Registration opens soon.
Stephen Ministry: We will begin training a new cohort of Stephen Ministers after Chinese New Year. Learn more here and express interest to .
KINGDOM KIDS
Christmas Eve, 5:00pm and 7:00pm and Christmas Day, 10:30am: Children are invited to join their parents for worship in the Sanctuary. The Creche will be made available although there will not be any supervision. Parents and/or guardians are welcome to use the Creche at their own discretion.

Sunday, 26 December and 2 January 2022: There is no Sunday School and children are welcome to join their parents in the Sanctuary or watch Veggie Tales movies in Rooms 2 & 3. The Creche is available with limited supervision.
In-person and Online Sunday School resume on Sunday, 9 January 2022.


Kingdom Kids Sunday edition
- Joy To The World
- will be available after the 9:45am and 11:15am worship services on the church
website
or
Facebook
page.
Sunday School Registration 2021-2022
: Registration for the academic year 2021/2022 is open. Children ages 0-11 years old enrolling in our Creche and Sunday School programme must be registered by completing the form
HERE
. Registration forms are also available at the Children's welcome table. For more information, please visit our
website
or email or call 2101 0414.
YOUTH
Formal Union Youth activities resume on Friday, 7 January.

Tomorrow - Friday, 24 December, Christmas Eve Kindness Walk, 2:30pm. Meet at Union Church and then head out with the Caldwells on a Kindness Walk in Jordan. Register first with Carys on the Youth whatsapp group.
MISSIONS
Alpha's coming to visit: We have more of our Ministry Partners visiting in 2022, starting with Alpha on Sunday, 9 January. Save the date to connect with Alpha Hong Kong and all that they are doing in Hong Kong - as well as learn about Union's next Alpha course that starts in February.
WALK THE WALL 2022! Join the global movement to give life and end abandonment. International China Concern's annual fundraising walkathon is approaching in January. There are two options: Walk on Your Own or Walk the Wall Competition. Check out the Walk the Wall 2022 website - and take the next step!
Light of the World Church and Preschool, Myanmar: Please pray for a major outreach Pastor Vum and congregation are undertaking on Christmas Day. They will invite up to 150 people to Light of the World Church. Pray for people to know their Saviour and that the gathering is safe.
Union Church gives monthly to people in need through a ministry called FIN - Family in Need. We have recently received requests to help with school uniforms, books, medication, set up for returning to home countries and rental deposits. All of these are urgent and legitimate needs. These are people we have relationships with and we are keen to help. If you would like to support, we would love to hear from you. If you have an interest in being a part of this team please let us know. Regards - the FIN team - Brian Woo, Isabel Morrison and Pastor Michele.
The support from your friends in a small group is tangible demonstration of God's love for us. If you aren't currently in a small group, this is a wonderful time to try it out. There are groups for women, men, couples, day-time, night-time, etc. Contact for more information and pick up a Small Groups pamphlet from the welcome desk at church.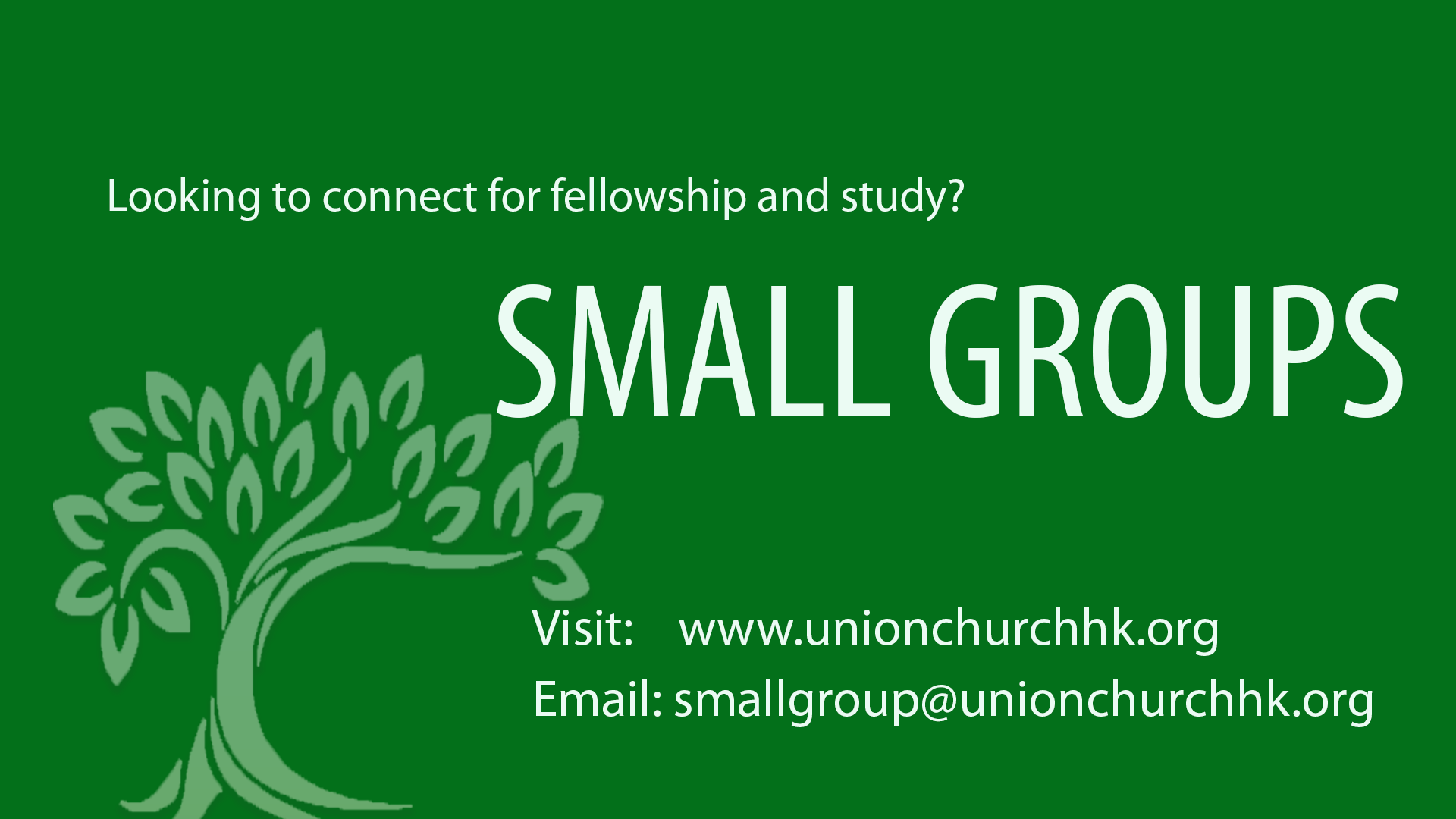 Pastoral Care and Prayer
Need prayer? Reach out to us confidentially at .
Stephen Ministry
We provide high-quality, confidential care to people who are hurting through our Stephen Ministry programme. Contact if you would like to meet with a Stephen Minister.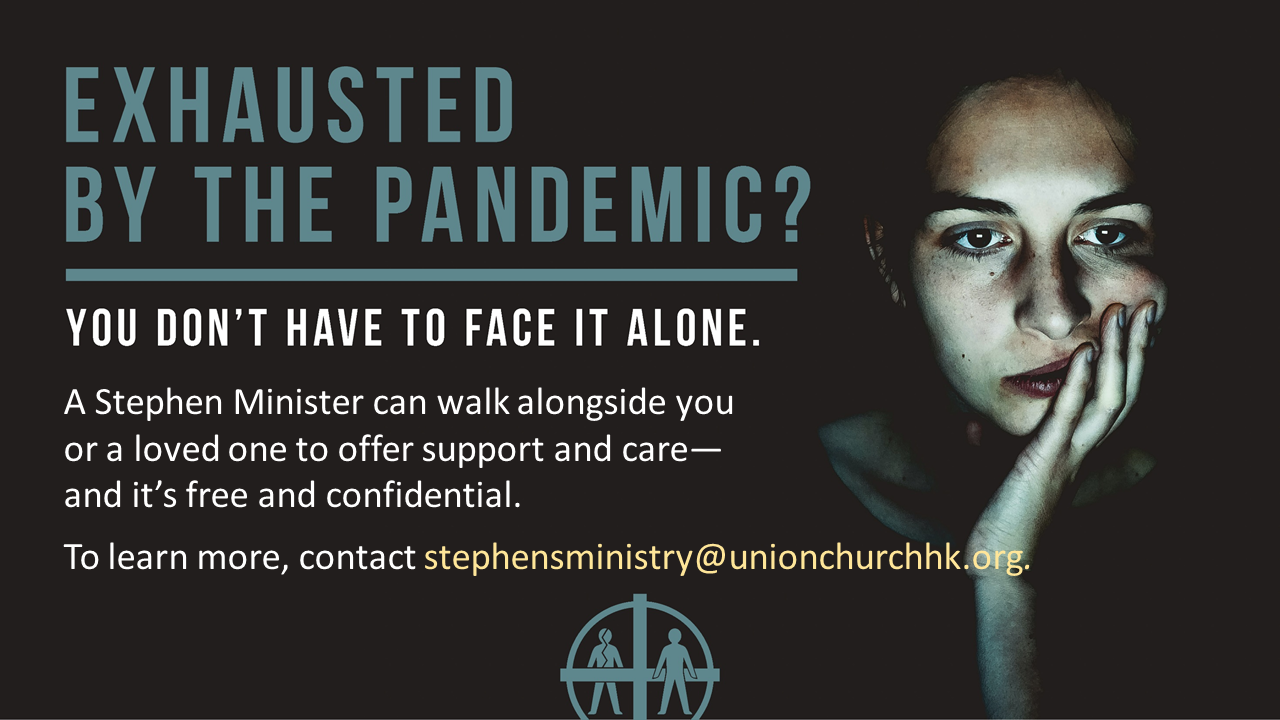 Last week's service
"Hope Is Here" Rev. Dr. Michele Bland
Social Media
Please follow Union Church Hong Kong on Instagram, LinkedIn, Facebook and YouTube and share with your friends and family.