U Matters
This week I learned that my very good friend and former colleague Mark Swallow launched his radio ministry into three more radio stations in Arizona and Nebraska. This is in addition to his existing radio shows in Boston and San Francisco. Mark started the radio ministry "GOD IS" in 2017 and recently added "DEFINITION," - he now teaches the Bible coast to coast in the United States. If ever there was a time for Christian radio it is now. I rejoice and celebrate this wonderful opportunity and provision from God.
When it comes to English speaking Christian radio in Hong Kong, I feel unsettled. Many of you know radio producer Rev. Dr. Judy Chan will retire this summer and thus the HKCC radio committee have been meeting to discuss the future of this ministry. Currently there are daily programs which include Thought for the Week, Reflections, Minutes that Matter and the weekly church service broadcasts. We do not know the future of this ministry, nor the direction it will take, there are personnel and financial needs. That being said, if we have learned anything in the past few months, it is that there is much of the future we do not know.
I am reminded of the words of James:
Come now, you who say, "Today or tomorrow we will go into such and such a town and spend a year there and trade and make a profit"— yet you do not know what tomorrow will bring. What is your life? For you are a mist that appears for a little time and then vanishes. Instead you ought to say, "If the Lord wills, we will live and do this or that." James 4:13-17
Our life, our future, our health, our ministries, our church, our city is in the mighty hands of the living and loving God. May His will be done in us and through us.
Blessings, Pastor Michele
THIS WEEK: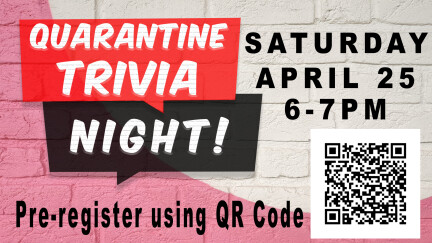 Missing your church family? Join our Trivia Night! All ages and friends welcome. Please pre-register HERE so that we can more easily assign teams. If your small group would like to sign-up as a team, just let us know on the registration form. Saturday, April 25, 6-7 pm.
Please join us this Sunday, ONLINE ONLY, at 9:45AM for our traditional service and 11:15AM for our contemporary service. Please join us via our website, mobile app or Facebook page.
If you are unable to be online at the time of our worship services, you can watch our them later in the day, again via our website, app or Facebook page. Don't forget that you can still give your offering online via the giving page of our website, or by using the QR code below. You can also send us a cheque, made payable to "Union Church" or "Friends of Hong Kong Charities, Inc" if you are a US taxpayer. Please send them to: 18F, Sunlight Tower, 248 Queen's Road East, Wan Chai, Hong Kong.

If you would like to drop anything off for any of our Mission partners, the Church will be open from Monday to Friday between 12:00PM to 4:00PM. If you need to contact anyone at Union Church please call 6225 5042.
Please check our website and your email for latest news.
Reaching OUT during Covid-19:
HK Church Network for the Poor is coordinating with their partners to source face masks and distribute them to underprivileged families and groups in Tai wai, Central, Kwun Tong, Yau Ma Tei, Tai Kok Tsui, Fanling, Tsim Sha Tsui, Tsuen Wan, Hung Hom. So far, they have received requests for 23,000+ face masks from most deprived districts in HK, and have started to distribute collections to partners. They still need many more. Thanks to support from churches and individual donors, they are sharing more than supplies but also love and hope in Christ. To donate please bring your masks to Union Church. Thank you.
Sons & Daughters are asking for donations of interactive games (eg Cranium, Taboo, Pictionary etc) and computer monitors. If you can help, please bring them to the Church between 12 - 4pm Monday to Friday. They are also raising funds for Dawn who is a woman in S&D's Aftercare Program. Last year she decided to leave the sex industry for good and is now preparing to return home. She needs help fundraising. Please support her at: https://gogetfunding.com/dawns-journey-home/
Mu Min need donations of supermarket vouchers, dried foods, money and prayers to help people in need in Tung Chung. If you would like to donate, please bring to the Church or contact . Thank you.
ReCharge:
We have THREE options for Wednesday night ReCharge; all 8-9PM, all online:
+The Lord's Prayer Study with Monte Peterson. "Lord, teach us to pray," the disciples asked, and Jesus answered. We will learn about prayer, God and ourselves through this study of how Jesus answered that question. Join
here
+Online Prayer together with Pastor Michele click
here
+Young Adults with
Dan Tupps
are studying Psalm 23. In this 6 part series Pastor Matt Chandler introduces the great shepherd, the Lord, who promises to provide for every need of his flock. Though only 6 verses long, this psalm teaches us profound truths about our loving and protective God.
Join here
Upcoming:
Online Alpha: Are you asking questions about the meaning or purpose of life? Maybe you have friends who want to know more about Jesus or Christianity. Alpha is a low-pressure course where you can ask those questions and engage in conversation, and it can even be done online! Alpha Online will start May 6, Wednesdays, 1PM. A great opportunity to invite friends and share your faith. Contact Monte Peterson for more details or sign up here:

Union Book Group: Next Tuesday, April 28, we'll meet at 7:30PM to discuss The Rosie Project by Graeme Simsion. Contact Monte Peterson for the zoom link. In May we're reading Love Does by Bob Goff, and meeting May 26th. Books available at the church. Join us for either or both!
Right Now Media: Looking for ways to nurture your faith in this time? If you haven't tried Right Now Media, this is a good chance! A library of online Bible Studies, speakers and family videos. Get free access here: https://www.unionchurchhk.org/resources/right-now-media/ QR code to join Right Now Media:

Connecting:
The Marriage Course: please contact Joanna Yau for more details.
Pastoral Care Support, if you are looking for some support and prayer please let our staff know. Contact Ministry leaders directly or admin at: or call 6225 5042.
Small Groups
Meeting as a small group in this time is challenging, but the support from each other is more important than ever. There ARE online options - please reach out if you need help figuring this out! If you aren't currently in a group, we encourage you to try it out. There are groups for women, men, couples, day-time, night-time, etc. Interested? Contact Monte Peterson.
Friday Youth Group – April 24. We will be having an online scripture and Small group night with a couple of group based games and activities before we jump into our study of the Gospel of Luke.
What: Online Scripture Night
When: Online Meeting at 6PM
Details: Zoom Link will be provided.
Sunday Discussion – April 26. Youth are invited to join a small group discussion on the Sunday sermon at 12:30PM on Sunday. Zoom link will be provided.
Kingdom Kids
Sunday School WEEKLY CHALLENGES:
Dear Parents, please click HERE
for the link to our KINGDOM KIDS WEEKLY CHALLENGES. Prizes are available for the first 5 families who sends in video recording of the challenges completed to . We look forward to receiving videos from you.
Stephen's Ministry
A Stephen Minister can help. Stephen Ministers are members of our congregation who listen, care, encourage, and provide emotional and spiritual support to people going through a crisis or a difficult time. Please contact Pastor Michele if we can help ( )
Fertility & Pregnancy/Infant Loss Support Group - Struggling and could use some fellowship, friendship and support? Contact Sonia Lee.
Family in Need (FIN)
If you would like to help support our family in need ministry, which helps people monthly with basic needs, please mark your envelope "FIN".