U MATTERS
This past weekend many of us tuned into Union ReUnion. It was a wonderful opportunity to connect with both former and present Union Church members both in-person and online. The evening featured testimonials, choir, worship teams, silent auction and much more. We are grateful for hosts, auction items, participants and donations. Thank you! It was a fantastic evening. Special thanks to Rob, Betty and the AV team, as well as The Grace of Giving Team - Ken Morrison, Bronwyn Alexander, George Ding, Anson Wang, Michael Birley, Tess Lyons and David Ashton-Howorth - and all involved. Please see below for the amount raised.
We are preparing ourselves to return to 22A Kennedy Road. But in so many respects we will be returning differently. Reflecting on the church in the post-quarantine era, Thom Rainer stated, "It will take years to fully grasp the emotional and psychological damage inflicted on millions of people worldwide." Going forward, how we do church is and will be different and part of that preparation involves preparing ourselves to be the church that Christ intended.
One thing remains the same. We are called to be a magnet for and in the community and to be committed to the Great Commission. There is an urgency that we have never seen before and there is no time for complacency. I am excited to see how together we can engage our city with the good news. One way of doing this is through Alpha. If you are not part of an Alpha group, we have one for you - youth, young adults and adults - online or in-person. We hope you will bring a friend.
Blessings, Pastor Michele
"And how are they to believe in one of whom they have never heard? And how are they to hear without someone to proclaim him?" Romans 10:14b
WORSHIP SERVICE UPDATES
Please remember to book your place for a Sunday service starting on Mondays at 10:00am. With only 30% occupancy, the seats fill up very quickly! You'll find the registration link on the website home page or here. If you have successfully registered and subsequently need to cancel or reduce the number of people attending, please email at your earliest convenience so we may offer your space to others. Thank you for understanding. Pray that the occupancy limit improves soon!
In addition to the in-person 8:45am (Family Communion), 9:45am (Traditional Worship) and 11:15am (Contemporary Worship) services, we also livestream the 9:45am and 11:15am services on our church website, Facebook page, church app and YouTube.
Sunday Service Watch Parties: Sunday services at 18/F fill up quickly. Why not watch the service online together with your neighbours? We're planning watch parties for the livestreamed communion services on Sunday, 2 May. Interested in hosting? Or joining a group of worshippers in someone else's home? Register your interest here.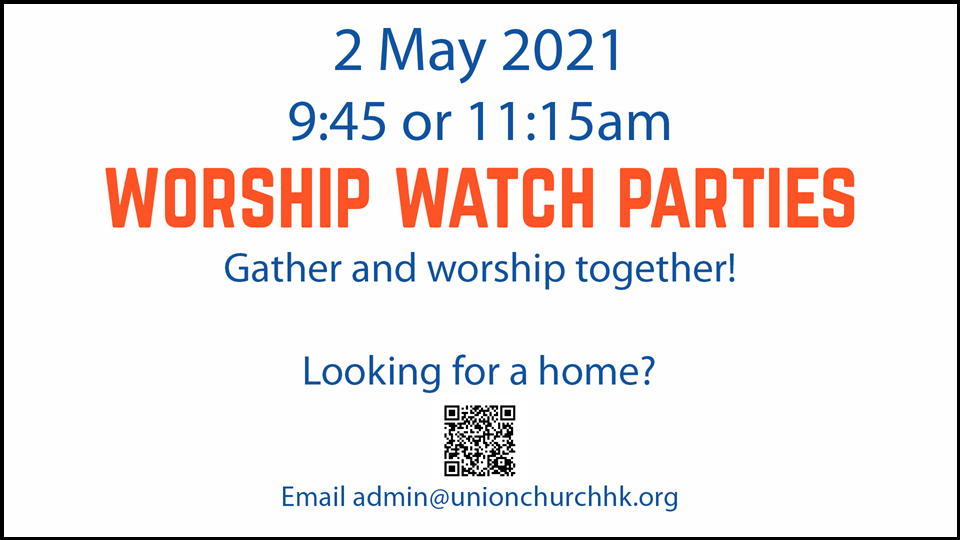 Zoom Coffee Hour is on with the Deacons! We want to connect with our online worshippers this Sunday in between services, 10:45am - 11:15am. To get the link, email .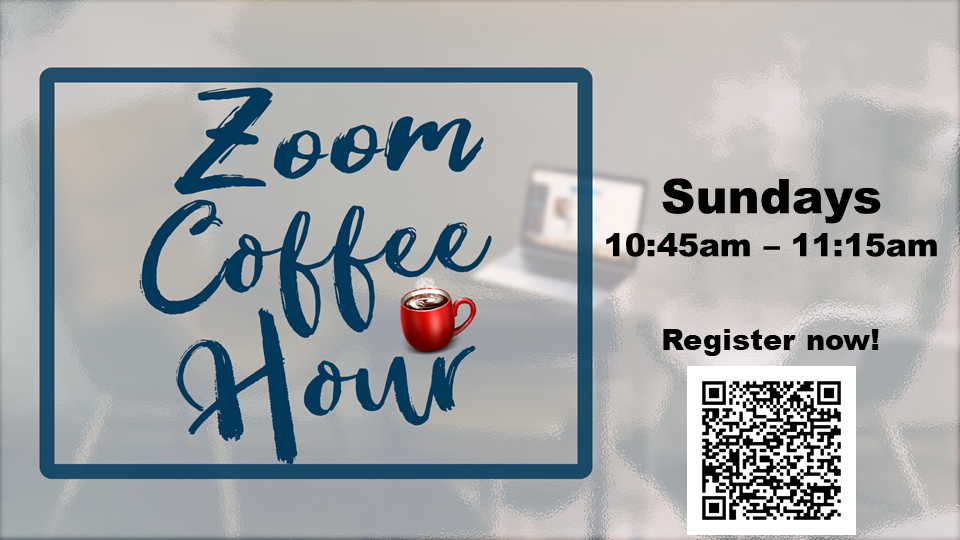 FAMILY NEWS
Annual General Meeting (AGM): We will announce a date for our AGM soon. Thank you for your patience.
Union ReUnion - thank you all! We are incredibly grateful for the fantastic turnout at Union ReUnion, the Zoom Union family gathering to benefit the fit-out of the new church at 22A Kennedy Road. Here are some quick insights:
- Over 125 participants zoomed in from hosted homes and their own homes
- Participants included current congregants and Union alumni from Hong Kong, China, UK, Portugal, USA, Australia and Singapore
- Giving reached HK$2.1M from generous donations during the 'moment of giving' and the silent auction
- We now have HK$7.1M to go until we reach our fundraising target. Thank you!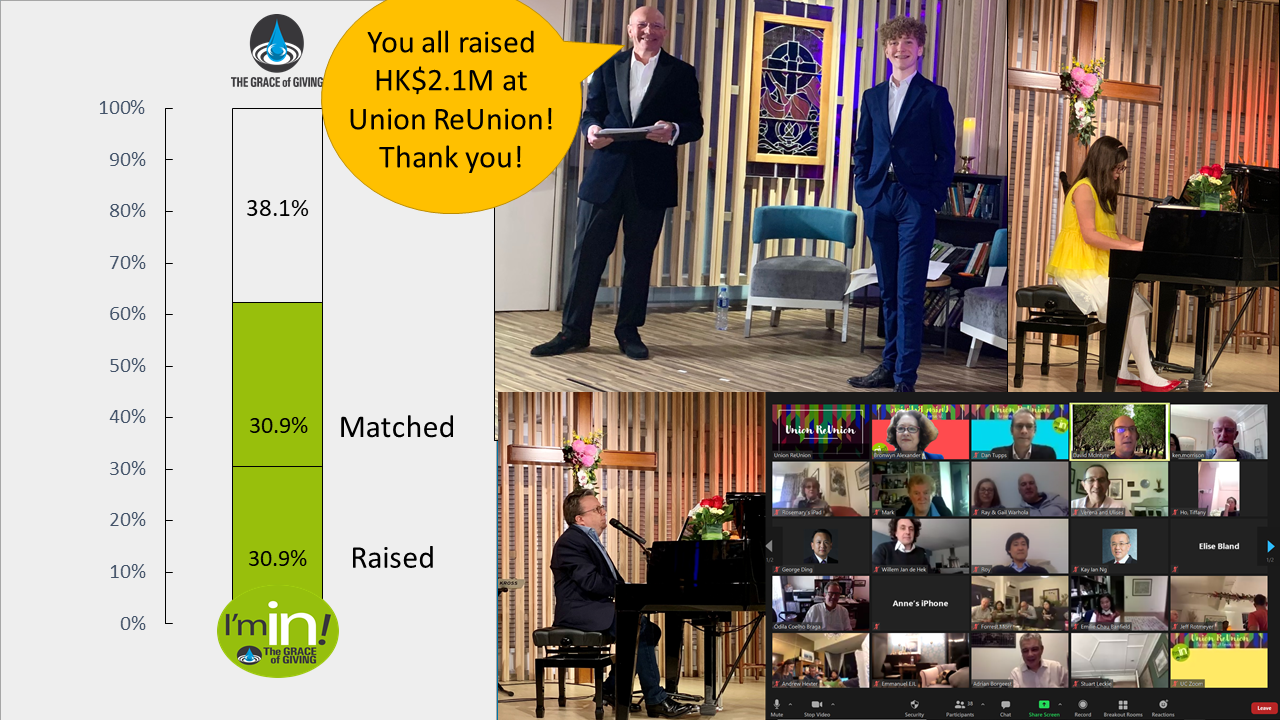 We loved connecting with new and old friends during this special event as part of our Grace of Giving faith-raising and fundraising year!
Look out for The Grace Race - coming soon. Endorphins with a purpose!
THIS WEEK
Union Book Group: Our next book is Pachinko, by Min Jin Lee. Pachinko is a story of identity and belonging, a multigenerational tale of a Korean family in Japan. We'll discuss it on Tuesday, 27 April at 7:30pm. Time to get reading! Join us - all are welcome. Contact Monte Peterson with questions. Books are available for pick up at church, $100.
WEDNESDAYS AT UNION
We are kicking off exciting new courses in April and early May.
Alpha: This is the chance to ask big questions about life and to explore the Christian faith in a fun, non-pressurised environment. Every week you will enjoy getting to know one another, watching a short film, and talking about the content. Alpha starts on 28 April.
Young Adults Alpha will meet in-person on Wednesdays, 8:00pm. Led by Dan Tupps.
Adults will meet online on Wednesdays at lunchtime, 12:45pm - 2:00pm. Led by Patrick Wilson and Monte Peterson.
Learn more and register here. Start thinking and praying about whom YOU can invite. For 27 years, Jesus has transformed lives through Alpha at Union Church - and millions more worldwide.
(And get ready for
Youth Alpha
in May!)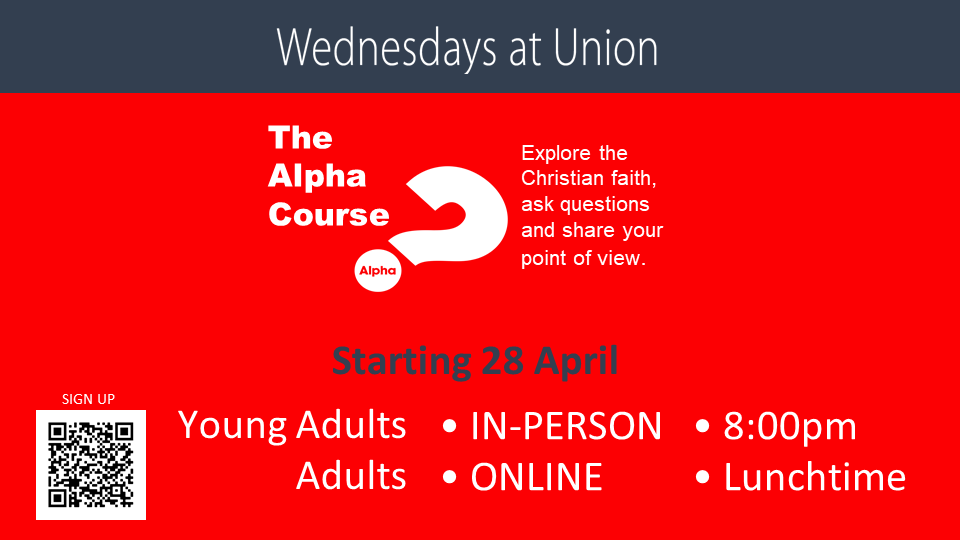 Also on Wednesdays at Union, starting 28 April:
James Legge: the man, the mission, the legacy: This 3-part online series brought to you by teacher, local historian and theologian, Catriona Woodrow, will explore how the early years of James Legge fitted him uniquely to play an outstanding part in early missionary endeavours in the Far East. From his early arrival in Hong Kong, his influence contributed significantly not only to the vision of the London Missionary Society but also the development of the colony as a whole. These important insights will allow the current congregation to appreciate more fully the life and work of James Legge, and the history of Union Church Hong Kong. Register here.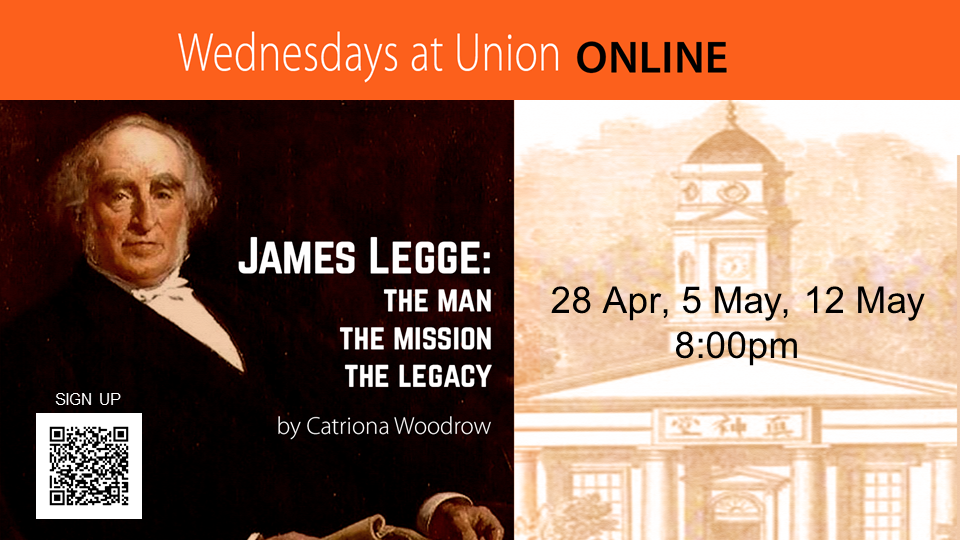 Difference: This course explores what it means to follow Jesus in the face of conflict and see transformation through everyday encounters. A transformed world starts with transformed relationships. The course teaches 3 habits to help us encounter others well, cross divides and see society transformed. Monte Peterson will teach this 5-session, in-person course. Register here.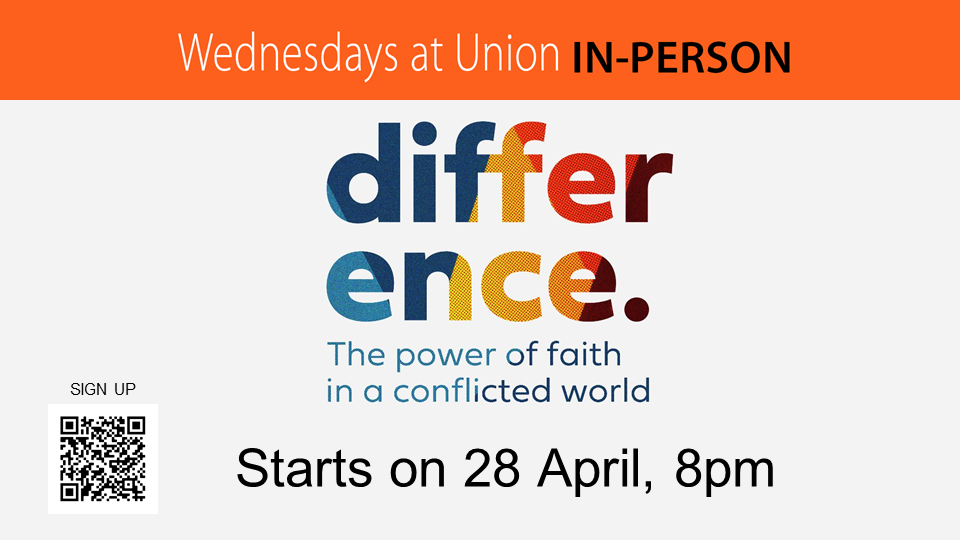 UPCOMING
Embracing your spiritual gifts: Starting on Thursday, 6 March, join Monte Peterson in person at Union Church for Discovering God's Vision For Your Life: You and Your Spiritual Gifts, 8:00pm-9:00pm. This 8-session course will help participants deepen their relationship with God, discover more about their Christian identity, learn more about the spiritual gifts God has gifted them with, and become empowered and equipped for ministry! This class includes a spiritual gifts inventory, and it is important to attend every session. The materials cost $100, and scholarships are available as needed. See here for more information, and contact Monte with further questions or to register.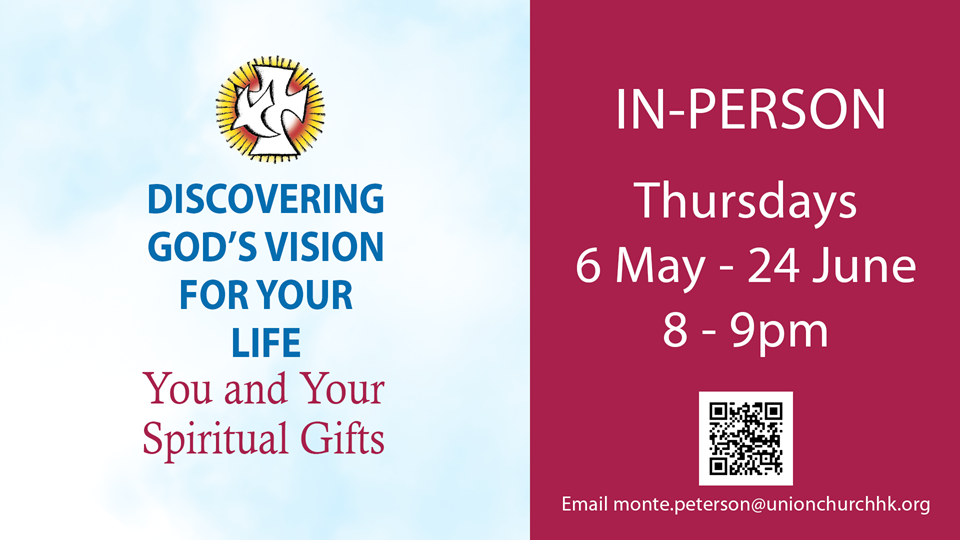 24-7 Prayer Hong Kong - virtual prayer room: The 24-7 virtual prayer room is a great way to commit to your prayer time on a daily or weekly basis. Let's not give up praying for our city and the world. Sign up here https://www.24-7prayer.com/signup/705233 and you will receive a handy email reminder. Lord, we lift up Hong Kong.
KINGDOM KIDS
Creche & Sunday School Arrangements for this Sunday, 25 April 2020 and until further notice: The Creche Centre will be open with restricted capacity. For children ages 3 years old and above, Veggie Tales movies will be shown in rooms 2 & 3 with strict hygiene measures, in accordance with the government guidelines. Services fill up quickly and your family must be successfully registered. Thank you for your patience during the occupancy restrictions.
Online Sunday School, Sunday 25 April: Children ages 3 to 10 years old are invited to join us for our Online Sunday School.
- 3-7 year old students: Joseph Annoys His Brothers (Genesis 37:1-36), via Zoom, from 10:45 am - 11:30am
- 8-10 year old students: How Could A Loving God Let People Go To Hell? (Romans 10:9-10), via Zoom, from 10:45am - 11:45am
- Kingdom Kids Sunday edition is available at the end of the 9:45am and 11:15am worship services on the Union Church website or Facebook page.
The link to the Zoom classes will be emailed to families with children registered in our Sunday School programme for the year 2020-2021.
YOUTH
Friday Youth - 23 April - Union Youth is meeting in-person, and will be taking part in the HELP FirstHand experiential learning program from our friends from St John's Cathedral! Juniors (11-13) are invited to join from 6:00pm - 7:30pm; Seniors (14-18) will meet from 7:30pm - 9:00pm at church. Please note that we cannot serve food. Youth are encouraged to eat before or after. We will also wear masks and be socially distanced.
Sunday Youth - 25 April - Youth are invited this Sunday to join us at Ps. Michele's home for our weekly session. Juniors are continuing with their series on asking bold questions and Seniors are jumping into a bible study of the book of Philippians. Please contact Hunter (6466 5080) if you have any questions.
We also want to celebrate our three Confirmation Candidates, Caleb, Wilfred and Britta, who will be confirmed this Sunday at 9:45am. If you would like to join the service online you can view the stream here.
Wednesday Youth - 28 April - We're returning to our Wednesday sessions of discussing the TV series Chosen, an in-depth and creative look at the life of Jesus and his disciples. Please note that Wednesday Youth will continue online for the time being. Join us on Wednesday, 6:30pm - 8:00pm. Zoom link here
Youth Alpha - We are excited to announce that Union Youth will be starting Youth Alpha beginning May 14 - more details to follow!
MISSIONS
We have a new Missions Partner! Agape International Ministries (AIM) is a Christ-led, non-denominational, not-for-profit organisation that exists to glorify God through our dedicated efforts to love, protect, and care for survivors of trafficking as well as other vulnerable and exploited individuals. AIM has a US headquarters in California and 300 staff in Cambodia. We will learn more soon about AIM through Cambodia-based Matthew and Melissa Stock. Check out AIM's website and read their 2020 Annual Report.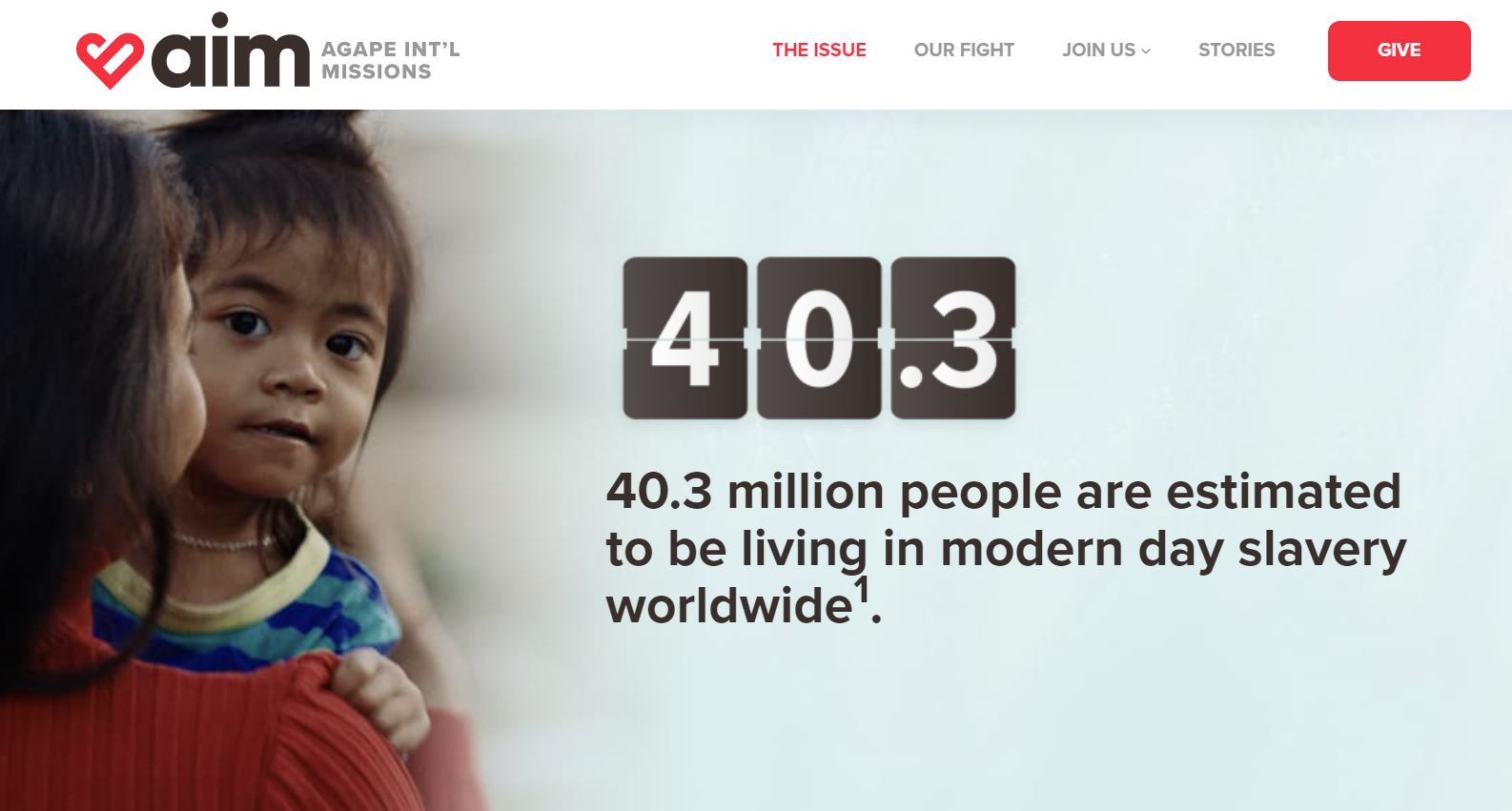 Prayers for Light of the World Church (LoTW), Myanmar: One of Pastor Vum's church members was picked up off the street and sent to prison. They were unable to have normal worship services this past Sunday and have reduced numbers who gather to a few people. The congregants are feeling extreme pressure from no jobs or daily work since February in addition to the fear of violence. Pastor Vum shared with us, "We can do nothing for our people except pray for them with tears." Please do pray for safety and protection, for daily provision of food and needs, for No Te's mom (Pastor Vum's mother-in-law) for healing, and peace in Myanmar. "'Because the poor are plundered and the needy groan, I will now arise,' says the LORD. 'I will protect them from those who malign them.'" Psalm 12:5
Inner City Ministries (ICM) has shared its Annual Report 2020 and it is now at our welcome table at 18/F. Inner City Ministries has pushed through the pandemic year by continuing programmes online, providing material assistance, counselling and outreach programmes to many people in need, while sharing the love of Jesus Christ our Lord and Saviour.
Union Church Missions Partner, SAT-7, has just issued their Annual Report for 2020. You may read it here. In rising to the challenges 2020 brought, SAT-7 responded to multiple crises in the Middle East and North Africa, resulting in a record number of viewer responses to the hope, discipleship, and holistic support offered by SAT-7's broadcast channels.
Small Groups
Meeting as a small group at this time is challenging, but the support from each other is more important than ever. There are online options - please reach out if you need help figuring this out! If you aren't currently in a group, we encourage you to try it out. There are groups for women, men, couples, day-time, night-time, etc. Interested? Contact Monte Peterson.
Fertility & Pregnancy Loss
Fertility & Pregnancy/Infant Loss Support Group - Struggling and could use some fellowship, friendship and support? Please contact Tess Lyons.
Pastoral Care and Prayer
Need prayer? Reach out to us confidentially at .
Stephen Ministry
We provide high-quality, confidential care to people who are hurting through our Stephen Ministry programme. Contact Pastor Michele if you would like to know more about the programme or meet with a Stephen Minister.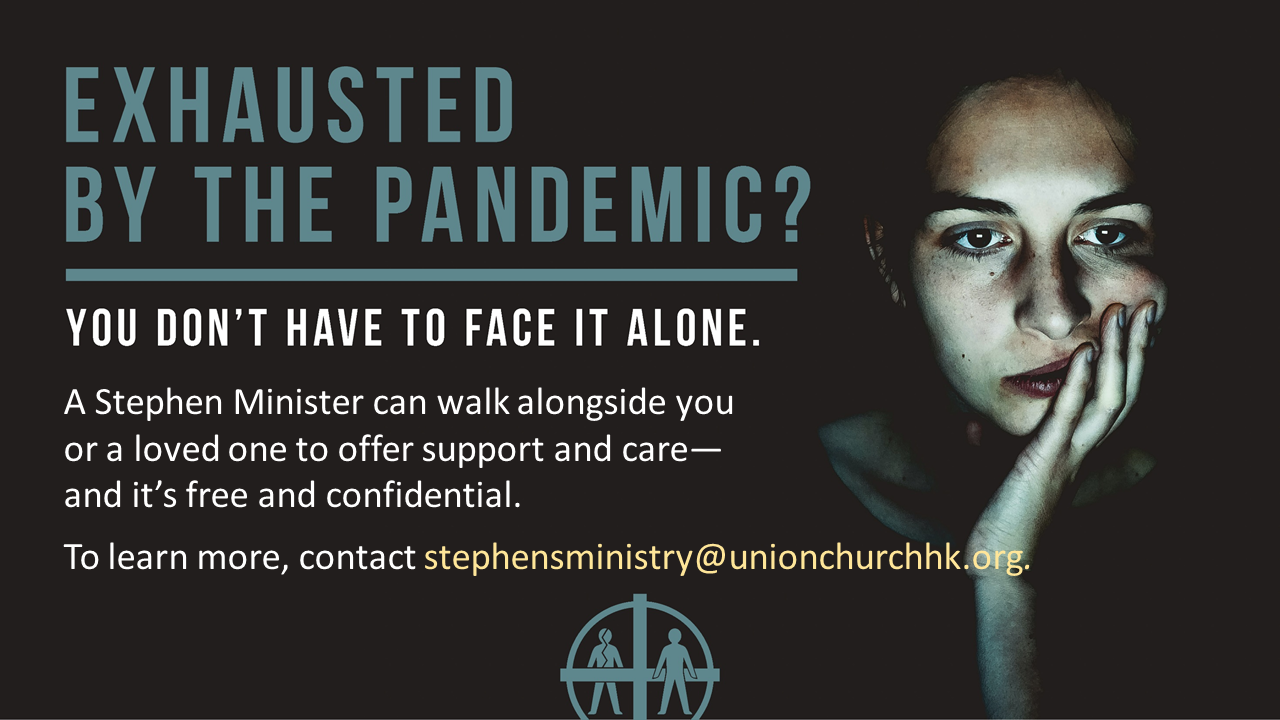 Last week's sermon
"The Resurrected Life...it takes practice" Rev. Dr. Michele Bland
Social Media
Please follow Union Church Hong Kong on Instagram, LinkedIn, Facebook and YouTube and share with your friends and family. Do you have images, video and stories for UC social media? Please share with Bronwyn.