U MATTERS
It is with great excitement that we have launched The Grace of Giving campaign. And if you have travelled past 22A Kennedy Road you too know that there has been progress made on the building. It has been exciting to hear the energy and the engagement of the leaders. As a Church we are blessed to have leaders on the BUFF (Building Union for the Future) team who have given much time (years), thought, prayer and professional expertise to this project.
The physical church will serve as a visible reminder to the community that we here - that God is here. The church is a pillar of God's love and compassion in the community - a third place - a community hub. This new facility will enable individuals and families to gather, worship, grow, develop, rest, serve, outreach, host events and the list goes on.
God is building His church - both physically and spiritually. And our foundation starts with Christ - knowing who He is. Jesus asked Peter, "who do you say that I am?" Simon Peter answered, "You are the Messiah, the Son of the living God." And Jesus replied, "And I tell you, you are Peter, and on this rock I will build my church, and the gates of Hades will not prevail against it." Matthew 16:15-16,18
May the God of all wisdom provide us with what we need - for His glory and purpose.
Blessings, Pastor Michele
FAMILY NEWS
We are worshipping online this week at 9:45am (Traditional service) and 11:15am (Contemporary service). Find us on our website, Facebook page or YouTube.
New Rules for Stewardship - These new rules were created and voted on by the Joint Leaders on 22 December 2020 and they were posted to the notice board in the church. We are approaching the end of the one-month consultation period (ending 24 January 2021) before they are adopted by the church. If you wish to receive a copy or have any comments, please contact David in the church office.
Congratulations to Yan Yu who graduated from Lutheran Theological Seminary in December with an MTh - Master of Theology degree. This is the second degree in one year! We are celebrating and giving thanks - well done, Yan!
Family Meeting - Want to learn about what's next at Union? Got questions for our leaders? Zoom in on either Sunday, 31 January 12:30pm - 1:30pm or Wednesday, 3 February 7:00pm - 8:00pm. Please sign up here.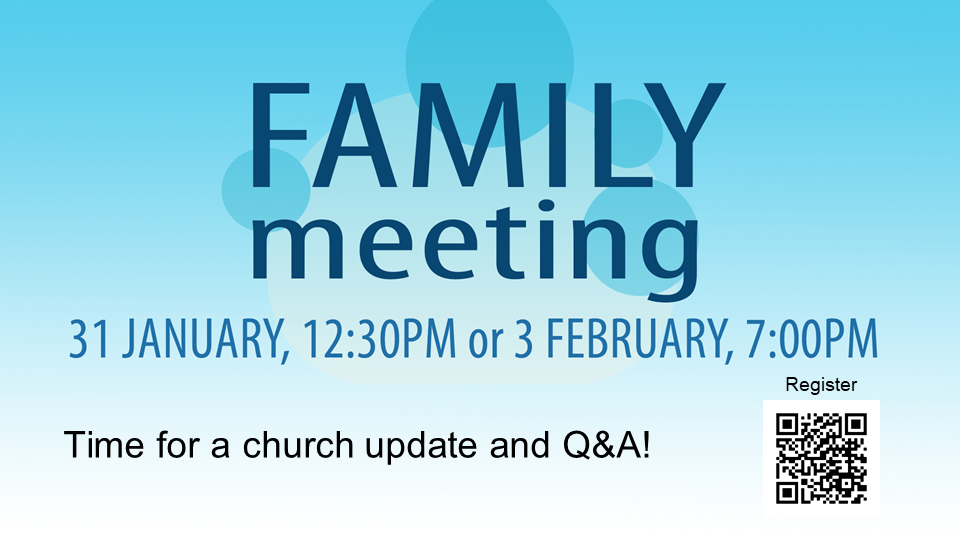 The Grace of Giving - God has been transforming our hearts and our church. He is blessing us with the new church building at 22A Kennedy Road so that we might be a blessing in Hong Kong and the world. What does that look like? Watch the next instalment of sharing by our leaders this Sunday. Learn more about the Grace of Giving here. Save the date for Union ReUnion, our all-church gathering on 13 March 2021!
Union Church on Social Media - The church is now on Instagram and LinkedIn, as well as Facebook and YouTube. First, follow Jesus. Then follow us! Following Union Church on social media strengthens our outreach to people everywhere and helps keep us connected!
THIS WEEK
Zoom Coffee Hour: Between Sunday services, pour yourself a cup of coffee or tea and connect with friends and church leaders 10:45am - 11:15am. Contact us at any time - even Sunday morning! - to get the Zoom link.
The History of the Church in China, from the Tang Dynasty to the early modern era, the second of four sessions will be held on Wednesday, 27 January, 8:00pm - 9:00pm, on Zoom. Catriona Woodrow, local historian, teacher and theologian walks us through the introduction and growth of Christianity starting with the Nestorians in the 7th century, the role of the Jesuits in China, followed by the missionaries and local church growth during the colonial era. Please pre-register here to receive the Zoom link. If you missed the first session, join us this coming Wednesday!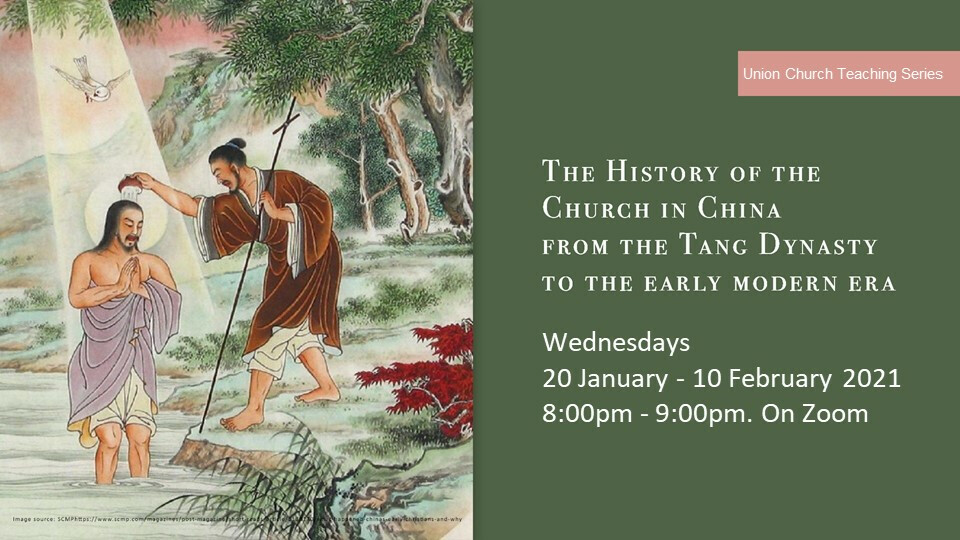 Young Adults Study - Greater Than: Wednesday, 27 January - 3 February at 8:00pm. Author and speaker Francis Chan walks us through his own difficult childhood to help us understand that God is greater than any pain, obstacle or hardship that we might encounter in this life. Email Dan Tupps for the Zoom link.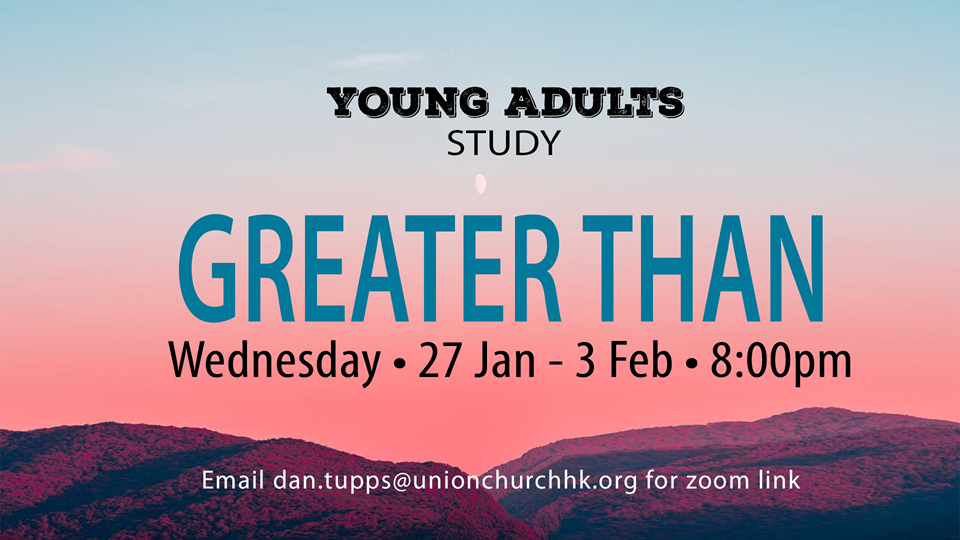 Film & Theology: People are watching a lot of movies these days; let's get together to talk about them! Art and story can unlock our imaginations regarding God and faith and give us new eyes to see what God is up to. We'll watch a film on our own, and then gather on Zoom for conversation, led by Chris McKenzie. Join us on Tuesday, 2 February at 8:00pm for the 2nd film we'll discuss together, Groundhog Day. You can find the film on YouTube, Google Play, Amazon Prime, iTunes etc. Register here.
Book Group: Our first study of the year starts next week! All are welcome to join! Contact Monte Peterson with questions. On Tuesday, 26 January we will discuss The Day the Angels Fell by Shawn Smucker; a novel that explores the difficult questions of life. And you might wish to read ahead for our 23 February gathering to discuss The Beekeeper of Aleppo by Christy Lefteri; a novel about an ordinary Syrian couple seeking refuge from the war that engulfs their homeland.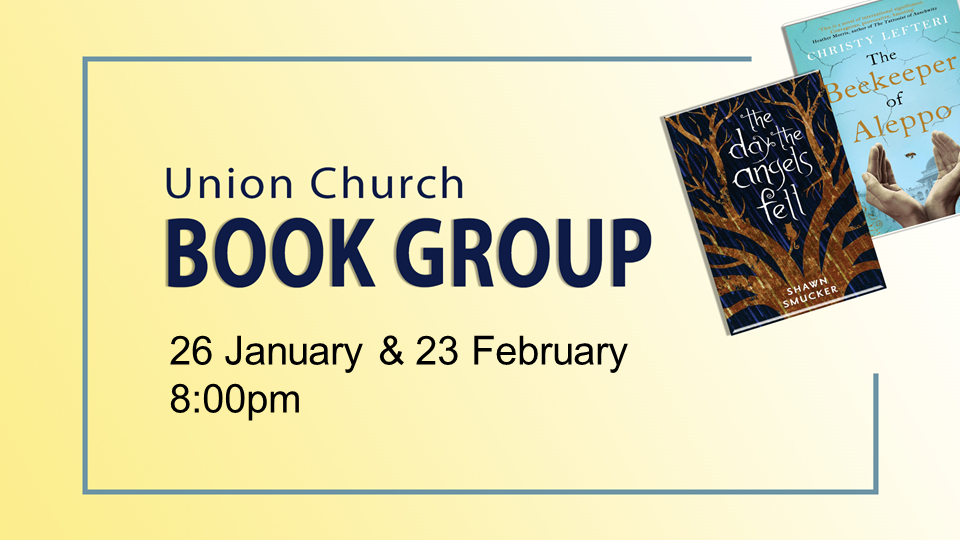 Giving: Thank you for supporting God's ministries at Union Church. Please see the website to learn how you may tithe or make an offering online or by cheque. If you still wish to make a pledge for 2021, we would very much appreciate your sending your commitment to the church office now. Thank you.
UPCOMING
Quiz Night: We've had so much fun at past quiz nights; it's time to do it again! Join us at our all-church QUIZ NIGHT Sat, 30 January, 6:00pm - 7:00pm. Register here to receive the zoom link.
Faith in the Marketplace - As a missional church, we live out Jesus' Great Commission (Matthew 28:18-20) wherever the Lord places us - including the workplace. We are excited that Union Church is launching a new ministry, Faith in the Marketplace. Stay tuned for more news about this vibrant ministry, preaching on workplace ministry, and sharing about wellbeing. And save the date for a panel discussion on 10 February.
CHOSEN to Proclaim Spring Gala: Many of us at Union Church have followed Faith Comes by Hearing (FCBH) for years. Everyone is invited to join the CHOSEN to Proclaim Spring Gala, a virtual event where you can see how you might partner with FCBH to fulfill Jesus' Great Commission through Vision 2033. 1 February 2021, 8:30pm - 9:30pm. Also check out the FCBH Asia YouTube channel for a new series in the run up to the Gala: A Minute with Morgan on 20, 23, 26 and 29 January.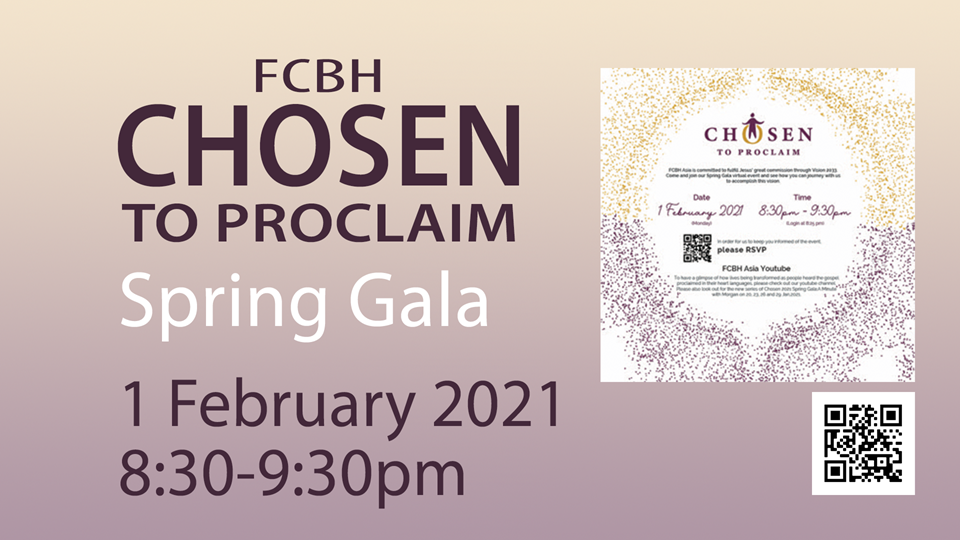 All-church Communion, Sunday, 7 February, 10:45am - 11:15am: Together we are remembering Jesus' love and sacrifice for each of us as we share communion on Zoom. Please come with an open heart and the elements - your own wine (or grape juice) and bread, or drop by the church office to pick up the elements. Ask for the Zoom link from the Admin team. (Communion takes the place of Zoom Coffee Hour on the 7th; we will use the same Zoom link as we use for coffee hour.)
Kingdom Kids
Online Sunday School, Sunday 24 January: We are delighted to welcome your children to online Sunday School!
- 3-7 year old students: In The Beginning - God Creates People (Genesis 1:26-2:4), via Zoom, from 10:45am - 11:30am
- 8-10 year old students: Be Bold - God helps you make good choices (Proverbs 3:5-6), via Zoom, from 10:45am - 11:45am
- KIngdom Kids Sunday edition is available at the end of the 9:45am and 11:15am worship services on the Union Church website, app and Facebook.
The link to the Zoom classes will be emailed to families with children registered in our Sunday School Program for year 2020-2021.
Sunday School 2020/2021 Registration: All babies and children need to be registered for the Creche and Sunday School. Please register here. For more information, please visit the Union Church website, contact us by email or ring us on 2101 0414.
Youth
Friday Youth Group – 22 January: We'll be focusing on small groups for the next several weeks, so please join us for Friday Youth Discussion Night. We'll start with some warm up activities and then jump into a conversation and see what each small group is covering and how we can apply it to our every day! Youth can join 6:00pm - 8:00pm on Zoom via this link.
Sunday Youth Group – 24 January: We're online! Youth are welcome to join us on Zoom at 11:15am where we'll get to spend time reading and discussing scripture. Seniors will be looking at what the Bible teaches us about Christian leadership, and Juniors will be starting a new series based around asking hard questions! Youth can join here.
Wednesday Night Study – 27 January: On Wednesdays, we're watching the series "Chosen" about Jesus' disciples and discussing it together. Join us on Wednesday, 6:30pm - 8:00pm. Here's the Zoom link.
Social Media Workshop - 29 January: Social media is a constant part of our lives - as technology continues to evolve and change it's important that we take time to consider its impact. We're planning a discussion night on Social Media and Youth on 29 January. You can watch the movie Social Dilemma (available on Netflix) and we will discuss together how social media affects us and how we can use it in a healthy way. Information about guest speakers and Zoom link to follow.
Missions
Videos: The Missions team has prepared a new series of videos, "Missions at Union Church". The first video, What is Missions at Union Church? aired last Sunday. Check it out. Look for the second video during this Sunday's worship services. Thank you Jeff and Missions team!
Missions Partner Profiles: Home of Loving Faithfulness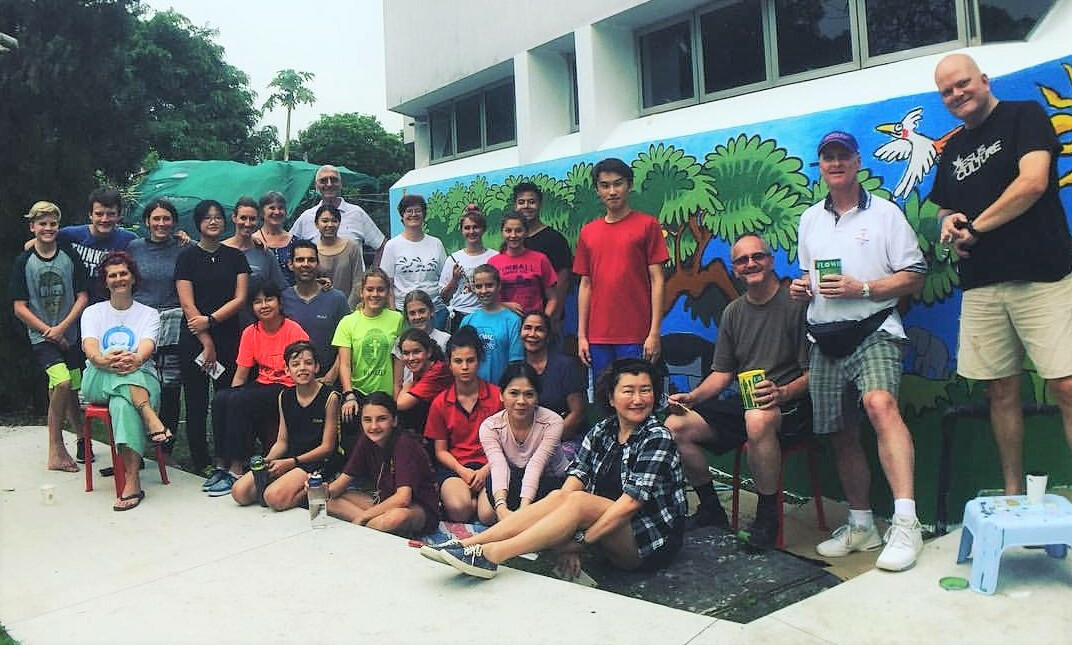 In recent issues of Acts@22A, we shared that The Home of Loving Faithfulness (HOLF) is recruiting a new Servant Leader/Family Executive Director. Curious to know more about this organisation?
HOLF has been caring for Hong Kong children and adults with special needs since 1965. It is HOLF's aim to provide lifelong care in a Christian family setting for those with moderate to severe intellectual and physical disabilities.
In addition, HOLF seeks to empower and potentially employ higher-functioning adults with special needs, and to be a loving home for aging parents who have dedicated their lives to caring for their special-needs child.
Union Church has been actively engaged with HOLF for about three decades. Our people and families have been deeply blessed as they volunteer at the Home of Loving Faithfulness and foster meaningful relationships with the residents and team members.
Can we ask you to pray for their to-be-identified Servant Leader/Family Executive Director? Also learn more about the organisation here and check out the job description. We can look forward to hands-on volunteer opportunities with HOLF as COVID-19 subsides.
Small Groups
Meeting as a small group at this time is challenging, but the support from each other is more important than ever. There are online options - please reach out if you need help figuring this out! If you aren't currently in a group, we encourage you to try it out in the new year. There are groups for women, men, couples, day-time, night-time, etc. Interested? Contact Monte Peterson.
Pastoral Care
Need prayer? Reach out to us confidentially at We also provide high-quality, confidential care to people who are hurting through our Stephen Ministry programme. Contact Pastor Michele for further assistance.
Fertility & Pregnancy Loss
Fertility & Pregnancy/Infant Loss Support Group - Struggling and could use some fellowship, friendship and support? Please contact Tess Lyons.
Families in Need (FIN)
Our Families in Need ministry helps people with their basic monthly needs. If you can make a contribution, we are grateful for your generosity. Please mark your envelope "FIN".
Last Week's Sermon
"The plan is simple: To know Christ and make him known" Rev. Dr. Michele Bland