U MATTERS
A year ago this week, having just finished the first Sunday of Advent and hosting our annual Missions Christmas Fair, the city was shutting down due to COVID. As a team we started to prepare for a long journey of online worship services, which included Christmas. You may recall, we remained online until Easter Sunday.
A year later, we continue to face challenges and changes during the pandemic. There are new worries fueling fear, anxiety, uncertainty and concern. Yes, we are living in unsettling times. This Christmas season, may we find courage and hope in the words of Gabriel, the angel who spoke to Mary and said,
"Greetings, favoured one! The Lord is with you."…The angel said to her, "Do not be afraid, Mary, for you have found favour with God…" Luke 1:28,30
God is with us, just as He was with a pregnant teenage girl in Nazareth. God reminds us, do not to be afraid. He is faithful and we can trust in Him in all things.
We hope that you venture out to celebrate the goodness of God this Advent season - we have so many creative expressions of worship lined up! - Light has Dawned - Hope is Here!
In the words of the prophet Isaiah,
"do not fear, for I am with you,
do not be afraid, for I am your God;
I will strengthen you, I will help you,
I will uphold you with my victorious right hand." Isaiah 41:10
In peace, Pastor Michele
INCREASING CAPACITY AT WORSHIP SERVICES
Last week's new check in for Sunday worship services went well. We appreciated your arriving early, using the LeaveHomeSafe app, and showing the welcome team your vaccination record, if you have one.
This is allowing us to increase our capacity. We need two thirds of our congregation to have had at least one dose of a recognised COVID-19 vaccine. We also welcome people who are non-vaccinated (1/3 of the congregation). Please continue to register for Sunday services at https://www.unionchurchhk.org/sunday-worship-service-registration/.
Thank you for your continued patience since we need to see your vaccination record every Sunday. Now is a good time to make sure you have it in eHealth, LeaveHomeSafe or another easily accessible place. Thank you.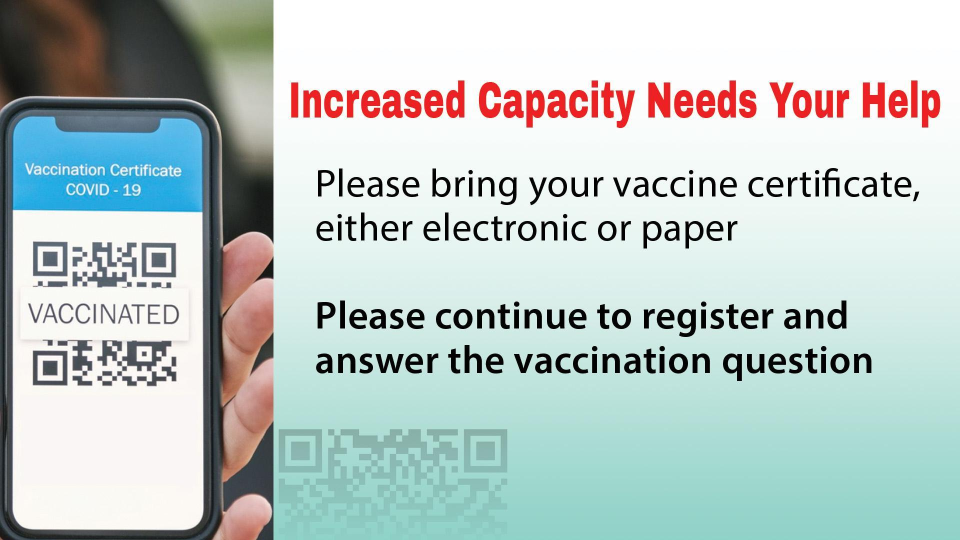 THIS WEEK
Christmas Cantata! Sunday, 5 December, 9:45am and 11:15am services: This Sunday's Cantata will be beautiful, and with increasing capacity, it's the perfect time to bring your family and friends! Forrest, the choir and musicians will present Let There Be Christmas at the 9:45am and 11:15am services.
For those looking for communion and a sermon, please join us at 8:45am in the Youth room.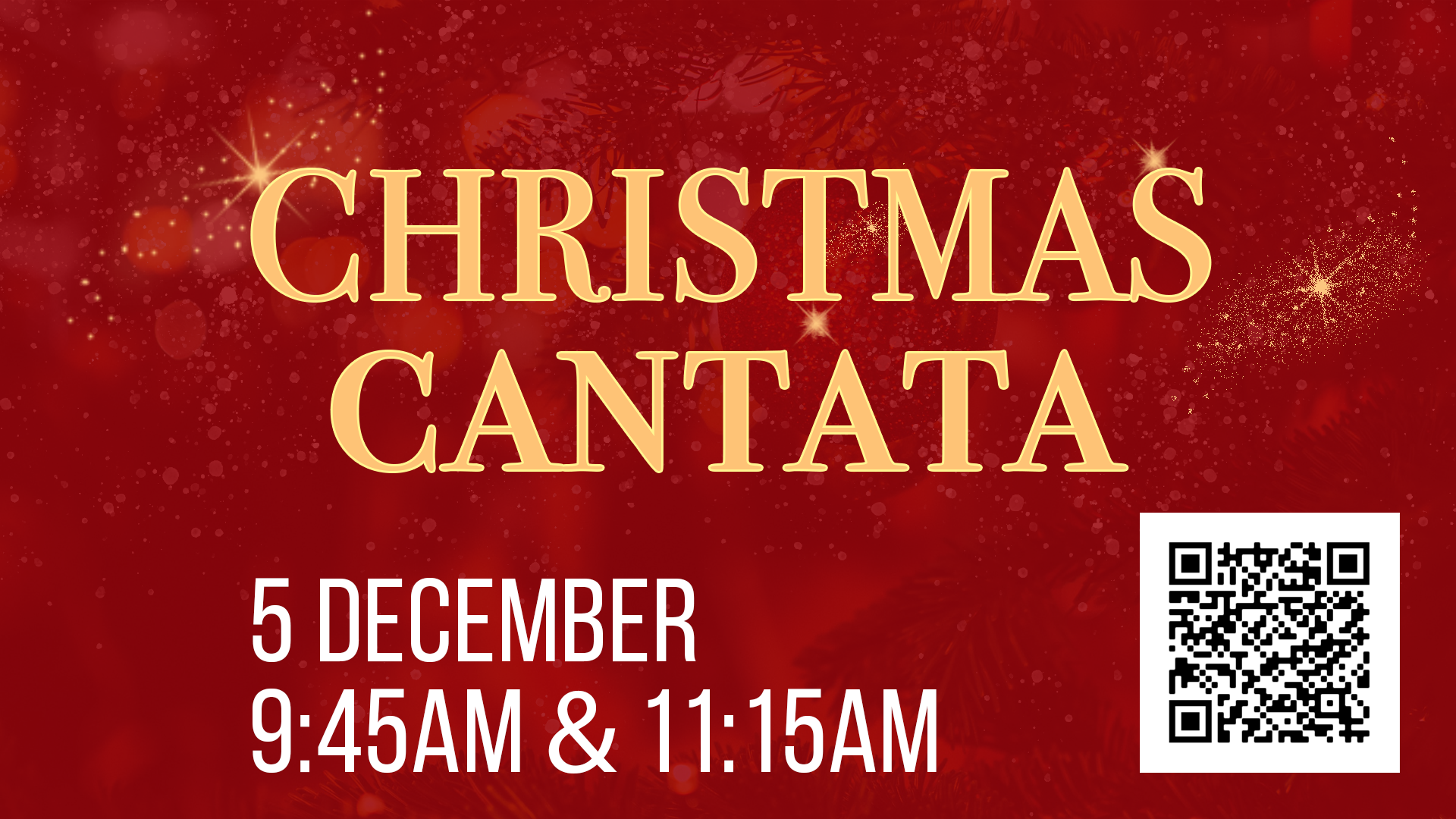 FAMILY NEWS
New staff! We have advertised and received a number of strong applications for the Director of Creativity and Women's Ministry role. We are grateful for everyone who expressed interest in joining the Union team. This week, we welcome Juliana Rotmeyer as our new Director of Creativity and Women's Ministry with effect 1 December. This part-time role is designed to awaken the creative spirit within our congregation with the intention of knowing Christ more fully. Juliana is also responsible for leading, developing and carrying out connecting opportunities for women's spiritual formation. She is drawing on her experience of organising and planning Union women's gatherings, retreats, Selah worship services and Elijah House training. She has been part of our community for a number of years and served on the Deacons' Court and Committee of Management. Juliana is also the founder of the By Faith Project, author of two Christian books and she has a PhD in Architecture.
We bid farewell to Director of Operations, David Ashton-Howorth, as his family relocates to Paris. We are grateful for David's many contributions over the past three years. This week, we also say goodbye to Tariq and Aquin Dennison and family; Jessica, Andrew and Izac Hexter; and Cor and Trudy Staalman. We thank you for your love, fellowship and many contributions to Union Church. May God bless you all in your new homes and endeavours. Despite the distance, you will always be part of Union family.
Church membership: We're glad that you worship at Union. If you are not already a member, please consider joining Union Church. Membership allows you to vote on church-wide matters and makes you eligible for leadership roles. Ready to take the next step? Contact Pastor Michele.
Giving by US taxpayers: If you wish to make a tax-deductible donation, please date and send your cheques payable to "Friends of Hong Kong Charities, Inc." to the Union Church Accounts department no later than 31 December 2021. If it is late, your donation cannot be recognised in the 2021 tax year.
If you have not made your pledge to Union Church ministry for 2022, pledges are still welcome. You can post your Stewardship commitment card, complete the online Commitment Form or email .
ADDITIONAL ADVENT AND CHRISTMAS EVENTS
Advent Devotional: Drop by the church to get your copy of the Advent Devotional, Light Has Dawned - Hope is Here, with daily devotions prepared by members of our congregation. We are grateful to Brian Woo who designed the cover of the devotional and our Christmas card. His photograph depicts the construction of the Sanctuary at 22A with a brilliant light shining on Jesus' manger - our Lord and Saviour in the midst of all of our circumstances. If you prefer a soft copy of the booklet, please email Admin.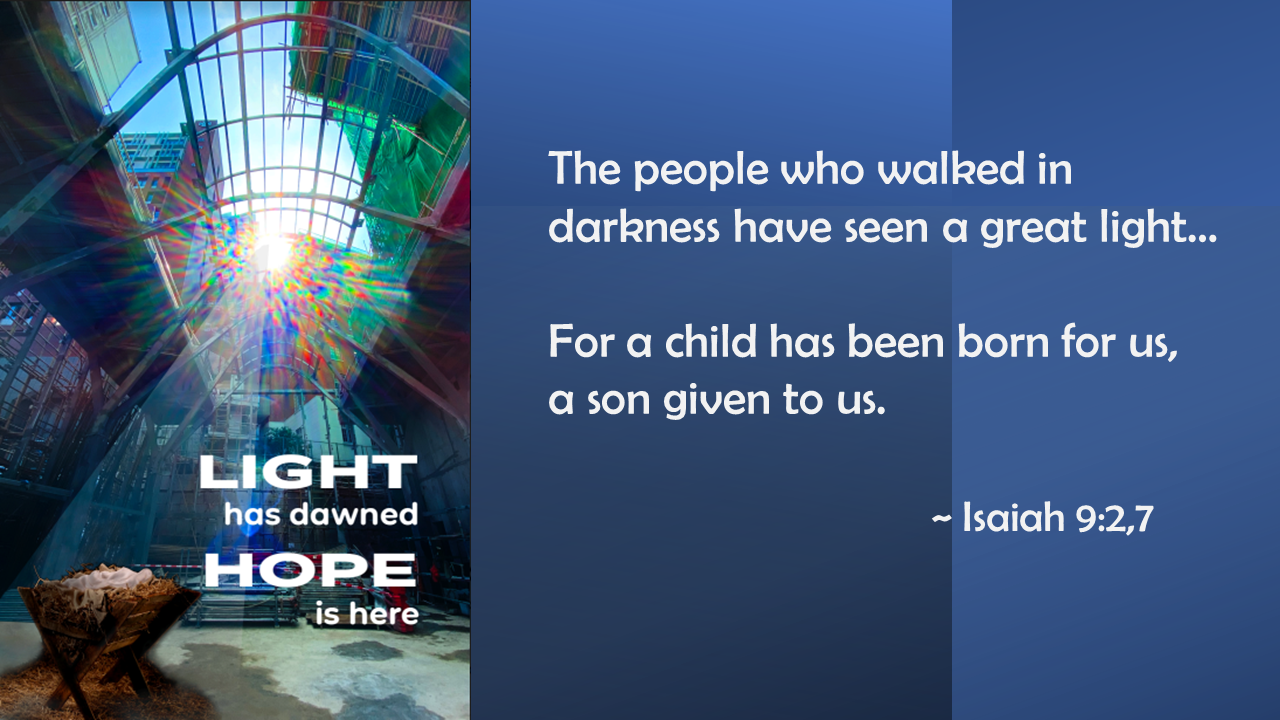 Children's Christmas Musical, Sunday, 12 December: The Children's Ministry will present "A Christmas Treasure Hunt" at the 9:45am and 11:15am services (see below in Kingdom Kids). For those wanting communion and a sermon, please join us for the 8:45am service.
Carols on the Green, Sunday, 12 December, 3:00pm: Join us at 22A Kennedy Road (off Peak Tram Pathway) for a time of Christmas carols. This is a great opportunity to bring your friends. No registration required but on arrival please scan the QR code with your LeaveHomeSafe app and have your vaccination record ready.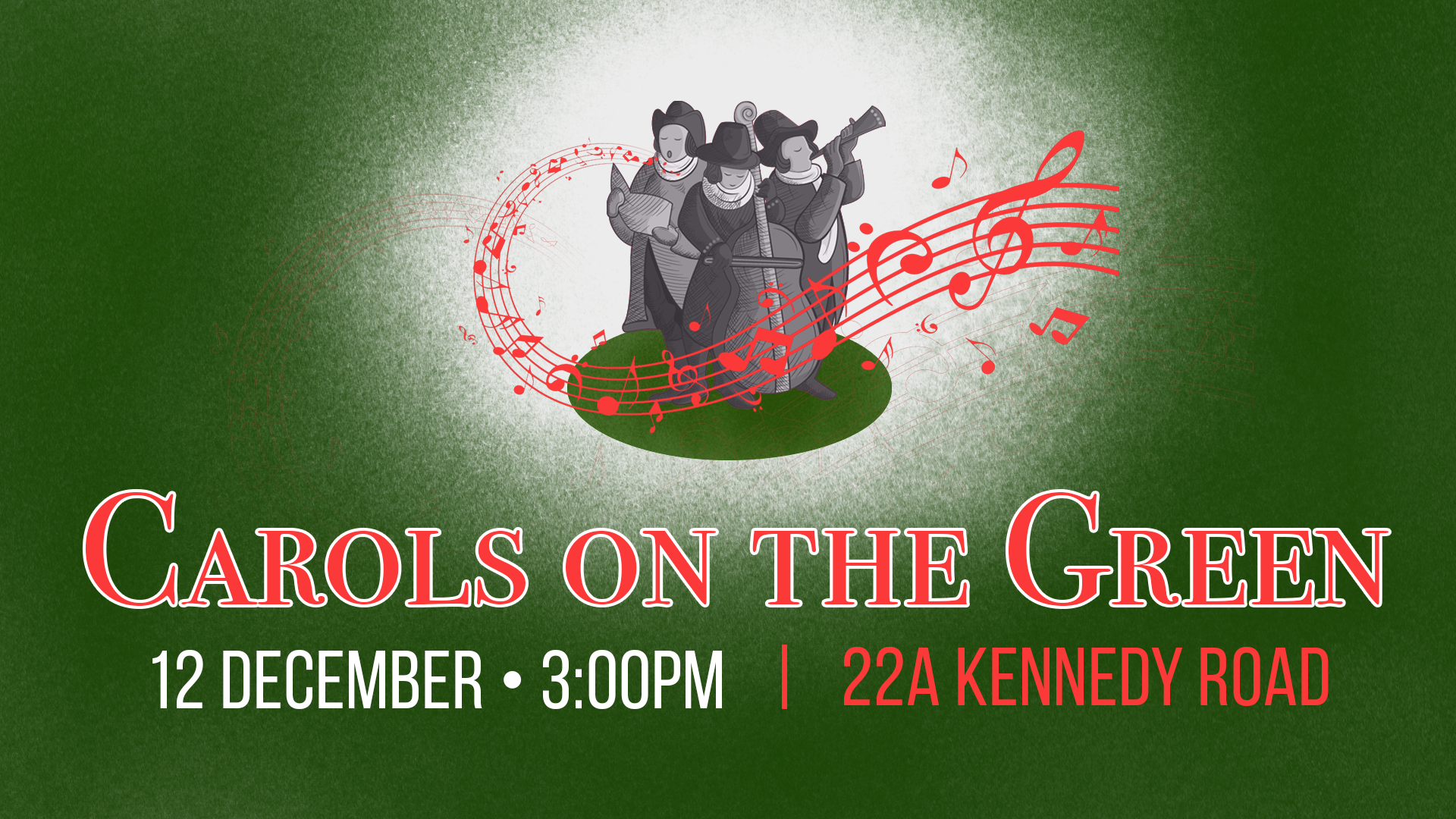 Blue Christmas: A Service of Reflection for Difficult Days, Wednesday, 15 December: Do you know someone who is hurting during these challenging times? This is an opportunity to invite a friend to church. The birth of Immanuel, God with Us, brings hope to each of us. Register to join us in-person or watch the livestream.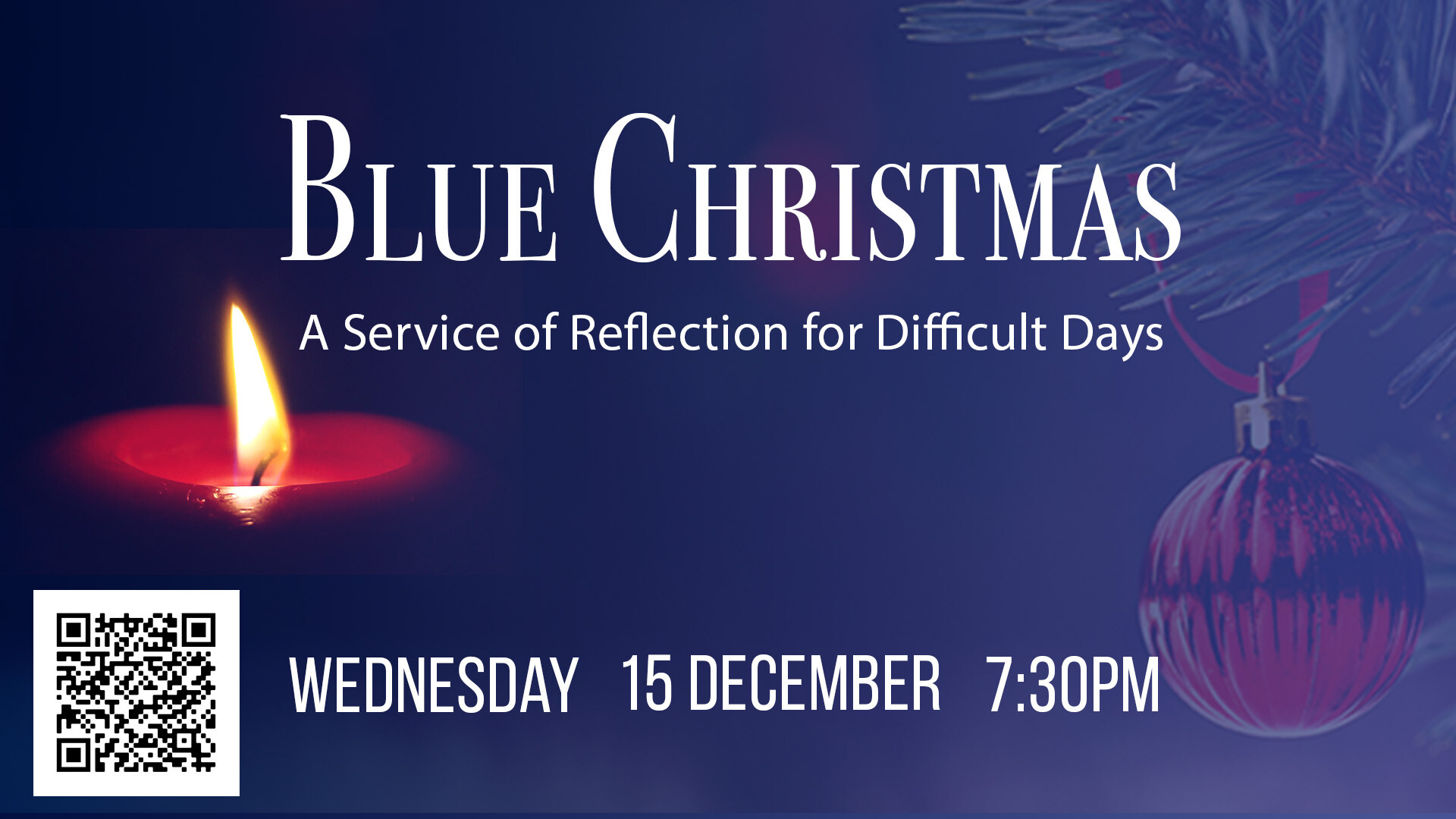 We also look forward to worshipping with you on:
Sunday, 19 December - Advent IV - Hope is Here
Friday, 24 December - Christmas Eve, 5:00pm - Jazzy Family Service, and 7:00pm - Traditional Carols and Candlelight
Saturday, 25 December - Christmas Day, 10:30am - Carols & Choir

Registration for worship services on the 19th, 24th and 25th opens on Monday, 13 December, 10:00am. More details are on the website.
Advent and Christmas Sanctuary Flowers: If you would like to make a contribution of any size/amount to the Sunday floral arrangement during the Advent and Christmas Season in loving memory of a loved one you are more than welcome to do so. Our Bulletin each Sunday will indicate who the flowers are dedicated to. These arrangements can be taken home at the end of the Sunday Services or given to a loved one. Please send a note to and arrangements can be made.
LOOKING AHEAD TO 2022
GriefShare is coming to Union in January: Pastor Michele will lead this weekly grief recovery support group on Wednesdays, 5, 12, 19 and 26 January 2022, 7:30pm - 9:00pm. Learn more here about how GriefShare helps those who have lost someone. Sessions will be confidential, free, and open to all. Registration is now open.
KINGDOM KIDS
Children's Christmas Musical Rehearsal - Sunday, 5 December, 9:45am and 11:15am:
We are less than two weeks away from our Christmas Musical and we hope
that you are just as excited as we are to see our children share the good news of Jesus' birth. This year's Children Christmas Musical entitled "A Christmas Treasure Hunt" will be a fun and meaningful one for all to see and hear so why not invite your friends along. We look forward to seeing you all.
First Dress Rehearsal - Sunday, 5 December, 12:30pm to 2:30pm:
Children participating in this year's Christmas Musical are required to attend the Dress Rehearsal scheduled for this coming Sunday. If your family is attending the earlier service, kindly bring your child back to church by 12:15 pm. Children are welcome to bring a simple, individually wrapped lunch.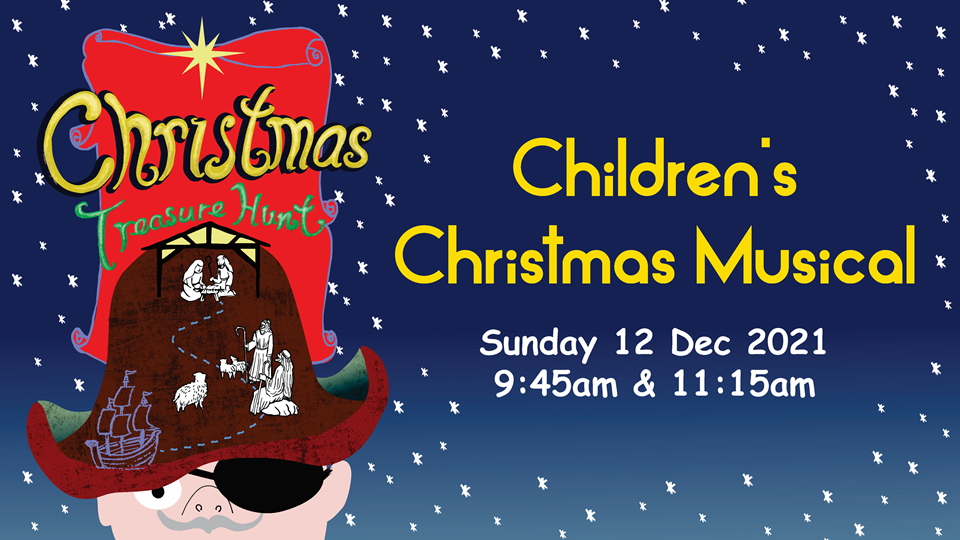 St. Barnabas' Society and Home (SBSH) Christmas Outreach - Sunday, 19 December, 3:00-5:00 pm:
We invite our children and families to join us in celebrating the good news of the birth of our Saviour
Jesus with the children of SBSH through fun and interactive activities. Sign up at the Children
'
s Check-in Table or email us at
with the number of people joining.
Kingdom Kids upcoming events
Children's Christmas Musical: Sunday, 12 December 2021, 9:45am and 11:15am
Children's Christmas Musical Dress Rehearsals: Sunday, 5 December, 12:30pm - 2:30pm and Saturday, 11 December, 9:00am - 11:30am
Children's Christmas Party: Sunday, 19 December, 9:45am and 11:15am
Creche & Sunday School Arrangements:
Children ages 0 - 3 years old are welcome to join our Creche Centre and children ages 3 to 11 years old are invited to join us for our Christmas Musical Rehearsals. Families attending in-person services should be
registered
before Thursday, 12:00pm. Thank you.
In-person Christmas Musical rehearsals: Sunday, 5 December - 9:45am and 11:15am
Online Sunday School will be on break through the remainder of the year and it resumes on Sunday, 9 January 2022.
Kingdom Kids Sunday edition - Jesus is Born - will be available at the end of the 9:45am and 11:15am worship services on the Union Church website or Facebook page.
Sunday School Registration 2021-2022: Registration for the academic year 2021/2022 is open. Children ages 0-11 years old enrolling in our Creche and Sunday School programme must be registered by completing the form HERE. Registration forms are also available at the Children's welcome table. For more information, please visit Union Church's website or contact us at CHILDREN or 2101 0414.
YOUTH
Friday Youth – 3 December – Tomorrow! We're heading over to Island ECC for RESOUND - an amazing gathering of Youth Groups from across Hong Kong. Youth will come to worship, have fun and hear God's Word together. We will meet directly at Island ECC at 7:00pm and dismiss from there at 10:00pm. 1/F, 633 Kings Road, Quarry Bay. If youth need to arrive or leave early, please let Hunter know.
Sunday Youth – 5 December – Sunday Youth are invited to Ps Michele's home from 11:15am - 12:30pm for a lesson and a time of fellowship. Juniors (11-13) are doing a study on the book of Ephesians, while the Seniors are studying the book of Revelation and the challenging messages it faces us with! Please contact Hunter at 6466 5080 if you have any questions. Please ensure Youth know plans for dismissal on the day or can be contacted directly.
Wednesday Youth – 8 December - We will be winding down our series on Women in the Bible - see you at 6:00pm in the Youth room. Thank you Melody Meyers for helping put together this study!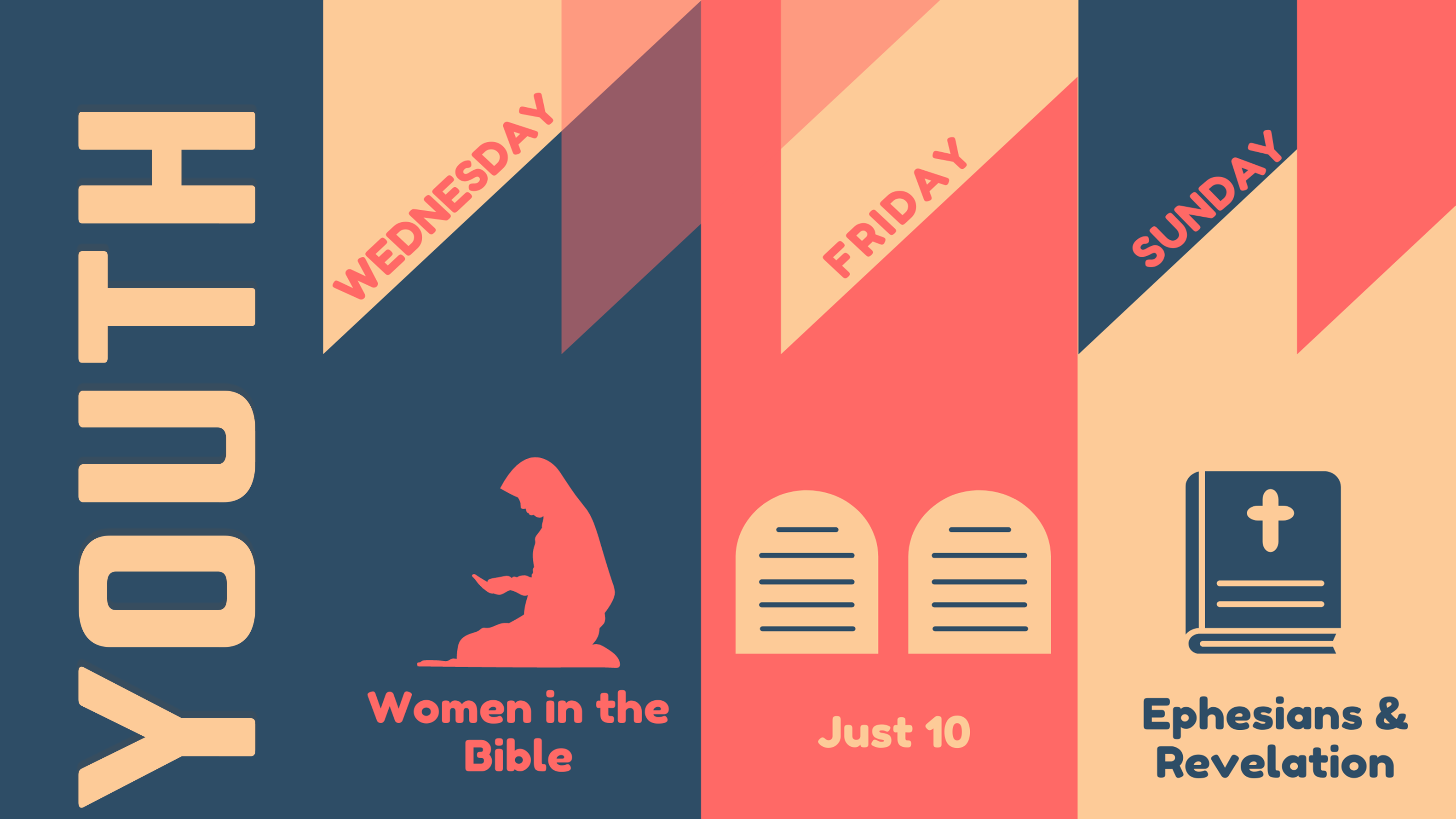 MISSIONS
Thank you for a great Missions Christmas Fair: We appreciate everyone who shopped at the Christmas Fair and engaged with our wonderful Ministry Partners and friends: New Sight, ICC, Sons & Daughters, Kun Sun Prison Ministry, Young Life, YWAM, International Care Ministries (ICM), Crossroads, and Lost and Found Refuge / Harmony Baptist Church.
Formula and Diapers for Sons & Daughters: Thank you to those who gave 7 canisters of baby formula and four packs of diapers for a new mama that Sons & Daughters serves. You extended a much needed helping hand.
WALK THE WALL 2022! ICC's annual fundraising walkathon is approaching in January. There are two options: Walk on Your Own or WALK THE WALL COMPETITION. Learn more.
Agape International Missions (AIM), a Union ministry partner, combats child sex trafficking in Cambodia and other geographies. Matt and Melissa Stock are returning to Phnom Penh on 9 December after being on furlough in the US. Please pray for them as the settle back in and for Matthew as he continues to face health issues. Lord, we ask for complete healing!
Light of the World Church and Preschool, Myanmar: Pastor Vum asks that we pray for the safe and joyful resumption of worship services in their church this Sunday, and for the protection of his family and congregation.
Ministry Partner visits: We have more of our Ministry Partners visiting in 2022, starting with Alpha on Sunday, 9 January. Save the date to connect with our friends at Alpha Hong Kong.
Union Church gives monthly to people in need through a ministry called FIN - Family in Need. We have recently received requests to help with school uniforms, books, medication, set up for returning to home countries and rental deposits. All of these are urgent and legitimate needs. These are people we have relationships with and we are keen to help. If you would like to support, we would love to hear from you. If you have an interest in being a part of this team please let us know. Regards - the FIN team - Brian Woo, Isabel Morrison and Pastor Michele.
The support from your friends in a small group is tangible demonstration of God's love for us. If you aren't currently in a small group, this is a wonderful time to try it out. There are groups for women, men, couples, day-time, night-time, etc. Contact for more information and pick up a Small Groups pamphlet from the welcome desk at church.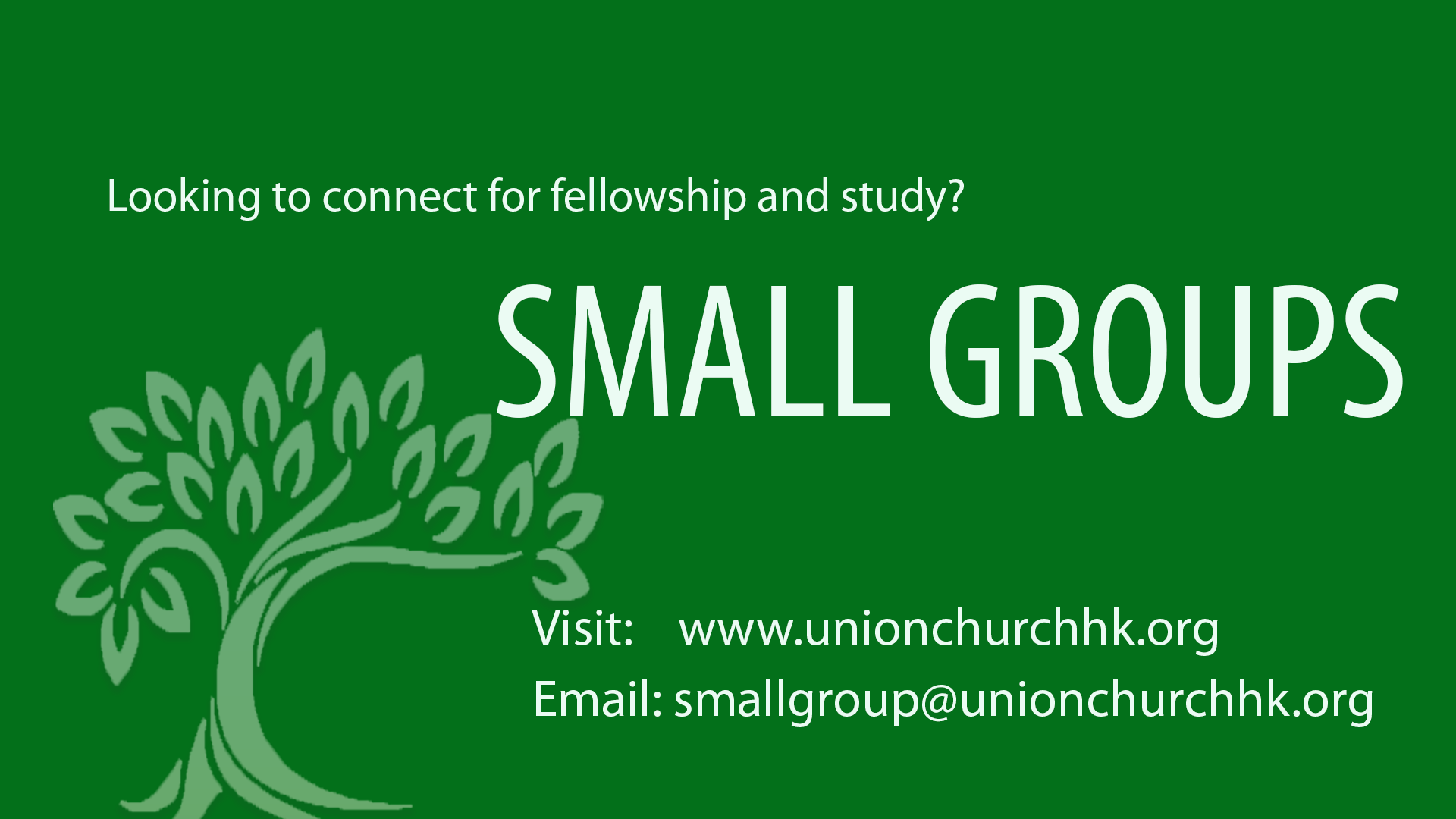 Pastoral Care and Prayer
Need prayer? Reach out to us confidentially at .
Stephen Ministry
We provide high-quality, confidential care to people who are hurting through our Stephen Ministry programme. Contact Pastor Michele if you would like to know more about the programme or meet with a Stephen Minister.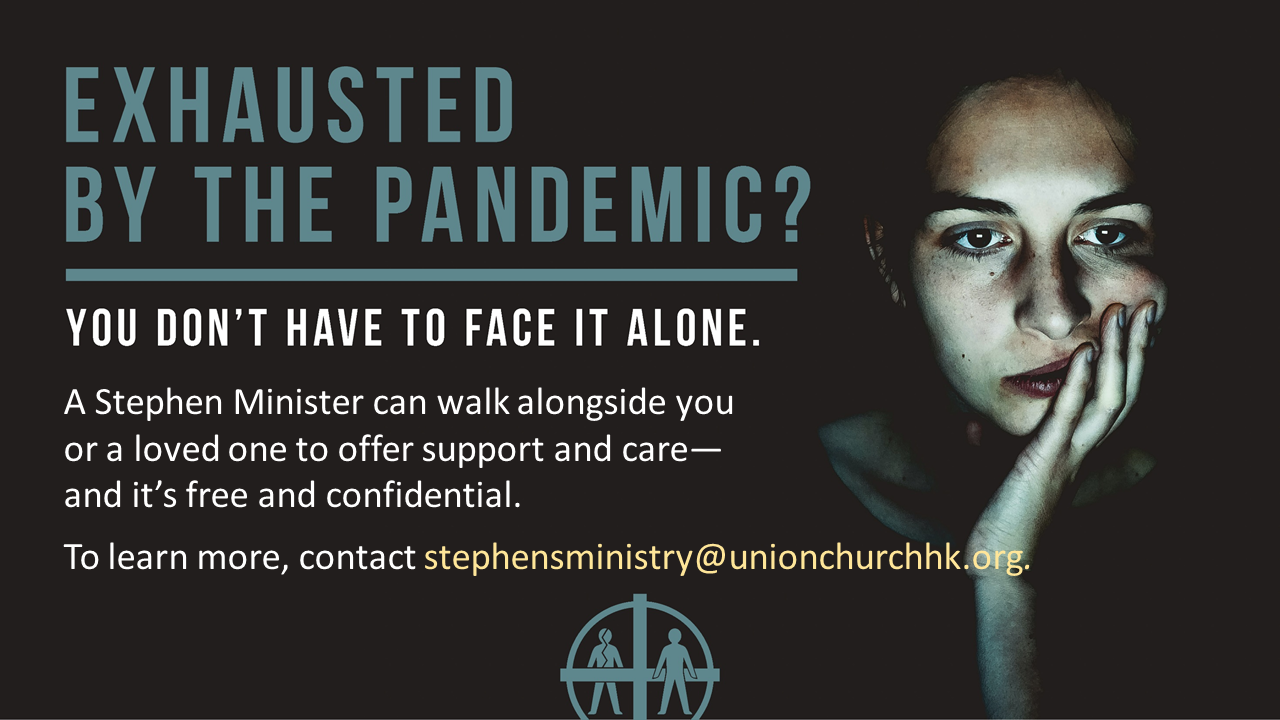 Last week's sermon
"Advent I: Light Has Dawned" Rev Dr Michele Bland
Social Media
Please follow Union Church Hong Kong on Instagram, LinkedIn, Facebook and YouTube and share with your friends and family.