U MATTERS
Last Saturday, staff, members of the Trustees, Deacons and Committee of Management gathered for a retreat. We enjoyed a time of worship, praying for ministries and team building. We were also encouraged, inspired and challenged by keynote speaker, Jackie Pullinger. She gave us lots to chew on and as ministry leaders we are processing and digesting.
When you think about it, what God is calling us to do as the people of God is not a mystery—it is laid out for us clearly in scripture. I think of the Great Commission, "Go therefore and make disciples of all nations, baptising them in the name of the Father and of the Son and of the Holy Spirit, teaching them to observe all that I have commanded you." Matthew 28:18-20. I think of the Greatest Commandment, "you shall love the Lord your God with all your heart, and with all your soul, and with all your mind… You shall love your neighbour as yourself." Matthew 22:37-39. There are many texts in the Bible that give direction.
I also think of the words of James Bryan Smith in his book, The Good and Beautiful Community:
"The value of a church is not in its longevity but in its love. The success of a church is not in its size but in its service to the people and the community. Our leader just came and served and then died for the good of others. I suppose that would make a pretty good mission statement for a church…'we exist to serve others and then die, just like our Founder'."
We are in our final week of Stewardship and we hope you can join us for in-person or online worship.
8:45am Classic Service – By Faith: Called and Calling Forth – Monte Peterson
9:45am Traditional Service – By Faith: Stepping Out – Rev. Steve Gaultney
11:15am Contemporary Service & U-Café – By Faith: Stepping Out – Rev. Steve Gaultney
12:45pm Contemporary Service – By Faith: Stepping Out – Rev. Steve Gaultney
3:00pm Tagalog Service – Pastor Ruth
Blessings, Pastor Michele
STEWARDSHIP
Every Sunday during November—our Stewardship month­—one of our Committee of Management members shares his or her testimony. This week, we hear from Michael Birley.
Recently Pastor Michele talked about "hilarious" giving from the Greek hilaros—meaning 'cheerful'. When I returned to Hong Kong in 2007 and was earning again after a period of—should we say, 'financial drought'—I was able to fulfil a promise I'd made. At the end of my first month of work, I was able to donate the first fruits of my new employment to the Lord's purposes.
That Sunday, Union Church had a special offering for ICC. David Gotts from ICC was talking at the 11am service. It was one of those wonderful moments when I realised that my first opportunity to give on returning to full employment was going to this very worthy cause, a ministry that our family in the UK had been involved with previously. Having not met David before, it was a very joyful moment when he and I connected the dots while speaking after the service.
As I have responded, following the gentle nudges I've received, to not only give financially but also to give my time, I have experienced an increasing understanding that it all comes from Him in the first place. That has encouraged me to become more generous than I used to be—and to be generous happily.
God is so generous with us. In acknowledging this simple but profound truth, I have found that I worry less, trust more and am able to give more and through that experience the "hilarity" that flows from being a "joyful giver". I feel increasingly "released". We can never outgive God, but I think we get to experience a bit of heaven here on earth each time we try!! By trying I feel I am getting better at it—and not just financially, but giving of my time, attention, care and prayer.
~ Michael Birley
THIS WEEK
We are excited to be offering a new worship service at 12:45pm on Sundays. This 45-minute service is the same style as our 11:15am contemporary service, just a bit shorter! We had a great turnout at our inaugural service on 15 November—why not give it a try?! We will continue to offer live services at 8:45am (with communion), 9:45am and 11:15am. We will also hold U-Café, with a live worship team, at Hotel Indigo (2nd floor) at 11:15am. We look forward to seeing you at one of our services in-person. If you prefer to worship at home, we will stream live at the 9:45am and 11:15am services, via our website, mobile app or Facebook page. Or watch the services on these platforms at a time convenient to you!
Kindness Walk this Sunday! Union Church has a heart to serve the homeless and the poor in Wan Chai. On 22 November we will serve together following the 11:15am service (c.12:15pm). Email to sign up.
Men's Dinner: Monday, 23 November. Join us for a fun night of fellowship and testimonies—6:30pm at Fini's (near Sunlight Tower at 69 Stone Nullah Lane), and then 7:45pm in the Union Church Sanctuary. Sign up here or contact Dan Tupps.
Book Group: Do you enjoy reading? The Union Church Book Group reads a variety of Christian and secular books, and discusses them from a Christian perspective. Our upcoming book is The Inner Voice of Love, by Henri Nouwen, and we will meet on 24 November at 7:30pm. Books are available at church, $100. Contact Monte Peterson with any questions.
"ReCreate!" Open Arts Studio, 12noon-2pm, 5 Thursdays, with the 2nd session on 26 November. Creating art is a great way to relax, de-stress and rejuvenate your mind, soul and spirit. We're inviting you and our neighbours in Sunlight Tower to "ReCreate!"—an open time and space to refresh and express yourselves through art-making. Art supplies will be provided for you to create any artwork of your own. Feel free to drop by and say hello, to de-stress and create together! Join us for one or more Thursdays as we find new inspirations each week. It's free of charge! Click here to sign up and contact Crystal Lo for more information.
Creche & Sunday School Arrangements for Sunday, 22 November 2020: the Creche Centre will be open with restricted capacity for the 9:45am and 11:15am services. Children ages 3-10 years are invited to attend Children's Church in Rooms 2&3 at 18/F Sunlight Tower or join their families in the Sanctuary for the 9:45am, 11:15am and 12:45pm services. We love welcoming your children and will continue to follow strict hygiene measures.
Thank you for your giving to God's ministries at Union Church. You may give online or use the QR code below. You can also send us a cheque, made payable to "Union Church" or "Friends of Hong Kong Charities, Inc" if you are a US taxpayer. Please send your cheque to: 18F, Sunlight Tower, 248 Queen's Road East, Wan Chai, Hong Kong.
Young Adults Hike + Dinner: We would love to have all our young adults join us for a fun hike followed by dinner at Dan and Geeta Tupps' home in Discovery Bay on Saturday, 28 November. To RSVP or for more details please contact Dan Tupps.
Union Church Missions Fair: Save the date! Sunday, 29 November—check out the wonderful holiday gifts at our Missions partners' tables in the Fellowship Hall and help raise funds for ministries that show Christ's unconditional love through discipleship, evangelism and compassion. The fair is open before and after all worship services.
Youth: Christmas Banquet – 4 December. This year's Christmas Banquet is happening at homes all across Hong Kong—from Lantau to Sai Kung, Kowloon to Hong Kong Island. Join over 100 people at "Home Banquets" and invite friends and neighbours to join. Entertainment and a fun auction will be zoomed in! If you are interested in hosting or just being involved, please email Hunter Purvis.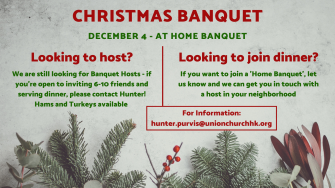 A NEW small group for women! Melody Myers will lead this group through a study of The Broken Way, by Ann Voskamp, on Thursday nights, starting 3 December, 7:00pm. Books are available at church. Contact Melody for more information.
Ladies Retreat: We are organising the Union Church Ladies Retreat 2021! Please save the date, 28 – 29 January 2021. More details to follow.
ReCharge
Choosing Generosity: As Christians, we live "by faith"—and that includes living generously. Join us for our final session, Wednesday, 25 November as we explore God's call to choose generosity with our compassion. These are one-off sessions so it is ok to come even if you have not joined previously! We will meet both in-person and online, 8:00pm. Contact Dan Tupps or Monte Peterson if you have questions. Register here.
Young Adults ReCharge: Young adults will be joining the "Choosing Generosity" study throughout November (see details above).
Missions
We continue to serve the homeless and poor in Wan Chai. Please join us for a Kindness Walk following one of our church services. Email for more info or to sign up.
22 November 22 - following the 11:15am service (c.12:15pm)
13 December 13 - following the 9:45am service (c.10:45pm)
27 December 27 - following the 11:15am service (c.12:15pm)
Sons & Daughters: The mission of Sons & Daughters is to help those caught in sexual exploitation to reclaim a life of love, family, and freedom in Christ. They reach out to those in the red light districts to offer tangible, psychosocial and spiritual support through activities and classes in their drop-in centre, and also through their aftercare program, for those who make the decision to leave commercial sexual exploitation. They have recently started an Alpha course, and we encourage you to pray for those that have joined and may still join.
Sons & Daughters is in need of everyday items for their drop-in centre and safe house. Please see the link to donate: https://forms.gle/6pUQ7LqAte5DdY1bA. Another way to show your support is by shopping at ReStore, their social enterprise that supports people coming out of exploitation. Consider purchasing a gift at https://www.restoreshop.org/
Please pray for our Missions partners at Light of the World Church and Preschool in Yangon, Myanmar where most church members are out of a job, have no income and need assistance to meet their basic needs. Churches and schools are closed. Pastor Vum and his family have been providing food to church members during this time using funds provided by Union Church. Please pray for strong faith in God and Christ Jesus, safety and health for each family during the pandemic, and for churches, places of work and schools to re-open safely.
Kingdom Kids
Children's Christmas Musical Group Choir Recording: Saturday, 28 November -
Children aged 3 to 10 years old are invited to join us in-person at Union Church for our Children's Christmas Musical Choir recording on 28 November. Here are the times:
3-6 years old recording time: 9:00am - 10:00am (please arrive at church at 8:45am)
7 years old and above recording time: 10:30am - 12:00pm (please arrive at church at 10:00am)
Costumes will be provided at church on the day of the recording.
Online Sunday School: For the next several Sundays, our children will be learning from Isaiah 9:6-7. We will learn about Jesus as the Wonderful Counsellor, Jesus the Mighty God, Jesus the Everlasting Father and Jesus the Prince of Peace on Zoom from 10:45am – 11:30am.
Sunday School 2020/2021 Registration is now open: Please complete and sign the registration form for the Creche and Sunday School here. For safety reasons, only children officially registered in our Sunday School program will receive the Zoom link to our online Sunday School. For more information, please visit Union Church's website or contact us by email or on 2101-0414.
Youth
Friday Youth Group – 20 November: Youth are invited to join us at Union Church! This week you can come and decompress from the week, play some different games and activities and get to know each other better! See you at Fellowship Night on the 20th at 18/F Sunlight Tower from 6:00 – 9:00pm (Juniors, ages 11 – 13, are dismissed at 7:30pm.) As per government restrictions, we cannot serve dinner. Youth are asked to sign a health declaration form on entry.
Sunday Youth – 22 November: We will also be having In Person Sunday Youth this week at both 9:45am and 11:15am services. Youth are invited to join us at 29/F Hotel Indigo as we read scripture, discuss the sermon and pray together.
Wednesday Church History Study – 25 November: On Wednesdays, we've started a series based around the History of the Church – diving into how the church started, and how it has evolved and grown over the centuries. Join us every Wednesday, 6:30pm – 8:00pm. Here's your Zoom link!
Small Groups
Meeting as a small group in this time is challenging, but the support from each other is more important than ever. There ARE online options - please reach out if you need help figuring this out! If you aren't currently in a group, we encourage you to try it out. There are groups for women, men, couples, day-time, night-time, etc. Interested? Contact Monte Peterson.
The Friday mornings ladies group is continuing the 6-week study, Goliath Must Fall. We are discovering key giants in our life: fear, rejection, comfort, anger and addiction. We gather at 10:00am to catch up and then work through the study from 10:30am-12:00 noon. We hope you will join us either in-person or via zoom. Please contact Pastor Michele or Ellen Ahn to sign up or for more information.
Connecting
The Marriage Course is open to all couples, offering practical ideas and tools over a 7-week course to keep your relationship strong. Please contact Joanna Yau for more details.
Pastoral Care: If you are looking for some support and prayer, we encourage you to contact Ministry leaders directly or or call 6225 5042.
Church Membership and Baptism
If you have been attending Union Church for a while and have never gone through the official process to become a member, now is your chance! Please collect a green form and make it official! If you have never been baptised and are interested, please contact Monte Peterson.
Stephen Ministers are members of our congregation who listen, care, encourage, and provide emotional and spiritual support to people going through a crisis or a difficult time. Please contact Pastor Michele or if we can help.
Fertility & Pregnancy/Infant Loss Support Group - Struggling and could use some fellowship, friendship and support? Contact Sonia Lee.
Families in Need (FIN)
Our Families in Need ministry helps people with their basic monthly needs. If you can help, we are grateful for your generosity. Please mark your envelope "FIN".