U MATTERS
This week, we celebrate World Mental Health Day - October 10th. The city and the world have been facing extreme issues which are taking a toll on our emotional and psychological well-being. Mental health issues around the world are on the rise and Hong Kong is no exception.
According to Mind Hong Kong:
1 in 7 people in Hong Kong will experience a common mental disorder in their lifetime - of those experiencing a mental health disorder, three-quarters will not seek professional help
61% of Hong Kong adults currently suffer from poor mental well-being
1 in 4 Hong Kong workers suffer symptoms of depression and anxiety. This is 2.5 times higher than the global average – and around 18% require psychological treatment.
Self-care and caring for our own well-being are critical. It is critical that we live balanced lives - that we get enough exercise, eat properly, sleep, and care for our social and spiritual well-being. It is critical that we are mindful of our own feelings - that we are honest with ourselves and others. When asked the question "how are you?" how do you respond?
Being real with how we are feeling is so important for well-being. It is easy to say "I am fine" but how are you really?
Can you relate to this short video from the UK's Mental Health Foundation?
If you have found yourself saying "you are fine" - but really you are not and you would like someone to talk to please let us know. We would be happy to connect you confidentially to a Stephen Minister. They are trained to listen and support. Sometimes we need professional help. If this is you, we would be happy to help guide you in this process. Jesus said, "The thief comes only to steal and kill and destroy. I came that they may have life and have it abundantly." John 10:10
As we reflect on our own well-being, it is important to remember that God has given us community - we have each other. "Though one may be overpowered, two can defend themselves. A cord of three strands is not quickly broken." Ecclesiastes 4:12
So, how are you?
Pastor Michele
WORSHIP SERVICES
Please remember to register for our Sunday services on Mondays from 10:00am. If your plans change, please email us at . Union Church offers three in-person services: 8:45am (Family Communion), 9:45am (Traditional Worship) and 11:15am (Contemporary Worship). The latter two services are live-streamed on our church website, Facebook page, church app and YouTube.
THIS WEEK
BLESS THE CITY, this Saturday morning, 16 October: It is our time to go out to serve, pray and love the Lord's creation! We have had fantastic sign-ups for the seven (7) family-friendly outreach projects with our ministry partners and "Friends of Union Church". There is limited space available in the Art in the Park, China Coast Community and Chung King Ministry activities. Learn more and register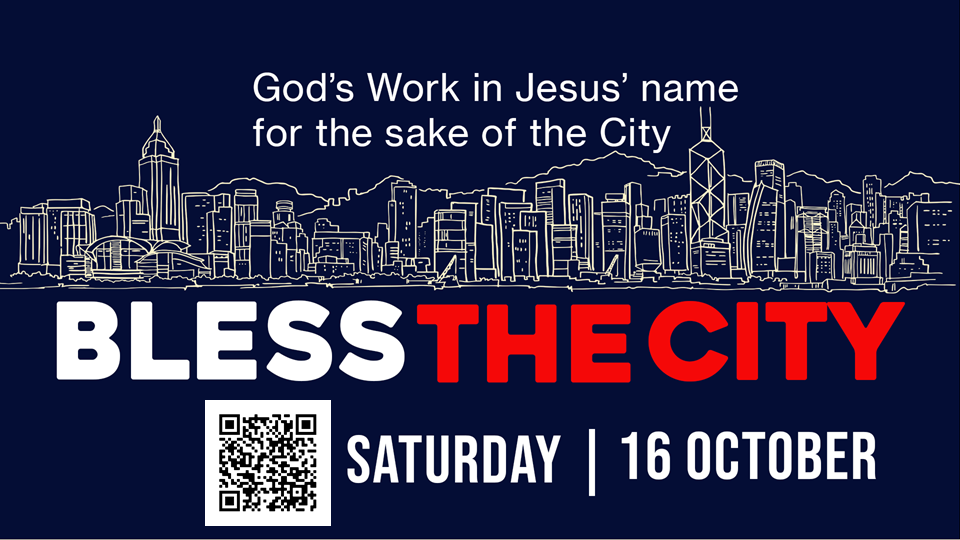 Update from The Grace of Giving: Further to yesterday's email from Pastor Michele and Ken Morrison on behalf of The Grace of Giving team, we continue to be blessed by contributions to The Grace of Giving campaign! An update will be provided at the end of October on the total amount of funds raised and pledged.
10.10.10 Special Offering for Hong Kong Church Network for the Poor (HKCNP): It's not too late to give. We took a special offering last Sunday for our "Friend of Union Church", HKCNP for their 10.10.10 anti-poverty initiative. You may give online, drop a cheque off at church (payable to "Union Church" with HKCNP on the back), or place cash in a blue Missions envelope at the Welcome Desk. We will share about the giving outcome in the coming weeks. We're also excited to serve the underprivileged in Tin Shui Wai with HKCNP during the Bless the City event.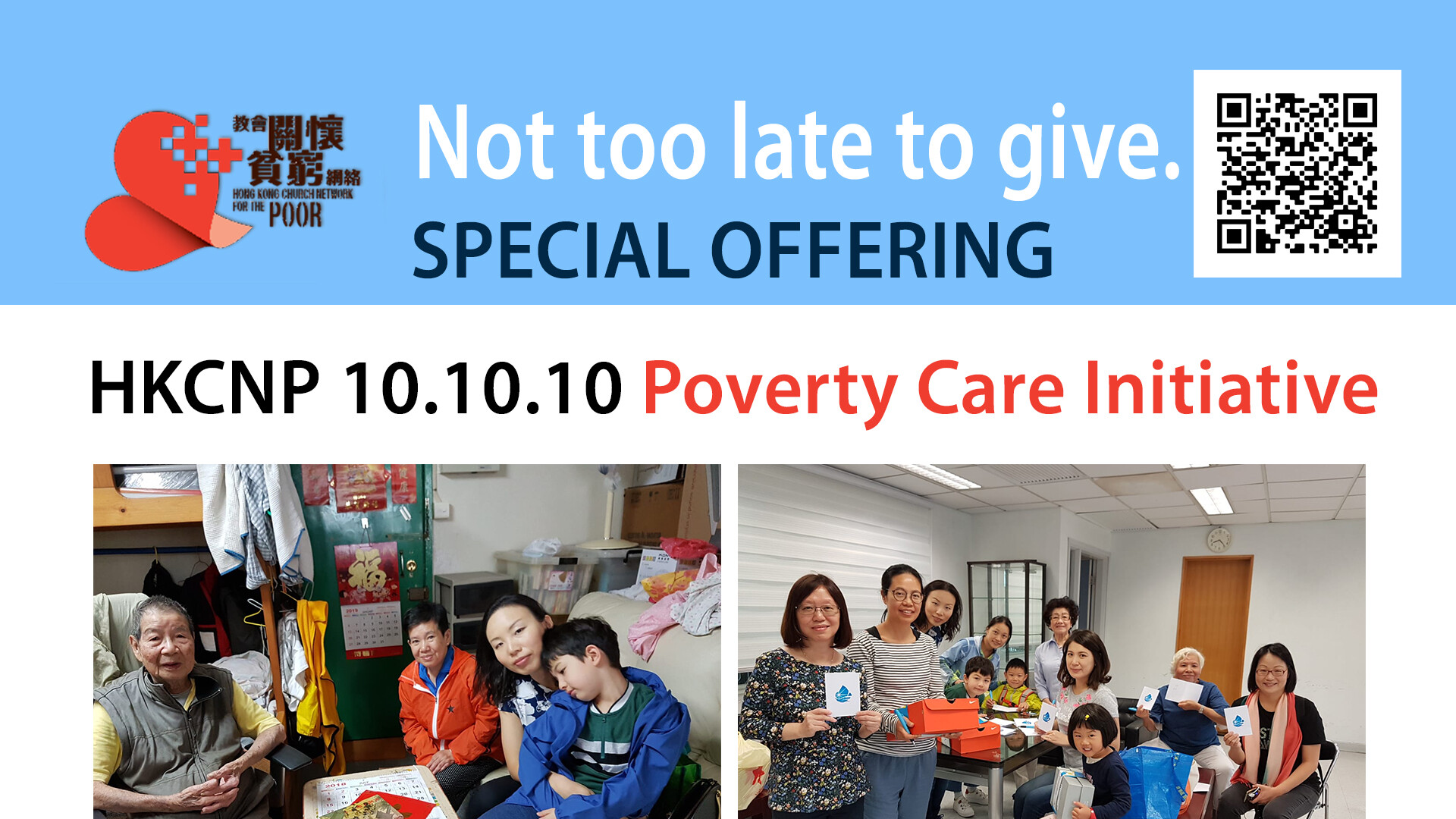 Cheer up the China Coast Community residents! We are still accepting donations of plain digestive biscuits and unopened jams and marmalade through tomorrow, Friday, 15 October. Please drop them off at church. The Bless the City activity coordinated by Grace Payne and Lindy Fok on 16 October is still open to new registrants.
Young Adults Study - "Discipleship Explored": Wednesdays at 7:30pm. This journey through Paul's letter to the Philippians is ideal for new believers, those recommitting to their relationship with God, or anyone seeking to grow in their faith. For more details contact dan.tupps@unionchurchhk.org.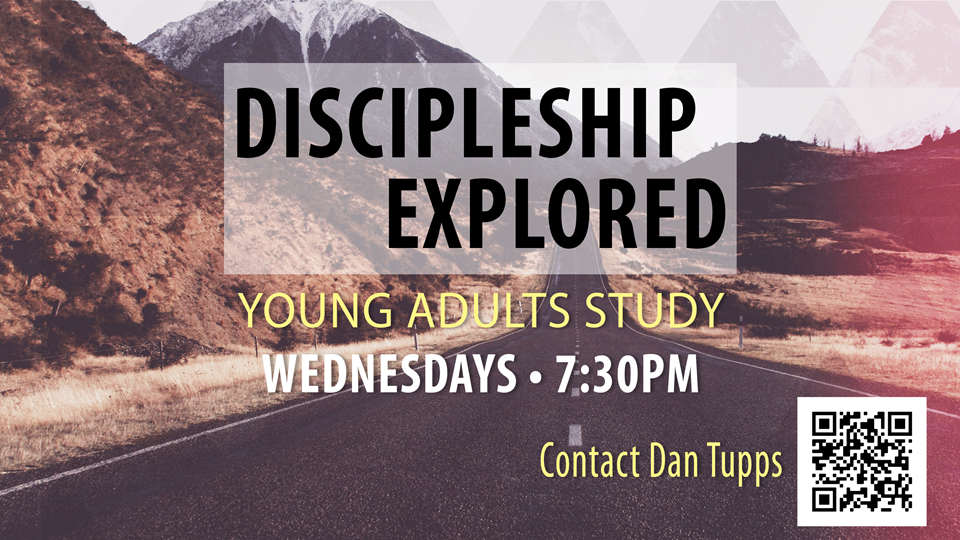 UPCOMING
Encore! Film & Theology nights return: Movies are the storytellers of our time. They can teach us about ourselves, our faith and the world around us. Join facilitator Chris McKenzie for discussions of Passengers (Tuesday, 26 October) and Hacksaw Ridge (Tuesday, 23 November). Watch the movies on your own. Feel free to ask Chris any questions and register here.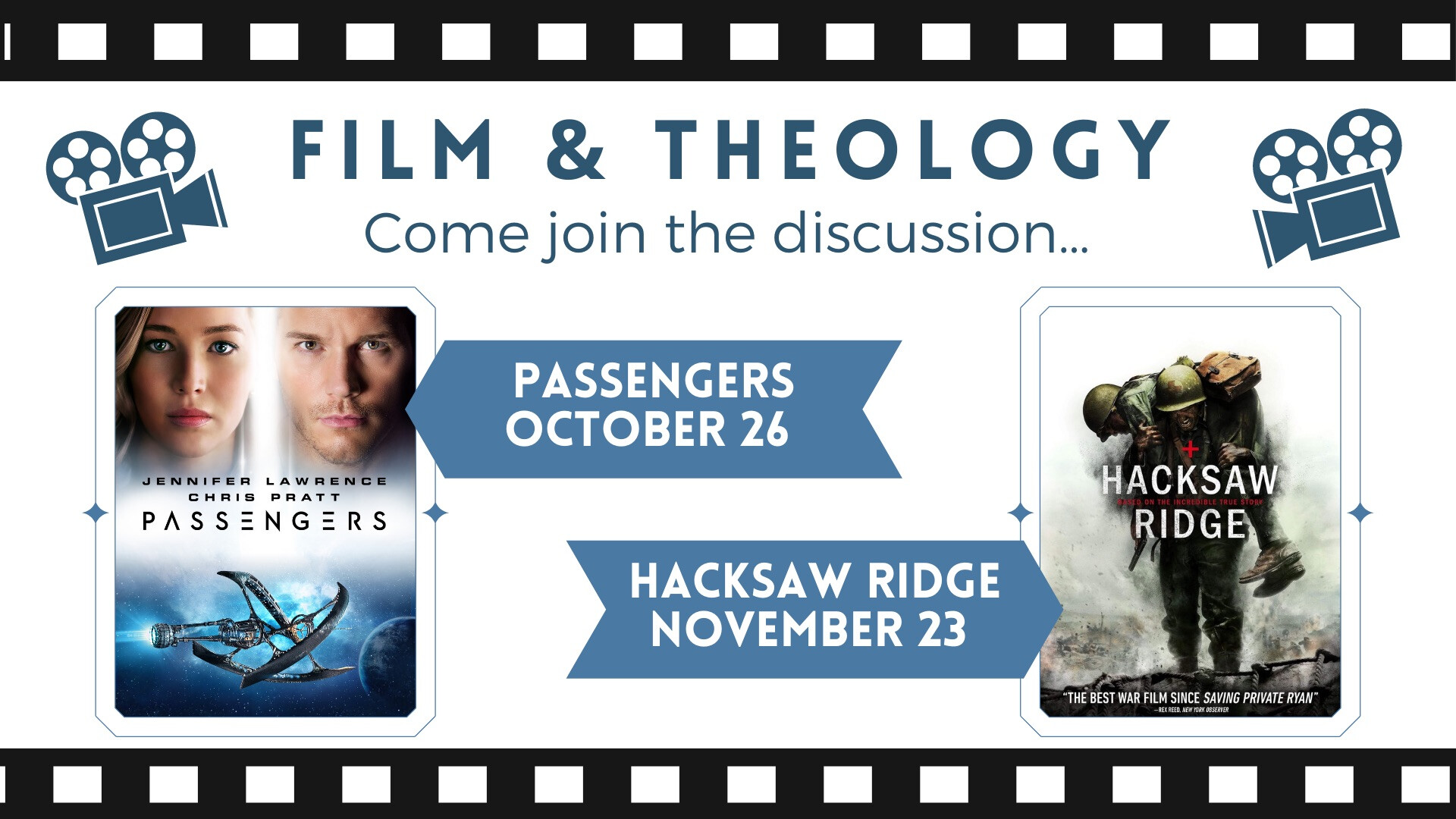 Halftime Small Group Study: Clarify your core abilities and passions and discover creative ways to channel your talent towards Kingdom-significance. This new small group study offered by our Faith in the Marketplace Ministry extends over 6 weekly sessions, online at lunchtime, starting soon at a time convenient to the participants. Express your interest by registering here.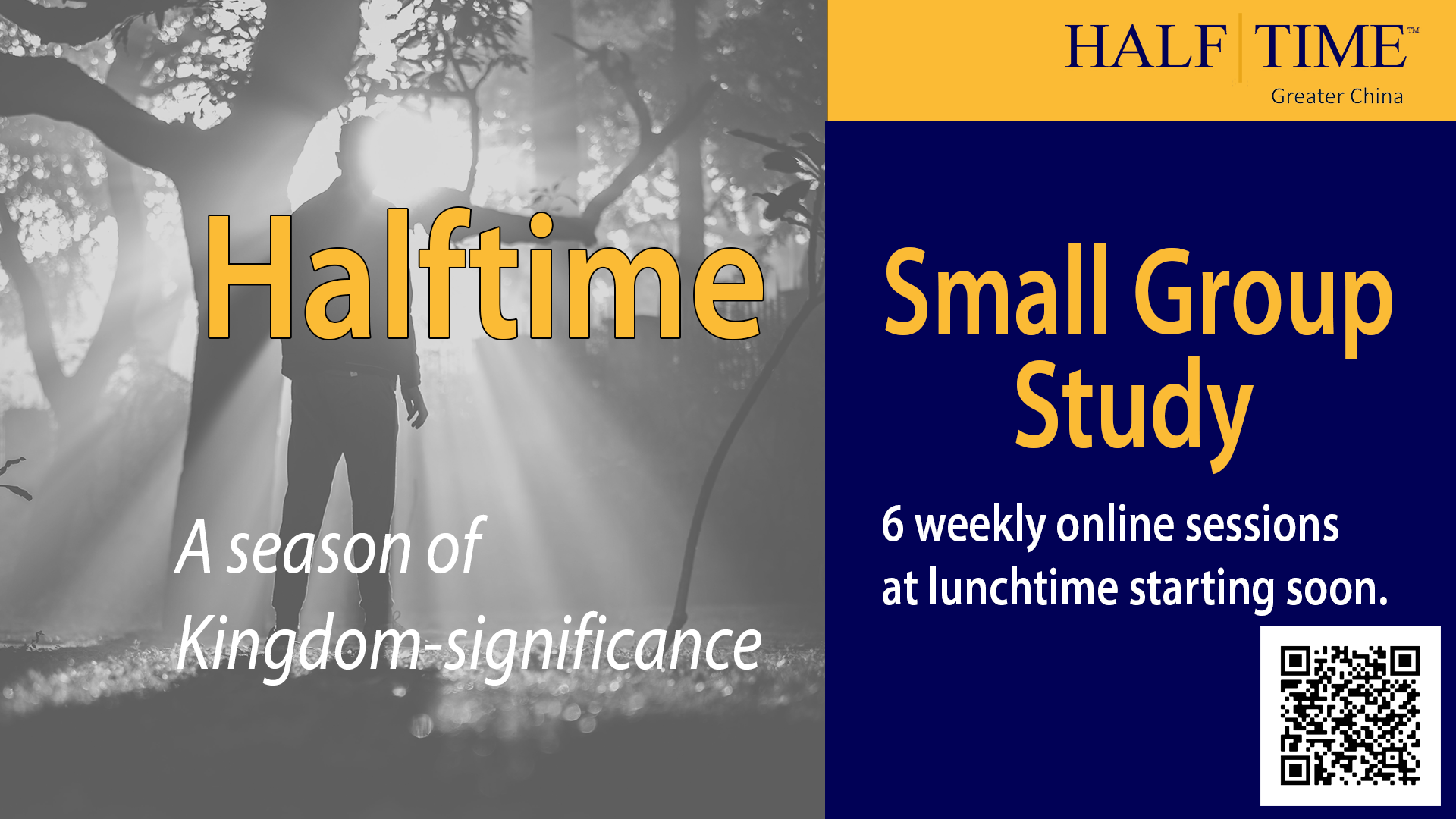 One Hour with J.John, Wednesday, 3 November, 7:00pm: Deacon Juliana Rotmeyer will be interviewing Canon J.John, an international evangelist + author renowned for his humour + storytelling. Our Youth are doing his just10 study on the Ten Commandments right now. Register to join either the watch party at Union Church or receive the Zoom link so you can watch remotely. We would love to receive questions that you would like Juliana to ask J.John. Please submit them and register here.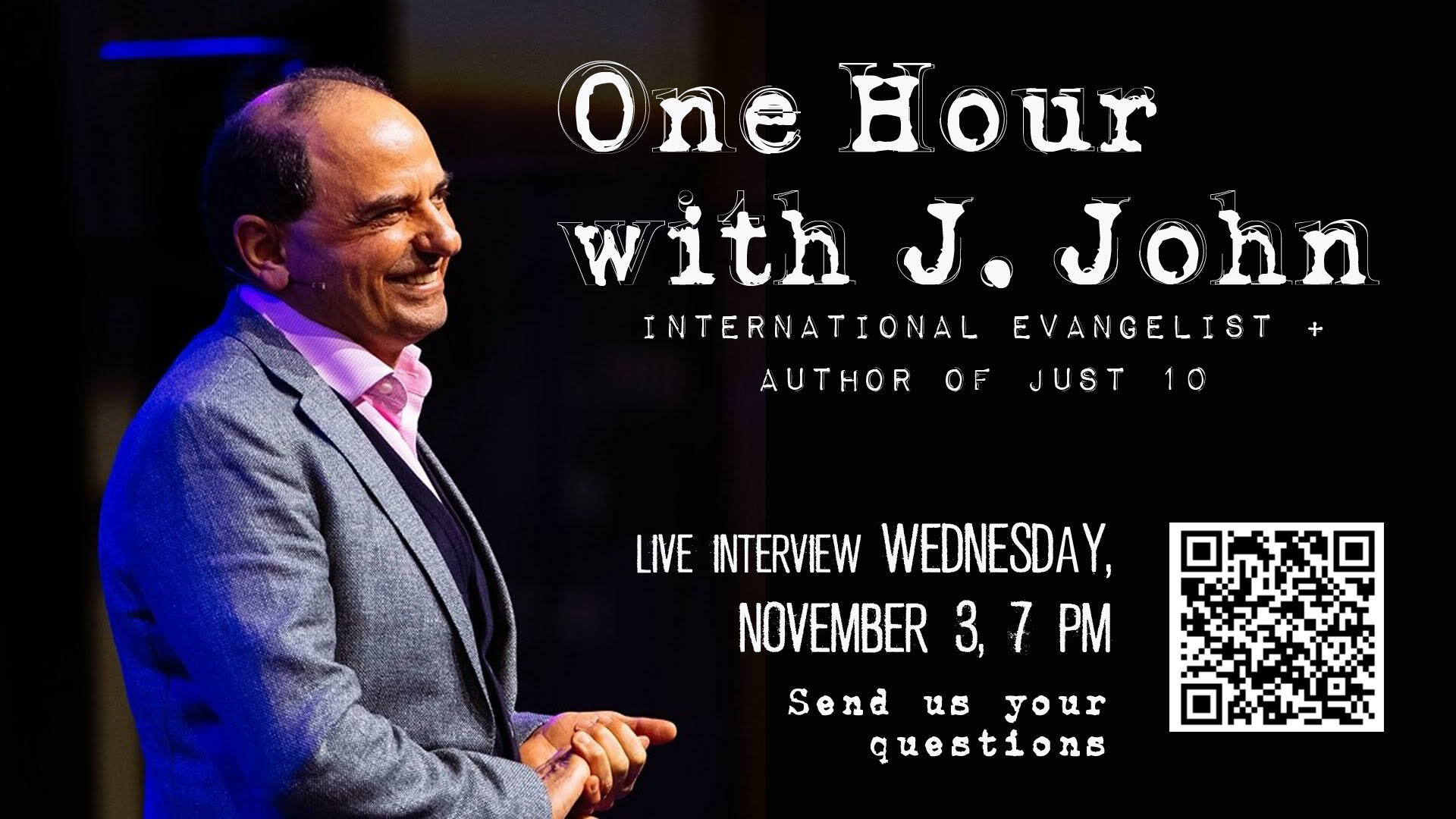 Men's Retreat, 5 - 6 November 2021. Men, please join us for this great opportunity to get away and discover the power of authentic relationships. Dr. Lance Lee will be our special guest speaker. Lance is one of the pastors at The Vine Church and leads the Men's Fellowship of Hong Kong. As a pastor, psychologist and coach, Lance has a passion for helping empower men to achieve their greatest potential. We will also hear from Union's own Charles Caldwell, Dan Tupps and more. Register here to reserve your spot!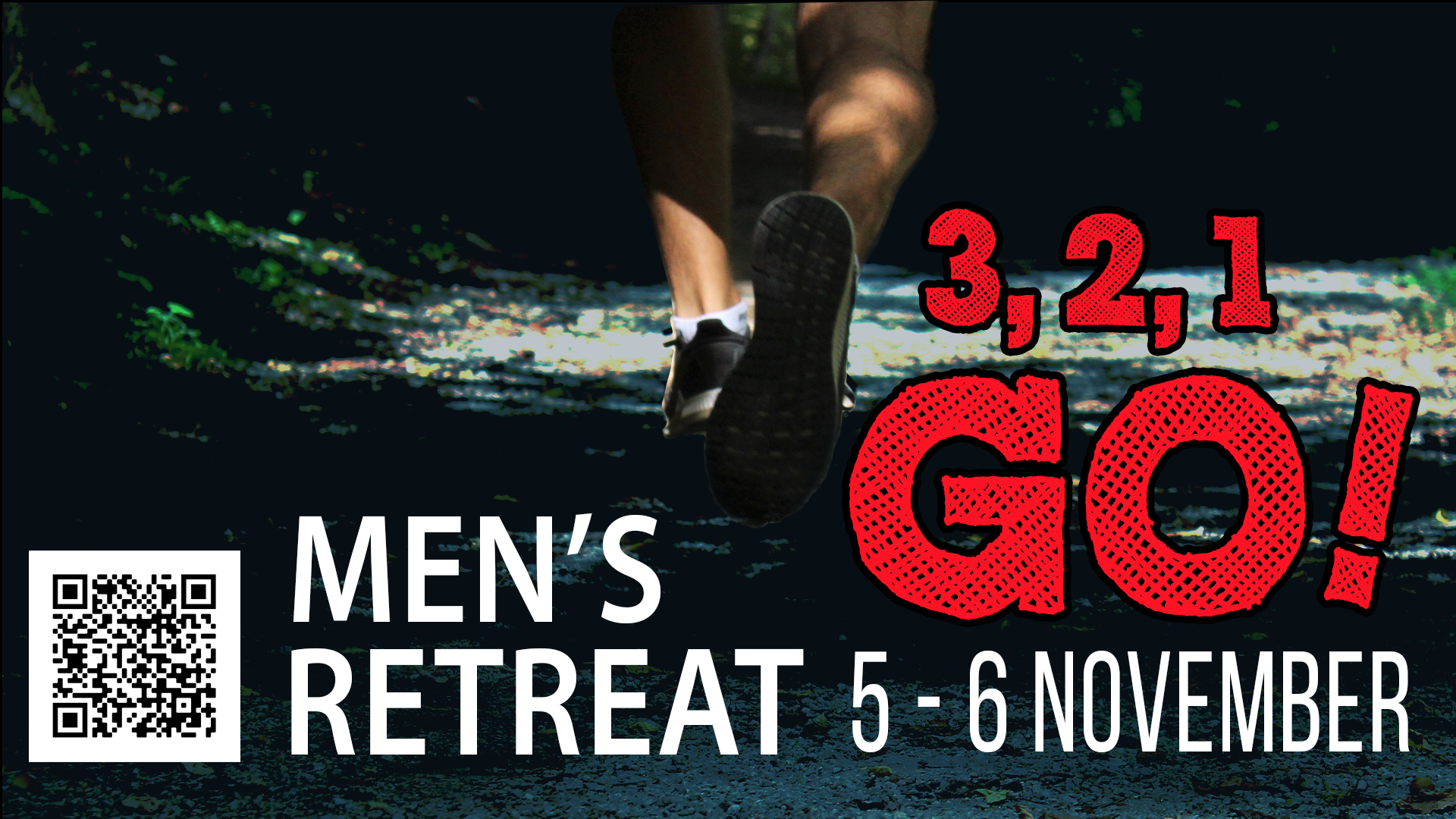 6th Annual Ladies Retreat - 7 WONDERS OF THE WORLD, 12 - 14 November 2021. It's getting closer! We invite you to step deeper in your relationship with our creator as all Union women are invited to a two-night retreat at South Lantau. It will be a wonderful time of worship, fellowship and teaching. The take up has been fantastic - don't miss out - please register now.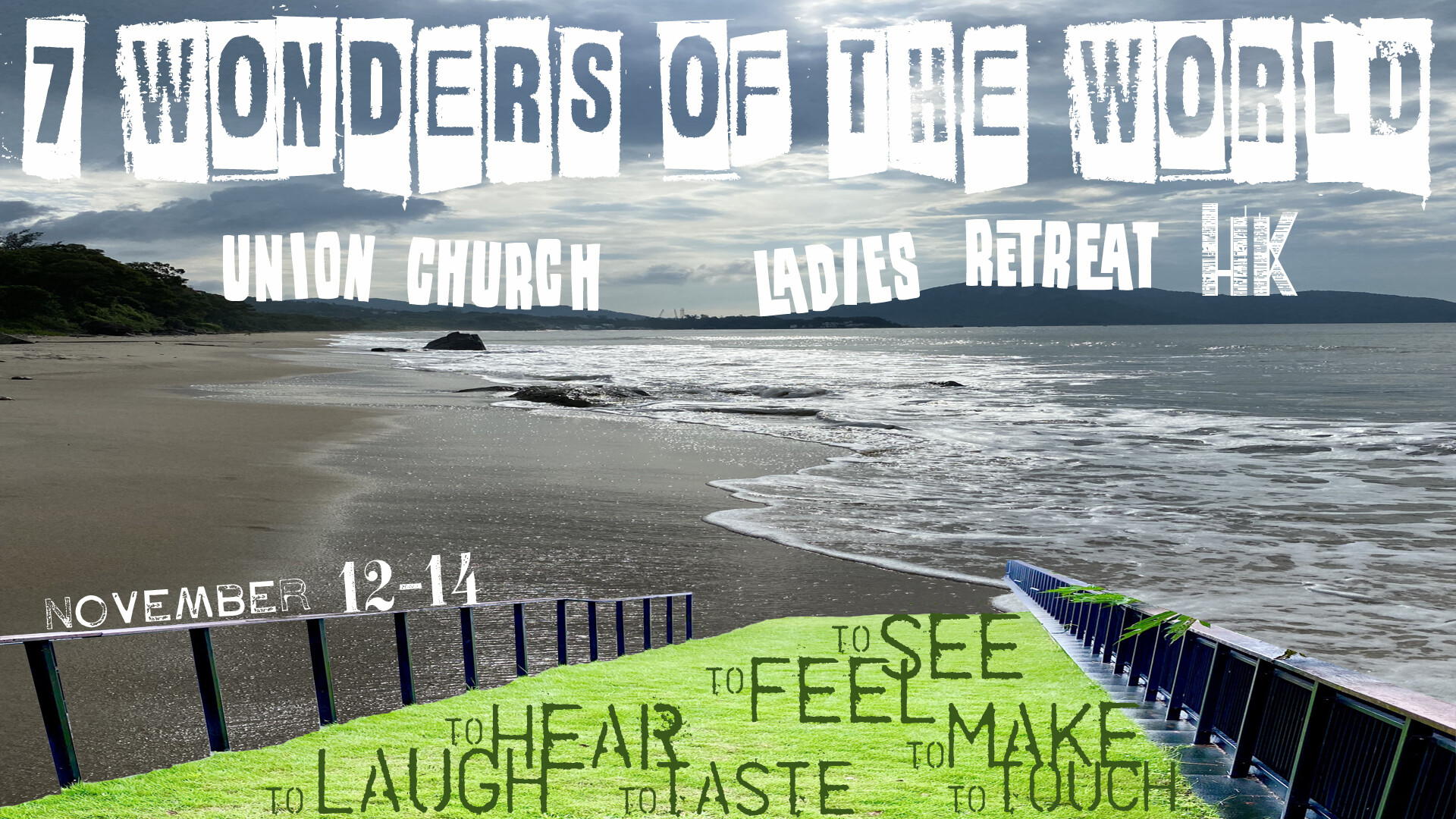 KINGDOM KIDS
Hallelujah Party: Saturday, 30 October, 3:00pm - 5:30pm. Kingdom Kids invites families and friends to join us for "The Adventure of Noah," our annual Hallelujah Party which will be held in-person on Saturday, 30 October. There will be lots of games, prizes, crafts, a photo booth and live performance by Dove Tales Theatre. Bring your friends along too. Register here.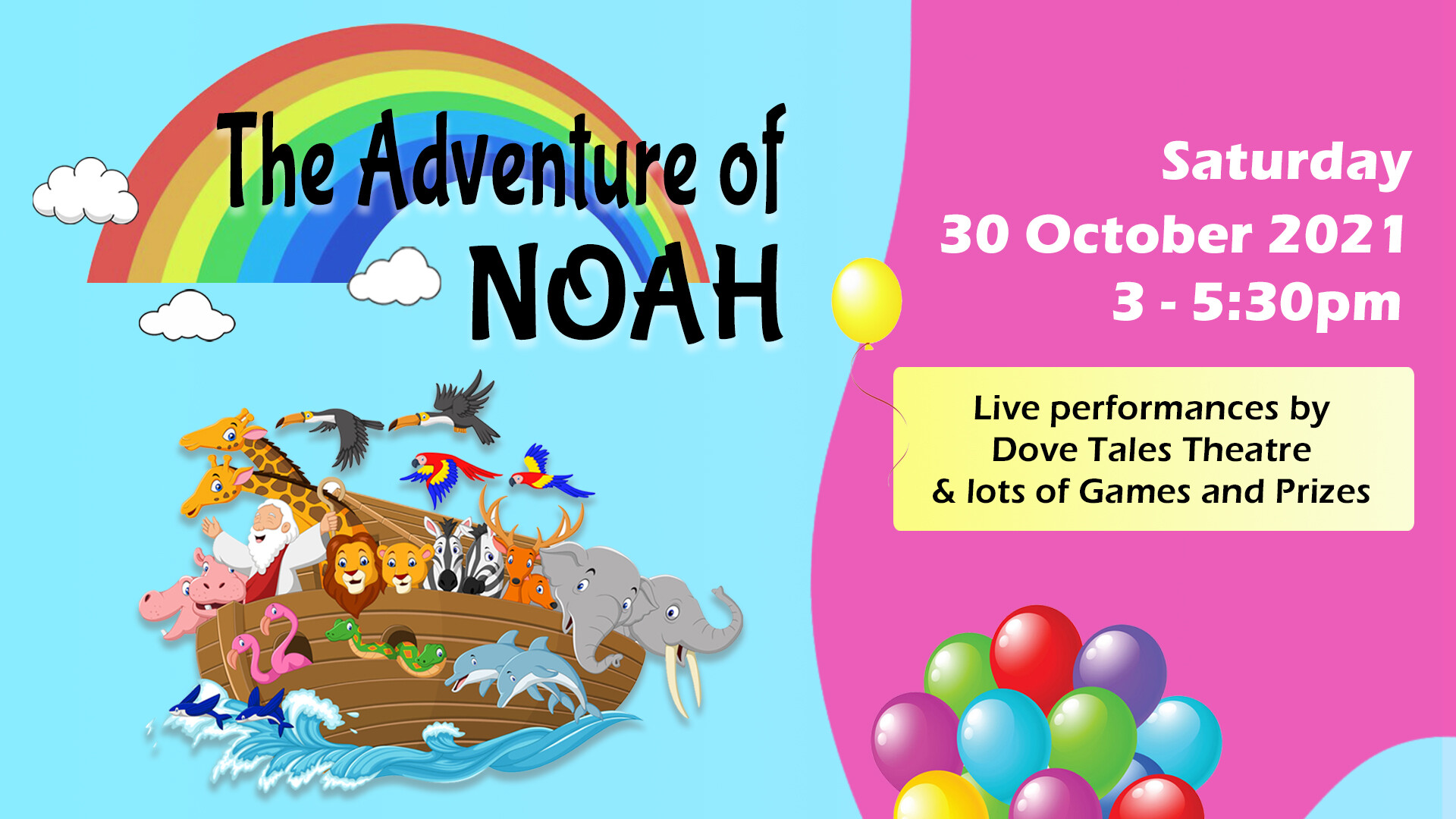 Kingdom Kids upcoming events - mark your family calendar:

Children's Christmas Musical: Sunday, 12 December 2021, 9:45am and 11:15am
Children's Christmas Party: Sunday, 19 December, 9:45am and 11:15am
Children's Christmas Outreach: Sunday, 19 December, 3:00pm - 5:00pm - St. Barnabas' Society and Home
Creche & Sunday School Arrangements: Children ages 0 - 3 years old are welcome to join our Creche Centre and children ages 3 to 10 years old are invited to join us for Sunday School. Families attending in-person services must be successfully registered before Thursday, 12:00pm. Thank you.
In-person Sunday School: 9:45am and 11:15am
Online Sunday School: 11:15am - the Zoom link to the online class will be emailed to families with children registered in our Sunday School programme for the year 2021-2022.
Kingdom Kids Sunday edition is available at the end of the 9:45am and 11:15am worship services on the Union Church website or Facebook page.
Sunday School Registration 2021-2022: Registration for the academic year 2021/2022 is open. Children ages 0-10 years old enrolling in our Creche and Sunday School programme must be registered by completing the form HERE. Registration forms are also available at the Children's welcome table. For more information, please visit Union Church's website or contact us at CHILDREN or 2101 0414.
YOUTH
Friday Youth – 15 October – Tomorrow Koon and Bernice will be helping lead a Fall Break trip to the movies! Please keep in touch as we confirm film, timing, location etc. The cost is typically about $100.
Sunday Youth – 17 October – Sunday Youth are meeting in the Union Church Sanctuary at 11:15 to worship and praise God! Please don't go to Ps. Michele's home this week, and do let Hunter know by today Thursday, 14 October if you are able to join the worship service as there are limited spots available.
Wednesday Youth – 20 October - This Wednesday we will continue our "Network" study, a look into what spiritual gifts God has given us and how we can better use them to build His kingdom! We will meet at Union Church Youth Room at 6:00pm and dismiss no later than 8:00pm.
During BLESS THE CITY on Saturday, 16 October, Hunter will lead a group to do Art in the Park at Tamar and youth and their families are encouraged to join. We're meeting first in the Union Church sanctuary at 9:30am. Sign up here.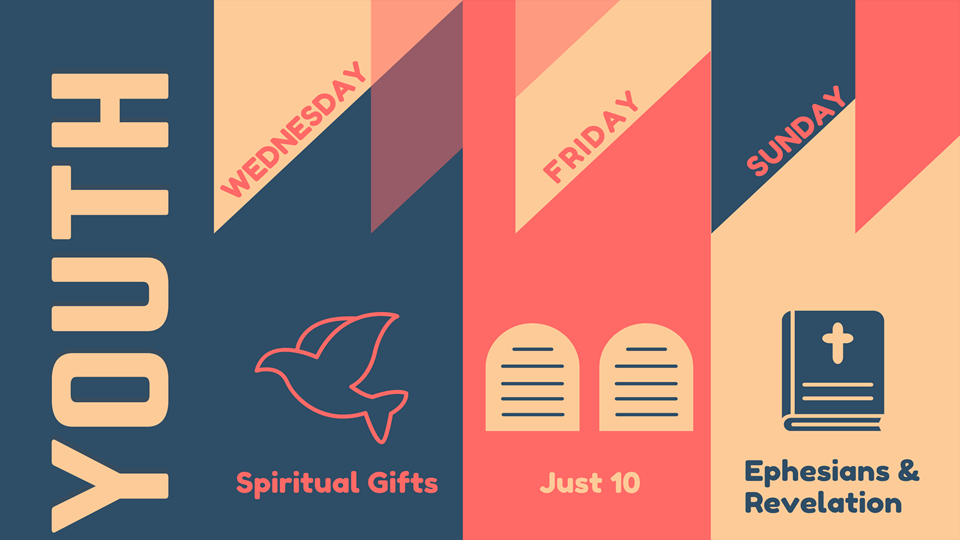 MISSIONS
Our kids at ICC in Hengyang! Union Church sponsors many children and youth through International China Concern. You can find the latest updates on the Welcome Table at church. Please pray for Hengchan (female, 16 years), Hengwei (male, 16), and Hengshu (male, 15) for continued joy, love and safety. We are asked to pray as well for the caregivers who diligently care for children and youth in ICC's Spring Project. These amazing staff recently left their own families during a 30-day lockdown to move into the Spring Centre to limit exposure to the virus. They used their "extra hours" to prepare for the nation's fundraising programme, "99 Charity Drive" that uses social media to bring awareness to charitable initiatives across China. Lord, fill up these caregivers will all that they need!
Light of the World Church and Preschool, Myanmar: Thank you for your ongoing prayers for this wonderful congregation. Pastor Vum's son, Caleb, has been ill this week, as have two teachers and seven students. Please pray for healing and good health. Praise God that they have been enrolling new children each day at the preschool!
Meet our Ministry Partners: This is a great way to find opportunities for you to pray, serve and support God's mission and work in Hong Kong and internationally.
Sunday, 14 November - Sons & Daughters and Asian Development Ministries (SALT)
Sunday, 9 January 2022 - Alpha Hong Kong
and more visitors in the new year.
Save the date - Missions Christmas Fair, Sunday, 28 November
The support from your friends in a small group is tangible demonstration of God's love for us. If you aren't currently in a small group, this is a wonderful time to try it out. There are groups for women, men, couples, day-time, night-time, etc. Contact for more information and pick up a Small Groups pamphlet from the welcome desk at church.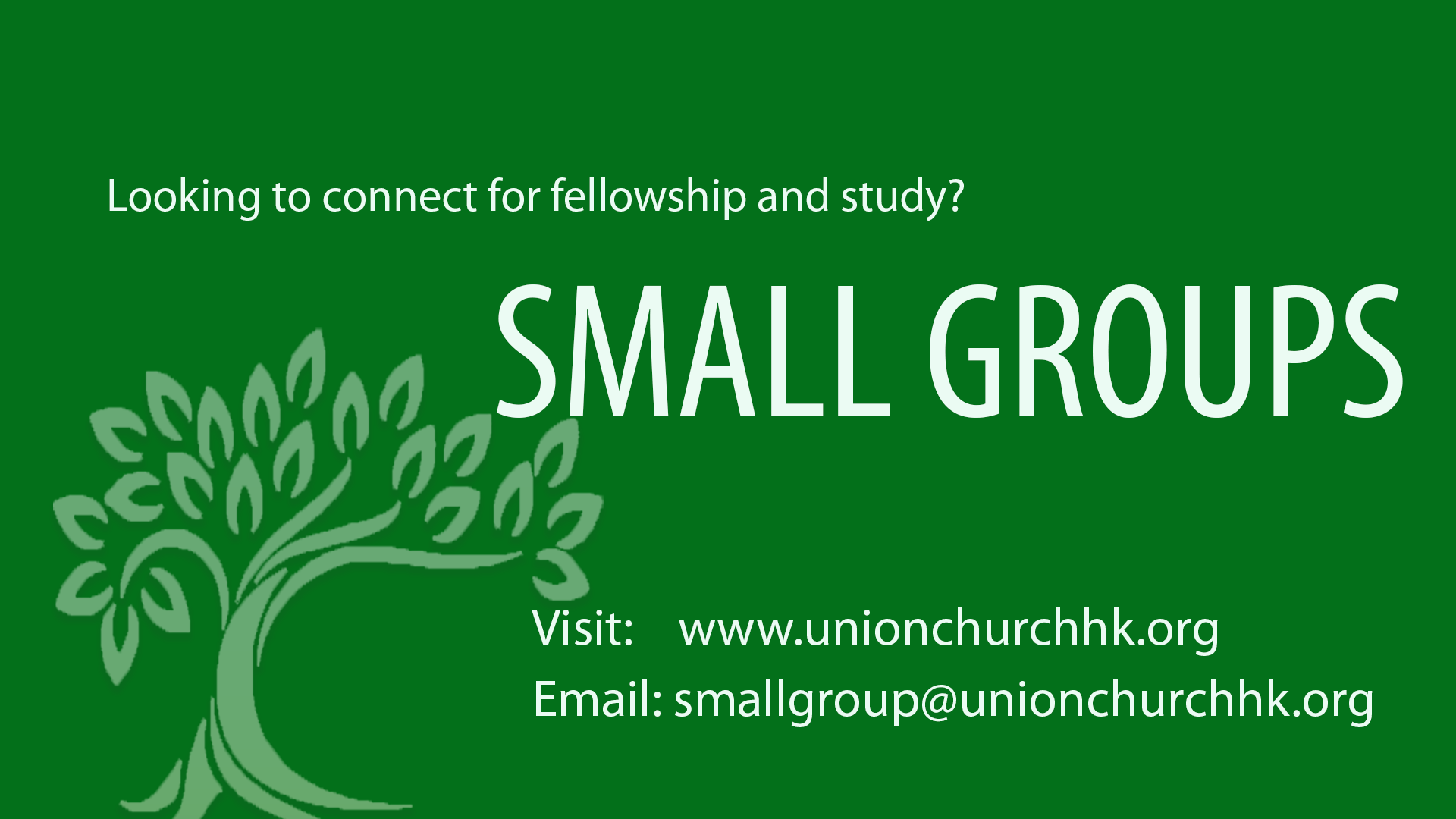 Families in Need (FIN)
Our FIN ministry helps people in need with their basic monthly needs. If you can help we would be grateful. Please mark your envelope "FIN". Also, rather than give directly to people in need in our congregation, may we ask that you refer these individuals to our Families in Need committee and Pastor Michele? Thank you.
Pastoral Care and Prayer
Need prayer? Reach out to us confidentially at .
Stephen Ministry
We provide high-quality, confidential care to people who are hurting through our Stephen Ministry programme. Contact Pastor Michele if you would like to know more about the programme or meet with a Stephen Minister.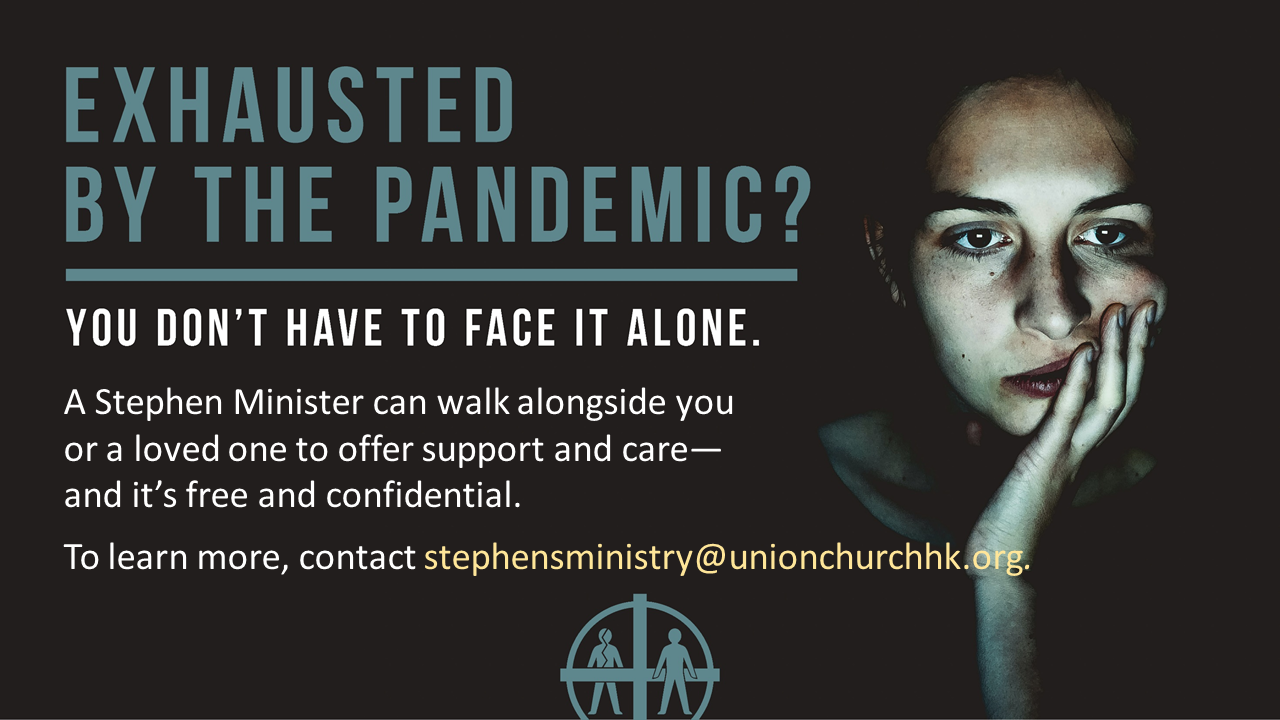 Sanctuary Flowers
If you wish to donate flowers to honour a birthday, anniversary, birth or in memory of a loved one, you may sign up on the flower calendar on the notice board or email . Thank you.
Last week's sermon
"Living Faith: Loves All " Dan Tupps
Social Media
Please follow Union Church Hong Kong on Instagram, LinkedIn, Facebook and YouTube and share with your friends and family. Do you have images, video and stories for UC social media? Please send them to Bronwyn at .