U MATTERS
Navigating differences can be tricky. Last summer, Dan, Monte and I attended a virtual training in the UK to enable us to use a new study called "Difference" and this week our staff team started the study. How timely. Daily we have watched news reports of different countries and leaders attempting to navigate their differences and on a personal front many of us don't have to look very far to find people who think, and act differently than we do. Navigating differences can be a challenge at times.
Justin Welby, Archbishop of Canterbury said this, "When we begin to handle diversity creatively and sincerely - honouring one another in our deep difference, we can begin to flourish together in previously unthinkable ways. Reconciliation transforms alienation into a new creation, not only restored but reinvigorated."
As Christians we are ONE through the shed blood of Jesus - "for in Christ Jesus you are all children of God through faith. As many of you as were baptised into Christ have clothed yourselves with Christ. There is no longer Jew or Greek, there is no longer slave or free, there is no longer male and female; for all of you are one in Christ Jesus." Galatians 3:26-28
It is not always easy to live out our Oneness in Christ. But God is a God who can and does make all things new. He is a God who transforms, renews, heals and sets captives free. He is a God who calls us to live in unity.
In celebrating and remembering our Oneness in Christ, we invite you to join us for ZOOM COMMUNION on Sunday, 7 February, 10:45am -11:15am. Please come with an open heart and with your elements - bread and wine (grape juice will do). Please note that on the 7th, Zoom Communion replaces our Zoom Coffee Hour.
Blessings, Pastor Michele
FAMILY NEWS
We are worshipping online this week at 9:45am (Traditional service) and 11:15am (Contemporary service). Find us on our website, Facebook page or YouTube.
The Grace of Giving - This Sunday our leaders will share with you about the journey our church is on together - spiritually and physically - as we prayerfully and joyfully return to worship at 22A Kennedy Road by early 2023. It is exciting to join the Lord in the work He is doing in Hong Kong and the world.
Brrr, it's cold out there! The street cleaners on our Kindness Walk routes would love to receive your new winter clothing that you are not using. Extra-warm long sleeve t-shirts (eg Uniqlo's HEATTECH clothing), socks, hats, gloves, and puffer vests or jackets would be so appreciated. Women's or men's, especially small and medium sizes. Please drop them off at the church office during the next week, Mondays - Fridays, 9:00am - 6:00pm.
Check out our video of Union Church life in 2020! There was a lot of good that came out of this challenging year.
THIS WEEK
Zoom Coffee Hour: Between Sunday services, pour yourself a cup of coffee or tea and connect with friends and church leaders 10:45am - 11:15am. Contact us at any time to get the Zoom link.
The History of the Church in China, from the Tang Dynasty to the early modern era, Wednesdays, 20 January - 10 February 2021, 8:00pm - 9:00pm. Catriona Woodrow, local historian, teacher and theologian walks us through the introduction and growth of Christianity starting with the Nestorians in the 7th century, the role of the Jesuits in China, followed by the missionaries and local church growth during the colonial era. The four interactive classes will be offered on Zoom. Please pre-register here to receive the Zoom link. All are welcome.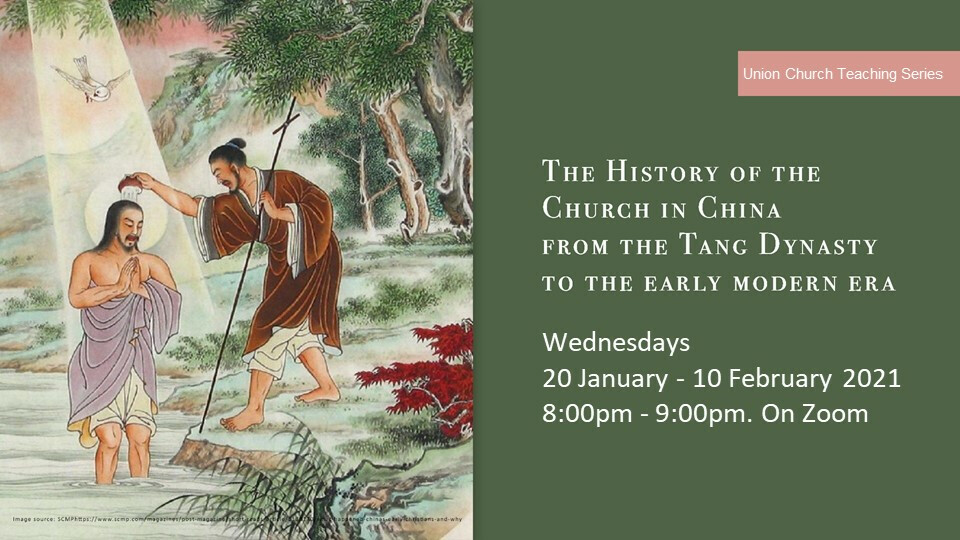 Young Adults Study, Wednesday 20 January: Greater Than. Author and speaker Francis Chan walks us through his own difficult childhood to help us understand that God is greater than any pain, obstacle or hardship that we might encounter in this life. Email Dan Tupps for the Zoom link.
Film & Theology: People are watching a lot of movies these days; let's get together to talk about them! Art and story can unlock our imaginations regarding God and faith and give us new eyes to see what God is up to. We'll watch the films on our own, and then gather on Zoom for conversation, led by Chris McKenzie. Join us on 19 January at 8:00pm to discuss The Tree of Life. Register here. You can find the films on YouTube, Google Play, Amazon Prime, iTunes etc. Save the date of Tuesday, 2 February at 8:00pm for the 2nd film we'll discuss together, Groundhog Day.
Giving: Thank you for supporting God's ministries at Union Church. Please check out the website to learn how you may tithe or make an offering online or by cheque. Still considering a pledge for your giving in 2021? It is not too late to send your commitment to the church office. Thank you.
UPCOMING
Book Group: Two studies are approaching in late January and February. Why not get started on one of our next book group reads? All are welcome to join! Contact Monte Peterson with questions.
Tuesday, 26 January: The Day the Angels Fell by Shawn Smucker; a novel that explores the difficult questions of life.
Tuesday, 23 February: The Beekeeper of Aleppo by Christy Lefteri; a novel about an ordinary Syrian couple seeking refuge from the war that engulfs their homeland.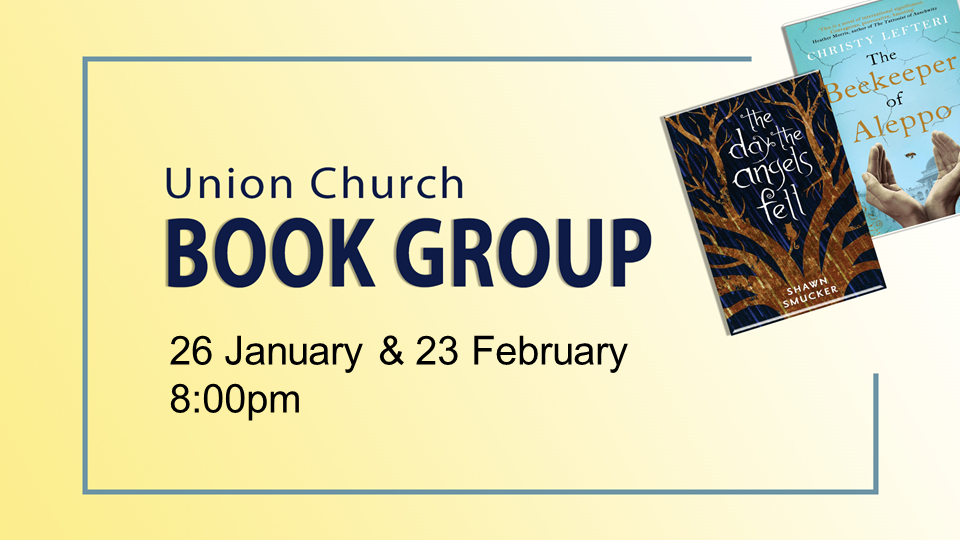 Quiz Night: We've had so much fun at past quiz nights; it's time to do it again! Join us at our all-church QUIZ NIGHT Sat, 30 January, 6:00pm - 7:00pm. Register here to receive the zoom link.
Union Church Family Meeting: Want to learn about what's next at Union? Got questions for Union Church's leaders? Save the date for a Zoom family meeting. You will be able to choose either Sunday, 31 January 12:30pm - 1:30pm or Wednesday, 3 February 7:00pm - 8:00pm.
Faith Comes by Hearing (FCBH) Spring Gala: Many of us at Union Church have followed this vital ministry for years. Everyone is invited to join CHOSEN to Proclaim Spring Gala, the virtual event where you can see how you can partner with FCBH Asia to fulfill Jesus' great commission through Vision 2033. 1 February 2021, 8:30pm - 9:30pm. RSVP here.
Kingdom Kids
Online Sunday School, Sunday 17 January: We are excited that our children are experiencing God's love together in this new year. For the next several Sundays, our 3-7 year old children will explore a foundational, Jesus-centred journey through God's story of love with our new curriculum, SIMPLY LOVED. Our 8 year olds and above are learning how to be bold for God through the BE BOLD study. We will meet online via Zoom every Sunday until further notice, from 10:45am – 11:30am. Registration required.
Sunday School 2020/2021 Registration: All babies and children need to be registered for the Creche and Sunday School which also allows you to get the Zoom link for our online Sunday School. You may complete the registration form here. For more information, please visit the Union Church website, contact us by email or ring us on 2101 0414.
Youth
Friday Youth Group – 15 January: On Fridays we are going to be focusing on small groups for the next several weeks - we'll meet this week for warm up activities and then break into our small groups. Youth can join 6:00pm - 8:00pm on Zoom via this link.
Sunday Youth Group – 17 January: We're back to online Sunday Youth this week! Youth are welcome to join us on Zoom at 11:15am where we'll get to spend time reading and discussing scripture. Seniors will be looking at what the Bible teaches us about Christian leadership, and Juniors will be starting a new series based around asking hard questions! Youth can join here.
Wednesday Night Study – 20 January: On Wednesdays, we're watching the series Chosen about Jesus' disciples and discussing it together. Join us on Wednesday, 6:30pm – 8:00pm. Here's the Zoom link.
Social Media Workshop - 29 January: Social media is a constant part of our lives - as technology continues to evolve and change it's important that we take time to consider its impact. We're planning a discussion night on Social Media and Youth on 29 January. You can watch the movie Social Dilemma (available on Netflix) and we will discuss together how social media affects us and how we can use it in a healthy way. Information about guest speakers and Zoom link to follow.
Missions
"Missions at Union Church" - enjoy our video series that starts during the worship services this Sunday.
Read more about all of our Missions partners here. Who would you like to be involved with?
Home of Loving Faithfulness: HOLF, our long-standing Missions partner, is searching for a faithful new Servant Leader/Family Executive Director in charge of the day to day operations at HOLF in Sheung Shui, New Territories. Please prayerfully consider who the right candidate is for this special organisation. More information can be found here. The application period has been extended to 15 January 2021.
Small Groups
Meeting as a small group at this time is challenging, but the support from each other is more important than ever. There are online options - please reach out if you need help figuring this out! If you aren't currently in a group, we encourage you to try it out in the new year. There are groups for women, men, couples, day-time, night-time, etc. Interested? Contact Monte Peterson.
Pastoral Care
Need prayer? Reach out to us confidentially at We also provide high-quality, confidential care to people who are hurting through our Stephen Ministry programme. Contact Pastor Michele for further assistance.
Fertility & Pregnancy Loss
Fertility & Pregnancy/Infant Loss Support Group - Struggling and could use some fellowship, friendship and support? Please contact Tess Lyons.
Families in Need (FIN)
Our Families in Need ministry helps people with their basic monthly needs. If you can make a contribution, we are grateful for your generosity. Please mark your envelope "FIN".
Last Week's Sermon
"Lessons from James Legge" Hunter Purvis