U MATTERS
Last night people gathered from England, quarantine and various locations throughout the city to hear an update from BUFF on the progress of 22A Kennedy Road. The pictures were beautiful, the facilities outstanding, and the opportunities endless. The inspiring worship and prayer space is invigorating. This new facility will once again enable us to offer weddings, funerals, and playgroups to the community and we will continue to host groups like AA as well as NGOs. This new space will enable us to expand our Children's, Youth, Young Adult, Music, Small Group and Alpha ministries. We are thrilled that we can use these new facilities as a "Third Space" - café, study space, concerts, art classes, classes for seniors and the list goes on. As we continue to grow in our missional mindset - it has been exciting to be free to dream and consider new and fresh ways we can reach out to our neighbourhood.
But we are not there yet!
The Grace of Giving team reminded us that many people have participated in giving of their time and money to this "once in a 100-year opportunity". Together, we are praying and trusting God, our Provider, that by the end of September we will have reached our remaining fundraising target of HK$4.4 million.
Let's continue to "Be In" and close this gap - the opportunities are endless.
Arise, shine; for your light has come,
and the glory of the Lord has risen upon you.
For darkness shall cover the earth,
and thick darkness the peoples;
but the Lord will arise upon you,
and his glory will appear over you. Isaiah 60:1-2
Blessings, Pastor Michele
WORSHIP SERVICE UPDATES
Our 9:45am and 11:15am services are reaching capacity (50% of floor capacity). The 8:45am service has space! We would love to see you - please register early to secure your spot. If you need to cancel or alter your booking, please email as soon as possible so we may offer your space to someone else.
For Sunday services on 22 August, registration will open at 10:00am on Monday here. We will confirm your registration by email or ask you to select an alternative service or watch the livestream.
Union Church offers three in-person services: 8:45am (Family Communion), 9:45am (Traditional Worship) and 11:15am (Contemporary Worship). The latter two services are available via livestream on our church website, Facebook page, church app and YouTube. Be part of our growing online congregation!
FAMILY NEWS
Family Meeting - Update on New 22A and The Grace of Giving - 45 people participated in the Family Meeting last night to see how New 22A is taking shape. Thank you for showing up, sharing views, and sowing hope and joy into this special blessing God has given us. We will share the presentation next week.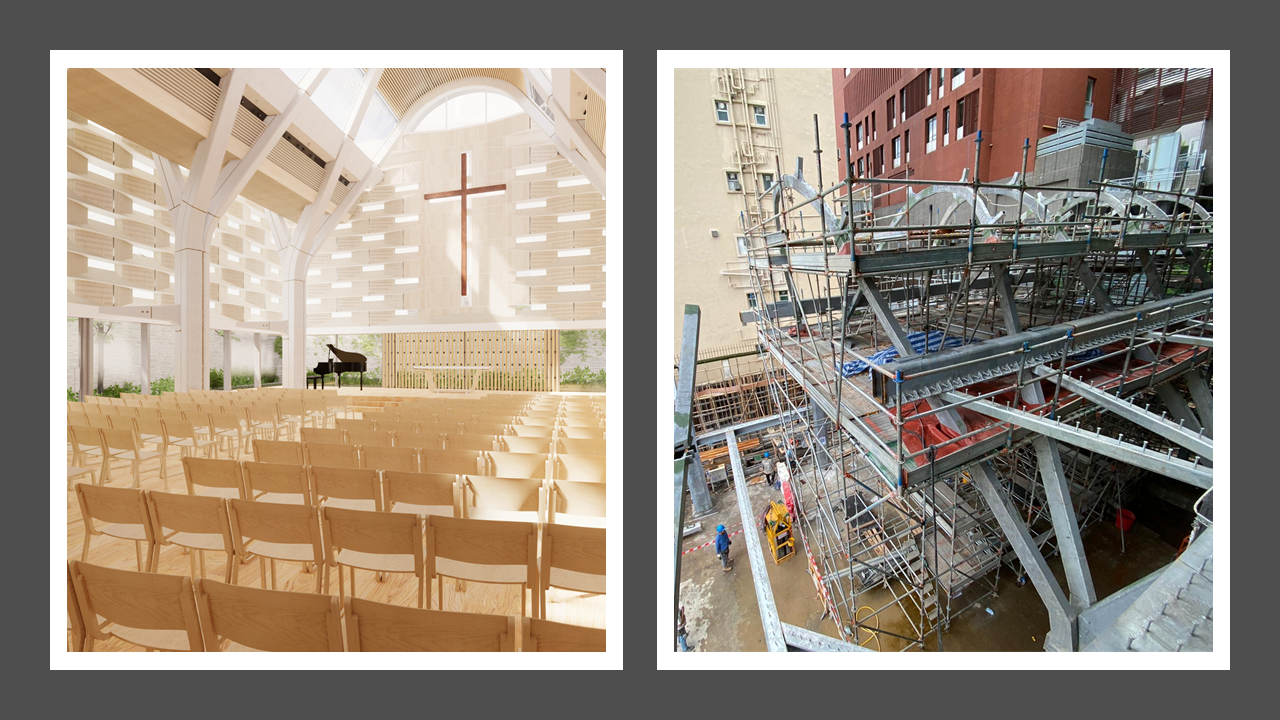 Pray for New 22A - Prayer is so important to our church and the new building under construction. We are asking our entire church family to pray and we will introduce specific prayer initiatives in September. At this time we pray that the BUFF team be given wisdom in their decisions pertaining to budget management, and smooth preparation of tendering by the team and our consultants.
THIS WEEK
Prayer @ 22A - This Sunday 15 August, we're meeting at 22A Kennedy Road at 12:45pm to pray. Come join us as we lift up this building and our church to the Lord.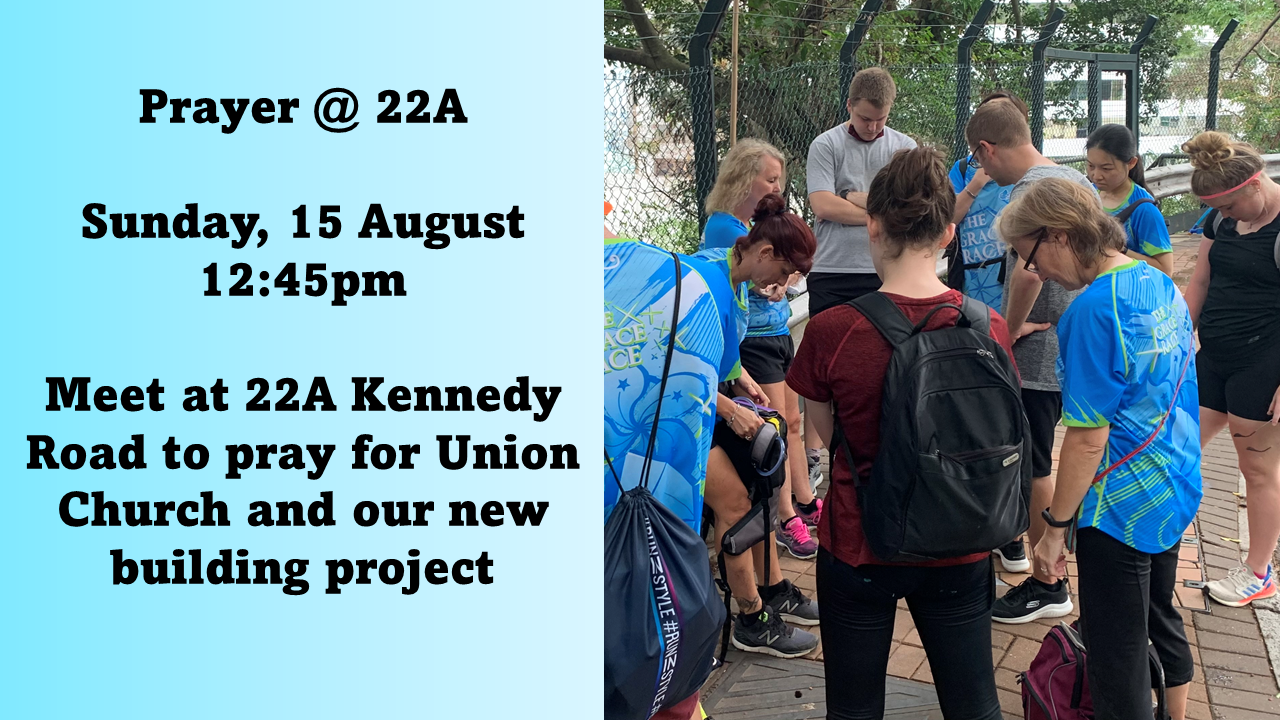 Young Marrieds Lunch: This Sunday! We would love to get together with all our young adult married couples for a special lunch on 15 August. Please contact Dan Tupps for more information.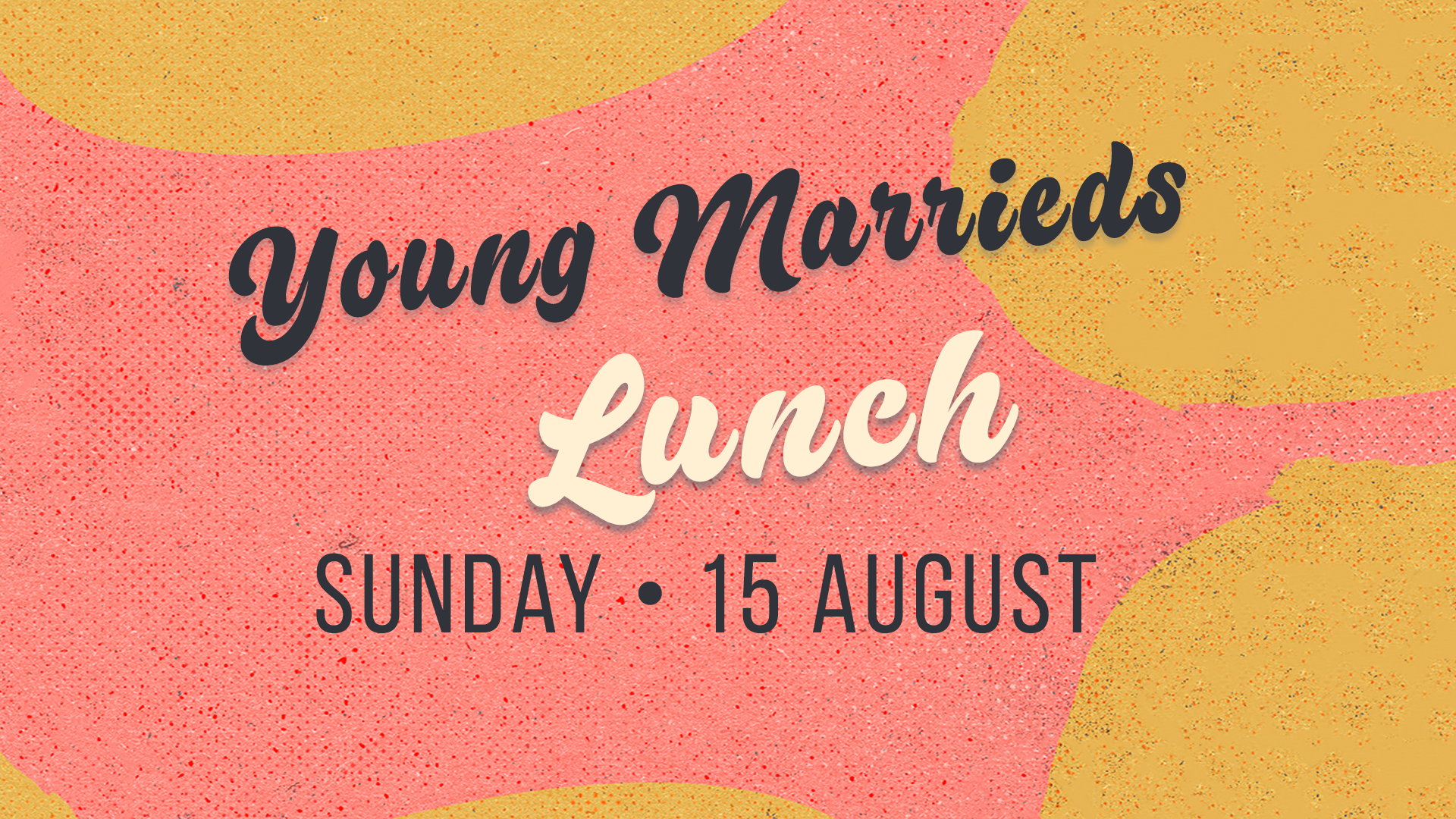 UPCOMING
Serving God in the Marketplace - Redefining Success, Wednesday, 18 August: Join the online event with the Rev Dr John Snelgrove, a leading advocate of workplace ministry, and one of our Faith in the Marketplace ministry team leaders, Vivien Teu, as we evaluate what success looks like in the workplace as we seek God first. Invite your colleagues! All are welcome - learn more and register here. Check out Pastor John's video on Instagram (and follow Union Church)!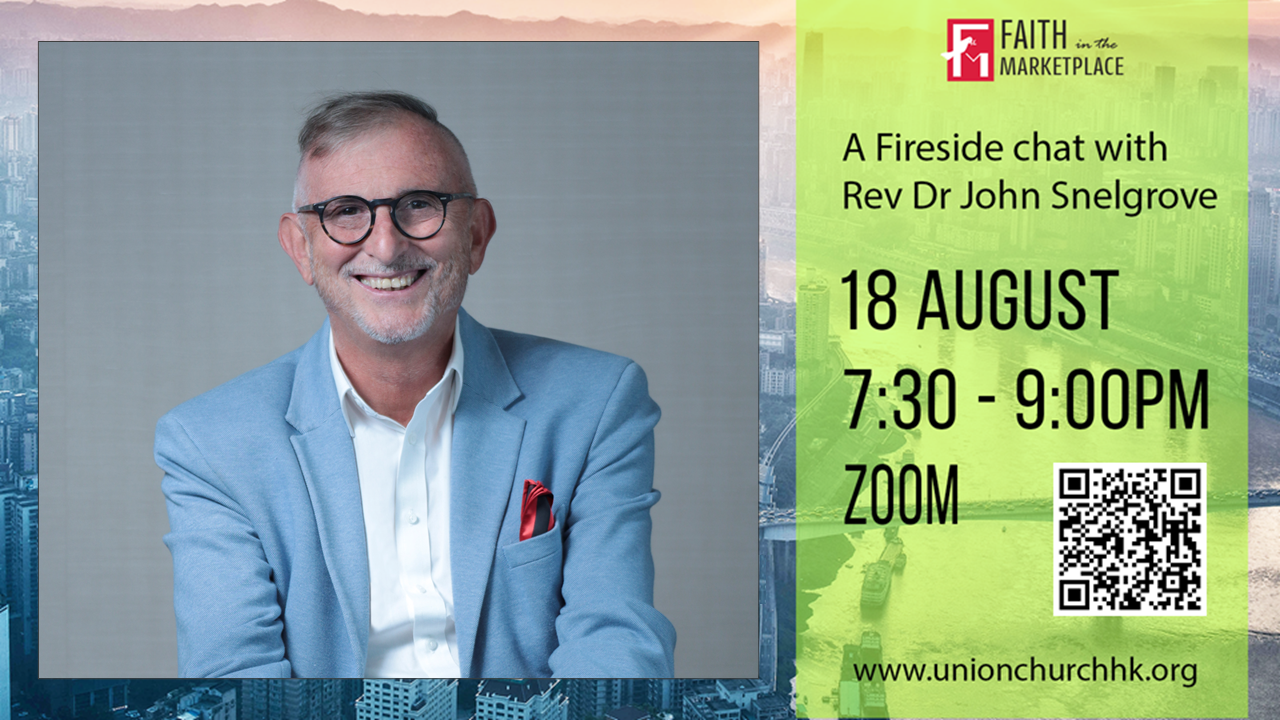 BSF Hong Kong Women's Distance Class: An online English-language BSF (Bible Study Fellowship) class for women will start during the week of 6 September! This is a wonderful option for women from Hong Kong (and beyond) who prefer to join BSF and the Study of Matthew from their own homes or offices. The instructor will be Union's Emilie Banfield. If you wish to learn more or register, contact Please pray that the Lord moves hearts as He calls women to join.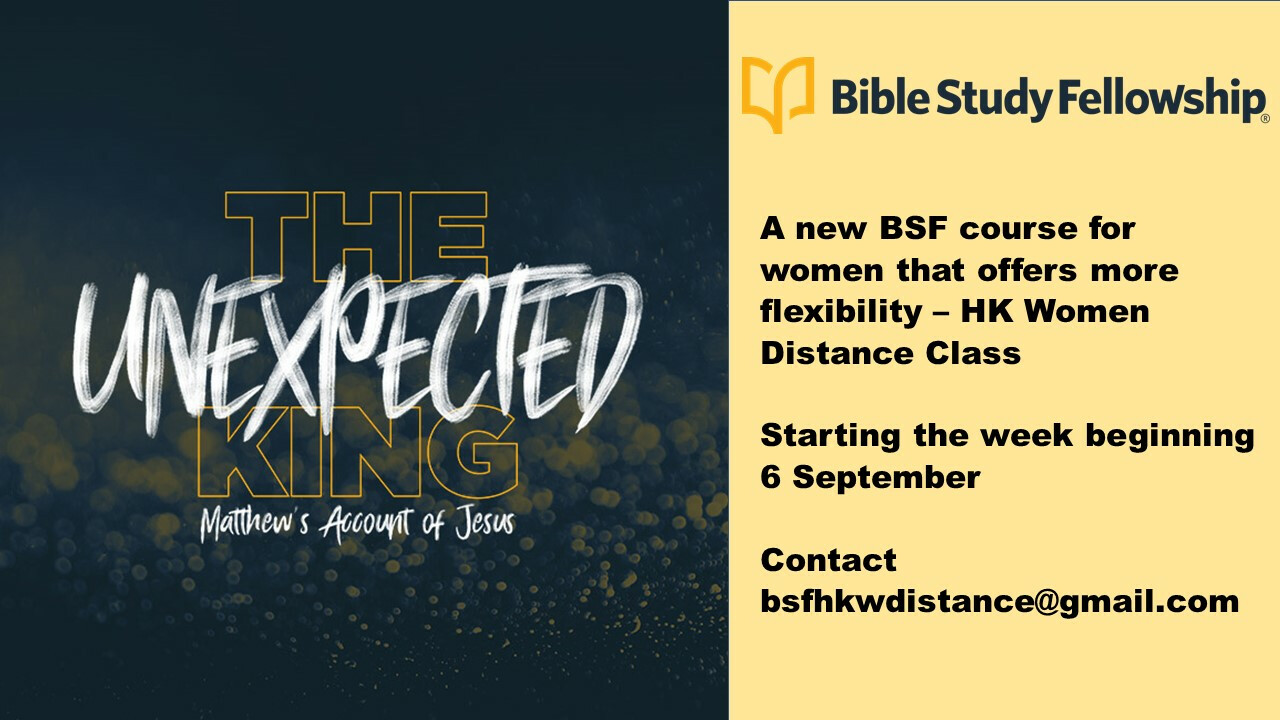 Coffee and Conversation: Looking for more opportunities to connect? Our older congregation is welcomed at the Morrisons' home on Hong Kong Island on Thursday, 26 August, 10:30am - 12:00 noon for a time of home fellowship. To express interest and get the address, contact .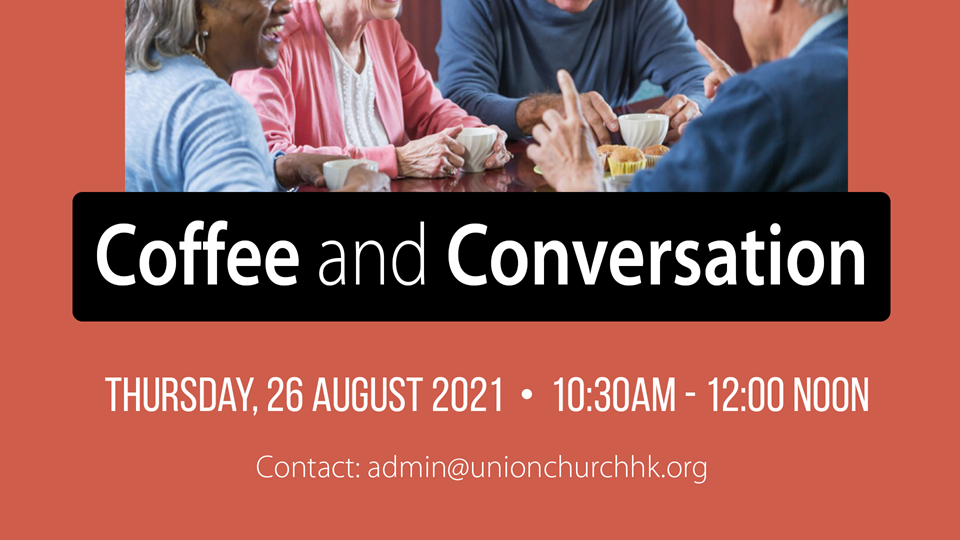 KINGDOM KIDS
'TREASURED' In-Person VBS Sunday School – 15, 22, 29 August, 9:45am and 11:15am. This Sunday is Week 3 of our Treasured VBS and we look forward to discovering with all of our children that they are priceless to God. Register here or at the Children's welcome table. Children are welcome to bring friends along too. VBS Sunday School is free for all.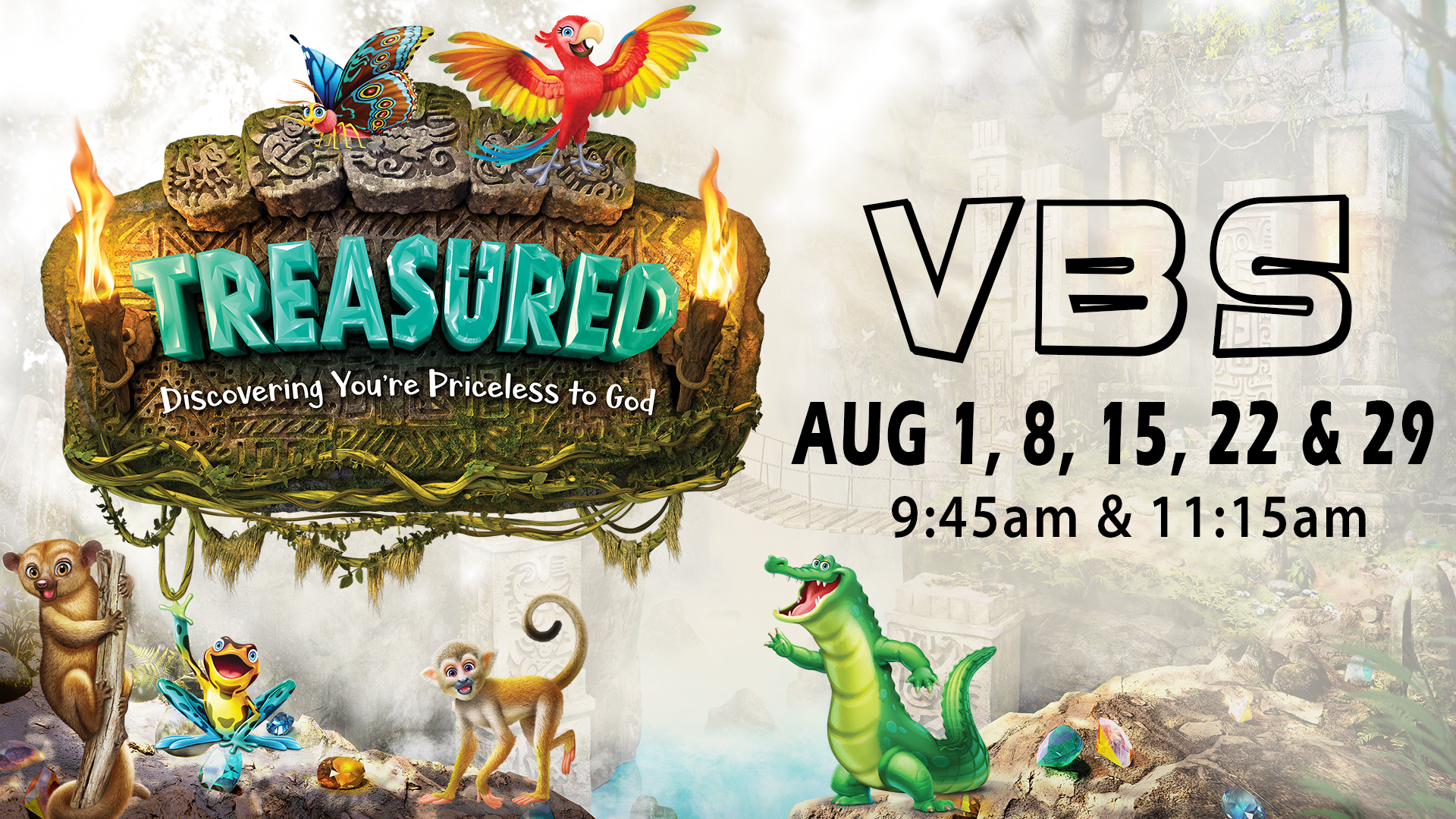 Sunday School Registration 2021-2022: Registration for the academic year 2021/2022 is now open. Children ages 0-10 years old enrolling in our Creche and Sunday School programme must be registered by completing the form HERE. Registration forms are also available at the Children's welcome table. For more information, please visit Union Church's website or contact us at CHILDREN or 2101 0414.
Creche & Sunday School Arrangements: The Creche Centre will be open with restricted capacity. Children ages 3 years old and above are invited to join Treasured VBS Sunday School at the 9:45am and 11:15am services. Services fill up quickly and your family must be successfully registered. Thank you for understanding.
YOUTH
Friday Youth Juniors - 13 August – Union Youth Juniors are headed out on a Junk Trip! Food will be pot-luck style - please let Hunter know what you're bringing. There will be no Friday Youth following the Junk.
Sunday Youth – 15 August – Youth are invited to Ps. Michele's home at 11:15am for a lesson and a time of fellowship. Juniors (11-13) are working their way through the Be Bold series - asking the questions that really matter! Seniors are studying the Book of Revelation.
Wednesday Youth - 18 August - We're postponing kayaking in Tai Tam until September when it's not quite so hot!
There's lots more planned - Worship Night on Friday, 20 August; Amazing Race on Friday, 27 August; Airsoft Wargaming at ImpactForce HK on 29 August after the 11:15 Sunday service - all leading up to the Fall Kickoff and Lockin on Friday, 3 September. Bring your friends. Talk to Hunter about signing up.
MISSIONS
Thank you for the HOPE for South Asia Special Offering collected last May. Union people generously gave HK$57,791.55. What happened to the people in South Asia who suffered so during COVID, and what was the impact of our giving? Yes, the pandemic took its toll. Tragically, an estimated 500 local church pastors have died in recent months. Still, God has brought good out of the devastation. HOPE's partners have played a key role on the ground, providing material and spiritual support. Over 30 families have turned from idol worship and been baptised. Praise God! In addition, the church's giving has been used for:
7,860 parcels of food aid and personal protective equipment
Scholarships of HK$385 - HK$775 for 100 children who have lost family members
Business training and sewing machines for 100 widows who lost their spouses during the pandemic.
In the meantime, HOPE's partner has begun restarting the grassroots savings and Bible study groups - 200 out of 4,000 groups are meeting again. Understandably, the focus now is to connect and provide emotional support in the wake of the health crisis. Please pray for God's hand of protection and for restoration in South Asia. You can find HOPE's South Asia Ministry Update and Prayer Guide at the welcome table.
Your help is still needed at Inner City Ministries VBS (Vacation Bible School) over the next week! ICM's volunteers (ages 16 and up) can join in the preparation and orientation on Monday, 16 August, 11:00am - 4:30pm for Vacation Bible School sessions on Tuesday, 17 August - Friday, 20 August 1:30pm - 4:30pm. Your contribution would be so appreciated! ICM has also asked us to pray that the Holy Spirit does the work within the lives of VBS kids and their parents. We pray for joy, safety and God's great love for everyone involved. To volunteer or learn more, contact our Missions ministry team partner for ICM, Jeff Cheung, or reach out directly to Emmanuel at ICM.
Desert Rose Mongolia: Please pray for Desert Rose, a Mongolian NGO with an emergency shelter for young women. They are one of our international ministry partners. Specifically please pray for the health of the girls, their teachers and families. They are getting better after a bout of COVID-19 at the shelter. Many were infected and the girls were hospitalised for 7 days. At this time, the girls' health has improved and they are living normal lives while replenishing their health with food, vitamins and fresh air. After recovering fully, they enjoyed a summer camp at Gorkhi-Terelj National Park! Thank you for covering these precious girls in prayer.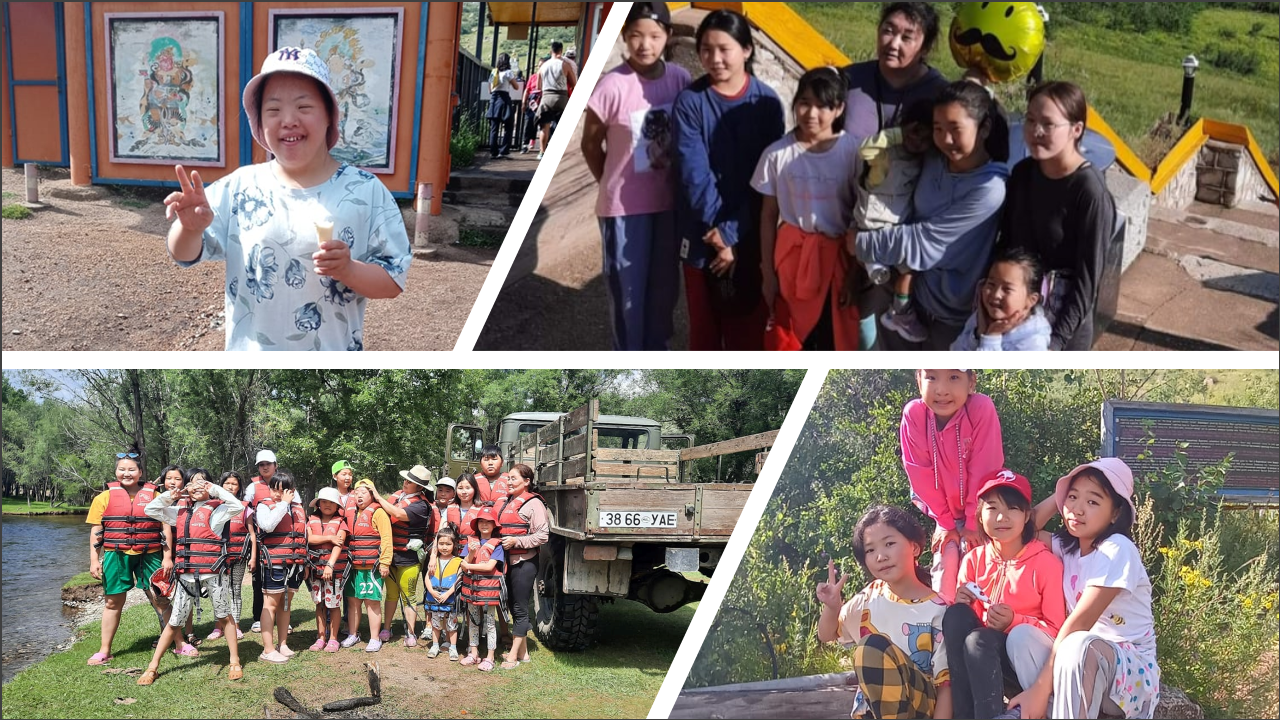 Prayers for Light of the World Church and Preschool, Yangon, Myanmar: Please "pray without ceasing" (1 Thessalonians 5:17) for this church in Myanmar. One of their main concerns is daily provision as jobs and livelihoods have evaporated in the pandemic. Please also pray for their protection against the virus and violence by the military, and for supernatural hope and joy amidst the extreme hardship.
International China Concern (ICC) - In the 29 July issue of Acts@22A we shared that Union Church sponsors 10 children through ICC and we asked for prayers for Fumai and Longyun. Can you also pray for our other children who live at the Hengyang Centre - Junyu (7 year old boy), Hengcen (16 year old young man), Junqiu (7 year old boy), Hengbin (15 year old young man), Hengzhi (15 year old young woman), and Jifu (7 year old boy). ICC sends us updates on the children so that we might have a glimpse of the love, hope and opportunity that every person experiences as part of the ICC family. We give thanks for the work of ICC which creates full lives for China's abandoned and disabled children.
Meeting as a small group at this time is challenging, but the support from each other is more important than ever. If you aren't currently in a group, we encourage you to try it out. There are groups for women, men, couples, day-time, night-time, etc. Contact for more information.
Fertility & Pregnancy Loss
Fertility & Pregnancy/Infant Loss Support Group - Struggling and could use some fellowship, friendship and support? Please contact Tess Lyons.
Pastoral Care and Prayer
Need prayer? Reach out to us confidentially at .
Stephen Ministry
We provide high-quality, confidential care to people who are hurting through our Stephen Ministry programme. Contact Pastor Michele if you would like to know more about the programme or meet with a Stephen Minister.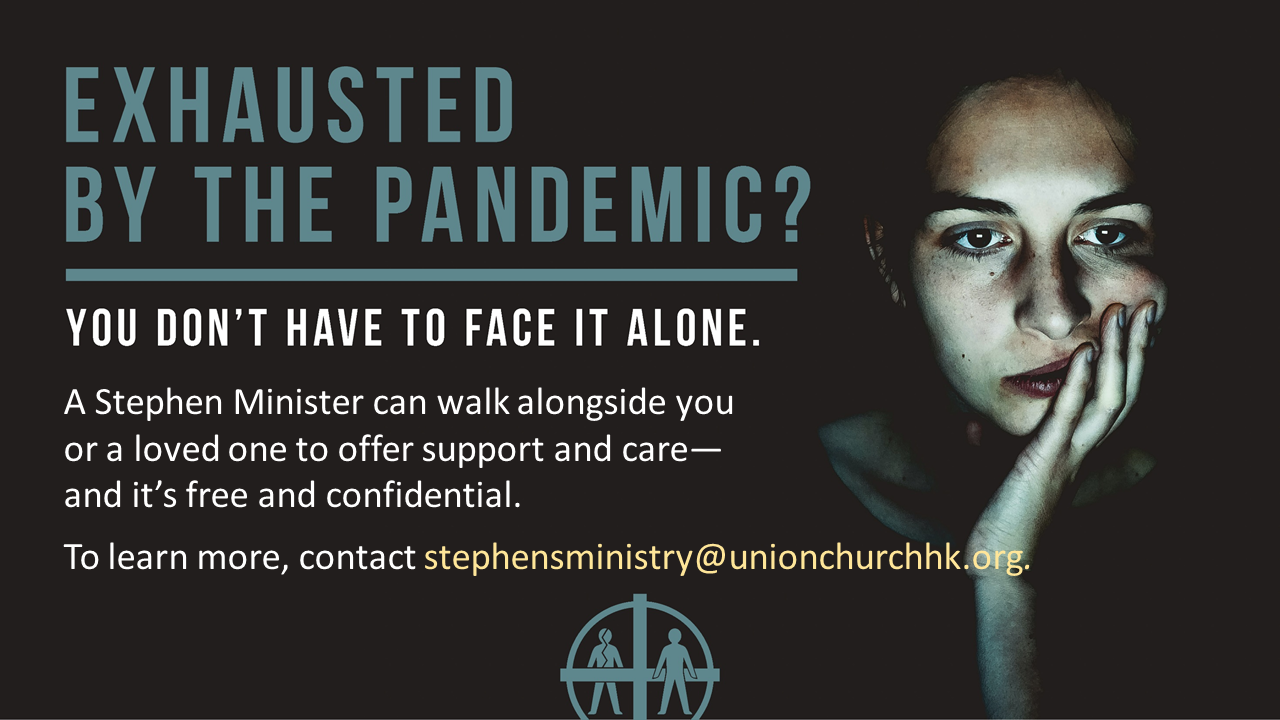 Last week's sermon
"Navigating Transitions - Acceptance" Rev Dr Michele Bland
Social Media
Please follow Union Church Hong Kong on Instagram, LinkedIn, Facebook and YouTube and share with your friends and family. Do you have images, video and stories for UC social media? Please send them to Bronwyn.