U MATTERS
For our staff devotions, our team has been reading "The Magnificent Journey" by James B. Smith. In fact, a small group has also used this for their study. There are gems to be found in this book. This week's chapter was entitled "Living From Above."
What does it mean for us to "live from above?" Dallas Willard said, "To be born "from above," in the New Testament language, means to be interactively joined with a dynamic, unseen system of divine reality in the midst of which all of humanity moves about -whether it knows it or not."
'Living from above' creates an opportunity for us to see things differently -to see things from God's perspective -to be reminded that what we are facing, what we are going through, what we are experiencing in the 'here and now' is temporary. We can so easily be stressed and anxious -we are building a new church, we are raising money, we are assessing the many changes and challenges of COVID and the list goes on. But to 'live from above' means we can live our lives differently. We can live our lives with a different lens, we can live our lives with eternal perspective. 'Living from above' means we can take a step back and know that God sees, He hears, and He is with us in everything.
We read in Colossians, "So if you have been raised with Christ, seek the things that are above, where Christ is, seated at the right hand of God. Set your minds on things that are above, not on things that are on earth." 3:1-2
As we learn to 'live from above,' may we find refreshment and peace.
Blessings -Pastor Michele
WORSHIP SERVICE UPDATES
The Government has just relaxed the restrictions for religious worship, meaning that we can increase our capacity to 50%. At this time, all services this Sunday have availability. If you have registered and subsequently need to cancel or adjust your numbers down, please email as soon as possible so we may offer your space to someone else.
For Sunday services on 11 July, registration will open at 10:00am on Monday HERE. Once you have registered, you will receive an email letting you know if you are IN! or if you need to select an alternative service or watch the livestream.
Union Church offers three in-person services: 8:45am (Family Communion), 9:45am (Traditional Worship) and 11:15am (Contemporary Worship). The latter two services are available via livestream on our church website, Facebook page, church app and YouTube. Be part of our growing online congregation!
Our online worshippers are invited to join the Zoom Coffee Hour hosted by the Deacons. We want to connect with our online friends every Sunday in between services, 10:45am - 11:15am. Contact the church office to get the Zoom link.
FAMILY NEWS
Dear Union Church family,
My heart is full as I think about the beautiful farewell last Sunday. It was truly a blessing to see so many of you in person, and to hear from others in the memory book. Thank you also for the generous love gift! It is such an encouragement as my family and I head off into new adventures. It has been a joy to serve at Union with so many people who love Jesus, and my prayer for all of us is that we continue to grow in the grace and knowledge of our Lord, wherever our paths may go.
With confidence that Christians never really say goodbye, take very good care,
Monte, Matt, Finn and Willa
Memory Book: What cherished memories do you have of Chris Yorks and his ministry at Union? Chris is returning to the USA this summer and we want to acknowledge all that he has done for our church family. Please record your gratitude, photos, and / or signature in his memory book - you'll find it at the Memory Book table at church. Feel free to take a page home for your creative handiwork.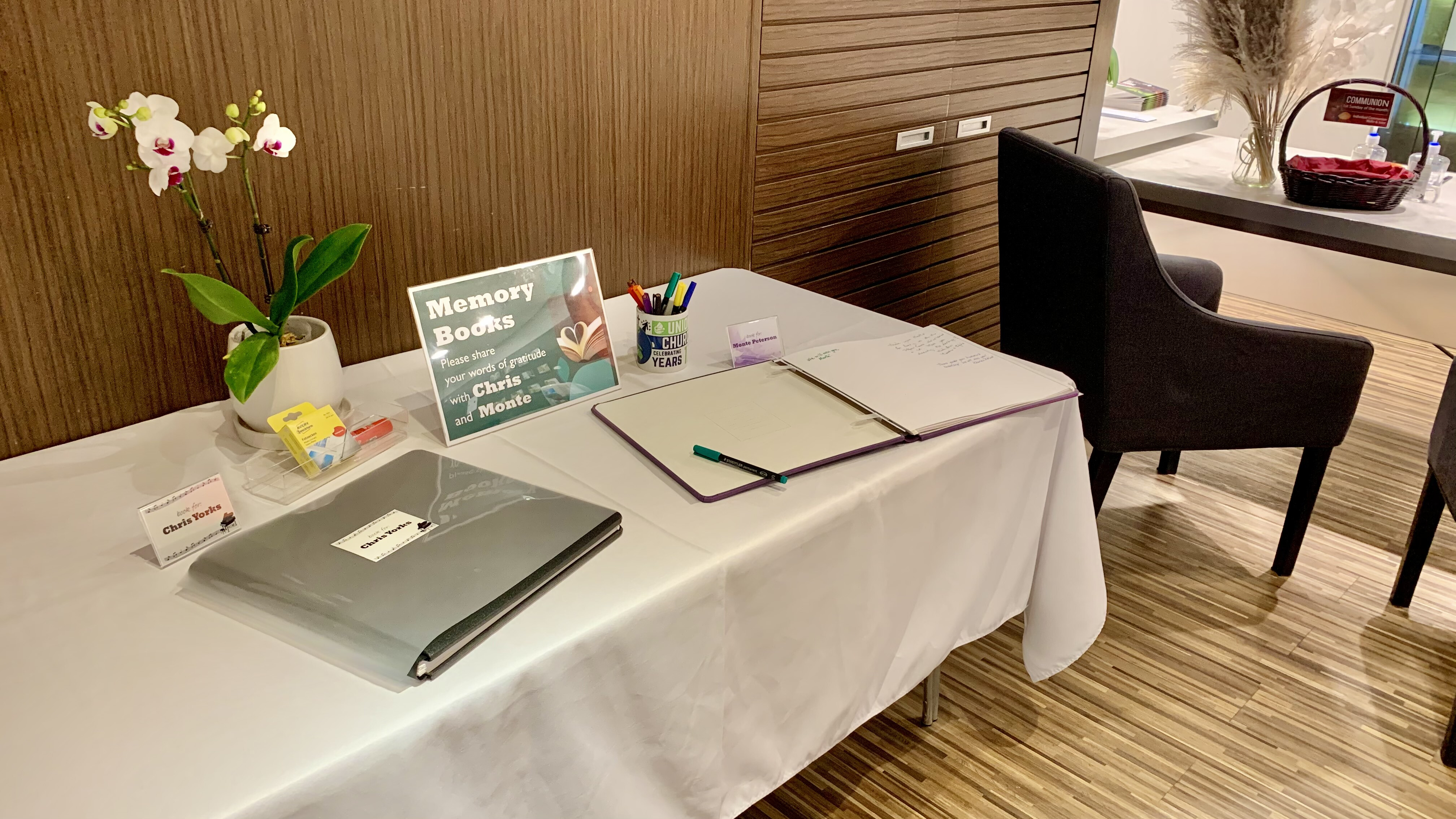 THIS WEEK
Men's Study of John 4-6: Not too late to join! Men are invited to join a study on John 4-6, led by Andrew Lo. In this online study you will take part in 1) a 30-minute daily study including Bible reading, questions & study notes, and 2) Friday group discussions on Zoom from 11 June to 9 July at 1:00pm - 2:00pm. Register here. If you have questions, please contact Andrew at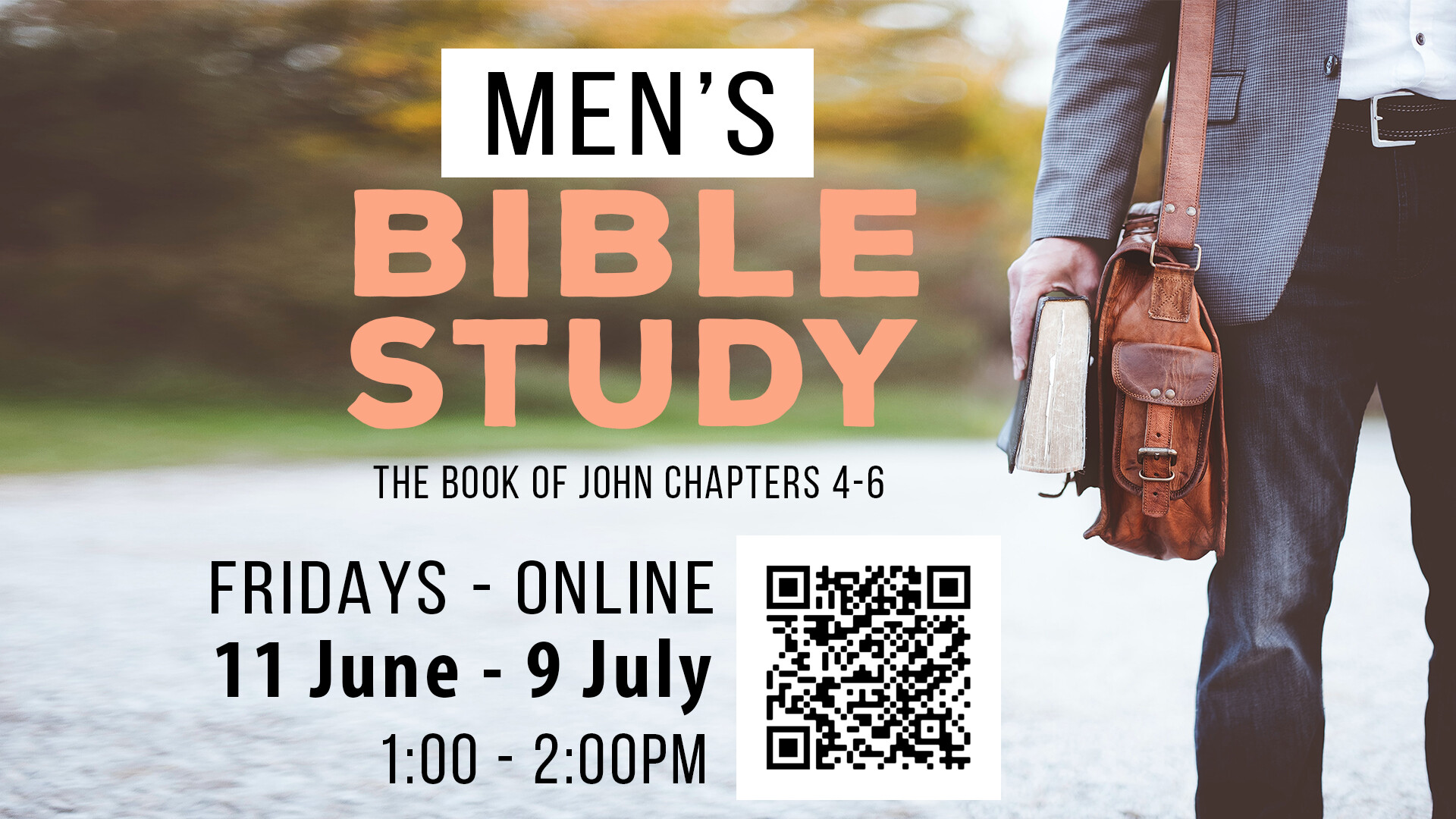 UPCOMING
Experiencing Worship: the art, the teaching, the creative worship - join us for worship sessions every Wednesday evening in July, 7:30pm. These events are open to the entire congregation and your guests, and are free of charge. Let's go deeper together in our experience of God. Please register to secure your spot.
- 7 July - Worship Art Jam with Crystal Lo - Register by 4th July
- 14 July & 21 July - Worship Teaching by King Chau
- 28 July - Creative Worship with Juliana Rotmeyer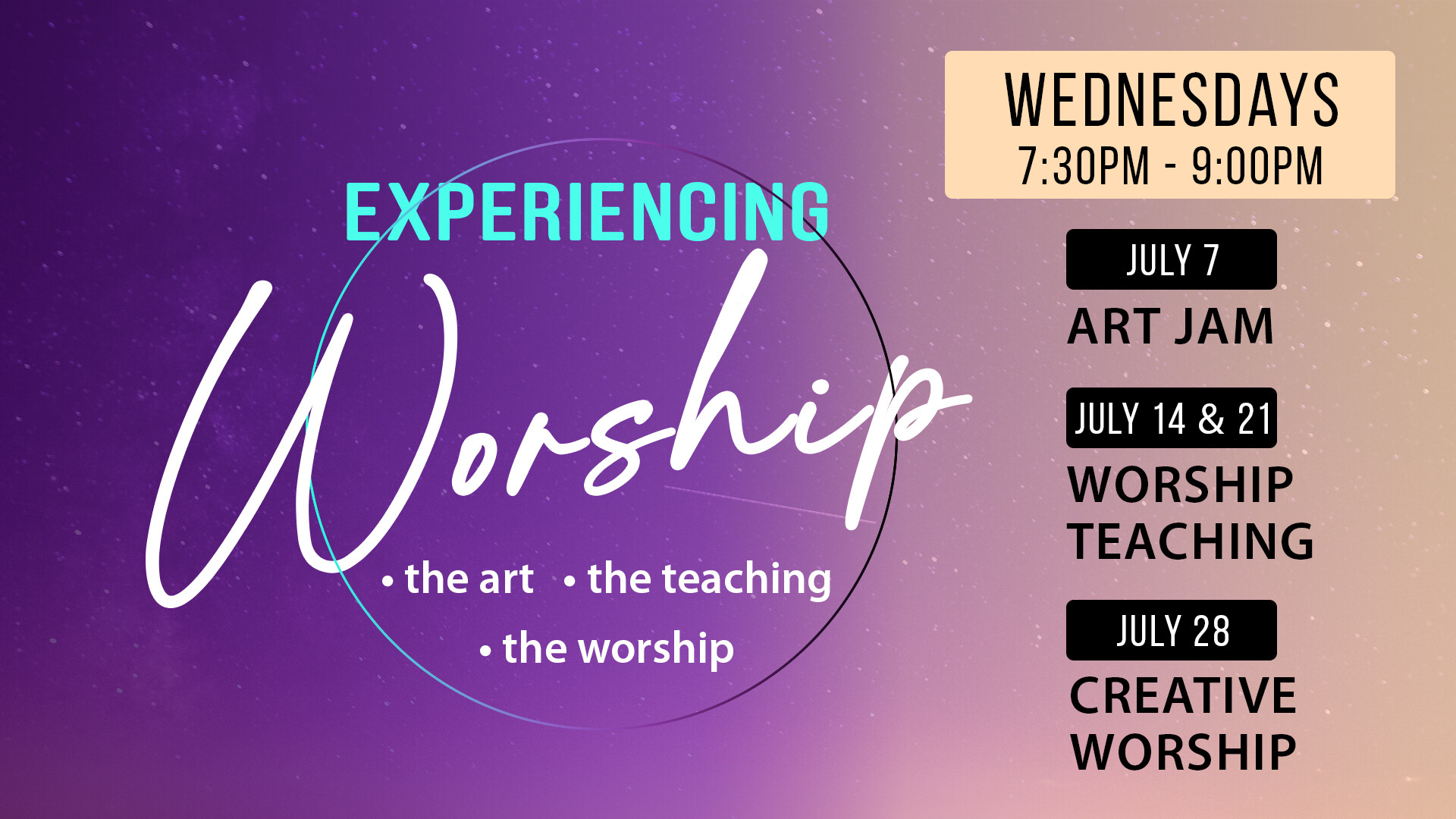 KINGDOM KIDS
Online Sunday School and Kingdom Kids Sunday Edition will be on Summer Break - Our Zoom Sunday School class and Kingdom Kids Sunday Edition will be on break for the summer and children are encouraged to attend Sunday Worship service in-person with their families.
Creche & Sunday School Arrangements
until further notice: The Creche Centre will be open with restricted capacity. For children ages 3 years old and above, Sunday School Lite will take place at the 9.45 am and 11.15 am service in Room 2&3. Services fill up quickly and your family must be successfully
registered
. Thank you for understanding.
Sunday School Registration 2021-2022: Registration for academic year 2021-2022 is NOW OPEN. Children ages 0-10 years old enrolling in our Creche and Sunday School program must be registered by filling the form HERE. Registering your child help us plan and execute our program better and most importantly help us keep all of our children safe. Thank you.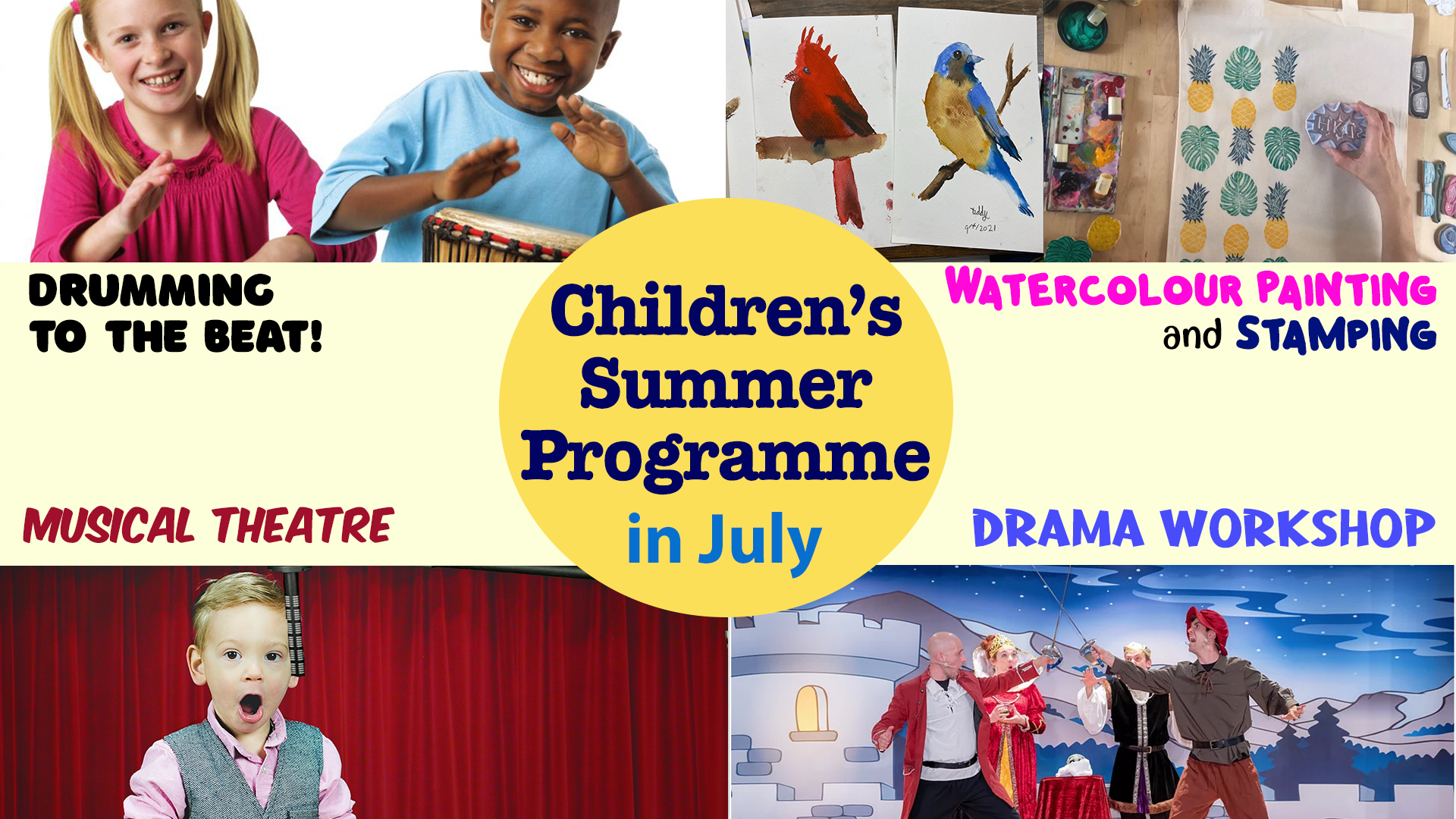 Children's Summer Programme:
There are few spaces left, so hurry and register your child and their friends for these fun children's summer program here at Union. Maximum 12 students per class.
Register here
. Costs below are per child.
Programme 1:
Drumming to the BEAT!
Learn Djembe with Malama Piliae, 6-8 July, 10:00am - 11:30am, 5 - 12 years, $150 (2 spots left)
Programme 2:
Children's Musical Theatre
with Forrest Morr, 13-15 July, 10:00am - 11:30am, 5 - 12 years, $150
Programme 3:
Watercolour Painting and Stamping
by bymamalaterre, 20-22 July, 10:00am - 11:30am, 5 - 12 years, $600 (1 spot left)
Programme 4:
Drama Workshop
by Dove Tales, 27-29 July, 10:00am - 11:30am, 7 years and older, $500
YOUTH
Friday Youth - 2 July – This Friday we're taking a break from Youth Alpha and having a night of board games and fellowship! All Youth are invited to join us for dinner at Fini's Wan Chai at 6PM, and afterward we will head up to Union Church for a slew of board games and different activities. Youth will then be dismissed at 9PM.
Sunday Youth – 4 July – This Sunday Youth are invited for an early lunch and lesson with Justin at Pizza Express in Lee Tung. Youth will meet at Pizza Express at 11:15, and our ministry will provide pizzas. If youth would like extra food/soft drinks etc we ask that they please bring their own money. Youth will be dismissed from Pizza Express at 12:15
Wednesday Youth – 7 July - This coming Wednesday we will be heading to Tai Po for an afternoon biking trip! Youth can meet Hunter at the Tai Wo MTR at 2PM on Wednesday. We will get everyone sorted with bikes/helmets etc and set off! We will aim to dismiss from the same MTR at 4PM.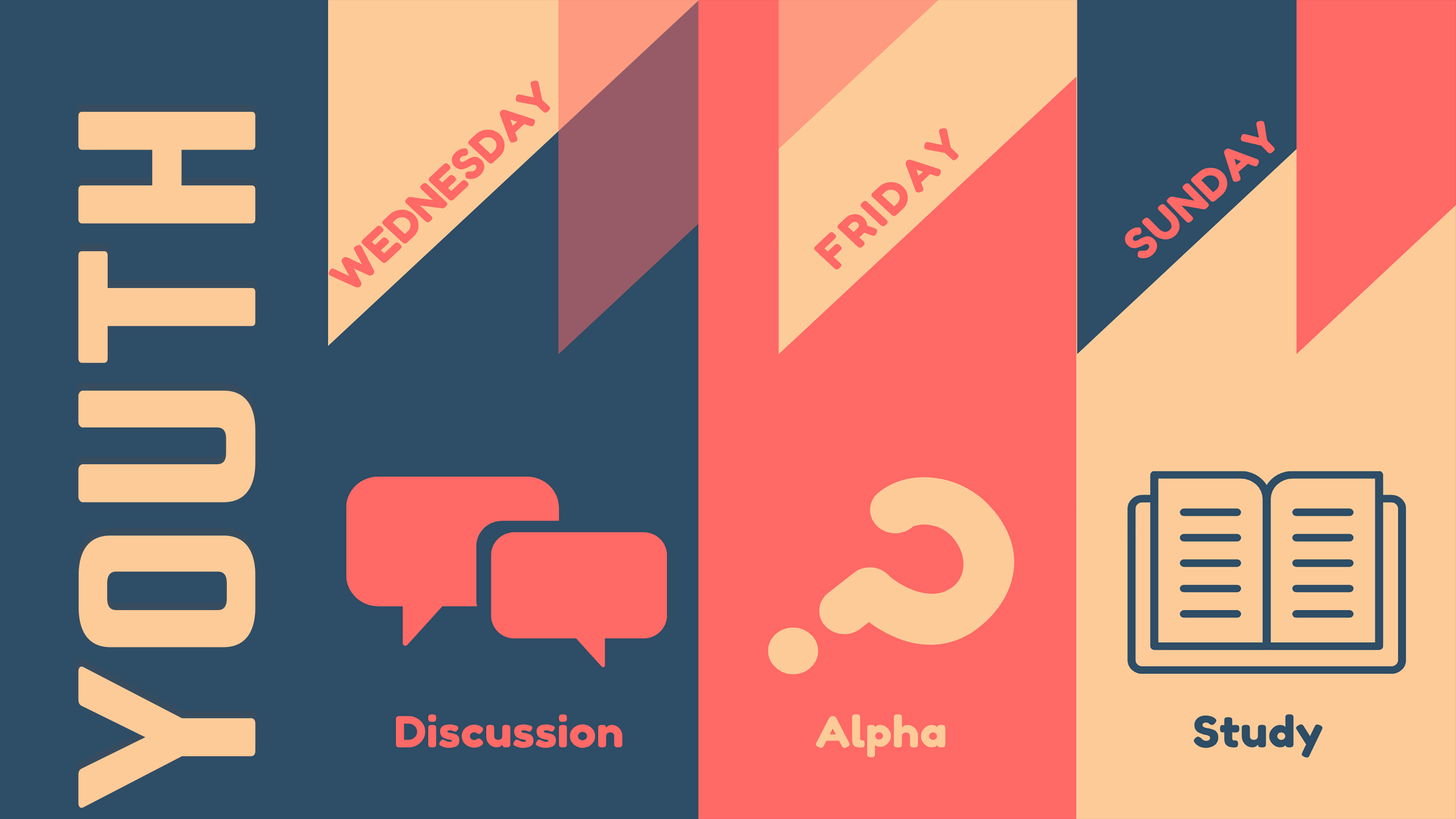 MISSIONS
Alpha: Handbags can make a difference! Do you have quality handbags lying idle in your closet? How about donating them to Alpha Hong Kong to allow more people to develop a relationship with Jesus? Alpha Hong Kong is organising a sale of pre-owned handbags to raise funds so more people can hear the gospel for free. Pray that generous donors will offer gently used handbags by premium brands that are in good condition. You may drop them off at certain locations between 21 June and 9 July, or courier them. Check out Alpha's options.
Prayers for Light of the World Church and Preschool, Myanmar: Please continue to pray for our brothers and sisters in Christ in Myanmar. The civil war and violence are escalating, and they fervently request prayers for safety. They are facing many hardships, including the civil war, COVID-19 pandemic, and worsening economic situation. Let us pray for Pastor Vum and his wife, No Te, as they shepherd the church through these trials. Let us also pray for the church members to stand strong in their faith, and to have His peace. Lord have mercy, and hear our prayers for the people of Myanmar!
Meeting as a small group at this time is challenging, but the support from each other is more important than ever. There are online options - please reach out if you need help figuring this out! If you aren't currently in a group, we encourage you to try it out. There are groups for women, men, couples, day-time, night-time, etc. Interested? Contact ADMIN
Families in Need (FIN)
Our FIN ministry helps people with their basic monthly needs. If you can help, we are grateful for your generosity. Please mark your envelope "FIN".
Pastoral Care and Prayer
Need prayer? Reach out to us confidentially at .
Stephen Ministry
We provide high-quality, confidential care to people who are hurting through our Stephen Ministry programme. Contact Pastor Michele if you would like to know more about the programme or meet with a Stephen Minister.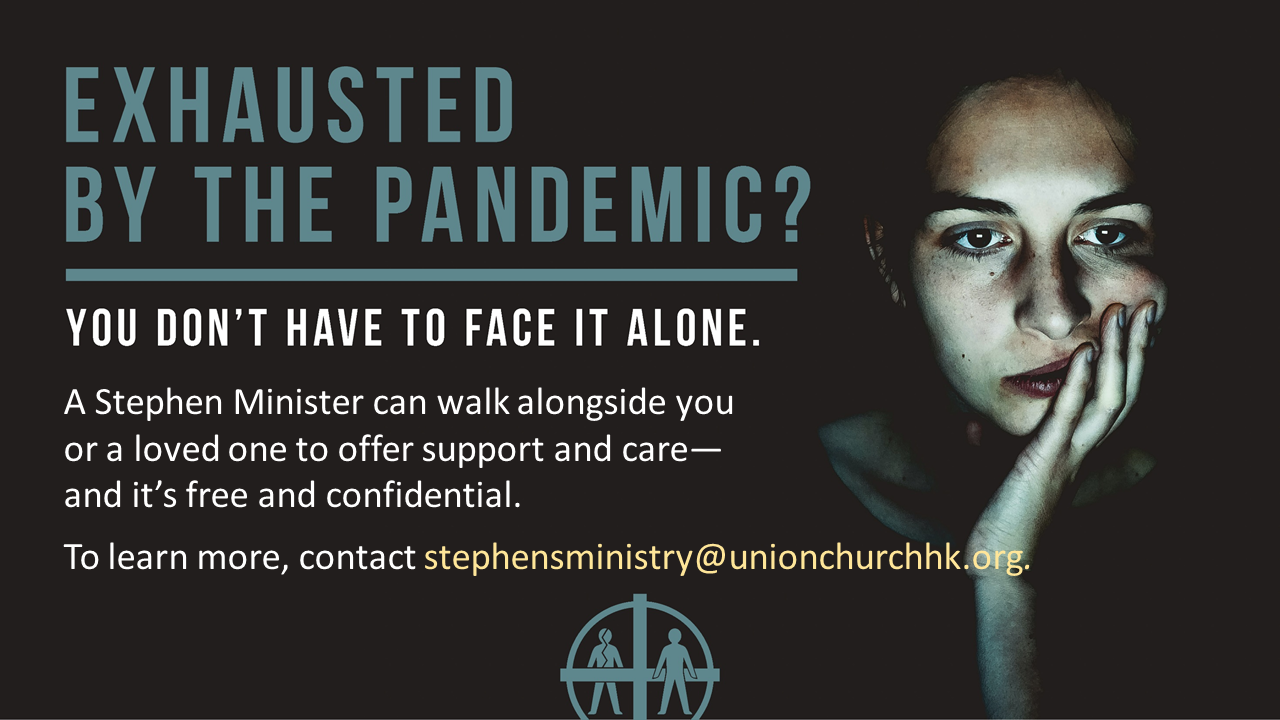 Last week's sermon
"Acts 2 Church - A Community" Dan Tupps
Social Media
Please follow Union Church Hong Kong on Instagram, LinkedIn, Facebook and YouTube and share with your friends and family. Do you have images, video and stories for UC social media? Please share with .