U MATTERS
Today is Maundy Thursday - the night we commemorate that Jesus was betrayed. As we move into the heaviness of Good Friday let's pause and remember the cross. Let's remember the sacrifice, the obedience, the pain and the suffering of Jesus. Let's remember the love of God –"For God so loved the world that He gave His only Son, so that everyone who believes in him may not perish but may have eternal life." John 3:16
Scholars remind us of the ironies of the cross -
The man who is mocked as King - is king
The man who is utterly powerless - is powerful
The man who can't save himself - saves others
The man who cries out in despair - trusts God
As we prepare to celebrate this Easter weekend may we do so with the hope and knowledge of the risen Lord. I am reminded of Tony Campolo's famous Easter sermon "It's Friday but Sunday's Coming."
Blessings, Pastor Michele
WORSHIP SERVICE UPDATES
With the change in regulations regarding church gatherings, we are easing back into in-person worship! We are allowed 30% of floor capacity - no more than 60 people at any one time including worshippers, staff, choir, worship team, and AV team. Please read carefully the plans outlined below.
Easter Sunday services - He is Risen, He is Risen indeed!
- IN-PERSON Sunrise Service, 7am. Please pre-register. You can register now (1 April 6pm) via the website. When you register, please inform us of the names and number of family members who wish to attend the Sunrise Service. The Union team will email you confirmation of your status. Please check the website homepage for updates regarding capacity.
- ONLINE Easter Sunday, 9:45am (Traditional Service) and 11:15am (Contemporary Service). Why not join with friends and family to watch and participate in Easter worship? Our online services are on our website, Facebook page, Union Church app and YouTube.
11 April worship services
On the 11th we will resume in-person worship at the permitted 30% capacity during the 8:45am, 9:45am and 11:15am services. Register on the website starting Monday, 5 April at 10am. We will continue to livestream the 9:45am and 11:15am services.
FAMILY NEWS
Congratulations to Joshua and Anson on the birth of their son Luke on 27 March 2021. We rejoice that God has blessed you with this precious gift.
Last week, our 9:45am Palm Sunday service was broadcast on RTHK. On Easter Sunday, Union Church will unite with other English-speaking churches in the city for a combined radio broadcast service on RTHK. Our choir will be featured in the service. What a striking culmination to the ONE2021 Campaign. We pray that Jesus' name is lifted high in Hong Kong, and worldwide.
Today, our Committee of Management (COM) joined with the BUFF team for outreach to the construction workers at 22A Kennedy Road. We thank God for these hard workers who are building our new church structure. Please continue to pray for them.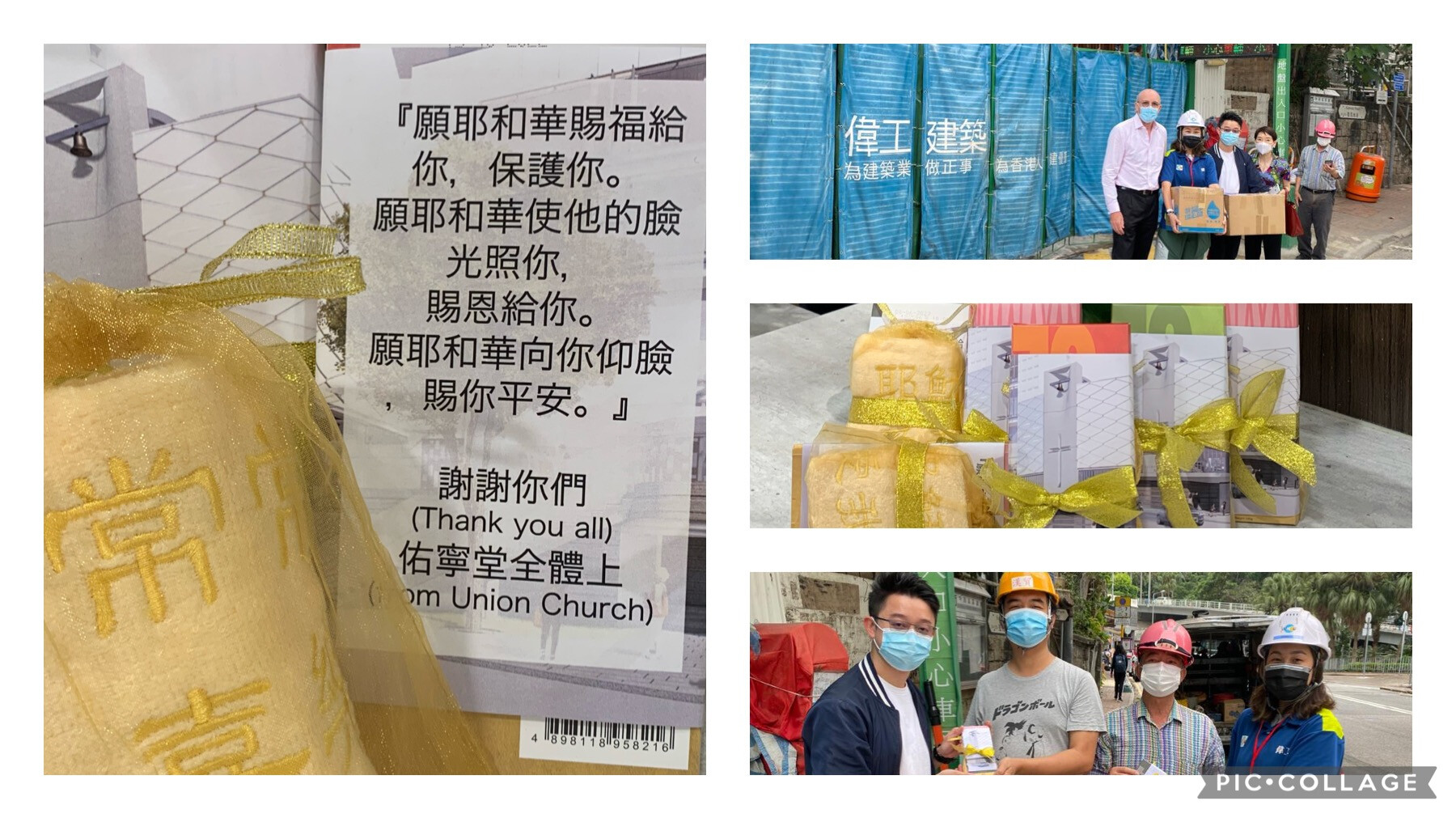 THIS WEEK - HOLY WEEK
Easter Sunday - Please see details above.
Good Friday Service, 2 April, 3:00pm, online.
Saturday, 3 April, 7:00pm, Watch Party. Join us as we watch the film version of the Gospel of Mark together, online. Register here to receive the Zoom link.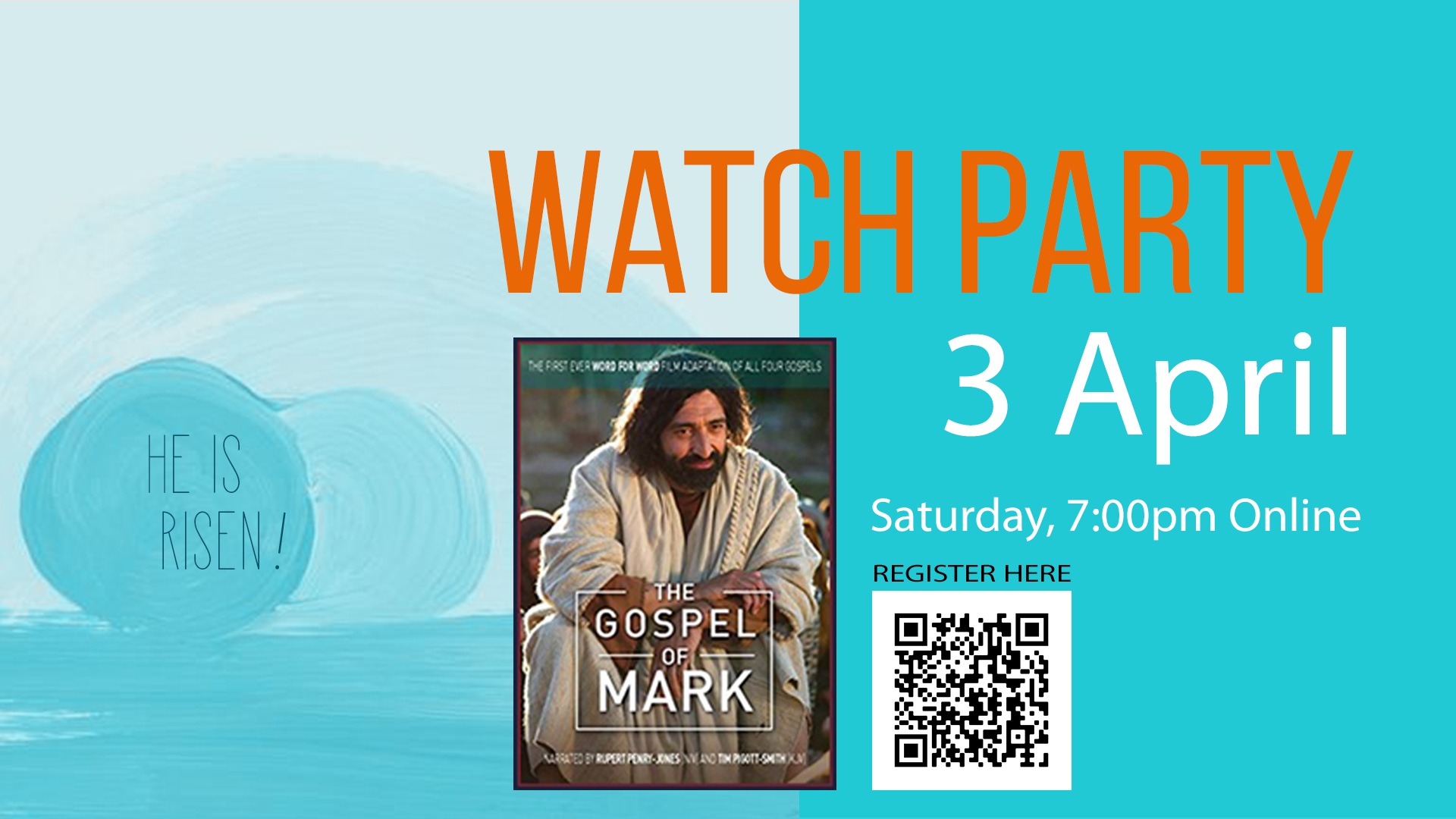 Union ReUnion! Everyone should join this fabulous evening - in your own home or a hosted home. Testimonies, silent auction, games, moment of giving and more. 17 April is the new date of our online / in-person family gathering and Grace of Giving fundraiser. If you are available to host a group of friends, please contact Bronwyn or David.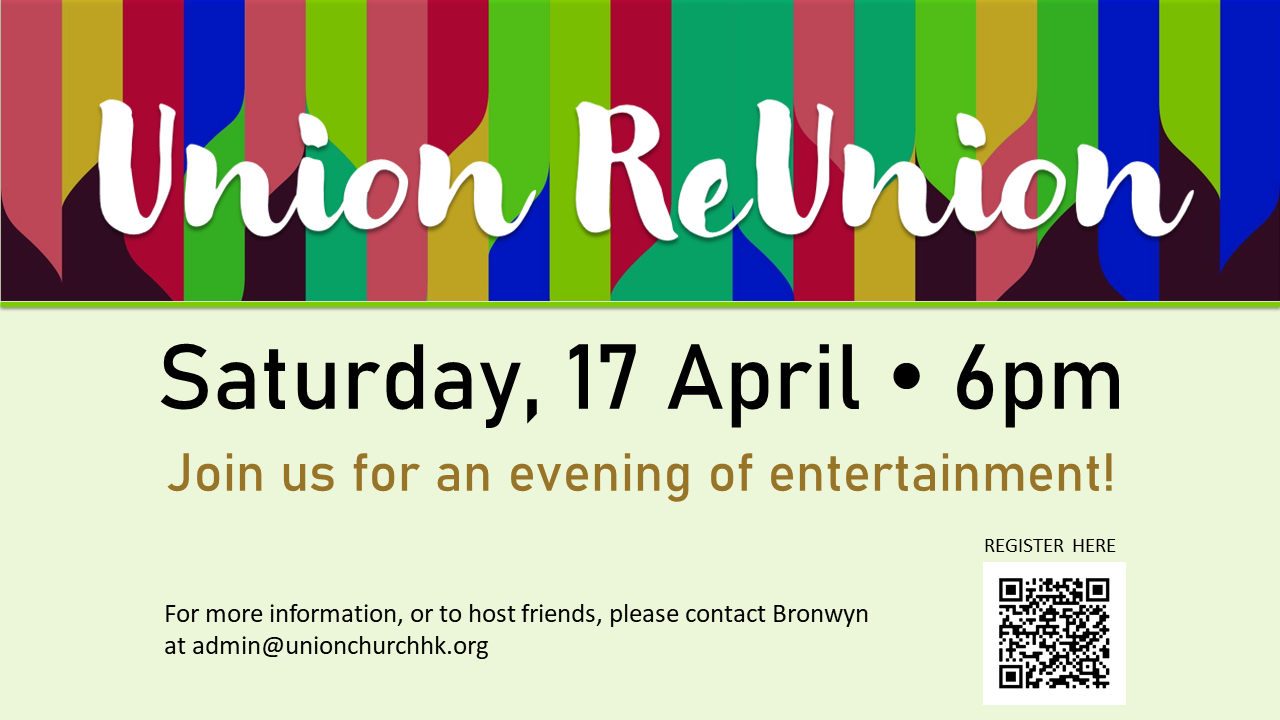 Annual General Meeting (AGM): As soon as we can start meeting in person, we will announce a date for our AGM. Thank you for your patience.
UPCOMING
Communion: We will share Holy Communion together on 11 April during the in-person Sunday worship services. If you are viewing the services from home, please have the elements ready - bread and wine or juice.
Film and Theology: On Tuesday, 13 April, 8:00pm, Chris McKenzie will lead us in discussing our next film, Risen. Risen tells the story of a Roman soldier's search for Jesus' body after the Resurrection. Watch the film on your own, and then join us for the conversation! Register with monte.peterson@unionchurchhk.org.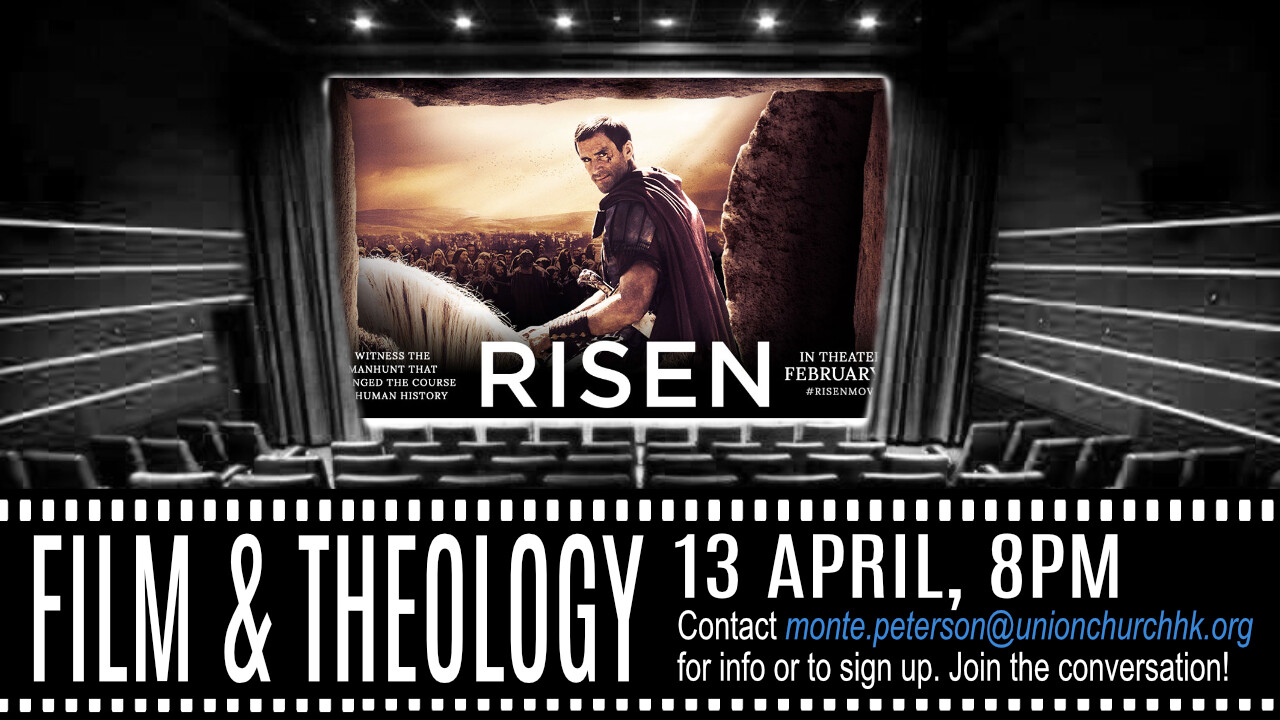 Parenting Through the COVID-19 Pandemic: Supporting our Children and Teens: On 14 April, we will welcome Anisha Abraham, MD, MPH who is a board certified paediatrician and adolescent health specialist with 25 years of global experience. Anisha is on faculty at Children's National Hospital in Washington DC, and previously she lived in Hong Kong and worked at Chinese University of Hong Kong. Details of this talk to follow. Registration is open

Union Book Group:
Our next book is
Pachinko
, by Min Jin Lee.
Pachinko
is a story of identity and belonging, a multigenerational tale of a Korean family in Japan. We'll discuss it on
Tuesday, 27 April
at 7:30pm. Join us - all are welcome. Contact
Monte Peterson
with questions. Books are available for pick up at church, $100.
Cherish
is authored by Gary Thomas, one of our Wisdom on Wednesdays speakers last month. We have copies available for purchase at Union for $100. Please contact
Monte
to arrange a pick-up of the book.
NEW CLASSES STARTING 28 APRIL
We are kicking off exciting new courses. What will you choose? Here's a taste of what's to come. Details and registration to follow.
- Alpha:
A new Alpha course for Young Adults will meet in-person in the evenings on Wednesdays. Adults will meet online at lunchtime. This is the chance to ask big questions about life and to explore the Christian faith in a fun, non-pressurised environment. Can you believe we are in our 27th year of running Alpha at Union?! Start thinking and praying about whom YOU can invite.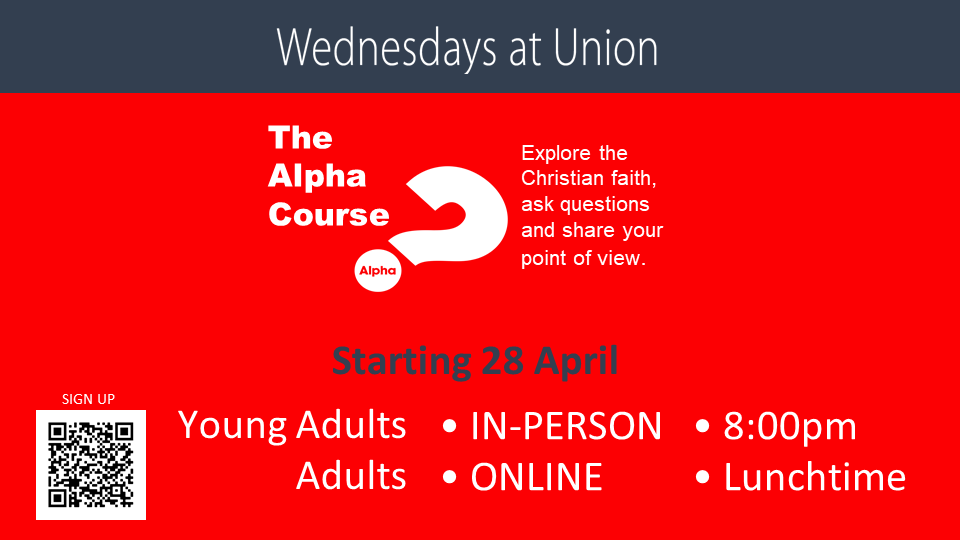 And two options for adult spiritual formation also starting 28 April at 8pm:

- Catriona Woodrow returns! She will teach a 3-session online course about Dr James Legge and Christianity in Hong Kong. Details to follow. Registration opens soon.

- Difference: a 5-session course that explores what it means to follow Jesus in the face of conflict and see transformation through everyday encounters. This in-person course will be taught by Monte Peterson. Registration opens soon.

24-7 Prayer Hong Kong - virtual prayer room: The 24-7 virtual prayer room is a great way to commit to your prayer time on a daily or weekly basis. People in and beyond Union Church are praying for our city, leaders, churches, families and more. It's easy to sign up, and you will get a reminder for your approaching prayer time: https://www.24-7prayer.com/signup/705233. Lord, we lift up Hong Kong.
KINGDOM KIDS
Online Sunday School, Sunday 4 April: Children ages 3 to 10 years old are invited to join us for our Online Sunday School.
- 3-10 year old students: 3-10 year old students: Easter Sunday - The Resurrection (Mark 16:1-8; John 20:11-18), via Zoom, from 10:45am - 11:45am
- Kingdom Kids Sunday edition is available at the end of the 9:45am and 11:15am worship services on the Union Church website or Facebook page.
The link to the Zoom classes will be emailed to families with children registered in our Sunday School programme for the year 2020-2021.
YOUTH
NO Friday Youth – 2 April - Good Friday - Youth are encouraged to join us as we worship during the online Good Friday service at 3:00pm. More details here.
Sunday Youth - 4 April, Easter - Youth are welcome to join us on Zoom at 11:15am where we'll get to spend time reading and discussing scripture. Both Juniors and Seniors will be reading the resurrection story together and celebrating the Risen Christ! Zoom link here
Wednesday Youth - 7 April - We're returning to our Wednesday sessions of discussing the TV series Chosen, an in-depth and creative look at the life of Jesus and his disciples. Please note that Wednesday Youth will continue online for the time being. Join us on Wednesday, 6:30pm - 8:00pm. Zoom link here
Friday Youth Back in person! - 9 April - Starting next week Union Youth will be meeting in-person for the first time in a long time! All Youth ages 11-18 are invited for a special night of worship, fellowship and fun. Join us from 6:00pm - 8:00pm.
COVID-19 restrictions still apply: Youth are encouraged to eat before or after as we cannot serve food. Youth are required to wear a mask and remain appropriately socially distanced.
MISSIONS
New Missions webpages: Check out the new Missions webpages on the Union Church website. Our partnerships with 12 local Missions partners, 12 international Missions partners, and 5 "Friends of Union Church" represent opportunities for you to pray, engage, volunteer and give.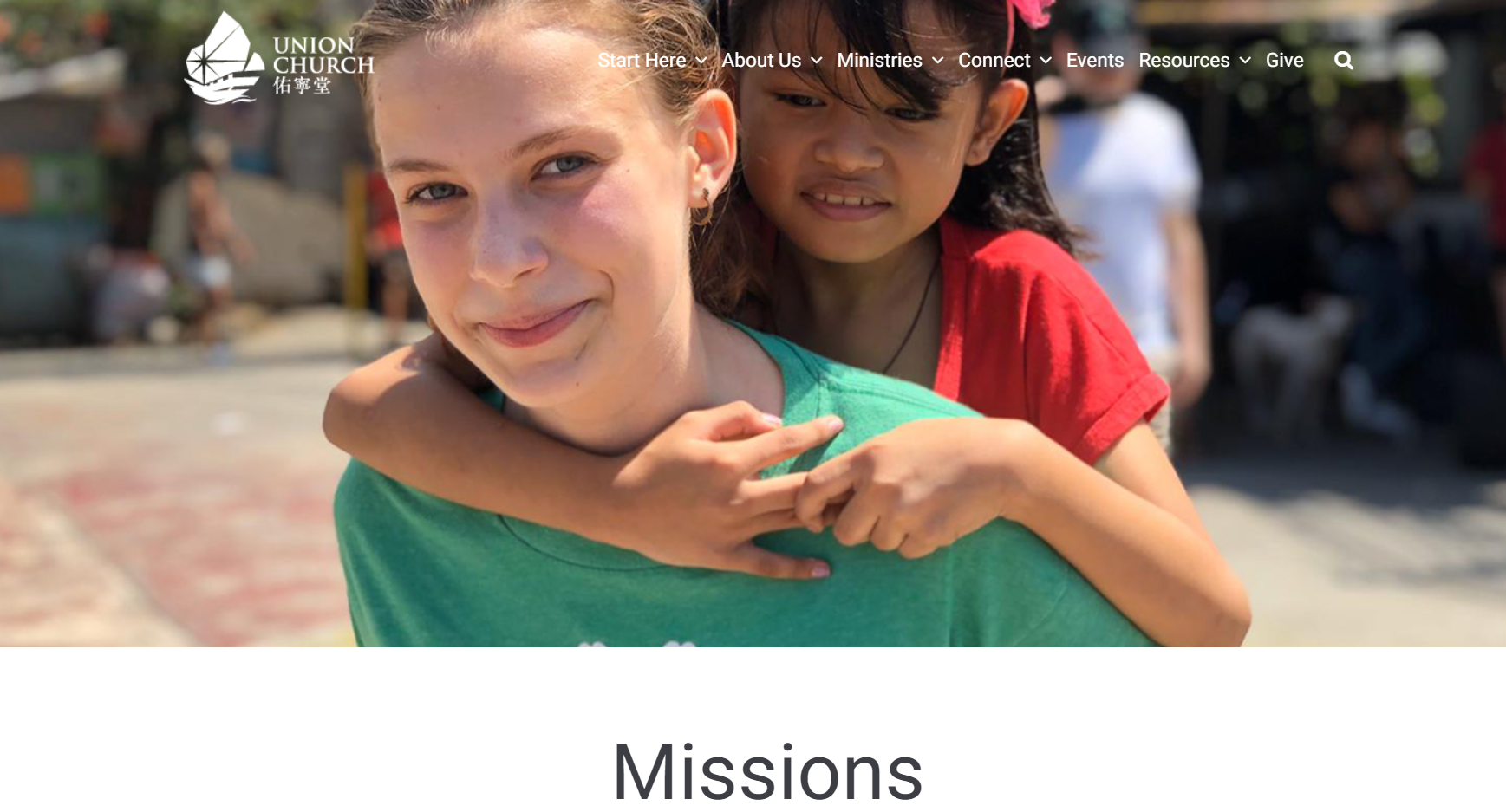 Sons & Daughters (S&D) helps those caught in sexual exploitation to reclaim a life of love, family, and freedom. Supermarket vouchers are needed for single mums who are struggling to make ends meet. Union Church joins S&D in celebrating these women who have been faithfully attending Alpha and skills classes at S&D's drop-in centre. Please consider donating a supermarket voucher (increments of $50 and $100 preferred) and send them directly to S&D or drop them at the church office.
Prayers for Myanmar: We continue to pray for peace in Myanmar, and particularly for Light of the World Church, Pastor Vum, his family, and congregation. The Myanmar Army has destroyed property near their premises and there have been shootings nearby. They stand guard at night and cannot sleep for fear of destruction or being kidnapped. Pray that they can stand firm in their faith, encourage one another, and be delivered from the violence. Pray as well for grieving families, wounded and captured people, and for the safety of all people. And please pray for our friends from Myanmar who are students at Lutheran Theological Seminary. May the Lord give them His peace as they pray for their loved ones back home.
Tonight! ICM is inviting you to their Easter event Hope is Alive on 1 April, 8:00pm where ICM and partners will celebrate the impact of the Gospel on the ultra-poor. It's not too late to register and hear from guest speaker Pastor Dale Sutherland, President of ICM USA. Register at . Zoom link is http://bit.ly/HopeisAlive.
Small Groups
Meeting as a small group at this time is challenging, but the support from each other is more important than ever. There are online options - please reach out if you need help figuring this out! If you aren't currently in a group, we encourage you to try it out. There are groups for women, men, couples, day-time, night-time, etc. Interested? Contact Monte Peterson.
FIN (Families in Need)
Our FIN ministry helps people with their basic monthly needs. If you can help, we are grateful for your generosity. Please mark your envelop "FIN".
Pastoral Care and Prayer
Need prayer? Reach out to us confidentially at .
Stephen Ministry
We provide high-quality, confidential care to people who are hurting through our Stephen Ministry programme. Contact Pastor Michele if you would like to know more about the programme or meet with a Stephen Minister.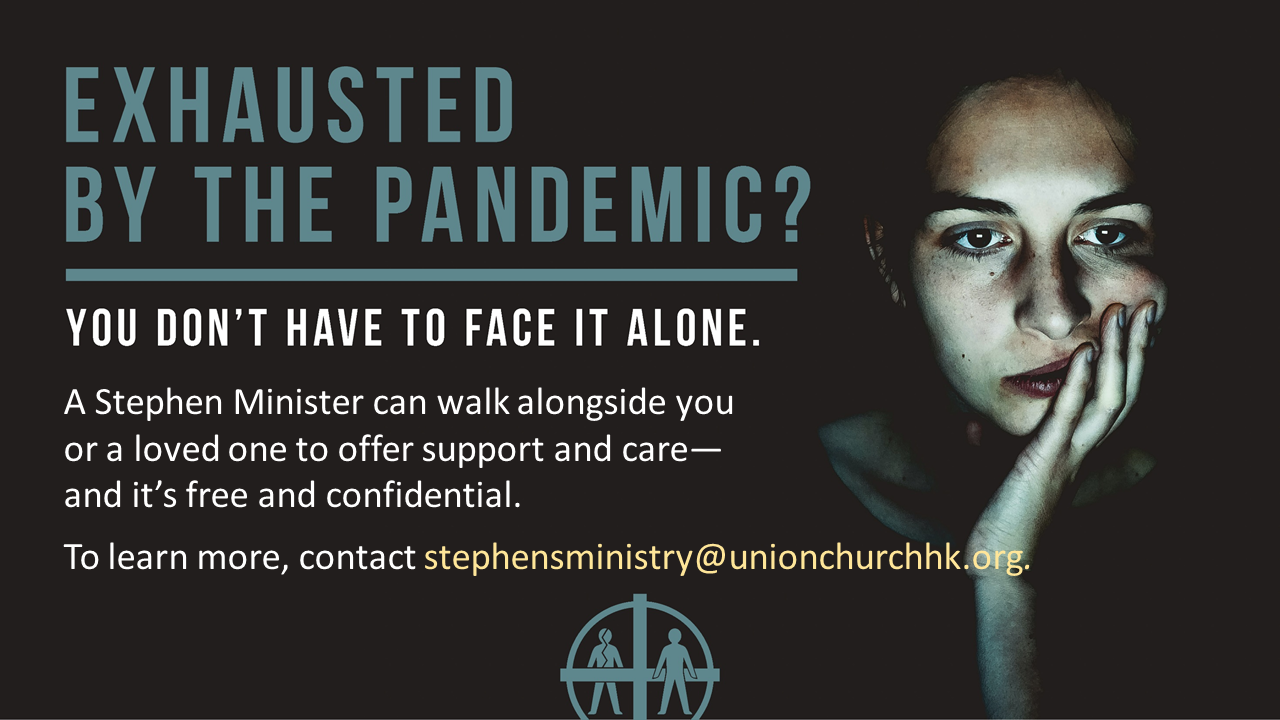 Last week's sermon
"The End of the Parade" Monte Peterson
Social Media
Please follow Union Church Hong Kong on Instagram, LinkedIn, Facebook and YouTube and share with your friends and family. Do you have images, video and stories for UC social media? Please share with Bronwyn.