ReCharge Fall Classes
October 21, 2020 8:00pm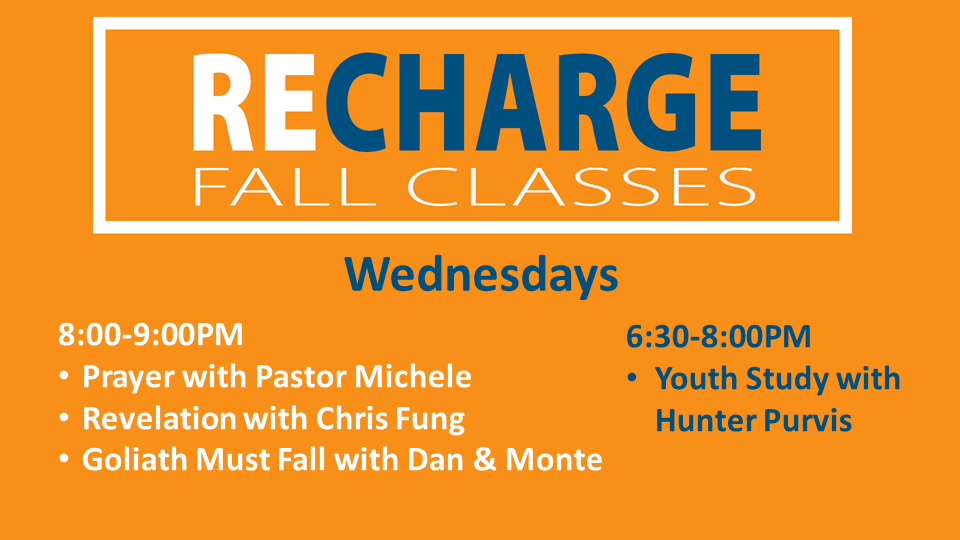 New ReCharge Lineup
for the Autumn! Several New Studies (all online for now). Every Wednesday.
6:30-8:00PM:
"Sticky Faith" Youth Study

with Hunter Purvis. During the month of September we are jumping into a series called "Sticky Faith" - we'll be working through the Bible, learning important ways to manage stress and anxiety and more.
8:00-9:00PM:
Prayer

with Pastor Michele
Revelation with Chris Fung--Chris has written a book on Revelation, and loves to teach about it! He is convinced that the "most difficult book in the Bible" can be understood through common sense reading! Background knowledge of Revelation IS NOT NECESSARY, but reading the passage before each session will help participants get the most out of it.
Goliath

Must Fall with Dan Tupps and Monte Peterson. This is a video and discussion-based study on the various "Goliaths" in our lives (like fear, comfort, anger) and how focusing on Jesus can help us to overcome.
Register online to get the zoom links for any of these classes. Please join us!