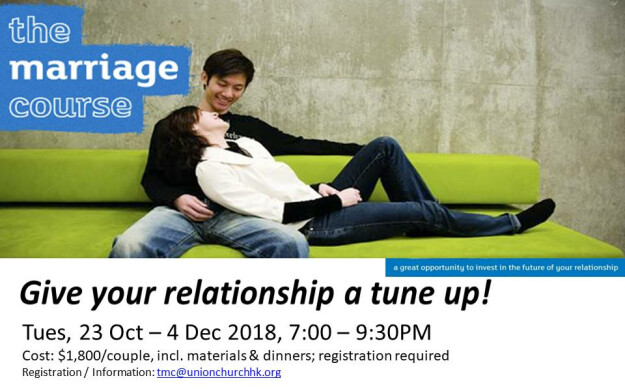 The Marriage Course (Oct 2018)
Every Tuesday, from 23 October to 4 December, 7:00 PM - 9:30 PM
"The Marriage Course" will run on Tuesdays, 23 October – 4 December 2018 (7 weeks). Whether you are newly married or been married for years, this course offers a lifetime of practical ideas and tools to help keep your relationship strong. The course is based on Christian principles but is designed for ALL couples with or without a church background.

The presentation will cover the following topics:


Building Strong Foundations
The Art of Communication
Resolving Conflict
The Power of Forgiveness
The Impact of Family – Past & Present
Good Sex
Love in Action
Course fee: HK$1,800 per couple; cheque payable to "Union Church" or online transfer; fee includes dinners & course material; bursary available. Please contact Joanna Yau at for more information.

Please complete below to join the Marriage Course.