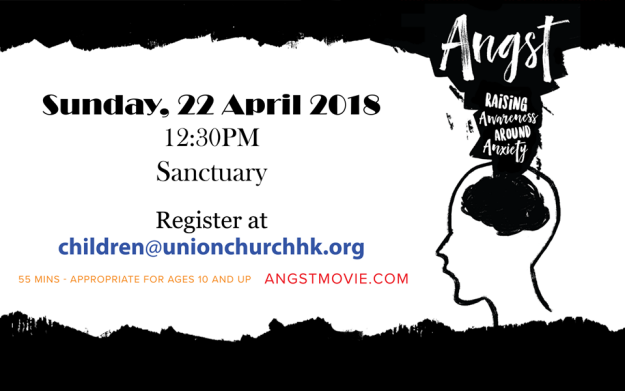 "ANGST: Raising Awareness Around Anxiety"
Sunday, 22 April, 2018 12:30pm - 2:15pm
Union Church presents ANGST: Raising Awareness Around Anxiety, a documentary film about anxiety, truth and hope. ANGST reveals the causes of anxiety and its sociological effects, along with the help, resources and tools available to address the condition. The film also includes a special interview with Michael Phelps, a mental health advocate and one of the greatest athletes of all-time.
ANGST is appropriate for students 5th Grade and higher, educators, parents, professionals, and adult who wishes to learn more about mental health issue.
There is a suggested donation of HK$50 per adult and a light lunch will be provided. Sign Up Now at the WELCOME TABLE or email us at with the number of people joining. We welcome walk ins.