24 January 2018 - Guest Speaker
Wednesday, 24 January, 2018 7:15pm - 8:00pm
7:15PM service GUEST SPEAKER:
Rev. Dr. Watermulder
Sermon Title:

How to Grow Up


Passage:

Luke 2:41-52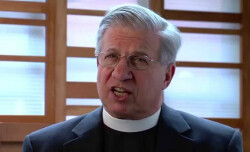 Bio: Rev. Dr. Watermulder is a fourth generation Reformed preacher (German Reformed, Dutch Reformed, Presbyterian). His grandfather led missions to Native Americans for almost 50 years. But before becoming a pastor, he was a merchant seaman on oil tankers (1965-1971), juvenile probation officer (1971) and police officer, City of Berkeley, California (1972-1974).
Paul was the Senior Pastor of First Presbyterian Church of Burlingame, CA (1984-2015) and the Temporary Pastor, Woodstown Presbyterian Church, NJ (January – June, 2017)
Paul is married to Genie and has four children: Rebecca Bales, David, Sarah and Timothy and six grandchildren: Abby, Isaiah, Mateo (deceased), Theodore, Rey and Charlotte.
Ministry Mottos:
It's not about you
Life is a marathon, not a sprint
It's always better to love than to be right.