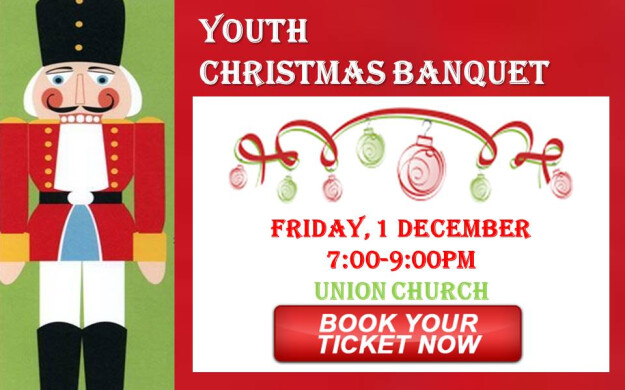 Youth Christmas Banquet
Friday, 1 December, 2017 7:00pm - 9:00pm
The Youth Christmas Banquet is the traditional winter youth event!
The Youth Christmas Banquet exists firstly because it is a great opportunity for the families of our youth to know each other better and enjoy fellowship with one another for one festive night. And it is also a great way to raise funds for our Youth Mission Fund, which then gives back to our international and local partners, fund scholarships etc.
Tickets are usually sold out quickly, so we encourage all parents to buy tickets asap.
You can book your ticket by sending an email to or by stopping by the Youth Table that will be in the fellowship hall at Union Church on 3 Sundays:
Sunday, 29 Oct
Sunday, 5 Nov
Sunday, 19 Nov
Tickets are sold $250, and cover food and drinks for the night. Feel free to 'overbless' and give a more generous donation!
Details:
- Friday, 1 Dec, 7:00 to 9:00PM
- at Union Church, 18/F, Sunlight Tower, 248 Queen's Road East, Wan Chai