U MATTERS
Last Sunday, we commissioned six new Stephen Leaders. This is great news for Union Church! Stephen Leaders are people who will organise, train, recruit and supervise existing Stephen Ministers. These leaders have had an additional 25 hours of training, on top of the 50 hours of training that they received as a Stephen Minister. I am grateful for each one of them, as it will enable us to grow and develop this ministry. Our new Stephen Leaders are: Trudy Staalman, Catriona Woodrow, Monte Peterson, Crystal Lo, Ellen Ahn and Tess Lyons.
At present, we have 17 Stephen Ministers and these Stephen Ministers give one-to-one Christ-centred care to people in need. You might be asking what is a Stephen Minister? One way to put it is that Stephen Ministers are the After People.
Stephen Ministers are there:
. . . after the phone call you hoped you'd never get.
. . .. after the funeral, when everyone has left and the emotions you've held at bay come crashing in on you.
. . . after the relationship falls apart and the bottom falls out of your life.
. . . after the doctor says, "I'm sorry, but there's nothing more we can do."
. . . after the last child honks the horn, waves, and drives away—and the house suddenly seems empty.
. . . after the gavel comes down, the handcuffs go on, and your loved one is led away.
. . . after the baby arrives, demanding more of you than you ever dreamed possible.
. . . after you find a pink slip with your final paycheck.
. . . after your family and friends have heard your story one too many times, but you still need to talk it out.
Stephen Ministers are the After People. They are ready to come alongside you—or your friends, neighbours, co-workers, or relatives—and provide comfort and support for as long after as needed. www.stephenministries.org
If you are wanting to know more—to become a Stephen Minister or to receive a Stephen Minister—I would be more than happy to help.
Blessings, Pastor Michele
Jesus instructed his disciples to "love one another as I have loved you" John 13:34
WORSHIP SERVICE UPDATES
We love seeing people at in-person worship! We wish we could host everyone at 18/F but the capacity is still very limited. Currently we still have spaces available at the 8:45am service this Sunday - Mother's Day! For the following Sunday, remember to jump on the registration on Monday at 10am. https://www.unionchurchhk.org/sunday-worship-service-registration/
In addition to the in-person 8:45am (Family Communion), 9:45am (Traditional Worship) and 11:15am (Contemporary Worship) services, we also livestream 9:45am and 11:15am services on our church website, Facebook page, church app and YouTube. Perhaps you would like to join some friends to watch the online church services at home.
For our online worshippers, please join the Zoom Coffee Hour hosted by the Deacons! We want to connect with our online worshippers every Sunday in between services, 10:45am - 11:15am. Contact the church office to get the Zoom link.
FAMILY NEWS
Annual General Meeting (AGM): We're excited about this year's AGM. Everyone is invited to join the AGM on Saturday, 22 May, 7:00pm at Union Church. People who have been church members for at least six months are able to vote. Nominations for members of the Committee of Management will close on Sunday, 9 May at 8:00pm. Please contact the church office for the nominations form and return completed forms to for the attention of the Honorary Secretary.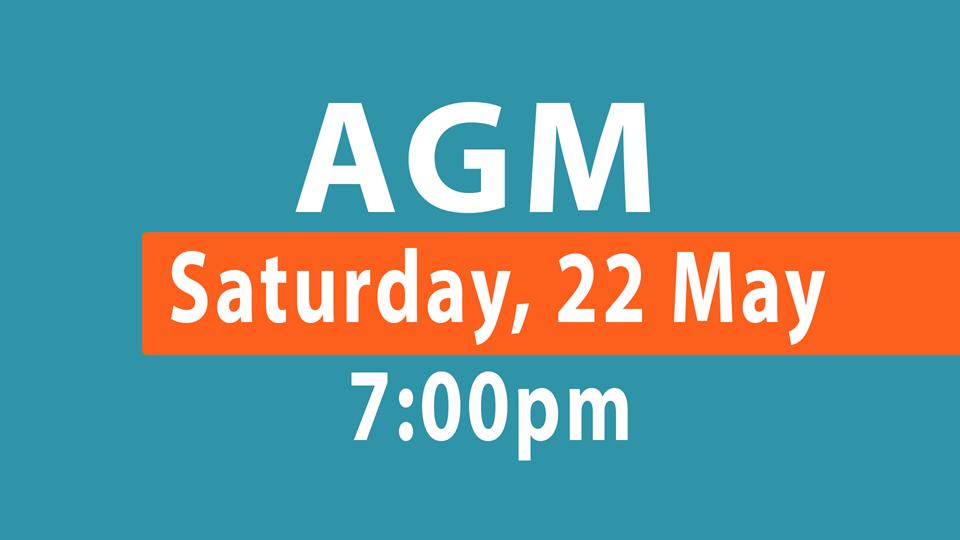 The Grace Race: We have had a fantastic response to our call for walkers, hikers and runners to join us as we virtually travel the 9,888km from Scotland to Hong Kong. We still need more though, so please sign up HERE and join us on this exciting challenge. Everyone who registers will get one of these awesome shirts and will be helping us Build Union For the Future!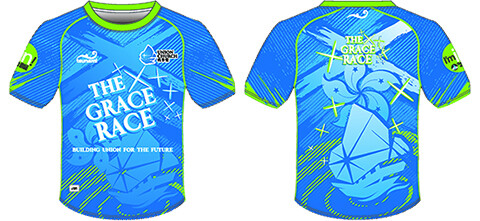 Filipino Fellowship on fire! We praise God for the faithfulness and godliness of our Filipino Fellowship under the leadership of the Rev. Ruth Tablada. This past week has seen a baptism and bible studies at Chung Hom Kok Beach, vibrant worship at 18/F, and fundraising for The Grace Race by over 28 Filipino congregants!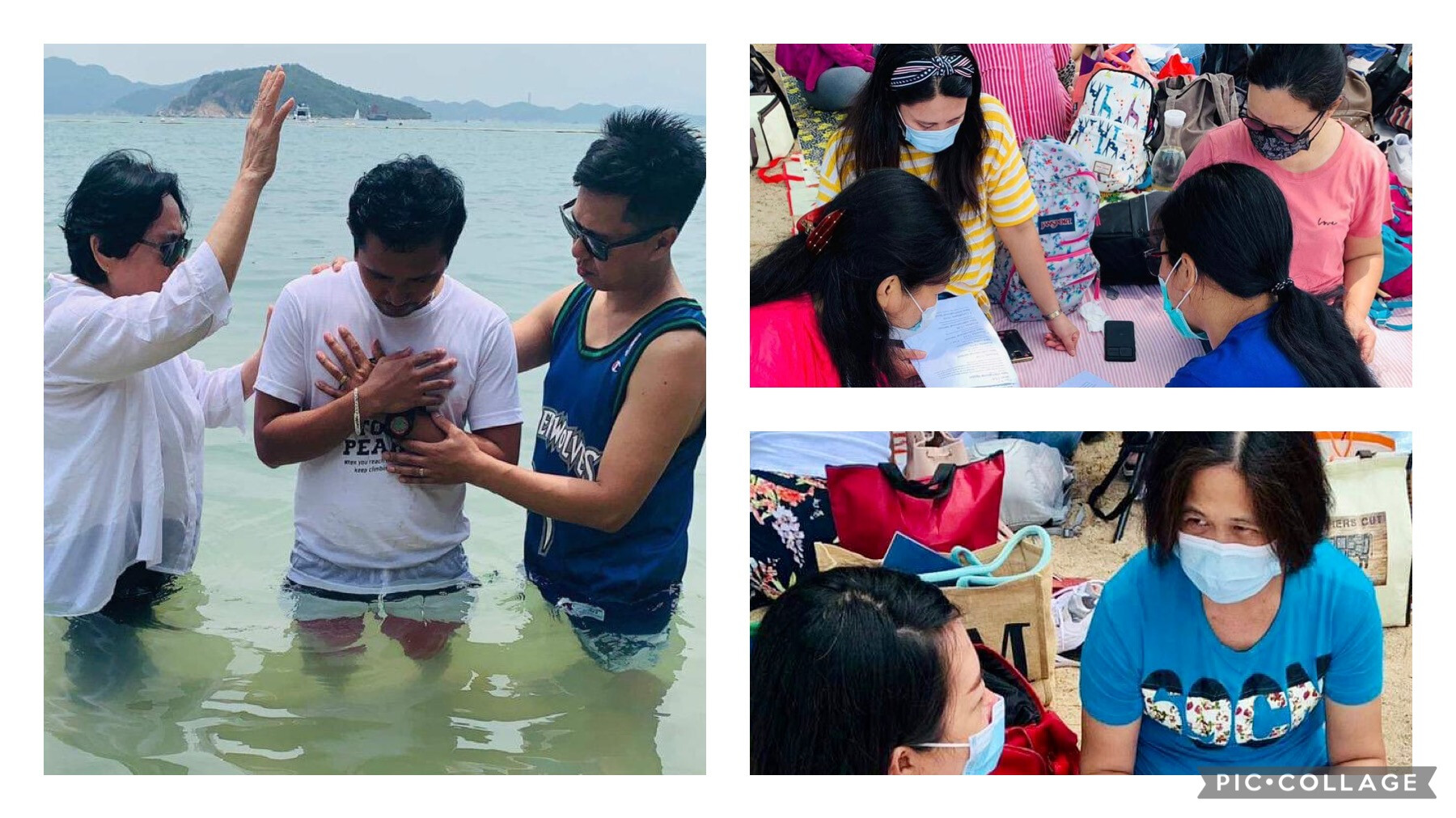 THIS WEEK
Last call for joining some of our new courses!
Alpha: This is the chance to ask big questions about life and to explore the Christian faith in a fun, non-pressurised environment. Every week you will enjoy getting to know one another, watching a short film, and talking about the content.
Young Adults Alpha meets in-person on Wednesdays, 8:00pm. Led by Dan Tupps.
Adults meet online on Wednesdays at lunchtime, 12:45pm - 2:00pm. Led by Patrick Wilson and Monte Peterson.
Alpha for Youth starts on Friday, 14 May at 6:00pm (check out the Youth section, below).
Learn more and register here. It's not too late to invite someone to Alpha - ask the Lord to reveal a name to you.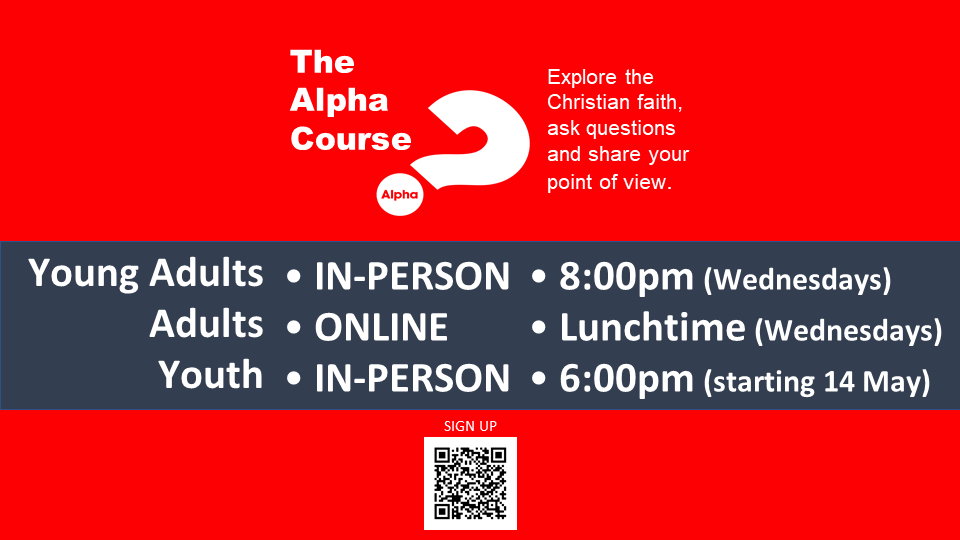 James Legge: the man, the mission, the legacy: In this final session on 12 May, Catriona Woodrow delves into James Legge's second posting to Hong Kong after he recovers from illness in Great Britain. We see his ministry to the Chinese - and increasingly to the international community - flourish. These important insights to his missionary endeavours and his influence on the development of early Hong Kong as a whole allow the current congregation to appreciate more fully the life and work of James Legge, and the history of Union Church Hong Kong. Even if you missed the first two sessions, you will enjoy this one. Register here.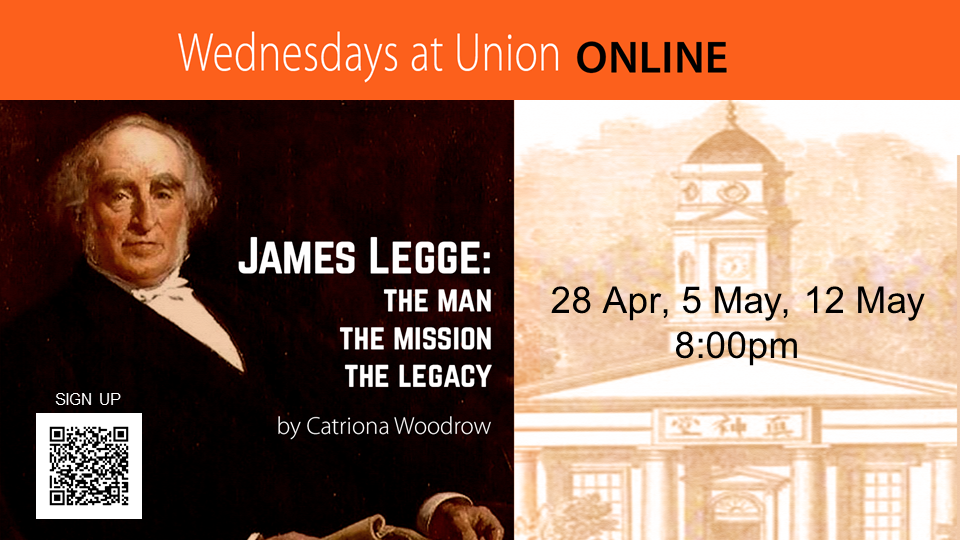 Film & Theology: On Tuesday, 11 May, 8:00pm, Chris McKenzie will lead us in a discussion of our next film, The Adjustment Bureau. At the heart of this romantic thriller is the age-old question of whether the course of your life is solely a result of your choice, or if there are other larger forces at work. Watch the film on your own, and then join us for the conversation! Register with .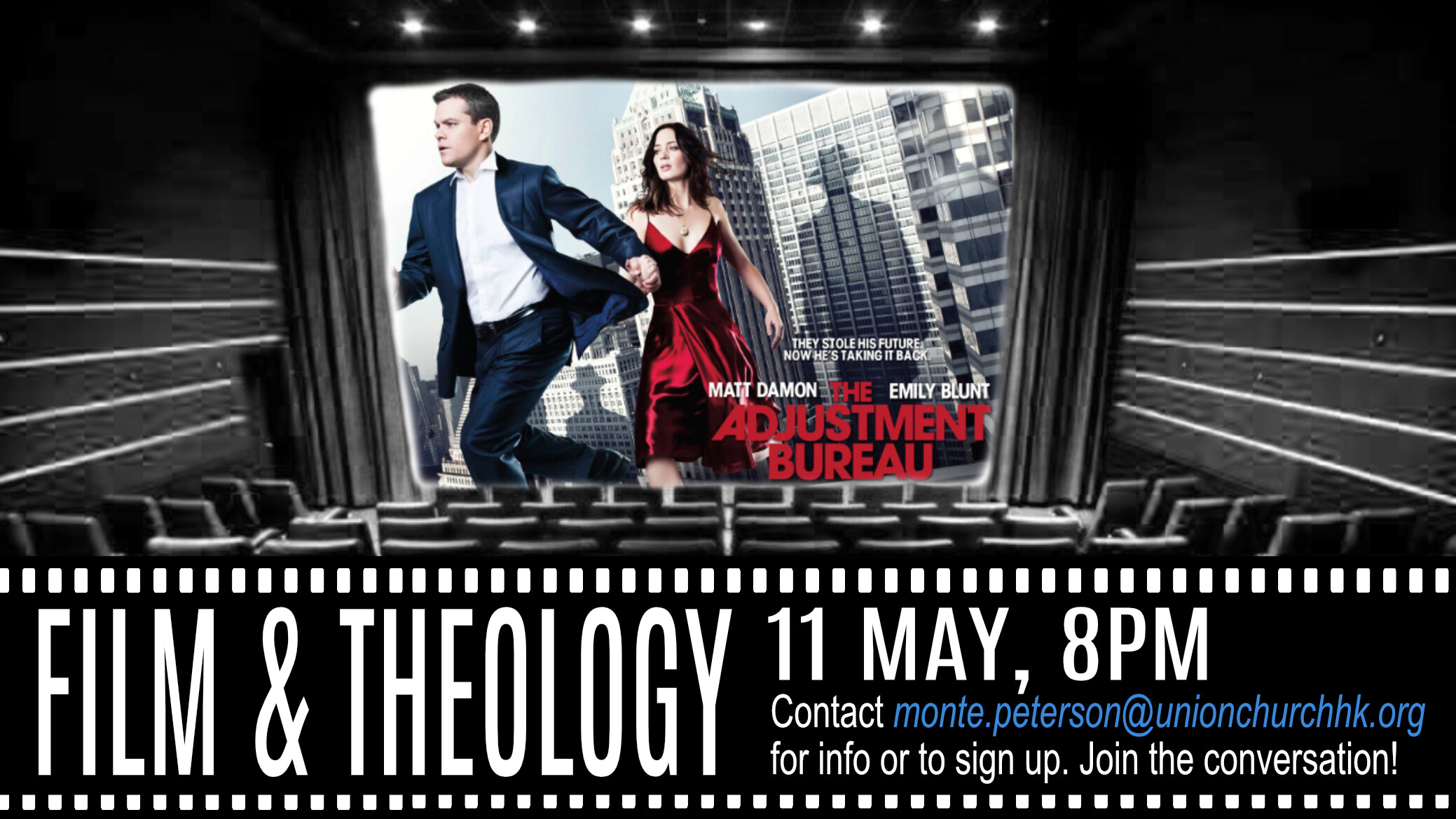 UPCOMING
Hong Kong Men's Fellowship (Ladies are invited too!): Mark your calendars for Friday, 14 May, 12:00pm: MFHK Men's & Women's Lunch at Madame Fu's Grande Cafe Chinois. We will hear stories from various Alpha courses being run across the city. Cost is $300/person. Please register here: https://www.eventbrite.com/e/152253194403.
Young Marrieds Lunch: We would love to get together with all our young, married couples for a special lunch on Sunday, 23 May. Please contact Dan Tupps for more information.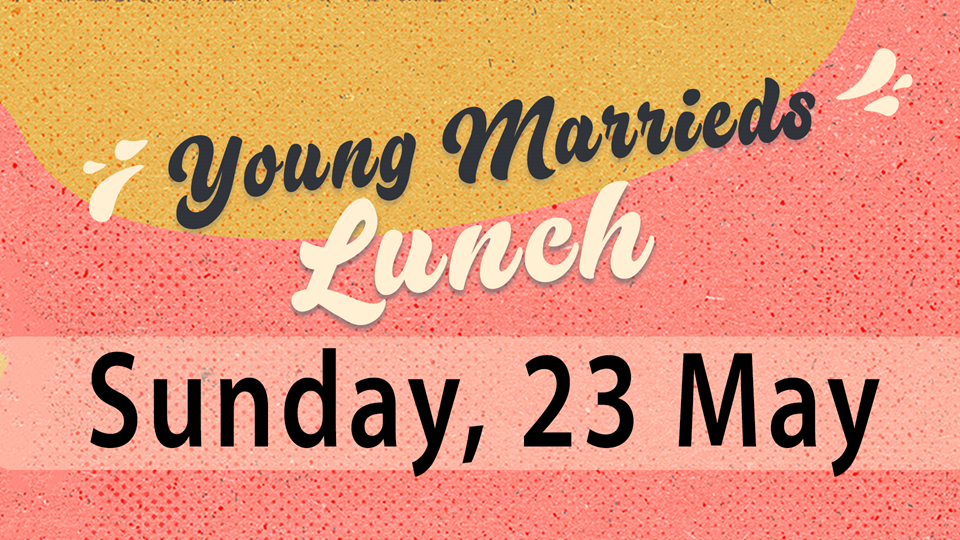 Union Church Book Group: Our next book is Black River, by S.M. Hulse, a story of "one man's struggle to find forgiveness in the wake of evil." Books are available at church for $100, and we will meet on Tuesday, 25 May, 7:30pm. Join us! Questions? Contact Monte.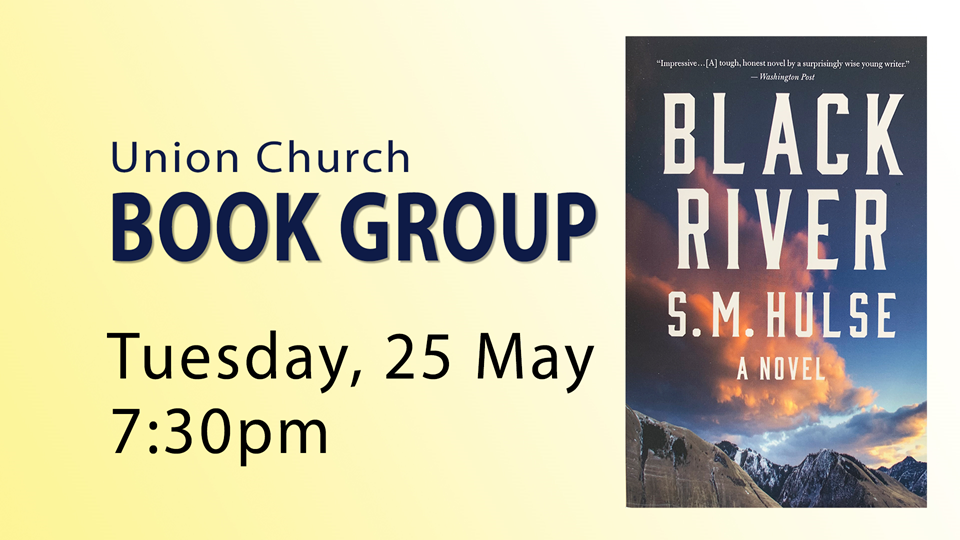 Vacation Bible School (VBS) - Lutheran Church Hong Kong Synod: While Union will be offering its own VBS in summer 2021, we also want to give you a head's up about VBS camps that will be run by the Lutheran Church. The organisers are looking for volunteers to help run VBS on Zoom - high school students or older, and proficient in Chinese and English. Training will be conducted in June / July. Feel free to whatsapp 9546 4497 for more information.
KINGDOM KIDS
Thanksgiving for our Children's Ministry Assistant - We give thanks to God for our amazing Children's Ministry Assistant, Tingting Liu, who has faithfully and lovingly served God through our Children's Ministry. Tingting and her husband, Jingsun, will be moving back to Korea. We covet your prayers and blessings for this wonderful couple on their next chapter. We are so thankful for Ting and her ministry to our children.
Creche & Sunday School Arrangements for this Sunday and until further notice: The Creche Centre will be open with restricted capacity. For children ages 3 years old and above, Veggie Tales movies will be shown in rooms 2 & 3 with strict hygiene measures, in accordance with the government guidelines. Services fill up quickly and your family must be successfully registered. Thank you for your patience during the occupancy restrictions.
Online Sunday School, Sunday 9 May - Mother's Day! Children ages 3 to 10 years old are invited to join us for our Online Sunday School.
- 3-10 year old students: Mother's Day Sunday - Ruth Honors Naomi (Ruth 1) via Zoom, from 10:45 am - 11:30am
- Kingdom Kids Sunday edition is available at the end of the 9:45am and 11:15am worship services on the Union Church website or Facebook page.
The link to the Zoom classes will be emailed to families with children registered in our Sunday School programme for the year 2020-2021.
YOUTH
Friday Youth - 7 May - This Friday, Juniors and Seniors are both invited for a Worship and Fellowship night. We will start with dinner all together at Fini's at 6:00pm, and then head up to Union Church for Worship led by our Youth band and a very special guest speaker. All youth will be dismissed at 8:30PM.
Sunday Youth - 9 May - Youth are invited this Sunday to join us at Ps. Michele's home for our weekly session. Juniors are continuing with their series on asking bold questions and Seniors are jumping into a bible study of the book of Philippians. Please contact Hunter (6466 5080) if you have any questions.
Wednesday Youth - 12 May - We've returned to our Wednesday sessions of discussing the TV series Chosen, an in-depth and creative look at the life of Jesus and his disciples. Please note that Wednesday Youth will continue online for the time being. Join us on Wednesday, 6:30pm - 8:00pm. Zoom link here
Youth Alpha - We are excited to announce that Union Youth will be starting Youth Alpha beginning May 14. Youth ages 11-18 are welcome to join, and if you have friends who would like to come along please feel free to invite them! If you have any questions please contact
MISSIONS
International China Concern (ICC), one of our Missions partners, provides love, hope and opportunity to children with disabilities and strives to end abandonment by keeping families together. ICC also provides life skills and vocational training to young people to develop their potential, prepare them for a more independent life and facilitate their integration into society. Learn more by watching ICC's video about The Little Ark Project.
A Mother's Day idea from Sons & Daughters (S&D): Women whom S&D serve have handcrafted gift sets made of soy wax candles, beeswax wraps, invigorating coffee scrubs, notebooks and more. All the proceeds go to the women who made them. Let's celebrate the skills God has given them whilst honouring our mums at Union! You can order from www.restoreshop.org or whatsapp 62155245 by 6 May (today!) and items might be able to be couriered to your home. S&D is one of our 25 Missions Partners at Union Church.
We recently introduced our new Missions Partner, Agape International Ministries (AIM). AIM loves, protects and cares for survivors of trafficking as well as other vulnerable and exploited individuals. While rescuing children and arresting traffickers is important, "breaking down doors is only half the battle". Take a look at The Lord's Gym in Svay Pak, Cambodia, to see how AIM serves kids who need to be lovingly transformed by Christ - allowing the cycle of abuse to end.
Prayers for Light of the World Church (LoTW), Myanmar: Thank you for praying continuously for Pastor Vum, his family and congregation. We give thanks that his congregation now has access to a couple of banks and international funds have been received safely. Their situation was dire and this is much-needed relief. We pray as well for seekers who are coming to the small worship services, and for the congregation's livelihoods, daily provision of food, safety and protection. Thank you Lord for loving this congregation so tenderly and strengthening them to stand firm and be salt and light in their community.
Small Groups
Meeting as a small group at this time is challenging, but the support from each other is more important than ever. There are online options - please reach out if you need help figuring this out! If you aren't currently in a group, we encourage you to try it out. There are groups for women, men, couples, day-time, night-time, etc. Interested? Contact Monte Peterson.
Families in Need (FIN)
Our Families in Need ministry helps people with their basic monthly needs. If you can help, we are grateful for your generosity. Please mark your envelope "FIN".
Fertility & Pregnancy Loss
Fertility & Pregnancy/Infant Loss Support Group - Struggling and could use some fellowship, friendship and support? Please contact Tess Lyons.
Pastoral Care and Prayer
Need prayer? Reach out to us confidentially at .
Stephen Ministry
We provide high-quality, confidential care to people who are hurting through our Stephen Ministry programme. Contact Pastor Michele if you would like to know more about the programme or meet with a Stephen Minister.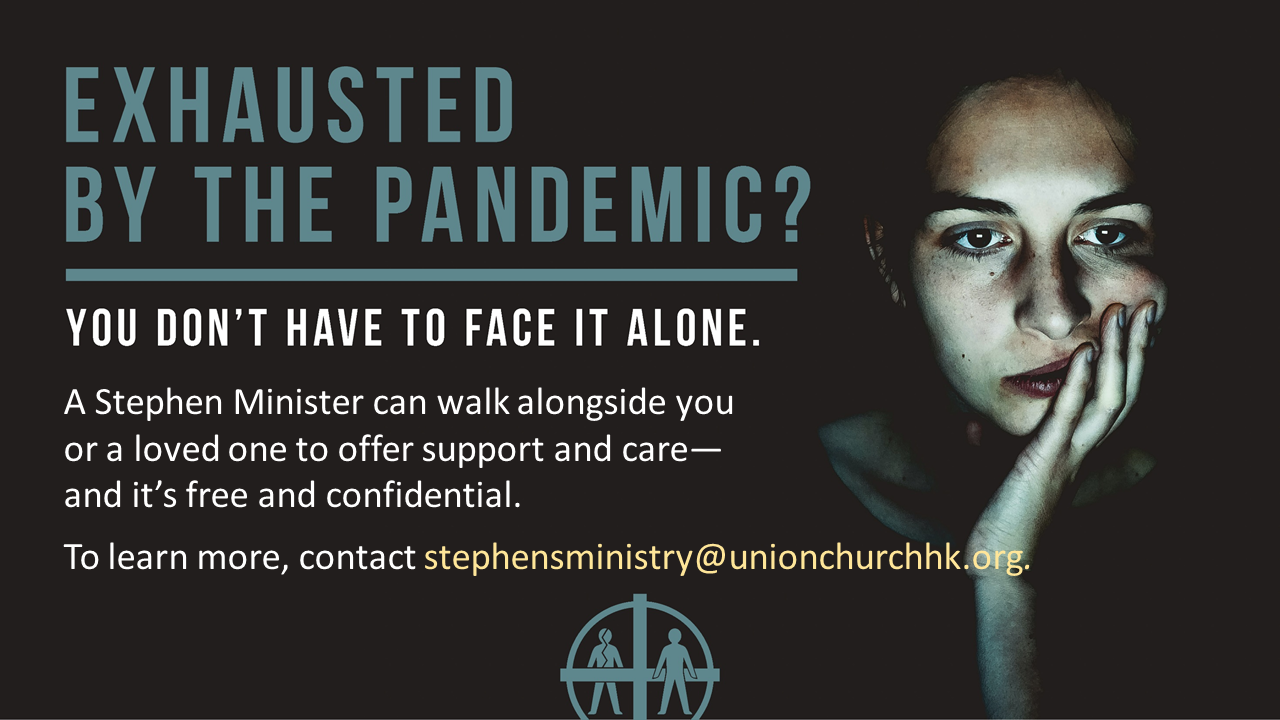 Last week's sermon
"The Resurrected Life...Takes Risks" Rev Dr Michele Bland
Social Media
Please follow Union Church Hong Kong on Instagram, LinkedIn, Facebook and YouTube and share with your friends and family. Do you have images, video and stories for UC social media? Please share with Bronwyn.