U Matters
Recently there have been discussions about "vision." It's an exciting and important topic with abundant literature and resources. Rick Warren described vision as 'your faith dream for the church." I like that. The Bible has much to say about vision and the church. The early church found in Acts 2:42-47 has always been a model for me for establishing a theology of church -the nature and role of the church.
"They devoted themselves to the apostles' teaching and fellowship, to the breaking of bread and the prayers. Awe came upon everyone, because many wonders and signs were being done by the apostles. 44 All who believed were together and had all things in common; 45 they would sell their possessions and goods and distribute the proceeds to all, as any had need. 46 Day by day, as they spent much time together in the temple, they broke bread at home and ate their food with glad and generous hearts, 47 praising God and having the goodwill of all the people. And day by day the Lord added to their number those who were being saved."
Essentially there were five ministries of the early church. Tim Keller noted that these five ministries are "vital signs" of a Spirit-filled community. These five points enable the church to maintain a balanced focus and make adjustments accordingly. I mentioned these points on Pentecost Sunday, they are:
Ministry of learning in the truth - are we growing in our understanding of God and His word?
Ministry of loving in the fellowship - do we care for one another? - do we rejoice with those who rejoice and mourn with those who mourn? - are we committed to the 'one-anothering' -do we have intimate relationships within our community?
Ministry of worship in the Spirit - is there joyous worship? Is there praise and celebration?
Ministry of witness though words - is our church alive in evangelism?
Ministry of service through deeds - are we engaged in sacrificial service?
Simply put, my faith dream for the church is that we focus on these five ministries. That we reach outward and inward to build a community of faith - people who use their gifts (spiritual gifts, talents and passion) to glorify God and build up His kingdom. May we remain sensitive to God's word and His Spirit as we establish our purpose and meaning as a faith community.
How we arrive at an overall vision for the church is an interesting conversation. I believe it requires listening - listening to ourselves, listening to God and His word and listening to one another. Henri Nouwen stated: "The question is not simply, "Where does God lead me as an individual person who tries to do his will?" More basic and more significant is the question, "Where does God lead us as a people?" This question requires that we pay careful attention to God's guidance in our life together and that together we search for a creative response." (Making All Things New)
Blessings as we listen together,
Pastor Michele
CHURCH FAMILY NEWS:
AGM: June 27th starting at 7:00PM in the Sanctuary.
Sunday Worship: we will hold four services: 8:45AM, 9:45AM, 11:15AM and a 3:00PM for our Filipino congregation. Please note that there are conditions to allowing us to worship together. The following criteria must be met: reduce to 50% capacity on the floor, temperature check on arrival, wearing masks, no food or drink allowed and we will keep a record of attendees. Please arrive in plenty of time to sign your health declaration (or download it HERE and bring it with you). We are restricted in numbers please consider joining the 8:45AM service if you are able. You are also welcome to worship from home, we will be streaming the 9:45AM and 11:15AM services via our website, app, Facebook page and YouTube.
World Refugee Day is on! This event will be hosted at Kowloon Union Church, live streaming is also available through youtube through this link: https://youtu.be/xnqaLQCalJc
Due to the social-distancing restrictions, the venue can only host 75 people (50% capacity). Please reserve your seat via: https://forms.gle/FHc7F46GmQVWbb6P9
For more information go to: https://www.rmghk.org/world-refugee-day-2020
.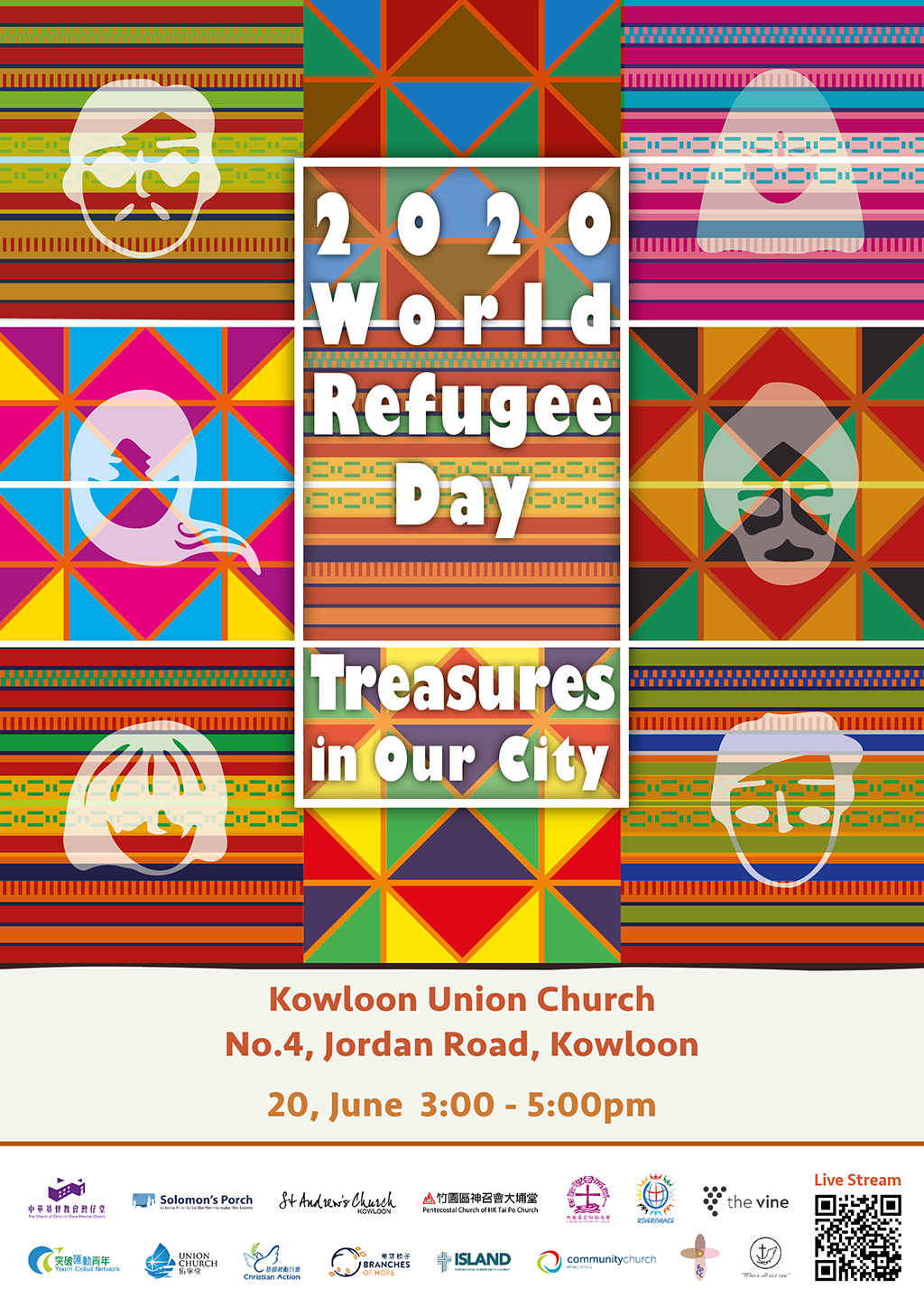 Please check our website and your email for latest news.
Upcoming:
Love Your Neighbour
: Jesus said "love your neighbour." What if he meant to love your actual neighbours? This summer, we invite you to connect with Union folk who live in your neighbourhood. We're asking groups to meet 3 times through the course of the summer - eating together, getting to know each other, simply developing relationships.
- Sign up HERE to join a neighbourhood-based group
- Questions? Look HERE or reach out to .
Union Book Group: Summer is a great time to read! Our next book is Corrie Ten Boom's The Hiding Place, a story of a Christian family in Holland who hid persecuted Jews. We'll meet Tuesday, July 7, 7:30PM to discuss. All are welcome! Books available at the welcome table, $100.
- Prayer for the World: Next Wednesday, June 24, we will gather AT CHURCH to ReCharge with prayer. There will be opportunities to pray together, to pray silently, and to be prayed for. Please join us in this opportunity to lift ourselves, our city and our world before the Lord. 7:30-8:30PM.
- "Your Comeback" by Tony Evans. In this 5-part series, pastor Tony Evans will journey through the Bible to study examples of comebacks as well as the principles God prescribes for our lives as we wait on Him;
with
Dan Tupps.
Missions:
We are holding regular Kindness Walks around Wan Chai, reaching out to bless the poor in our neighbourhood. The next walks will be on June 28th after the 11:15AM service and then July 12th after the 9:45AM service. If you would like to find out more about Union Church's Kindness Walks, please contact the Missions committee.
COVID-19 has hit the Philippines hard! Union Church is raising funds to help ICM and the poor in the Philippines. HK$300 supplies 1000 meals. Please consider giving generously using the QR code and specify: "ICM".
Sons & Daughters, our neighbours in Wan Chai, share God's love with the women and men of the red light districts throughout Hong Kong. Seeking sewing instructor - they are looking for a volunteer sewing instructor who can help train beginners in sewing and develop some new ReStore products. Please email hk if you're interested. Calling all bakers! Your baking skills can help open doors and transform lives in the red light districts. Email info@sonsanddaughters.org.hk to help! They are also in need of food, toiletries, cleaning supplies, electronics, and board games. If you're able to make a donation, please see the items needed at: https://forms.gle/ZDzeekPP2Nhdpekg6
Connecting:
The Marriage Course: please contact Joanna Yau for more details.
Pastoral Care Support, if you are looking for some support and prayer please let our staff know. Contact Ministry leaders directly or admin at: or call 6225 5042.
Small Groups
Meeting as a small group in this time is challenging, but the support from each other is more important than ever. There ARE online options - please reach out if you need help figuring this out! If you aren't currently in a group, we encourage you to try it out. There are groups for women, men, couples, day-time, night-time, etc. Interested? Contact Monte Peterson.
Lunchtime Bible study:
Join Yan Yu for a study of
Galatians
online via Zoom Wednesdays 12:30PM - 1:30PM. Contact
Yan
for details.
Young Adults
Game Night! June 19 at 8:00pm. Come and join us for some exciting board and card games. For more details contact Dan Tupps:
Kindness Walk
: Join us on Sunday June 28 at 12:30PM (following the 11:15 service) for a Kindness Walk as we bless our community in Wan Chai. For more information please contact
The AMAZING RACE – Friday June 19 Youth are invited to join us at Union Church, where we will be breaking up into teams and running around the area near the church to find landmarks, take silly videos and ultimately compete for great prizes!
What: AMAZING RACE
When: All youth are invited to join us at 6PM. Teams will depart Union at 6:30PM. Teams return at 8:30PM, and dismissal is at 9PM.
Details: There will be no dinner provided, so please make plans to either eat before or after. Youth are required to wear masks, and there will be guidelines on distance between youth when seated etc. All youth will also be asked to sign a Declaration of Health form when entering.
Sunday Youth Group – June 21
All Youth are invited at 9:45 and 11:15 to join Hunter and leaders at 29/F Indigo Hotel as we read through the weekly scripture and discuss together!
Kingdom Kids
CRECHE & SUNDAY SCHOOL ARRANGEMENTS for Sunday 21 June 2020 and until further notice:
The
Creche Centre will be open with restricted capacity. For children aged 3 years old above, Veggie Tales Movies will be shown in rooms 2 & 3 with strict hygiene measures and in accordance with the government guidelines. We greatly appreciate your understanding and kind cooperation as we gather and worship God responsibly.
ONLINE SUNDAY SCHOOL:
3-5 years old students: Fruit of the Spirit Bible study, starting this Sunday via Zoom, from 10.45 am - 11.15 am.
6 years old and above students: Books of the Bible study, every Sunday via Zoom, from 10.45 am - 11.30 am.
Kingdom Kids Sunday edition, through Union Church website, app and Facebook, at the end of the 9.45 am and 11.15 am service.
Sunday School 2019/2020 Registration & Zoom Link to Online Sunday School
All children enrolling in our Sunday School and Creche Center MUST BE REGISTERED by filling in and signing the Registration Form HERE. For safety reasons, only children officially registered in our Sunday School program will receive the Zoom link to our Online Bible Study. For more information, please visit Union Church's website or contact us at CHILDREN or 21010414.
Stephen's Ministry
A Stephen Minister can help. Stephen Ministers are members of our congregation who listen, care, encourage, and provide emotional and spiritual support to people going through a crisis or a difficult time. Please contact Pastor Michele if we can help ( )
Fertility & Pregnancy/Infant Loss Support Group - Struggling and could use some fellowship, friendship and support? Contact Sonia Lee.
Family in Need (FIN)
If you would like to help support our family in need ministry, which helps people monthly with basic needs, please mark your envelope "FIN".