U MATTERS
We have been in a sermon series on Faith in the Marketplace and last night the team hosted a well-attended panel discussion with some influential leaders. It was an encouraging and inspirational event. A comment from one of the speakers struck me. She said, "I decided to go to God about my colleagues before going to my colleagues about God." How true. So often we don't take the time to pray. In our enthusiasm we rush ahead with the good news or we sit back and wish our colleagues had faith in Jesus.
Imagine the transformation in our workplace, our industry, our city if we prayed for each of our colleagues by name. We can pray for their physical, social, emotional and spiritual well-being. We can pray that "the favour of the Lord our God be upon us and prosper for us the work of our hands—O prosper the work of our hands!" Psalm 90:17 We can pray for peaceful homes, healthy relationships, rest and encouragement.
As believers in the workplace there is a unique opportunity to be salt and light. In a conversation with Joshua Ng, I was encouraged to hear how he has been living out his faith. Listen in to his responses.
How has your faith been challenged in the marketplace? How have you dealt with the challenges? It is not easy to be a Christian in the corporate world, where it is a world that defines you by your position and status. I work as a lawyer inside a bank, so I am often put into situations where my values are tested against those that are of the world. It is so easy to compromise your Christian values when you are stressed out with hectic deals and transactions, or surrounded by colleagues that like to gossip, and yet I am often reminded of Matthew 5:13-16 that we are called to be "salt of the earth" and "light of the world". Verse 16 challenges us to "let your light shine before others, that they may see your good deeds and glorify your Father in heaven". I often believe that we are called to be the "Pastors" in the office and are the "light" to colleagues around us. They do not generally have the incentive to go to church and therefore we are often their first point of contact to "church"! I have been faithful to this Biblical teaching and will often make sure that I treat all my colleagues that are around me as my "neighbours" - the same way Jesus teaches that we should love our neighbours. With this, I think then we are really going out of the "four walls" of the church and bringing the Good News directly into our offices!
Tell us about your workplace ministry? Aside from setting up Christian fellowships and running Alpha courses in the law firm, banks or asset management firms where I have worked, a group of us was inspired back in 2014 by Psalm 119:105 where "Your word is a lamp unto my feet, a light on my path". We wanted to reach out to our colleagues in the offices, and yet in a way that would not come across as pushy or overwhelming. We decided to set up a "Daily Bread" ministry where a few of us would each morning write a small devotional passage alongside with a Bible verse and email that to our colleagues who are interested in receiving the same in our respective offices. Many of them were often encouraged by a subtle verse or a little sharing. We would give praise to God when we saw positive feedback such as "The mail helps me take a little pause in such a challenging work environment to think about God and read his words, it has also brightened my day and kept me positive for a hectic day ahead" or "Just to let you know that although I'm not a Christian I find reading the Daily Bread every morning makes my day". It shows just how powerful the Word is. God reveals Himself through the Word and we believe it is an effective tool to deliver the Gospel to our immediate colleagues. Amazingly, some non-believers actually approached us in the process and we subsequently introduced them to our Christian fellowships and finally brought them to church! Praise the Lord!
As we enter into a new year (Happy Chinese New Year) - may we consider entering into a new practice. Let's consider praying daily for our colleagues at least until Easter and see what happens.
Blessings on your New Year - Pastor Michele

Union Church wishes you and your family Happy Chinese New Year. May you be surrounded by God's love, presence and blessings in the coming year.
FAMILY NEWS
We are worshipping online this week, Sunday at 9:45am (Traditional service) and 11:15am (Contemporary service). Find us on our website, Facebook page, Union Church app or YouTube.

Faith in the Marketplace: This Sunday we continue our preaching series on Faith in the Marketplace, welcoming the return of the Rev Dr John Snelgrove as guest preacher. On 10 February, we were blessed to have over 30 people in attendance at our first panel discussion, Living Faith at Work. Learn more about our new ministry here.
Building Union for the Future update: Have you seen what our new church will look like? In a recent presentation, Rosanna Chan gave an update on construction progress and walked us through the architectural renderings of the new 22A Kennedy Road building. What role can you play? Watch the video on the website.
LENT
Lent is that season of the church year when we prepare to observe Jesus' death and celebrate his resurrection. Often we engage in a new spiritual practice or leave something behind that gets in the way of the life we want to live. This year we are reading the Gospel of Mark, along with other churches in Hong Kong and throughout the world, as part of the ONE campaign.
Ash Wednesday Service, 17 February: Lent begins with Ash Wednesday. Please join us for Union Church's online service at 7:30pm on our website, Facebook page or YouTube.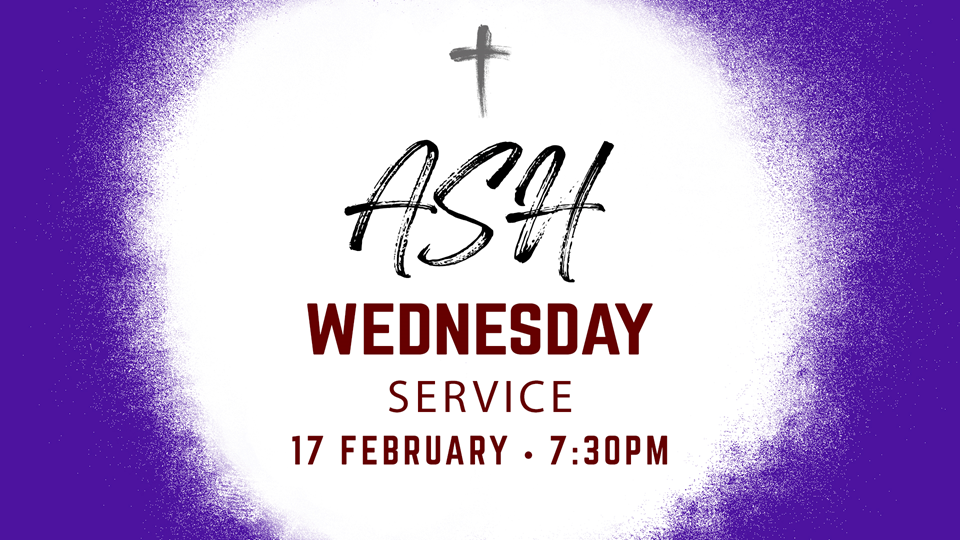 Next we introduce the The Study of Mark series. We are participating in a church-wide (and city-wide) study of the Gospel of Mark from 24 February to 31 March.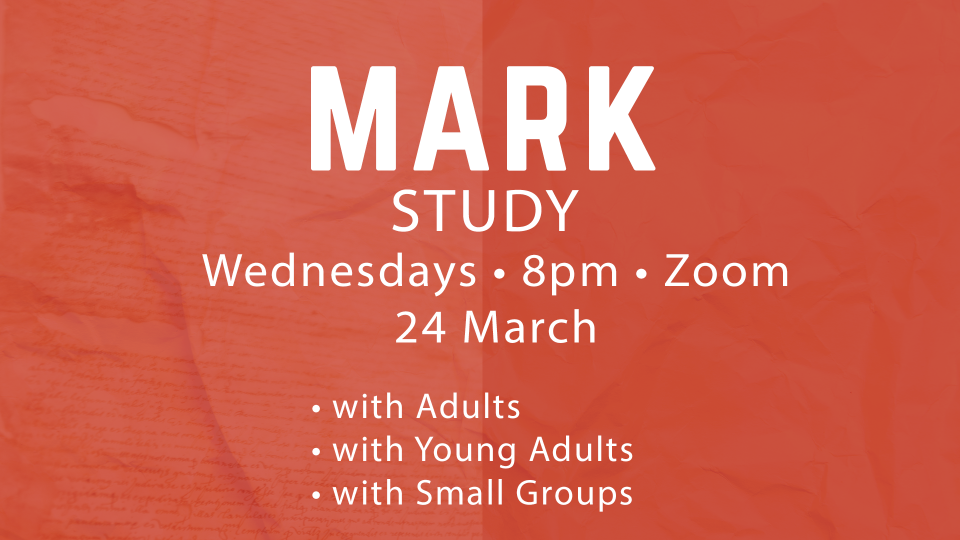 On 24 February at 8:00pm, Professor Simon Siu-Chung Chow, president of Lutheran Theological Seminary and New Testament scholar, will present an "Introduction to Mark". All are welcome.
Study Mark with Monte: Wednesdays 3, 10, 17 and 24 March at 8:00pm.
Young Adults Study of Mark: Wednesdays from 24 February - 31 March at 8:00pm. Contact Dan Tupps for more details or register here. Youth will be studying Mark too!
The Passion in Mark, 31 March, 8:00pm: Professor Matthew Skinner, New Testament Professor at Luther Seminary will present this talk. All are welcome to join.
Register for any or all of the Mark events via the QR code above (or here) to receive the Zoom link.
Another option is Wisdom on Wednesdays, 8:00pm on 3, 10,17 March and 25 March (Thursday), via Zoom. Register for any or all of the events via the QR code below (or here). We kick off on the 3rd with Maintaining Mental Health during COVID-19 with Rev. Dina Chamberlain.
Additional topics for Wisdom on Wednesdays:
Screenagers NEXT CHAPTER: Uncovering Skills for Stress Resilience - 10th

Helping your Marriage Thrive During COVID with Gary Thomas - 17th

heARTwork: A drawing experience with Crystal Lo - 25th (a Thursday!)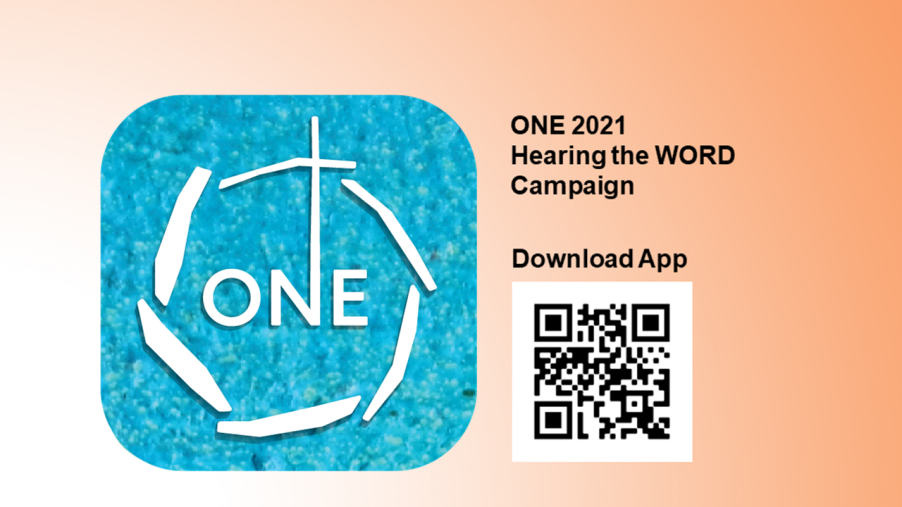 ONE2021 Hearing the Word campaign: Our Lenten season embraces the ONE campaign that runs from 17 February to 4 April. Download the app and unite with many believers to read and enjoy ONE scripture, devotions, prayer and the Gospel Film. Learn more at http://www.onehtw.com.
24-7 Prayer Hong Kong - virtual prayer room: Praying is changing Union Church. We are launching a virtual prayer room during Lent to pray for our city, our leaders, churches, families and all sectors of society. Our hope is that believers throughout the city will join together to pray. This is another way to support the unity of the ONE campaign. Please sign up for a time slot at https://www.24-7prayer.com/signup/705233.
Book Group: Please carry on reading The Beekeeper of Aleppo by Christy Lefteri; a novel about an ordinary Syrian couple seeking refuge from the war that engulfs their homeland. We will discuss the book during our 23 February gathering. Contact Monte Peterson with questions.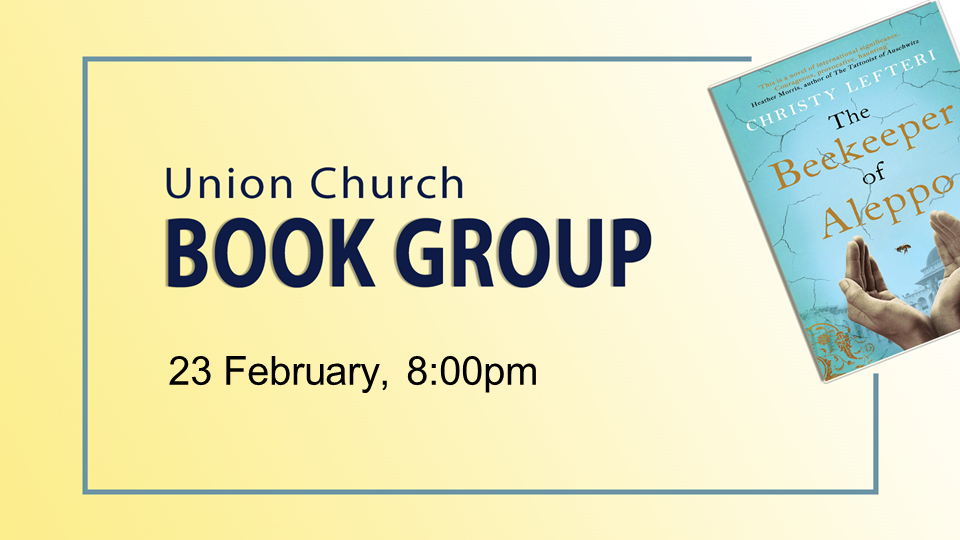 Film + Theology: It's showtime, folks! Let's watch another film on our own - The Apostle - and then gather on Zoom to discuss it with Chris McKenzie. Join us on Tuesday, 2 March, 8:00pm. Register with .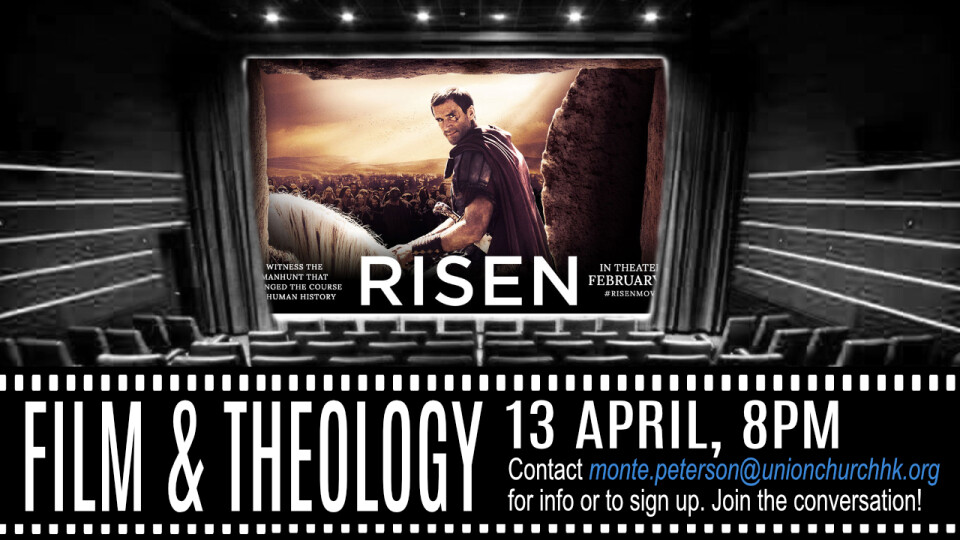 Save the date 13 March 2021 for Union ReUnion, our all-church gathering in hosted homes or your own place. It will be a fabulous evening of testimonies, entertainment, and silent auction to go towards the fit-out costs for 22A Kennedy Road. Union alumni are most welcome. We are looking for volunteers, hosts, and auction items. Want to volunteer and have some fun? Please contact any one of us - Bronwyn Alexander, Tess Lyons, Ken Morrison or David Ashton-Howorth or email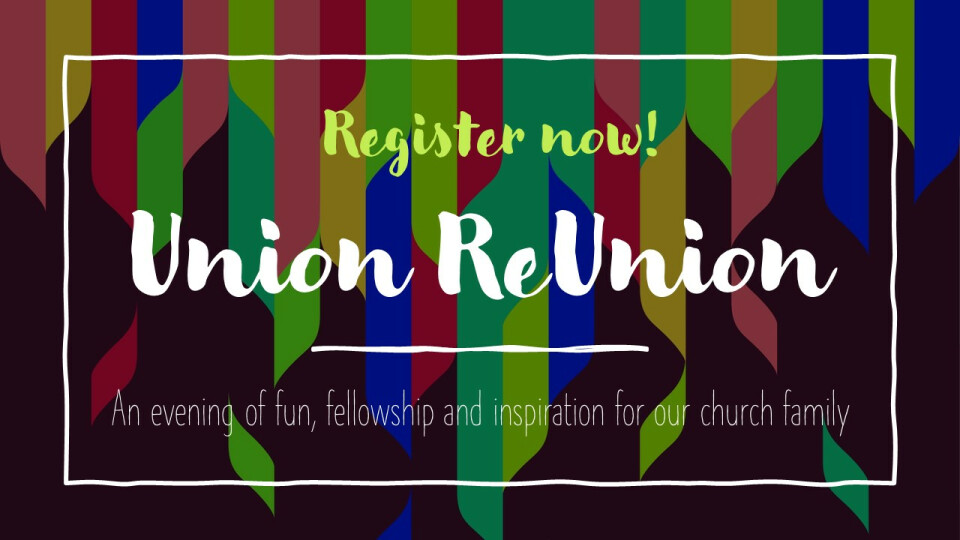 Annual General Meeting (AGM): Save the date - we hope to all gather in-person for Union Church's AGM on Saturday, 27 March 2021.
Kingdom Kids
There will be NO Online Sunday School this Sunday, 14 February. Children are invited to watch Kingdom Kids Sunday edition - Agape Love - at the end of church service via Union Church website or Facebook page. See everyone on 21 February!
Youth
No Wednesday, Friday or Sunday Youth for CNY break - We will come back on Wednesday, 17 February and continue our regular weekly schedule from there!
Missions
Small Group outreach at CNY: Last Saturday, the Saturday Morning small group led an outreach to students at HKU as well as to young adults and senior adults within our congregation, and to St. Barnabas' Society. They organised, raised money, assembled and delivered 120 love packs, sharing Jesus' love throughout Hong Kong. Thank you for being the hands and feet of Jesus, and showing us the way of service!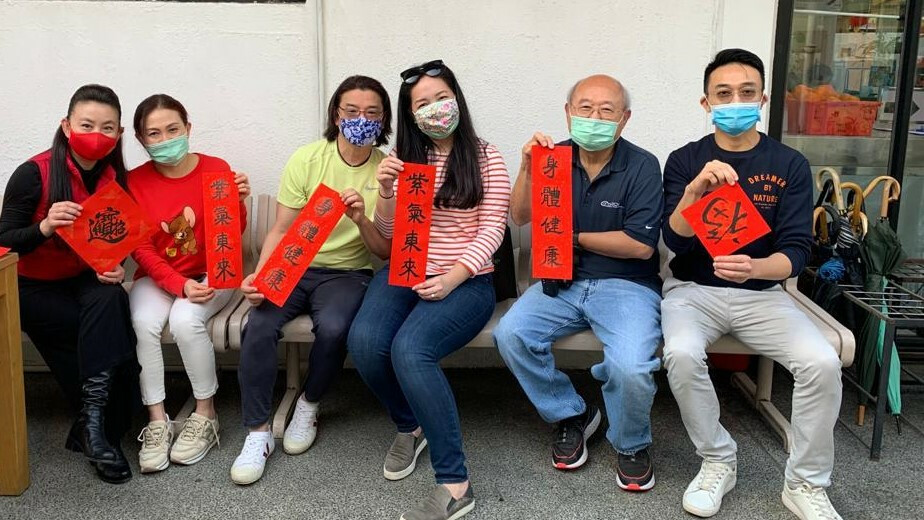 Our Missions partner, 4.2.20 Foundation, has set the goal of seeing the whole Word available in the 4,000+ languages still requiring a translation of the Old Testament. They have released a video of their 2020 Impact Report which shares highlights of all that God has done through the 4.20.20 - Institute for Biblical Languages & Translation. Please view it here: https://vimeo.com/507997665.
Prayers for Myanmar: We continue to pray for Myanmar following the military coup. Our Missions partner, Light of the World Church led by Pastor Vum has asked for prayers covering this situation and for the safety of his congregation.
Melody's cards to support LOVE 21 Foundation: Melody Funk Landes has illustrated and printed a lovely collection of cards to support LOVE 21 Foundation, a "Friend of Union Church". Please pick up a pack of 10 assorted cards and leave your donation ($200) with the church office. Thank you!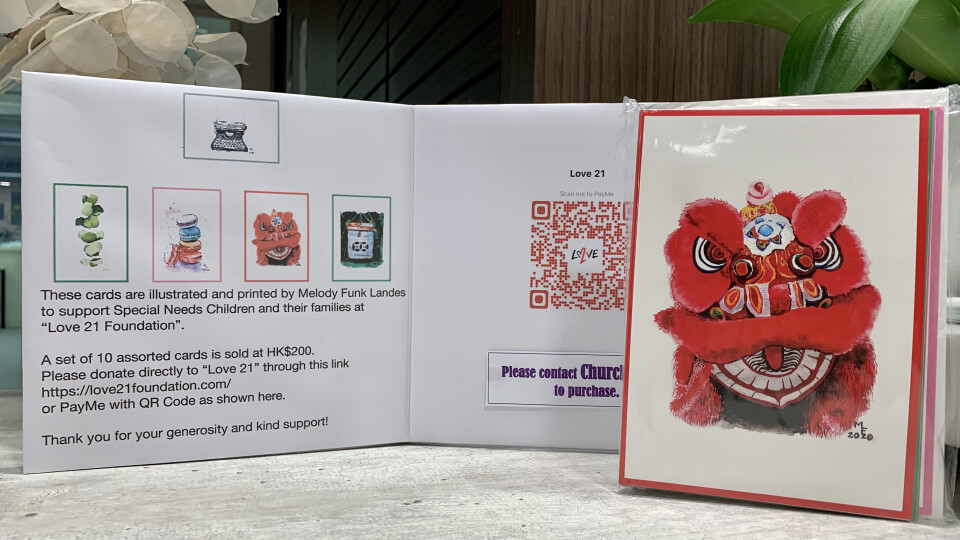 Small Groups
Meeting as a small group at this time is challenging, but the support from each other is more important than ever. There are online options - please reach out if you need help figuring this out! If you aren't currently in a group, we encourage you to try it out in the new year. There are groups for women, men, couples, day-time, night-time, etc. Interested? Contact Monte Peterson.
Pastoral Care & Prayer
Need prayer? Reach out to us confidentially at
Stephen Ministry
We provide high-quality, confidential care to people who are hurting through our Stephen Ministry programme. Five of our Stephen Ministers have started online training to become Stephen Leaders. They will be able to train and supervise Stephen Ministers, thereby expanding pastoral care at our church. Contact Pastor Michele if you would like to know more about the programme or meet with a Stephen Minister.
Fertility & Pregnancy Loss
Fertility & Pregnancy/Infant Loss Support Group - Struggling and could use some fellowship, friendship and support? Please contact Tess Lyons.
Giving
Thank you for supporting God's ministries at Union Church. Please see the website to learn how you may tithe, make an offering online or by cheque, or give to The Grace of Giving. Thank you for your generous heart.
Last Week's Sermon
"Life and Legacy" Dr David Wong
Social Media
Please follow Union Church Hong Kong on Instagram, LinkedIn, Facebook and YouTube and share with your friends and family. We can use social media for positive outreach to the community. Interested in volunteering as part of our social media team? Contact !