"Bear one another's burdens, and so fulfil the law of Christ." - Galatians 6:2
Stephen's Ministry is the one-to-one lay caring ministry that takes place in congregations that use the Stephen Series system. Stephen's Ministry congregations equip and empower lay caregivers — called Stephen Ministers — to provide high-quality, confidential, Christ-centered care to people who are hurting.
Stephen's Ministry is
A confidential ministry.
Men are matched with men, women with women.
The responsibility of the Stephen Minister is not to solve the care receiver's problems, but to be a caring listener as they talk about their feelings concerning some of the things that are of vital importance to them.
Placement of a particular Stephen Minister with his or her care receiver is always prayerfully considered.
Stephen Ministers meet together once a month for Peer Supervision and ongoing training.
If you find yourself in difficult circumstances and are considering the care of a Stephen Minister, please contact
Pastor Michele
or email
.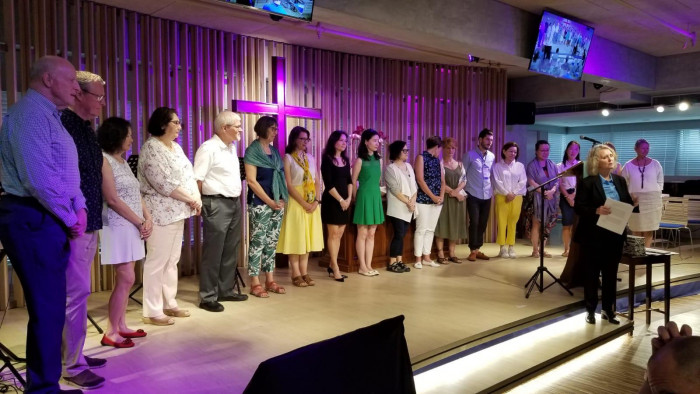 (Photo taken at the Stephen's Ministry Commissioning on 19 May, 2019)
Visit the Stephen's Ministry website for
video testimonials
and more:
www.stephenministries.org
.