We would like to equip you
Your walk with Christ involves a life-long journey of growth, learning, challenges and obedience. We would like to partner with you as you take your next steps on this journey, and have highlighted a few resources available to you and your family.
21-DAY DEVOTIONAL, GENEROSITY EXERCISES by Rev. Dr. Gary Hoag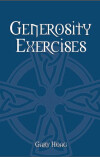 ONLINE AND MOBILE BIBLES:
Here's a selection of the books we're currently studying within our small groups.
Here's a selection of books recommended by our leaders and staff.