Acts@22A - 23 May 2019
U Matters
"Rejoice in the Lord always: and again I say, Rejoice." Philippines 4:4
This past week has been full and fabulous. There were so many areas of participation and engagement and there were so many reasons to rejoice! Rejoicing in the ICC banquet; the One- Hearing the Word Campaign Thanksgiving Service; the Joint Leaders and Staff Day Retreat; the 20 Stephen's Ministers who were commissioned; the HK Christian Council radio appreciation seminar; the new "Re-Charge Your Family" series; the 125 toiletries kits delivered to Impact HK and Hope for the City and I know many people had various prayers answered. What a week!
BUT the celebration continues!
THIS SUNDAY, we celebrate "Church is… ONE."
Join us at Tang Shiu Kin Secondary School, 9 Oi Kwan Road, Wan Chai, Hong Kong. (10 mins walk from Union Church)
Service starts at 10:30am, with Sunday School, Gospel Choir, followed by a BBQ. Feel free to bring a salad or dessert.
See the map below for details.
Anto, our Young Adults Director is also rejoicing:
Union Church family, it is with great excitement that Jess and I share the news of our move to England this summer. The Lord has opened an unexpected door for me in Godalming, a town in Surrey, southwest of London. I will be serving as Youth Minister at Busbridge & Hambledon Church (Church of England). This move will allow us to be closer to families and for Jess to continue her career in London. As we begin to reflect on this season spent in Hong Kong, Jess and I are full of gratitude for all those who have walked with us, spoken into our lives and allowed us to be part of theirs. Hong Kong is a special place full of some special people who will remain close to our hearts. Thank you Union Church for these 3 years of ministry.
On behalf of Union Church, we would like to say thank-you to Anto and Jess. Your ministries have been a blessing to us in so many ways. We can rejoice that you are going where the Lord is leading, however, we are sad to see you go and you will be missed. A farewell will be held on Sunday June 16th and their last Sunday is July 21st.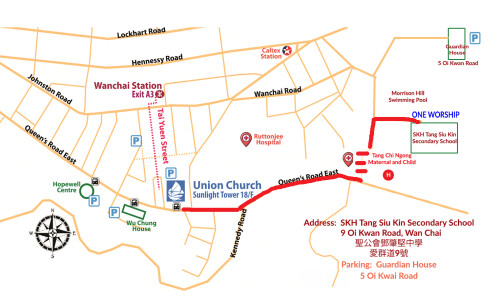 Family News
Annual General Meeting (AGM) Minutes
The minutes of the AGM held on 23 March 2019 are available for viewing at the Welcome Table. Please send any suggested amendments to the Honorary Secretary, Bronwyn Alexander, before 3 June 2019. The Committee of Management (COM) will finalise the minutes at their next meeting.
Church Family Meeting
Please note that there will be a Church Family Meeting on Sunday 9 June from 12:30-1:30PM. Childcare provided.
This Sunday: ONE Worship - 10:30AM
We will meet at SKH Tang Siu Kin Secondary School, 9 Oi Kwan Road, Wan Chai. This is a wonderful opportunity to worship together and to bring a friend. There will be a BBQ following the service. Bring a salad or a dessert. Contact Michele or David for questions.
We will be paying tribute to all of our Sunday School Teachers for their dedication and love towards our Children's Ministry. Our Sunday School Teachers comprise of parents, young adults and youth who volunteer their Sunday mornings to minister and care for our children. On behalf of all the children, parents and Union Church family, we would like to say 'A BIG THANK YOU'.
CRÈCHE
Ruby Herico, Cristina Yangkin, Merlinda David Faan, Michele Navarro Bergabenia
CHILDREN'S SUNDAY SCHOOL
Kathy Foley, Carli Luxton, Jessica Hexter, Phillip Savio, Anna Isaac, Lian Chiu, Jessica Leung, David Tong, Elizabeth Pang, Harry Mak, Grace Sadsad, Lester Sadsad, Pei Quan, Jessica Ficatier, Juliana Rotmeyer, Aquin Dennison, Jacqueline Hirs, Simon Chiu, Maurice Yeung, Mandy Wong, Katelyn Ting, Elza Wong, Lindy Fok, Tinja Wright, Tariq Dennison, Terence Teo, Patrick Wong, Jefferson Cheung, Nicole Li, Christopher Chua, Brad Landes, Sebastian Caldwell, Elise Bland, Eliott Bland, Britta Tellvik, Caleb Tellvik, Isaac Lee, Abigail Lee, Daniel Allison, Jody Lee, Giselle Lee
DAD'S VERSION SUNDAY SCHOOL - MOTHER'S DAY
Jonathan Ah-Weng, William McCaw, Andrew Foster, Sung-Min Chung, Sujith Abraham, Andrew Hexter, Eugene Chung, Matt Peterson, David Tong, Ricky Pang, Hong Seob Shin, Simon Chiu, Meno Vos, Min Suk Oh,Terence Teo, Christopher Chua, Michel Demuynck, Paul Lundquist.
YOUTH FRIDAY & SUNDAY VOLUNTEERS
Karinda Chuntavorn, Teresa Fox, Tess Lyons, Amie Moriarty, Gaby Keung, John Jamison, Kathy Foley, Wanda Yuen, Jennifer Purvis, Dale Weathington, Charles Caldwell, Marissa Bezanilla, Elise Bland
Please extend your thanks to all of our teachers and volunteers.
This Week
"The Marriage Course" - Social Info Gathering & Dinner - Tuesday 28 May 2019, 7:00PM to 9:30PM
Want to know more about the Marriage Course? Come and join us for a social, info gathering evening!!! Sign up in the foyer. Register
online
or contact
Joanna Yau
for more details.
ReCharge Wednesdays
We fellowship, worship, and study.
7:00PM - dinner
7:30PM - worship
7:45PM-9:00PM - classes/talks
Parables of Jesus: Study for Youth
We are looking at the context in which Jesus taught them, gaining a better understanding of their meaning and how they apply in our lives. We will read the parables together, and also have time to discuss how they speak to us personally. This class is geared towards Youth (ages 11-18).
Faith in the Midst of Suffering: Learning with Job
Job is a man who knows suffering - he loses everything! In Job's story we hear questions all of us ask: Why do terrible things happen? How can we trust God when loving makes us so vulnerable? Join us - it's never too late!
Big Picture: a new study about the Bible (for Young Adults)
We all have questions about the Bible: What is it? Who wrote it? When? Why? In this study Anto Ficatier (Young Adults Director) and Tyler Cox (Theology teacher at ICS) present a "big picture" overview of the Bible, with historical, theological, and practical insights. Each session will be highly interactive and will spark great conversations!
Recharge your Family
Recharge your Parenting: Technology and Family,
Anto Ficiater on Wednesday, 29 May.
Recharge your Parenting: Parenting Teens, Josh Powell on Wednesday 5 June.
Message from the Joint Leaders
Prayer

and

Discernment

for Union Church - 6:15PM to 7:00PM
The purpose of this
group
is to
pray
and
discern
the next season of Union Church. Our
prayer
resulting from these
discernment
evenings, is that we not only step forward in God's time with the search for a new senior pastor, but we also discern God's will and desired shape for Union Church in anticipation of returning to 22A Kennedy Road. It is imperative that we are Christ-centered and truly understand what God is calling Union Church to do, and who to lead us.
Adult Education
Jewish Faith: Window into the Biblical World
Sunday, June 2, 12:30-2:00, lunch provided - our own Catriona Woodrow, seasoned teacher and theology student, will lead us in a study of Jewish faith and practices in Biblical times, enriching how we read and understand both the Old and New Testaments.
Sign up at the Welcome Table or here.
Summer Lunch-time study of Revelation
Join Yan Yu for an in-depth study of Revelation this summer, looking at Revelation's historical context, focusing on heavenly worship and trusting in God's control even in our darkest times. Participants should read in advance of each session, around half a chapter per day. Begins Monday, 27 May, 12:00-14:00PM, discussing chapters 1-3. Contact Yan (
) with any questions and go to Union
website
for the schedule.
Opportunities
Light of the World Preschool in Myanmar - Donations Needed!
A group from Union will be visiting Light of the World Church and Preschool in Myanmar in early June. We would like to take gifts for the preschool to meet their current needs for indoor craft/play items during the rainy season.
We are collecting the following: coloured paper, pencils, coloured pencils, glue, scissors, and Play-Doh. If you would like to donate any of these items, please drop them to Sunlight Tower by Sunday, 2 June.
Elderly Home Visit
Elderly Visit on Saturday 8 June, 2:00-3:00PM at Kowloon Tong, China Coast Community! Please come, connect and bless! Sign up at the Welcome Table.
Small Groups
Small groups are one of the main ways we connect with each other and connect with God, learning what the Kingdom of God is all about. Interested in joining or starting a group?

Contact
Monte Peterson
.
Ladies
Fertility & Pregnancy/Infant Loss Support Group
- Struggling and could use some fellowship, friendship and support? Contact
Sonia Lee
.
Baptism and Membership
If you have been attending Union Church for a while and have never gone through the official process to become a member, now is your chance. Please collect a green form and make it official!
If you have never been baptized and are interested, please see
Pastor Michele
.
Young Adults
New to Union?
Are you a Young Adult? New to Union Church? Make sure you meet our Young Adults Director, Anto Ficatier, at the Welcome Table every Sunday. You can also email
Anto
for more information about Young Adults at Union!
Youth
Friday Youth Group - 24 May
Juniors (11-13) are asked to arrive at 6PM. We will head to SCAA to go bowling! Juniors will then return to Church at 8PM for dinner and dismissal.
Seniors (14-18) are to arrive from 6:30-9PM with 'hangout' in the Youth Room from 9-10PM.
NO Sunday Youth Group 26 May
There will be no Sunday Youth Group this Sunday due to the ONE Worship service at 10:30AM at TSK School.
Kingdom Kids
Sunday School Senior Student's Graduation, 9 June at 11:15AM
Children born in the year 2008 will be graduating from Sunday School and we will have a short graduation ceremony at the 11:15AM service. Please join us as we bless these children on their next journey in seeking Christ through the Youth program.
Sunday School 2018/2019 Registration
Register
HERE
. Registration Forms are also available at the Welcome Table. Contact us at
CHILDREN
or at 2101 0414 for any enquiries.
Filipino Ministry
1:00PM - 1:50PM Congregational Prayer
2:00PM - 2:50PM Bible Study Groups
3:00PM - 4:00PM Worship Service
Every 1st Sunday of the Month from 9:00AM to 12:00PM Outreach & Evangelism.
Last Week's Sermons
"Church is... Ministry" by Pastor Michele